Overview of the MSI Z97 Xpower
Click Image For a Larger One
The packaging for the Xpower is quite cool with the front door of the box being a X and when flipped open you have an X shaped window that you can view the board. On the backside of the X shaped door you have some key feature data pinpointing the key benefits of their feature implementation and explaining what each feature offers as a benefit to the user. The rear of the box has a bit more in depth info and also specific spec based info to round out the packaging.
Click Image For a Larger One
Holy accessories!!! This Xpower comes with a ton of accessories including the fan stand.
User Manuals
Installation Discs
MSI OC Fan Bracket
MSI OC Pen Drive
SATA Cables
Delid Die Guard
eSATA rear panel breakout pod
Quick Connect Front Panel Connectors
V-Check Point Leads
WiFi/WiDi module
2x WiFi Antennae
SLI Ribbons (2x short, 1x large) for 2/3/4 Way SLI
IO Shield
MSI Gaming shield Case Badge Decal
This board comes with more than enough to get you up and running but do keep in mind that the fan shown here does not come with the board and is actually something sent just to show how it can be accessorized with the fan stand for the complete MSI OC series look.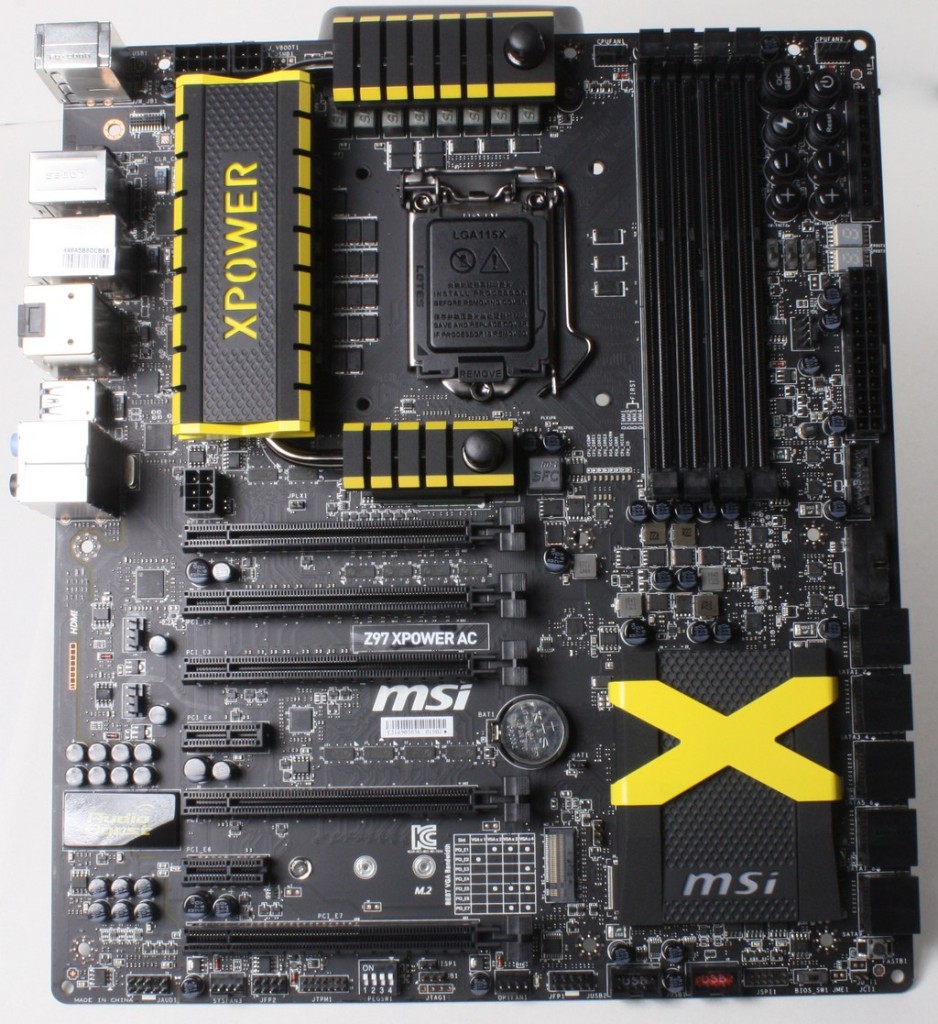 Click Image For a Larger One
Here you can see the whole board and the Matte black PCB simply looks awesome. the board layout is about what we have come to expect from an OC based board with everything being down to business and readily accessible for quick control during a bench session. I would have liked to see the 6 Pin PCIe power connector at lower board instead of mid board so you dont have an errant cable laying across the board during a bench session I would much rather see it right angled at the lower board edge similar to what EVGA does which allows the cable to be out of the way. I do like that MSI puts a recommended install guide actually sikscreened to the board so that you know exactly what slots should be used for a specific card configuration.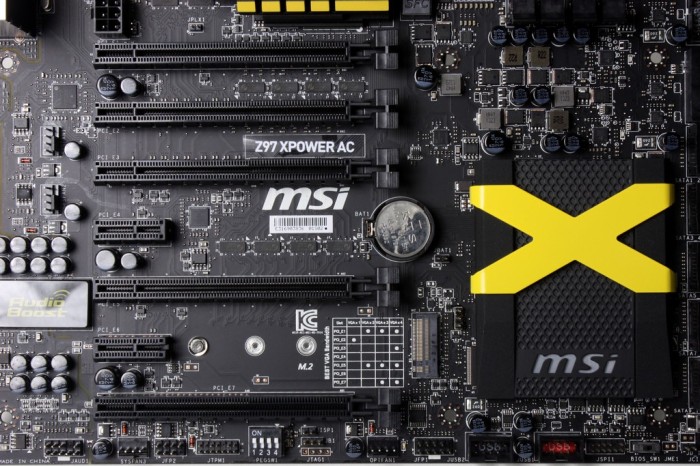 Click Image For a Larger One
Here you see the slot layout, it allows the 2nd slot that is tightly grouped between the 1&3 slot to offer full natural x16 function while other configurations use PLX bridge lanes, and some may complain about this but in reality theres really not much else you can do here as there are only so many lanes to go around so its simply limit to what the CPU offers. I think personally MSI managed this well by offering full 4 way SLI function while still keeping a native slot available for those benching single card. Do take note that if planning to install a M.2 drive ensure you install it first before installing GPUs or you could be in for some issues as the 3rd GPU will cover the M.2 slot completely.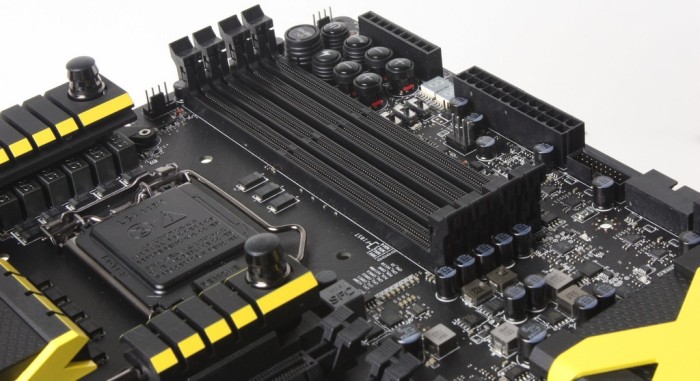 Click Image For a Larger One
The memory section is capable of up to 32GB memory and speeds of up to 3000+ but of course with 8GB DIMMs we would not count on such high speeds but the capability is there especially with Haswell to really push some speed on lower density DIMMS.
Click Image For a Larger One
The drive connections are plentiful as the as the Z97 chipset offers 6x SATA ports and support for the M.2 slot. Do note that the M.2 slot utilizes the same lanes as the SATA 5 & 6 ports so if you install a M.2 SSD you will lose the function of those two ports. Also employed is a ASMedia ASM1061 SATAQ Chipset which offers another 4 ports capable of SATA 6G speeds.
The rear IO is quite stuffed with many connectivity options:
PS2 combo keyboard/mouse port
2x USB 2.0 Ports
WiFi/WiDi module pin header
Clear CMOS Button
Optical SPDIF connector
8x USB 3.0 ports
Gigabit LAN port
Displayport Connector
HDMI Port
up to 7.1 Channel HD audio via Realtek ALC1150
The connectivity is plenty for high speed usage however do note that much like the Gaming 9 board the Xpower uses a very fragile pin header so extreme caution should be observed when installing the WiFi module, and my opinion would be that MSI should just install the module directly in the future and use a stronger pin header.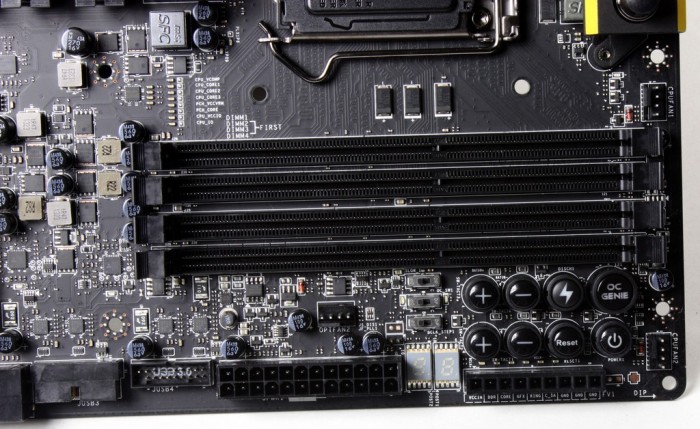 Click Image For a Larger One
Moving to the far right near the 24 Pin ATX connector you can see the V-Check Point cables connector which is where you can take direct readings from the board for voltages which will give you some idea of how things are running and also help with diagnosis in the case problems arise.
The control buttons are much more involved here as unlike the gaming series board we recently took a look at, this one has many direct Overclocking buttons. You have the OC Genie button which works as we previously talked about by providing a proven stable overclock to the system including the iGPU to give overall better gaming performance. There is also dual sets of +/- buttons which control both BCLK and CPU Multiplier control and even a switch to change the scaling from 1MHz on BCLK to 0.1MHz for even finer granularity when tuning.
The real star as we see it is this button with the lightning bolt which is called the "Discharge Button" and is basically a much deeper version of a Clear CMOS. It not only clears the BIOS settings but it even clears the training on the board which allows for clearing of the PCH and everything similar to what you get by removing the battery for several minutes to let the board clear. Some may ask why this even exists, but anyone who has ever benched subzero and had the board freak out knows that having that same capability by simply pressing a button for a few seconds knows this is a lifesaver so to speak. If you have a board sitting at extreme subzero, and you have to power it off, the whole board will begin to freeze up and frost over very fast. Letting the board sit there with the battery out is not an ideal solution.
you also have 2 more toggles which control the OC Genie "Gear" where in standard mode you get basic OC Genie and when ticked up you get extra performance for those using better coolers such as AIOs or custom liquid cooling.
The last toggle would be the "Slow Mode" switch which is used to turn the speed way down in order to ensure safe posting at extreme clocks and even for some quick validation attempts where the speed may only be stable for a very short time you can tune in slow mode for stable operation and slick it over to a higher speed for the validation purpose.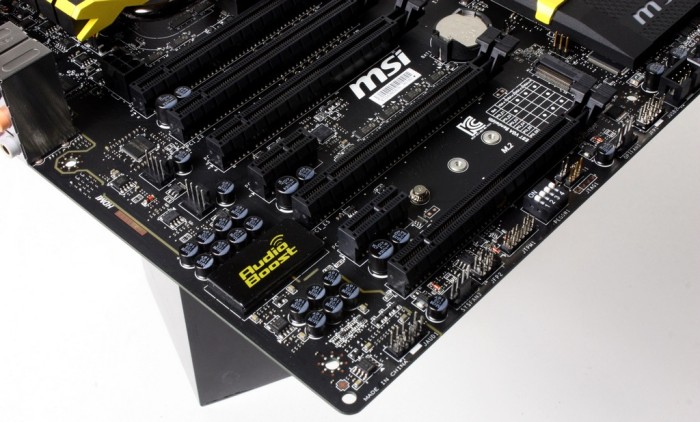 Click Image For a Larger One
The audio boost audio solution has the PCB separation line in place which is backlit yellow to match the theme of the MSI Xpower overclocking series of boards, but more importantly what this highlights is the fact that the PCB area for audio is separated on its own island of PCB. This allows for less signal interference and better audio quality overall due to having the audio components on their own private paradise island on the side of the board. The yellow backlighting just adds some character and extra bling to the application.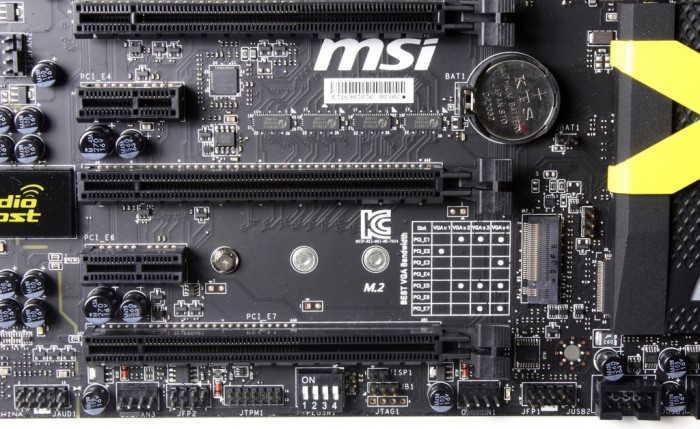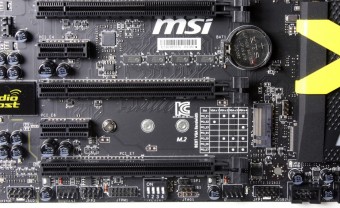 Click Image For a Larger One
The lower edge of the board you can see the "Cease Fire" switches used to disable PCIe slots along with all of the pin headers to allow connectivity to the board.
Click Image For a Larger One
Here is the VRM area, this is where you can see all of the Military class components at work to keep your hungry CPU fed especially when overclocking. Having a strong VRM is important to ensure that not only does the power get there but the right amount and that it is regulated properly according to loading and also other conditions.
The VRM is fed by a 8 PIN +4 PIN ATX connector setup which is way more than enough to feed even the most power hungry CPU combination even under LN2 loading.
BIOS Overview
Click BIOS 4
Click Image To Enlarge
MSI has updated the Click BIOS again now to Click BIOS 4 which is quite the update as you can see above. there are definite improvements in the feel of the BIOS as it feels more fluid when using it but also there are some new features as well.
One of the nice features would be the fan control which is actually really nice as you can set fan profiles and even ramping via a multi point graph within the UEFI.
Also another would be the Board Explorer which has a visual layout of the board and areas where things are plugged in or attached are highlighted where you can mouse over them and it will even tell you the device ID which is really cool just for the simple fact you don't need to trace a SATA cable anymore to see which one goes from which drive to the board.
The overall feel of the new Click BIOS 4 is much more fluid and the overclock settings are nice, i would say that MSI upped the game a bit catching some ground on players like ASUS in the UEFI department. While it still may not be a front runner it definitely is heading that direction.
Review Overview
Performance - 9
Value - 8
Quality - 9
Features - 9
Innovatgion - 9
8.8
The MSI Z97 Xpower AC has some upgrades from the Z87 model including better form factor, now its a question of does it fit your needs.