With the latest network standard. 802.11 AC, wireless networks finally are getting fast enough to be a real alternative to wired ethernet in the house. In smaller houses a single router is enough but as soon as have a larger house or a older house with thick walls it sometimes is hard to get a good coverage. The ASUS RP-AC52 Range Extender helps you extend the wireless network. Promising speeds up to 750 Mbps (300 Mbps on the 802.11n-band and 433 Mbps on the 5 GHz 802.11ac-band) it sounds like a great product. Does it deliver? Read on to find out.
WIFI – the standards
Wifi has come a long way since the old 802.11b standard which had a theoretical max throughput of just 11 Mbps. Since then there has been a lot of improvements, each increasing the throughput higher and higher.
| | | |
| --- | --- | --- |
| | Max performance | Band |
| 802.11b | 11 Mbps | 2.4 GHz |
| 802.11g | 54 Mbps | 2.4 GHz |
| 802.11a | 54 Mbps | 5 GHz |
| 802.11n | 600 Mbps | 2.4 GHz and 5 GHz |
| 802.11ac | 1300 MBps | 5 GHz |
I'm sure a few of you now start to object as you remember that for example 802.11g offered higher throughput but that is because the vendors all started to get "creative" and find new ways to increase the performance within the standard. And in many cases products came out long before the standard was ratified making products from different vendors not playing nice with each other.
Also remember that just because a standard has a maximum bitrate it does not mean all products support it. The performance for 802.11n and 802.11ac is very dependant on how many antennas the product use which is why you can see .n and .ac products with different performance numbers.
Most 802.11n and 802.11ac products support both the 2.4 GHz and 5 GHz-band making them dual-band (there actually are new products coming out as we speak which combines two radios for each band giving you 4(!) bands, two 2.4 GHz and two 5 GHz). Vendors have figured out that by combining the maximum theoretical speed on each band they can claim much higher maximum performance. So a product that has a theoretical maximum of 300 Mbps on the 2.4 GHz band and 450 Mbps on the 5 GHz band will be advertised as a "750 Mbps"-router.
Specifications and features
The ASUS RP-AC52
is advertised as a 750 Mbps AC-product. It has a maximum speed of 300 Mbps on the 2.4 GHz band and 433 Mbps on the 5 GHz band (which actually means 733 Mbps and not 750 Mbps combined).
Network Standard
IEEE 802.11a, IEEE 802.11b, IEEE 802.11g, IEEE 802.11n, IEEE 802.11ac
Product Segment
AC750 complete AC performance; 300+433Mbps
Data Rate
802.11a : 6,9,12,18,24,36,48,54Mbps
802.11b : 1, 2, 5.5, 11Mbps
802.11g : 6,9,12,18,24,36,48,54Mbps
802.11n : up to 300Mbps
802.11ac: up to 433Mbps
Antenna
Internal PCB antenna x 2
Operating Frequency
2.4GHz/5GHz
Ports
1 x RJ45 for 10/100 BaseT for WAN
Button
WPS Button, Reset Button, Power Switch
LED Indicator
Wi-Fi x 7
Dimensions
5.4 x 3.1 x 8.5 cm (WxDxH)
Weight
90 g
Operation mode
Range extender mode
Access point mode
The ASUS RP-AC52
can act as either a access point or a range extender. In access point mode it connects via a rj45 ethernet cable and creates an wireless network while in range extender mode it bridges to another wireless network and creates its own network that you can connect to. While in extender-mode you can use the rj45 ethernet port to hook up a switch or a device.
It is a disappointment that ASUS only added a 10/100 Mbit rj45 ethernet port. This means you are limited to 100 Mbps in either access point mode or if you have a device that is hooked up to the extender. We can guess though that the reason is that ASUS wants to keep the extender small enough to sit directly in the power outlet as well as keep the price down forcing them to only offer 10/100 Mbps ethernet. The EX6200 from Netgear offers 5 Gigabit ports (and up to 1200 Mbps wifi) but is a much larger, more expensive extender.
One potentially cool feature is the inclusion of a 3.5mm audio jack on the extender. It allows you to connect a pair of speakers (or a headphone) and listen to internet radio or stream music from your network.
While we will focus on the extender part of the AC52 and see how far out it can extend a network there also is support to use it in hotells where you can use it to connect to the hotell Wifi and then give you your own wifi-network in the room.
Closer Look
The ASUS RP-AC52 is a small device aimed to fit in a wall outlet.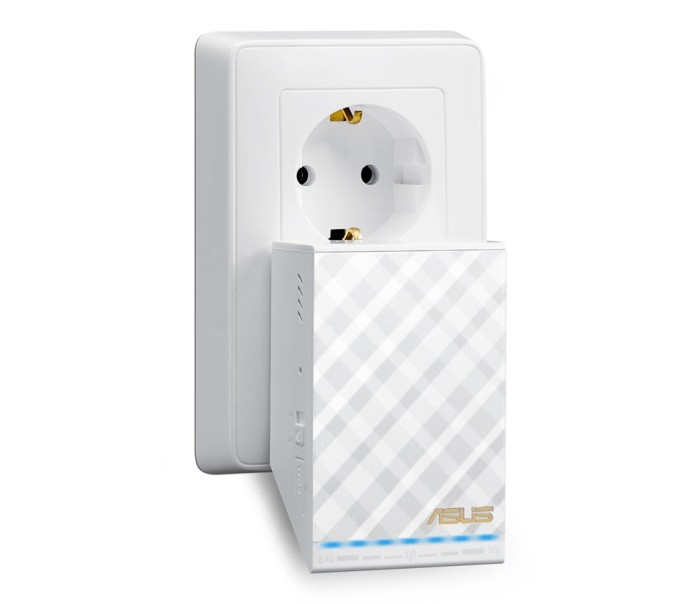 It has an angular shape and the diamond pattern on the front we have seen from other Asus network products but is white instead of black. On the front we see a blue line of leds that are used to see how good signal we have from the wireless network we are extending. The idea is to place the ASUS RP-AC52 somewhere where you still have decent/good signal. The front is actually touchable and can be set up to turn on and off various led-lights as well as mute/unmute audio.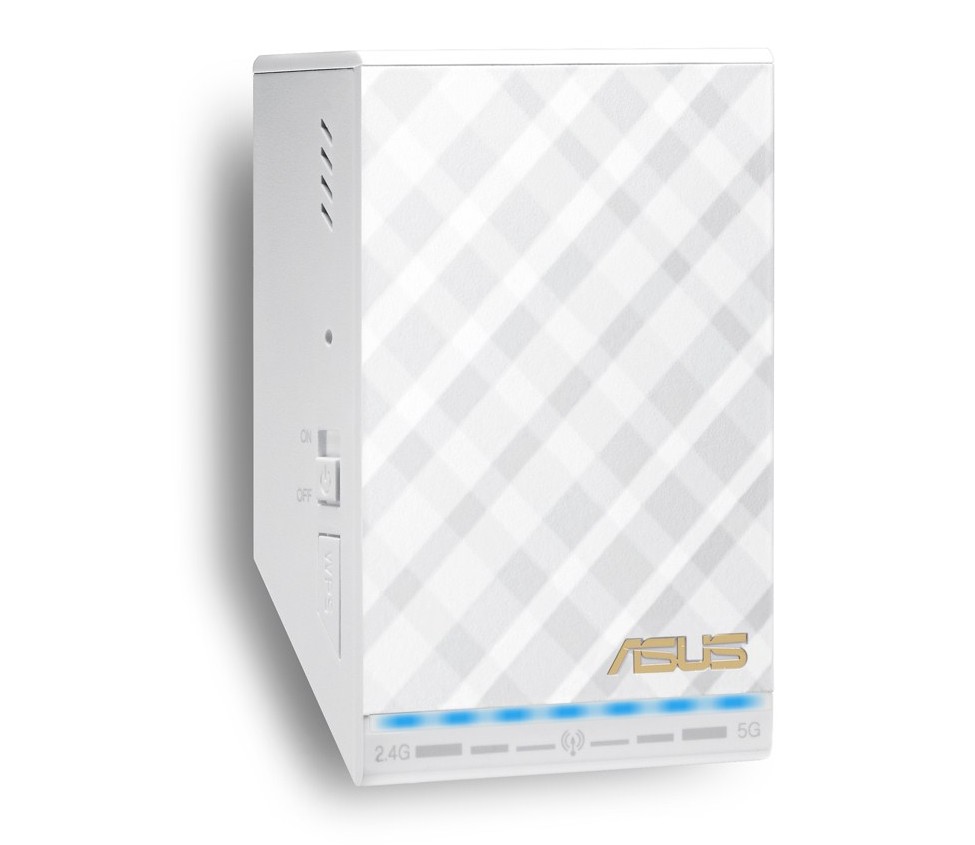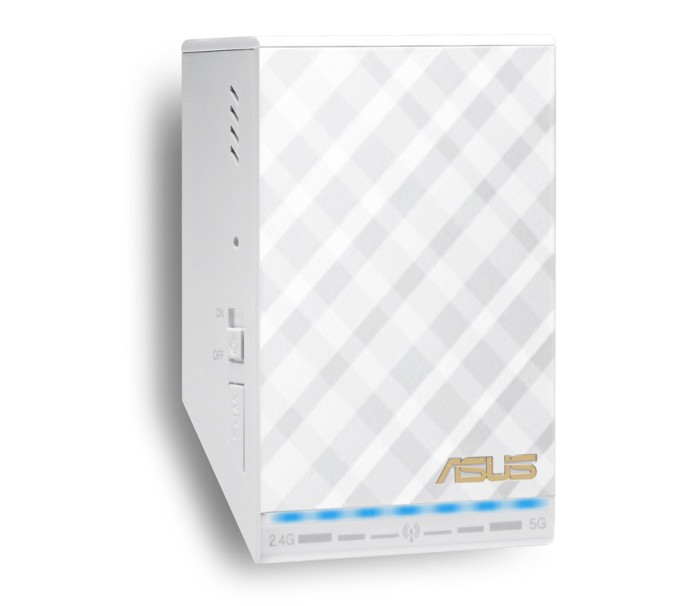 On the side we find a switch to turn on/off the extender and a WPS-button there if that is what you want to use to connect to the router.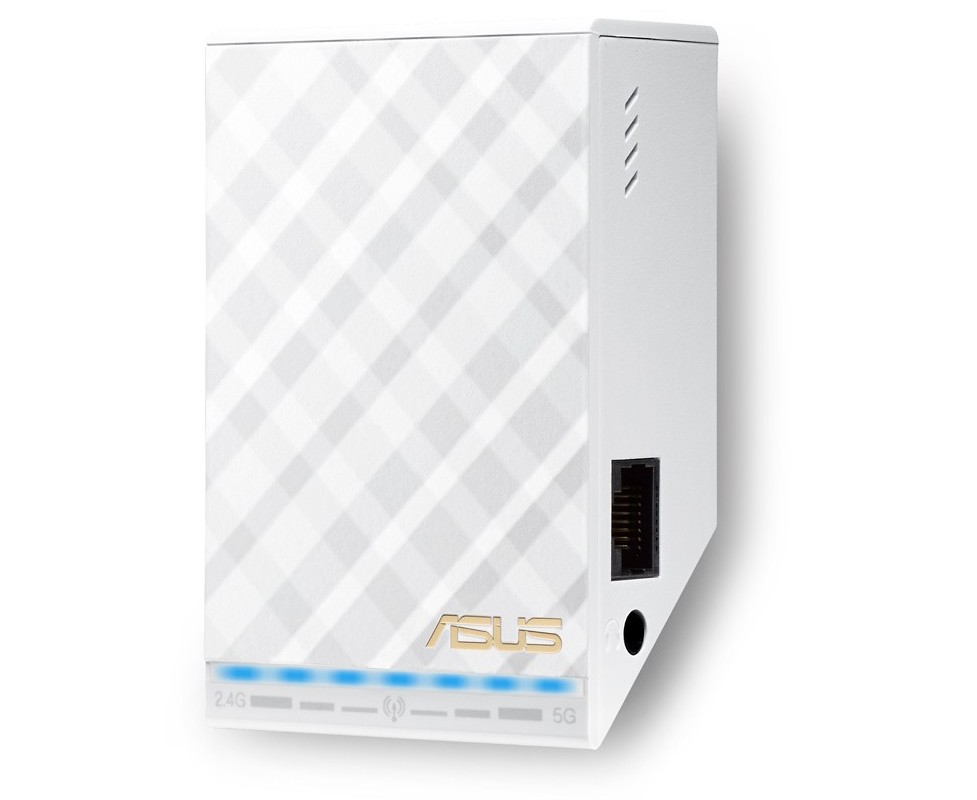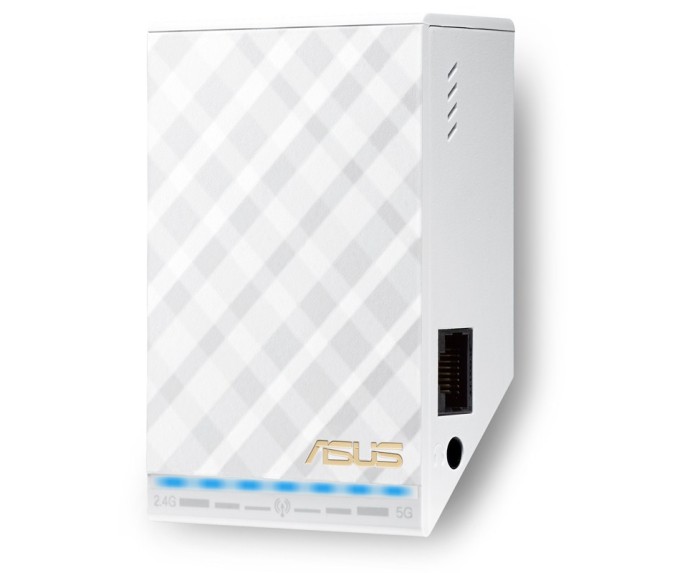 On the other side we find the RJ45 jack and an audio-jack.
Installation
Installing the ASUS RP-AC52
is pretty easy. You can either just use the WPS-button on your router and the RP-AC52 or you can connect to the existing wifi-network on the extender, access the special url that Asus specifies in the manual and then configure it there. It allows you to choose which 2.4 GHz network and which 5 GHz network you want to connect to and then what the new wireless networks should be named.
You can afterwards connect to the extender just like any Asus network device and update the firmware or change settings. When setting up the extender you should sit close to your router and then move away and find the best spot to place it. There is a row of blue led-lights that shows the strengh of the 2.4 GHz and 5 GHz network so you can find a good spot. The idea is to place the extender so it still gets a strong signal from the network you want to extend. If you got an Android-device there are several really great tools for watching the signal strength of various networks including Wifi Analyzer and Netgear Wifi analytics. IOS users are out of luck unless you jailbreak as Apple do not like apps that can sniff out networks.
Since the ASUS RP-AC52
is placed directly into a power outlet it is not as easy to place as a product, the like the Netgear EX6200, that comes with a power brick and thus can be placed a bit more freely and flexible.
Performance
The house where all the performance tests were done is an old 2-storey building built in the late 1930's. This was a time when they used proper materials which is why the house has solid wood floors and walls as well as a lot of stone and concrete used in various places, especially in the lower floor/basement.
The router is placed in the main floor at the top of a shelf. In the basement the garage is currently being rebuilt as a office for yours truly and thus there is a need to be able to get a better network signal there.
The test-setup:
| | |
| --- | --- |
| Router: | ASUS RT-AC66U |
| Device used to test performance: | Samsung Galaxy Tab S 8.4 GHz |
| Software/website for performance testing: | Android app for: http://www.bredbandskollen.se |
| Internet-connection | Telia Fiber, 250 Mbps down and 100 Mbps up |
Since this review is being done in Sweden we of course use a service, Bredbandskollen, that is tailored for Sweden. It allows us to test download and upload speeds and is a service that is considered reliable and independent from any of the big ISP's. At each location we used the Android app for Bredbandskollen and let it run on our . We ran the test several times to make sure we got an accurate result and not a fluke low score. Unfortunately a lot can affect WiFi and thus we also tried to get a "feel" on how stable the connection was.
Results
| | | | | | | | |
| --- | --- | --- | --- | --- | --- | --- | --- |
| | Room with router | Kitchen | Livingroom | Kids room | Storage | Garage, spot 1 | Garage, spot 2 |
| | | | | Basement | Basement | Basement | Basement |
| Router 2.4 GHz | 103/105 | 97/102 |  77/100 |  45/93 | 47/97 |  37/83 | 11/37 |
| Router 5 GHz | 259/145 |  272/113 |  227/146 |  188/118 |  193/117 |  136/64 | 63/26 |
First number = download, second number = upload, everything in Mbps.
As can be seen we get great results connecting to our Asus AC66U router directly with the Samsung Galaxy Tab S when in the same room as the router or the nearby rooms (kitchen and livingroom). In fact, after adjusting the antennas on the router we get decent speeds even in the basement. Spot 1 in the garage is just at the door to the storage while spot 2 is as far away in the garage possible. According to the Wifi Analyzing software on the tablet the "WiFi-quality" in the garage is between good and weak.
| | | | |
| --- | --- | --- | --- |
| | Storage | Garage, spot 1 | Garage, spot 2 |
| | Basement | Basement | Basement |
| Router 2.4 GHz | 47/97 |  37/83 | 11/37 |
| Router 5 GHz |  193/117 |  136/64 | 63/26 |
| ASUS AC52 2.4 GHz (kids room) |  20/23 | 10/7 |  — |
| ASUS AC52 5 GHz, (kids room) |  27/60 | 0.5/7 | — |
| ASUS AC52 2.4 GHz (Storage) | |  42/40 | 25/23 |
| ASUS AC52 5 GHz, (Storage) | |  89/67 | 91/70 |
First number = download, second number = upload, everything in Mbps.
The idea is to place the extender towards the edge of the WiFi-coverage from the router so that you can get better performance further away while still having good performance. We decided to test placing the ASUS RP-AC52 first in the kids room which is in the basement and 2 rooms away from the garage and in the storage area which is next to the garage (and the kids room). Our tests with the Samsung tablet indicated the signal and performance connecting to our rooter still should be good there giving the AC52 plenty of signal to extend.
The poor results when placing the extender in the kids room highlights the problem when dealing with a small extender that is placed in the outlet. The only outlet we had was close to a (thin) wall and at first it looked like there should be no issues as the extender gave us almost full led-bars for both 2.4 GHz and 5 GHz. However, from the results it is clear something blocked the signal from the AC52. It wasn't until we moved the extender 3 meters to the storage area that things got better. While the 2.4 GHz performance was a little better, at least the download performance, the extender really helped in the spot in the garage furthest away from the router. While a far cry from the 250 Mbps download speed we hoped to achieve we at least are close to 100 Mbps which should be good enough for most users.
Conclusion
The ASUS RP-AC52
 is an interesting product. It is small and neat and still offers a lot of functionality as it not only can extend the network but also act as a access-point as well as stram internet radio to headphones or speakers. While we cannot seem to find it in the US it costs around £58 on Amazon UK
and €80 on Amazon Germany
which is on the high side. Performance wise it performs good although not great. We were surprised to see that it in some cases performed worse than when we connected directly to the router from our tablet. Since both the router and the extender is from ASUS we can rule out incompatibilities between vendors. We just would have hoped to see a bit better performance. It still will extend the network well and for most users the performance will be enough.
Review Overview
Features - 8
Performance - 7
Value - 6.7