Overclocking

Overclocking on AMD is fairly straight forward as unlike Kepler there is no crazy algorithms to worry about which sometimes plagues power users as the Nvidia GPU boost utilizes many factors to calculate how it throttles.
AMD just lets you set the clock and power target percentage and your off to the races. Sapphire offers the Trixx app for overclocking or you can use any other app should you want to overclock the card with everything available on the market it really is as simple as choosing which you want to use.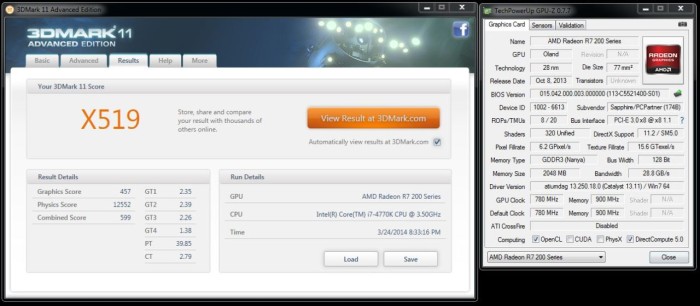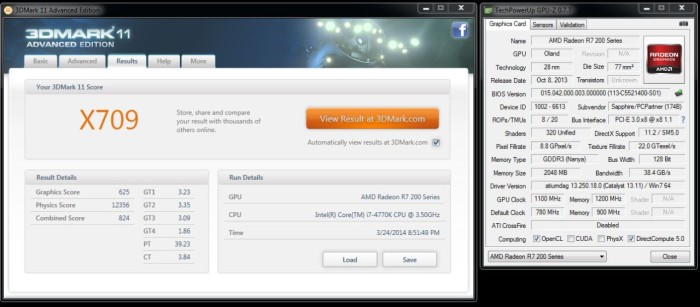 The Sapphire Radeon R7-240 came out of the box with a 780MHz core clock and being a mini card I really did not expect much here.
Upon starting to push the card I quickly found that the 240 while being small has some definite power left on the table as I quickly ran it past the GHz mark and north of 1100 but with some minor stability issues I decided to rest it at 1100 even.
Next up was memory which is DDR3 and comes clocked at 900MHz or 1800 Effective clock. upon pushing I was able to get it to a 1200MHz clock with an effective 2400 MHz.
The GPU overclock came out to  40% which is astonishing and the memory topped out at 34% at 2400MHz effective for a simply amazing clocking experience and at these speeds they are 100% stable.
As you can see above we see almost a 37% increase in 3D Performance with this overclock all while staying very cool never topping 57C on the GPU which means this should be safe for everyday use and may even make some HD gaming at mid levels a real possibility.
TEMPERATURES

To measure the temperature of the video card, we used MSI Afterburner and ran Heaven Benchmark in a loop to find the Load temperatures for the video cards. The highest temperature was recorded. After looping for 10 minutes, Heaven was turned off and we let the computer sit at the desktop for another 10 minutes before we measured the idle temperatures.
| | |
| --- | --- |
| GPU Temperatures | Temperature (Idle/Load) |
| Nvidia GTX 690 | 32C/81C |
| Nvidia GTX TITAN | 31C/67C |
| Nvidia GTX 780 | 30C/65C |
| Nvidia GTX 770 | 34C/79C |
| Nvidia GTX 760 | 31C/67C |
| Sapphire R7-240 | 29C/57C |
The GPU on the 240 simply refused to get warm even when max clocked never exceeded 60C or even touched it.
POWER CONSUMPTION

To get our power consumption numbers, we plugged in our Kill A Watt power measurement device and took the Idle reading at the desktop during our temperature readings. We left it at the desktop for about 15 minutes and took the idle reading. Then we ran Heaven Benchmark for a few minutes minutes and recorded the highest power usage.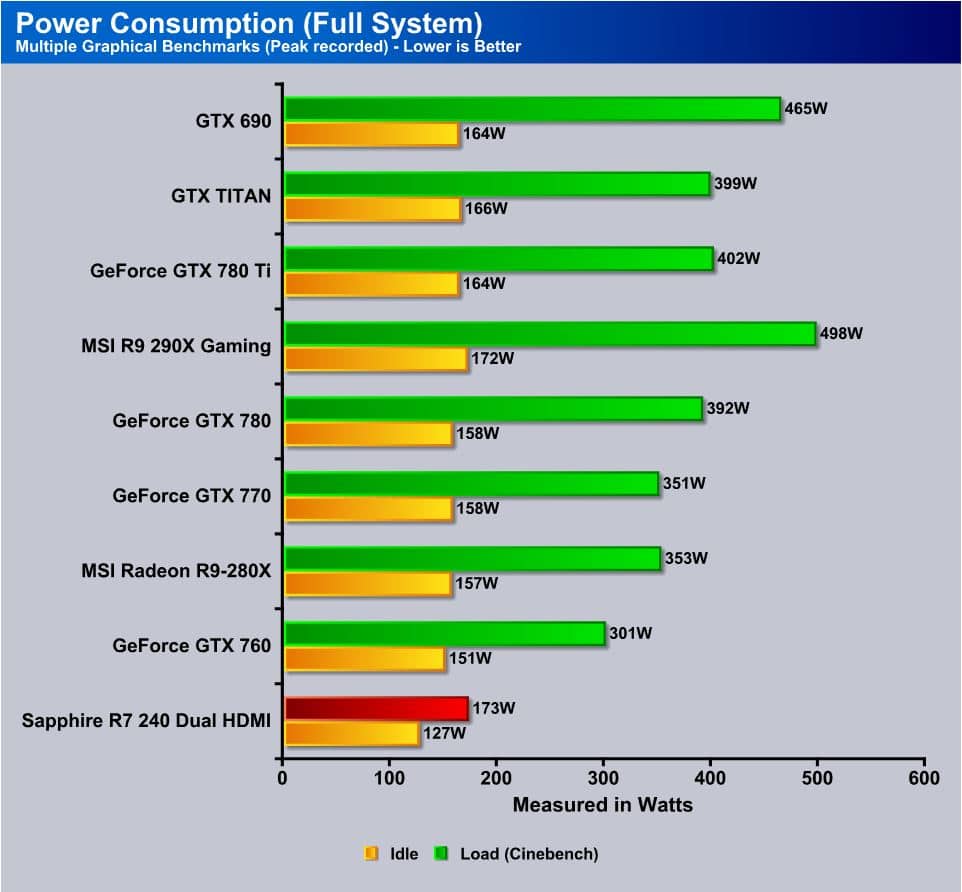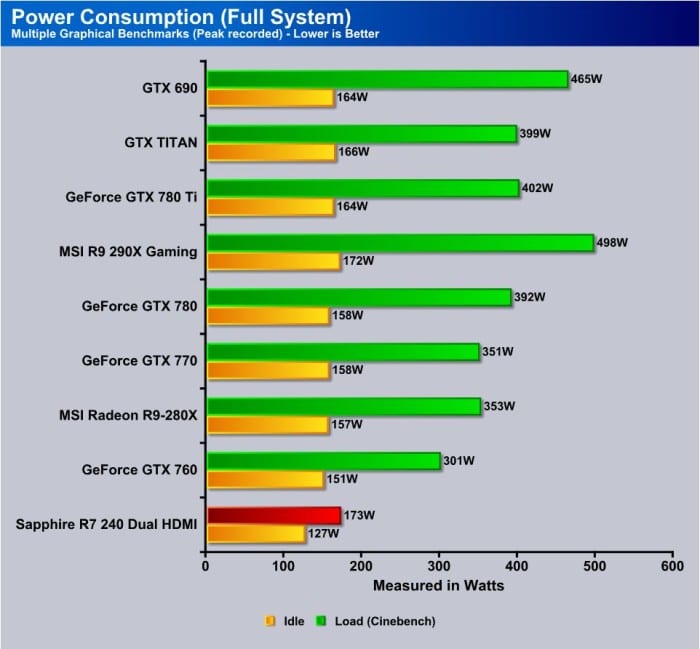 The R7-240 requires only slot power and due to this it simply was not power hungry at all.
Review Overview
Performance - 8
Value - 8.5
Quality - 9
Features - 8
Innovation - 9
8.5
The Sapphire R7-240 Dual HDMI is one potent mini card with a ton of overclocking potential, perfect for off the shelf system upgrades