A Closer Look at the Sapphire Radeon R7-240 Dual HDMI
Click Images to Enlarge
The packaging is small as the card is a low profile design so the box does not need to be huge. The front has the Sapphire mech character along with some key feature icons.
The rear of the package shows many key specs along with a couple paragraphs explaining Sapphire and the 240 heritage.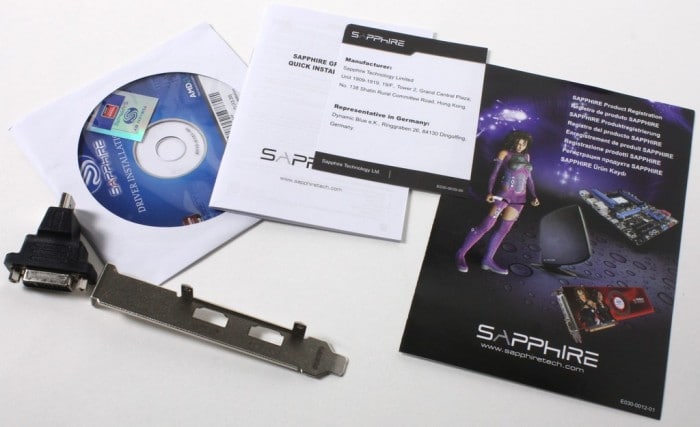 Click Images to Enlarge
Here we see the accessory pack which includes a HDMI to DVI adapter, a full profile bracket (low profile bracket comes installed by default) a driver cd and some quick start materials.
Click Images to Enlarge
The card is actually quite simple as it is low profile with a small but adequate cooler fitted to the front.
The display connectivity is what makes this card special.
The dual HDMI arrangement is both cool and strange at the same time as I can see where it will meet some digital signage market but overall a single HDMI with another standard port just feels more normal.
Click Images to Enlarge
Removing the cooler you see the very tiny GPU die and suddenly realize that the small PCB is matched by the equally minuscule GPU itself. the card has 2GB total memory with ICs on front and read of the PCB.
Do note that the small contact patch of TIM is on the one piece cooler heatsink design and thats simply all that is necessary to keep this card under control in terms of temps. 
Review Overview
Performance - 8
Value - 8.5
Quality - 9
Features - 8
Innovation - 9
8.5
The Sapphire R7-240 Dual HDMI is one potent mini card with a ton of overclocking potential, perfect for off the shelf system upgrades