Introduction

Pivos has been known mostly for their media players so to see a new set of battery packs show up I was a bit surprised. The Company simply did not seem to be in that category but with so many tech  companies extending their reach into so many other facets to ensure they can offer so many more solutions this move by Pivos shoudl not really be a major surprise. One thing is that its obvious that Pivos took note of the rise in mobile gadgets and with that and the inclusion of now "Wearable" tech, the ability to charge on the go is quickly becoming majorly important.
Pivos MANA 2200 mAh Battery Pack
As we become more mobile as a society solutions like these have simply started to crop up everywhere even with the recently passed CES show we saw battery packs literally being handed out by companies by the handful, but of course those were cheapie giveaways that would likely last a few charges if not DOA to begin with. 
The Pivos MANA series of battery banks are very similar to others we have seen but one thing I think prominently stands out is the finish and color choices. The MANA chooses a matte black finish which means NO FINGERPRINTS (Awesome) and is accented with a light blue stripe which creates a TRON style feel to it.
Of the two units I received this unit is the smaller 2200mAh which means it should cover about the full capacity for a current flagship smartphone or maybe extend the life or a partial charge on a larger tablet device.
As you can see it comes in a standard blister package with a cardboard backplane which carries some of the feature info.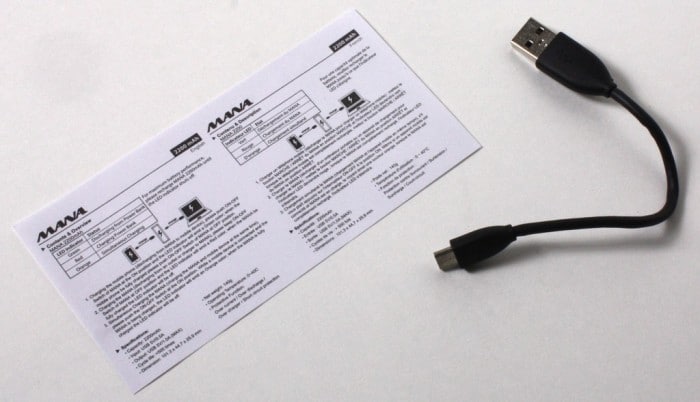 Inside, you find the accessories are a instruction guide which is super simple and a USB to Micro USB cable which can be used for a android phone and also can be used to recharge the battery unit. IF you have a different connector such as an apple based product you would need to use its cable for this as the MANA only comes with the Micro USB style cable.
The charging end also is where you will find both the standard USB connection used to connect a cable to your device and charge it whereas the Micro USB you see here is used to charge the MANA battery pack for usage. There is also a LED indicator which changes color according to the operation at the moment. Green color means you are charging out to a device, Red color means you are charging the MANA Battery pack from a Wall or other charger and Orange means you are "Simultaneous Charging" which means you have a charger hooked to the MANA unit while also you are charging out to a mobile device which is great in case you happen to have a single USB wall charger available you can charge your mobile device while also ensuring your MANA is topped off so you have full usage ready on the go.
Features
Simultaneously charge the MANA and a mobile device when wall outlet USB charger is available.
USB port offers 1.0A Max for efficient charging of mobile phones and other small USB devices
Specifications
DC input: 5V –0.5A
USB output: 1 x 1A
Safety Protection:

Short Circuit Protection (SCP)
Over Current Protection (OCP)
Over Discharge Protection
Over Charger Protection

Safety Approvals: FCC, RoHS 
Unit Dimensions:

101.3 mm  x 44.7 mm  x 25.9 mm 

Net Weight: 140 g
238 mm (H) x 144 mm (W) x 52 mm (D)
The single USB output is rated at a max output of 1.0A although I have seen short spurts of up to 1.5A which may help for a faster charge on your Mobile device.
There is not really alot that can be said about a battery bank but it definitely works and as my phone has a 2000 mAh battery it can handle it no problems and even extend life through a busy day at a expo hall with shooting quick images and uploading to social media along with calls and even heavy data usage. The MANA can be the difference between making it through a hectic day and being "That Guy" at the airport sitting cross legged on the floor near the only outlet to charge his phone. Dont be that guy!
The Pivos MANA 2200 can be had for a current retail price of $19.99USD as found here:  LINK
This may seem a little steep as many chargers can be had for a bit less, but as I said earlier in the overview the MANA battery packs come from a reputable company who stand behind building a solid product and most times that can be worth spending a few extra bucks!
Review Overview
Performance - 10
Value - 7
Quality - 9
Features - 7
Innovation - 6
7.8
The Pivos MANA is the first non media related item from Pivos and shows promise for expanding horizons for the company.