Overclocking

Overclocking on AMD used to be fairly straight forward but with the new powertune features it can throttle you pretty quick if temps get out of line and that's what many users were upset about with the reference 290X and this is what I feel MSI is here to fix is by providing a cooler that can keep the chip cool will offer better clock capabilities and reduced throttling.
The MSI Radeon R9-290X is stock clocked at 1040MHz GPU and 5000MHz memory. As we started to push we eclipsed 1100 easily but found the limit at 1120MHz which is not bad but not the best I have seen. It is worth noting that I have seen huge variances in the GPU clocking for 290X so it is possible that had this been a better GPU I could have reached some pretty crazy clockspeeds however the fact that at the moment I cannot adjust the voltage in Afterburner could really be a limiting factor as well.
NOTE!
After working with MSI they were able to supply a working BETA version of afterburner which should be available to the public shortly.
Voltage for the 290X is now adjustable and the card really comes to life as we are now seeing clockspeeds nearing 1200MHz core which still staying nice and cool, so the score has been adjusted to take note of this. 
The memory which is at 5GHz to begin with was able to reach 5800MHz with full stability and with partial or benchmark stability up to 6000MHz but that was not a speed I would recommend as it simply was not stable for gaming only for short runs.
Total overclock for the MSI Radeon R9-290X is almost 8% on the GPU and 14% on the memory which is quite good but I know this card can do better it simply needs a bit of voltage control to really be able to open up the throttle so I hope MSI can get this sorted for me so I can show what it really can do.
TEMPERATURES

To measure the temperature of the video card, we used MSI Afterburner and ran Heaven Benchmark in a loop to find the Load temperatures for the video cards. The highest temperature was recorded. After looping for 10 minutes, Heaven was turned off and we let the computer sit at the desktop for another 10 minutes before we measured the idle temperatures.
| | |
| --- | --- |
| GPU Temperatures | Temperature (Idle/Load) |
| Nvidia GTX 690 | 32C/81C |
| Nvidia GTX TITAN | 31C/67C |
| Nvidia GTX 780 | 30C/65C |
| Nvidia GTX 770 | 34C/79C |
| Nvidia GTX 760 | 31C/67C |
| MSI R9-290X Gaming | 38C/78C |
The Hawaii GPU is a heat monster and it really is quite a task to tame the beast and MSI pulled it off as the reference cooler pulls in excess of 94C and throttles at a 1GHz stock speed while the MSI card pulls 1040MHz at a top thermal of 78C which means we have some wiggle room here should we want to tweak the card up some once we have voltage control.
POWER CONSUMPTION

To get our power consumption numbers, we plugged in our Kill A Watt power measurement device and took the Idle reading at the desktop during our temperature readings. We left it at the desktop for about 15 minutes and took the idle reading. Then we ran Heaven Benchmark for a few minutes and recorded the highest power usage.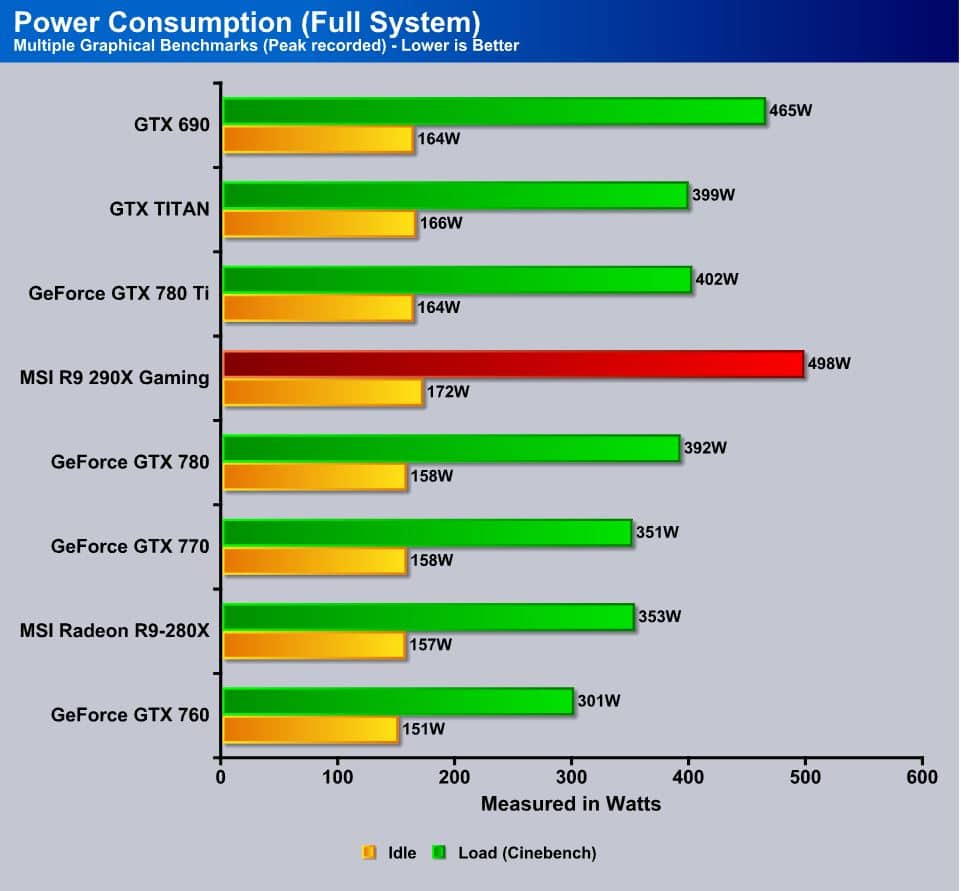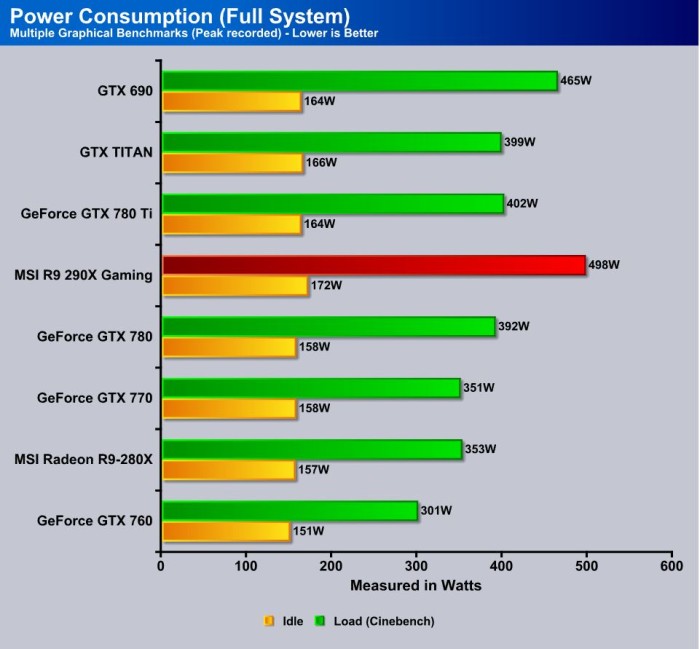 Here the MSI R9-290X pulls massive power even more than the dual GPU 690 but being as we have tested multiple 290X at this point this is of no surprise to me here.
Review Overview
Performance - 8.5
Value - 8
Quality - 9
Features - 9
Innovation - 8.5
8.6
MSI did a great job on the R9-290X Gaming card and when they fix the GPU voltage control issue it will be amazing however until this mining craze is over the value aspect will be lost as prices are moving to unsettling levels.