A Closer Look at the MSI Radeon R9-290X Gaming
Click Images to Enlarge
The 280X box looks almost identical to the gaming edition 770 box we saw before carrying the same dragon logo and gaming series nomenclature even the team Fnatic endorsement which is the pro esports team which MSI sponsors. The differences you will notice of course are the Radeon logo's or badging in place and the spec details on the rear which speak of the special capabilities of the Radeon based card and GCN GPU.
Click Images to Enlarge
Here you see the complete accessory bundle and it is nice and offers plenty of the key things you will need such as power cable adapters for PCIe power and also you will see a card included which explains the two different modes for the BIOS Switch.
One mode is the classic BIOS meant for compatibility whereas the other "Hybrid BIOS" allows for UEFI compatibility which for anyone who does not know means your card can startup along other UEFI devices to allow an even faster post time than older traditional BIOS where each device has to initialize one at a time.
Click Images to Enlarge
The card looks like pretty much any other gaming card from the front as the Twin Frozr cooler is similar in design and well executed on all gaming models making them very recognizable.
The rear of the card carries a solid black metal backplate which really helps stiffen the card and also just gives an awesome look to the card. the backplate im sure could be removed if you destroyed the harder foam pads which are adhered to the rear of the PCB but after taking a peek there was nothing super impressive to show there so I opted not to butcher these pads just to show a few SMDS and legs from capacitors.

Click Images to Enlarge
The display connectivity is about standard for what we have seen on the Kepler based lineup
2x DVI
1x HDMI
1x Displayport
This all digital connector arrangement allows for full eyefinity setups especially with the new easy eyefinity which allows a Displayport hub to be used for up to 3 displays as well for an insane 6 monitor array should you find the need for such an extreme configuration.
Click Images to Enlarge
The MSI R9-290X Gaming utilized the stock configuration of 1x 6 Pin PCIe connector and 1x 8 Pin PCIe connector for powering the GPU and as we have seen before that's more than enough to power the card with even some overclocking. However it is worth noting that the Nvidia based gaming cards we have seen dual 8 pins used and since those GPUs are a bit more power efficient it is a little puzzling to me as to why this card was not considered for a dual 8 pin arrangement to allow a bit more power headroom.
Here you can see the BIOS Switch which allows the change from an older BIOS for compatibility and newer "Hybrid BIOS" which supports the newer UEFI BIOS. Also off to the side you can see that the new R9-290X lack of crossfire connector is in place here as well.
Click Images to Enlarge
Removing the cooler you can now see the massive heatpipe array tasked with cooling the super hot and beastly 290X GPU. Now that we have unshrouded it I start to see why a dual 8 pin was not opted for this model as the design is almost 100% reference minus a few POSCaps in place of barrel style, otherwise everything is exactly as AMD does and this is also what we saw with the sapphire card as well. However to MSIs credit they at least have a non AMD PCB here.
The heatspreader/stiffener works also as a memory cooler with partial chip coverage by the Twin Frozr cooler as well. Once removed we can confirm that for the most part this card is basically 99% reference design which makes me wonder what kinda special recipe they are cooking up for the overclocker or Lightning edition of the 290X if they choose to make one.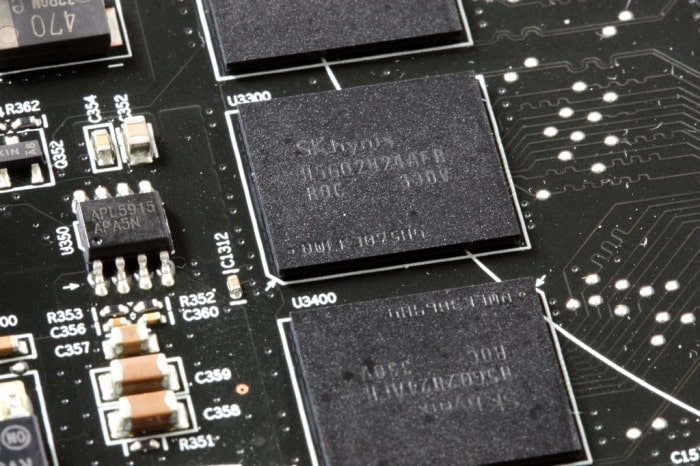 Click Images to Enlarge
And here after popping the top you can see the memory employed is Hynix H5GQ2H24AFR which are rated for normal use at 6GHz and even spec'd for up to 7GHz should they be employed in the correct ranging and grouping configuration. For this card they are clocked at 5GHz which I have now seen across multiple card models and I am beginning to wonder if the memory controller on the 290X simply cannot pull massive clock speeds as even the custom PCB cards have been lucky if they could touch spec on these Hynix ICs
Review Overview
Performance - 8.5
Value - 8
Quality - 9
Features - 9
Innovation - 8.5
8.6
MSI did a great job on the R9-290X Gaming card and when they fix the GPU voltage control issue it will be amazing however until this mining craze is over the value aspect will be lost as prices are moving to unsettling levels.