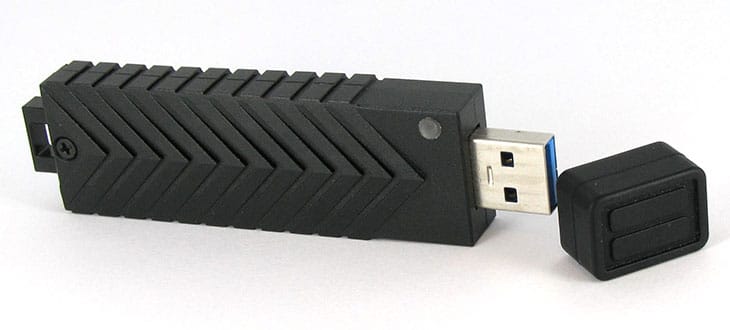 Mushkin brings 480GB of storage space to its Ventura Ultra Series. The Ventura Ultra is Mushkin's USB 3.0 SSD that uses LSI SandForce SF-2281 controller. The latest entry to the Ventura family delivers up to 455 MB/s reads and 445 MB/s write and up to 39K of 4K random IOPS. Packed in a tiny light-weight aluminum housing, the Ventura Ultra is also capable of operating in UASP mode to allow SSD performnace in USB 3.0 form factor.  The 480GB model is an addition to the existing 60GB, 120GB, 240GB model that was debuted a year ago at CES 2013. While no pricing is provided for the 480GB, we do not expect it to be cheap since the 240GB model retails at around $200. Still if you need the absolute best performance with large storage space, it certainly will deliver.
Mushkin Announces the Next Entry to the Ventura Ultra Series

Mushkin expands its Award Winning Ventura Ultra line of USB 3.0 drives with the new Ventura Ultra 480GB USB 3.0 Drive

Las Vegas, NV — Jan 07, 2014 / (http://www.myprgenie.com) — Mushkin Enhanced Mfg., an industry-leading designer and manufacturer of high-performance and mission-critical computer products, announces the next entry to the Ventura Ultra series — the world's fastest USB flash drive lineup.  In continuation of the current line of 60GB, 120GB, and 240GB models, Mushkin is unveiling the Ventura Ultra 480GB USB 3.0 SSD at CES 2014.

The latest Ventura Ultra offering retains the ultra-high performance of the lower capacity models while now offering 480GB of storage.  The LSI SandForce SF-2281 powered USB SSDs provide best in class throughput of 455MB/s reads and 445MB/s writes while providing up to 39K 4K random IOPS.  The Ventura Ultra also is capable of operating in UASP mode, which enables SSD performance in the USB flash drive form factor. With its attractive and light-weight aluminum housing, the Ventura Ultra provides outstanding durability and thermal management.

With the original Ventura Ultra first unveiled at CES 2013 with storage capacities of 60GB, 120GB, and 240GB, the USB 3.0 SSDs have since remained sold out at authorized Mushkin resellers.

"When the Ventura Ultra first released, it was very well-received and continues to outperform the competition in the high-end portable storage space.  Everyone wants greater performance and capacity for large projects and media.  With the success of the original Ventura Ultra, we realized that we needed to innovate to offer even greater capacities while retaining high read and write speeds for data transfer," said Brian Flood, the Director of Product Development at Mushkin Inc.