Testing & Methodology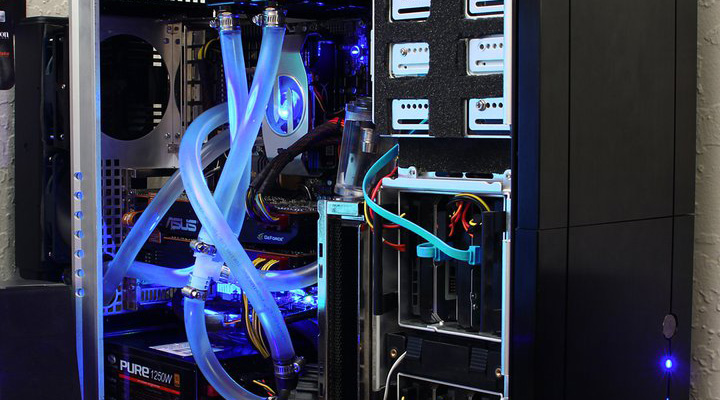 We've expanded our testing suite considerably since the X79 chipset release, and will continue to use the same methods for most of the motherboards and CPU's we test. In the interests of thoroughness and accurate results, we run each test at least three times, and some tests more than that. We average the total of all the tests from each benchmark then report the average here.
The OS we use is Windows 7 Pro 64bit with all patches and updates applied. We also use the latest drivers available for the motherboard and any devices attached to the computer. We do not disable background tasks or tweak the OS or system in any way. We turn off drive indexing and daily defragging. We also turn off Prefetch and Superfetch. This is not an attempt to produce bigger benchmark numbers. Drive indexing and defragging can interfere with testing and produce confusing numbers. If a test were to be run while a drive was being indexed or defragged, and then the same test was later run when these processes were off, the two results would be contradictory and erroneous. As we cannot control when defragging and indexing occur precisely enough to guarantee that they won't interfere with testing, we opt to disable the features entirely.
Prefetch tries to predict what users will load the next time they boot the machine by caching the relevant files and storing them for later use. We want to learn how the program runs without any of the files being cached, and we disable it so that each test run we do not have to clear pre-fetch to get accurate numbers. Lastly we disable Superfetch. Superfetch loads often-used programs into the memory. It is one of the reasons that Windows occupies so much memory. Vista fills the memory in an attempt to predict what users will load. Having one test run with files cached, and another test run with the files un-cached would result in inaccurate numbers. Again, since we can't control its timings so precisely, it we turn it off. Because these four features can potentially interfere with benchmarking, and and are out of our control, we disable them. We do not disable anything else.
One thing to note is that we are revamping our testing method in order to better represent motherboard performance and offering to you guys the consumer. Also we want to make it an easier read for you without miles of endless charts. Please feel free to provide feedback on what you think as many benchmarks will be shuffled or removed completely.
Test Rig
Test Rig
Case
Thermaltake Level 10 GT
CPU
Intel Core i7-4960X
Motherboard
ASUS Rampage IV Black Edition
Ram
Kingston HyperX Beast 2133MHz
CPU Cooler
Swiftech H20-320 Elite
Hard Drive
Western DIGItal Velociraptor 300GB
SSD
Intel 510 series SATA III 120GB
Optical
ASUS BD-ROM
GPU
ASUS GTX780
Additional Cards
N/A
PSU
Thermaltake Toughpower XT 1275W Platinum
Mouse
Tt eSPORTS Black gaming mouse
Keyboard
Tt eSPORTS Meka G1 mechanical gaming keyboard
Test Suite
We will use the following applications to test the performance of the Motherboard
Benchmarks
SuperPi Mod 1.5
Wprime 1.55
PCMark 7
3DMark 11
Cinebench R11.5
X264HD
Truecrypt 7.1
Unigine Heaven 4.0
Metro 2033
Batman Arkham City
Sniper Elite V2
Overclocking

The X79 platform overclocking capability is similar to what we saw before and of course with 6+ core CPUs we are talking much higher voltage levels possible to be used under normal operation versus what we have gotten used to with the Haswell and Ivy Bridge mainstream models. Even with this the chips are designed to take more so the auto overclocks set on this board setup in excess of 1.5Vcore and it will run well at this however i feel its a bit higher than it could be so even when setting something like that i always advise rolling the voltage down step by step to find where the chip truly is happy at. The reason the overclock presets are so high on voltage is the fact that the variance on chips can be pretty wide so ASUS tunes the presets to be a safe setting for most chips, but if you do get a chip that performs better than you can adjust it down possibly by a sizable amount 
The Black Edition reaches our test frequency with more than just ease it is almost too easy and even the gamer presets in the BIOS easily surpass the 4.6GHz speed we use for testing. so with that said and the LN2 nature of this board on top of the fact that previous to its retail introduction the board has taken some of the top world records very quickly in teh right set of hands.   this board is a monster just waiting to be let off the chain and just find a reason to get it cold and it can really deliver.
Add to this the extensive features with the OC Panel and there is alot of room for extensive tweaking and tuning with the Black Edition pending you have the hardware capability from the CPU and memory front.
Power Consumption

The power consumption was tested while running Wprime 1024 for a few minutes at stock settings. The results were recorded carefully with a Kill-A-Watt power consumption measuring tool at the wall. After the results were recorded, we waited for yet another few minutes minutes before taking Idle power consumption measurements.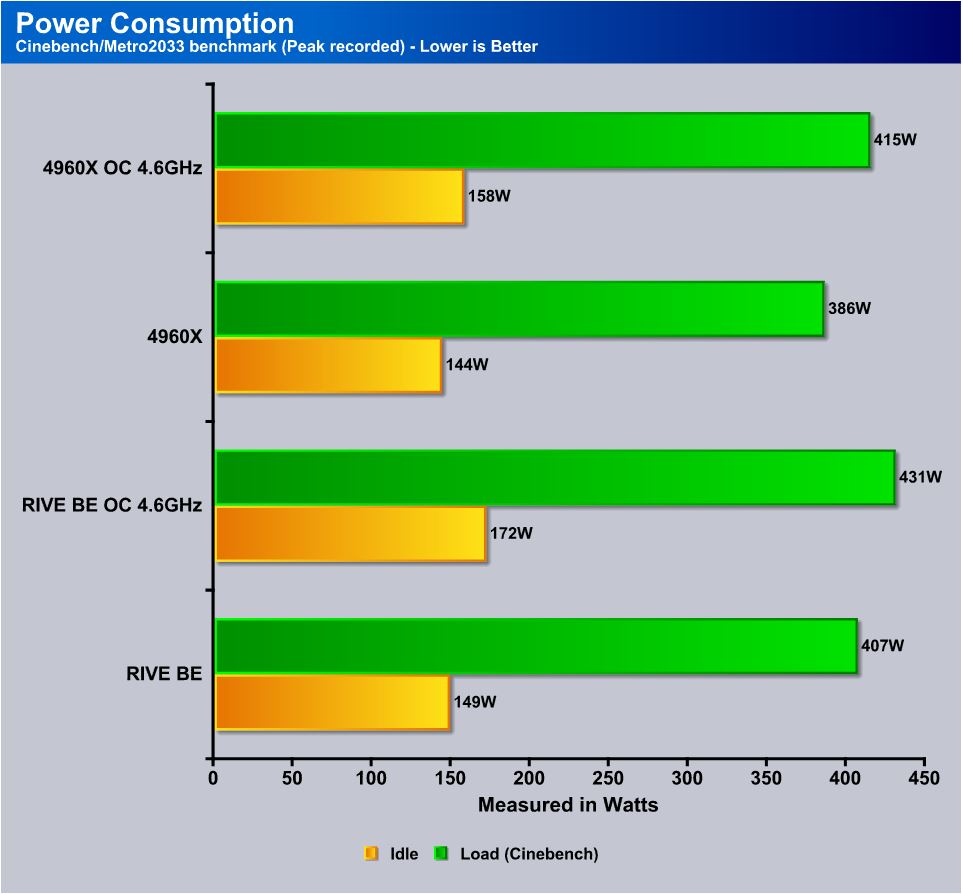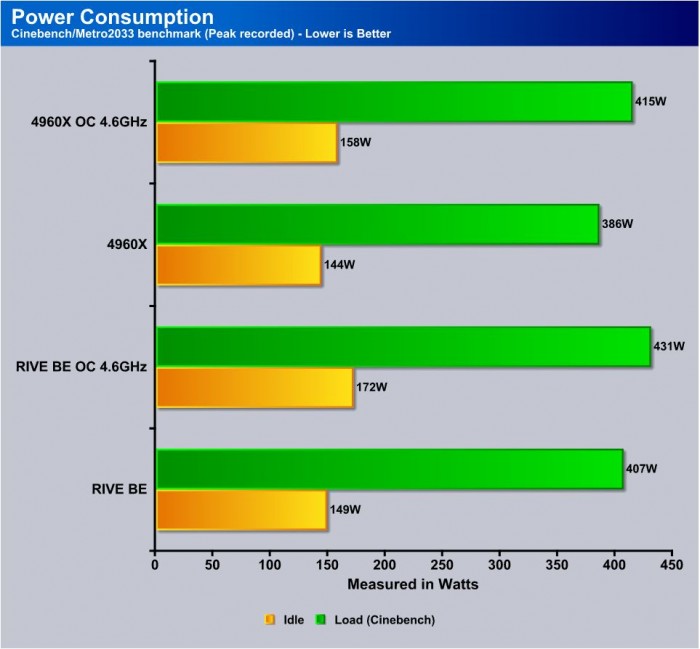 The power consumption tests show that the Black edition pulls a bit more power but with the extra features added to the board along with controls IC's and the such is not really a surprise.
Performance Benchmarks
PCmark 7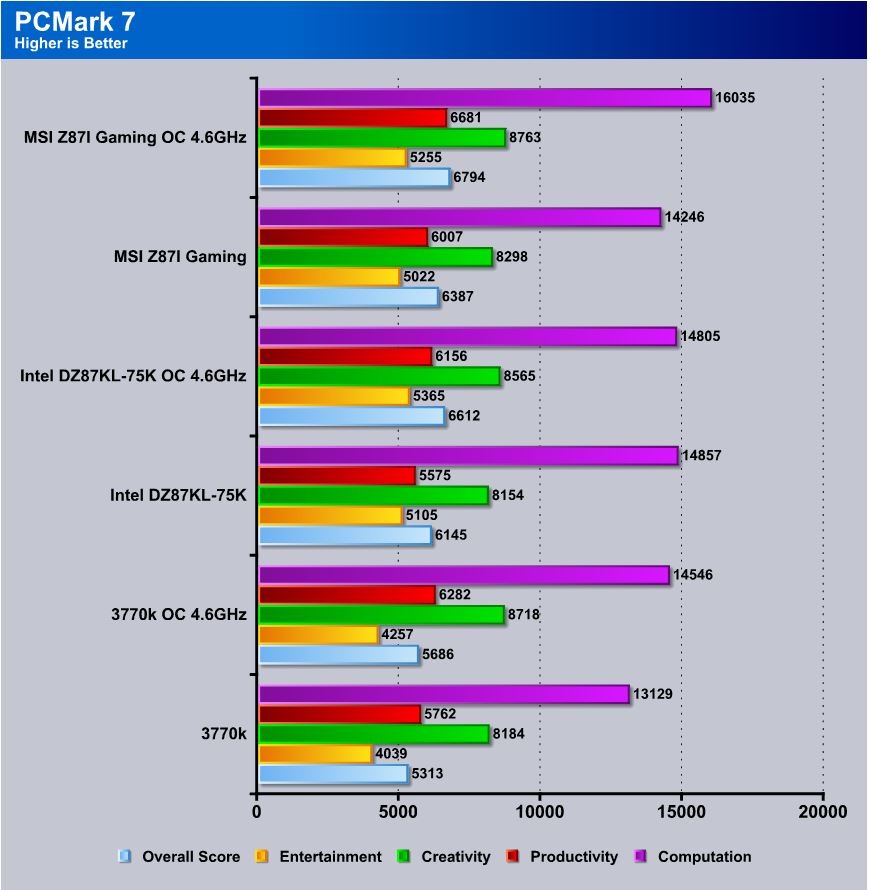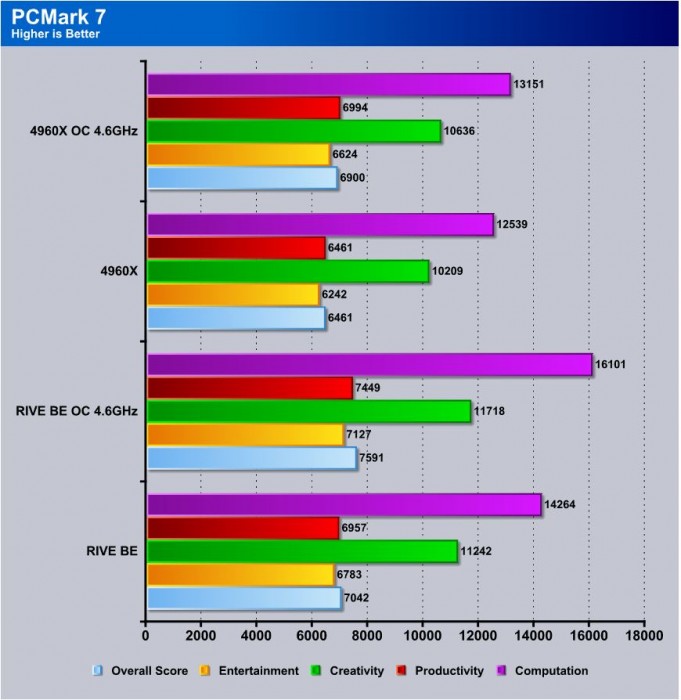 Here with PCMark 7 we see that the strong performance already seen on the 4960X gets a bit better as the optimizations are put into use with the new Black Edition board.
3DMark 11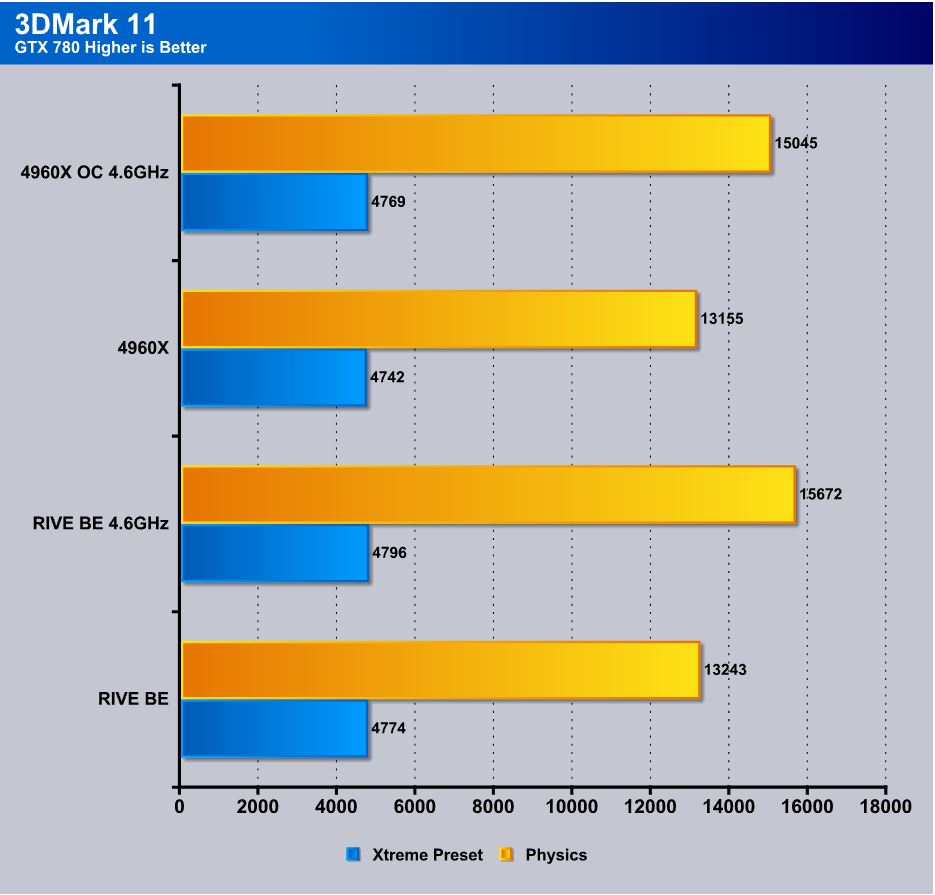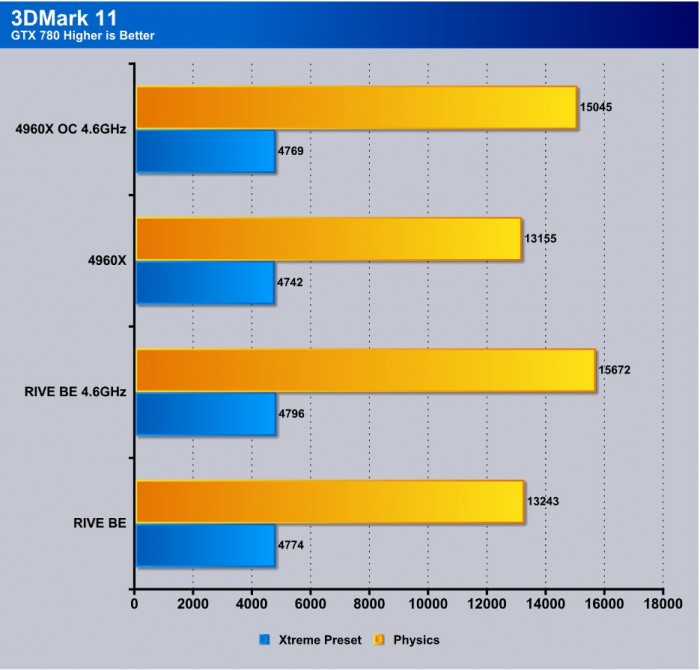 Here you can see the jump from the extreme to the Black Edition allows for a nice Physics jump which is of course a CPU based test.
SuperPi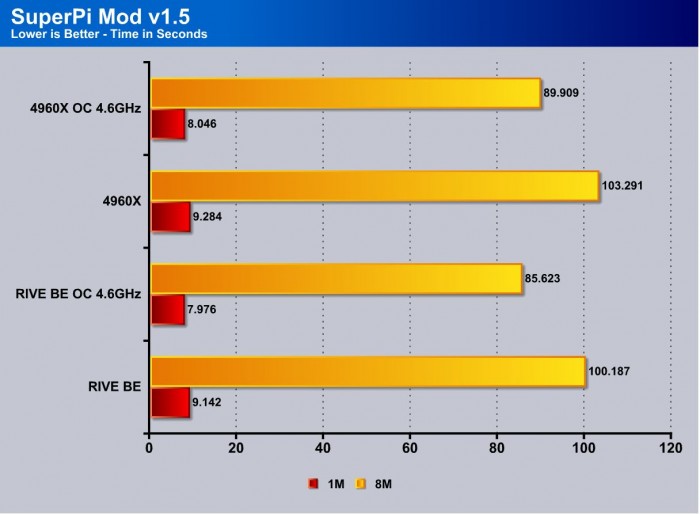 The Black Edition shows a nice efficiency jump here which definitely speaks well to the tuning for the Black edition which is what this board was built for.
Wprime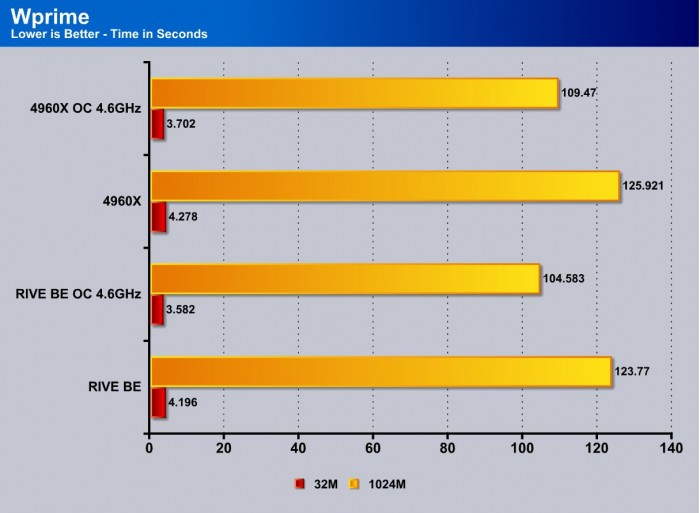 WPrime tests multi threaded performance much like Superpi but with all cores/threads depending on how many threads you tell it to test with. Overclocking will definitely improve this score but first and foremost it is worth noting that at stock speeds changing to the Black Edition shaved over 2 seconds on the long test which means taht any operation using all of the threads such as render or other productivity work can be completed quicker with the optimizations of the Black edition board. 
Cinebench R11.5
"CINEBENCH is a real-world test suite that assesses your computer's performance capabilities. MAXON CINEBENCH is based on MAXON's award-winning animation software, CINEMA 4D, which is used extensively by studios and production houses worldwide for 3D content creation. MAXON software has been used in blockbuster movies such as Spider-Man, Star Wars, The Chronicles of Narnia and many more. MAXON CINEBENCH runs several tests on your computer to measure the performance of the main processor and the graphics card under real world circumstances. The benchmark application makes use of up to 16 CPUs or CPU cores and is available for Windows (32-bit and 64-Bit) and Macintosh (PPC and Intel-based). The resulting values among different operating systems are 100% comparable and therefore very useful with regard to purchasing decision-making. It can also be used as a marketing tool for hardware vendors or simply to compare hardware among colleagues or friends."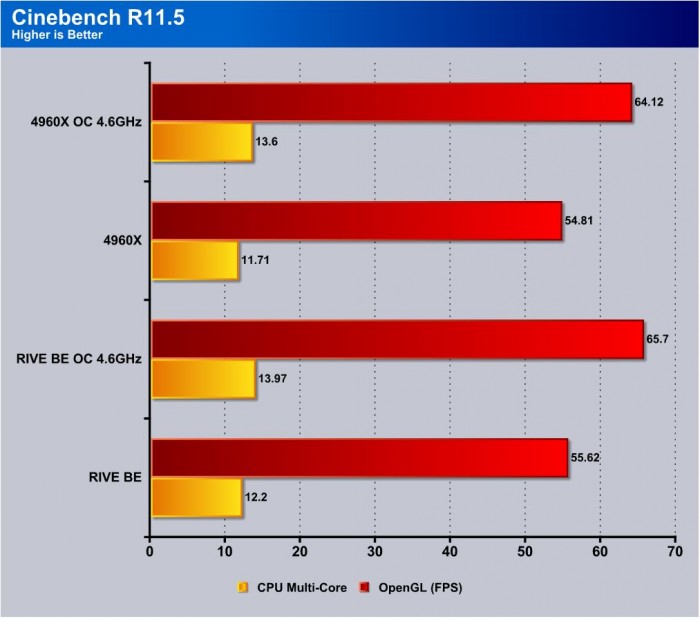 Cinebench is all about rendering and the CPU multi core tests shows this capability and any improvements in the process of completing the job with platform or clockspeed changes. Here you can see that the Black Edition gives about a 5% increase in relative CPU performance at stock clocks over the Rampage IV Extreme and a little over 3% when overclocked at 4.6GHz.
X264HD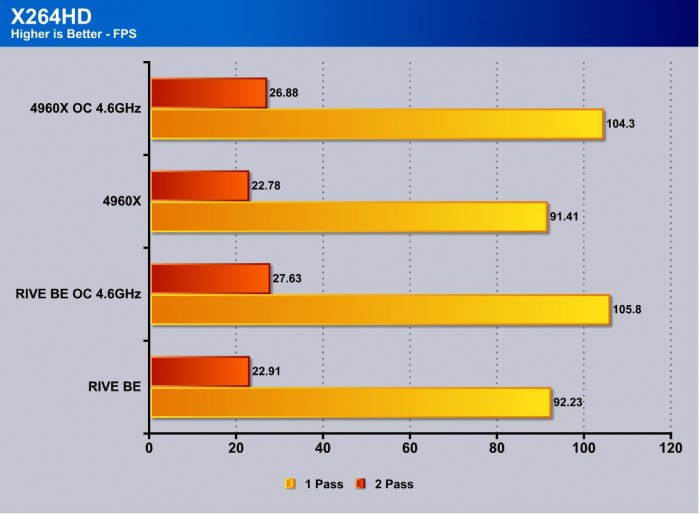 Transcoding has become more popular now and the latest Sandy Bridge processor added support for AVX instruction for faster video transcoding. With the new Ivy-E performance inches forward more here and you can see that even with same CPU and components a board taht is optimized for the components being used can add some definite measurable performance.
Truecrypt 7.1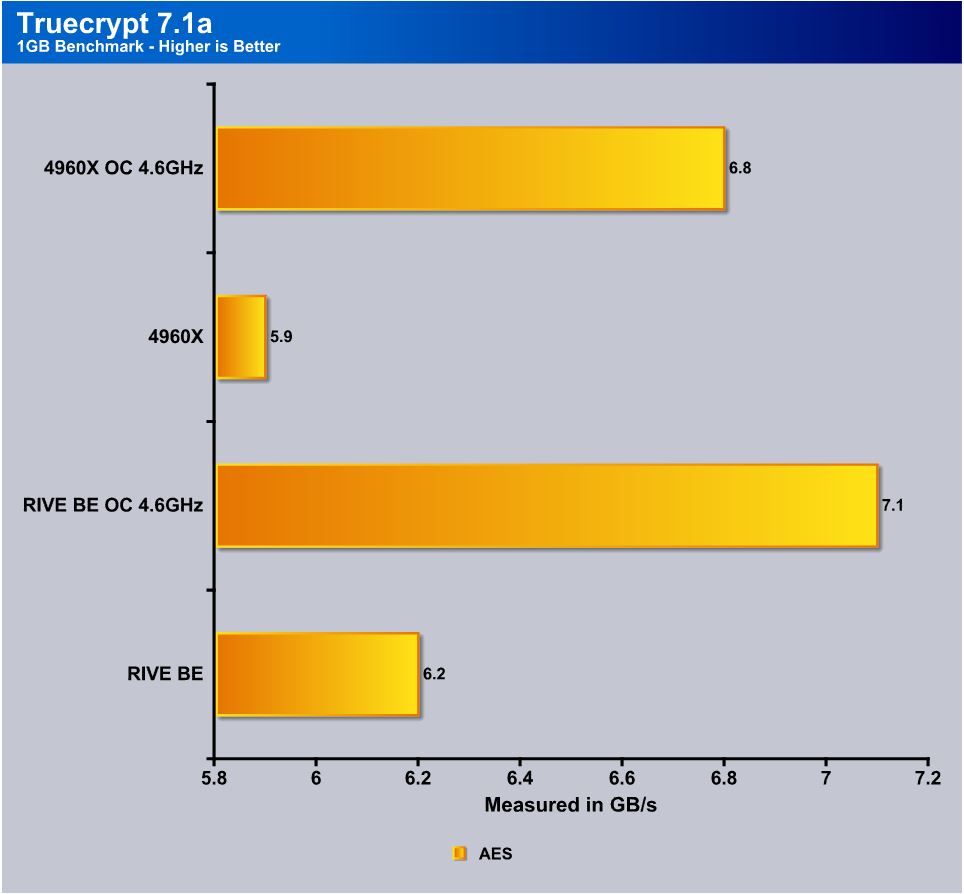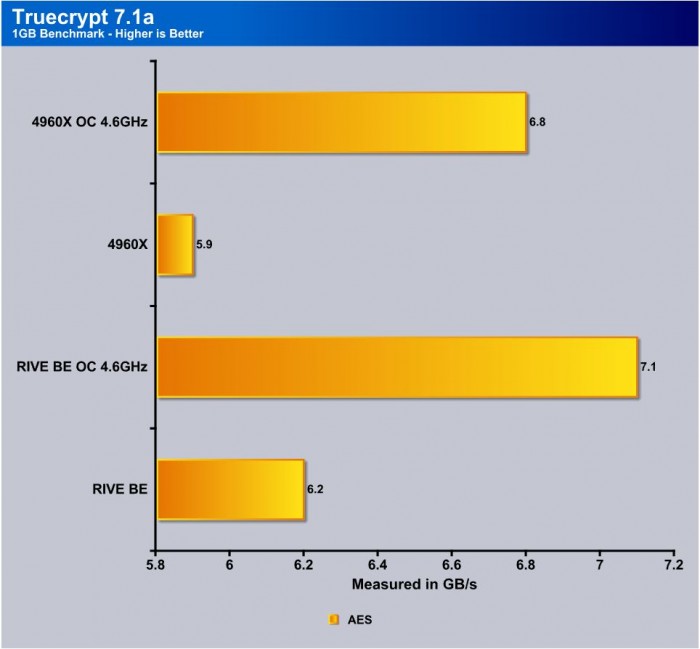 TrueCrypt is a real world application that gives a good indication of the true performance of our latest processor. Here the 4960X gets a nice bump with the new Black Edition board.
Unigine Heaven 4.0

Unigine Heaven is a benchmark program based on Unigine Corp's latest engine, Unigine. The engine features DirectX 11, Hardware tessellation, DirectCompute, and Shader Model 5.0. All of these new technologies combined with the ability to run each card through the same exact test means this benchmark should be in our arsenal for a long time.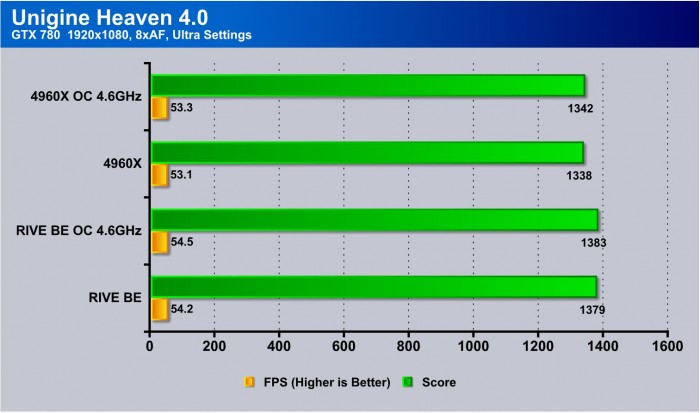 Unigine Heaven using a GTX 780 card shows very good performance and jumping to the black edition jumps a few percent which shows that even the PCIe and Graphics performance is improved when switching to the new optimized Black Edition. 
Metro 2033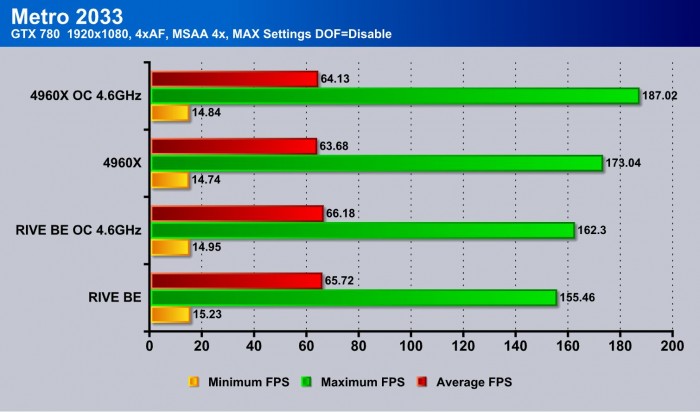 Once again, Metro 2033 shows that discrete GPU performance is improved via the optimizations gaining a couple FPS jumping from the Extreme to Black Edition.
Batman Arkham City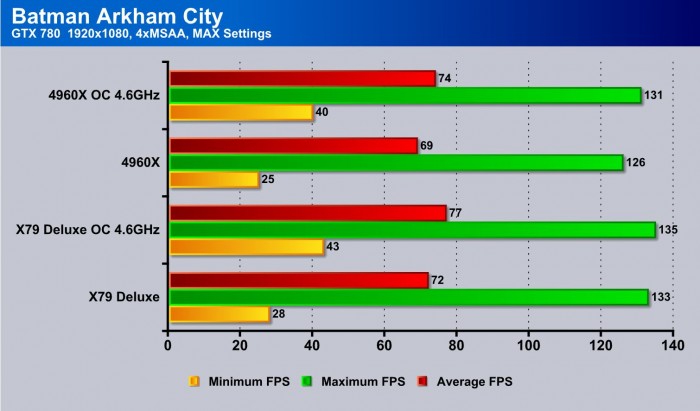 Discrete GPU results on Batman AC once again show some small gains as expected.
Sniper Elite V2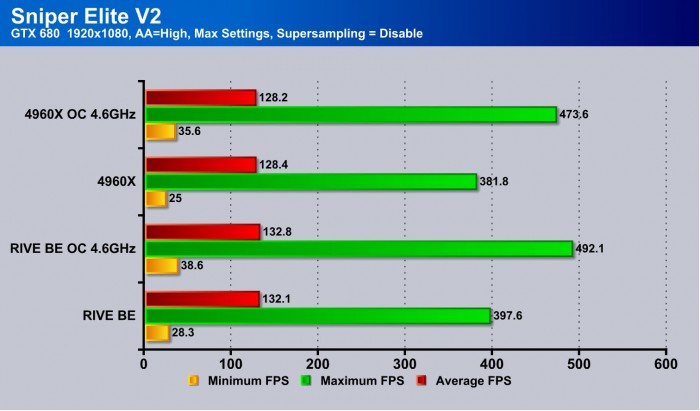 Continuing the trend you see that the change to the Black Edition make a few FPS bump over the previous Rampage board.
Our Final Thoughts

ROG has recently made some very interesting innovations and products, and with the recent innovations such as the constant improvements to SupremeFX audio solutions, VRM designs and even T-Topolgy memory trace layouts the benefits simply continue to stack.
Well with the Black Edition Rampage ASUS really kind of rolled up all of the innovations they have worked on in the previous few board generations and especially in the Z87 lineup to give the board the very best in potential performance for the enthusiasts users.
Black Edition styling without a doubt makes for a menacing board look and one that should readily fit pretty much any build you wanna throw it at.
Pulling in their network team to implement a WiFi AC solution means that not only is the system fast but even the connectivity gets a nice boost as well.
The Con if I were to find one would likely be that the price carries a pretty hefty bounty and there is no doubting the fact that there are many boards that could be had for less but at the same time ASUS also introduced another Ivy-E optimized board so that this board is available for the extreme users whereas the Deluxe can meet the needs of the users who maybe dont need some of the ROG trickery or Overclocking advances.
In conclusion ASUS and the ROG team did a great job at introducing another board that can gladly wear the ROG namesake and even carries a quite huge host of extra features for enthusiasts users so taht anyone jumping in the X79 platform and needing ultimate Ivy-E Performance and features you really cannot go wrong here but if you already have a Rampage IV Extreme then you should be ok with that unless things like the WiFi are a huge deal for you.
The Pro's:
Cons

Awesome Black Edition Styling
Intel Gigabit LAN
High end New Design SupremeFX audio solution
Super Strong Digi+ III VRM components
AC WiFi & Bluetooth 4.0
Extensive IO connectivity
new clean UEFI with cool feature set
Newly designed software
Black caps work and look awesome
Onboard header for OC Panel
T-Topology
SSD Secure Erase
ROG RamDisk

Price could be tough for some
Review Overview
Performance - 10
Value - 9
Quality - 9.8
Features - 9.5
Innovation - 9.5
9.6
ROG Shows again What can be with the new Rampage IV Black Edition, offering amazing performance and features even on an aging platform!