Overview of the ASUS Rampage IV Black Edition
Click Image For a Larger One
We are used to the ROG styled packaging but we are also used to the red, but the black edition will have none of that or should I say very little of that as their primary focal point here is dark blacks and grays creating a menacing package to mirror what is held inside.
The flip open door allows some in-depth detail along with a nice view of the board in the box.
The rear shows more spec info along with a graphical layout of the IO.
 Click Image For a Larger One
Here we see the complete accessories included.
SATA Cables
WiFi Dual in one Antennae
1366 style backplate
ROG OC Panel connection cable
Qconnect front panel connectors
ROG Connect USB Cable
IO Shield
SLI Ribbon Cable
3Way SLI Bridge
4 Way SLI Bridge
Crossfire ribbon
ROG solid badge
Cable labeling Stickers
Installation disc
Owners Manual
The accessories here are plentiful and offer lots of ways to connect wired and wireless. One really cool thing is that the LGA2011 based ROG boards have the adapter backplate which allows standard through board mounting of the CPU cooler. or the LGA 2011 backplate which has threaded holes for LGA 2011 style cooler mounting.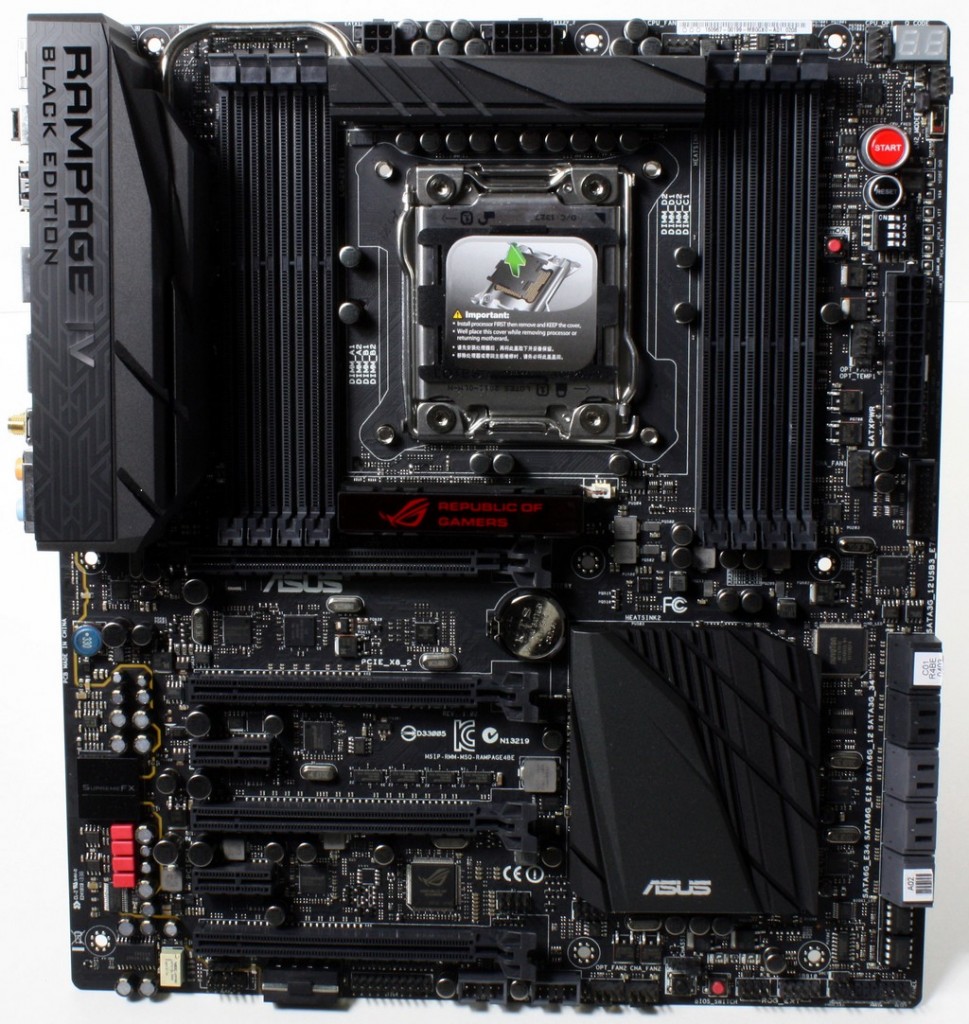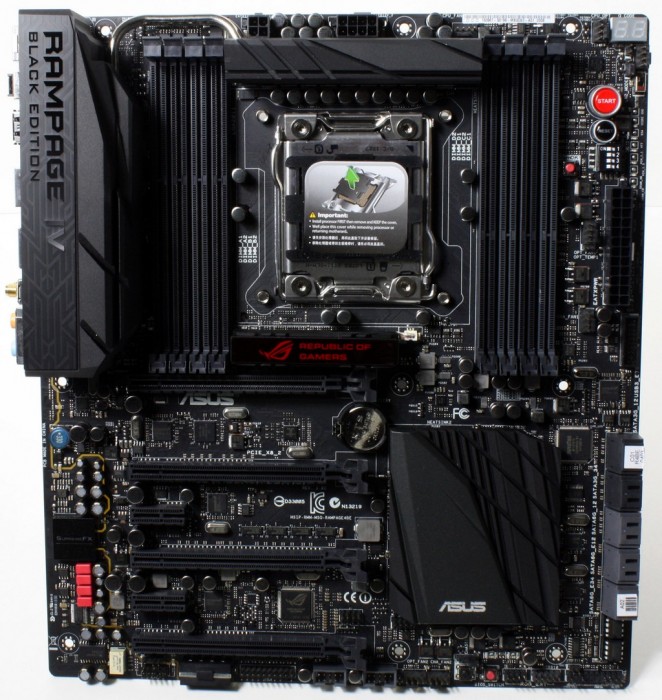 Click Image For a Larger One
HThe layout on the black edition is very much like the extreme but actually better as instead of the 6 pin PCIe connection mid board for extra PCIe power, the Black Edition carries a 4 Pin PATA connection at the lower edge of the board to feed hungry GPU slots in stressful multi card configs. The slot spacing is dual slot for up to 4 Way SLI or Crossfire or running dual card can have quad slot spacing for massive airflow potential for dual card configs. The massive Black edition VRM heatsink carries a nice look and even a IO Shroud which adds a definite level of style to the mix.

Click Image For a Larger One
Looking at the IO it as well as the board is stuffed quite well with features.
KB/Mouse PS2 port
USB BIOS Flashback Button
ROG Connect button
4x USB 2.0 Ports
Intel Gigabit (10/100/1000) LAN Port
6x USB 3.0 ports (Via Asmedia Controller)
Optical S/PDIF Port
Wifi AC / Bluetooth 4.0 Antennae headers
8 channel ROG SupremeFX Black audio connections
As you can see here there is plenty of connectivity here and the addition of WiFi capability along with plenty of USB 3.0 ports makes high speed connectivity easy and superior audio designed for an awesome gaming audio experience.
Click Image For a Larger One
This board supports dual triple slot GPUs or up to 4 way dual slot GPUs this allows for 4 Way SLI capable cards such as the new 780 Ti to run at extreme levels which for those who find such a need can really see a huge performance capability with the Black Edition.
The Memory capabilities of the black edition is up to 64GB and speeds of up to 2800+MHz and of course I would not expect such speeds at 64GB capacity. This allows for massive memory capability for heavy load usage such as render or high end editing jobs. Also another usage would be via the included Ramdisk software that you can build some sizable super high speed storage directly on your system memory.
The IO Shroud portion of the cooler allows for a much cleaner appearance appearance than the normal silver blocks you see surrounding the IO ports.
Click Image For a Larger One
The VRM uses a 8+4 pin CPU ATX power connectors to ensure plenty of power is available even under the most strenuous loads or heavy overclocks the board may see.
The VRM employs the new Extreme Engine Digi+ III components which we discussed before but as you can see it utilizes specially selected components to feed your critical components. The chokes are smooth shiny high end models capable of up to 60A a piece and high efficiency Mosfet packages delivering super high performance and efficiency up to and exceeding 90%
The VRM cooler assembly you can see when removed has a secondary cooler along with the shroud connected via heatpipe to allow excellent cooler clearance while plenty of heat dissipation.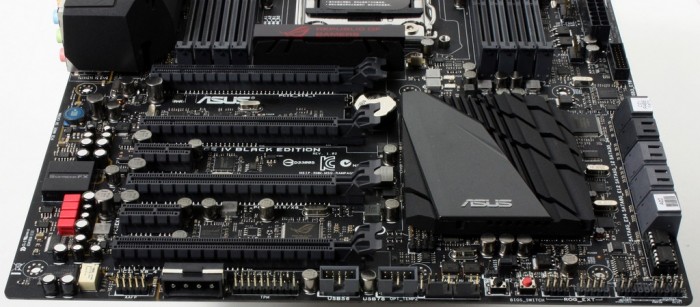 Click Image For a Larger One
The lower edge has a huge amount of connectivity as below.
4 Pin PATA power connector (Supplemental GPU power feed)
Front Panel Audio Header
TPM Header
2x Fan Headers
ROG EXT Header (OC Panel)
2x USB 2.0 Headers
Opt Temp probe header
DirectKey Button
BIOS Switch
Front panel Headers
As you can see there is a huge amount of connectivity and controls in this lower area. Some of which may not be accessible when running 4 way cards but with the upper right area of the board which has many of the key controls in place.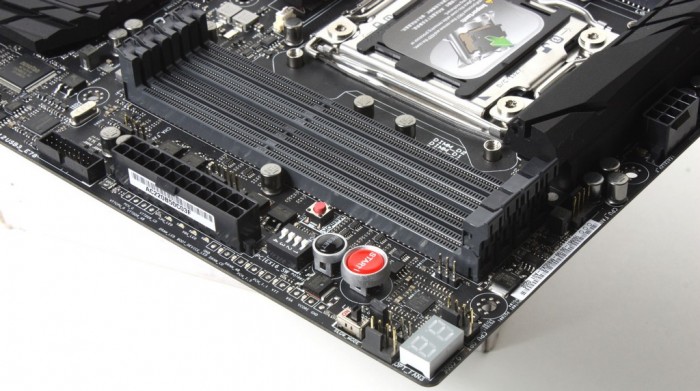 Click Image For a Larger One
Here is the overclockers corner as we have gotten used to. Here it holds the power, reset and MemOK buttons
 . Thats not all as the PCIe Disable DIP switches Debug LED and even onboard slow mode and LN2 mode controls round out some of the special features. Now you may notice there are some omissions here such as the VGA Hotwire but that is due to the fact that now these extreme features are part of the OCPanel device and this makes for a bit less crowded work area on the PCB.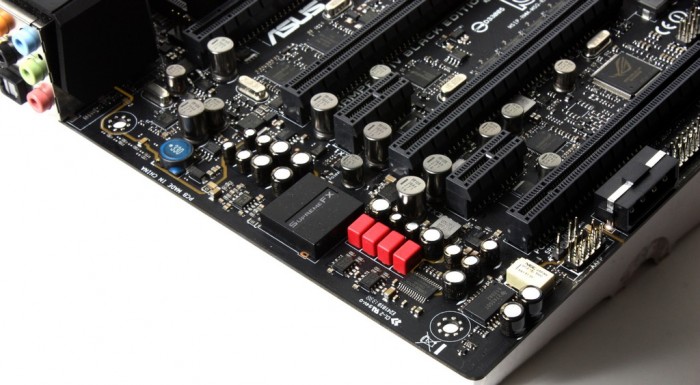 Click Image For a Larger One
Here is the SupremeFX Black solution which is a massively superior solution when compared to most standard onboard audio solutions as the SupremeFX solution utilizes top quality ELNA and WIMA Capacitors for excellent audio clarity and performance along with high end DAC solutions and headphone amplifier.
The Codec is covered by a backlit SupremeFX shield which adds a bit of style to the overall solution.
The SupremeFX solution also employs the island style PCB which allow maximum separation of audio signals from the other digital signals from adjacent electrical components.
Software Overview
AISuiteIII

ASUS has completely redesigned the AISuite Software with the AISuite III software. A completely new user interface is now available and with that comes a much smoother function.
Overall the AISuite III software has been completely reworked for a cleaner looking interface. As you can see there is alot more information available in each section as the upper screen gives you the controls of the section you are in and the bottom area can be tabbed through and has a load of different monitoring areas to cycle through and help you see exactly how your board is behaving in real time. Also this is a significant change so it may take you a few minutes to figure out where everything is at but in the end it is quite easy once you get the hang of it as the system has changed from a selector bar or taskbar driven software to a larger screen driven software.
Mem TweakIt
 Mem TweakIt is a great program for extreme overclockers or tweakers as it allows real time adjustment and tweaking of the memory for the system which can make the difference between a high point run and a world record run.
BIOS Overview
The BIOS of the Black edition is similar to what we saw on the Z87's they employed a new better layout with some added features and the Black edition carries all of these.
First up would be the ability to take notes within the BIOS and also the ability to add favorite options within the BIOS to make it easier for you to use the options you would use most often.
One really cool feature they added is the SSD Secure Erase function which allows restoration of SSD performance with a full secure erase of the SSD drive, it is worth noting that when using the SSD Secure Erase function all data will be destroyed on the drive so dont test it on the OS drive without a backup.
Also one of the defining characteristics of the BIOS is the Black theme which is a full dark gray/black theme which looks very simple and sleek when compared to the original. Now this could just be the fact that it is something different breaking up the endless combo of blue for standard boards and Red for ROG but the black really does look nice.
Functionality and tuning of the BIOS has been tailored for usage with the new Ivy-E chips which allows for better performance than some of the boards that are existing and simply got a firmware update.
Review Overview
Performance - 10
Value - 9
Quality - 9.8
Features - 9.5
Innovation - 9.5
9.6
ROG Shows again What can be with the new Rampage IV Black Edition, offering amazing performance and features even on an aging platform!