Overview of the ASUS Maximus VI Impact
Click Image For a Larger One
The packaging is a basic ROG design albeit smaller. The flap opens like you are used to but instead of a sight window we get more spec feature coverage and on the rear a bit more in depth.
 Click Image For a Larger One
Here we see the complete accessories included.
SATA Cables
Qconnect front panel extension connectors
IO Shield
mSATA/mPCIe Combo Card
Dual in One Antennae
SupremeFX Daughterboard
Mounting screws
Washers for rear of board cooler installation
ROG Shield Case Badge
Cable labeling Stickers
Installation disc
Owners Manual
The accessories here are everything needed to get the Impact up and running and I do like the way that ASUS did the Qconnect front panel connections as it is an extension header which means no fighting with the tight spaces to get the board wired up.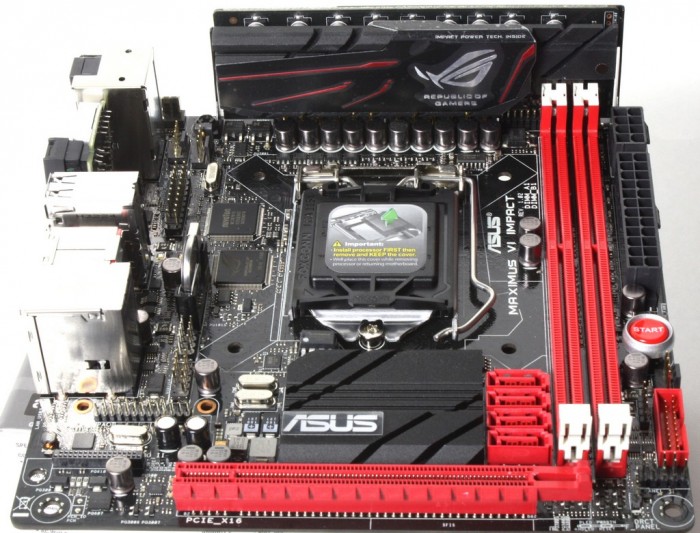 Click Image For a Larger One
Here you see the whole impact board and there is far less PCB here with only a single full length PCIe slot, 4x SATA, dual DIMM slots, large Vertically placed VRM and pin headers for the add on daughterboards all make up the array of major components. Add to this the fact that ASUS managed to keep most connectors still at the board edge is pretty awesome!

Click Image For a Larger One
Looking at the IO it as well as the board is stuffed quite well with features.
HDMI Port
Displayport Connector
Optical SPDIF Connector
LCD Poster
Directkey Button
MemOK Button
BIOS Flashback Button
ROG Connect Button
4x USB 2.0 Ports
eSATA port
Intel Gigabit (10/100/1000) LAN Port
4x USB 3.0 ports (4x Intel Z87)
8 channel SupremeFX powered audio connections (With Daughterboard Installed)
The sheer amount of connectivity made available on this ITX board is amazing and I do not know how they have done it.
Click Image For a Larger One
The Impact has four total SATA ports on the board and also one on the IO via eSATA and the final routed to the Combo card header for the NGFF slot which are all rated for up to SATA 6G operation and routed from the PCH. The SATA ports support full Intel RAID function for the onboard ports but I could imagine is not recommended to try and include the eSATA port although im sure it could.
The single PCIe SLOT is full x16 PCIe Gen 3 and since it is a single slot you can only run a single GPU so no need to worry about SLI or crossfire configs, and also if there is a GPU installed you cannot add any HBA or other cards in place. This is not an issue, as it is the same limitation as any other ITX board.
Click Image For a Larger One
The VRM on the Impact is a vertically mounted separate PCB which allowed ASUS to install a fully functioning high end CPU power circuit in place where normally there simply would not be the room for it. ASUS did not miss the opportunity to theme the cooler with ROG styling either and even added a backplate to the VRM PCB to allow better heat dissipation and protection of this vital board.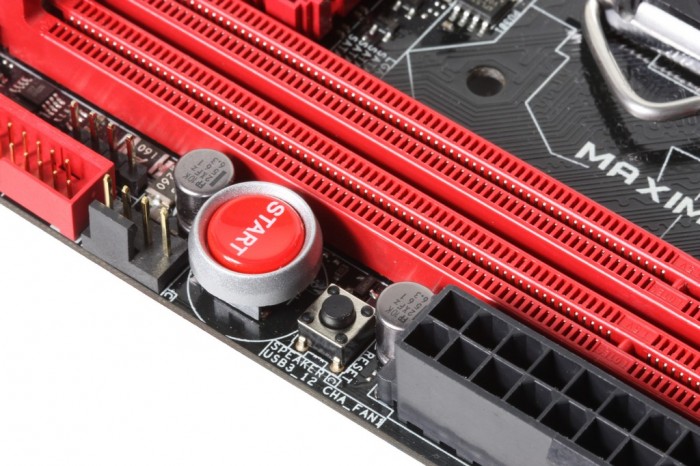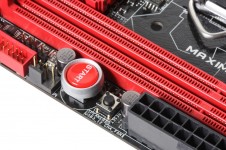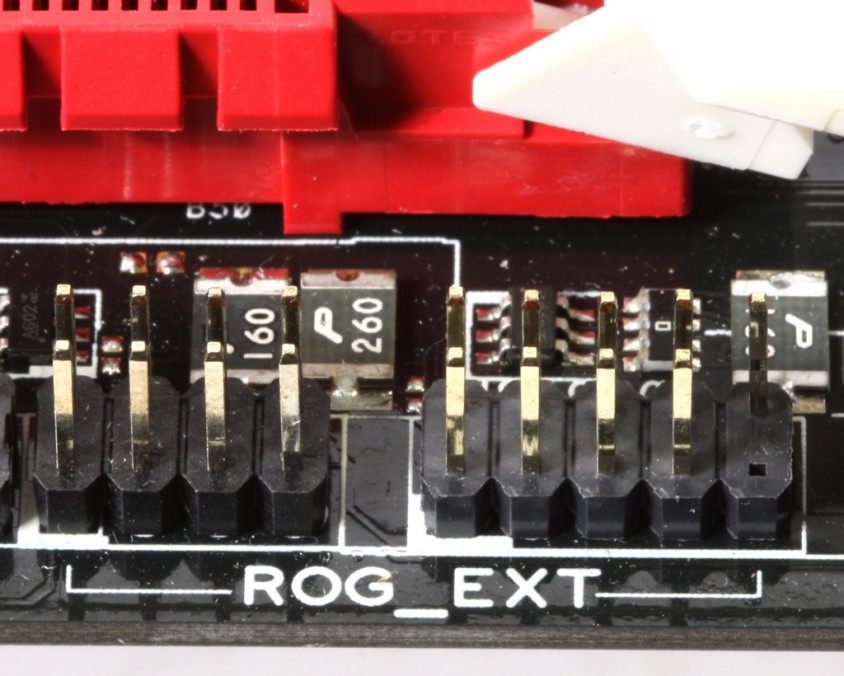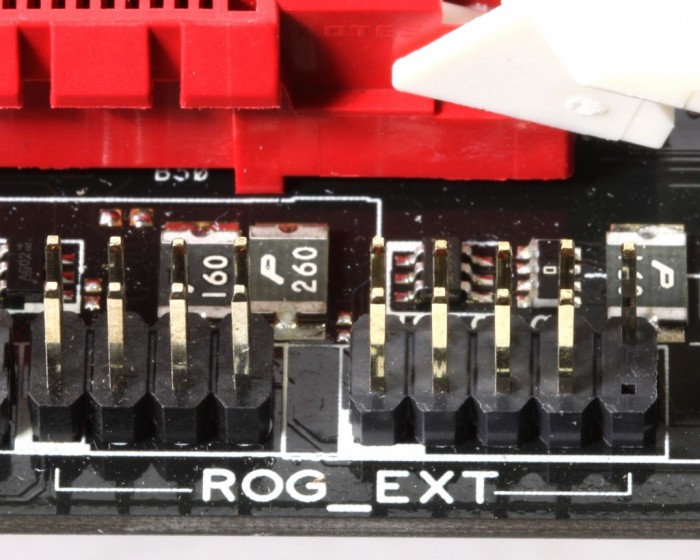 Click Image For a Larger One
The normal switches for the overclocker corner are pretty much on the IO with the exception of the lighted power and reset buttons which are actually on the right hand side but moved below the ATX main power connection to allow for proper board layout on this space limited configuration.
The left hand side of the CPU socket is where you will find the ROG EXT connection which I used a picture form another board to show as the connector was very hard to image on the Impact but this just goes to show that the OCPanel if purchased separately could be used to tune and benchmark even this tint board and even give it the all of the extreme capabilities that are normally reserved for the extreme model.
Click Image For a Larger One
Here you can see where much of the overclocker corner buttons and monitoring has been moved to yet another vertical PCB which houses the LCD poster, MemOK button, DirectKey, USB BIOS Flashback button and ROG Connect buttons all in a compact area found on the IO.
The lower right hand corner holds two pin headers, one of them being the front panel connectivity and the other being the DirectKey header which allows quick BIOS Access via a press button or even routing your Reset switch for you chassis to this instead for easy quick access to your BIOS with a single button press.
The top left holds dual pin headers as well with one being used for control of the fastboot function, the second is for the LN2 mode function which disabled critical protection to the CPU and enables higher power limits and power states which allow the board to perform under extreme cooling such as the extreme -180C temps observed during extreme benchmarking runs where otherwise sensors can go out of whack and cause system instabilities or strange functionality. This jumper simply changes the boards state to one which is optimized for this level of operation.
Click Image For a Larger One
To the left of the CPU socket you will find the BIOS Battery which is placed upright to save even more space and it sits next to a ROG chipset used for controlling some of the ROG features and functions of the Impact board.
The lower left area has two different pin header sets which one is female and one male and these are in place to support the mPCIe/mSATA card along with the SupremeFX daughterboard functions.
Here you can see the daughterboards in place on the board and how the installation was thought out to allow fitment of each item almost like a PCB version of Tetris.
Software Overview
AISuiteIII

ASUS has completely redesigned the AISuite Software with the AISuite III software. A completely new user interface is now available and with that comes a much smoother function.
Overall the AISuite III software has been completely reworked for a cleaner looking interface. As you can see there is a lot more information available in each section as the upper screen gives you the controls of the section you are in and the bottom area can be tabbed through and has a load of different monitoring areas to cycle through and help you see exactly how your board is behaving in real time. Also this is a significant change so it may take you a few minutes to figure out where everything is at but in the end it is quite easy once you get the hang of it as the system has changed from a selector bar or taskbar driven software to a larger screen driven software.
Mem TweakIt
 Mem TweakIt is a great program for extreme overclockers or tweakers as it allows real time adjustment and tweaking of the memory for the system which can make the difference between a high point run and a world record run.
TurboV Core
 Turbo VCore is a super lite program made for quick and easy board tuning within the OS. We have seen many companies starting to realize that their included software is a bit too much or a bit too heavy for users who need a super light easy to load program that also loads quickly as being on the ragged edge overclocking you cannot wait for a huge program to load just to make a quick change.
The Turbo VCore program is just this and it fits the bill nicely as it loads very fast and load or overhead on the system is very small which is exactly what you need when running in such extreme conditions.
BIOS Overview
The BIOS of the ASUS Z87's still carries the same fluidity that the Z77 and Z68's carried as ASUS has done very well on the overall UEFU/I code which means the only think they have really needed to add was updates based on features or tuning of the board. Well all of that aside ASUS did add some very interesting features which we think will help some users especially those who like to tweak their boards and try to squeeze a bit more performance from them. The ability to  take notes within the BIOS is very cool although I am old school and always keep pen and paper near by, we guess you could call this a "Green" alternative as you take notes on adjustments, although I would still keep a paper backup of any notes or at least a screenshot (F12) of the notes before flashing the BIOS as a bios update that goes deep enough could clear those notes and they would be gone forever.
Another neat feature would be the Last modified section which basically just logs any changes you made in the BIOS so that if you run into an issue you can go back and look at what your changes were all dated and with a timestamp so that you can revert changes and test again without starting over. This is a interesting feature and I am not saying everyone will use it but well for the target audience of this board (Extreme enthusiasts and overclockers) we think it could ultimately be very useful.
Another cool addition is the my favorites page which allows you to earmark certain settings within the bios to be placed on this page where you can go to and have access to your most commonly used settings without having to go through all of the other settings as there are quite a lot on this board.
The memory presets like we have grown accustomed to show here again and from various testing I can say with utmost certainty that the Impact is proving to be one awesome memory clocking board so im sure these will be of good value to those who are looking to enter the memory benchmarking or frequency race.
Review Overview
Performance - 9
Value - 8.5
Quality - 9.5
Features - 10
Innovation - 10
9.4
The Maximus VI Impact is an extremely impressive entry as the ITX market has been waiting for a board of this caliber and ASUS finally made it happen and in traditional ROG form and flair!