Introduction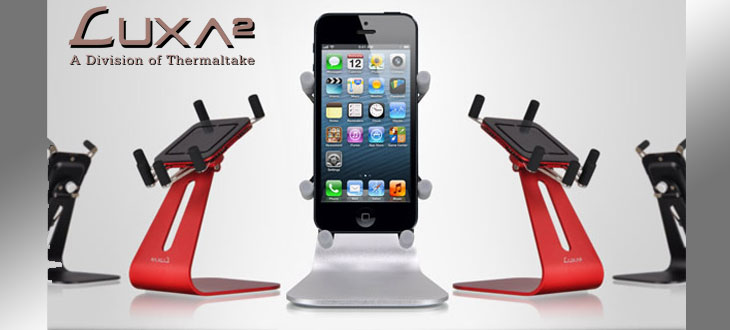 Some of our lives are busy and disorganized. We wake up in the morning and we rush to work to find ourselves overwhelmed with too many things, sometimes too much to handle. The clutter of paperwork doesn't help either, making us feel like we're working in a mess and feel disorganized. We get back from work and we find that even at home we spend half the time just looking for our belongings, whether it's our keys and even just our smart phones. LUXA2 helps us get a bit organized and promote our workflow by giving us a convenient, unique yet sturdy mobile holder.
Smartphones have become part of our lives as we highly rely on them in our every day lives. Some use it just for fun, for social media, music, movies, games, massaging and to call their friends and family. However, a majority of us also take full advantage of its business side, staying up to date on every project at work and allowing us to communicate freely with others wherever we are. Because of this, many companies try to come up with universal cell phone holders to cater towards both sides of users, the ones that need to keep track of projects, messages, email, calendar, and much more without having to pick up our smartphones, or for those that just want to sit back and perhaps enjoy a movie with their friends. The problem with most of these companies is that even if their products get the job done, they are not the sturdiest designs, they are mostly built from plastic and eventually they loose their functionality or break. LUXA2 has been striving to provide a sturdy and quality product to their customers, but it also comes with a slightly higher price. Today we're taking a look at the LUXA2 H1 Premium Mobile Holder, which is a universal mobile holder for smartphones with a screen size ranging from 3.2″ to roughly 4.8″. We're testing the H1 Premium Mobile Holder with our Samsung Galaxy S4, which comes with a 5″ viewable screen. We will see if this mobile holder is capable of even holding a larger phone than what it was designed for, and how well it accomplishes its job.
Features & Specifications
Product Name
H1 Premium Holder
P/N
LH0014
Dimension

| | |
| --- | --- |
| Height: | 152mm (5.98 inches) |
| Width: | 93mm (3.66 inches) |
| Depth: | 102mm (4.01 inches) |

Weight
205 g / 0.45 bls
Material
Aluminum
Color
Silver
Compatibility
Smart device with 3.2" – 4.8" display
Maximum device dimension for compatibility: (L: 140mm x W: 80mm x D: 15mm)
Durable aluminum with gorgeous surface finishes
H1 Premium is beautifully crafted from solid aluminum for durability and unbeatable quality. The surface is specially treated for a gorgeous brushed metal finish so it looks really good on your desk and complements your smart device like no other.

Thoughtful details
Rubber covered points will not scratch your phone and the silicon pad adds extra suction to securely hold your device in place.


Multiple compatibilities for phones with 3.2" – 4.8" display
The 6-arms holder is fully adjustable, making it the perfect stand to hold most smart phones on the market.

Multi directional, 360°rotatable hinge
H1 Premium's 6-arms holder is 360° rotatable, which supports landscape, portrait and any orientation in between. The patented hinge allows front and back rotation. You can truly enjoy your smart device 'any way' you want!
Product Overview
Click on Image to Enlarge
The H1 Premium Mobile Holder comes packaged in a sturdy box with basic information about smartphone size compatibility (L: 140mm x W: 80mm x D: 15mm), and pictures showing how the product looks and can twist and turn in any direction. The box comes with a basic LUXA2 color scheme. Without further ado, lets dive into what actually comes in the box.
Click on Image to Enlarge
Here we see that the H1 Premium is packaged in a card board air cushioned design, along with the instruction manual that comes with basic specifications, warranty information, and product overview. As you take the mobile holder out of its packaging, you will have to remove a protection strip attached to the black back surface of the mobile holder. The H1 Premium comes in multiple color combinations, including the silver aluminum look that we have here today, but you can also get it in black or red.
Click on Image to Enlarge
After a few minutes of examination, the H1 Premium Mobile Holder seems to be a very sturdy and a quality product. We usually don't praise products unless we feel that it is really worth praising. With that said, its sturdy aluminum design, soft rubber like silicone stands and the back surface of the mobile holder really do make the H1 Premium stand out from the crowd. Most products on the market are made from plastic and cheap parts, making them overall a low quality product, which is of course the reason why you can also find them for cheap online. With the LUXA2 H1 Premium Mobile Holder, you'll be sure to feel the quality, especially when adjusting the angle, rotation, and also when mounting your smartphone to the holder. The best part about this mobile holder is its super easy to learn design. By moving the bottom two silicone holders apart from each other, all 6 silicone pads move outwards, allowing you to place your smart phone on the back surface. The moment you start pushing together the bottom two silicone pads, the mobile holder squeezes the phone in place. Your phone will naturally stick to the back surface of the H1 Premium. Don't worry, it doesn't have any glue on it, and does not leave any
residue on your smartphone, but instead keeps your phone in place without allowing it to fall out even when turned towards the ground.
Click on Image to Enlarge
As we place our Samsung Galaxy S4 into the LUXA H1 Premium Mobile Holder, we can definitely tell and see that even though the phone comes with a 5″ screen, it still fits perfectly in between the silicone pads and attaches nicely to its back surface. From what we can tell, it is likely that you can also place slightly larger phones in this particular mobile holder, as you can still separate the silicone pads further apart for larger phones. It's overall construction is very solid, and does not allow the phone to move even a bit. It doesn't matter whether you have your phone at a 45 degree angle, or in an awkward position, the phone will stay, without any movement in the holder. It's aluminum design allows heavy phones to be placed in the H1 Premium without tipping the holder over, due to its fairly heavy base and light upper body. Also the aluminum stand comes with a rubberized bottom, preventing any scratches on sensitive surfaces and also providing slightly stickier feel, especially on any smooth table top or surface.
One thing we really look for in a mobile holder is its adjustability. The H1 Premium does not fail in this category. It allows us to tilt up and down, between the two sides of the stand, and it provides a complete 360 degree rotation, which means that you can have your phone in any angle. Depending on where you will have the mobile holder, you can combine a certain tilt with a certain rotation in order to make sure your phone is facing you and you have a clear view at the screen. The silicone pads are removable, and could be replaced if needed, but we're not so sure why it would be needed. Also, on the back of the mobile holder you have multiple screws which you can use to tighten the tilt or rotation on the mobile holder. We can assure you that for the past few months that we have been testing the stand, it still feels brand new and has not lost any of its quality feel.
Our Final Thoughts
When it comes to mobile holders, we have specific criteria that we take a look at and judge a product by: quality of the material used, stability and build quality, tilting and rotating options, ease of use, how well it holds your phone or device, and of course whether its worth the money. We can say that the aluminum design, and overall build quality really impressed us, and there is a clear difference between the sturdiest plastic and an aluminum mobile holder. The H1 Premium has no problem keeping the phone stable and its also fairly difficult to knock over. The tilting and rotation on the H1 Premium provides almost unlimited number of positions and ways you can adjust the stand for your own needs. It's super easy to use and easy to place your phone in it. Its suction on the base and the rubber silicone pads will keep your phone sturdy within the H1 Premium. Finally even though LUXA2 sells the H1 Premium for $39.99, you can find the H1 Premium for $33 on Amazon, and you can be sure that once you have it, you won't be disappointed. With that said, we believe that the price is perfect and we would definitely go with a LUXA2 mobile holder over the other brands. Do keep in mind though, that the H1 Premium is not device specific, which means that it does not come with any docks for charging, but on the bright side, you have a universal design that will fit most of the phones out on the market.
The Pro's:
Cons

Sturdy build quality
Holds phone securely
360 degree rotation
Suction base allows stability
Universal design
Does not leave residue on phone
Visually appealing
Review Overview
Performance - 95%
Value - 85%
Quality - 100%
Features - 85%
Innovation - 85%
The LUXA2 H1 Premium is a top quality mobile holder that won't disappoint even the pickiest user looking for a high quality product.