Fall is here and that means that tech companies are launching new products and revealing plans for 2014. AMD kicks off its plan for 2014 with its embedded chip as it is one of the fastest growing market. AMD plans to release four family of products targeting different market segments.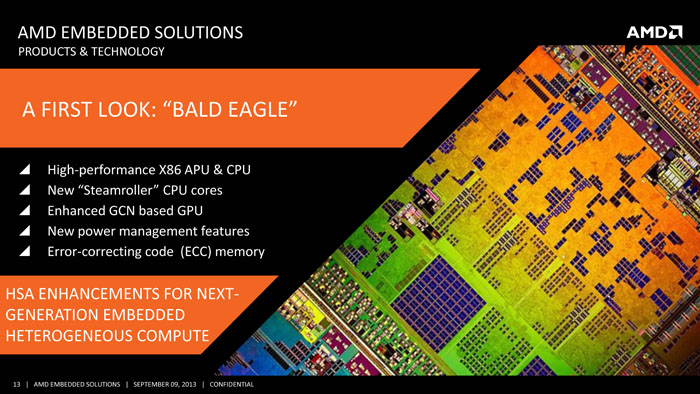 On the high-end, we got "Bald Eagle" that will come with which either two or four Steamroller CPU paired with HD 9000 series GPU based on the graphics core next (GCN) architecture. The APU carries 17~35W TDP. It will replace the current R-Series APU with the Piledriver CPU and HD 7000 GPU. Based on what we have seen with the Streamroller desktop APU, we can expect up to 10% improvement on the CPU front. The upgrade to the GCN architecture on the GPU should bring performance boost but more importantly, it will be able to better utilize GPU for compute. The Bald Eagle will also support ECC memory. The "Bald Eagle" APUs are expected to launch sometimes in early 2014.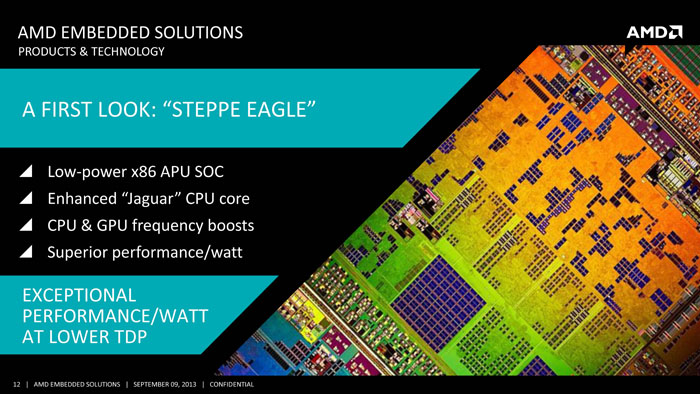 On the low-power side, AMD will launch "Steppe Eagle" that will replace current G-series APU SOC. The "Steppe Eagle" APU SOC are not that much different than the current G-Series APU as it will still be based on the same "Jaguar" core and will come with the same HD 8000 Series GPU. However, AMD has tweaked the CPU so that it will be more efficient. AMD is not ready to dive into the specific improvements but it will feature CPU and GPU frequency boosts (ie Turbo). Ultimately, AMD is aimed to deliver higher performance while keeping the same TDP envelope of 5W to 25W. The "Steppe Eagle" will also be launched at early 2014.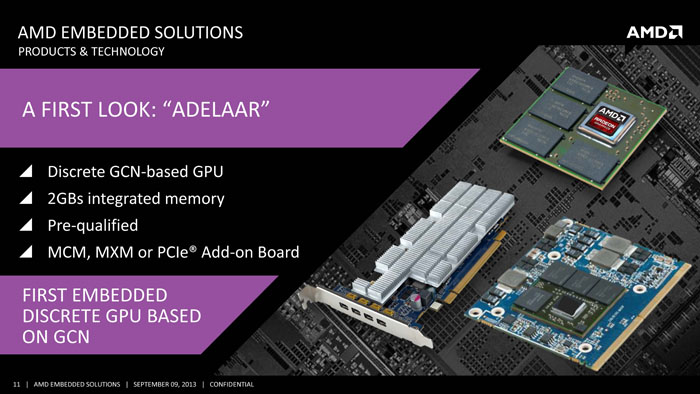 At early 2014, AMD will also launch a discrete graphic codenamed "Adelaar" that will also be based on the GCN architecture. The graphic card will have 2GB of integrated GDDR5 memory that is pre-qualified by AMD. Embedded hardware often have a longer lifespan that consumer desktop or laptops so AMD pre-qualify the memory to ensure hardware's longevity of up to 7 years. As it is based on the GCN architecture, it will have all of the features such as DX11, OpenGL 4.2, and OpenCL 1.2. The Adelaar will come in various form factor that includes MCM, MXM, or PCIe add-on board.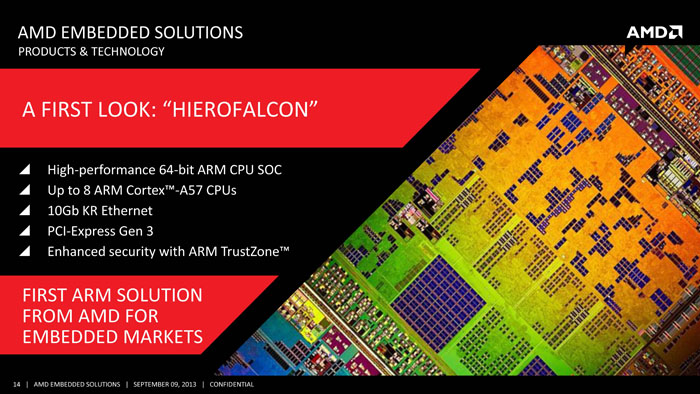 Finally, sometimes in the middle of 2014 is where we will finally see AMD's first ARM based SOC codenamed "Hierofalcon". The Hierofalcon is a pure CPU SOC that lacks GPU as it is aimed for the networking and communication market place and datacenter. The Hierofalcon uses 64-bit ARM Coretex A57 cores and will come in either four or eight design. It will come 10Gb KR Ethernet, PCI Express gen 3, and ARM TrustZone (with a dedicated ARM A5 chip).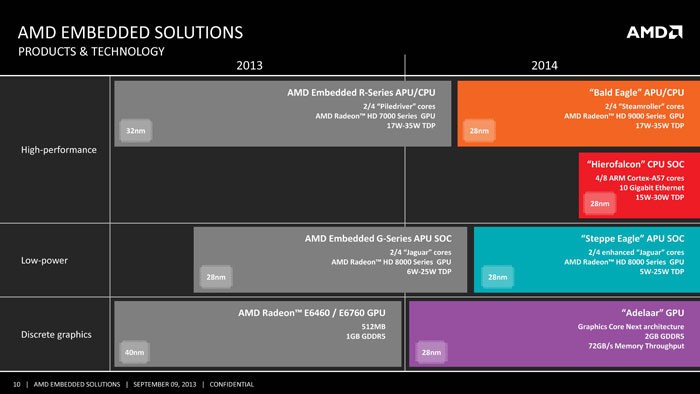 AMD's timeline for embedded solution in 2014.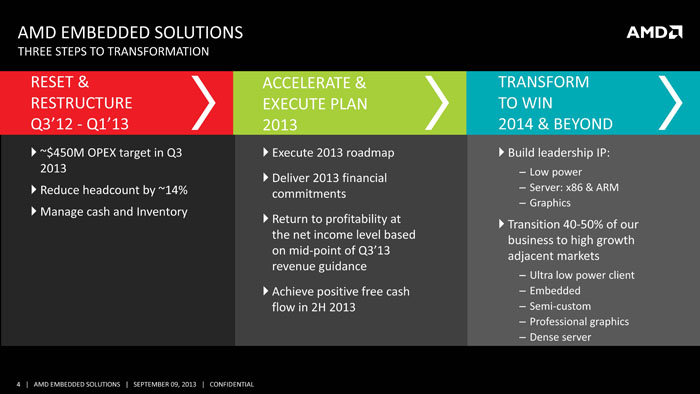 Looking at 2014 and beyond. AMD will continue building the IP for graphics, server, and low power products. In addition, it plans to transition 40~50% of the comapny business to high growth adjacent markets such as ultra low power client, professinoal graphics, embedded solution, server, and semi custom.