Overclocking

The new Kepler Architecture with GPU boost has been a bit of a bear when it comes to pushing the clocks. This is due to the throttling mechanisms put in place and the fact that it dynamically clocks. Unlike 500 series where we could set a static clock and it just applied the card, Kepler clocks according to many variables, which means that much more care must be shown when applying overclock settings and even monitoring it during the run.
Things such as the thermal target can play a big role in stone walling your performance during an overclock session as everything has to be adjusted accordingly to ensure expected performance levels are met.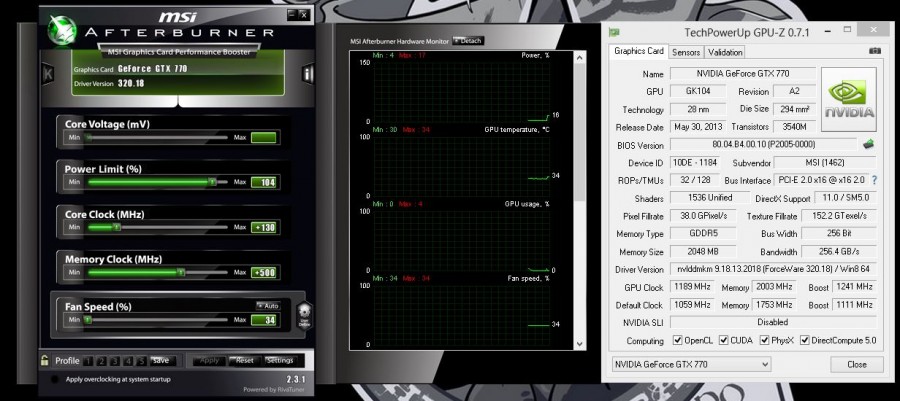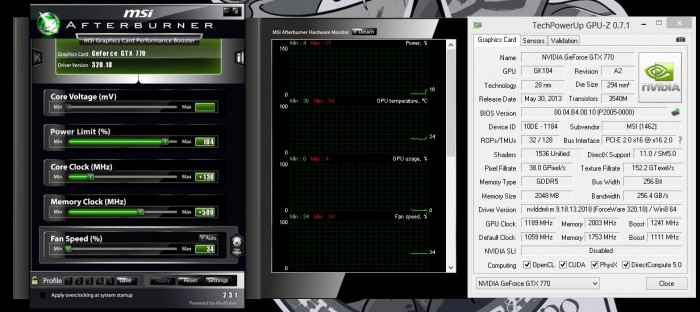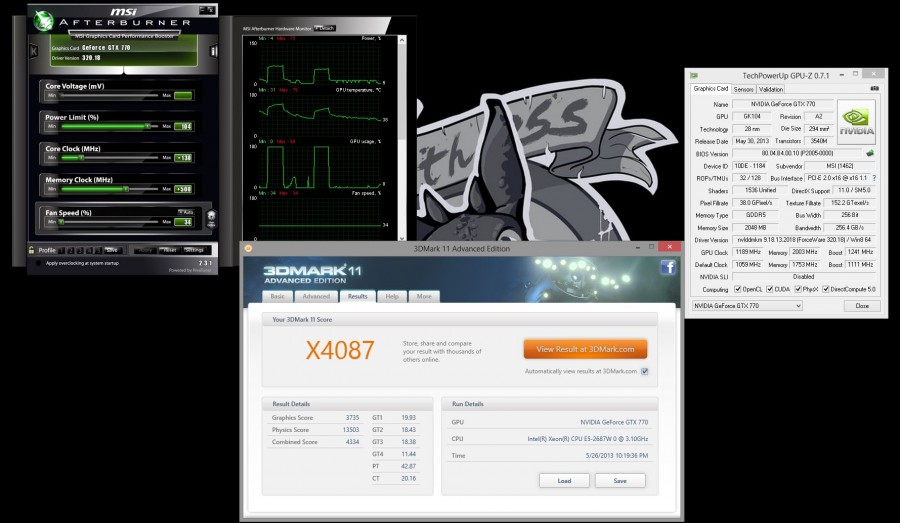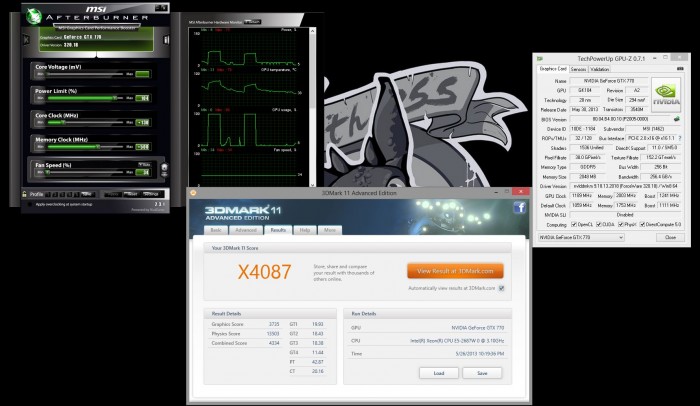 The MSI GTX 770 Gaming turned out to be an awesome clocker just like the reference card, taking the GPU from 1111 Boost clock to 1241 Boost clock which gave the boosted clock of 127MHz GPU by only setting the thermal target setting to 85C. There was no voltage adjustments as we try to keep the overclock simple and to what most users can set easily with much less risk to their components.
Memory much like the reference model rocketed from its 7GHz default setting to over 8GHz and was fully stable. For those of you who do not believe overclocking GPU memory does anything take a look at the score above as the GPU only overclock netted a 3DMark 11 Xtreme score of X3989 and upping the memory to 8GHz jumped the score to X4087 which is a very good gain for just Vram clocking.
This is excellent results and shows that the time and tuning that goes into the fan control, GPU Boost 2.0 and the card overall has been well thought out to have a card run at 1.2+GHz core and barely break into the 80C range and with no voltage adjustment as well.
TEMPERATURES

To measure the temperature of the video card, we used MSI Afterburner and ran Heaven Benchmark in a loop to find the Load temperatures for the video cards. The highest temperature was recorded. After looping for 10 minutes, Heaven was turned off and we let the computer sit at the desktop for another 10 minutes before we measured the idle temperatures.
| | |
| --- | --- |
| GPU Temperatures | Temperature (Idle/Load) |
| Nvidia GTX 690 | 32C/81C |
| Nvidia GTX TITAN | 31C/67C |
| Nvidia GTX 680 | 31C/72C |
| Nvidia GTX 780 | 30C/65C |
| Nvidia GTX 770 | 34C/79C |
| MSI GTX 770 Gaming | 32C/79C |
The GK104 GPU seems to definitely run warmer but also having a thermal target means the card will continue to clock itself until it hits its target, so this of course means you can push the gpu farther due to the higher headroom offered by the better cooling solution. However this GPU simply did not wanna run up to 1300MHz mark and actually fell a bit behind the reference card in terms of clocking, though this is really just random variance between cards.
POWER CONSUMPTION

To get our power consumption numbers, we plugged in our Kill A Watt power measurement device and took the Idle reading at the desktop during our temperature readings. We left it at the desktop for about 15 minutes and took the idle reading. Then we ran Heaven Benchmark for a few minutes minutes and recorded the highest power usage.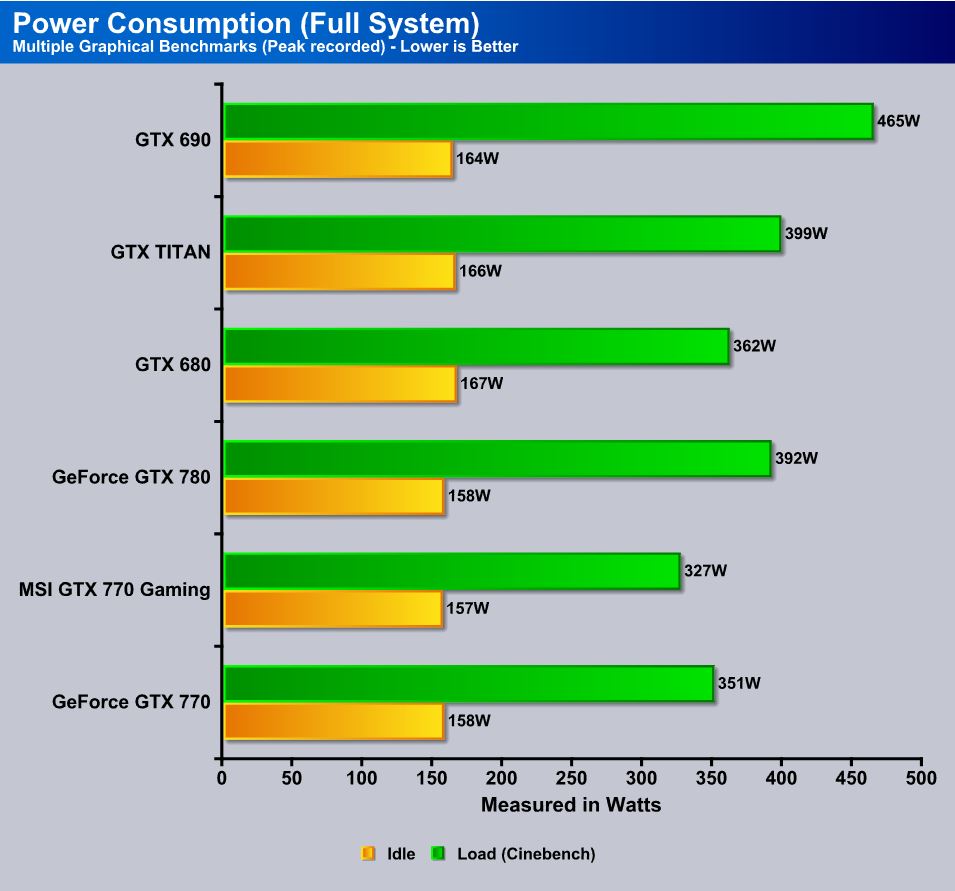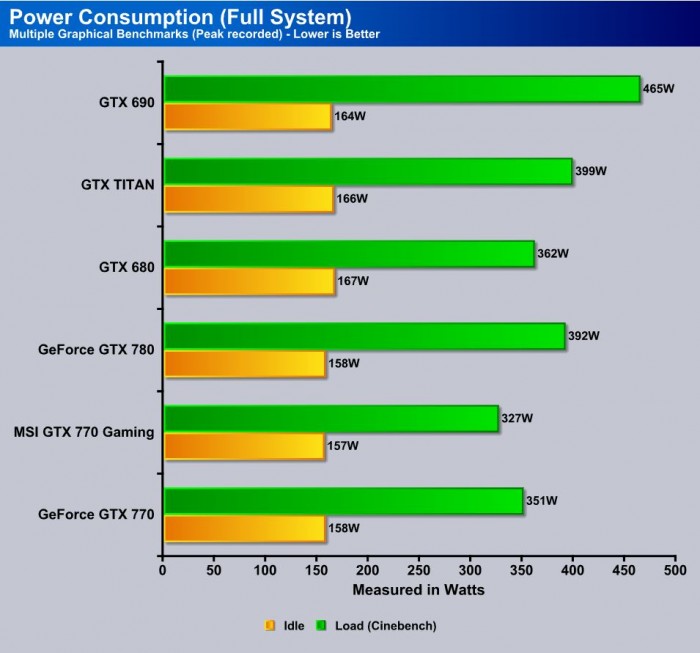 Here the MSI GTX 770 actually falls a bit below the reference card which I find kind of funny being as it utilizes a dual 8 pin which gives off the idea that it will pull more power but even under load on the exact same test system it pulls approximately 25 less watts.
Review Overview
Performance - 9
Value - 9
Quality - 9
Features - 8.5
Innovation - 8.5
8.8
MSI introduces a gaming series card to the GTX 770 lineup and delivers a great value and awesome performance. For this it earns the Bjorn3D Golden Bear Award.