Overview of the Nvidia GTX TITAN
The Titan is a elegant and pretty card but below that mask of beauty lies a beast in waiting. as you strip the cover you can see the cooling grid is large covering the massive vapor chamber below. and all stripped down you can see what makes it tick which is the 6+2 VRM and the GK110 GPU in all of its glory.
here is another angle on the strip down so you can see what the card is packing. this gives a little better angle to show the cooling array along with board component heights.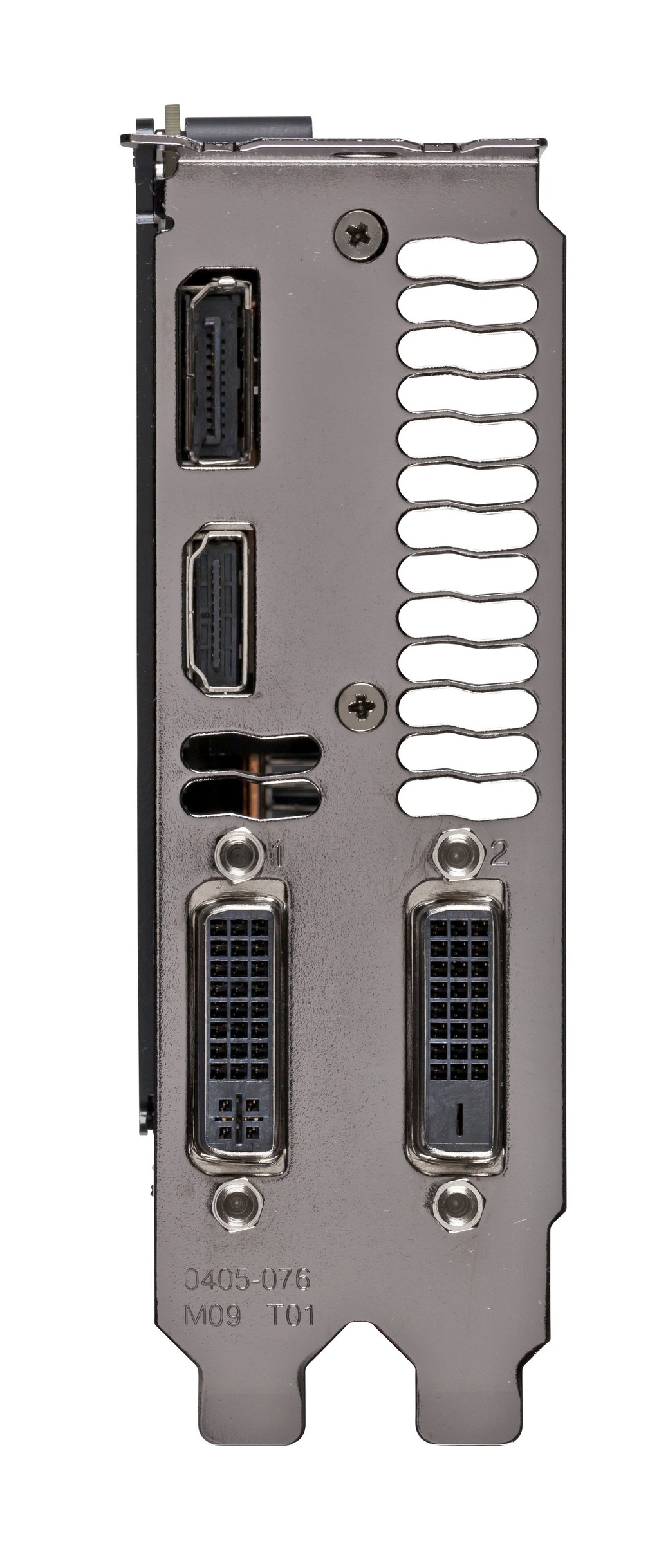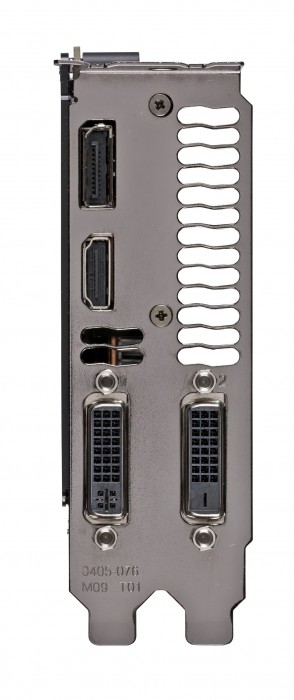 Click Images to Enlarge
The display output on the GTX TITAN are no stranger to me as they are same as most of the Kepler cards.
2x DVI

1x HDMI
1x Displayport
This is enough to run a surround setup or up to 4 displays as supported by the Kepler GPU which of course with its 6GB framebuffer is exactly what this card was designed for.
Testing & Methodology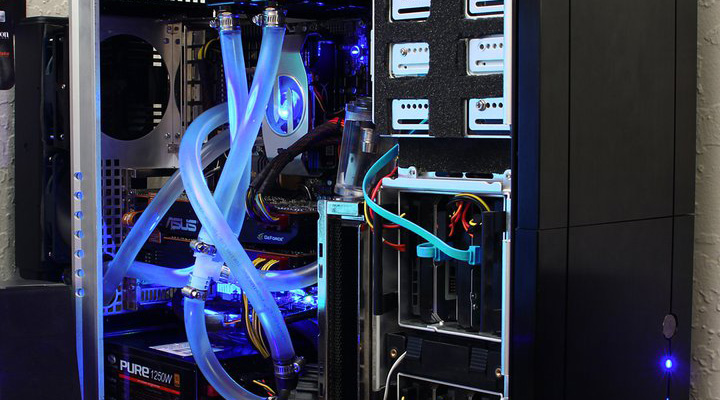 Due to only having a single card on hand and short time to cover it I will be running a few standard benchmarks which will be followed very soon bya  full performance evaluation once all etsting is completed!
Test Rig
Test Rig

Case
Thermaltake Level 10 GT
CPU
Intel Core i7-3770K/Intel Core i7-2600K
Motherboard
ASUS Maximus V Gene

Ram
16GbpsB Patriot Viper Xtreme 2400MHz +
CPU Cooler
Swiftech H20-220 Edge
Hard Drive
Western Digital Velociraptor 300GB
SSD
Intel 510 series SATA III 120GB
Optical
ASUS BD-ROM
GPU
Nvidia GTX TITAN / Reference Nvidia GTX680 
Additional Cards

N/A
PSU
Thermaltake Toughpower Grand 1200W
Mouse
Tt eSPORTS Black gaming mouse
Keyboard
Tt eSPORTS Meka G1 mechanical gaming keyboard
Test Suite
We will use the following applications to test the performance of the graphics card.
Synthetic Benchmarks & Games
Benchmarks
3DMark11
Unigine Heaven Benchmark 4.0
Metro 2033

Temperatures

The temperatures were recorded with full loaded Heaven benchmark looping for over 30 minutes or longer depending how long it took for the card to level out in temps and sat at a plateau for more than 10 minutes.
| | |
| --- | --- |
| GPU Temperatures | Temperature (Idle/Load) |
| Nvidia GTX TITAN | 31C/67C |
The efficiency of the cooling design can be seen here as the card never even really got hot but maybe warm during testing which tells me I have some headroom on this card with the stock cooler.
Real world/Gaming Benchmarks
3DMARK 11

3DMark 11 is the newest in Futuremark's suite of benchmarking utilities. Its a fully capable DirectX11 benchmark which also stresses and analyzes the system performance as a whole to simulate a heavy rendering environment such as a high end game or other app the end user may run. This benchmark was run with Performance settings 5 times and all runs were averaged for the result below.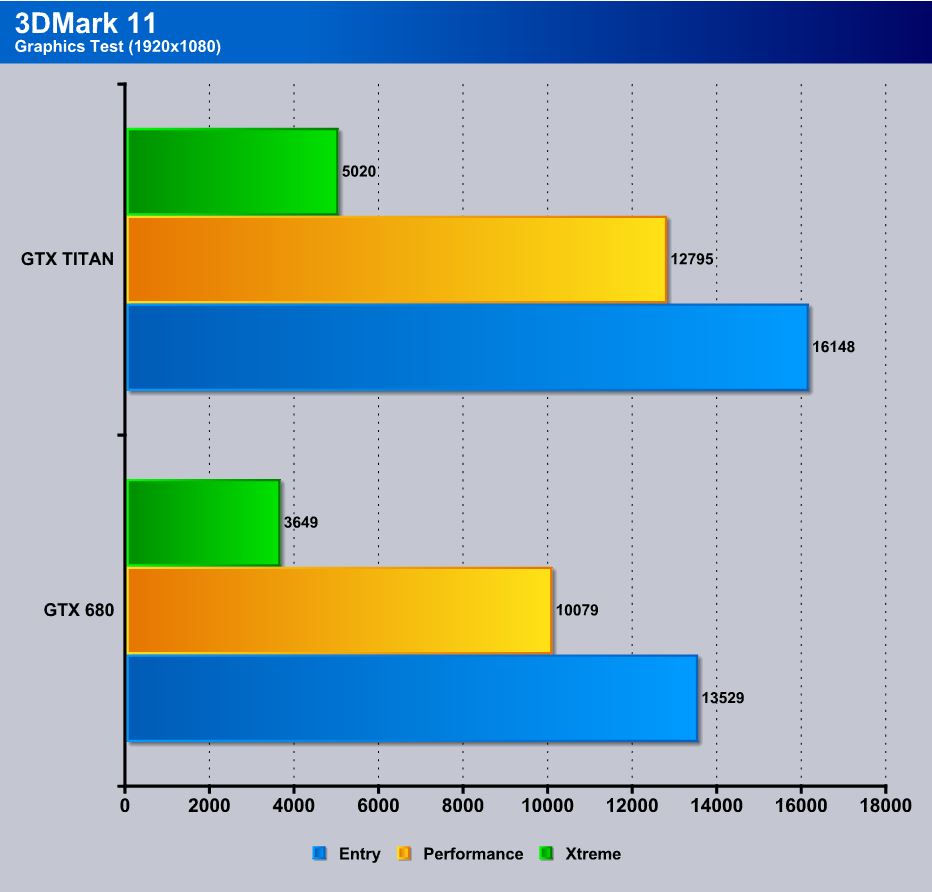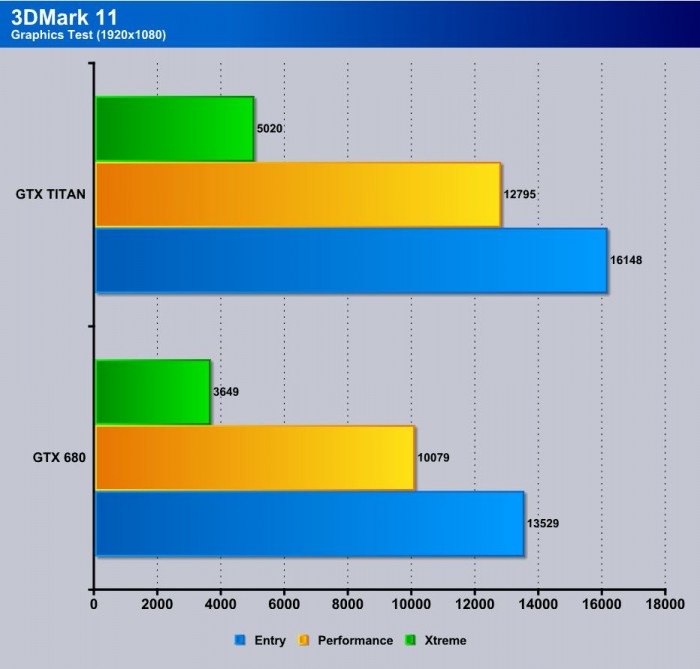 When comparing versus the existing flagship GTX 680 the TITAN simply bats it around which is not really a surprise considering teh GPU simply is a much bigger weapon of the GK110 GPU.
Metro 2033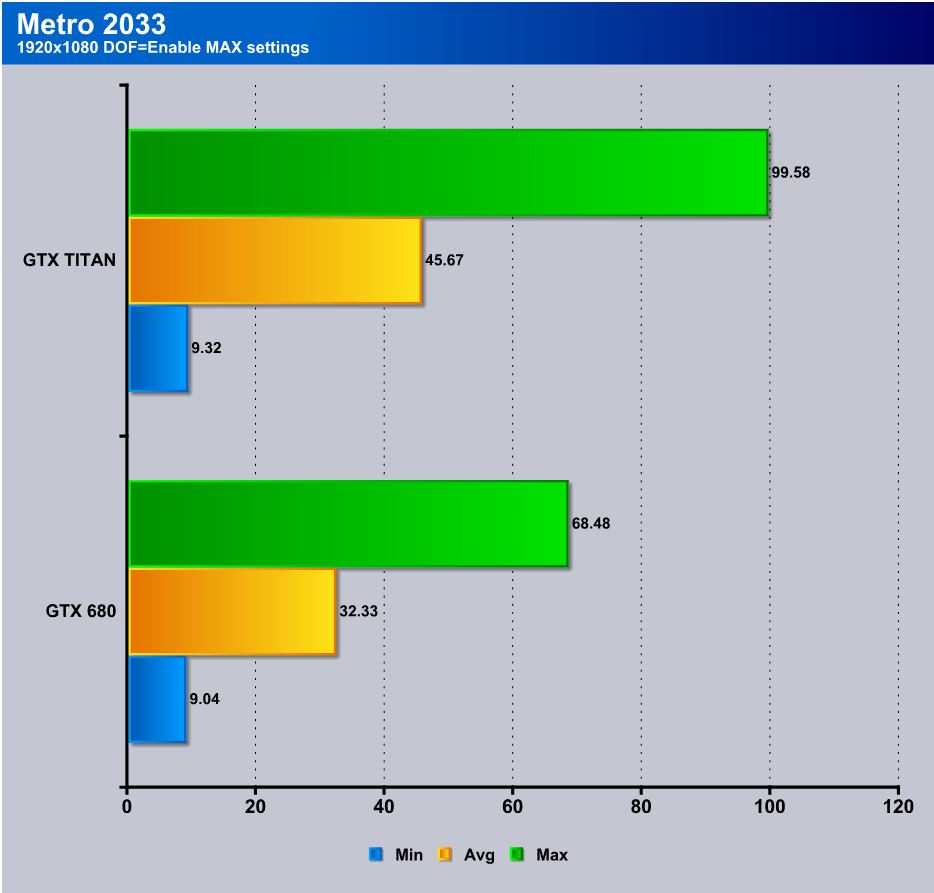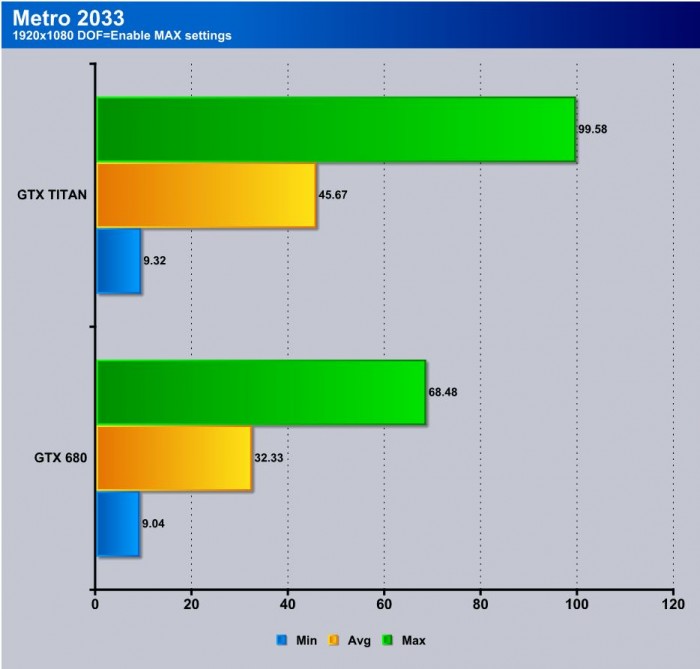 Metro 2033 which has been torture for our GPU's for some time now picks up a very nice jump in performance besting the 680 by over 13FPS and putting it into a quite playable framerate with everything maxxed out. and mind you I haven't even gotten to the surround testing yet.
Heaven Benchmark 4.0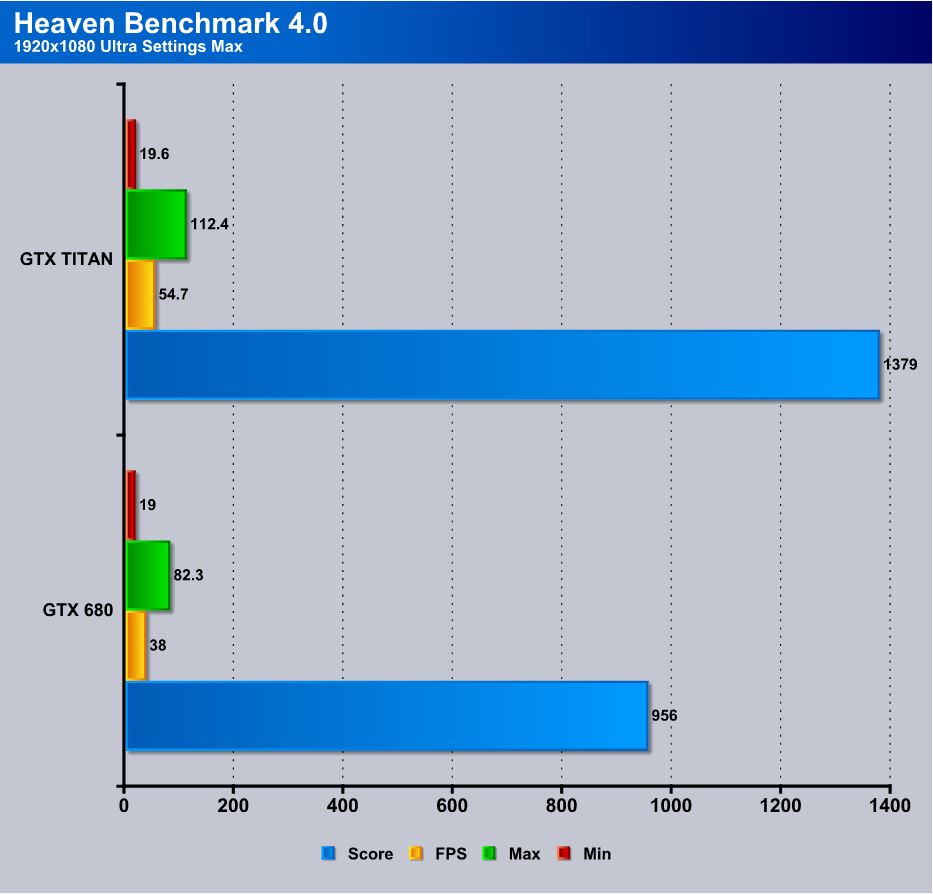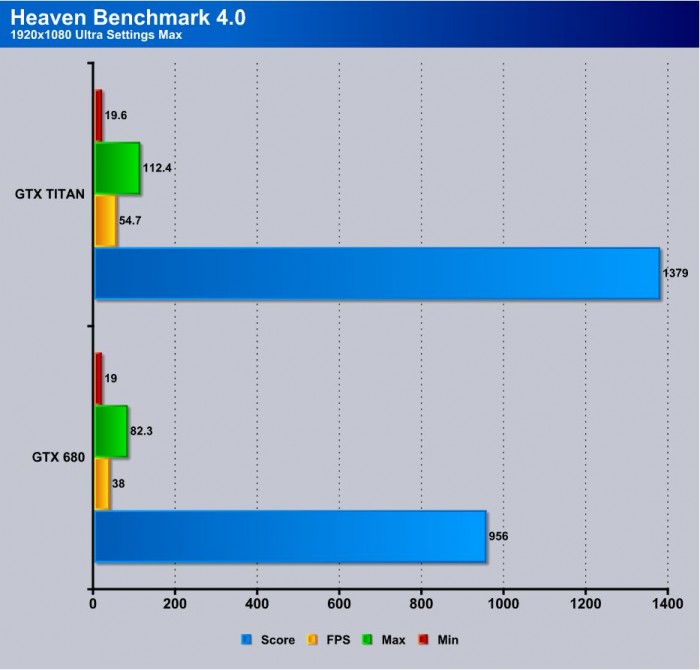 Heaven once again allows the TITAN to shine as it pulls some very respectable numbers across the board but I have a feeling this is just the start
Conclusion
The GTX TITAN is an amazingly capable GPU which I have only had a very short time with so far. Keep your eyes peeled as very soon I will have more indepth testing along with surround results and even more discussion about what the GTX TITAN is and can be for you.
And as soon as I get the monster 3 way rig from Cyberpower expect even more awesome performance from the Nvidia camp from triple TITANS!
Stay tuned for more…