Cyberpower is a premier high end system builder, with that they have some great options from mild to wild when it comes to system designs and options. Today we have the Fangbook X7-200 which is a new extreme gaming laptop built to make the days of being chained to a desk obsolete.
Introduction


When defining specs for a system the first thing many do is look at what components are there and scrutinize anything but the very best. Well we are enthusiasts and that's what we do, but in reality as we have shown before there are many mainstream parts that can do a great job for your everyday needs and even for gaming. That being said, this is no mainstream notebook we have today. The Cyberpower Fangbook X7-200 is a new extreme gaming notebook built for the direct purpose to remove the shackle holding you to your gaming desk and give you the freedom to take your gaming on the go without sacrificing visual settings.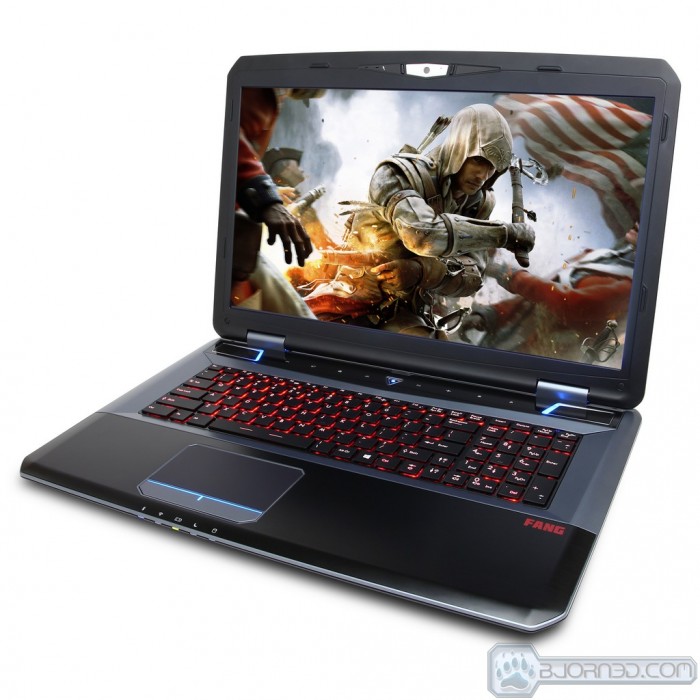 Cyberpower is not taking this market lightly as they are very serious about doing this right the first time and after having the Fangbook for a while we can definitely agree the formula they have built is nothing short of amazing. The Fangbook launches with three available models, The Fangbook X7-100, X7-200 and X7-300 all of which are full customizable to match your exact needs. Respectively the MSRP for each is  X7-100 ($1299), X7-200 ($1499) and X7-300 ($1799)
The difference between the models has to do with options from the start such as the 100 and 200 models utilize a GTX 675MX while the 300 has a GTX680M, also the 100 has a 750GB HDD while the 200 has a SSD and HDD same as the 300 and lastly the 300 comes equipped with a Blu-Ray drive where the 100/200 come with a DVD combo drive.
The model we received is the middle unit the X7-200 and the specs are as seen below.
OS
Genuine Windows® 8 X64
CPU
Intel® Core™ i7-3630QM Processor (2.4GHz-3.4GHz) Ivy Bridge
Display
17.3″ Full HD 1920X1080
System Memory
2x8GB DDRIII 1600MHz Corsair Vengeance, 4 slots (Max 32GB)
Chipset
Mobile Intel® HM77 Express Chipset
Video Graphics
Intel® HD Graphics 4000 
NVIDIA® GeForce® GTX675MX 4GB
Supports NVIDIA® Optimus™ Technology
Hard Disk Drive

60GB 2.5″ Intel 520 Series SSD (Boot)

750 GB Seagate Momentus HDD (Storage)

Optical Disk Drive
Slim-Body DVD- Super Multi Dual-Layer Drive
I/O Port
USB(3.0)*3, USB(2.0)*2, HDMI, D-sub, RJ45, Mic-in, Earphone-out,
4-in-1 Card Reader (SD/MMC/MS/MS Pro), DC-in Jack
Audio
Built in Stereo speaker*2.1, Internal Microphone
Communications
LAN: Killer LAN E2200 10/100/1000Mbps Ethernet Base-T
Wireless LAN: Killer Wireless-N 1202 802.11a/b/g/n Wireless
Bluetooth: Bluetooth equipped onboard
Webcam
1.3 MegaPixel
Security
Kensington Lock
Battery
Li-ion 9-cell Battery pack 7800mAH 87Wh
As you can see the specs are rather beefy and this could make for a great desktop replacement just by spec alone but were gonna run this one through the ringer to see what exactly we are getting for our buck.
The screen is a 17.3″ unit running at a native 1080P resolution and whats great about the higher end spec of this is that we can see most games playing stutter free at full settings at 1080p.
Key Features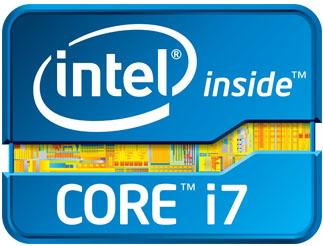 Intel Core i7 3630QM Processor
The Intel Core i7 3630QM Processor is one of the newest processors, recently released by Intel for the mobile platform. It offers 4 cores at a default speed of 2.4GHz and its turbo speed can reach up to 3.4GHz under a single core load. On top of that, the i7 models offer HyperThreading, which allows for up to 8 threads of processing power. The CPU also carries a hefty 6MB of L3 cache to ensure the performance we need is there when we need it. These processor models are from the newest Ivy Bridge family, which supports high memory speeds and also offers a 8-20% increase in performance from previous generation offerings. Also with the Ivy Bridge family comes Turbo Boost 2.0, which allows for even more of a turbo boost by dropping the unused cores to allow for much higher CPU speed while staying under the TDP of 45 Watts. The low 45W TDP allows for a compact cooling solution to be employed, ensuring safe operating temperatures even in a confined space. Integrated into the CPU is also an Intel HD 4000 Graphics Processor, which is a nice step up from in performance from the previous gen Sandy Bridge HD3000 and also supports DirectX11!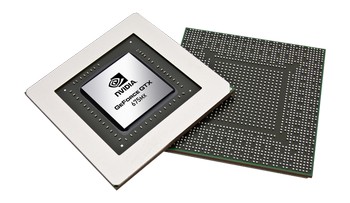 GeForce GTX 675MX Graphics Processor
The graphics processing power in this notebook comes in the form of the GTX 675MX GPU with a huge 4GB of frame buffer memory just to make sure high resolution duties are handled without a sweat. The GTX 675MX sports a beefy 960 CUDA cores to enhance the processing power and a memory controller with a 256-bit bus width. This GPU is on the upper enthusiasts range of offerings for Nvidia's mobile GPU's just behing the GTX 680M. The GTX 675MX also supports PhysX technology which is a great feature, since more and more games are supporting PhysX. Nvidia PhysX allows for a more realistic gaming experience as in-game objects will interact in a more lifelike way. Also on the slate of supported technologies is Nvidia's CUDA, which allows for heavy work loads to be completed quickly and very efficiently by the GPU core. This means render jobs or even supported media encoding on the go is now possible and faster than before as GPU accelerated encoding really is quite faster than what you get from a straight x86 implementation.


Backlit Gaming Keyboard
The keyboard employed on all of the Fangbook models are a red backlit design with anti ghosting keys for the best possible gaming performance. The advantages of a backlit gaming keyboard on a laptop cannot be ignored as even when simply working in a dimly lit environment having the backlit keys makes searching for your place on the keyboard a thing of the past.
Above the keys there is a capacitive touch pad with some key quick access points such as Profile 1, Profile 2, Full speed fan mode, Airplane mode (disable Bluetooth/WiFi) open music app, Brightness adjust and Optical drive eject. This is pretty much one of the only areas that is piano finish and all of these buttons surround the main power switch at the very top.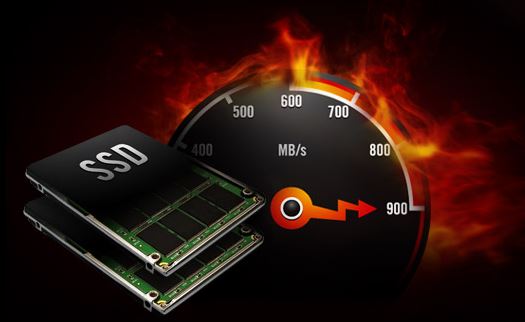 Ultra RAID Capable
The Fangbook has many customization options including the option for "Ultra RAID" which allows a RAID 0 set of mSATA drives to be paired up for speeds exceeding 900MB/s while still having the second drive bay available for a larger capacity storage drive. This ensures that you can have blazing performance for lag free load times when mere milliseconds are the difference between agonizing defeat and glorious victory.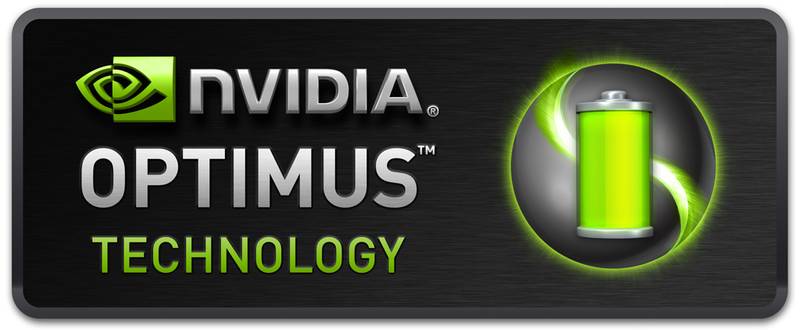 Nvidia Optimus Technology
Nvidia Optimus Technology is a feature we have seen before. It involves switching graphics between the low power integrated graphics processor and the much higher powered discrete graphics processor when needed. This feature has definitely become a lot more common with the introduction of Intel's Z68 chipset. The Z68 chipset allows graphics switching using the Lucidlogix Virtu software.
Our time using the Optimus enabled notebook has proven to be a rather pleasurable one with no visual or noticeable signs of the switch between graphics processors. Another strong point we noticed was the long battery life when using standard desktop applications such as Microsoft Word or Outlook to create emails. Later, we test our battery life results with light desktop usage.
WiFi b/g/n & Bluetooth 
The Cyberpower X6 comes with full wireless functionality with both WiFi b/g/n connectivity and Bluetooth to ensure constant connectivity. The WiFi worked very well and was lightning fast with all of our testing. The Bluetooth was equally well implemented allowing for pairing of Bluetooth devices as needed which is nice to have as wireless connectivity especially on a mobile device is almost standard now days.
Fully customizable!
One thing Cyberpower does amazingly well is offering options. Many times there are free upgrades to a higher memory density or even a free SSD upgrade or some other offer which just makes it awesome to purchase a notebook or system from them. 
Even with such a new model there is so many customization options available you can change from a multitude of CPU's, SSD's memory kits and sizes it simply means you can custom tailor your system to match exactly what you need it for or even more.