Testing & Methodology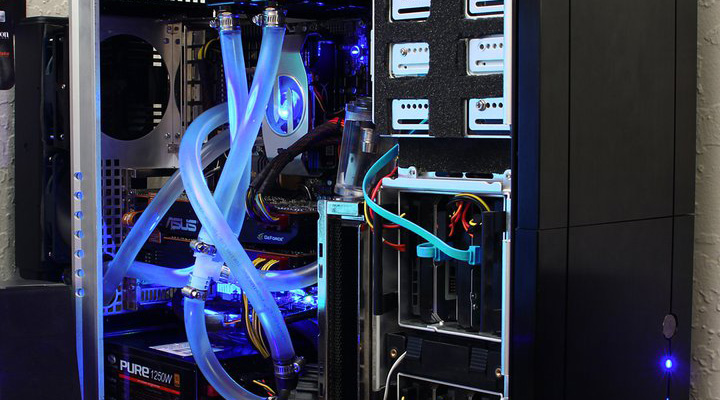 We've expanded our testing suite considerably since the X79 chipset release, and will continue to use the same methods for most of the motherboards and CPU's we test. In the interests of thoroughness and accurate results, we run each test at least three times, and some tests more than that. We average the total of all the tests from each benchmark then report the average here.
The OS we use is Windows 7 Pro 64bit with all patches and updates applied. We also use the latest drivers available for the motherboard and any devices attached to the computer. We do not disable background tasks or tweak the OS or system in any way. We turn off drive indexing and daily defragging. We also turn off Prefetch and Superfetch. This is not an attempt to produce bigger benchmark numbers. Drive indexing and defragging can interfere with testing and produce confusing numbers. If a test were to be run while a drive was being indexed or defragged, and then the same test was later run when these processes were off, the two results would be contradictory and erroneous. As we cannot control when defragging and indexing occur precisely enough to guarantee that they won't interfere with testing, we opt to disable the features entirely.
Prefetch tries to predict what users will load the next time they boot the machine by caching the relevant files and storing them for later use. We want to learn how the program runs without any of the files being cached, and we disable it so that each test run we do not have to clear pre-fetch to get accurate numbers. Lastly we disable Superfetch. Superfetch loads often-used programs into the memory. It is one of the reasons that Windows occupies so much memory. Vista fills the memory in an attempt to predict what users will load. Having one test run with files cached, and another test run with the files un-cached would result in inaccurate numbers. Again, since we can't control its timings so precisely, it we turn it off. Because these four features can potentially interfere with benchmarking, and and are out of our control, we disable them. We do not disable anything else.
One thing to note is that we are revamping our testing method in order to better represent performance and feature offering to you guys the consumer. Also we want to make it an easier read for you without miles of endless charts. Please feel free to provide feedback on what you think as many benchmarks will be shuffled or removed completely.
*All Gaming tests were done at standard notebook resolution of 1366×768 for a great gaming experience, and also "Ultra" tests were done at 1920×1080 
Test Suite
We will use the following applications to test the performance of the notebook.
Benchmarks
3DMark 11
Cinebench R11.5
PCMark 7
SiSoft Sandra 2011b
Need For Speed Most Wanted (2012)
Dirt Showdown
Dishonored
Battlefield 3
Temperatures

The temperatures were recorded while normal gaming and other tasks such as encoding video until we found what would product the highest thermals for the specific item. The results were recorded carefully. After the results were noted, we let the system sit idle for 30 minutes before taking Idle temperature measurements. We avoid running synthetic stress tests like LINPACK or FurMark, as these do not simulate realistic loads, and go well above normal operations. The results were as follows:
| | |
| --- | --- |
| CPU Temperatures | Temperature (Idle/Load) |
| Core i7-3630QM | 28C/67C |
| GPU Temperatures | Temperature (Idle/Load) |
| Nvidia GTX 675MX | 30C/77C |
The results are quite impressive as we noted earlier that both the CPU and GPU share a common cooling fan and the fact that they both are cooled well within safe temperatures is an excellent result. It is worth noting that the fan is a bit thicker than most we have seen as this is a bigger chassis and therefore has more room for cooling equipment and it shows in the reported temps. 
Battery Power

The Battery duration testing was performed by PowerMark which is a specially designed benchmark by Futuremark (Maker of 3DMark and PCMark) and shows battery expected life under different loading scenarios.
| | |
| --- | --- |
| Configuration | Runtime on battery |
| Light Load | 3h 37m |
| Medium Load | 2h 14m |
| Heavy Load | 1h 31m |
The power consumption tests are broken into 3 different loading types.
Light load – Basic Desktop usage such as email, word and internet browsing
Medium Load – Flash based games, video playback light gaming workloads
Heavy load – 3D gaming, benchmarks or heavy rendering
The ability to play for some decent time even with a heavy duty discreet GPU like the GTX 675MX is due to the decent heavy duty 9 cell battery. With the system specs we did not expect that much from it.
Performance Benchmarks
SiSoft sandra 2011
"SiSoftware Sandra (the System Analyzer, Diagnostic and Reporting Assistant) is an information & diagnostic utility. It should provide most of the information (including undocumented) you need to know about your hardware, software and other devices whether hardware or software. It works along the lines of other Windows utilities, however it tries to go beyond them and show you more of what's really going on. Giving the user the ability to draw comparisons at both a high and low-level. You can get information about the CPU, chipset, video adapter, ports, printers, sound card, memory, network, Windows internals, AGP, PCI, PCI-X, PCIe (PCI Express), database, USB, USB2, 1394/Firewire, etc."
SiSoft Sandra has always been a go to benchmark for simple to interpret raw data on system CPU and subsystem speeds. Here once again as we have seen before the Ivy Bridge architecture simply impresses. It is very powerful and with the improved memory controller it has even more potential when paired with enough memory bandwidth.
Cinebench R11.5
SuperPi is a single threaded benchmark which measures efficiency and is heavily influenced by architectural changes as much as it is by clockspeeds.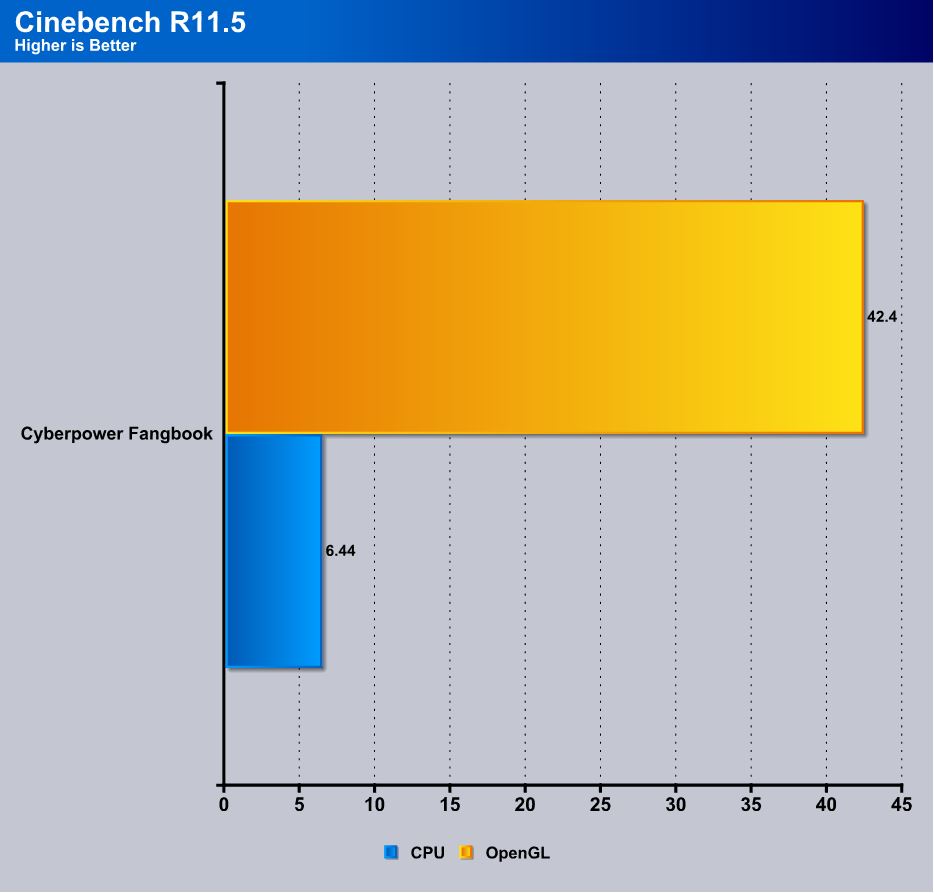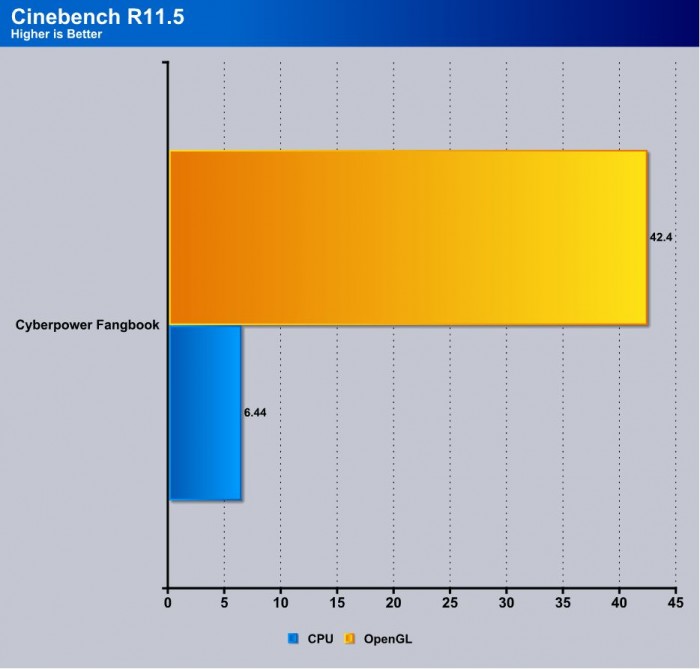 This gaming laptop has no shortage of rendering power as it bests even the faster Ivy Bridge we had in our previous X6-9120 system by a bit, and in OpenGL it definitely pulls ahead.
PCMark 7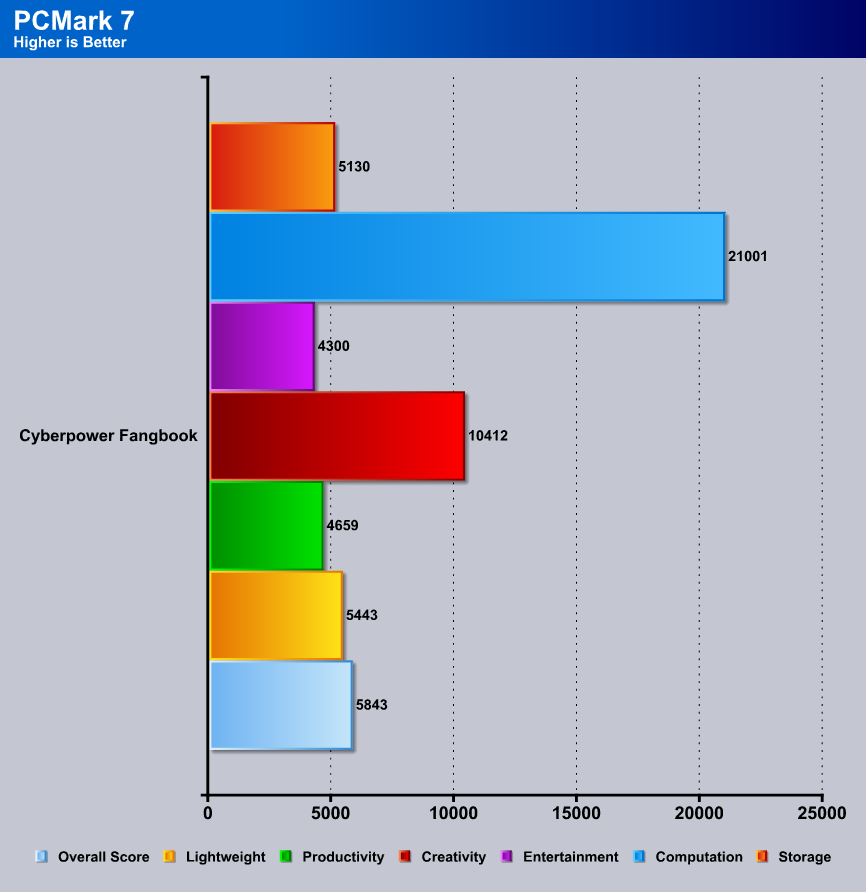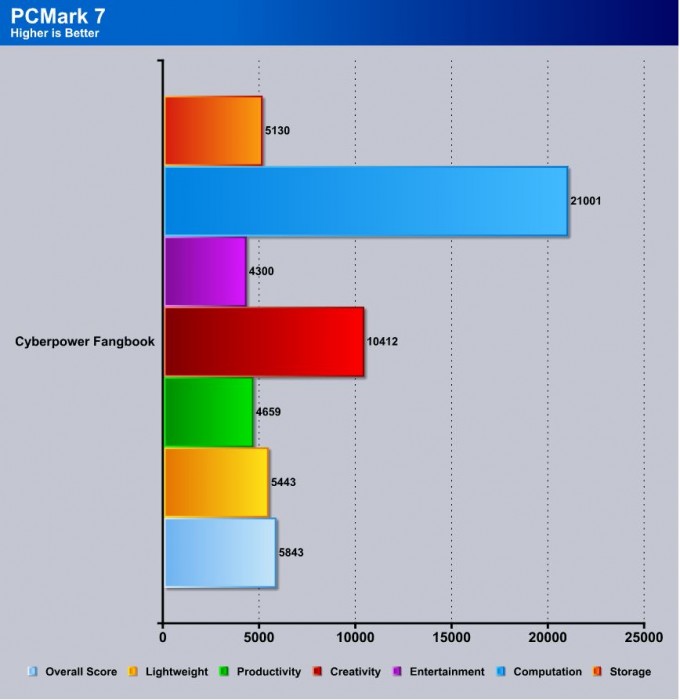 The PCMark benchmark gives a pretty good representation of system performance in multiple types of usage for your PC. Here you can see that all facets of the benchmark are steps ahead of previous notebooks we have tested but it definitely is no surprise as all of those notebooks were value notebooks made to do some of everything. The Fangbook is not that, it is built to be a monster and to have just loads of brute power which it does.
3DMARK 11

3DMark 11 is the newest in Futuremark's suite of benchmarking utilities.  Its a fully capable DirectX11 benchmark which also stresses and analyzes the system performance as a whole to simulate a heavy rendering environment such as a high end game or other app the end user may run.  This benchmark was run with Performance settings 5 times and all runs were averaged for the result below.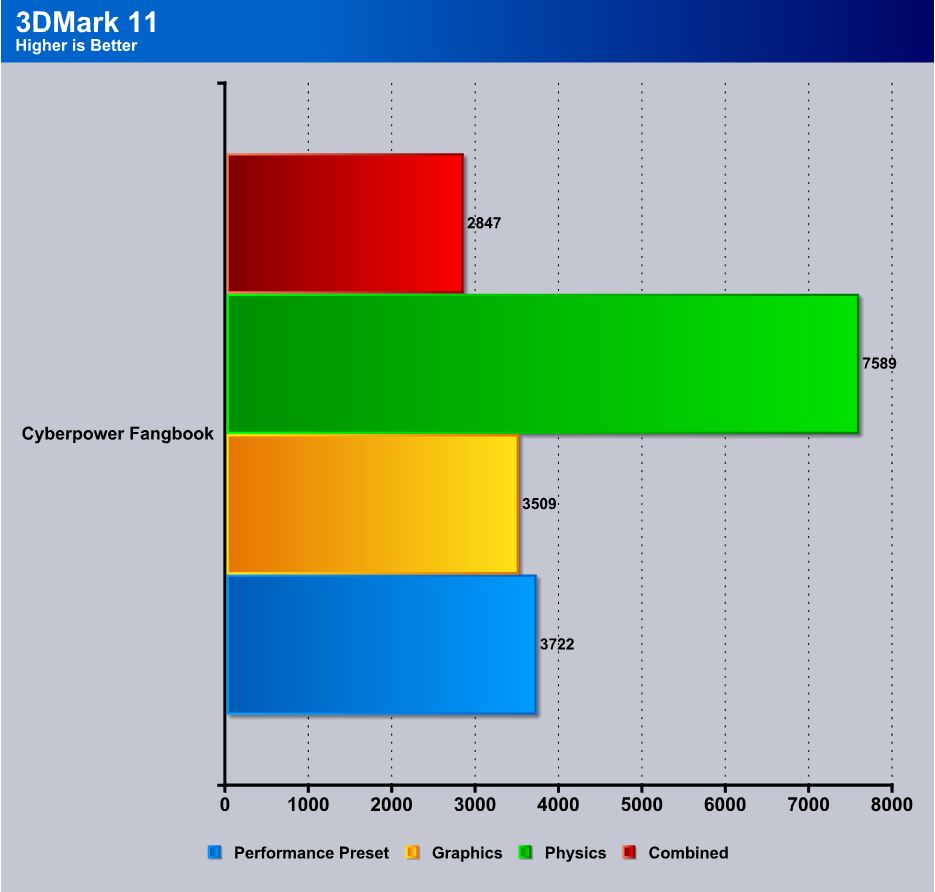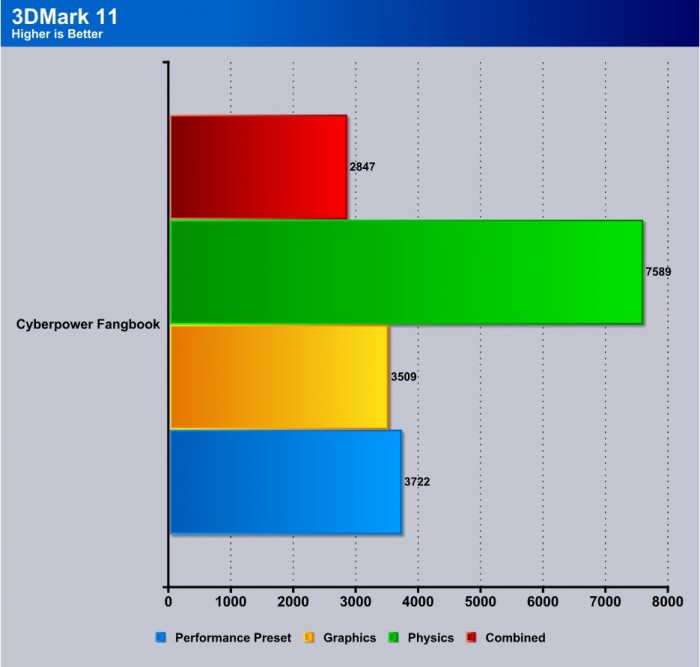 Here we see how the notebook scores on 3DMark 11 which is one of Futuremark's most recent benchmarks barring the recent new 3Dmark released just last week. We will still use 3D11 for the foreseeable future until we can fully validate the new benchmark for repeatability and consistency of scoring. Here once again a very strong showing for this gamer as it really chewed through the benchmark and left some very good results for a mobile platform.
Battlefield 3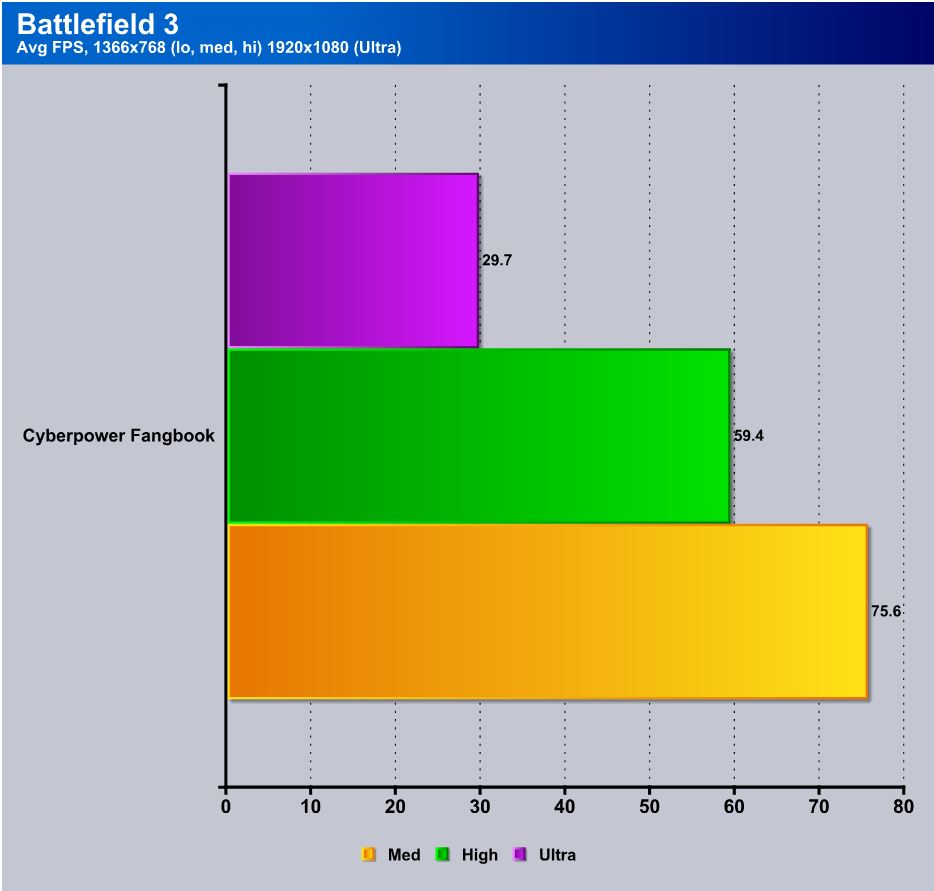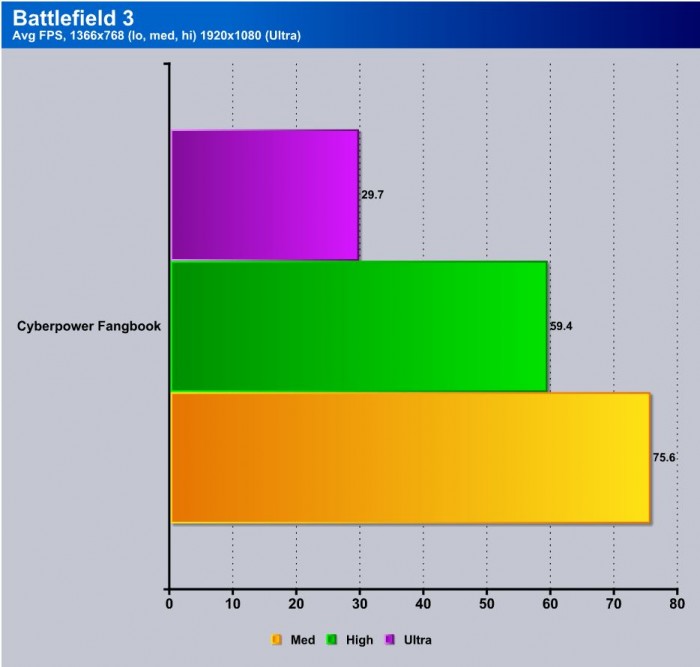 Battlefield 3 is a very popular first person shooter and at standard laptop resolution 1366×768 this machine eats the game alive. Only when pushing for ultra settings at 1080p do we see it drop to an area where it might have some stutters which once again is quite impressive as this game can put quite the hurt on a desktop GPU let along a mobile one.
Dirt Showdown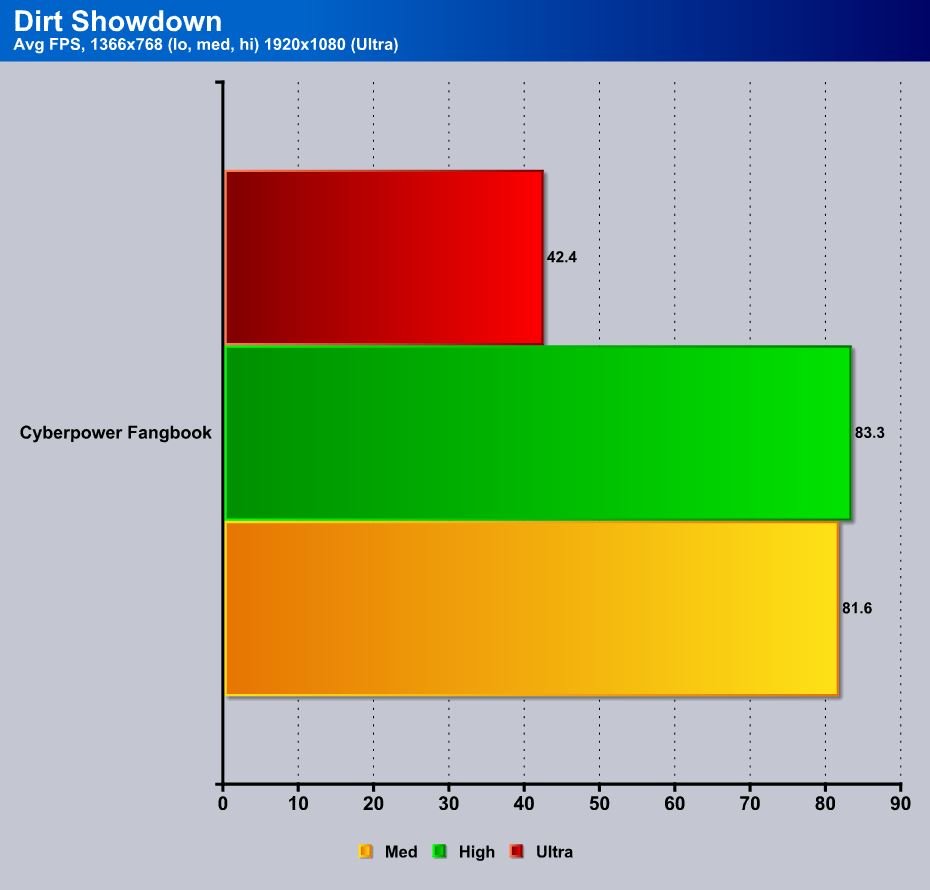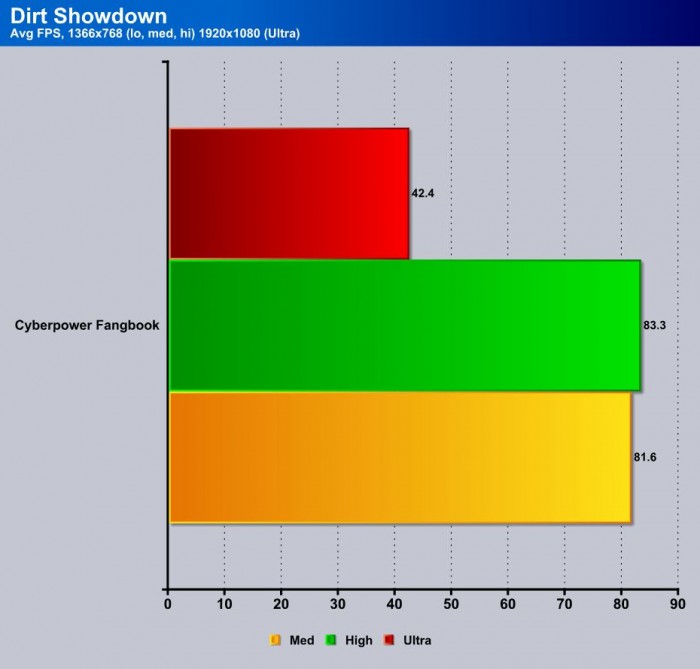 Dirt Showdown has some amazing lighting effects along with very smooth and simply pretty graphics. Well with the Fangbook even on ultra things should stay nice and smooth for you.
Dishonored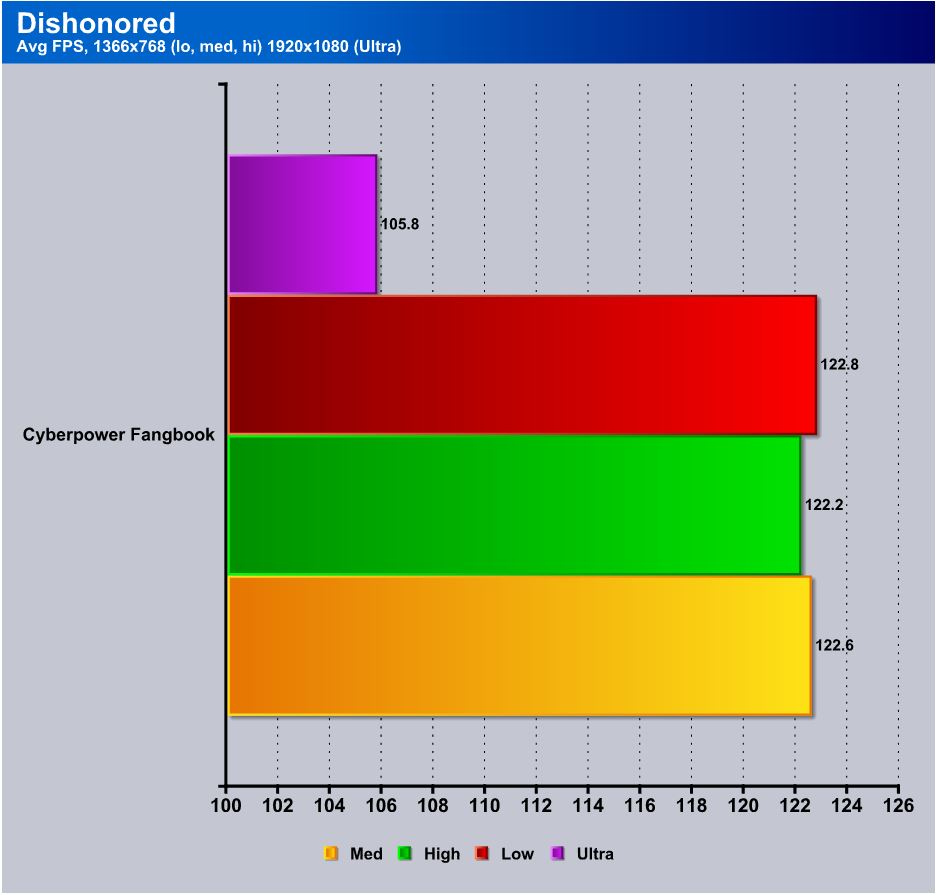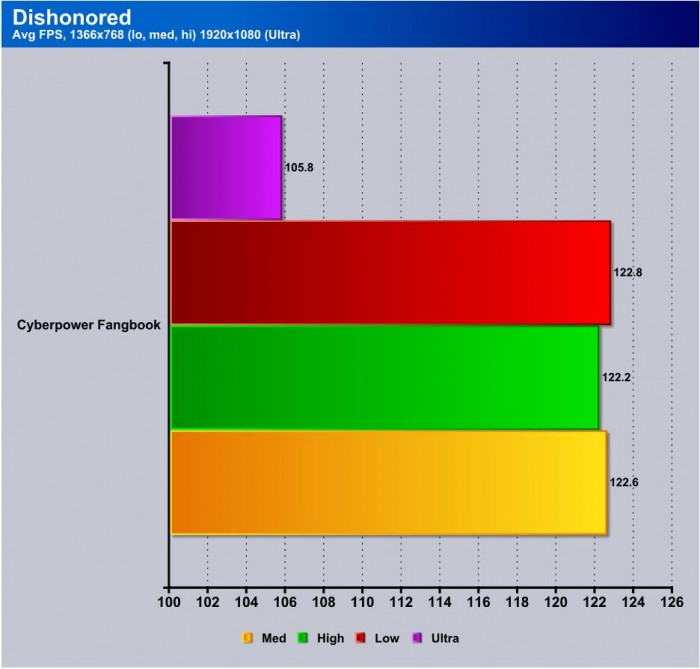 Dishonored is a newer game and a very fun one, and from testing not as stressful as it would appear, as the Fangbook spent only minor dips below 100 FPS but for the most part was at 100 FPS or above.
Need For Speed Most Wanted 2012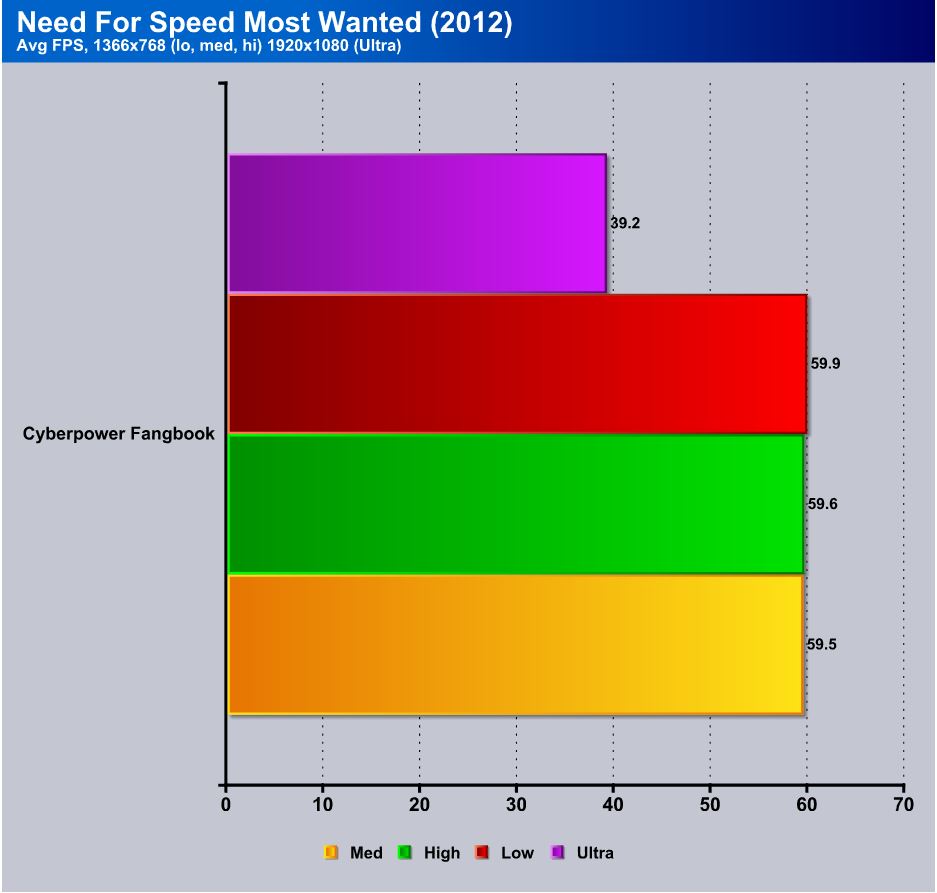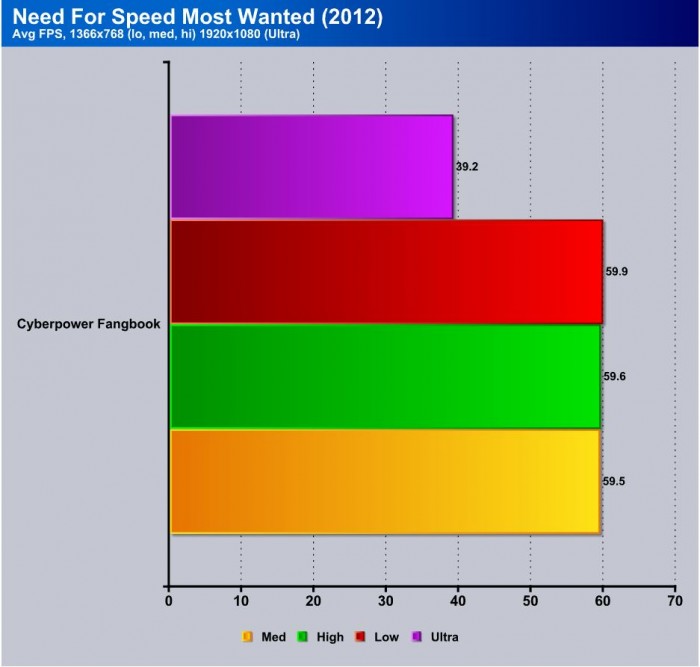 The Need for Speed franchise has been around for as long as we can remember now and it has continually added new eye candy to make it better and better with each installment. The newest one released just last year definitely knows how to make your system work for a good show and the Fangbook shows it some true power as even on the highest setting at HD resolutions it never dropped below 30 FPS and even stayed above 40 FPS for most of the run.
CONCLUSION
When we first heard we were getting the Fangbook, we knew pretty well what it was. Having tested other "gaming" laptops before, we knew they were usually very unbalanced toward one way or another; or even worse, they are so highly priced that it is just not reasonable. To find the perfect balance is an art of forms as you have to be able to take many things into consideration such as price, performance, size, noise and a balanced experience. By this, we mean tuning the machine so that all of the correct parts are offered to allow the system to have nice battery life when doing standard office docs and normal everyday web surfing while still being a game killer when your brain can take no more work and simply needs a break. We believe that after using the Fangbook Cyberpower has stumbled upon a great mix of performance price and usability that cannot be denied.
The Fangbook is a composition of elements all which lend themselves to different methods of functionality and this perfect combination allows for the performance you desire along with the power to keep you going when there is no outlet in sight. Adding Optimus capable components is always a good choice as Nvidia's GPU switching is well matured versus AMD's technology. Additionally, having the OS on an SSD saves power as SSD's drain the battery less. With the dynamic throttling of the Ivy Bridge CPU you get even more power savings, and we still have not taken into account the fact that the GTX 675MX is a Kepler based GPU which is a lower 22nm die and with that comes better efficiency for lower power consumption over previous generation chips.
The backlit gaming keyboard really opens things up for gamers as you can now play in any environment without ever losing your place and with multiple profiles you can be sure you're always ready for whatever your game throws at you. Add to this the anti-ghosting keys, and this is a gamer's dream built into a laptop.
In a world full of tablet gamers, Cyberpower uncages a beast of a gaming notebook that will rip through anything from Angry Birds to your favorite FPS. Seeing the raw power and awesome style of the Fangbook alone is enough to make us want it but using it has sealed the deal and it has reached "Must Have" status.
If you're looking for desktop level performance that you can take with you, the Cyberpower Fangbook is your answer and with Cyberpower's customization options you can be sure it will fit everything you need it to do and then some.
OUR VERDICT: Cyberpower Fangbook X7-200
| | |
| --- | --- |
| Performance | 9 |
| Value | 9 |
| Quality | 9.5 |
| Features | 8.5 |
| Innovation | 8.5 |

We are using a new addition to our scoring system to provide additional feedback beyond a flat score. Please note that the final score isn't an aggregate average of the new rating system.

Pros
Cons

i7 Ivy Bridge

16GB Ram

4 DIMM slots for up to 32GB

discrete GTX675MX GPU

SSD boot drive

Option for "Ultra Raid"

Dual HDD/SSD Bays

17.3″ screen is huge!

1080P for flawless video playback

Plays most games on hi/Ultra\

2.1 speakers/subwoofer

Plenty of CPU muscle

Backlit KEyboard

Bright crisp display

Optimus Tech saves battery

Upper touch buttons can fingerprint easy

Plastic chassis can flex a little if carried one handed
Summary: The Cyberpower Fangbook has insane amounts of power, speed and unbelievable gaming performance for a mobile. For this it earns the Bjorn3D Golden Bear Award.