Nvidia always seems to have a ace or two up their sleeves when it comes to GPU launches and product planning, but this time it looks like they brought a RPG to a knife fight. The GTX TITAN is here and I am ready to take it for a spin, so read on as I introduce Nvidias newest flagship single GPU!
Introduction – Nvidia GTX TITAN Preview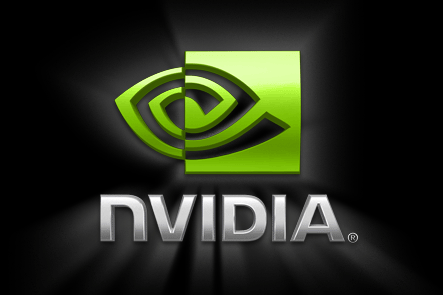 Nvidia doesn't really follow standard procedure when it comes to product launches. Many times they do things like special packaged items such as the Crowbar and wooden crate design like the Nvidia GTX 690. this is something that Nvidia does well which is making a splash around a top end GPU. To my surprise Nvidia is releasing the TITAN with very little flair or fanfare and more letting it stand on its own legs as a powerhouse of a GPU.
 When i first received the TITAN I was impressed as it carried the design language of the GTX 690 perfectly but as I looked into what it really can do thats where it really started to impress.
The GTX TITAN is based on a GK110 GPU carrying a full loaded setup with 14 of the 15 SMX enabled, 2688 CUDA cores which add up to offer up to 4.5 Teraflops of computational power.  This on its own is enough to shake the ground we walk on but add to this the fact that it is strapped to a PCB slightly larger than a 680 and 6GB framebuffer running through a 384-bit memory interface and things start to really come together.  This is starting to look very much like the cards used in the TITAN supercomputer at Oak Ridge National Labs. But this being a gaming part Nvidia equipped it with such features as GPU Boost 2.0 which is similar to what we have seen before but with some improvements.
Cooling on the Titan is nothing short of awesome as well employing a similar Magnesium framed cooler as we saw on the GTX 690 and a clear sight window so you can actually see the cooling fins on the card.

As you can see if it were fitted with a standard 680 style cooler the card would be a wolf in sheeps clothing as the card looks like another single GPU model but with an amazing cooler fitted to it. 
** Do keep in mind this is only a preview and a full indepth performance analysis is coming soon!**
Here you can see some of the specs of the card compared to what is offered presently from the Kepler lineup.
| | | | |
| --- | --- | --- | --- |
|         | GTX 690       | GTX TITAN    | GTX 680    |
| Stream Processors | 1536 x 2 | 2688 | 1536 |
| Texture Units | 128 x 2 | 224 | 128 |
| ROP's | 32 x 2 | 48 | 32 |
| Base Core Clock | 915MHz | 837MHz | 1006MHz |
| Boost Clock | 1019MHz | 876MHz | 1058MHz |
| Memory Clock | 6008MHz | 6008MHz | 6008MHz |
| Memory Interface | 256-bit x 2 | 384-bit | 256-bit |
| Memory Qty | 2GB x 2 | 6GB | 2GB |
| TDP | 300W | 250W | 195W |
| Transistors | 3.5B x 2 | 7.1B | 3.5B |
| Manufacturing process | 28nm | 28nm | 28nm |
| Price | $999 | $999 | $499 |
As you can see the card is packing some serious specs with a single GPU that looks to almost match the GTX 690 and a much larger framebuffer to handle the high res duties. The price point may seema  bit confusing as now the TITAN and the GTX 690 are sharing the same space. But in reality these are two completely different cards for two completely different types of users.
The 690 is great for your desktop gamer with a single high resolution display or even some situations where a surround setup is employed.
The TITAN is designed from the ground up to be the ultimate extreme gaming card as a single GPU with 6GB of framebuffer is designed to tackle any surround or high resolution and high texture gaming environment you can throw at it, and with 3 way SLI capability the sky is the limit as performance can quickly surpass that of a GTX 690 Quad SLI setup and with the extra VRAM you can expect the issues of high resolution running out of VRAM to be over. This card is made for those gaming systems where 2GB framebuffer per GPU simply is not enough and instead of doubling up what was already there Nvidia decided to push it to the very limit to ensure the ceiling is all but unreachable.
So as you can see the 690 and TITAN each have their own purpose in teh same price space which is pretty rare in this field but Nvidia found a way to differentiate the cards enough taht it is possible and as you see before you the TITAN is needed.
Key Features
GK110 GPU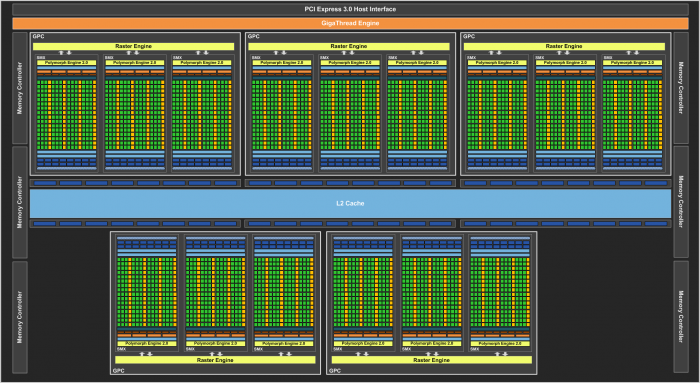 The GK110 as pictured above shows the full GPU in all of its glory now figure that one of the large SMX units will be disabled on the TITAN GPU but this is the full unit had everything been enabled by default. One thing worth noting is that as the GPU grew to more functional units you have to expect that the clock speed may drop some in order to keep it chugging along, but with the brute muscle this GK110 has to offer im sure the drop to 837MHz from the GTX 680s much higher 915MHz will not be noticed or even cared about. Also since this is a Gaming based card it employs GPU Boost 2.0 which allows it to throttle up to a rated 876MHz but depending upon power settings and usage I am betting that could easily creep higher and lets not forget that Kepler cards do tend to have some very decent overclocks as well. Although I will not take this for granted as the much larger GPU area may not go as far but in the following review we will look at how well it clocks and how far we can go with the software controls provided.
VRM/Board Components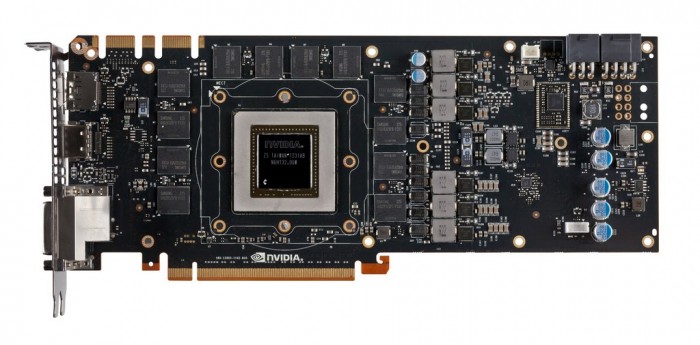 Here we see the naked board showing off everything under the covers. The important thing to note here is that Nvidia has informed me that the GTX TITAN with its 6+2 VRM (6 Phase for GPU and 2 Phase DDR) can push the card to an excess of 1100MHz with the stock cooling solution which bodes well for teh capabilities of the cooling solution and even more so for the GPU as this means under water or possibly even some extreme cooling this card could possibly really fly. Also note the excessive amount of memory chips as the rear of the PCB matches for a total of 24 memory IC's which enables the 6GB total and surprisingly the TITAN still pulls the Kepler default memory speed of 6008MHz and I could only imagine if the memory clocks as well on the TITAN as it does on other Kepler based cards I have tested we could see speeds in excess of 6800-7000MHz on the memory.
This design if what Nvidia claims to be true should be very nice and sufficient for the card but I am also interested if board partners such as ASUS and EVGA can get the GPUs for custom cards like a Classified or MAtrix series what exactly could be done with this GPU and memory.
GPU Boost 2.0 -Thermals
The GPU boosting function is controlled largely by the GPU temps which by default means the GPU will boost volts and clocks up until the thermal target of 80C is reached. What is nice about this is that you the user control the tehrmal target so if you are ok with your card loading up to 90C for instance then you can raise the target temp to allow for even more overclock and even voltage headroom. I could see this being a very cool feature as enthusiasts fit waterblocks to the TITAN and see hwo far they can really be pushed as you should never see 80 or even 90C temps on liquid cooling and that could mean huge potential for the TITAN card in the right hands. 
GPU Boost 2.0 – Voltage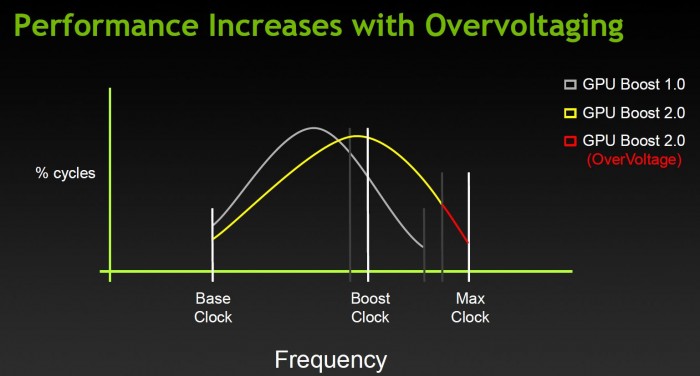 Nvidia has employed GPU boost for some time and in simple terms it allows the GPU to overclock itself in situations where there is extra thermal and voltage headroom to spare. This was quite a good feature but clocks could in some cases be rather erratic and varied greatly depending upon operating environment. With the TITAN Nvidia has introduced the newest iteration of the GPU boost feature with it comes a new way to control your card as now boost clock and voltage levels are directly tied to GPU temps and therefore  voltages can be pushed higher than before. Some Nvidia fans may remember not long ago when GTX680 models did not have alot of voltage control options and Nvidia listened and opened up the GPU Boost 2.0 to enable the higher overvoltage options that enthusiasts have been pleading for. As you can see you have the standard boost clock which can already go higher with the sliding scale of the thermal targets and then you factor in the higher level overvoltage and the ceiling for overclocks has just been blown off.
Nvidia Display Overclocking
Another cool feature from Nvidia is the ability to overclock the display which means you can push your display to higher refresh rates for even smoother performance from a display that normally may only be at 60Hz. Now a word of notice is that not all displays will support the overclock, and there will likely be a limit as to how far they can be pushed so it will take a bit of trial and error to find where your display is happy at. This just goes to show that when pushing for the best Nvidia really did pull all the stops to make this TITAN shine as something very special.
Who is the GTX TITAN for?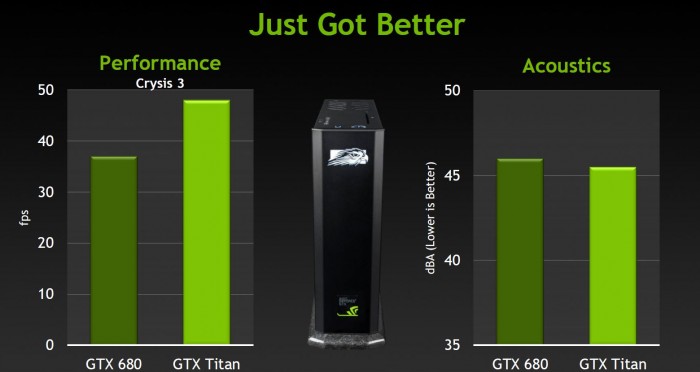 When asking Nvidia who the target audience was for the monster GTX TITAN card I was a bit surprised as they are targeting not just huge 3 Way extreme performance rigs but also the SFF (Small Form Factor) market as well. Once explained it made sense as Nvidia spent alot of time on the specialized cooling solution to ensure maximum heat removal with minimal fan noise. With a top performance card this is normally very difficult but after speaking directly with the system integrators themselves they were eager to speak of the silence the TITAN offers as they put it simply "The TITAN offers massive performance, while not even being able to hear it run or even know it is turned on". This is a very powerful statement coming from someone like a system builder who tend to be overly scrutinizing when it comes to noise from the systems they offer, especially when we are talking small for factor such as the micro towers from Falcon Northwest such as the image above.
 Dont get me wrong TITAN is not all about SFF as this beast from our friends over at Cyberpower is being built for me as we speak, and as soon as we get it you can expect some 3 Way SLI numbers along with single card numbers to share in a full performance  review coming very soon!