Want a tremendous speed boost? Keep reading, as we explore the benefits of a RAMDisk.
Introduction
 Larger RAM capacities have always been a point of contention amongst discussions within enthusiasts users and on forums alike. 64-bit operating systems and programs are now allowing us to break past the previous barrier of approximately 4GB system memory. With this barrier now vaulted many users struggle to find what memory size is best for what they do. First off most users do not need in excess of 8GB system memory as they will see it is simply not used. However being enthusiasts we always like bigger, better and faster.
These kind of arguments very much intrigue us as there is no simple yes or no answer: it really comes down to how you use your system. Today we will be looking at a few high density memory setups on a X79 platform which allow for up to 8 DIMM slots to yield even more RAM expandability and to show off exactly what can be done.
Originally this article was slated to utilize only a single RAM kit provided by our good friends at Corsair but just as we had finished all testing our friends at Kingston informed us they had one hell of a high density kit as well so we figured we would throw both into the ring to show how the higher speed at looser timings of the new best kit affects RAM Disk and system performance compared to the tighter timings of the Dominator GT kits at a lower frequency.
These kits are not bargain basement units and therefore you should expect a price premium for some top shelf components. However, if you are planning to build a system like this, you're also getting the highest quality products in return.
 The Corsair Dominator GT kits are actually 32GB kits at 4x8GB configuration, but knowing Corsair's high compatibility level and flexibility they have no issue working together to make a 64GB system. The present street cost of this kit is $439.99/ea from Newegg at the time of writing which means two would be $879.98 which puts it in a very high price category for these modules. Do bear in mind that these modules are running at CAS 9 which is tough to pull off on anything but top binned kits, and therefore we tend to cut them some slack in these scenarios as you get what you pay for.
The HyperX Beast kit we have yet to find on sale on Newegg, but it was located on Amazon for around a little over 600 dollars. Take this with a grain of salt as these are quite different kits; the Beast utilizes looser timings for its higher achievable speed so now we must look at how this affects performance and what we can come to expect in differences if any from each of these kits.
Pictures & Impressions 

Click Image to Enlarge
The packaging is vastly different from these 2 kits. The Beast comes in a rather large brown box with 4 memory clamshells each holding 2 DIMMS and a second set of clamshells for the fans.
The Corsair units are much smaller packaging with two boxes each holding 4 modules tightly packed together, the Corsair packaging definitely seems cleaner as it is much smaller but bear in mind that there are no bulky fan units that require the larger packaging as well.
Click Image to Enlarge
As you can see, the kits contain eight sticks, each with 8GB. The Corsair kit is actually slated as a 32GB kit, which we received 2 of for our testing. This is in no way a bad thing as simply setting the XMP although intended for a single kit works great with the Corsair kit which speaks greatly to the Flexibility of the kits.
The Beast kit is a 64GB 8x8GB kit, XMP profiled to run at 2133 MHz at a looser CAS 11 setting.
Click Image to Enlarge
Here you can see both kits side by side, the Corsair definitely has a bit taller and beefier heatspreader design while the Beast uses a stamped metal design. Once again During testing we will see how this comes into play on extended testing and heat buildup issues.
Click Image to Enlarge
The Dominator kits did not include a fan whereas the Beast kit included two of the fans shown above; this may also show that the much thicker and larger heatspreaders of the Dominator kit simply have enough mass that a dedicated cooling device may not be necessary but we will find that out soon.
 Corsair Dominator GT 1866MHz 
| | |
| --- | --- |
| M/B Chipset | Intel Z77, X79, Z68 and P67 |
| CAS Latency | 9-10-9-27 |
| Capacity | 64GB (8GB x 4) (2 kits) |
| Speed | DDR3-1866 (PC3 15000) |
| Test Voltage | 1.5 Volts |
| Registered/Unbuffered | Unbuffered |
| Error Checking | Non-ECC |
| Type | 240-pin DIMM |
| Warranty | Lifetime |
| Features | Intel XMP 1.3 (Extreme Memory Profile) |
Kingston HyperX Beast 2133MHz
| | |
| --- | --- |
| M/B Chipset | Intel Z77, X79, Z68 and P67 |
| CAS Latency | 11-12-11 |
| Capacity | 64GB (8GB x 8) |
| Speed | DDR3-2133 (PC3 17000) |
| Test Voltage | 1.65 Volts |
| Height | 46.41 mm / 1.827 inch |
| Registered/Unbuffered | Unbuffered |
| Error Checking | Non-ECC |
| Type | 240-pin DIMM |
| Warranty | Lifetime |
| Features | Intel XMP 1.3 (Extreme Memory Profile) |
These modules are top binned due to the very high 8GB density per DIMM. As you can see Corsair pulled off some very tight timings for a 8GB DIMM with 1866 MHz at CAS 9 rating, whereas the Beast kit takes a different path with a higher operating frequency but a much looser CAS 11 setting. Both are reasonably sized modules  and tall enough to have fitment issues with bigger tower coolers. Due to this and to ensure optimum stability we will be running liquid cooling on the CPU for all testing.
Testing & Methodology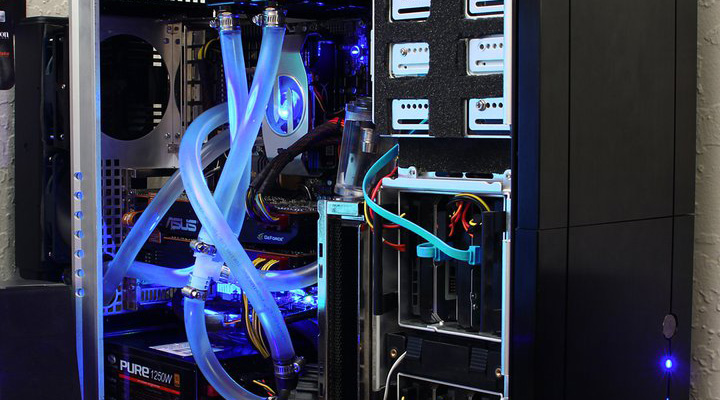 Memory testing can be tough at times as most look at a number (the frequency) and think the higher the better, but in our testing experience we do know that many times there are other numbers at play such as the timings and subtimings which can have anywhere from a minimal to drastic affect on what kind of performance we see from the system when tweaked to the max. Also price can be a determining factor as well and this is why we will run through a few benchmarks to see how this kit affects system performance running at SPD, and XMP to ensure we get a good idea of exactly what kind of performance the end consumer can expect for their money.
Real World Usage
One thing we would like to bring to light is that using 64GB of memory can be done in many ways but many normal everyday users simply will not consume even 1/4 of that amount in normal usage or even gaming.
There are many factors at play when it comes to memory selection, so don't consider this the be-all, end-all. First and foremost what do you do with your system matters. If you regularly use memory intensive programs such as Adobe AfterEffects, Autodesk Maya, or any other productivity applications, then these kits would greatly benefit you from the system memory standpoint. However, most users simply do not do this or the usage is so few and far between it is almost a waste. So, what else can you do with a large amount of memory?
This is where the idea came from in the form of RAM Disk: using your system memory as a storage volume much like your hard drive. There are many programs which allow this–some free and some pay to use–but one of the fastest we have used also happens to be free: SoftPerfect RAM Disk.
The SoftPerfect solution is not only free but rather easy to setup as we can have a RAM Disk setup in mere seconds and initialized in less than 30 secs after we apply the settings.
For the testing we show the comparison of a RAID 0 set of SF 2281 SSD's to different speed RAM Disk setups. The RAM Disk is set to a static size of 32GB unformatted which is half of the system installed memory. In reality we could probably get away with a 48GB RAM Disk and 16GB usable system memory but we feel that this leaves a good middle ground for content professional and productivity apps to run along with a super speed RAM Disk.
Real World Application Usage
Applications that can use high memory include rendering and productivity applications such as Solidworks, Maya, and Adobe Creative Suite. Unfortunately we are not as well versed at these apps as a real content professional would be. However, we have seen demos of Adobe usage where users were able to load a RAW file into 64GB of memory and edit from the memory itself. This kind of capability alone is worth a lot to content creators and content professionals, as they can spend less time spent loading file data and more time actually working on the file.
Besides that there are many users who leave programs running and can have multiple browsers open using multiple tabs per browser. All this usage takes up memory but to the large extent we look at today these kind of usage scenarios would not come close to requiring memory capacities up to 64GB.
Test Rig
Test Rig
Case
Open Air Test Bench
CPU

Intel Core i7-3960X

Motherboard
ASUS Rampage IV Extreme
RAM

64GB Corsair Dominator GT 1866MHz (8x8GB)

64GB Corsair Dominator GT 2133MHz (8x8GB)

CPU Cooler

Swiftech H20-320 Edge Elite

Hard Drive
Western Digital Velociraptor 300GB
SSD

Raid 0 2x SF2281 SSD

Optical
ASUS BD-ROM
GPU

GeForce GTX 690

Additional Cards

N/A
PSU

Thermaltake Toughpower XT 1475W Gold

Mouse
Tt eSPORTS Black gaming mouse
Keyboard
Tt eSPORTS Meka G1 mechanical gaming keyboard
Test Suite
We will use the following applications to test the performance of the memory. Benchmarks
Anvil Storage Utilities
ATTO Disk Benchmark
Crystal Disk Mark
Anvil Storage Utilities
Anvil storage utilities is a newer up and coming benchmark which shows many facets of drive performance (more specifically SSD) and allows a repeatable and even measure to which comparisons can  be based.
SSD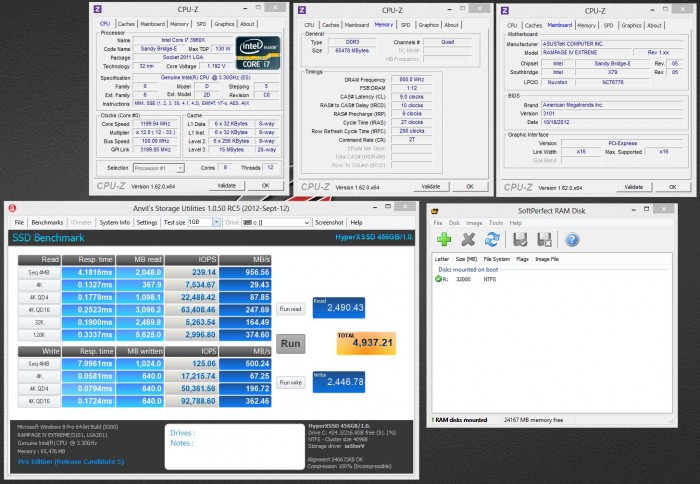 1600MHz RAM Disk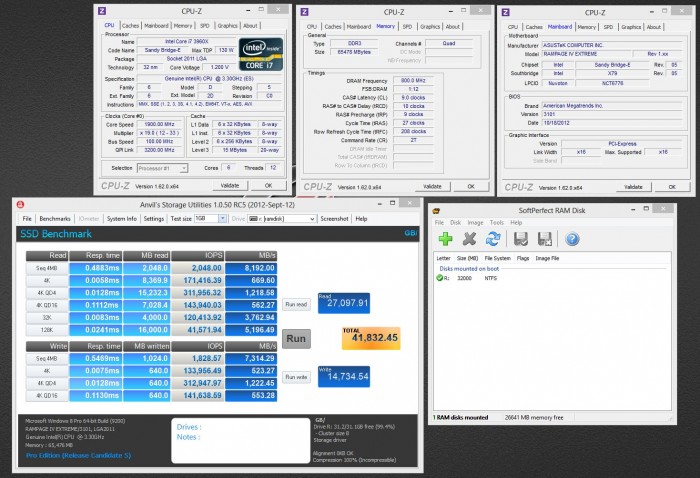 1866MHz RAM Disk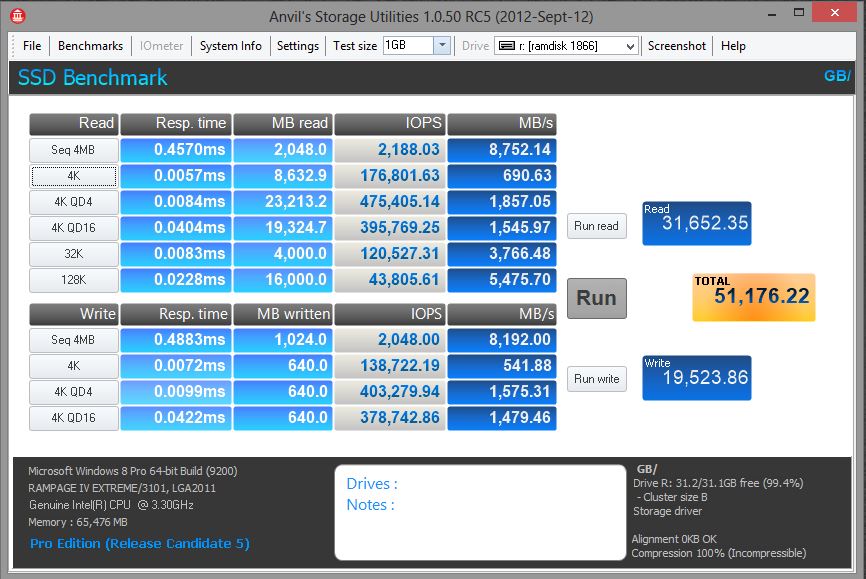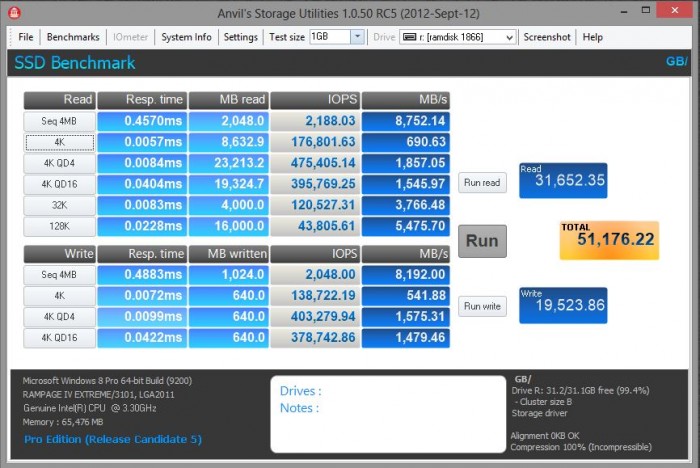 2133MHz RAM Disk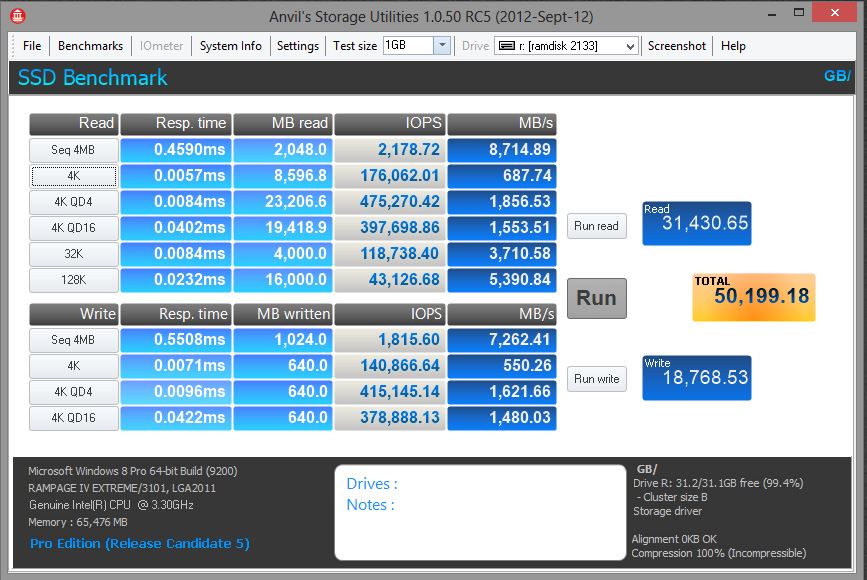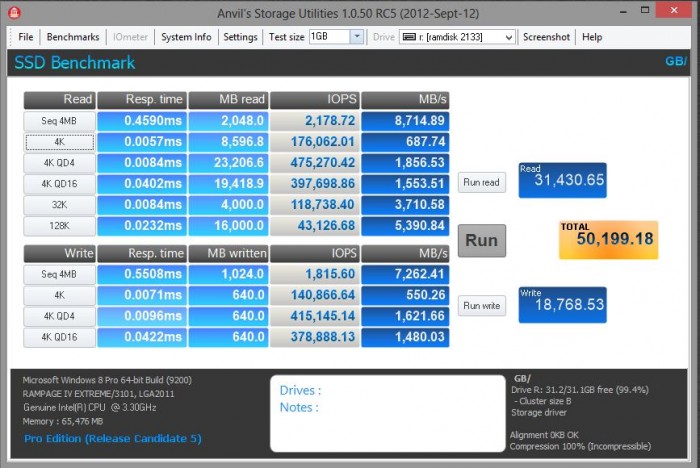 ATTO Disk Benchmark
ATTO is a tool widely used by many SSD manufacturers to show full throughput of the storage device being tested.
SSD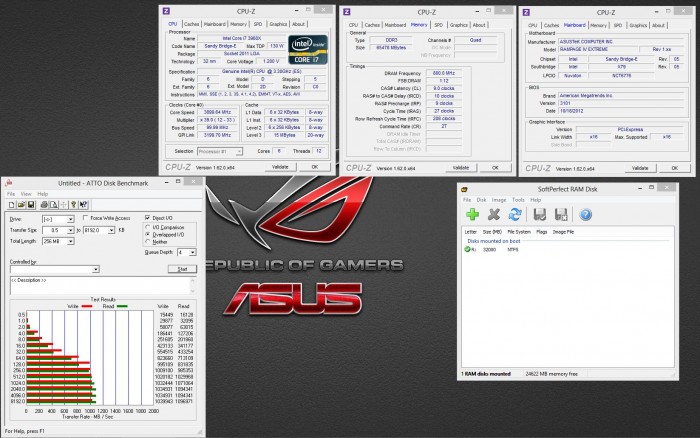 1600MHz RAM Disk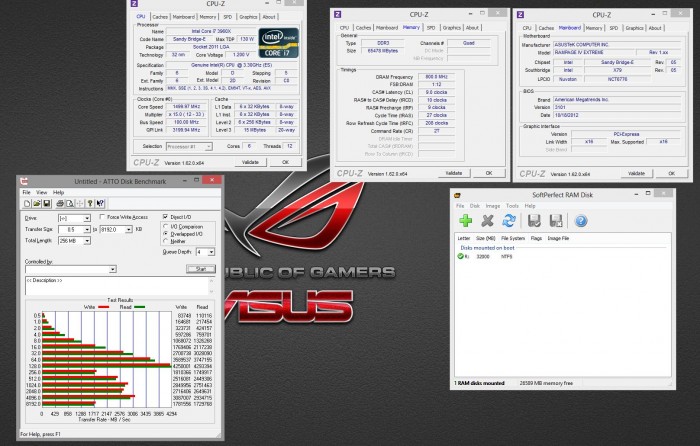 1866MHz RAM Disk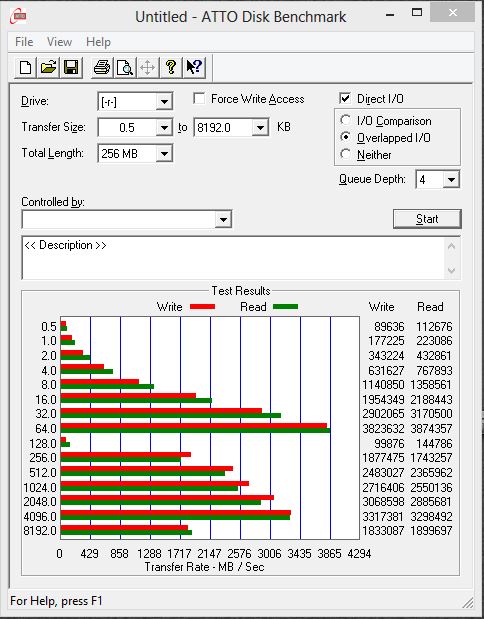 2133MHz RAM Disk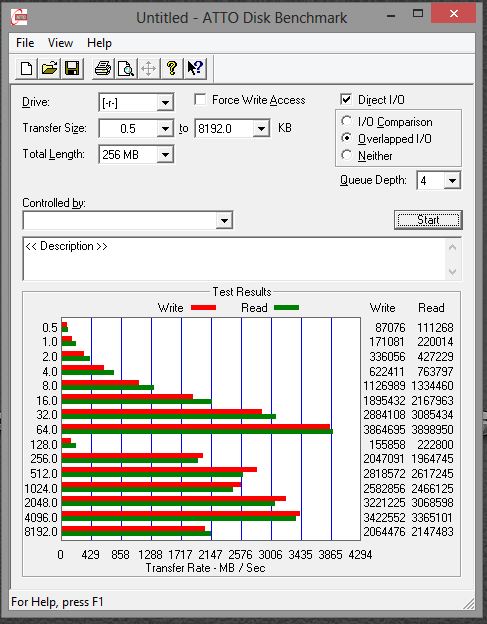 Crystal Disk Mark
SSD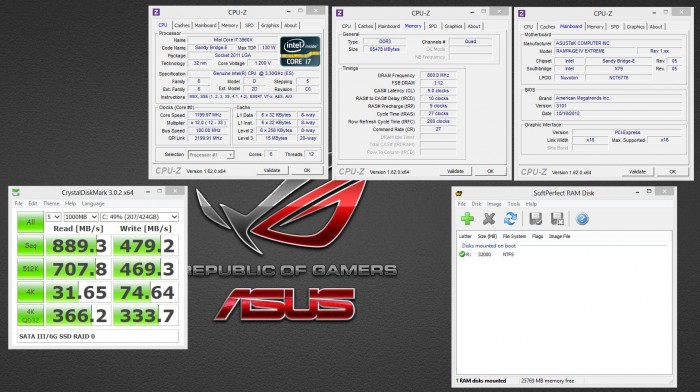 1600MHz RAM Disk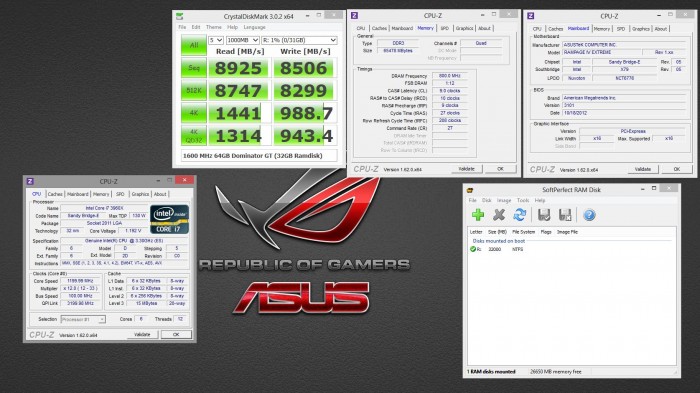 1866MHz RAM Disk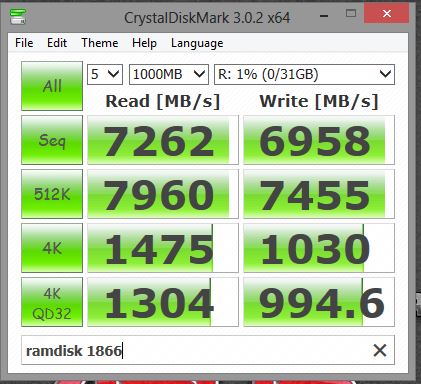 2133MHz RAM Disk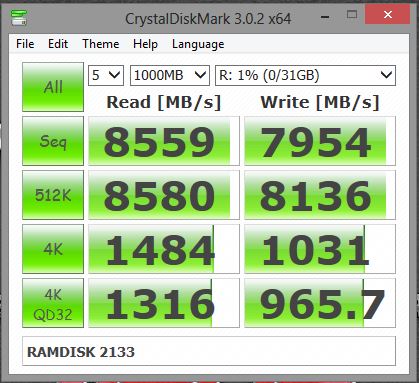 After testing you can see that with a RAM Disk speeds in excess of 8+GB/s are possible which means instantaneous loads for heavy ops such as video edition or content work.  Do note that the RAM Disk testing actually seems to show a fondness for tighter timings rather than raw speed but this also can be limited by the speed of the CPU as we did not want to go too crazy on tweaking in order to represent a drop in installation and what you could expect.
CONCLUSION
When thinking of usages for large amounts of memory, one of the first things that came to mind was just loads of browser tabs being open. This just goes to show that even enthusiasts such as ourselves do not always see the true capability of the hardware sitting right in front of us until we really take a long hard look at what we are really using to its full potential.
Large RAM capacities can fit very specific user groups such as content professionals or editors, but the capability is so much more. We have found when researching and just looking through lots of sites, along with using other programs, that we have been able to eclipse 17GB of memory usage. However, that still leaves alot of free memory to use for something like a RAM Disk.
One of the areas we saw decent usability would be the "Scratch disk" setting within Photoshop or other Adobe programs. This is basically a working area where Adobe can place data while working on a picture or video project. Having this data available at a read speed of over 8GB/s, we could see real benefits as it is basically an instant on solution and there is almost no delay at all when pulling this swap data.
 Another thing is that the RAM Disk will be used side by side with the system memory, so supposing you use the system for video rendering and you mirror our configuration of 32GB memory and 32GB RAM Disk, then you would have the RAMDisk loading directly to memory. This is effectively a "copy" function, which is extraordinarily fast compared to even the SSD array we tested against. Being able to load that file 800% faster is the difference between completing a job and waiting on a render.
In the end we guess it really comes down to what you do with your system. If you find it feasible to run a 32GB or 64GB memory kit, we would recommend using some of that for a storage option. Even if there is a delay when the OS loads for the data to be written to the RAM Disk after boot, it is lightning fast once loaded. Imagine a game with no loading screen, or maybe a key productivity app such as photoshop that opens almost instantly. 
Sometimes you have to look past everyday usage to realize the real potential of components and to understand that sometimes a things such as very high amount of memory while on the surface seems like a waste may just be a lack of understanding of what can really be done with such components and time to figure it out.
We give thanks to Kingston, Corsair, and Asus for supporting this idea and giving us a chance to try out some of their top density kits and find new ways to enjoy them.