SSD's are growing ever more popular, and we've reviewed a lot of them by now. Today we're checking out the 256GB version of OCZ's newest addition to the SSD lineup: the OCZ Agility 4.
OCZ makes a wide range of SSD's, targeted towards various markets. The OCZ Agility 4 is an SSD targeted at the mainstream market. OCZ's high-end SSD's, the Vertex line, are targeted towards the performance/enthusiasts' market. The OCZ budget line is primarily occupied by caching SSD's, which are designed to be paired with a hard drive to give the platter drive a speed boost. The Agility 4 SSD comes with the Indilinx Everest 2 controller, which is capable of the 6Gbps of bandwidth transferred by the SATA III interface. Today we're reviewing the 256GB version of this drive, which can retail around $160 online.
Features & Specifications
Features
The Agility 4 SSD comes with a considerable list of features. The most important you should look for at this stage is the SATA III support. Before mid-2011, this kind of support was highly uncommon. However, the second generation of SSD controllers (such as the Indilinx Everest 2 or SandForce SF-2281) permitted for 6Gbps support, and the majority of SSD's now come with this capability. For those who may not follow SSD's, this is very important as the older 3Gbps limit of SATA II will bottleneck a solid-state drive.
In addition to the faster controller, the SSD also supports high capacities, ranging up to 512GB's of storage space. This is good, because SSD's traditionally have had lower capacities than hard drives: the high price of flash-based devices means high capacity SSD's have found few buyers in the marketplace. However, quantities up to 512GB of space is nice to see as it alleviates some of the concerns users face about filling up their SSD's.
SATA 6Gbps Interface
Best-in-Class Indilinx Controller Technology
Up to 85,000 Random 4K Write IOPS
Available in 64GB to 512GB Capacities
Access Latency as Low as 0.02ms
Strong performance at Lower Queue Depths
TRIM Support
Specifications
Physical
Usable Capacities (IDEMA)
64GB, 128GB, 256GB, 512GB
NAND Components
2Xnm Asynchronous Multi-Level Cell (MLC)
Interface
SATA III / 6Gbps (backwards compatible with SATA II / 3Gbps)
Form Factor
2.5 Inch
NAND Controller
Indilinx Everest 2
DRAM Cache
Up to 1GB
Dimensions (L x W x H)
99.8 x 69.63 x 9.3 mm
Reliability/Protection
MTBF
2 million hours
Data Path Protection
ECC corrects up to 78 random bits/1KB
Data Encryption
256-bit AES-compliant, ATA Security Mode Features
Product Health Monitoring
Self-Monitoring, Analysis and Reporting Technology (SMART) Support
Environmental 
Power Consumption
Idle: 1.3 W    Active: 2.5 W
Operating Temperature
0°C ~ 70°C
Ambient Temperature
0°C ~ 55°C
Storage Temperature
-45°C ~ 85°C
Shock Resistance
1500G
Compatibility 
Serial ATA (SATA)
Fully compliant with Serial ATA International Organization: Serial ATA Revision 3.0.
Fully compliant with ATA/ATAPI-8 Standard Native Command Queuing (NCQ)
Operating System
Windows XP 32-bit /64-bit; Windows Vista 32-bit / 64-bit; Windows 7 32-bit / 64-bit; Linux; Mac OS X
Additional Features 
Performance Optimization
TRIM (requires OS support), dynamic and static wear-leveling, background garbage collection, Indilinx nDurance 2.0 Technology to extend SSD lifespan
Other Performance Features
Ndurance 2.0 Technology (Reduced Write Amplification without Compression, Advanced Multi-Level ECC, Adaptive NAND Flash Management)
Service & Support
3-Year Warranty, Toll-Free Tech Support, 24 Hour Forum Support
| | | | | |
| --- | --- | --- | --- | --- |
| Performance | 64 GB | 128 GB | 256 GB | 512 GB |
| Sequential Reads1 | 300 MB/s | 420 MB/s | 420 MB/s | 420 MB/s |
| Sequential Writes1 | 200 MB/s | 300 MB/s | 410 MB/s | 410 MB/s |
| Random 4k Read IOPS2 | 46,000 IOPS | 58,000 IOPS | 48,000 IOPS | 48,000 IOPS |
| Random 4k Write IOPS2 | 47,000 IOPS | 72,000 IOPS | 85,000 IOPS | 85,000 IOPS |
| | | | | |
| --- | --- | --- | --- | --- |
| Ordering information | 64 GB | 128 GB | 256 GB | 512 GB |
| Part Number | AGT4-25SAT3-64G | AGT4-25SAT3-128G | AGT4-25SAT3-256G | AGT4-25SAT3-512G |
| UPC | 842024030706 | 842024030676 | 842024030683 | 842024030690 |
The OCZ Agility 4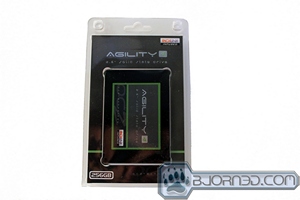 Click Image to Enlarge
The OCZ Agility 4 comes in a clamshell standard package, which is thankfully not heat-sealed.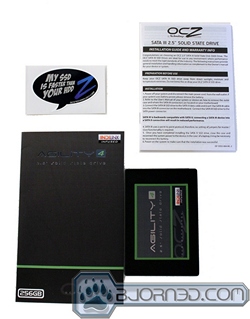 Click Image to Enlarge
Inside the package is the usual SSD and a couple other accessories, such as the quickstart guide, a manual, and a sticker saying "My SSD is faster than your HDD!" This sticker seems to be shipped with all OCZ SSD's, as the OCZ Synapse Cache also had it. However, OCZ seems to have skimped on the adapter tray that would allow this to fit in larger 3.5″ or 5.25″ slots, a departure from previous drives such as the Synapse.
Click Image to Enlarge
Here we actually get some shots of the actual internals of the SSD. The PCB has a total of sixteen chips of OCZ's own branded MLC NAND: eight on the back and eight on the front. Each chip stores 16GB, and is controlled by the Indilinx Everest 2 controller we see in between them. What's interesting about this SSD is that it not only has a SATA port at one end for use as a normal 2.5″ drive, it also has an mSATA connector at the other end, for use on boards such as the ASUS P8Z77 Premium, which carry an mSATA port on-board (mostly for caching SSD's). However, in order to use the SSD in this configuration, you have to take it apart, which we do not recommend doing as it voids your warranty. We have done it for the purposes of this review.
Testing & Results
We've expanded our testing suite considerably since the X79 chipset release, and will continue to use the same methods for most of the motherboards and CPU's we test. In the interests of thoroughness and accurate results, we run each test at least three times, and some tests more than that. We average the total of all the tests from each benchmark then report the average here.
The OS we use is Windows 7 Pro 64bit with all patches and updates applied. We also use the latest drivers available for the motherboard and any devices attached to the computer. We do not disable background tasks or tweak the OS or system in any way. We turn off drive indexing and daily defragging. We also turn off Prefetch and Superfetch. This is not an attempt to produce bigger benchmark numbers. Drive indexing and defragging can interfere with testing and produce confusing numbers. If a test were to be run while a drive was being indexed or defragged, and then the same test was later run when these processes were off, the two results would be contradictory and erroneous. As we cannot control when defragging and indexing occur precisely enough to guarantee that they won't interfere with testing, we opt to disable the features entirely.
Prefetch tries to predict what users will load the next time they boot the machine by caching the relevant files and storing them for later use. We want to learn how the program runs without any of the files being cached, and we disable it so that each test run we do not have to clear pre-fetch to get accurate numbers. Lastly we disable Superfetch. Superfetch loads often-used programs into the memory. It is one of the reasons that Windows occupies so much memory. Vista fills the memory in an attempt to predict what users will load. Having one test run with files cached, and another test run with the files un-cached would result in inaccurate numbers. Again, since we can't control its timings so precisely, it we turn it off. Because these four features can potentially interfere with benchmarking, and and are out of our control, we disable them. We do not disable anything else.
 
Test Rig

Case
InWin GRone

CPU
Intel Core i5-2500K @ 4.2GHz
Motherboards
ASUS P8P67 Deluxe Motherboard
Ram
G.SKILL TridentX 8GB (2x4GB) DDR3 2133MHz 9-9-9-27
CPU Cooler
Arctic Freezer i30 CPU Cooler
Hard Drives
WD Caviar Black 1TB HDD
SSD
Kingston HyperX 240GB SSD
OCZ Vertex 3 SSD
OCZ Vertex 3 Max IOPS SSD
OCZ Agility 4 SSD
Optical
ASUS DVD Burner
GPU
MSI GeForce GTX 660 Ti + Arctic Accelero Hybrid Cooler
MSI GeForce GTX 650 Ti (Dedicated PhysX)
PSU
Sapphire PURE 1250W Modular PSU
OS
Microsoft Windows 7 Ultimate (64-Bit Edition)
CrystalDiskMark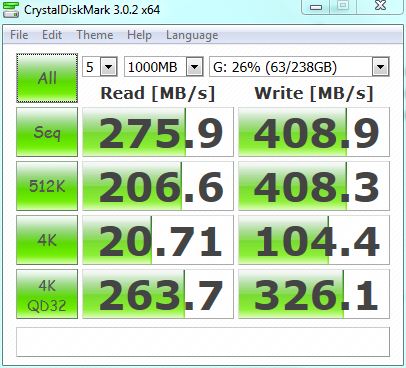 In CrystalDiskMark, the drive gives a strong showing, and performs within the expected range. It comes in below some SSD's like the Vertex series, but keep in mind that these SSD's are the highest-end, and often cost a small fortune for capacities like 512GB.
IOMeter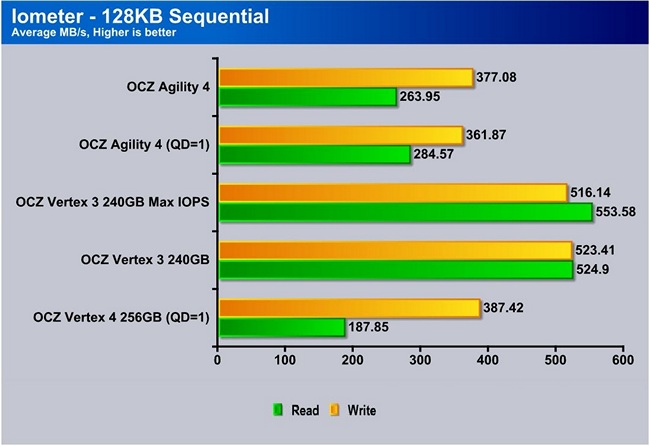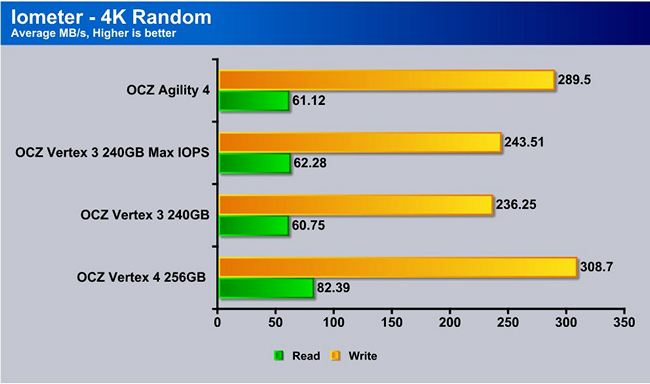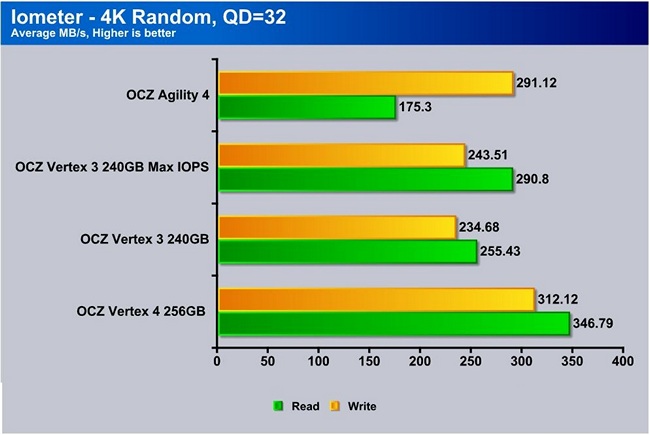 In IOMeter, the Agility changes places, in some cases doing very well, and in others doing very poor. It seems the drive is better suited to some workloads better than others. For instance, its performance at a higher
AS SSD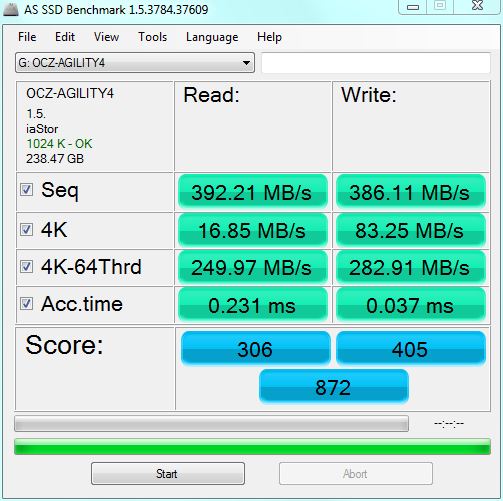 AS SSD uses all incompressible data, and the Agility 4's mainstream roots can be clearly seen here. Without a high-end real-time compression engine, the Agility 4 returns a result significantly lower than what we saw in other benchmarks.
PCMark 7
| | | | | | | | | |
| --- | --- | --- | --- | --- | --- | --- | --- | --- |
|   | Windows Defender (MB/s) | Importing Pictures (MB/s) | Video Editing (MB/s) | Windows Media Center (MB/s) | Adding Music (MB/s) | Starting Applications (MB/s) | Gaming (MB/s) | Overall |
| OCZ Agility 4 | 5.25 |  25.91 |  20.95 |  8.14 | 1.40 | 31.14 | 14.85 | 4630 |
| OCZ Vertex 4 | 5.49 |  28.88 |  22.21 |  8.23 |  1.41 |  50.32 | 16.37 | 5194 |
| OCZ Vertex 3 Max IOPS | 5.55 |  27.59 |  23.39 |  8.25 |  1.41 | 55.92 |  17.19 | 5314 |
| OCZ Vertex 3 | 5.66 |  28.23 |  23.51 |  8.26 |  1.41 | 57.48 |  17.12 | 5371 |
| Kingston HyperX 240GB | 5.66 |  28.2 |  23.5 | 8.27 |  1.41 | 56.04 |  17.34 | 5384 |
Here, once again the OCZ Agility 4 comes in as expected. It is not the best of the pack, but it is never the less a decent drive. It's potential low price makes it more worth it, especially when considering it is a more mainstream drive, and that it would be a great upgrade from an HDD.
Conclusion
The OCZ Agility 4 is a good upgrade SSD for those considering making the jump from mechanical drives. The Agility has good performance – it may fall somewhat behind the pack at times, but you must also keep in mind that the Agility is a mainstream drive, whereas by comparison, SSD's like the Kingston HyperX or OCZ's own Vertex line are all high-end performance drives. The Agility 4 performs better with some workloads than others, but its overall performance is good.
The Agility 4's biggest selling point is its low price, and potential to go lower. At $160 for 256GB of storage, the value to consumers just making the jump from a mechanical hard drive or a cache drive is enormous. The only negative point we found with the drive itself was that its performance was a tad difficult to predict since it differed so much depending on workload. We also wondered why OCZ did not include an adapter tray with this drive as they have done in the past.
OUR VERDICT: OCZ Agility 4 SSD
| | |
| --- | --- |
| Performance | 8 |
| Value | 9 |
| Quality | 9 |
| Features | 8 |
| Innovation | 8 |

We are using a new addition to our scoring system to provide additional feedback beyond a flat score. Please note that the final score isn't an aggregate average of the new rating system.

Pros
Cons

Good overall performance
Good price-to-performance ratio
SATA III compatible
mSATA capable for onboard running
TRIM command included

No 3.5″ adapter tray included
Performance can differ considerably depending on workload
Summary: The OCZ Agility 4 is a good overall drive, and can be a great value for those just making the jump to SSD-based systems. For this, it earns the Bjorn3D Silver Bear Award.