The Corsair Vengeance K90 provides not only unprecedented response in keyboard control, but adds a feature rich bank of dedicated macro and multimedia keys.
Introduction
Keyboards have come a long way in evolution, now targeting niche groups specifically in business and gaming applications. It's just not enough for a keyboard to possess basic functionality anymore; it actually needs to perform and feel right for the user's fingers. Corsair's Vengeance K90 is not only an industrial approach targeting gamers (using elite Cherry MX Red mechanical switches), but the keyboard itself can withstand punishment and abuse. A testimony to this is the actual box it came in, which looked like it had gone through a mauler at the local shipping company. Expecting the worst, we were quite surprised to find that the keyboard made it through the shipping process completely unscathed. The Corsair Vengeance K90 keyboard is available at retailers now and is priced at $129.99.
Features & Specifications
Corsair Vengeance K90 Technical Specifications

 

 

Cherry MX Red Mechanical Switches

Linear high-sensitivity (non-click sound) switches.
45g actuation force.
2mm to actuation and 4mm to bottom.
Rated to 50 million operations.
Gold contacts.

 

 

Macro Keys

Three banks of 18 programmable keys.
Dedicated hardware macro-record and bank select keys.
36kb dynamically managed on-board memory.

 

 

Multimedia Keys

Solid metal with weighted "drum roller" volume control.
Mute, stop, back, pause/play, forward.
Hardware controlled — no drivers needed.

 

 

Pass-through connector located on back.
Supports USB 2.0, 1.1, 1.0.
Gold-plated contacts.

 

Tuned Silicon Dome Keyswitches 

F1 – F12, Esc, PrtScn, Scroll Lock, Pause/Break, Insert, Home, Page Up, Page Down, Delete, and End  .

 

Windows Lock Key

Dedicated — backlit when on. 

 

Lighting

Deep blue, laser-etched, backlit keys with four levels of intensity.

 

Cabling

 

Two meter non-tangle cable.

Dimensions 

502mm x 16.3mm x 24mm / 19.7″ x 6.4″ x 0.64″
Interestingly enough, the Corsair Vengeance K90 uses a combination of Cherry MX Red and silicone dome switches: the portion of the keyboard utilizing the Cherry MX Red keyswitches is highlighted in red. 

Full key matrix anti-ghosting
Anti-ghosting technology provides flawless control even when you're pressing multiple keys at once. The K90 has individual switches with dedicated diodes for each switch so every key press results in an input that is ghost-free. (Ghosting is what happens on older keyboards when pressing two to three keys at the same time and a different output is had or lost all together).
20-key rollover on USB
Typical USB gaming keyboards are limited to the USB standard six-key rollover. The K90 features increased performance with a 20-key rollover implementation on USB at 1ms (1000 reports per second) reporting rate.
Professional grade brushed aluminum chassis with laser etched, backlit keys
The rugged aluminum chassis provides increased durability and stability. The stiff suspension chassis and the laser etched keys are made for durability so they won't degrade over time — the K90 has over 90 LEDs that provide outstanding illumination even in dim light. 
Vengeance Gaming Keyboard Software
Create up to 50 profiles (for macros) that is even possible to import and export with the Vengeance keyboard gaming software. The software is a free download at corsair.com.
Soft-touch wrist rest
The soft-touch wrist rest can be easily attached (with metal thumbscrews underneath) and is coated with a thin rubber texture. 
A Closer Look
The Corsair Vengeance K90's box was actually surprisingly large and heavy, with the prominent features listed in English and French. A small clear window displays the macro-business part of the keyboard. 


After unpacking the keyboard from its eggshell crate, one can't help but admire the fine job done on the aluminum chassis.  It's actually a giant, thick, plate that is folded perfectly in such a way to cover the entire front of the keyboard (bar the G-keys).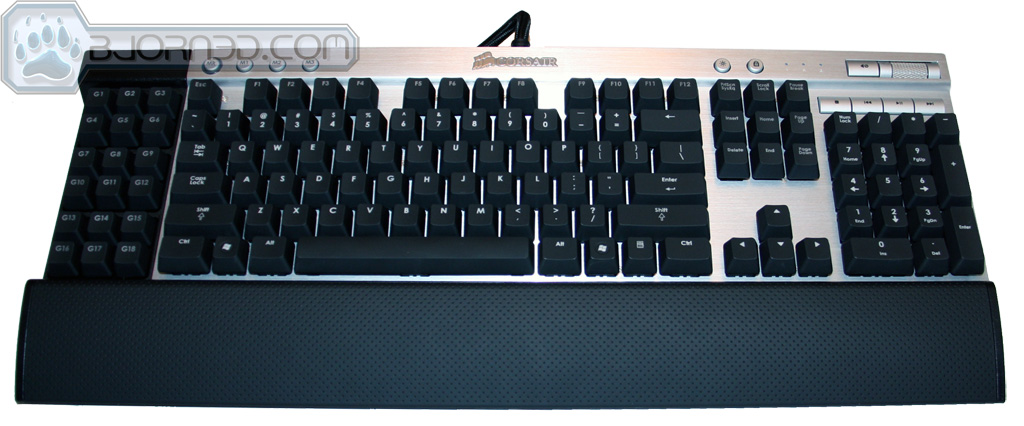 Click on image for larger view.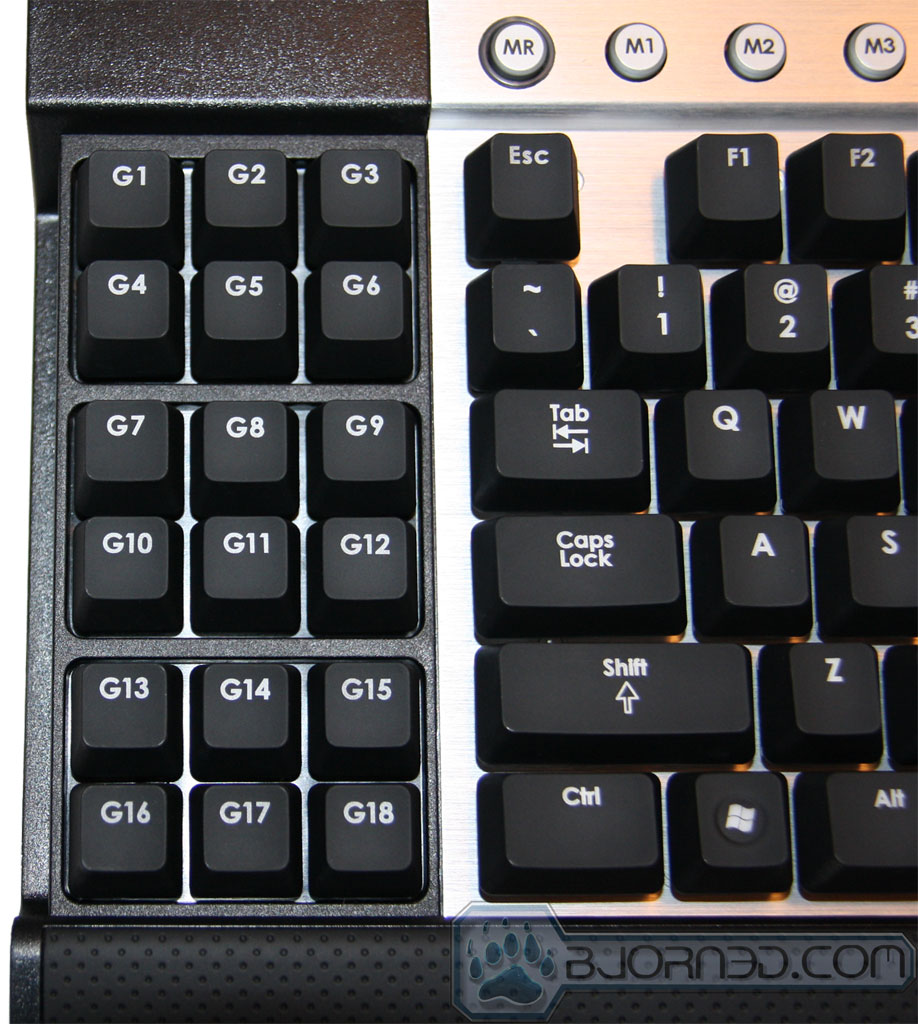 Here is the main feature of the Corsair Vengeance K90: 18 macro keys fully programmable in hardware (with the memory key at top above the escape key) with the capability of three banks. This gives the K90 a total of 54 macro hot-keys that can be used for the operating system or any program or game. The G keys are offset slightly lower than the keys on the metal plating.
Here are a few closeups of the memory bank keys and the multimedia keys. The MR programming key flashes red when in programming mode, the memory bank key that is active lights up blue. All of the multimedia buttons glow a softer blue from the rest of the keyboard when lit and even the weighted metal volume wheel is slightly backlit. The Caps Lock, Num Lock, and Scroll Lock keys, when activated, light up the small pure white LED's next to the mute button.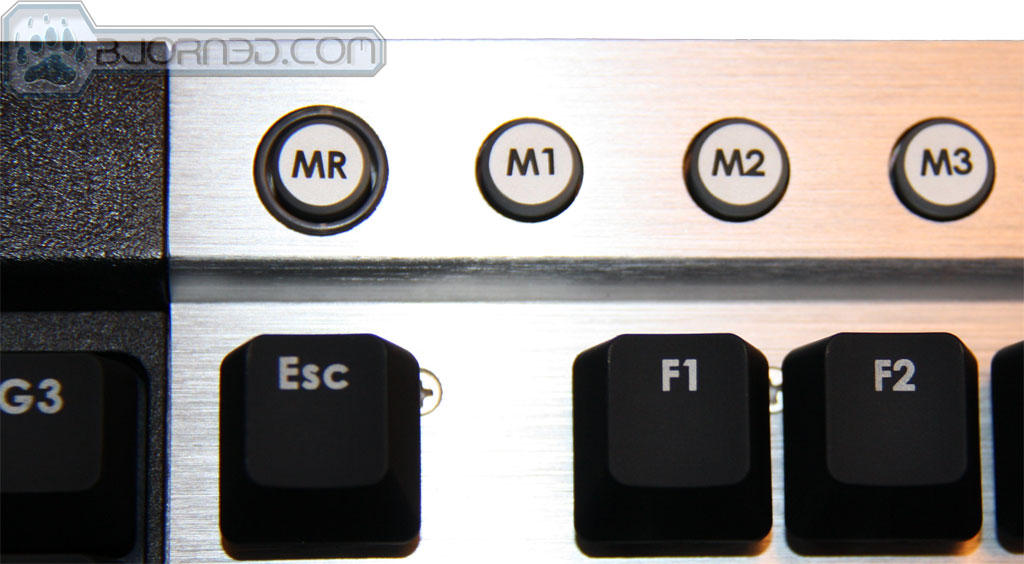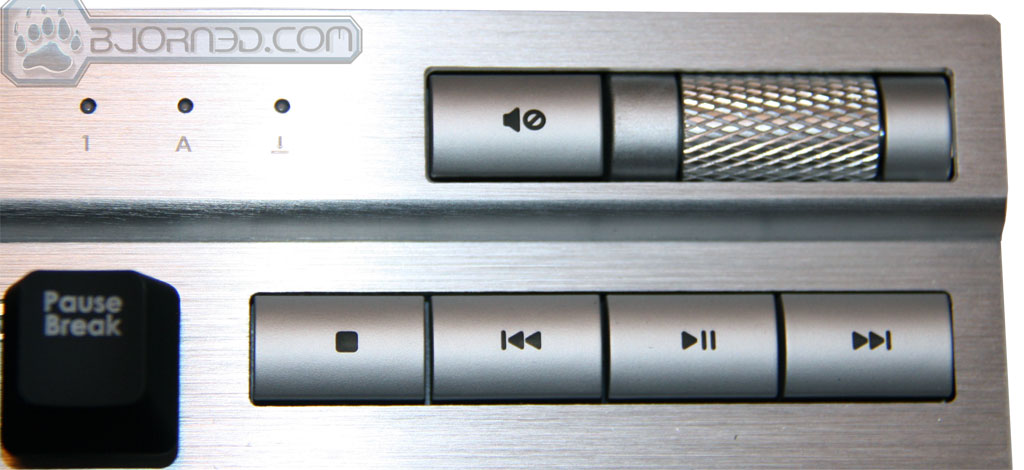 The back of the keyboard shows the location of the pass-through auxiliary USB port and the two meter nylon braided cord terminating in two standard USB plugs. The plastic is incredibly thick and industrial on the back; no amount of stress put on this board could even bend it in the slightest.

 

The image below illustrates just how thick that metal plate is (approximately 2mm). Securing the wrist pad in place are two steel non-strip thumb screws on both sides (underneath the pad).

Click on image for larger view.
The following shots of the Corsair K90 were done in complete darkness with the back lighting set at 100%. Even though the white lock keys look extremely bright in the photo, they are actually not overwhelming or distracting. The main keyboard keys are actually a deep blue, but the light cast off and reflected by the aluminum plate is the right intensity and expected color. Note that laser etching does tend to make the letters slightly blurry when backlit; however, the advantage is that the lettering will never wear off.

Click on image for larger view.
All of the "G" keys are backlit a muted white color. An interesting thing to note on the left shot is that all the Cherry MX switches are a small magnitude brighter then the silicon dome switches (the arrow keys use Cherry switches; the standard keyboard function bank above them uses the silicon dome switches).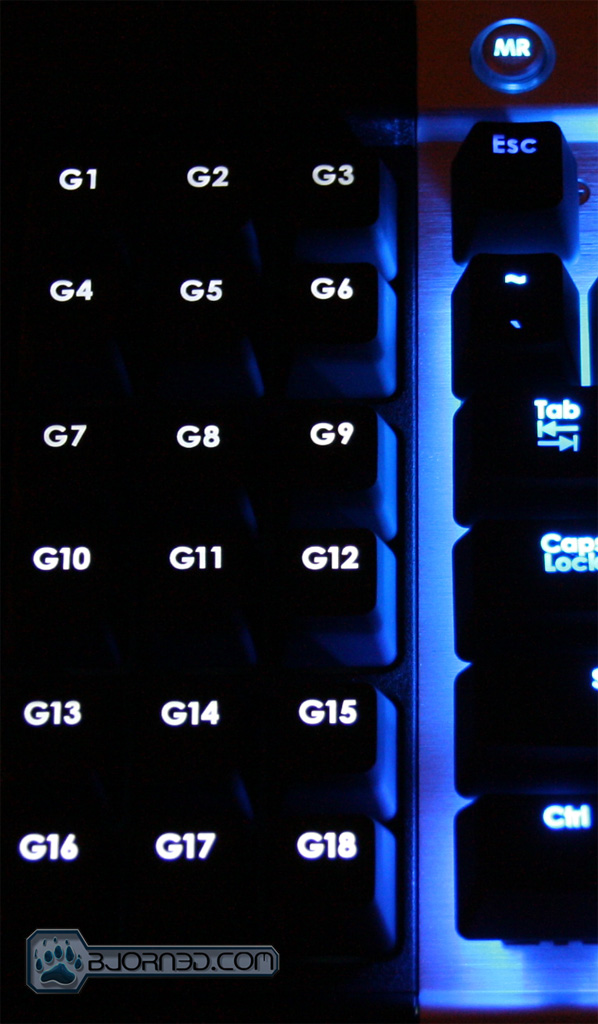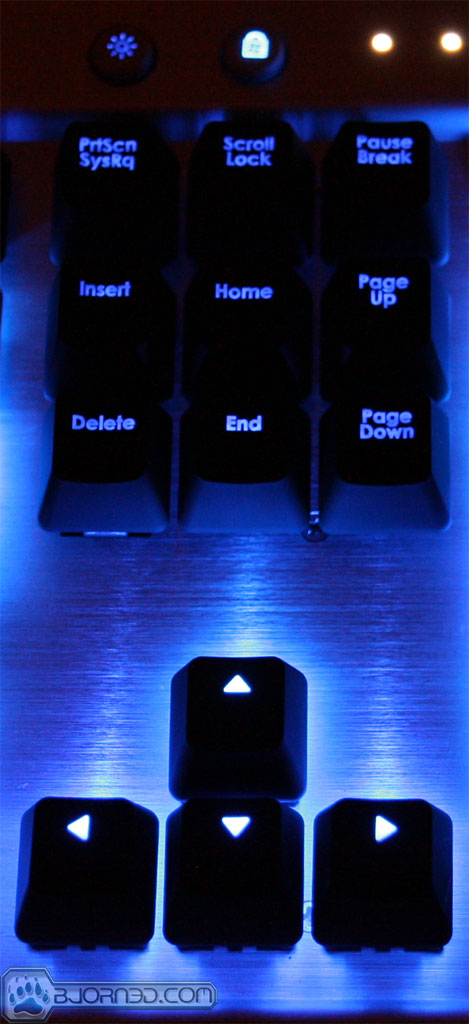 The multimedia keys receive a lot of splash-lighting from the number pad below, but also glow pleasantly from within.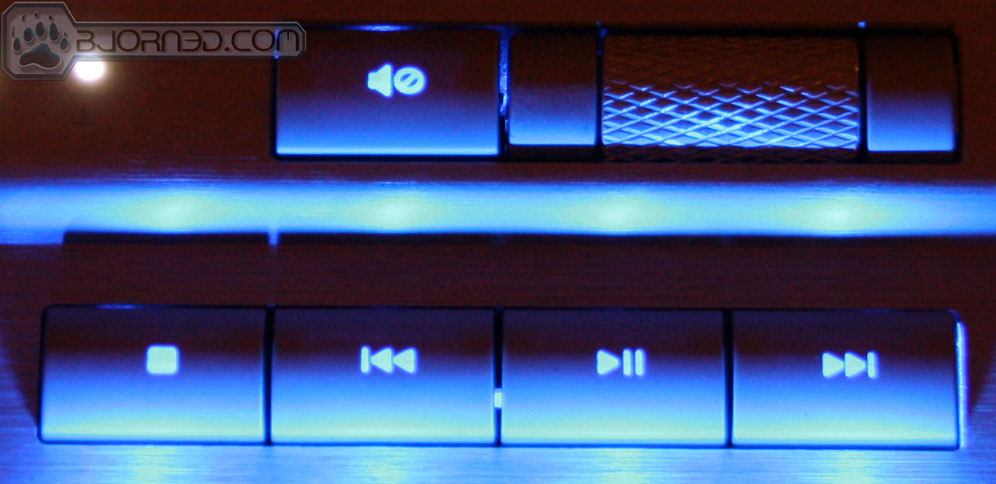 Testing and Results
The only fair test for a keyboard is to actually use it over an extended period of time. For two weeks this keyboard was put through a gauntlet of heavy macro-use applications, with bank one set up for standard windows use, bank two for Photoshop and web-authoring tools, and bank three for gaming. Listed below is the specific software used in testing:  
Software and Games Tested with Macros
Windows 7 64bit hotkeys and application launches
Adobe Photoshop CS5 and Dreamweaver 
Tribes: Ascension (Beta)
Crysis 2
Diablo III (Beta)
First off, the macro programming couldn't be more straight forward: merely press the memory record key (MR) on the keyboard, press the "G" key you wish to assign the macro, enter the sequence you wish it to record, and press the flashing "MR" key again to save it. If one prefers to use a more graphical interface, Corsair provides a profiler at their site. The profiler adds the functionality of delay or repeating options, and the ability to import or export profiles. It is also very handy if you want to assign Windows shortcut keys to the "G" keys if so desired. Overall, the macro keys worked as expected with no lag at all. It is definitely refreshing to see programmable macros that actually behave.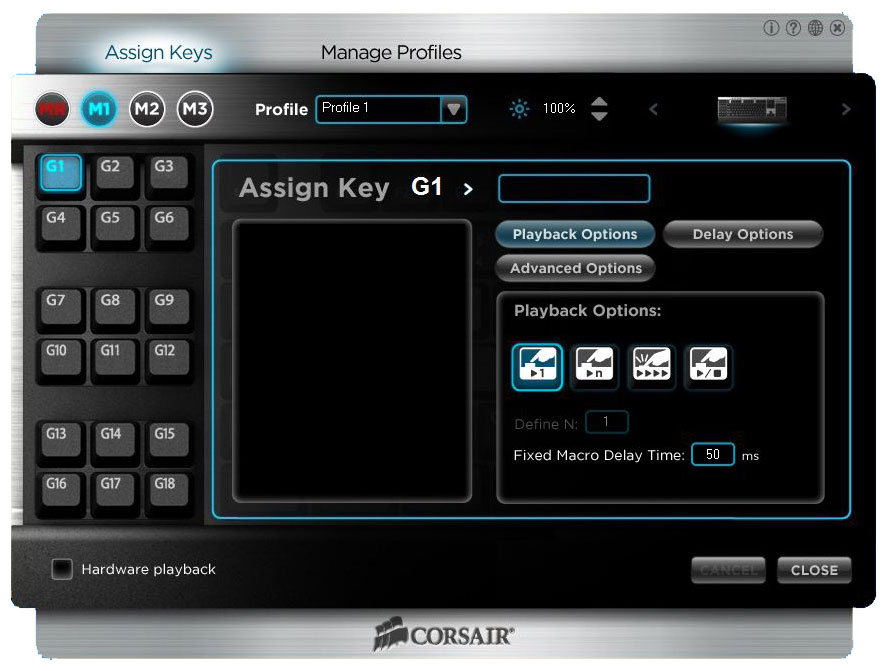 Addressing the hybrid approach of mixing Cherry MX Red switches with silicone dome switches: at first it seemed like not that great of an idea; however, it really isn't incredibly noticeable since only the top most row (Esc, F1-F12) and Home bank keys use the silicon dome. The only detracting thing about this is that the silicon dome material tends to block some of the light shining through the laser-cut keys. Otherwise, migrating from a mechanical keyboard using cherry tactile switches (versus the cherry linear switches on the K90) took a while to adjust. These keys are almost completely silent, do not need to be pressed all the way down to activate, and take very little force.  Having high sensitivity keys is an advantage in gaming and this keyboard definitely enhanced the experience with more precision than on the tactile cherry mechanical board. There really is no comparison to a standard silicone dome type keyboard—they feel rather mushy in contrast. This was highly evident in the game Tribes: Ascension, which has three degrees of movement (including 120 mph "skiing" augmented with a high-powered jet pack). Having a great mouse isn't enough with games of this caliber: catapulting through the air while twisting, zooming, and leading a hitting shot on an equally fast moving target requires precise keyboarding finesse, and this keyboard provided it. 
As far as the multimedia keys go, it was very impressive that drivers were not required. As a matter of fact, it worked flawlessly with iTunes (the default media player on this Windows 7 64 bit machine). Corsair's pièce de résistance lays within the weighted metal volume wheel; something rarely (if ever) seen before on a keyboard. This wheel is precise and a joy to use, providing enough friction that it can't be spun out of control. 
One conspicuous aspect is the overall construction of the Corsair K90. This keyboard is an indestructible beast. It's heavy, it's large, and it's full of metal—what more could we want in durability at this price point?  For once, a decent palm rest is included, and it's just not a plastic strip that clicks on.  Corsair's palm rest swivels up and down vertically about 5 degrees each way and is coated with a light rubber coating that tends to wick sweat away from our palm. The feet stands that can retract flush with the back are at a perfect height and are also made of the same, thick, plastic that the rear housing is made of.
Conclusion
After heavy usage over a period of two weeks on the Corsair K90, the performance and feel of the keys were definitely outclassing preferred keyboards using even more expensive non-linear Cherry switches. It appears that a natural adaptation is to not press the keys all the way down. Where this practice really excelled was in gaming (when making precision movements utilizing the keyboard was tantamount). The only real issue had was with the physical location of the G-keys being inset a centimeter lower then the rest of the main keys. As far as value goes, this is a fair price point at $130, especially as there are other Cherry MX keyboards that go for more than twice this price with fewer features.  The only reason we rated the value of this keyboard at 8/10 is because Cherry MX switches weren't used across the entire keyboard. In terms of quality and construction, this is a very well made keyboard. The metal plate not only adding to the overall aesthetics, but also to strength and durability: as mentioned before, this is the tank of keyboards. Being feature rich there is little to no software footprint (as using the Corsair profiler is not required), making the Corsair K90 not only streamlined in all technical ways, but also portable because of the built in memory. In the end, Corsair created something of quality and everything came together to make using this product a pleasurable experience.
OUR VERDICT: Corsair Vengeance K90
| | |
| --- | --- |
| Performance | 8 |
| Value | 8 |
| Quality | 9 |
| Features | 8.5 |
| Innovation | 9 |

We are using a new addition to our scoring system to provide additional feedback beyond a flat score. Please note that the final score isn't an aggregate average of the new rating system.

Pros
Cons

Cherry Red MX switches provide excellent response in games.

Well designed tough construction with superb back lighting.

Built in on-board memory for streamlined operations of macro programming.

"G" keys are inset lower then the rest of the keys.

Escape, F1-F12, and Home bank keys use silicone dome switches

 

 
Summary: The Corsair Vengeance K90 provides not only unprecedented response in keyboard control, but adds a feature rich bank of dedicated macro and multimedia keys. For its quality and innovation, the Corsair Vengeance K90 earns the Bjorn3D Silver Bear Award.