Today we take a look at an 8GB high performance memory offering from Kingston. These modules run at a blazing fast speed of 2400MHz while offering full stability in quad channel.
Introduction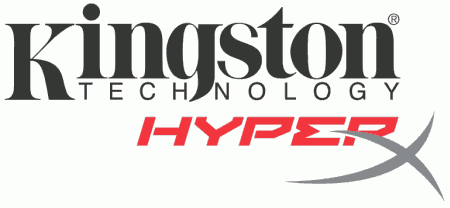 Not too long ago, the mere idea of 2000 MHz RAM meant having to break the bank and waste time in countless hours of searching. Well, technology is pushing forward at an alarming pace, and frequencies keep scaling faster and faster with no sign of stopping as of yet. Today we have a kit that is part of this breakneck frequency race, designed to run at an operating frequency of 2400 MHz. It's a 4 stick kit at 2GB per DIMM, spec'd to run at 2400 MHz via an XMP profile, which means there should be no tweaking necessary and it should be a "set it and forget it" affair. These modules are rated at 1.65V at timings of 11-13-11 which shows that it had to be loosened up a little to get there, but this is also likely to ensure stability in the long run as well. This is a 8GB kit and while many manufacturers getting into the quad channel market are defaulting to 16GB at a 4x4GB or higher configuration, this kit is 4x2GB so we will have to take into consideration as the capacity is a mere half of what is really the norm in the present market.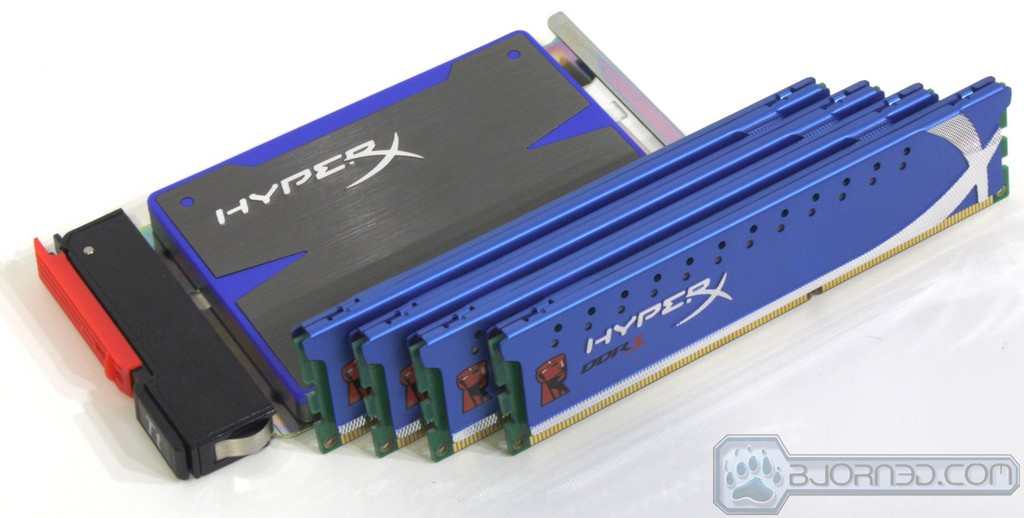 We have seen many kits recently start to flood the market and some tend to have slightly tighter timings so with that considered we are going to take a look at the performance of these modules and also the value at the current price of $208.00. We will judge whether this newest kit from Kingston is worth the price, or just off the mark.
Pictures & Impressions
Click Image to Enlarge
The modules come packed in a 4 DIMM plastic stand up enclosure which we think is a pretty cool design to keep from DIMMs possibly shaking loose like we have seen in some of the blister packs in the past. This also creates a great presentation as the purchaser can see that care was taken with the kit. Moving on, we have the packaged sealed on both ends with tamper proof tape so it will be immediately evident if the package was opened before delivery.
Click Image to Enlarge
Looking at the DIMMs themselves we have to give Kingston a huge amount of credit on this one, as these are Genesis modules and therefore have a low profile heatsink. This may not seem like a big deal to most but once we try to install a large air cooler, we see the limitation very quickly. This can be seen especially with the LGA2011 platform as the DIMMs are on both sides of the socket and the only cooler that will fit without question will be a liquid cooler in most cases. Even on other platforms such as X58 or Sandy Bridge, high-clearance RAM will be incompatible with tall coolers.
Considering all this, kudos to Kingston for making this happen, as with this kit we really cannot see any possible combination which would interfere with a cooling solution; the same definitely cannot be said of other DIMMs we have seen available. Also, we really hope other memory manufacturers take note of this and make their heatspreaders interchangeable or easily removable and replaceable with a standard low profile heatspreaders like we have here, because this kit is living proof that huge heatsinks are not a necessity to pull off very high performance. One thing to note is that this kit is 8GB which is a bit below what most enthusiasts consider "standard" (a 4x4GB kit), but nonetheless this is what Kingston is offering so we will take a crack at it.
Here are the specs for the DIMMs we are testing today:
M/B Chipset

Intel X79

CAS Latency

11-13-11

Capacity

8GB (2GB x4)

Speed

DDR3-2400 (PC3 19200)

Test Voltage

1.65 Volts

Height

30 mm / 1.18 inch

Registered/Unbuffered

Unbuffered

Error Checking

Non-ECC

Type

240-pin DIMM

Warranty

Lifetime

Features

Intel XMP (Extreme Memory Profile)

y
These modules are listed as rated for PC19200 or 2400MHz, which is insanely high. It's actually somewhat hard to believe, as normally a lot of tweaking would be necessary to get close to these speeds for benchmarking, and yet somehow these sticks do it by profile. All disbelief aside, this kit looks to perform but lets see if it actually does perform when put through its paces.
Testing & Methodology
Memory testing can be tough at times as most look at a number (the frequency) and think the higher the better, but in our testing experience we do know that many times there are other numbers at play such as the timings and subtimings which can have anywhere from a minimal to drastic affect on what kind of performance we see from the system with the memory in the system and tweaked to the max. Also price can be a determining factor as well and this is why we will run through a few benchmarks to see how this kit affects system performance compared to some of the other kits we have at our disposal and we get a good idea of exactly what kind of value the end consumer can expect for their money.
Overclocking
When trying to clock these modules we thought that the sky may be the limit. However, they were already at the sky apparently, because we really could not eek out more than a few MHz without losing stability, and the XMP profile worked as good as anything we could pull of manually. We also tried adjusting down the timings to squeeze a little better performance from the sticks, but we really could not avoid loss of stability, so we gave up on it. We had high hopes considering that since these modules were 2GB each, and that we could possibly squeeze a bit more out of them, but they just can't do it. We have seen this before: some IC's are highly clocked and they are at their limit as packaged and getting them to budge at all is impossible.
Test Rig
Test Rig
Case
Thermaltake Level 10 GT
CPU

Intel Core i7-3960X

Motherboard
ASUS Rampage IV Extreme
RAM

8GB Kingston KHX2400C11D3K4/8GX (4x2GB)

16GB G.SKILL F3-17000CL9Q-16GBZH (4x4GB)

CPU Cooler

Swiftech H20-320 Edge HD

Hard Drive
Western Digital Velociraptor 300GB
SSD

Intel 510 series SATA III 120GB

Optical
ASUS BD-ROM
GPU

2x GTX 580 SLI

Case Fans

Front (intake): 200 x 200 x 20 mm ColorShift Fan x 1 (600~800RPM, 13~15dBA)

Rear (exhaust): 140 x 140 x 25 mm Turbo Fan (1000PRM, 16 dBA)

Top (exhaust): 2x120mm fans mounted to Radiator for Swiftech H20-220 Edge kit

Side (intake): 200 x 200 x 30 ColorShift Fan (600~800RPM), 13~15dBA)

Additional Cards

N/A
PSU

Thermaltake Toughpower Grand 1200W

Mouse
Tt eSPORTS Black gaming mouse
Keyboard
Tt eSPORTS Meka G1 mechanical gaming keyboard
Test Suite
We will use the following applications to test the performance of the memory. Benchmarks
Benchmarks
Sandra 2011
PCMark 7
Cinebench R11.5
3DMark 11
SiSoft sandra 2011
"SiSoftware Sandra (the System Analyzer, Diagnostic and Reporting Assistant) is an information & diagnostic utility. It should provide most of the information (including undocumented) you need to know about your hardware, software and other devices whether hardware or software. It works along the lines of other Windows utilities, however it tries to go beyond them and show you more of what's really going on. Giving the user the ability to draw comparisons at both a high and low-level. You can get information about the CPU, chipset, video adapter, ports, printers, sound card, memory, network, Windows internals, AGP, PCI, PCI-X, PCIe (PCI Express), database, USB, USB2, 1394/Firewire, etc."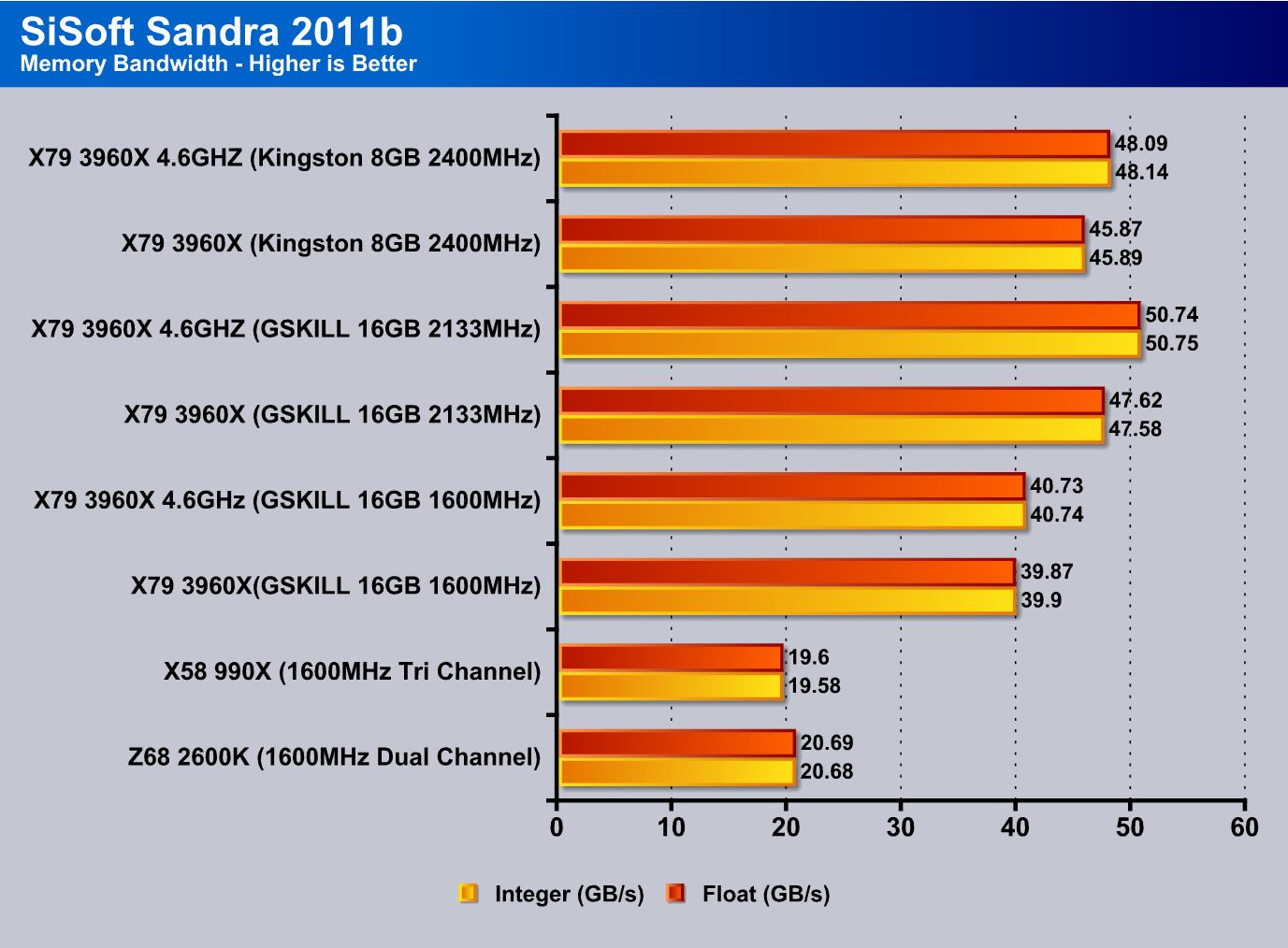 Here we see what we were concerned about: the timings are a bit loose, and the lower speed G.SKILL 16GB kit with tighter timings tends to chip away at the Kingston kit by quite a bit here. If the HyperX modules were capable of slightly better timings we think this could have easily taken the G.SKILL kit head on but the loose timings really were the bottleneck holding back this kit's performance. Now mind you this is purely full bandwidth test but any program using alot of memory or utilizing this bandwidth would be better served by the G.SKILL kit as it also is twice the capacity as well.
PCMARK 7
PCMark 7 is the latest system benchmark tool from Futuremark. The benchmark consists of tests such as application launches, file searches, web browsing, video playback, photo editing, and gaming.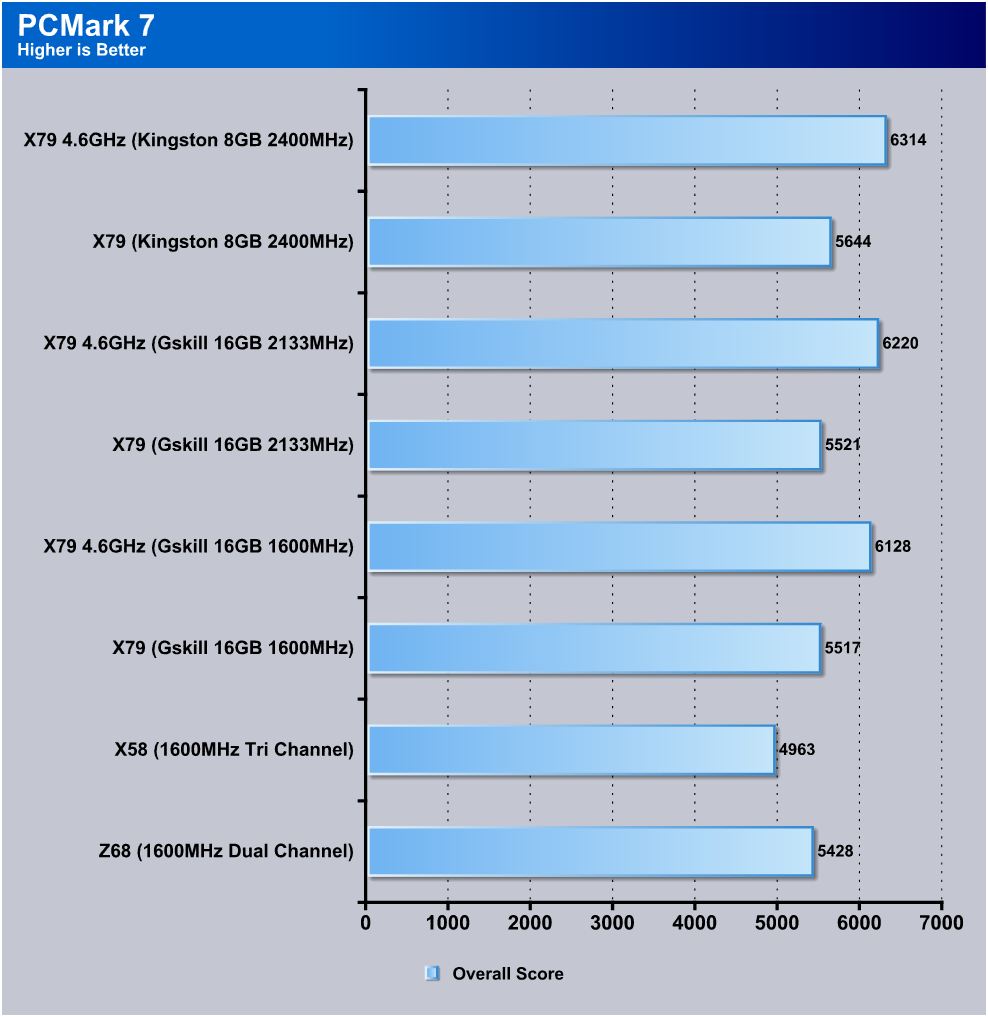 With the PCMark benchmark we see a more "real world" perspective to the performance and it looks as though the kit is helping kick the system a bit into a higher gear. Although just a little ahead of the competition, it definitely is showing that the bottleneck is not the memory bandwidth, which we guessed as very few programs are capable of fully saturating quad channel platforms. Those that are capable are also normally productivity or specialized rendering systems which run lower speed memory to begin with for the sake of stability over speed.
CINEBENCH R11.5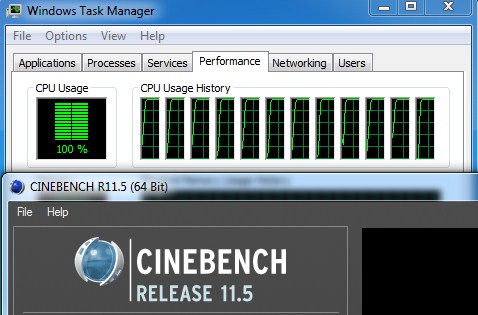 "CINEBENCH is a real-world test suite that assesses your computer's performance capabilities. MAXON CINEBENCH is based on MAXON's award-winning animation software, CINEMA 4D, which is used extensively by studios and production houses worldwide for 3D content creation. MAXON software has been used in blockbuster movies such as Spider-Man, Star Wars, The Chronicles of Narnia and many more. MAXON CINEBENCH runs several tests on your computer to measure the performance of the main processor and the graphics card under real world circumstances. The benchmark application makes use of up to 16 CPUs or CPU cores and is available for Windows (32-bit and 64-Bit) and Macintosh (PPC and Intel-based). The resulting values among different operating systems are 100% comparable and therefore very useful with regard to purchasing decision-making. It can also be used as a marketing tool for hardware vendors or simply to compare hardware among colleagues or friends."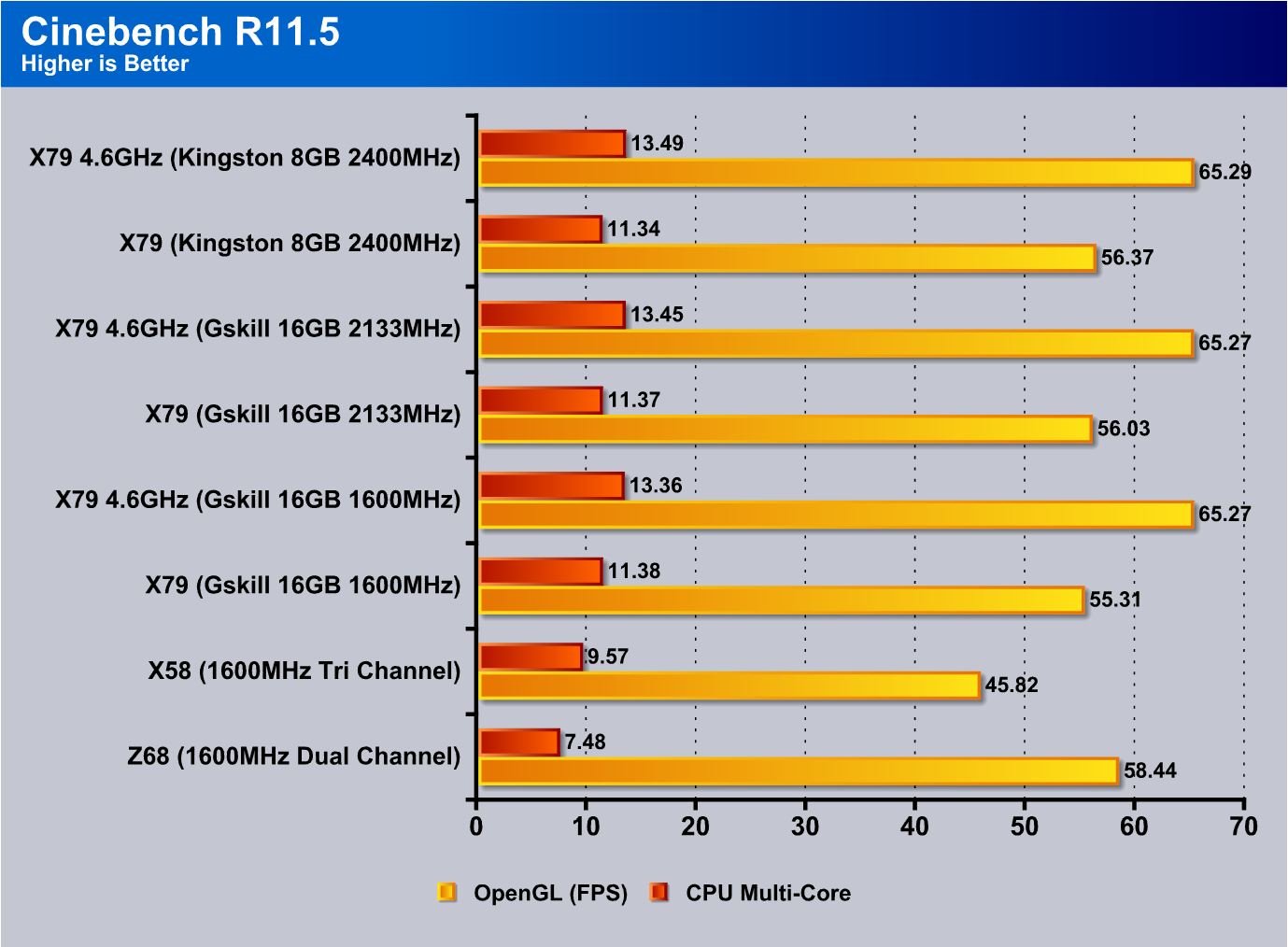 Cinebench 11.5 tests not only the multithreaded CPU performance but also has a OpenGL render benchmark which helps us test graphical performance as well. Here again we see a gain but it is marginal to say the least, and in our opinion is within the margin of error. However you interpret this, the higher-density lower-speed kit does just as well here due to the better available timing set. 
3DMARK 11

3DMark 11 is the newest in futuremark's suite of benchmarking utilities.  Its a fully capable DirectX11 benchmark which also stresses and analyzes the system performance as a whole to simulate a heavy rendering environment such as a high end game or other app the end user may run.  This benchmark was run with Performance settings 5 times and all runs were averaged for the result below.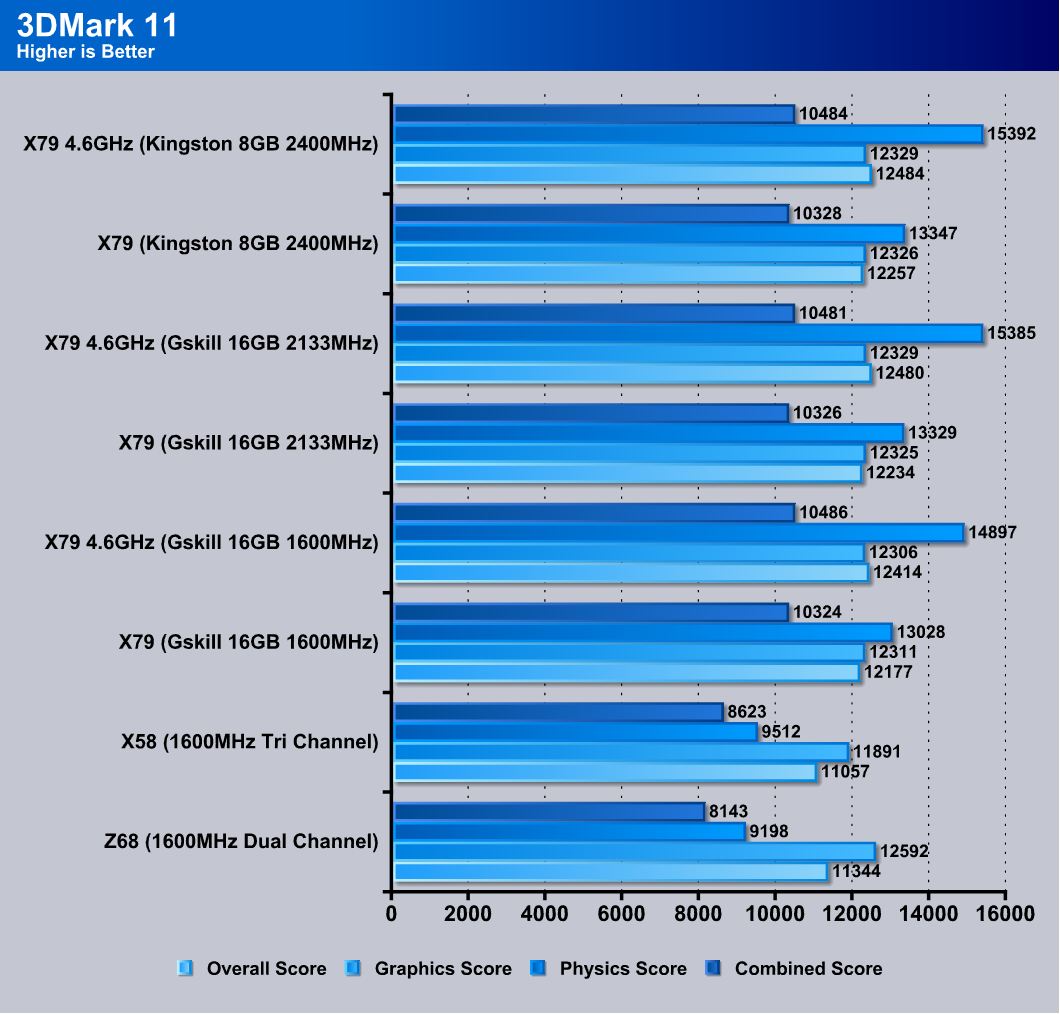 3DMark 11 is a great representation of what can be expected in a gameplay environment from a benchmark. Here we see that while there is a very minute performance improvement in physics, processes it really is on par with the 2133MHz kit and the difference from the speed is not seen due to the relaxed timings and the affect they have on the performance of the modules.
CONCLUSION
When we recieved it, the Kingston kit looked very cool from the presentation, and the package just had a special feel to it when compared to the flat blister pack that we received the G.SKILL kit in. However, we cannot judge a product by packaging alone and we have to take performance and price into account here.
The units engaged XMP precisely and ran without issue; there was absolutely no problem getting them set up, and getting them to speed was a 1 click affair. The offered bandwidth is more than pretty much any high performance user or gamer could ask for and is just flat out fast. The units use standard heatspreader heights which is a great plus for cooler fitment.
Now for the not so great features. First off, the memory kit is a bit pricey for what it is. The units come in at $208.00, whereas the G.SKILL 16GB kit (which is twice the capacity) running at 2133MHz with tighter timings comes in at $150.00. As we saw from the testing, the performance is very close to this kit and in raw bandwidth it was a little better. Also, any thoughts of overclocking were quickly squashed as the units simply would not clock higher, and that means the XMP profile was our key. This is not necessarily bad, but it just could not beat a higher-density less expensive competitor. This is an 8GB kit in a 16GB market, and unfortunately this kit seems a little late honestly, as everyone seems to have moved on to 16GB kits and this one is lingering around a little out of place.
OUR VERDICT: 8GB Kingston HKX2400C11D3K4/8GX
| | |
| --- | --- |
| Performance | 8 |
| Value | 6 |
| Quality | 10 |
| Features | 9 |
| Innovation | 8 |

We are using a new addition to our scoring system to provide additional feedback beyond a flat score. Please note that the final score isn't an aggregate average of the new rating system.

Pros
Cons

High performance easy to enable

Price is above relevant competition

Performance does not justify price

Most Quad-Channel users have moved to 16GB

 

 

 
Summary: The Kingston 2400 MHz 8GB kit is a excellent performer, but it is just a little late. For its excellent performance alone it earns the Bjorn3D Bronze Bear Award.