ASUS just announced that they will have a new flagship motherboard for their channel lineup with the new P8Z77-V Premium. Let's take a peek!
Introduction – the Asus P8Z77-V premium

ASUS seems to have taken the Z77 market by storm! They've released 12 boards, ranging from the high end Maximus V Gene to the more mainstream and affordable models, and they're still not done. We have it on good word that the Maximus V Formula is not far out. Today we're taking a first glance at another model, however: the P8Z77-V Premium. This board is the highest end of the mainstream line, though the board is so packed with features that the biggest difference between it and the ROG models is the color! All joking aside this board packs many features, and ASUS says there is more to come, which whets our appetite quite a bit.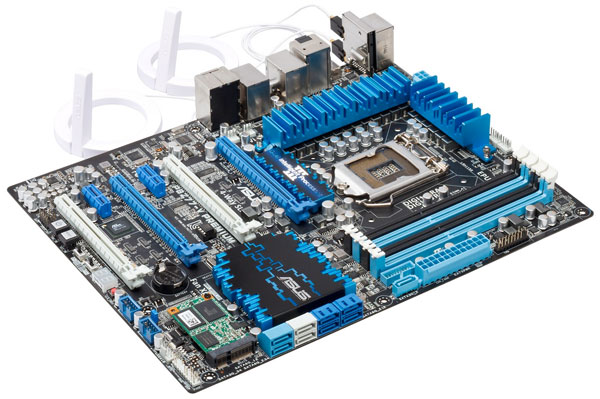 As of this time we do not have a expected MSRP for the board or its exact release date, but we can say taht we will be anxiously awaiting its arrival.
The Premium board comes with many features that make it very desirable to everyone from multimedia users to productivity users, and also to hardcore gamers. These are just some of the features that make this board so amazing:
USB Boost: The USB 3.0 Boost is nothing short of amazing; in essence, it is a free speed boost for your USB 3.0 storage devices. Imagine it like overclocking the USB 3.0. Our recent testing with a Thermaltake BlacX USB dock and several SSD showed massive throughput gains by switching to either "Turbo"  or "UASP" modes. This technology is something ASUS has been working on for a while now and it only seems to be getting better with age, so it seems only natural to include it on this top end model.
USB BIOS Flashback: USB BIOS Flashback is very helpful as it allows the BIOS to be flashed without a memory stick or even CPU in the board. We've had many situations when we upgraded to a new CPU and realized we needed a BIOS update, and then had to scramble around for an older supported CPU. This feature eliminates such issues, allowing the BIOS to be flashed without a CPU or memory stick installed.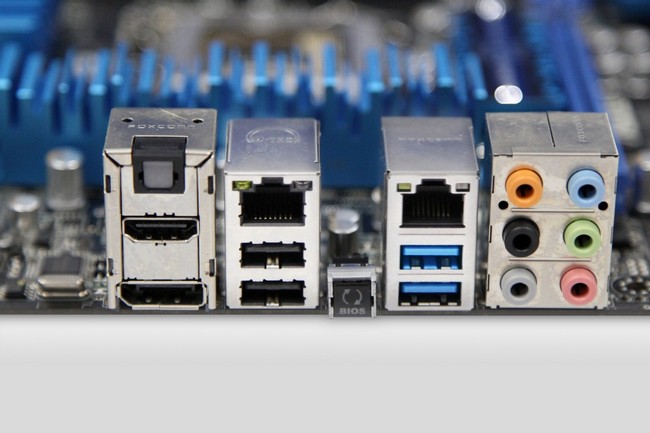 Dual Intel Gigabit NIC's: Intel NIC's are awesome! Dual lntel NIC's are doubly awesome! Add to that the iNetwork control software, and packet priority can be adjusted quickly and easily to ensure no matter the situation. Downloads can now be done at the same time as gaming without the hassle of lag spikes or game lags as the software will be in the background, ensuring that gaming packets take top priority.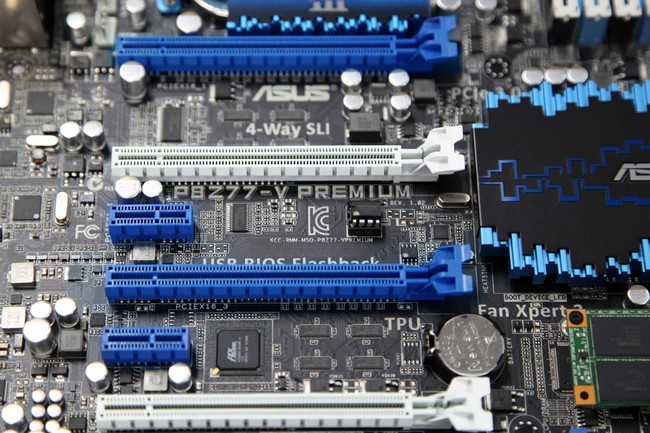 4-way SLI/CrossFireX: Thanks to a new model PLX Gen3 chip, ASUS can offer full 4-Way SLI and CrossFireX support on the board as the PLX chip offers more lanes available to the GPU slots.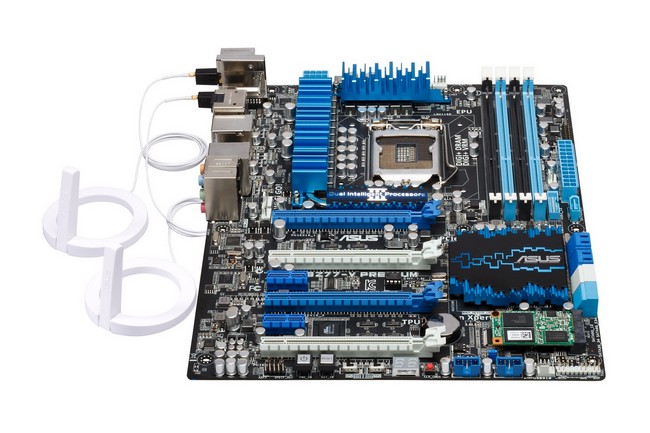 Dual Band Wi-Fi & BT 4.0: This is one really cool feature we also saw on the Deluxe board, as it has an add on card for support of Wi-Fi usage along with BT 4.0 features to allow the ultimate in wireless connectivity. In addition, the Wi-Fi device can be used as a router/access point, DLNA media server, remote desktop, or to transfer files to Android/iOS devices.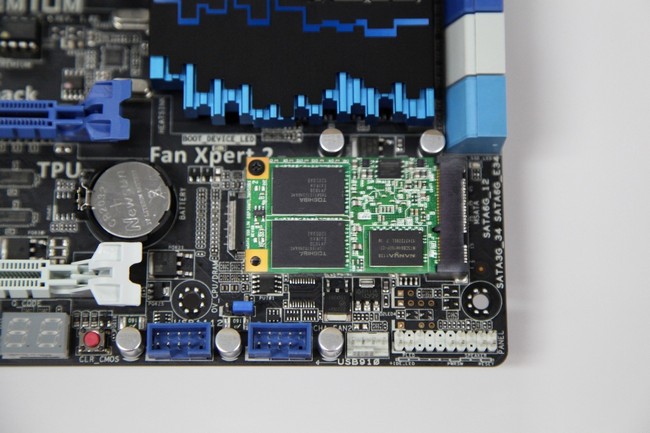 Onboard mSATA Port with pre-installed 32GB SSD: This is something very interesting as the board has an mSATA port that is preinstalled with a 32GB SSD. Anyone who is looking for a easy caching implementation but does not want to buy an SSD can take advantage of this feature.
3 Way DIGI+ VRM: DIGI+ has been a trademark feature that ASUS has been implementing across their complete line of boards and for good reason. It works well, and it allows for some damn good overclocking on any level board. The "3 way" refers to the fact that DIGI+ components were implemented for CPU/VRM, DRAM, and iGPU, providing the utmost stability for all of your critical system components.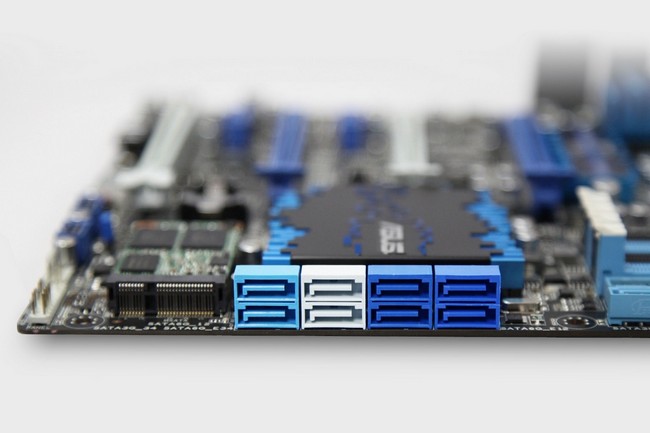 9 SATA Ports: The board has a staggering 9 total SATA ports, including the single mSATA. This board has no dearth of connectivity, and most users should have no problem with it, as users with more than 8 drives should be using a controller card.
Six 4-pin PWM Fan Ports: PWM fan control is another area that ASUS has taken to the next level starting with Z77 as they have implemented Fan Xpert 2, which essentially will "learn" which fans are plugged into the motherboard, and their respective speed ranges. This tells the board at what signal the fans will quit so it avoids doing this while allowing maximum silence as long as temps are under control. The software also gives the board a better level of fan control by specifying fan locations, allowing better fan profiling for maximum cooling while keeping the noise at a reasonable level even under heavy-load situations.
These are just some of the features we know at this point, but we would not be surprised if ASUS pulled some more magic from their hat to make this board even more killer. We want this board now, but ASUS is going to make us wait, so keep your eyes peeled for more info from Bjorn3D, and a full review as soon as we can get this motherboard to our labs.
Until then, have fun and game hard!