Today we examine the ICY DOCK MB981U3-1SA & MB981U3-1SA-1 to see what features they offer as well as how well they perform.
Introduction
When considering external storage options one of the choices available to consumers is the desktop adapter known as a docking station. These products have certain shared characteristics such as the ability to easily swap one drive for another, physical stability, and a fairly small footprint. Some of these units are dedicated to a specific size and/or type of drive while others allow the freedom to use several types of drive.
Today we will be taking a look at The Icy Dock MB981U3-1SA & MB981U3-1SA-1, two variants of the same USB 3.0 product. The first comes with a clamshell type power transformer/adaptor, the second comes with an inline transformer/adaptor, similar in design to the ones included with most laptops, which allows greater latitude in choosing where to place the product. Beyond that difference they are virtually the same product.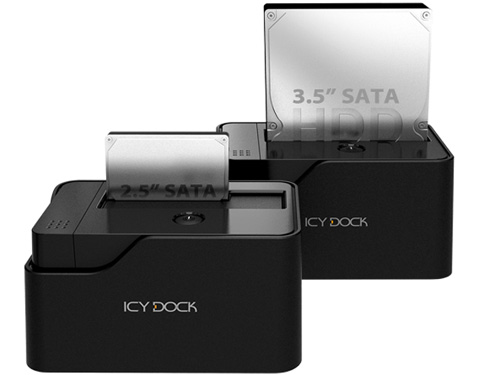 Available ranging from around $50 to over $100 USD. Look around a bit before buying.
Features &Specifications
Features
Note: For most of the IDE (ATA) hard drive, the drive jumper settings should be configured to "Master" mode. If the docking fails to detect the IDE hard drive in Master mode, please try different jumper settings, i.e. Slave, CS.
* Completely screw-less / tool-less design for any type of drive.
* Allows docking of 2.5"/3.5" SATA HDD & SSD connected via USB 3.0
* Connects 2.5"/3.5" IDE HDD connected via USB 3.0 using the removable adapter.
* 2 part anti-dust cover protects internals even when small 2.5" SATA drive is used.
* 2 locking switches hold the detachable adapter in place when used as a dock.
* Easy access On/off button allows hard drive life expendability and energy conservation.
* Plug & Play USB 3.0 with backwards capabilities to USB 2.0 for quick connection for
   any computer system.
* Exposed working HDD stands in the air vertically for fast heat radiation.
* USB 3.0 connectivity with up to 5 Gb/sec transfer rates.
* Large eject button for hassle free drive removal.
* Included 4-pin power jumper cabled provided for use with 3.5" IDE drive.
* Built in compartment to hold 4-pin jumper.
* Low profile power adapter for 3.5" drives.(MB981U3-1SA)
* Extended power adapter cable length for increased accessibility.(MB981U3-1SA-1)
* USB bus power for 2.5" drives.
* Great for DIY users and IT Professionals.
* Designed for PC & Mac systems.
Note: The device supports USB 2.0 speed when connected with USB 2.0 ports. To achieve accurate USB 3.0 transfer speed, the host end must be connected to a USB 3.0 port. Transfer speed may also vary depending on hard drive speed.
Specifications
ICY DOCK MB981U3-1SA/-1SA-1, 2.5"&3.5" SATA&IDE Hard Drive Docking Station
Both versions
| | |
| --- | --- |
| Model Numbers : | MB981U3-1SA & MB981U3-1SA-1 |
Drive Fit :

2.5″ / 3.5″ SATA 1.5 / 3 / 6 Gbps hard drive

or SSD

2.5″ / 3.5″ IDE hard drive
| | |
| --- | --- |
| Connection Interface : | SuperSpeed USB 3.0 |
| | |
| --- | --- |
| Transfer Rate : | Up to 5 Gbps (depending on hard drive speed) |
| | |
| --- | --- |
| LED Indication : | Device Power & Drive Activity |
| | |
| --- | --- |
| LED Display Color : | Power: Amber; Drive Activity: Amber flashing |
| | |
| --- | --- |
| Power ON / Off : | Power Button |
| | |
| --- | --- |
| Dimension (L x W x H) : | 150 x 79.7 x 92mm |
The specs on both versions are identical. The difference is the power adaptor included with the product. This product comes with a 3 year warranty.
Pictures & Impressions
The MB981U3-1SA comes in a cardboard box with plenty of marketing information on the front and the back. We get a glimpse of the unit's docking station and the adapter. The back has the specifications for the unit. A look at the top show us some of the features, namely the anti-dust cover and the eject button. The bottom of the box gives us an overview on how a hard drive is installed in the device. On the left side panel is a image of the contents, while over on the right panel we find a feature list.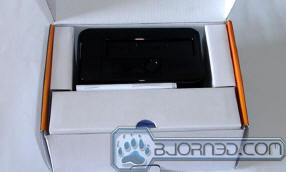 >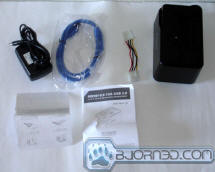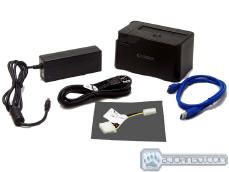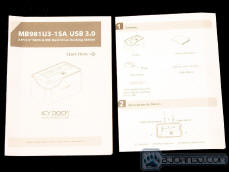 CLICK IMAGES FOR LARGER VIEW
Inside we can see that there is cardboard padding around the MB981U3-1SA& 1SA-1 to protect it from shipping damage. The accessories are contained in a separate cardboard compartment. Here is what's included:
The docking station
Power adapter or Extended cable length power adapter for increased accessibility.
3 feet USB 3.0 cable
3.5" IDE molex power adapter
Quick installation guide
Above we can see the unit itself. The Icy Dock MB981U3-1SA USB 3.0 is a USB 3.0 docking station designed to convert 2.5''and 3.5'' SATA IDE devices to SuperSpeed USB 3.0. A 2-part anti-dust cover is on the top of the dock to protect internals. When a 2.5'' drive is inserted, only part of the cover will fold into the dock so the rest of the opening will be covered. This works fairly well for the most part. We did have a little trouble at times aligning the 2.5'' drive. If not being careful when inserting the 2.5'' drive, the drive may push the whole cover into the dock and cause a misalignment to the connector. As long as users do not force the drive and take care to ensure it is aligned so that it only pushes the 2.5'' cover, it is not an issue. A power button is located on the front as well as a very and large eject button located next to the dock. The buttons are large and easy to get access to. The back has the USB 3.0 port and the power port. Notice that Icy Dock actually uses micro-B USB 3.0 connector as opposed to standard A-type. The B-type connector is designed to carry both data and power. However, Icy Dock also includes an external power adapter in case the device needs more juice. In fact, the additional power is going to be very useful if two drives are connected to the adapter. When we flip the dock over, we can see the USB adapter is actually detachable from the dock. Icy Dock puts a handy lock and eject button so the adapter will not fall off out of the dock by accident.
When the adapter is removed from the dock, we get a glimpse of the connections in all their glory. Here we can see where the IDE drives attach to the unit. Notice that there's a power button on the adapter as well. The button on the dock housing uses an acrylic push rod to activate this button when the adaptor is installed in the dock and allow the light from the adaptor button to transmit to the dock housing button. To use this for IDE drives, users would have to detach the adapter from the docking station otherwise, you will not be able to attach IDE hard drives.
Connecting drives is easy enough, for the 2.5/3.5″ SATA drives one just inserts them into the the docking station. For the IDE drives removing the adaptor from the dock station is required. The adaptor supplies power for the 2.5 inch IDE drive (we didn't have one available during the review) but the 3.5 inch drive requires that users connect the Molex power cable to the adaptor and drive.
Testing & MEthodology
Superfetch, Prefetch, and Indexing were disabled so as not to interfere with the tests. Any background applications and/or processes that could interfere with testing were similarly disabled. For all our tests we will compare the Icy Dock EZ Dock on USB 2.0, USB3.0 @2.5 GB/s, USB 3.0 @5Gb/s and the onboard SATA II interfaces. Crystal Disk Mark was run 3 times per unit and then averaged for the posted results. Both HDTune and ATTO gave far more consistent results so screen shots were used.
Test System
Case
Cooler Master HAF 932 Advanced

Processor

AMD Phenom II X4 9500 (Agena)

Motherboard

Asus M3N-HT Deluxe (bios 3401)
 

Memory

4 GB Patriot 8500EL series PC2-6400

Drive(s)

Maxtor 7H500F0, WDC WD 1600BEVT

Graphics

Gigabyte GTX 560 OC

Power Supply

XFX 750W POWER SUPPLY BLACK EDITION

Operating System
Windows 7 Ultimate 64bit
CPU cooler
Evercool Transformer 3
Case fans
Total 7 (excluding PSU fans), Two 230mm, One 140mm, Four 120mm
USB 3.0 Adaptor
SilverStone EC03
HDD used for testing
Western Digital WD WD5000AAKX SATA III (6GB/s) 500GB, 3.5 inch
Software Testing Suite
CrystalDiskMark
HD Tune
ATTO
Testing of  the Icy Dock EZ Dock was done using a Western Digital  SATA III (6GB/s) 500GB, 3.5 inch HDD that has the following specifications;
| | |
| --- | --- |
| Performance Specifications |   |
| Rotational Speed | 7,200 RPM (nominal) |
| Buffer Size | 16 MB |
| Load/unload Cycles | 300,000 minimum |
Transfer Rates
Transfer Rate (Buffer To Disk)
126 MB/s (Max)
| | |
| --- | --- |
| Physical Specifications |   |
| Formatted Capacity | 500,107 MB |
| Capacity | 500 GB |
| Interface | SATA 6 Gb/s |
| User Sectors Per Drive | 976,773,16 |
Testing of the IDE functions was omitted due to lack of a suitable IDE Drive. The one used in the images doesn't function and was used for demonstration purposes. 
CrystalDiskMark
All test runs used the following settings: 1000 MB test size  (x5) # of test runs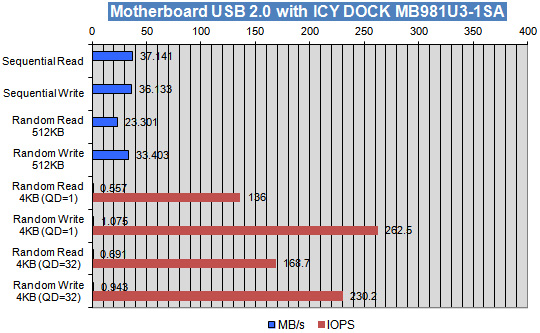 The USB 2.0 interface gives us the poor performance we have come to expect from external drives. There was really no reason to expect anything else as the Icy Dock website itself even warns consumers that "The device supports USB 2.0 speed when connected with USB 2.0 ports."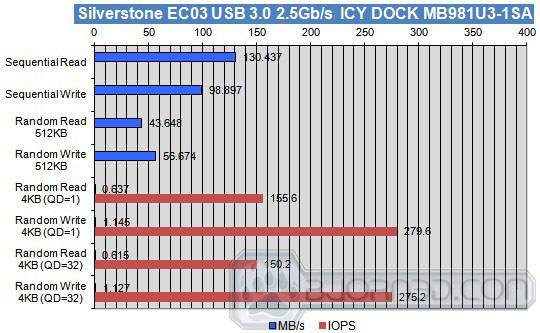 On the USB 3.0 bus at 2.5 Gb/s we can see a significant improvement with sequential read at 3.5 times, and write at 2.7 times the USB 2.0, while the random read and write speeds come close to doubling. As well as a noticeable difference in the In/Out operations Per Second (IOPS)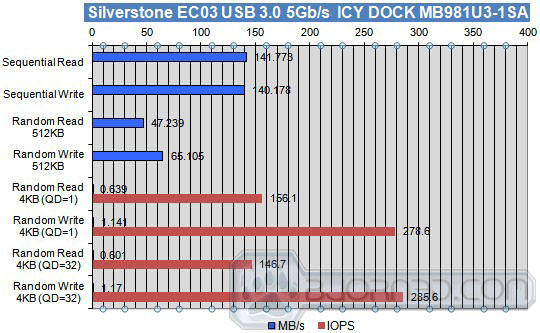 With the USB 3.0 bus at 5Gb/s we see yet another gain in performance with sequential read and write speeds at roughly 3.8x the USB2.0 speeds, while the random read is just over of double that of the 2.0 interface and the random read is just a hair under. The IOPS are roughly the same on both interfaces.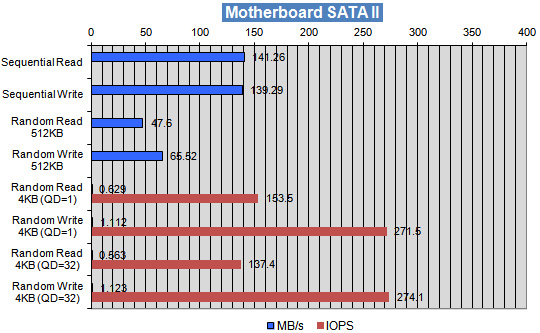 The performance of the same HDD installed on the SATA II bus of the test system shows us that the Icy Dock MB981U3-1SA allowed this drive to perform just as well and as fast as when it was in the system.
HD Tune
HD Tune was set to accurate, with a 1MB Block size for all testing. For most results Higher is better with the exception of access time where lower is better. We have never seen the CPU usage go any higher than shown.
The ICY DOCK MB981U3-1SA plugged into the USB 2.0 port.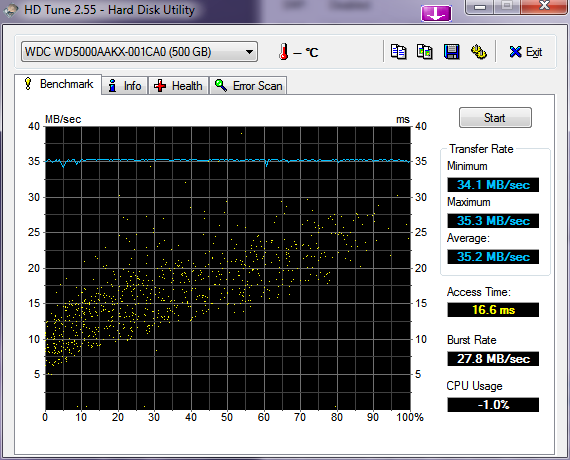 While we would have liked to see some triple digit numbers here we already knew that the USB 2.0 bus is incapable of that. So here we have the ponderously slow results that we all expected.
The ICY DOCK MB981U3-1SA plugged into the USB 3.0 port @ 2.5Gb/s.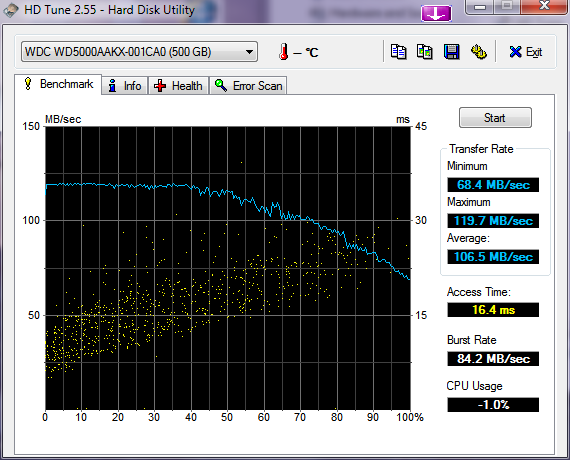 Those readers that followed the results from the previous page will have been expecting a serious jump here and weren't disappointed. Minimum doubled, maximum and average more than tripled or better, and the burst rate followed suit.
The ICY DOCK MB981U3-1SA plugged into the USB 3.0 port @ 5Gb/s.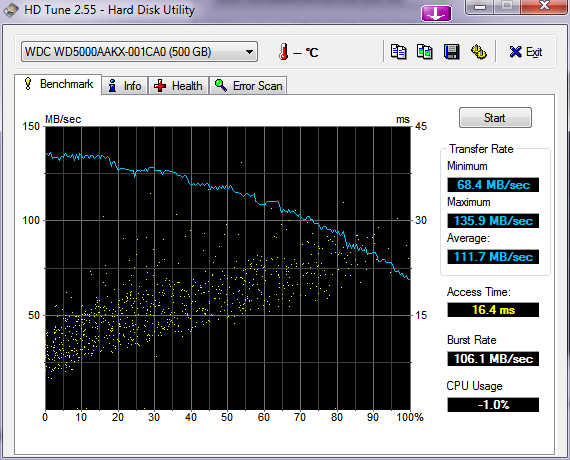 At 5Gb/s while the minimum hangs steady the maximum and average both see an increase along with the burst rate. The maximum even exceeding the published max for this HDD. The access time seems to be in the same range throughout the testing.
The WD HDD on the test system SATA II bus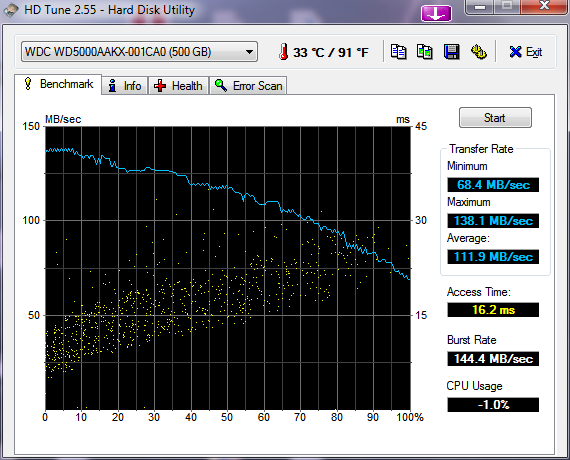 These results are very close to the 5Gb/s results except for the Burst Rate (which shows a 40MB/s gain) showing that, again for practical purposes, using this drive in the ICY DOCK MB981U3-1SA is virtually the same as on the motherboard.
ATTO
Our final round of tests with ATTO which shows it settings in the screen shots.
The ICY DOCK MB981U3-1SA plugged into the USB 2.0 port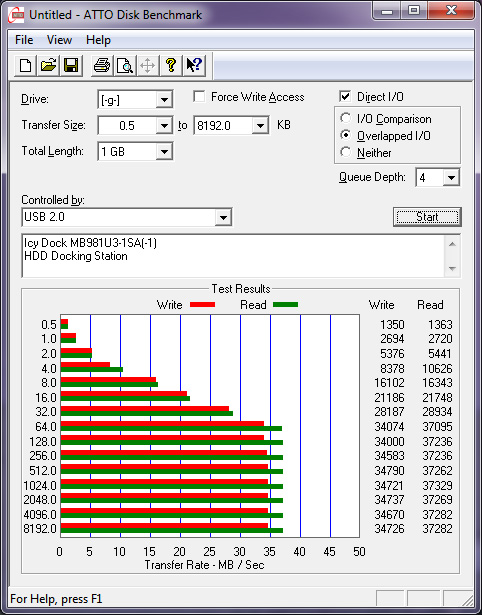 Again the USB 2.0 connection shows it's limitations with read and write speeds in the same ranges as the other USB 2.0 benchmarks. Usable but agonizingly slow.
The ICY DOCK MB981U3-1SA plugged into the USB 3.0 port @ 2.5Gb/s.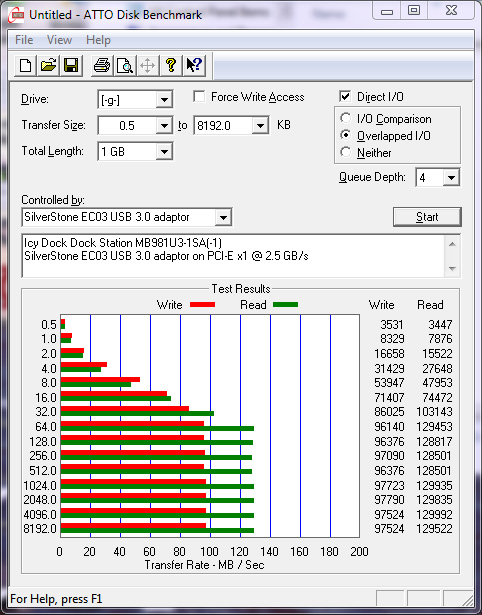 Here we see what is most likely a more accurate representation of the speeds attained on the USB 3.0 bus at 2.5 Gb/s. A serious boost to both read and write.
The ICY DOCK MB981U3-1SA plugged into the USB 3.0 port @ 5Gb/s.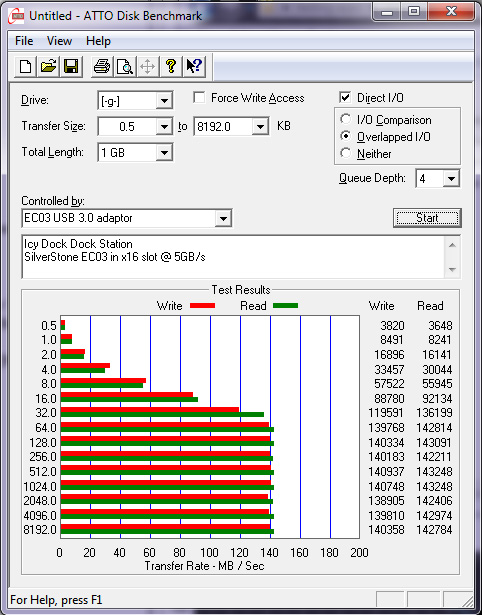 At 5Gb/s we see an even more dynamic increase over the USB 2.0 standard. This is about all than can be expected out of the WD drive used in these tests as can be seen in the last screen shot below.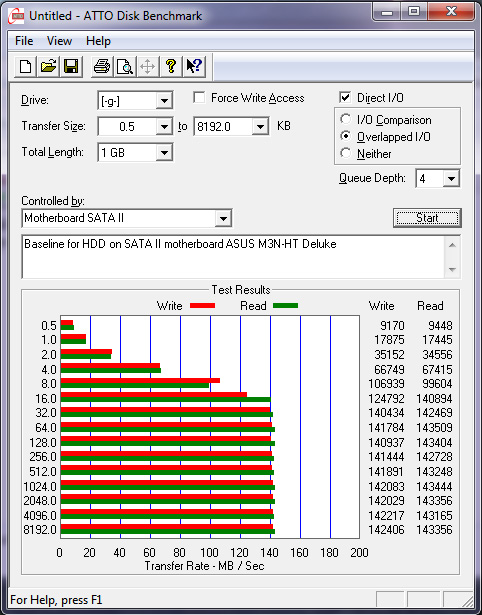 The SATA II interface gave us a slight increase over the ICY DOCK Dock Station, but in all we feel that this difference wouldn't be noticed in day to day operations by the end user. What the tests we have performed have done is shown, and convinced us, that the ICY DOCK MB981U3-1SA is a solid performer when it comes to transfer rates. It can and will keep up with what ever interface it is plugged into.
Conclusions
The ICY DOCK MB981U3-1SA is designed to make the management of multiple external drives easier. It does this by offering multiple connections for differing types of hard drives and SATA SSD's. It is configured to allow access to more than one drive at a time if they are connected at the same time. It uses an external power source to help enable this feature. Swapping even IDE drives is as simple as turning off the power button, changing drives and re-powering the unit. Windows will then see the "new" drive. As everyone else moves toward products that handle SATA only, it's nice to see at least one manufacturer who remembers that not every thing we work on or with is the "newest, fastest, bestest".
It is a well designed product, that has the added benefit of looking good, while maintaining a simple aesthetic. It functions as advertised with no surprises in the form of hidden bugs, or complicated settings or connections. With is simple design the is very little that can go wrong with it as long as it is properly cared for and kept clean as well as away from the edge of the desk. Since there is no shock rating in it's specs we feel it is safe to assume that dropping the product would not be good for it. We are concerned that the dust covers feel as though they would not hold up under heavy usage. Our concerns are based on experience with products made using similar materials.
This Dock Station is limited not by itself but by the equipment it is used with. Slower interfaces and/or drives will reduce the transfer rates obtained with it. If looking for a tool that can be portable when necessary, while keeping out of the way on the desk or bench, and allows easy transfer of data and files with virtually any system one may need to connect to, this would be a good choice. The only things we could find to complain about were that installing a 2.5-inch SATA drive is sometimes problematic, and replacing the adaptor into the Dock Station body has to be done just right or it won't go. This is due to the way it is held in place once inserted. A few tries was all it took to find the "easy way" and get it right every time. We would also have liked to see a USB 3.0 port on the unit allowing us to use it as a hub. And it seems a bit inconvenient having to remove the adaptor to use an IDE drive with it. There are after all still many systems out there with IDE drives in them.
Overall, a solid unit with good performance, and a nice addition to the bench. With the ability to support up to 3TB, it's hard to imagine anyone needing anything else if they have one of these.  Remember that the ICY DOCK MB981U3-1SA & ICY DOCK MB981U3-1SA-1 are the same unit with a different connection to the wall. Consumers should consider their needs before choosing which one to purchase. In general we would recommend the ICY DOCK MB981U3-1SA-1 due to a longer power cord.
OUR VERDICT: ICY DOCK ICY DOCK MB981U3-1SA
| | |
| --- | --- |
| Performance | 10 |
| Value | 9.5 |
| Quality | 9.5 |
| Features | 9 |
| Innovation | 10 |

We are using a new addition to our scoring system to provide additional feedback beyond a flat score. Please note that the final score isn't an aggregate average of the new rating system.

Pros
Cons

Multiple concurrent drive capability.
3TB capable.
External power source.
Dust covers.
Portability.
Connections for multiple drive types.

 

Seems just a bit on the expensive side for what it is.
The plastics don't feel as durable as we would like in what amounts to a portable product.
Lack of a usable USB 3.0 port in the adaptor.
Having to remove adaptor to use IDE drives.

 
Summary: The ICY DOCK MB981U3-1SA(-1) is a solid performer that handles virtually any drive one could want. It is limited only by what it is connected to and what is connected to it. It easily meets all ICY DOCK's claims about, it has an external power source for the drives, and can be highly portable. For its performance, value, and quality, it earns the Bjorn3D Seal of Approval.