The Thermaltake Chaser MK-I is a great full tower case for gamers and enthusiasts alike. Take a look inside!
Introduction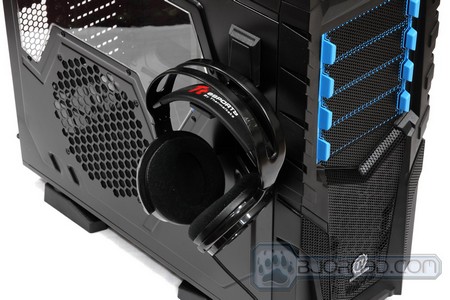 The architecture of computer chassis has changed drastically over the past year, in order to fight some of the common problems that users had in the past. In recent releases, more attention has been directed towards cable management and quick and easy installation through almost universal tool less design. However, the most unique thing about the latest cases is not their features but the amount of customization to both looks and equipment that they have to offer.
While focused on production of some of the latest water cooling solutions and heatsinks, Thermaltake continues to create unique designs of computer chassis. In this review we will take a look at  Thermaltake Chaser MK-I. This  case was released in June of last year. Priced at $154.99 on Newegg, this is a full tower loaded with a lot of features. Let us take a closer look in order to see whether this case is truly worth the buy.
Features
 Command Center – With Chaser MK-1's fan controller onboard, gamer and enthusiasts can appreciate the convenience of adjusting the fan speed or lighting effect of the computer system.
USB 3.0 SuperSpeed – Tired of reaching to the back of the computer to connect a USB 3.0 device? Chaser MK-1 features latest USB 3.0 ports with internal header. Two USB 3.0 ports are conveniently located on the front of the case.
HDD Docking Station – By adapting world's best selling BlacX Docking Station concept into a computer case, users can now effortlessly transfer large volume of data without the need for a conventional external storage device. Simply insert any 2.5" or 3.5" SATA hard drive into the docking station and start enjoying hot-swap capability and blazing-fast transfer speed through SATA interface.
VGA TripleMax 33CM – All of today's high-end and advanced graphic cards that are capable of delivering ultra-realistic, immersive and intense gaming experience have longer than usual form factor which means not all computer case will fit. Chaser MK-1 not only address this concern by supporting graphic card up to 330mm in length, but also designed cooling surrounding the graphic card location to improve heat dissipation and reduce acoustic output. CableClear
Cable Management – Dramatically improves thermal efficiency of the computer system by ensuring power cables do not get in the way of airflow.
Enthusiasts Water Cooling Ready – Spacious interior is only the bare minimum when it comes to water cooling. Chaser MK-1 features an innovative top removable panel that can be easily transformed to accommodate high-efficiency 24cm radiator!
Combat Headset Holder – Headset holder designed into the case allows gamers to store their gaming headset easily and securely. Heightened
Foot Stands – High thermal efficiency case that address all common and uncommon issues. Heighten foot stands elevate the whole computer system enough to prevent rug or any other soft flooring material from blocking the air intake/exhaust found on the bottom of the case.
Specifications
Case Type
Full Tower
Material
SECC
Front Bezel Material
Combination of plastic and high air flow mesh
Color

Interior: Black

Exterior: Black

Side Panel
Swivel Door with Transparent Window
Motherboard Support

9.6″ x 9.6″ (Micro ATX)

12.6″ x 9.6″ (ATX)

Motherboard Tray
No
5.25″ Drive Bay
4
Ext. 3.5″ Drive Bay
By using 5.25″ to 3.5″ Converter
Int. 3.5″ Drive Bay
6
Expansion Slots
8
Front I/O Ports

USB 3.0×2

USB 2.0 x2

eSata connector x1

MIC & Speaker (support AC'98 &HD Audio)

Cooling System

Front (Intake):

200x200x30mm Colorshift fan x 1(600-800 rpm, 13-15 dBA) or 120x120x25mm x2 (optional)

Rear (Exhaust)

140x140x25mm Turbo Fan, 1000rpm, 16dBA or 120x120x25mmxx1 (optional)

Top (Exhaust)

200x200x30 mm Colorshift fanx 1(600-800rpm, 13-15dBA); 200x200x30mmx1 (optional) or 140x140x25mmx2 (optional) or 120x120x25mm x2 (optional)

Bottom (Intake):

120x120x25mmx 1 (optional)

Side (Intake):

120x120x25mmx1 (optional)

Liquid Cooling Capable
Yes
Liquid Cooling Embedded
No
Power Supply Supported
Standard ATX PSII Power Supply
Dimensions (H*W*D)

567.9×237.0x581.6mm

22.4×9.3×22.9 inch

Net Weight

12.3 kg

27.1lb

Security Lock
for peripherals only
Application
Suitable for gaming, enthusiast, DIY and modding
Closer look: External
Click Images For An Expanded View
The Thermaltake Chaser MK-I comes in a very stylish packaging. The actual cardboard packaging is well-designed and clearly portrays the product as well as a basic preview of some of the features. During the unpacking the case appears to be well-lodged between two styrofoam covers which is sufficient for safe transportation of this sturdy case. Overall, the packaging is rather typical and definitely follows the standard consumer expectations.
Click Images For An Expanded View
At first glance the actual case looks rather unique, clearly designed to cater more to a gaming or enthusiast audience. The unique baby blue colors on the front bezel and top cover may or may not appeal to consumers. However, considering the eccentricity of the gamer tastes the case does have a real slick look and certainly outstanding air cooling capability. The front, rear, and left side panels of the case have meshes with room for fans, which allows for creation of a dynamic airflow. The left side panel has an acrylic window in order to show off the components of the enthusiasts system while allowing for the installation of the 200mm fan for supplemental cooling for the graphics card.
Click Images For An Expanded View
Here we would like to underline two neat features that a consumer can make use of without even opening the case. Previously only seen in Thermaltake Level 10 cases, the headset holder is a convenient feature that allows for an easy storage of a headset. Another feature is the 3.5″ hard drive docking slot that allows for an easy plug-in of any external drive without requirement of an enclosure.
Click Images For An Expanded View
The case clearly has a lot of room for customization and modifications. While the case comes with an already built-in fan controller the consumer is given plenty of room for creativity. The front 5.25″ form factor slots can be easily customized to feature additional fan controllers or thermal controllers. The top cover can be removed in order to easily install a second 200mm fan. For those that wish to take cooling a step further, a dual fan radiator can be placed instead.
Click Images For An Expanded View
While alot of chassis offer outstanding air circulation, the primary problem that arises is whether your ultimate cooling case will become a dust wagon. While pushing air in and out the dust tends to stick to the computer components as well as hard to reach areas inside the case making air cooling a much less desirable option. A simple solution is dust filters which can be easily accessed and cleaned. Fortunately, Thermaltake Chaser MK-I is equipped with dust filters everywhere with the exception for the back panel. All of the filters can be removed without much effort and cleaned within seconds.
Click Images For An Expanded View
The auxillary items provided with the case are rather standard and include all of the hardware, 5.25″ form factor converter to a 3.5″, speaker, 8 pin power splitter, and motherboard speaker. While these auxillary compillation might seem a little random, it will definitely come in handy during the assembly.
Closer Look: Internal
Click Images For An Expanded View
Let's take a closer look at the inside of the case and see what sort of features Thermaltake Chaser MK-I can bring to the table. The overall architechture seems rather typical of any chassis. The hard drive slots are easily removed by pulling the the black side panel and using it as a handle in order to pull out the slot. These slots are both compatible with the 3.5″ and 2.5″ form factor drives. Earlier we mentioned that the 5.25″ format factor slots located above the hard drive slots can be accessed by simply removing the slits of the front bezel.
The back panel also supports tool less design; all of the fringes related to PCI-E components can be unlocked by removing the tool less screws. The same screws can be used to secure PCI-E devices like graphics card into their place without much effort.
Click Images For An Expanded View
The bottom of the case is all mesh allowing for a great ventilation for the power supply fan as well as providing enough for larger and heavy duty power supplies. One of the greatest features of this case is the cable management. As we can see there are 3 sets of grommets located to the right of the motherboard tray and a single grommet down at the bottom. This allows for easily tucking away all of the unwanted cable behind the tray. On the back side we see that there is plenty of room for cables as well special holes for zip ties. Finally, the motherboard tray cut out is yet another neat feature that allows for simple installation of the heatsink.
Click Images For An Expanded View
Let's take a closer look at the cables that pertain to the top front panel of the case. The panel is equipped with  both fan and LED controllers. The controller is able to support up to 3 fans. All of the fans can be controlled to produce 3 LED colors: blue, red and black. This feature has gained its popularity in the Thermaltake Level 10 cases and has clearly transcended unto the newer releases. Aside from the fan controller the wires include standard reset and shut down switch, 2 USB 3.0 ports, audio input/output as well as the eSATA port and wires for the 3.5″ form factor docking station.
TESTING METHODOLOGY
Our testing methodology is rather simple for cases. We let the system idle for 30 minutes and we measure temperatures. Then we turn on OCCT to load the video cards and the processor to 100%. After 20 minutes of 100% load, we measure the overall temperatures. If there are multiple fan settings available, we test the lowest and highest fan settings.
Test Rig
Case
Thermaltake Chaser MK-I
CPU

Intel Core i7 930 @ 3.8Ghz

Motherboard
GIGABYTE G1 Sniper
Ram

Kingston HyperX T1 Black Edition 12 GB DDR3 @1600 Mhz

CPU Cooler
Thermalright True Black 120 with 2x Noctua NF-P12 Fans
Hard Drives

3x Seagate 1TB 7200 HDD in RAID 0

SSD

Patriot Torqx2 120GB SSD

Optical
ASUS DVD Ro
GPU

GIGABYTE Radeon 6990 4GB

PSU

Thermaltake ToughPower Grand 1200W PSU

Mouse
Razer Mamba
Keyboard
Razer Blackwidow Stealth
RESULTS
Here are the temperatures we got from our testing:
Temperature (ambient @ 24 C)
 
Idle (Low Fan)
Idle (High Fan)
Load (Low Fan)
Load (Max Fan)
CPU
43C
38C
80C
73C
GPU
57C
52C
83C
68C
Motherboard
31C
31C
33C
31C
As the results demonstrate the case is rather effective considering that during our testing not all of the fans have been installed to test Chaser MK-i maximum cooling capability.  The CPU, while predominantly influenced by the actual CPU cooler, has demonstrated a rather effective cooling. GPU temperatures are a real demonstration of the case cooling capacity considering that we are using a dual GPU HD 6990 graphics card with no fan on the side of the case. Overall the temperatures did not go up that much even with fan set at 33% of its maximum working capacity. At maximum fan speed obviously the power built-in fan was able to get rid of the hot air very effectively. The motherboard idle temperatures demonstrated no change with the exception of the temperature rising with the system at full load with low fan settings.
Aside from the temperatures it is important to note the acoustics of this case. Due to the meshwork the sound seemed as though it could be an issue, especially considering how loud GIGABYTE Radeon HD 6990 can get. However, there have been no audible problems even at 80% fan speed. Obviously at 100% fan speed of the GPU it is possible to hear some noise yet it is significantly better than majority of the other cases that we have observed.
Conclusion
Overall the case has demonstrated outstanding characteristics, making it a worthy buy. The overall performance and cooling capability of the case even at stock settings is capable of providing any high end enthusiast system with sufficient cooling. The use of the meshwork on practically all of the side panels allows for a very simple heat escape leaving components working in cool condition. In terms of innovation, Chaser MK-I clearly takes an edge due to the fact that this case can be modified to cater the need of any enthusiast. The other neat feature that clearly contributes to the innovation factor is the tool less design that is very nice and simple to work. Placement of computer components takes only a few minutes without much effort. The external hard drive docking station is also neat since it allows the user to plug in a hard drive without even opening the case.
Thermaltake Chaser MK-I demonstrates some of the latest features seen in only high-end cases. Whether it's practicality or looks, the Chaser MK-I really does not seem to yield to other chassis. The unique three color LED fan controller is a definitive bonus that contributes majorly to the looks of the case. The implementation of the acrylic window on the side panel is also yet another feature that really allows for the consumer to show off their system. On the inside, components are not only user friendly but also of high quality. The cable management simple has rubber glommets that are very easy to work with. On the back of the motherboard tray there is plenty of room for zip tie attachments and cable management. For a price of $154.99 this case is certainly worth the cost.
Our Verdict: Thermaltake Chaser MK-I
| | |
| --- | --- |
| Performance | 8 |
| Value | 9 |
| Quality | 9 |
| Features | 9.5 |
| Innovation | 9 |

We are using a new addition to our scoring system to provide additional feedback beyond a flat score. Please note that the final score isn't an aggregate average of the new rating system.

Pros
Cons

Great look and high quality

Handle bar for portability

Easy to work with tool less system

Fan and three color LED controller

Lots of options for customization

Great cable management, and plenty of space to work inside the case.

Outstanding cooling performance

Front bezel may not appeal to everyone due to the unique baby blue color.

 

 

 

 

 
Summary: The Thermaltake Chaser MK-I is a great choice for enthusiasts and gamers alike. With great space for cable management, lots of customization options, a sleek look, and great cooling performance, it's a must-have. For its Features and value, the Thermaltake Chaser MK-I earns the Bjorn3D Golden Bear Award.