The Kingston SSDNow 200V+ 120GB is offered at a great price point, in addition to its upgrade kit. How well does it perform? Keep reading to find out!
Introduction
As the prices for solid state drives continue to become more affordable, speed and reliability factors have also evolved substantially. It is now common for enthusiasts as well as business professionals to use a solid state drive for the main operating system.
This particular SSD falls under Kingston's second tier business line-up products, which possesses a second generation SATA Rev. 3.0 SandForce processor with asynchronous NAND for better performance at an even more affordable price. The performance upgrade kit adds even more value by giving the consumer a choice of either mounting the drive internally (all necessary hardware included) or using the convenient 2.5″ USB enclosure (which is essential in swapping out the main drive on a laptop).  The upgrade kit sells for between $180 – $200.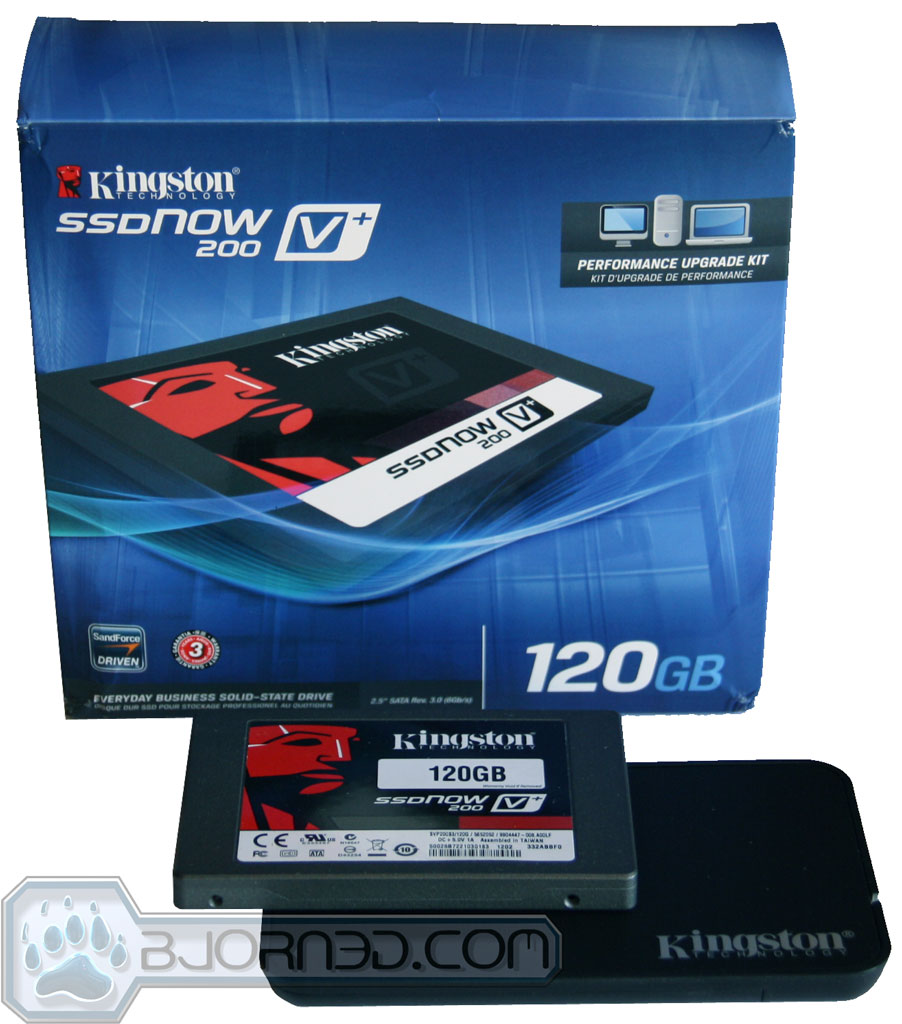 The KIngston SSDNOW 200 V+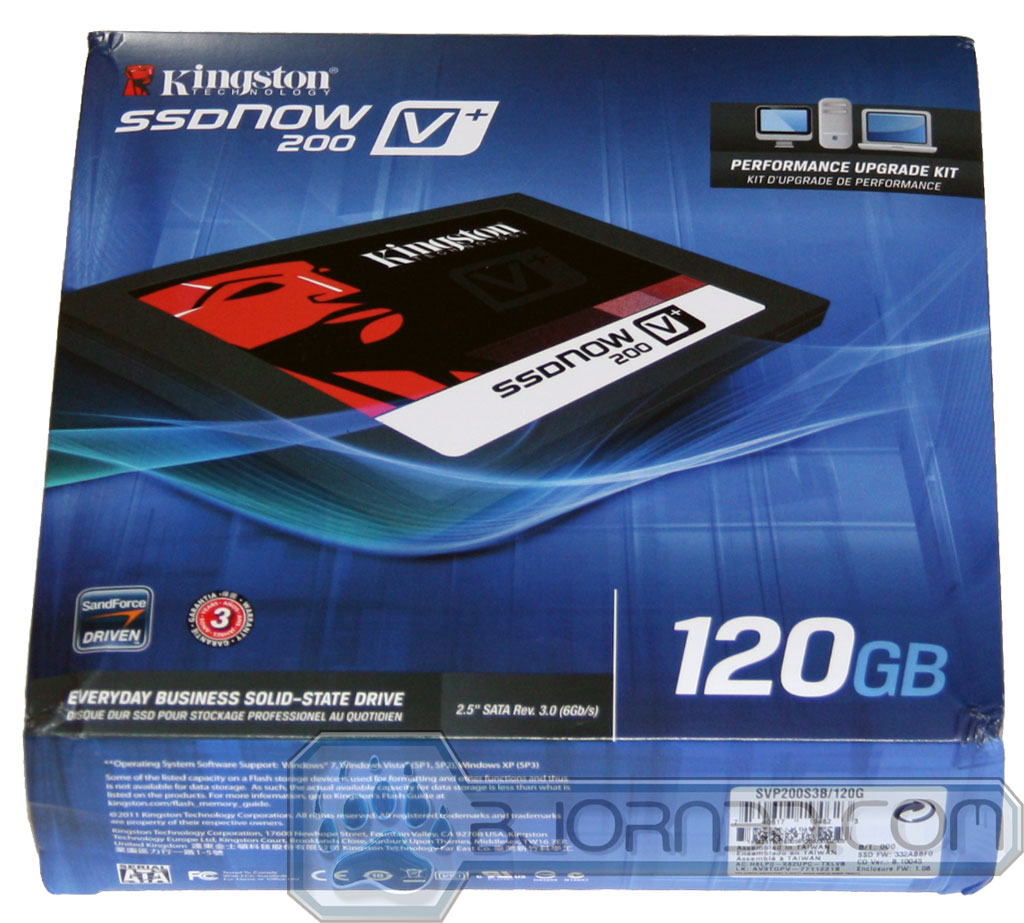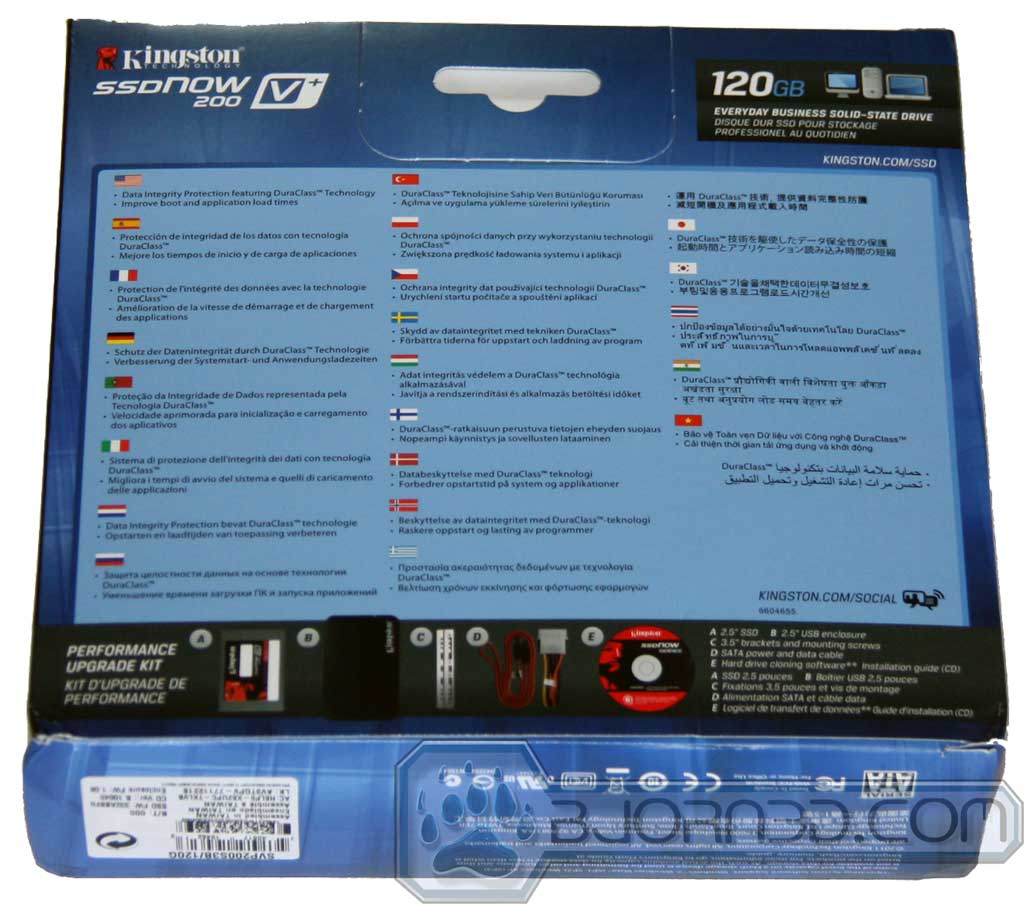 The performance upgrade kit comes in a straight forward recyclable packaging touting the SandForce controller and compatible with a SATA Rev. 3.0 (6 GB/s) port.  Multiple languages are also supported with the included CD for hardware installation and software.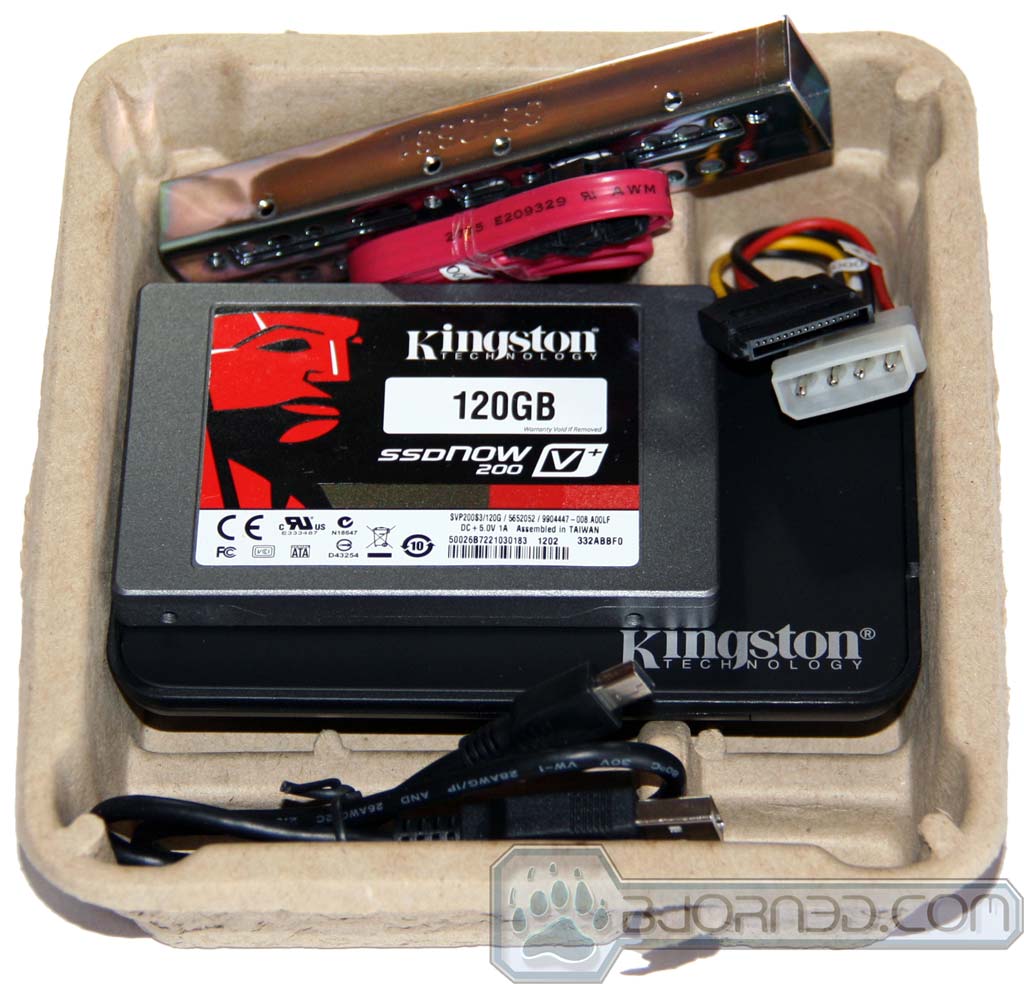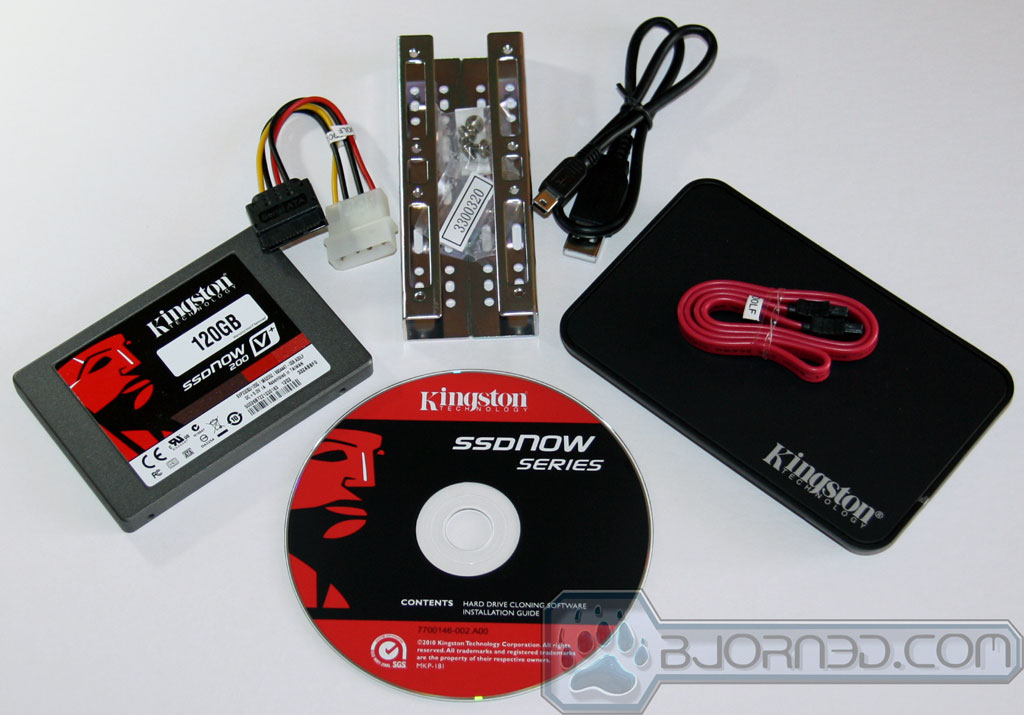 Inside the egg-crate is not only the drive itself, but also all internal mounting hardware: a 2.5″ portable enclosure, SATA, power, and USB cable (for use with the external enclosure), and software for cloning the main drive over to the SSD. The Acronis imaging software is exceptionally easy to use: merely boot from the CD and users will be on your way to cloning the system drive in no time. It is definitely better than a time-consuming fresh install of the operating system. Be aware that only 85% of this drive (approximately 109 GB) can be utilized — the remaining space is used by the firmware for optimizations and data integrity.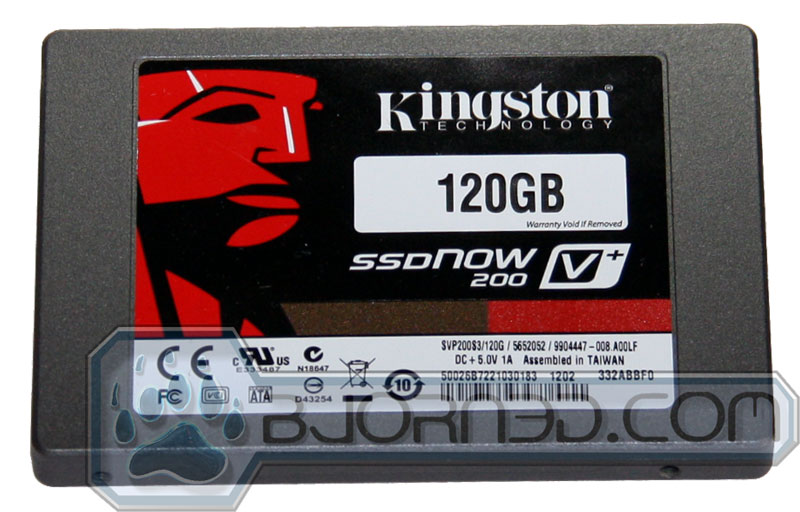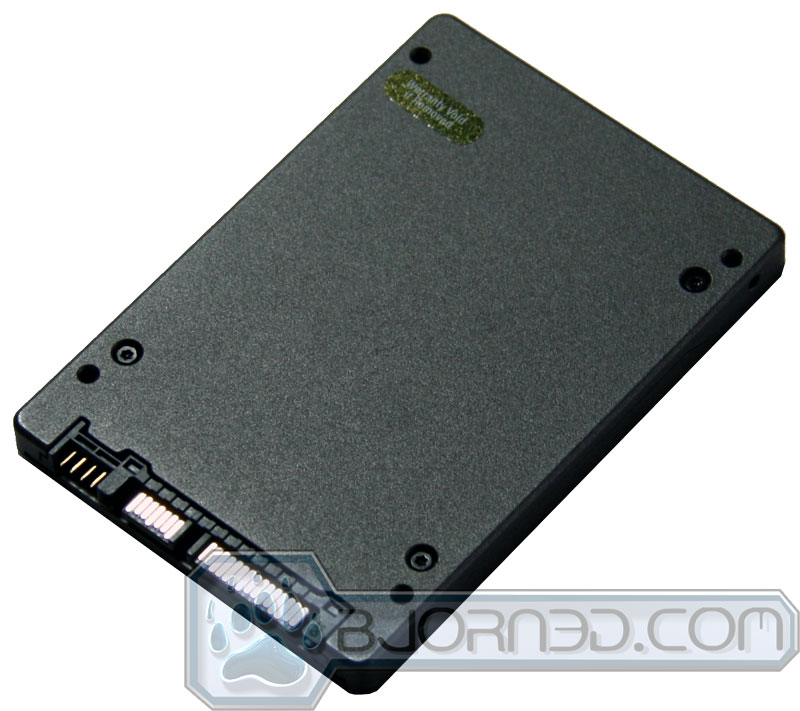 The Kingston drive itself is well constructed and completely shock-proof. The special torque screws on the back guarantee that this drive will never accidentally open (or at all). The case is a seriously thick metal with a textured, almost scratch-proof surface.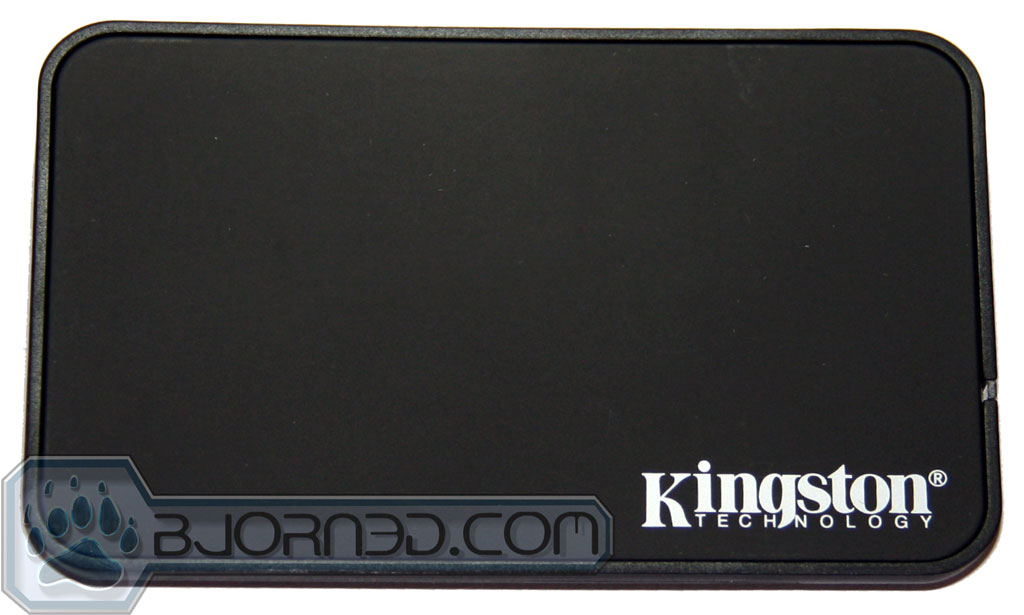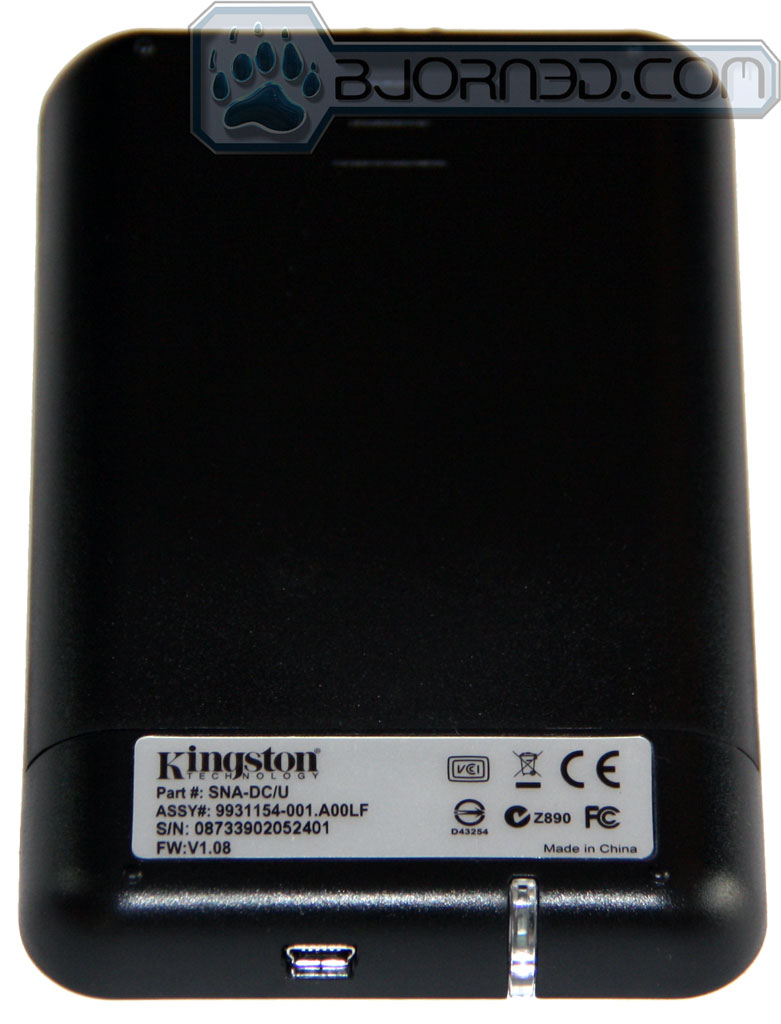 Here is the external USB enclosure used for cloning a laptop's hard drive. It is also well constructed with firm, rigid plastic. A small status light accompanied with the mini USB plug is on the business end. A small locking mechanism prevents the back from sliding off after the drive is placed inside.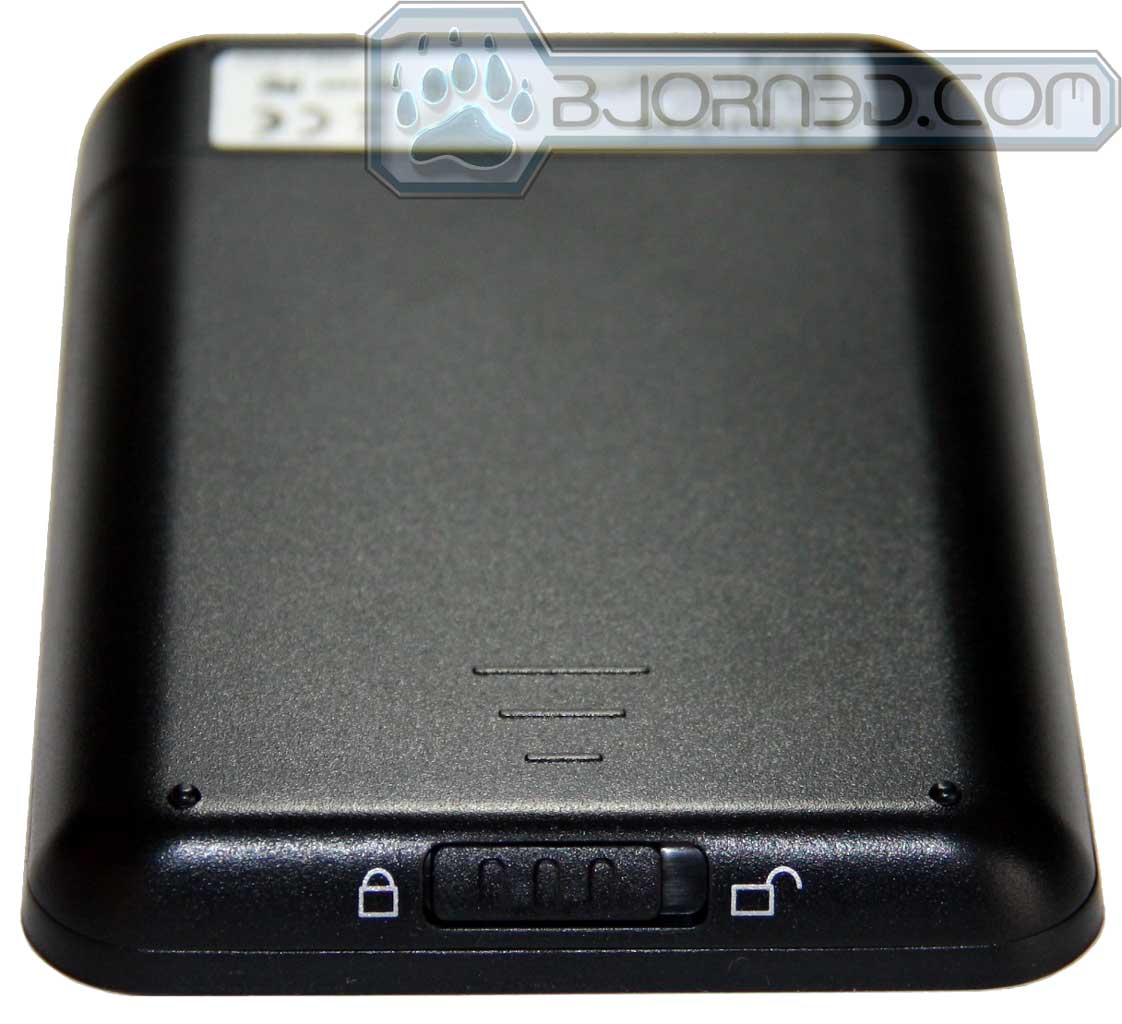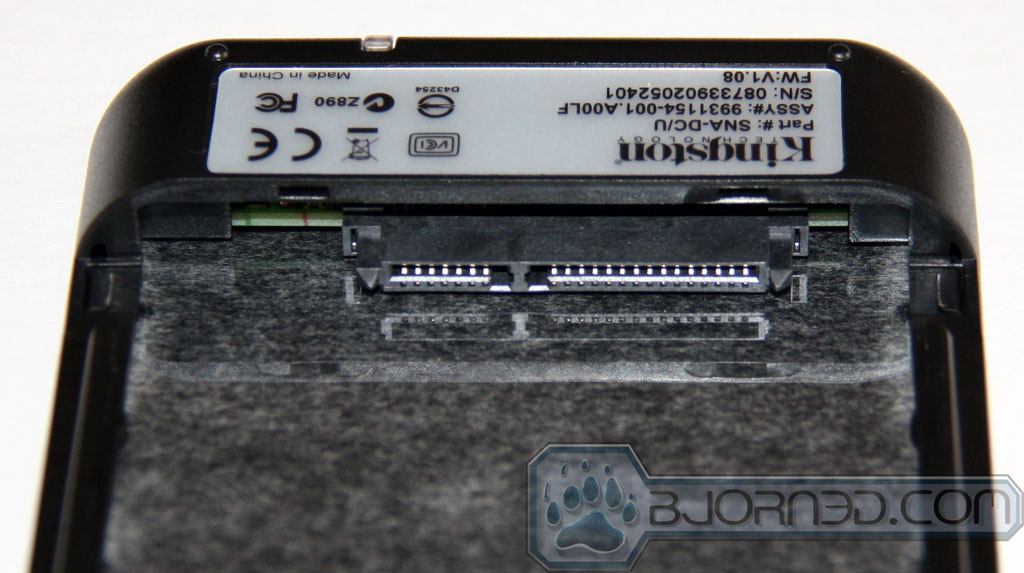 Kingston SSDNow 200 V+ Performance Ratings

Max Sequential Read

Up to 535 MB/s (SATA 3.0)

Up to 280 MB/s (SATA 2.0)

Up to 480 MB/s

 

(SATA 3.0)

Up to 260 MB/s (SATA 2.0)

MTBF
Additional Features and Specifications:
Available in 60 / 90 / 120 / 240 / 480 GB
Interface: SATA 6Gbps / Backwards Compatible 3GB/s
Secure with self-encryption
Supports TRIM

 dfg

Supports S.M.A.R.T.

 cvbcvbsdfsdfdf

Supports RAISE™ for advanced data reliability

 

Arconis imaging (cloning software) included
Power Consumption (Idle / Active):  .57W / 3.23W
Form Factor 2.5″ @ 115g
Operating Temperature:  0°C ~ +70°
Storage Temperature

 

:  -40°C ~ +85°C

 

Three year warranty with 24/7 tech support
Testing & Methodology
Prior to running all tests a fresh install of Windows 7 (64 bit) with only the necessary drivers was placed on the SSDs, created with a single partition (NTFS).
Test Rig

CPU

Intel Sandy Bridge i5 2500k

Motherboard

Gigabyte GA-Z68XP-UD5 

 

Memory

Corsair Dominator XMP 1866 (2 x 4 gigs)

GPU

MSI GTX 560 Ti Twin Frozr II 

 

Power

Cooler Master Silent Pro Gold 800 

 

Solid State Drives

SATA Rev. 3.0

6GB/s Interface

Kingston SSDNow 200 V+ / 120GB

Crucial M4 / 64GB

OCZ RevoDrive / 80GB

Kingston HyperX / 240GB
Test Suite
The following applications were used to test the performance of the solid state drive: 
Benchmarks
 Crystal Disk Mark 3.01
AS SSD 1.6.4
 ATTO 2.47
PCMark 7 v1.0.4
CrystalDiskMark
Designed to test SSD's, CrystalDiskMark can be configured to utilize completely random data to test the drive's performance. We configure the CrystalDiskMark benchmark to use random data of 1000MB test size.We configure the CrystalDiskMark to use completely random data of 1000MB test size We configure the CrystalDiskMark to use completely random data of 1000MB test size.We configure the CrystalDiskMark to use completely random data of 1000MB test size.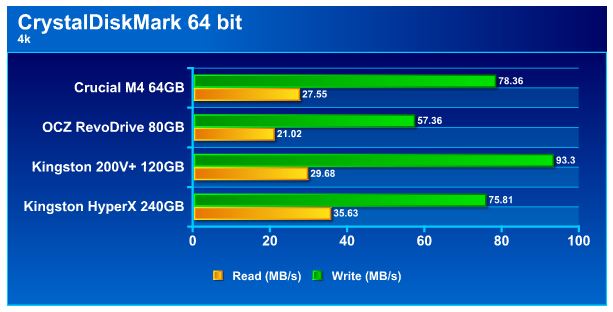 The 4k random read and writes of the Kingston 200V+ are very surprising for the price point of this drive, even surpassing the much more expensive HyperX.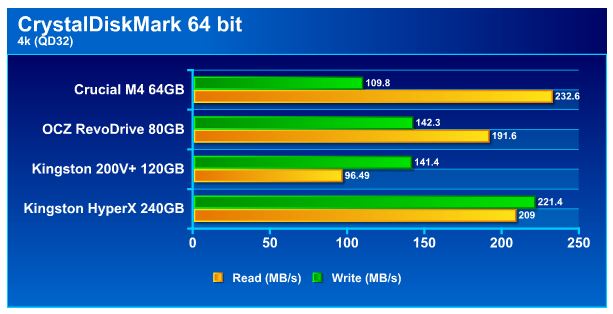 Under a serious 32 queue depth load the drive shows a more realistic performance curve. Most consumers will not be going more than 4-8 queue depths deep in real-world desktop usage.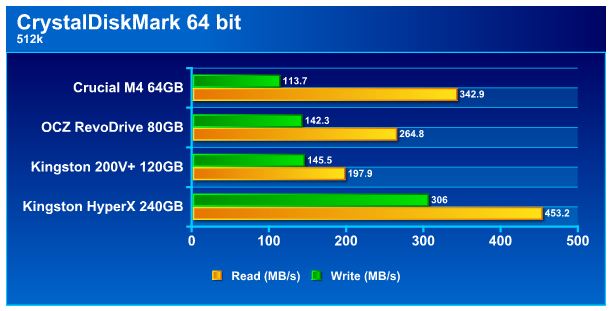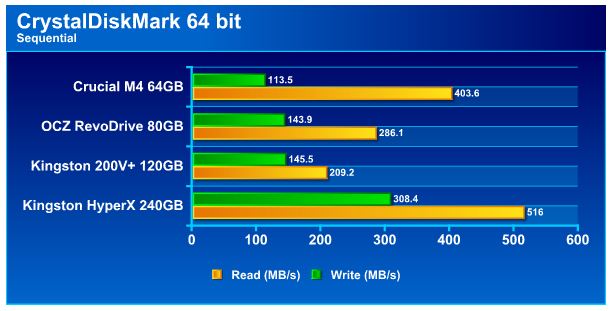 In both the Sequential and 512K tests, the Kingston 200V+ performs low on the reads but holds it's own in write speeds. This is performing in line with our expectations, considering the Crucial M4 and Kingston HyperX have better memory (and much more expensive) modules on them.
AS SSD
This tool is used to measure the drive's performance at handling incompressible data. Since all SandForce drives compress data to reduce the number of writes, this is an excellent evaluation tool.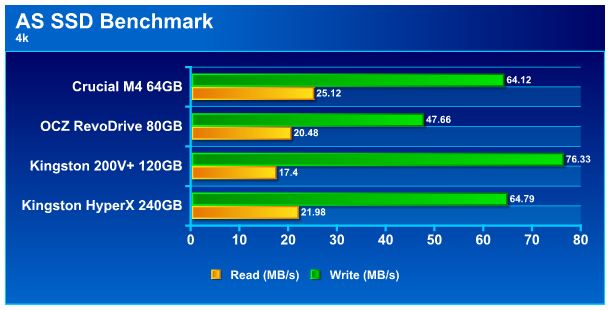 We see the same thing here as we did in CrystalDiskMark, where the SSDNow 200V+ outperforms the top-of-the-line HyperX; however, the SSDNow is slowest in the read speed test (by a very small margin).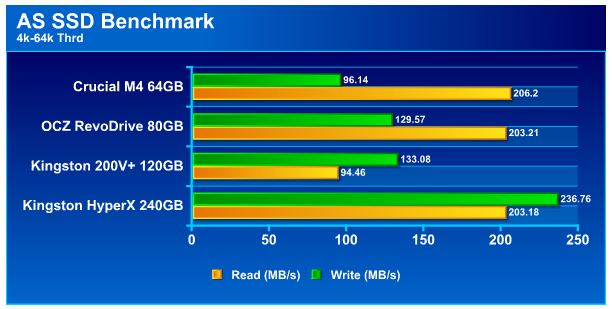 Once again under a heavily threaded environment, the Kingston 200V+ can hold it's own in the writes, but when it comes to the reads, the much more expensive drives with superior memory are more than twice as fast.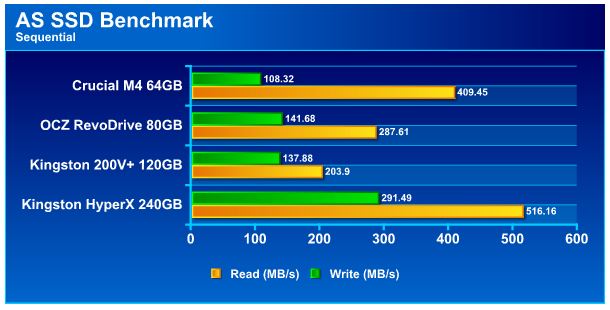 ATTO
Even though ATTO is designed for mechanical drives, it is often used by storage manufactures to rate the speed of the drive. So it's definitely worth a look to see if the manufacturers ratings fall within specifications.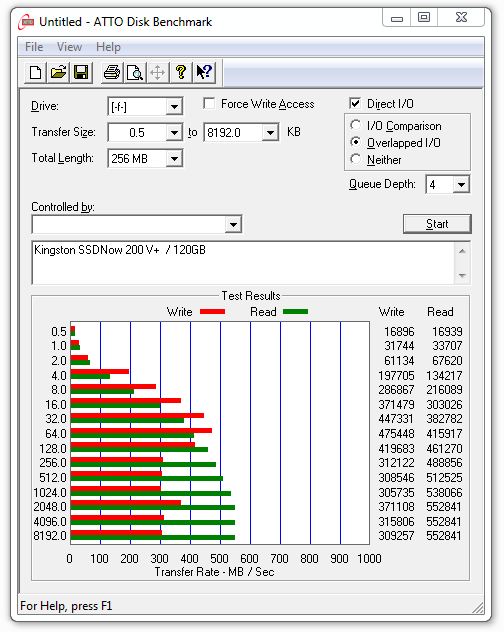 The Kingston 200V+ results were in the expected range for being used on SATA Rev. 3.0, 6GB/s port. 
Manufacturer Ratings

ATTO 512K Results

Max Read 

535 MB/s 

513 MB/s

 

Max Write

480 MB/s  

309 MB/s

 

PCMark 7 HD Suite is a synthetic test that can assess a hard drive's impact on system performance for commonly used tasks. 
Impressively enough the Kingston 200V+ does very well when compared to its more expensive counterparts. In all tests with the exception of Application Loading, all of the SSD's perform in the same league, with the HyperX always seeming to just edge ahead. Application Loading relies on random read performance, where the 200V+ lags behind slightly.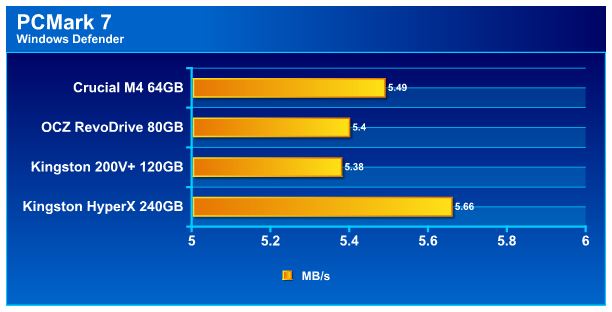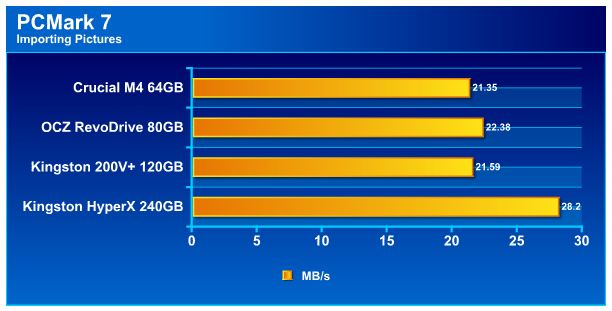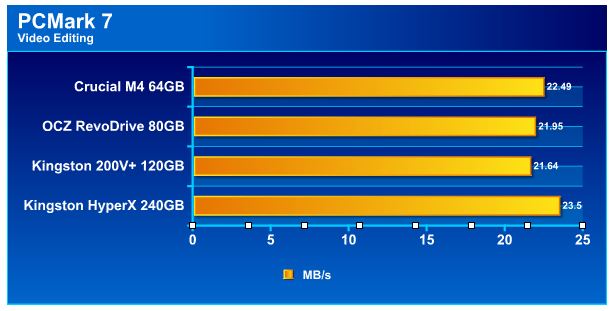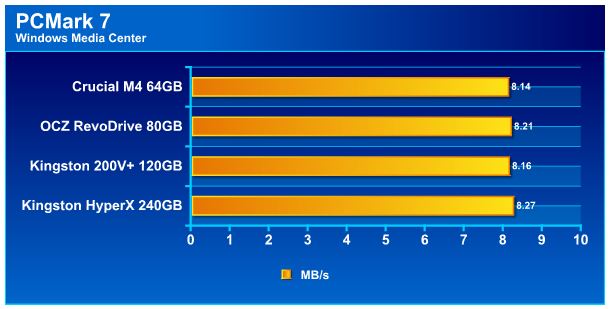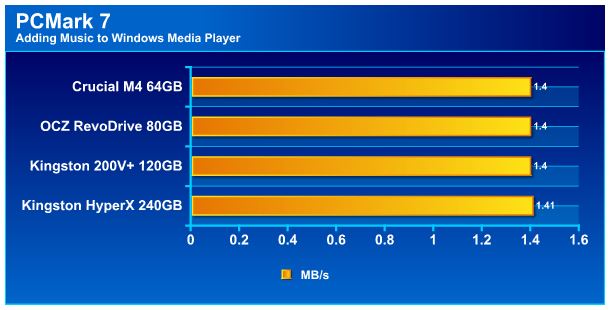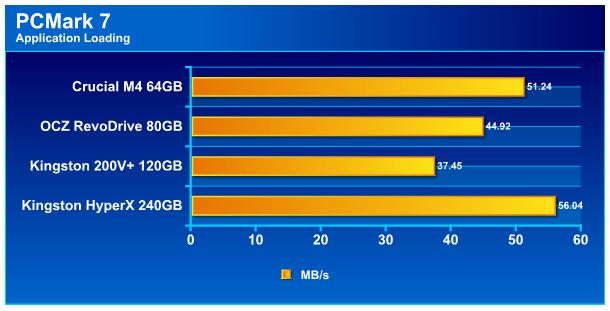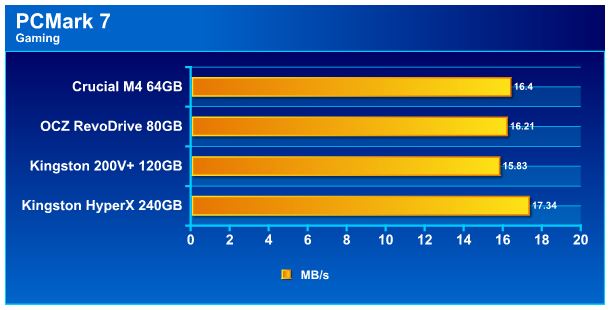 Conclusion
The performance of the Kingston 200V+ exceeds budget SSD speeds with a budget price, due to the latest revision SandForce controller. Though its read speeds can dip under heavily threaded performance, in other tests, the SSDNow easily holds its own.
In addition, all of the extras included in the upgrade kit make replacing the hard drive in either desktop or laptop extremely easy. The shock-proof and sturdy construction of the drive definitely gets highest approval, while the advanced features of the drive are found on SSD's costing significantly more at the same size.  For $180 a consumer is going to be hard-pressed to find a better upgrade at this price point.
OUR VERDICT: Kingston SSDNow 200V+

  120GB120
| | |
| --- | --- |
| Performance | 8 |
| Value | 9 |
| Quality | 9 |
| Features | 8 |
| Innovation | 7 |

We are using a new addition to our scoring system to provide additional feedback beyond a flat score. Please note that the final score isn't an aggregate average of the new rating system.

Pros
Cons

Good performance vs. price

Upgrade kit includes everything needed — even for laptop.

Well implemented cloning software.

3 year warranty.

Low read speed under heavily threaded performance
Summary: With the latest generation of SandForce controller, the Kingston SSDNow 200V+ 120GB has good performance for an SSD at its price point. It also has a well thought out upgrade kit, earning it the Bjorn3D Value Award.