Today we are looking at one of Synology's newest NAS units: the DS212. With a host of possible usages this looks to be a great value and with a great visual appearance.
Synology diskstation ds212
When thinking of NAS boxes we think of a few different brands of available remote storage devices. One of the more popular and prominent brands in the industry is Synology, a company which has blazed a trail with a reputation for having highly featured boxes that can be used for so much more than just a remote storage device. The units commonly carry many other roles they can perform such as media servers or even light duty web and database server duties.
The unit we have today is one of the newest: the Diskstation DS212, which carries all of the previously mentioned functionality and more. This unit can range from the standard remote storage to a media server, a music server, iTunes server, FTP server, download station, database server, and even a web server. Now obviously this would not be possible without the horsepower to back it up, so this unit carries a 1.6GHz processor backed by 256MB of onboard memory to help with the computing tasks. This unit is a dual bay model which allows for RAID 0 and 1. This is great because it alternatively allows for a huge amount of storage by striping the drives, or for a redundant backup by mirroring the drives. While the extra performance of RAID 0 sounds nice, we believe that most will stick with RAID 1 to ensure important data which will inevitably be stored here will not be lost in the event of a drive failure.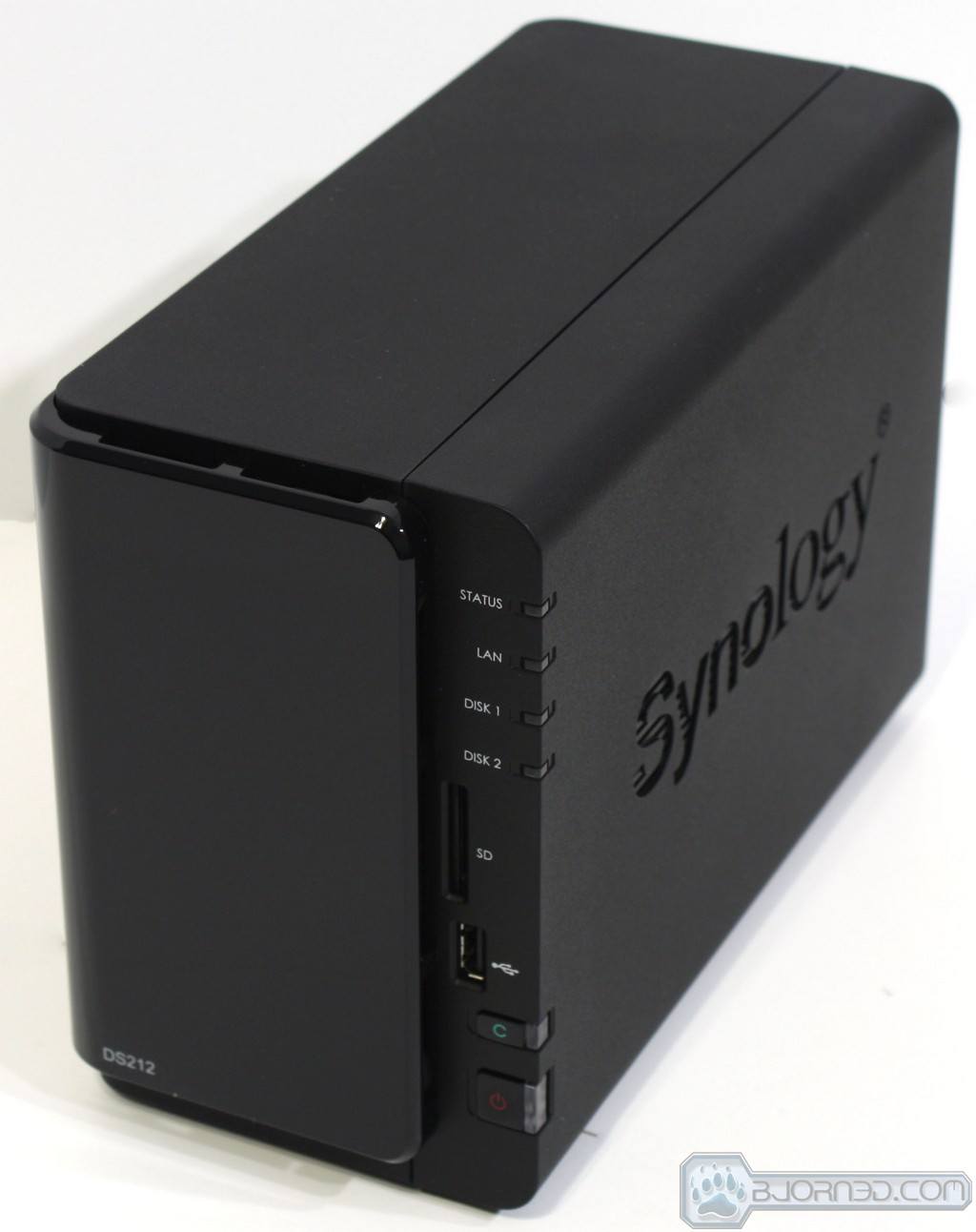 The DS212 is presently on the market for about $299.99, which is pretty steep when considering that this is a diskless box and the purchaser would have to purchase drives separately. However, the high features could help balance the high price out, so lets take a look at what this unit offers.

Beyond NAS server operating system
Business productivity is up through centralization, data management becomes one-stop-for-all,
and user experience is enriched with new technologies, Synology DiskStation Manager 3.2
takes your NAS experience to the next level. Running on Synology NAS servers, DSM 3.2 offers
intuitive and feature-rich applications which help you simplify the otherwise time-consuming tasks.
DSM 3.2 offers a personal touch to the user interface with new technologies. As a true mutli-tasker, it allows you to switch between applications all under one browser tab. HTM5 & CSS3 adoption means the drag-n-drop experience now goes beyond browser and onto your PC desktop.
DSM 3.2 includes complete RAID protection, easy storage expansion, and comprehensive iSCSI support. Micro-manage your volume creation and storage deployment with the Storage Manager. Create multiple volumes on single RAID for better storage space utilization. iSCSI support comes with failover protection and iSNS
support.
Use Surveillance Station on Internet Explorer®, Firefox®, Google Chrome™, and even Mac® Safari®! Surveillance Solution is among the first to offer browser-based NVR solution on Mac OS®. Enhanced support on H.264 and MPEG4 format means all movements can be viewed and recorded in high-resolution. Advanced features are optimized for large scale deployment. Additional monitoring device and mobile app contributes to complete your surveillance solution.
DSM mobile embraces HTML5 technology and is the central portal for management, entertainment, and surveillance purposes on iPhone®/iPad® and Android™ phones. Accompanied with 5 iOS & Android™ apps, get your data on-the-roam 24/7. DSM also introduces the NAS industry's first print solution that includes Apple® AirPrint™ and Google Cloud Print™. Your file mobility just gets better and
better.
Share all kinds of data easily with the many features of DSM. DSM 3.2 provides straightforward file navigation on your Desktop and cross-platform compatibility. Use Syslog Server, Virtual Drive, and Remote Folder to achieve efficiency in daily operation. Windows® ADS and LDAP users are also well-supported.
DSM offers comprehensive backup options with desktop backup and server backup. With Mac OS® X Lion support, see Time Machine and DiskStation work together as a pair. Real-time shared folder sync and multiple offsite backup secure data with double or even triple layers of protection. Time Backup supports remote backup with SnapShot and versioning still intact
Create local accounts and groups easily. DSM 3.2 supports seamless integration into Windows® ADS and LDAP directory sever. Administrators can also build an LDAP-based directory server with Synology's Directory Server package. Set up privileges and access rights. The full support of Windows® ACL makes file control more efficient.
DSM 3.2 brings you innovative and enjoyable multimedia entertainment. Enjoy sound and sensation while enriching your life with personal online albums and blog services. Photo Station comes with Facebook album synchronization and passwords-on-albums. Your social life just gets better.
Build your personal cloud in a shorter time with EZ-Internet. The support over 100 UPnP® routers means that you may finish the setting in no time at all. What's more, whether it's IPv6 support or in a wireless environment, your can always establish Internet connection to DiskStation.
DSM 3.2 offers revamped user interface, which delivers faster responsiveness, better interactions, and more useful tools to manage DiskStation.
The energy saving features in DSM 3.2 ensure a minimum power usage of DiskStation, saving not only the energy bill, but also the earth.
Use full-featured applications to launch websites and host mail servers. With DSM 3.2 you also obtain a complete print server that supports multifunction printers, Apple® AirPrint™, and Google Cloud Print™. Package Center is a true harbor for finding new packages, updates, and log information. Find out what packages are available for your DiskStation and install them instantly.
Specifications
PIctures & Impressions
Click Image to Enlarge
The packaging covers the functions rather well that the DS212 does way more than just storage. While a NAS may be its main function, there is a whole host of things this unit is capable of and many of them can save big bucks if the horsepower meets the usage loading as this can replace multiple server types.
Just some of the many functions available with the DS212 include usage as:
Web Server
Email server
Database Server
Media Server
Surveillance server/station
Automatic backup
In the software section we will see a much better representation of what is really available to be done on this versatile NAS unit. On the package there is not only coverage of the features but also the specs of the unit which includes:
1.6GHz Processor
256MB Onboard DDR3 memory
This is the basic operating configuration of the unit and gives an idea of what kind of hardware drives this box. For a full rundown of all the in depth and key specs see the specifications section of the review for more detail.
Click Image to Enlarge
Here as we open the package we get a good look at the sturdy packaging job done for our new NAS. The secure sturdy foam encasing should stand up really well against the tortures incurred during shipment. One thing not shown here is that there is actually an outer brown box that also had foam holding the main blue packaging box which adds yet another layer of cushioning against harsh shipping environments.
Removing the small brown box from within the package we get the accessories which is fairly standard but useful containing a quick start guide to help get everything up and running. And the following:
Power Brick
Power Cable
Screws for HDD installation
LAN Cable
Instruction/user manuals
Installation disc
So as said, the unti has fairly basic inclusions but nothing more is really needed honestly.
Here we have the unit itself, as explained before it is not only functional but nice looking as well with a nice finish and just overall fancy look to make it more appealing in case it is in sight on a daily basis such as being integrated into a media center. Looking at the side first we see that the Synology logo is there prominently but cleanly done. Of course this would have been nice to have smooth in case it is displayed, but it doesn't really look bad. Next we get an overhead angled view which gives an idea of what this unit will look like when sitting in a media center or hardware station.
Moving to the front we see the front IO interface which includes all of the status indicators along with a few other goodies such as:
Status LED
LAN Status LED
Disk 1 Status LED
Disk 2 status LED
SD Card Slot
USB 2.0 Port
Reset Button
Power Button
This pretty much rounds out the front I/O with some useful features to help monitor and even connect to and control the unit. Next moving to the rear we get to the basic connectivity side of things. This is where we have our single Gigabit LAN port and dual USB 3.0 ports to ensure high speed transfer rates no matter the usage. Also included is a cooling fan to keep all of the important bits safe and a DC jack to power the unit, and lastly a Kensington security lock port to ensure the unit goes nowhere once it is installed. What good is secure storage if someone can just walk away with it right?
INside the DS212
Click Image to Enlarge
The Installation of the drives is really quite simple. Users need only pull off the front piece which covers the dual drive bays and we see a rather standard front face on our DS212.
Then we simply slide out the hot swap trays we find that standard screw mounting is used to hold the drives in place on the tray. This kind of mounting in the tray may make it a little more time consuming to swap the drives out of the tray if needed but we don't really see that as being an issue as that is not likely to happen regularly. As seen in the bays we have installed dual 1TB Seagate 7200RPM Barracudas which should serve quite nicely for reliability and also some nice performance. The units support hot swap, so users can just slide the drives in for contact with a back panel SATA connection, and automatically the drive will spin up and be initialized or able to initialize the volume through the NAS control software which we will look at next.
Included software
Here we see the control interface on the remote system which scans our network and finds the attached DS212. A nice feature of this software is that with a single click we can map a network drive directly to the unit within windows. Also, this is where we can quickly and easily launch the browser based management utility for the NAS.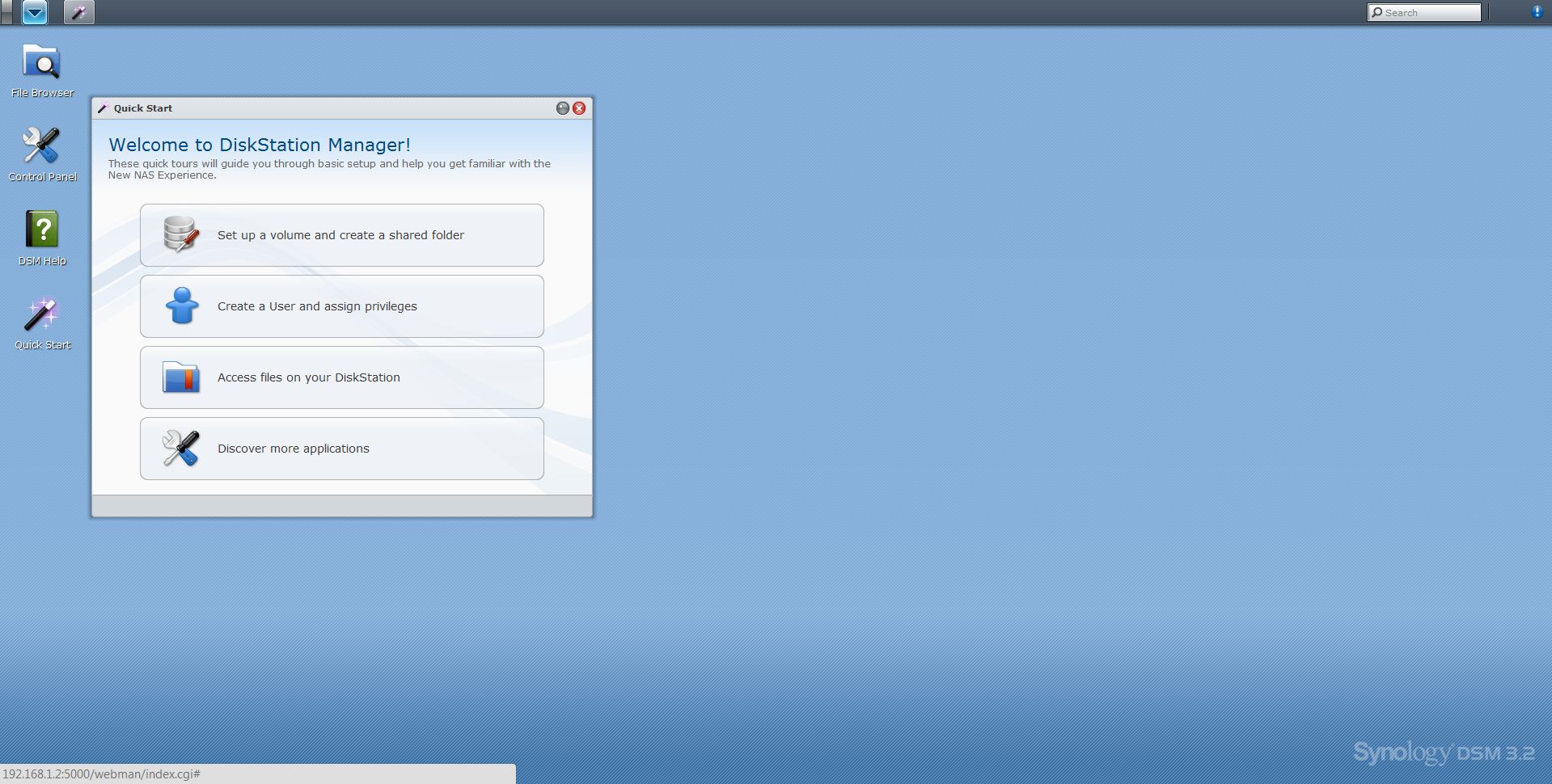 Here is the first screen we are greeted with in the browser based management utility. It basically hosts some of the most common functions.
Setting up volumes
Creating and managing users and profiles
Access files on the NAS
Discover more applications (go to the really extensive list)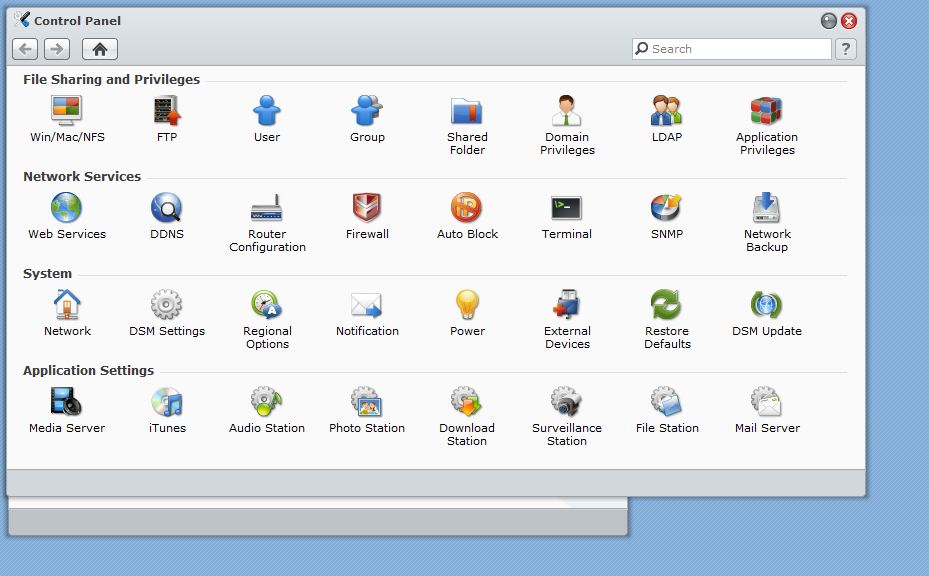 Here is the main control panel or the extensive list. as we noted before this is a very capable unit and just taking a look at the bottom row gives us an idea of how versatile it can be. It includes controls and settings for the following functions:
Media Server
iTunes Server
Audio Station (Audio server)
Photo station
Download Station
Surveillance Camera Station
File station (file server)
Mail Server
FTP server
Network Backup
Those are just some of the "Main" usages that this unit could and likely will be used for. This is not a complete list as there is much more functionality, but through this single screen most of these capabilities can not only be enabled but also fine tuned to match specific usage needs.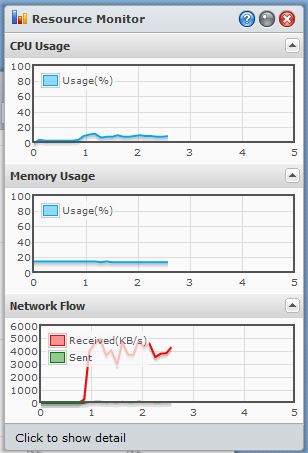 Here we have the resource or system monitor. This is during a 9GB file transfer just to show the monitoring system in action. One thing to note is that while it is "real time" monitoring we did note about a 1-2 second delay between start of transfer activity and monitoring response.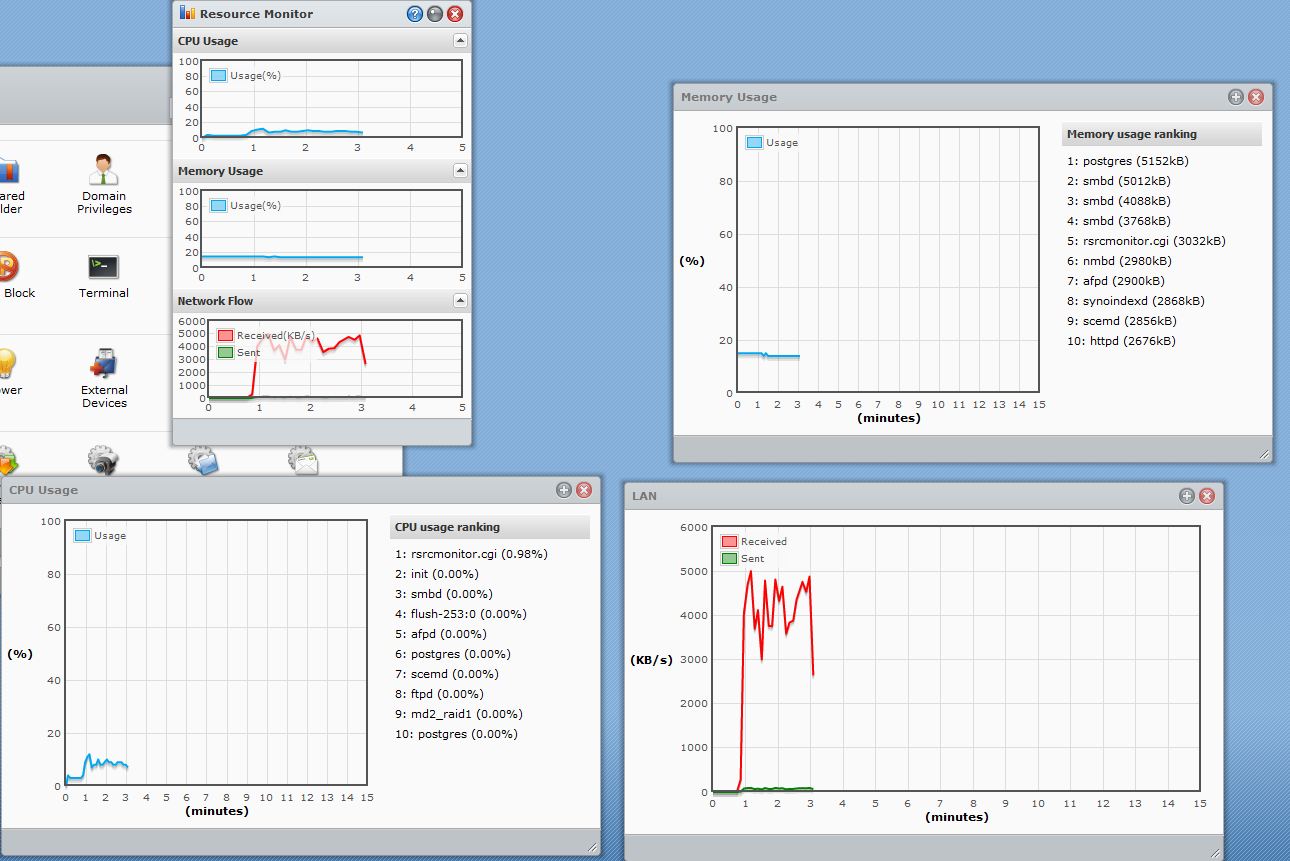 Within the monitoring utility  we can click each and expand them as shown above to show which processes are using resources. This should be pretty helpful if the NAS ever experiences a slowdown or has issues we can see what exactly is running and possibly hogging resources.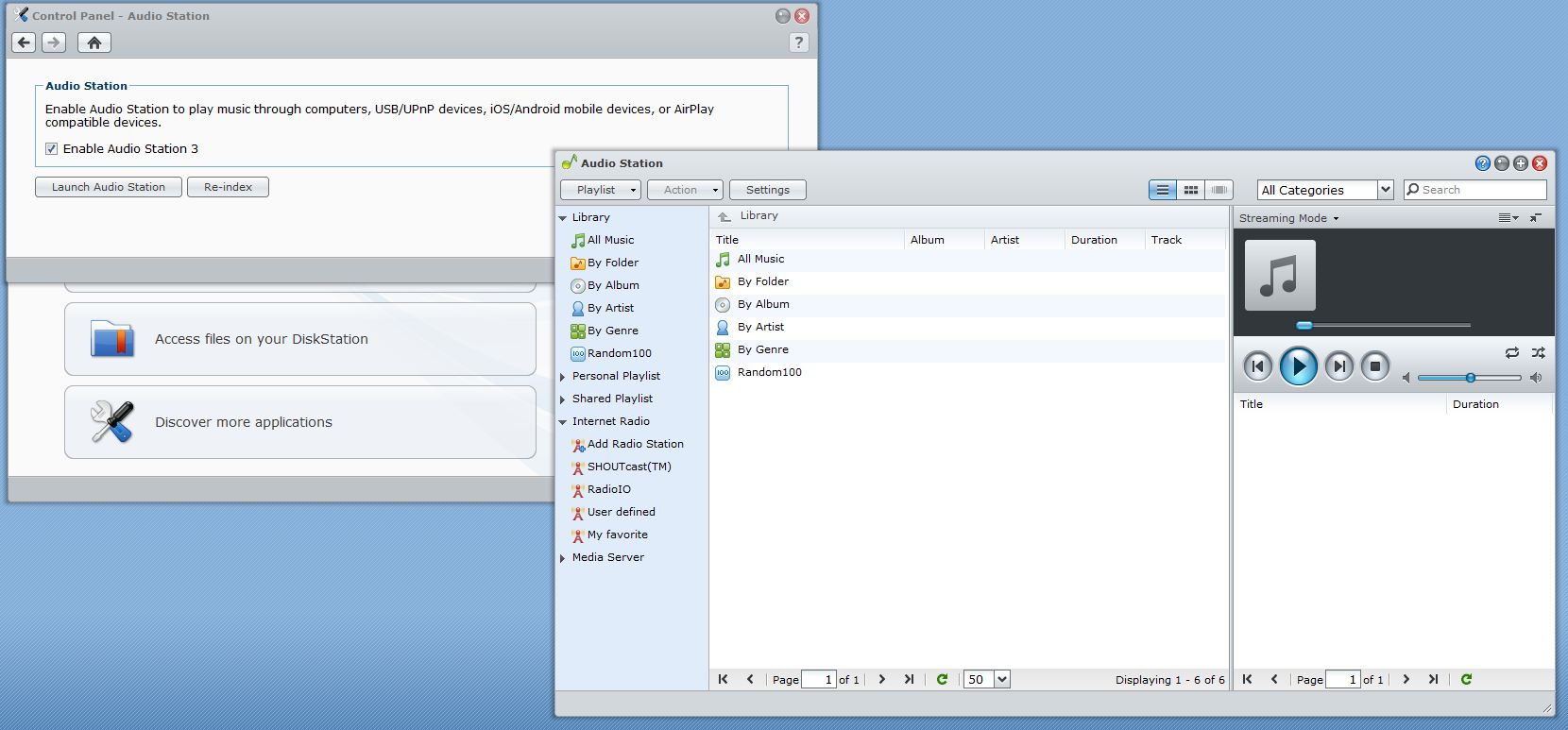 Here we are taking a quick look at the audio station interface which as above has a very intuitive interface very similar to that of iTunes.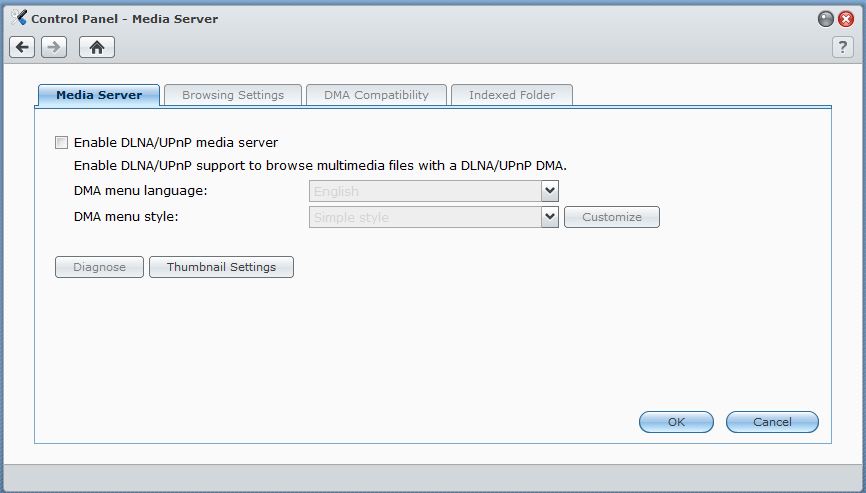 Here is the Media Server control page and shows some of the settings used to enable and setup the Media server functions. This includes folder Indexing and also the in depth Browsing settings.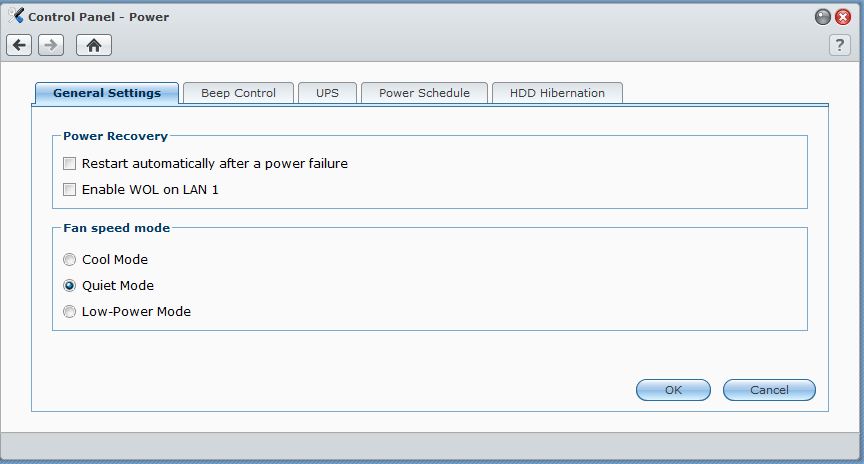 Here we have the power saving features page which allows hibernation or low power mode of the unit and installed drives along with fan controls for optimum heat transfer or upmost silence. Within this menu we can set the beep activity and when or what it beeps for. Also, there are power schedules for the unit which can be set to allow auto power down during times which it will not be accessed.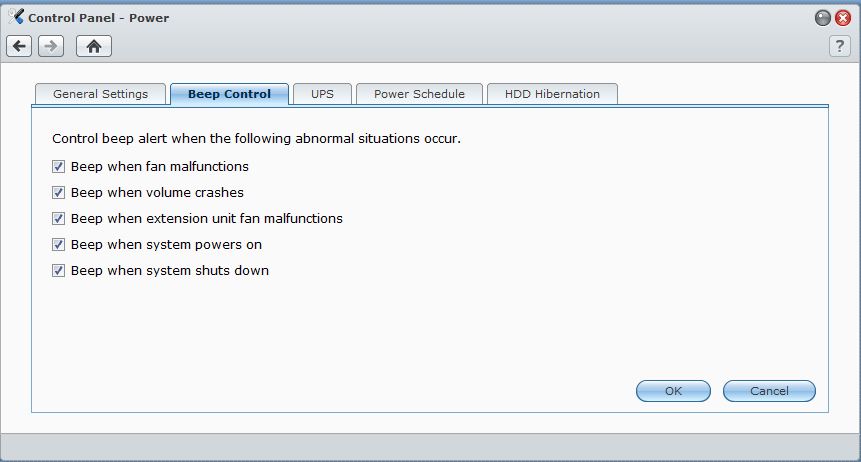 Here we have the beep control as mentioned previously, which allows the user to setup when to get the beep notifications or to disable them completely (not recommended).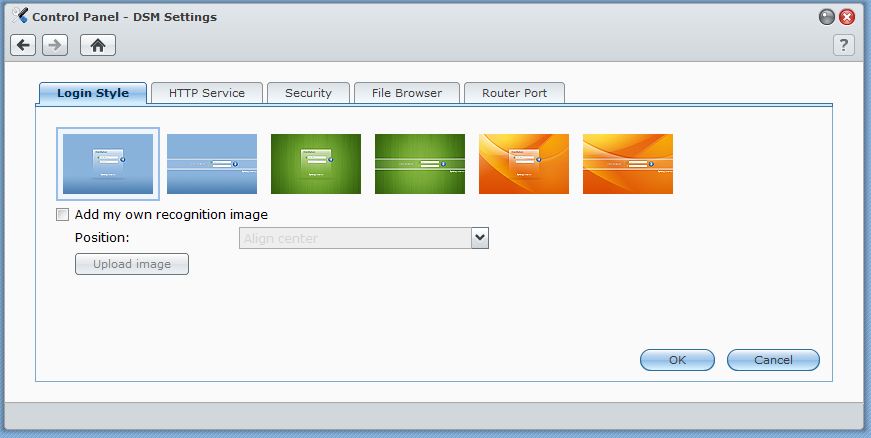 Here we can setup a custom look or "theme" for the browser interface for the NAS. personalized images or photos can also be uploaded here for a completely custom background or even one to match our existing desktop background. Other security and connectivity settings are here as well.
The manual for the DS212 can be downloaded as a PDF, and goes into detail on settings.
Testing
Testing we set the unit up on a Gigabit LAN with a WNDR3700 providing the access and addressing. All testing was performed on a X79 based system at default settings and clockspeeds.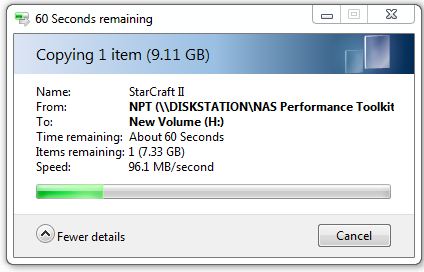 Here we see real world read performance we see from the NAS and of course this will be affected by driver performance as well, and the 7200 RPM drives are nice for that. The read speed stayed consistently above 95MB/s, though it spiked briefly at around 101MB/s.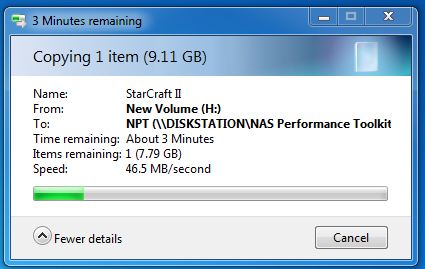 Here we have the wite speed, which understandably is a bit slower, but still respectable. It only occasionally dipped to around 42MB/s, but for the most part averaged approximately 46MB/s.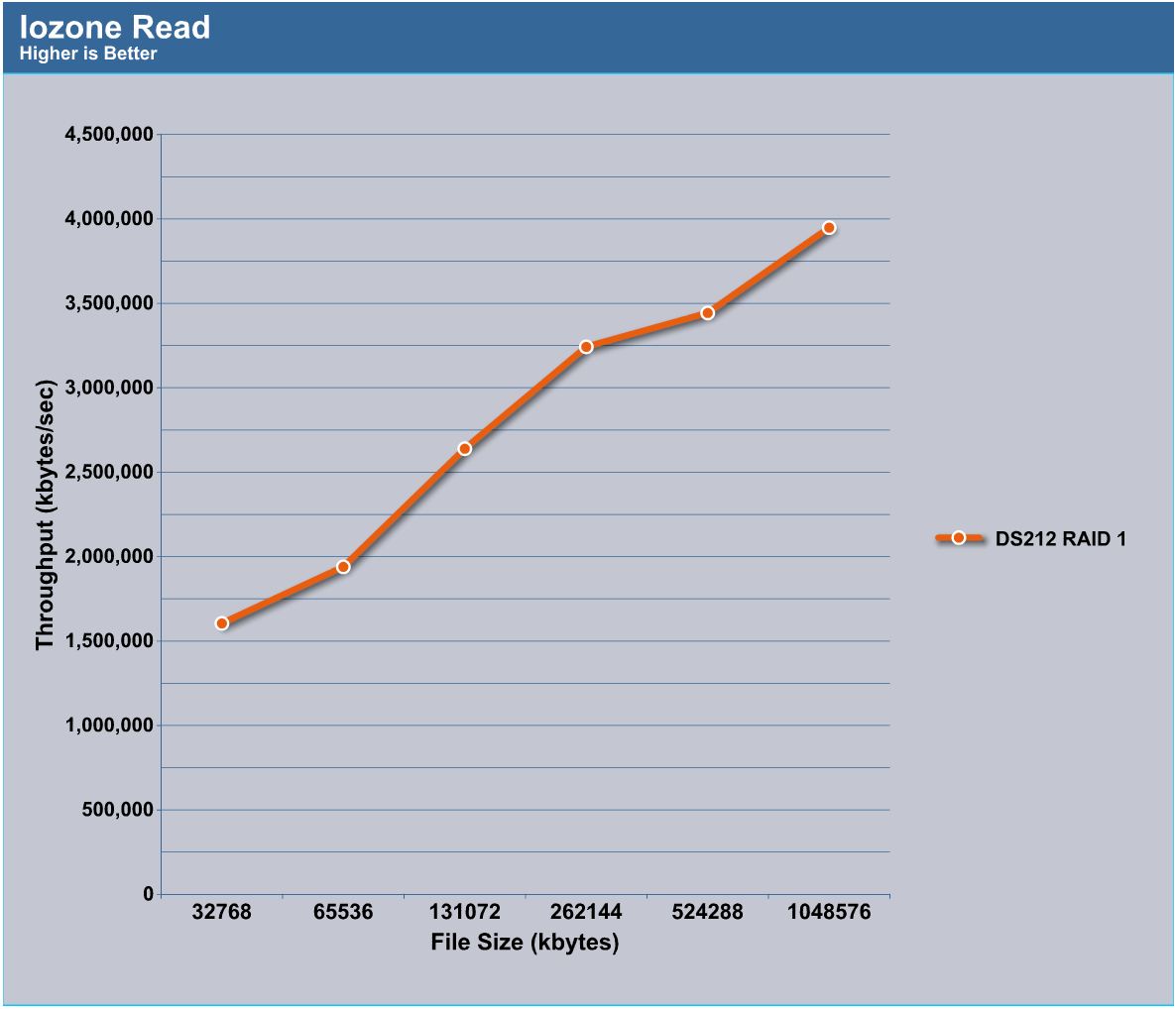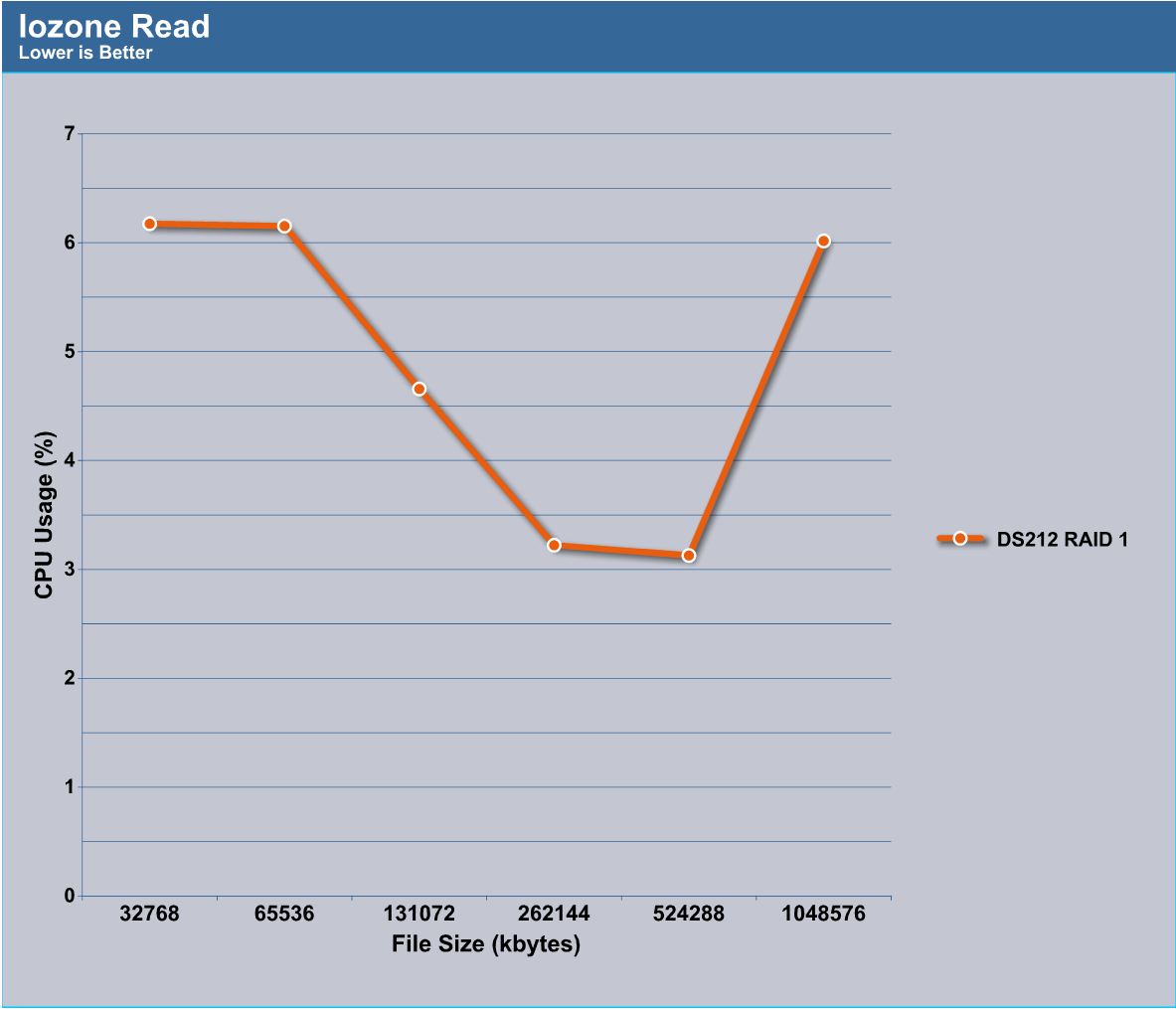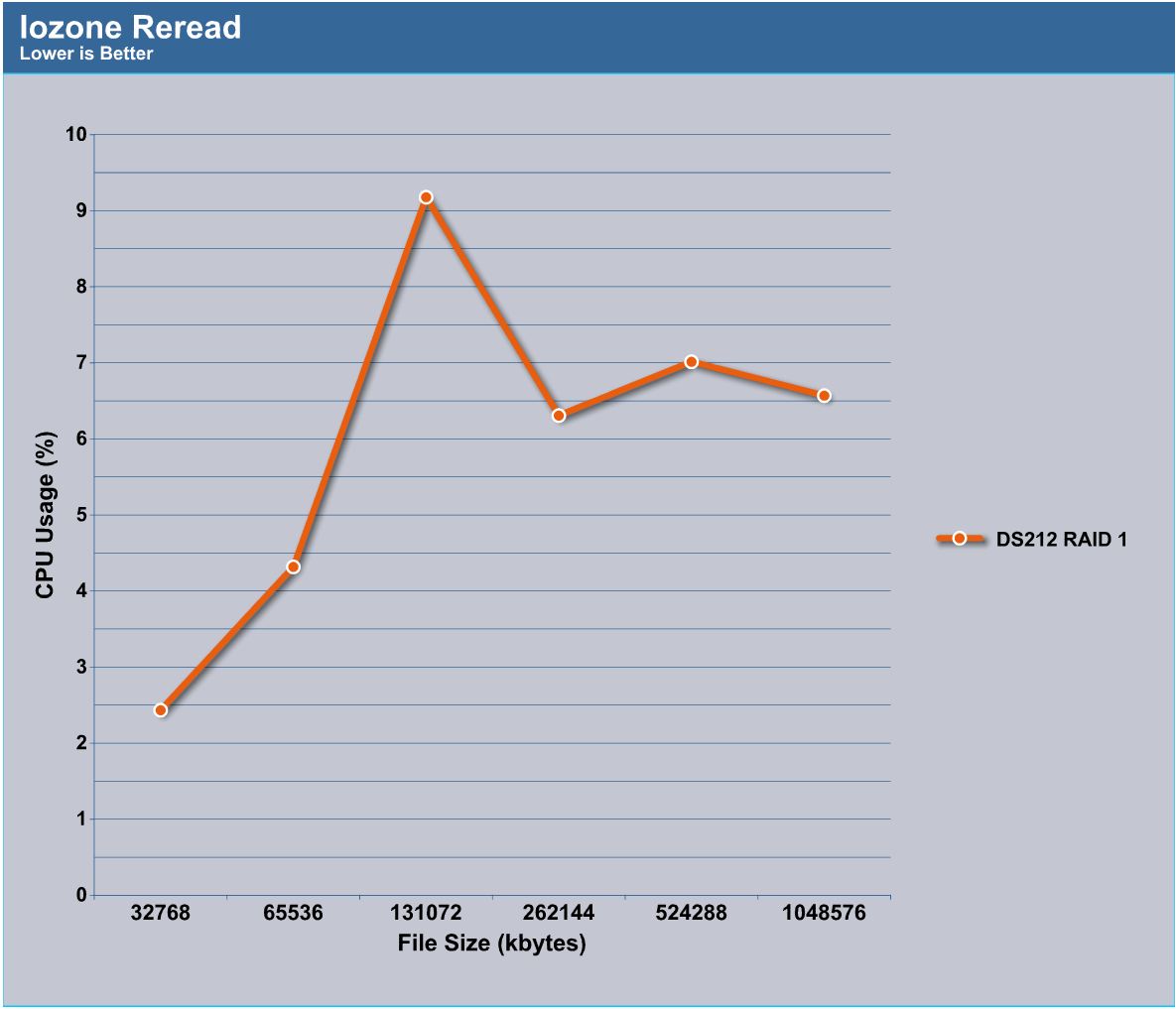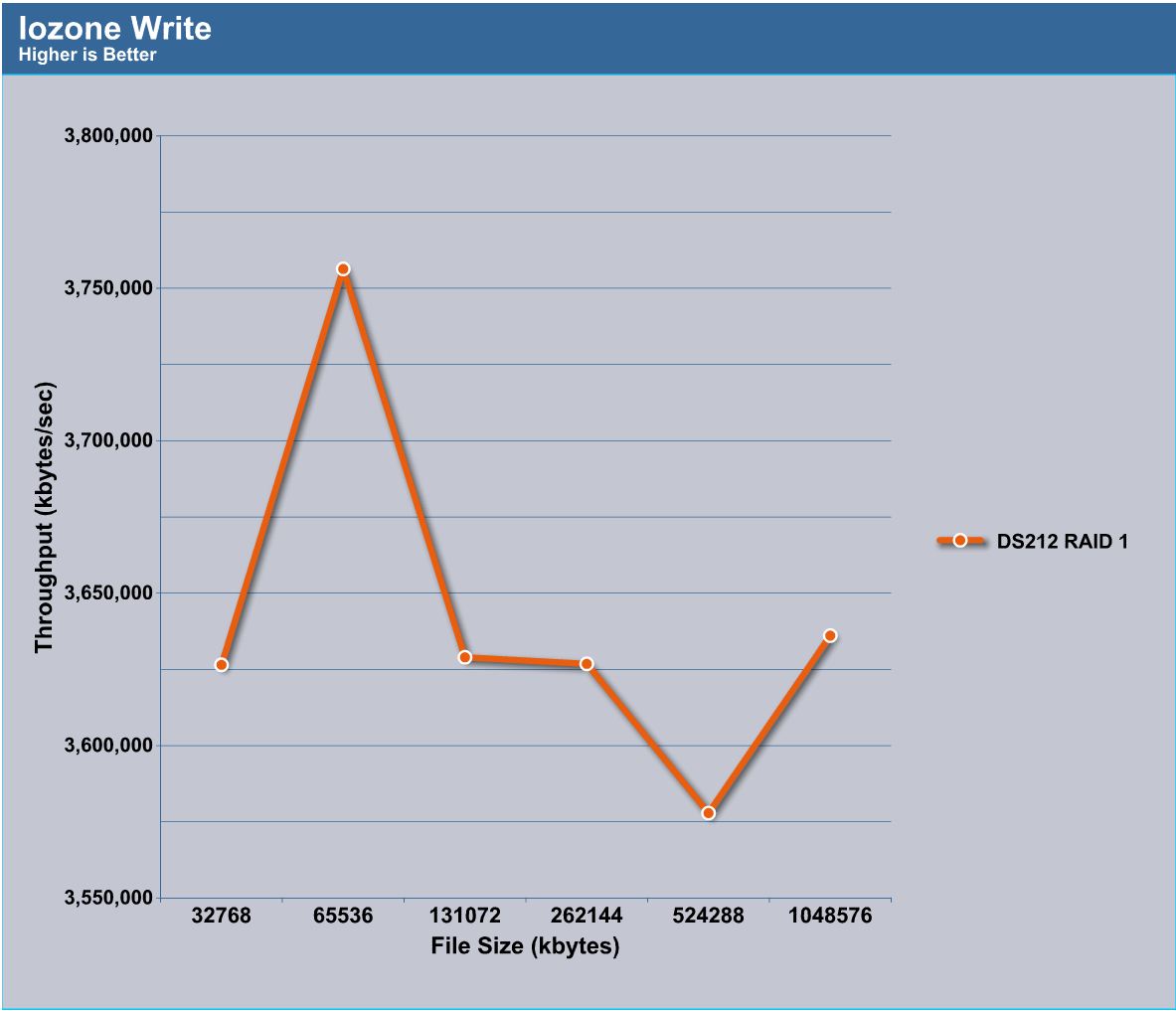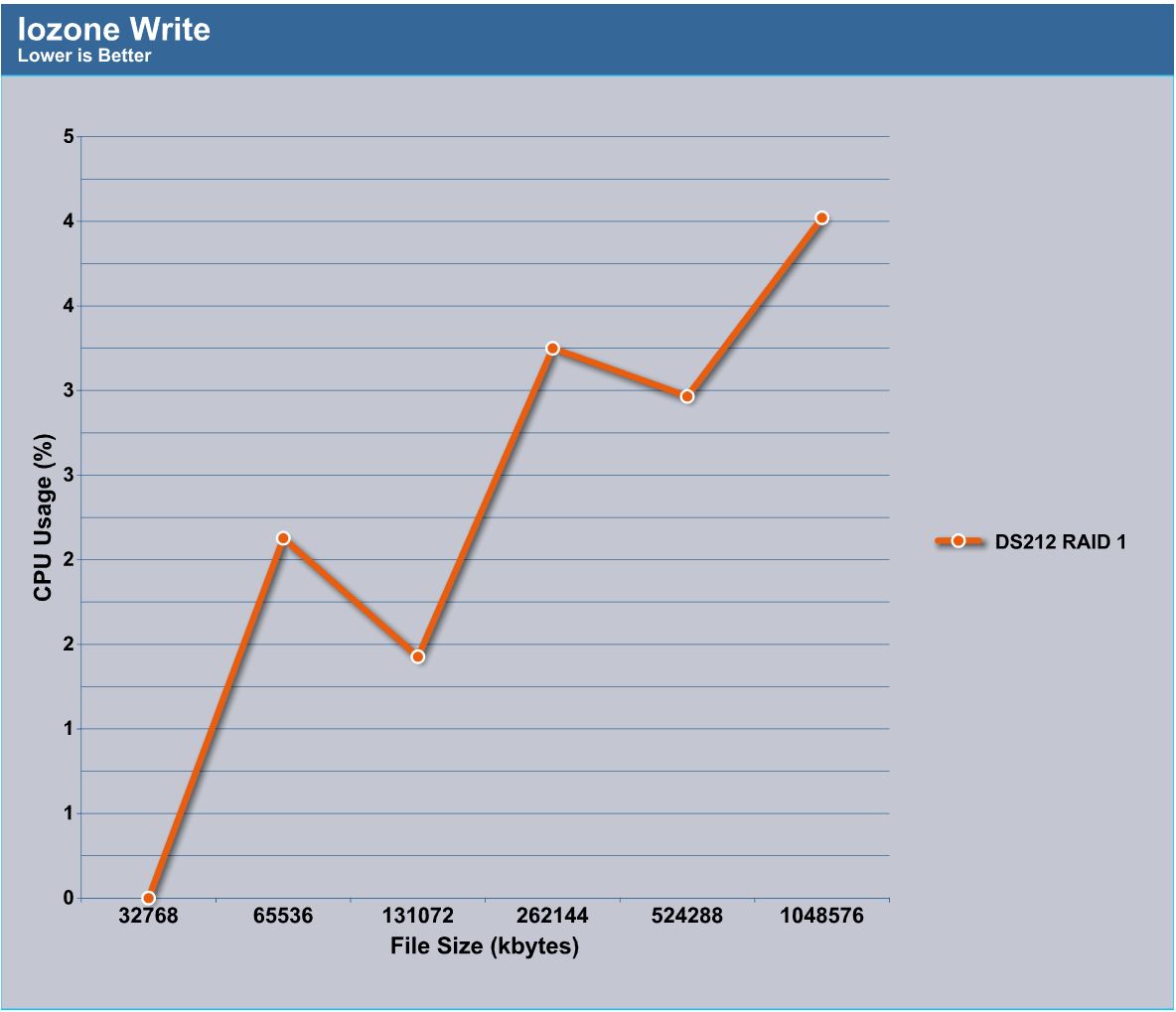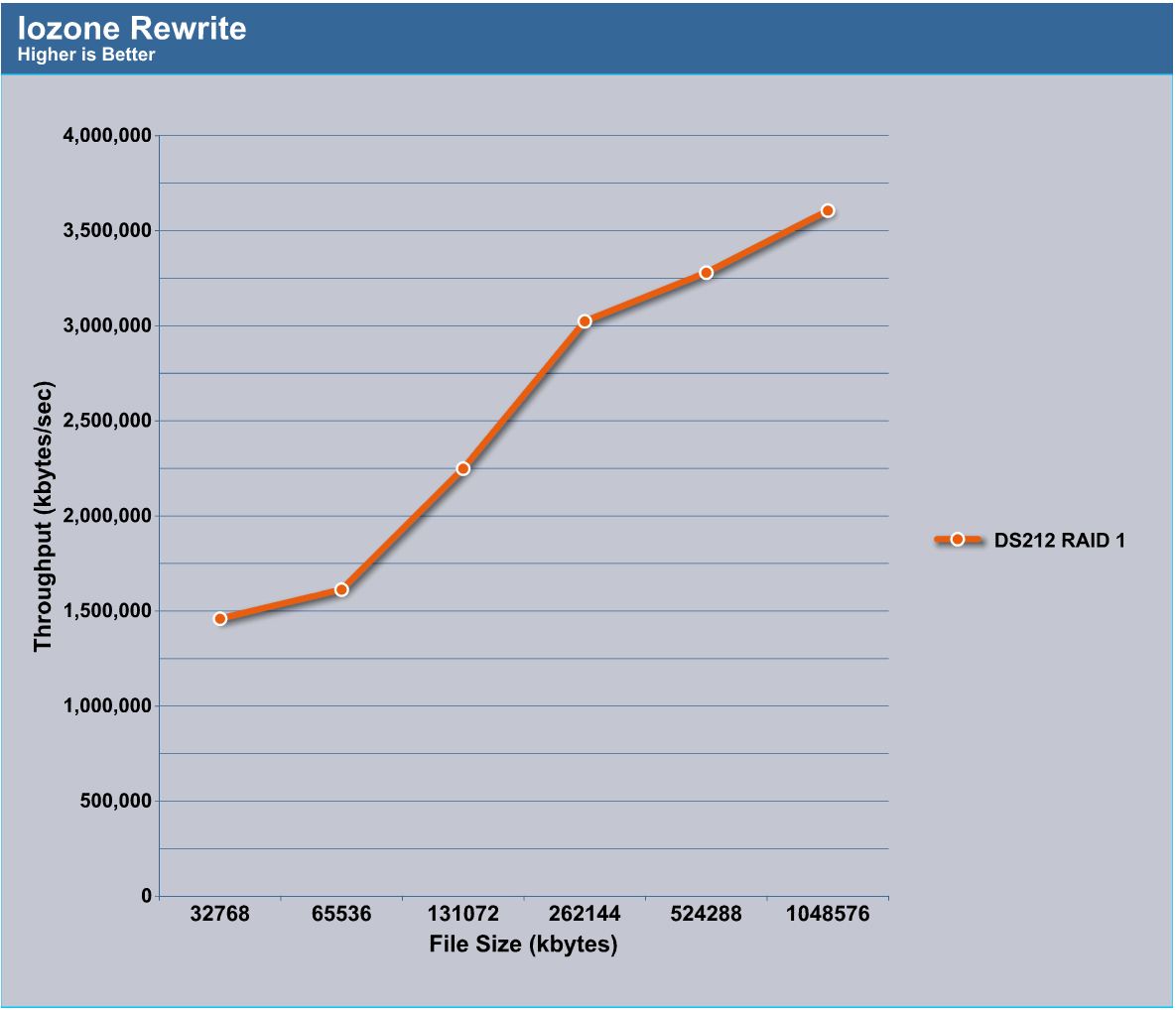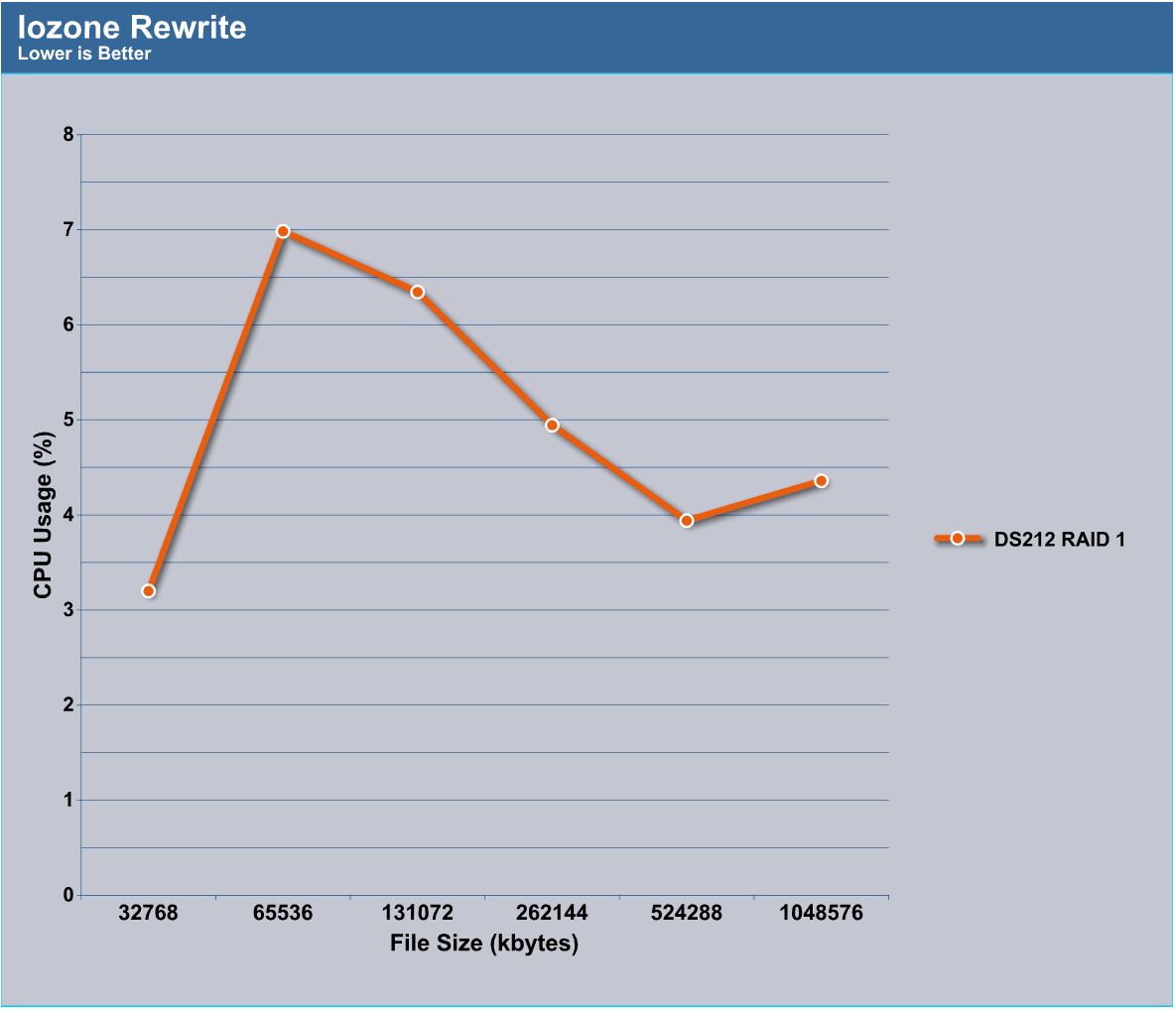 Here we see that depending upon file size the speed can vary greatly. This is not uncommon of even the drives that run in our system every day as the smaller files tend to be the ones that can cause slowdowns, so the speed looks quite good with the IOZONE benchmark. We do not see the astonishing write speed we saw in the real life data read above this, because when we tested that, it was a single 9+GB ZIP file and therefore there were no variation in file sizes to contend with. Speeds will always be faster when dealing with one large file than with a large number of smaller files. The IOZONE benchmark tests all different file sizes so we get a more realistic average result, as most usage for storage is going to have a host of different file sizes from big to small and everything in between.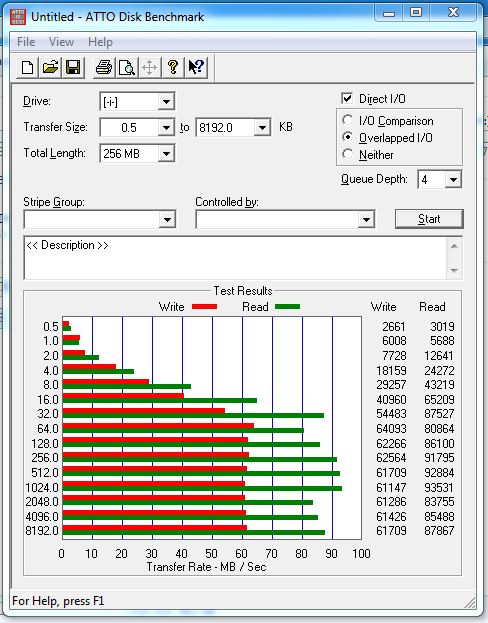 To our surprise, the results in ATTO very closely mirrored our real world transfer tests.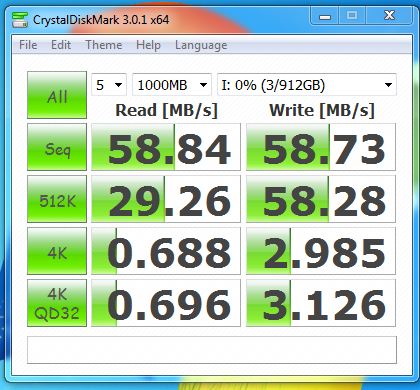 Lastly we ran CrystalDiskMark which performed very close to what we saw from IOZONE, which tells us it likely tests with a mix of file sizes as well. This provides a good representation of real-life performance.
CONCLUSION
The DS212 is a great performer to start and when paired with some strong fast drives we can really see what this unit is capable of. Take from that and add the fact that there are an almost endless amount of features beyond just storage that this unit can do and it really has some great added value. This unit can do everything from being a network storage, to a backup station, media station, music station, iTunes server, FTP server, database server and a whole lot more. 
No product is perfect, and this one falls prey to its biggest drawback. The price is extremely high when considering that the unit comes without drives. This is one thing that needs to be considered when looking to purchase.
Adding the price of the drives onto the $300 for the DS212 comes to a hefty investment. However, the price of building a whole new system for backup is much higher. Additionally, the fact that the unit can almost be plugged in and run with minimal setup makes it just that much more appealing. Anyone looking for a network storage or even a light duty server setup should consider the DS212.
OUR VERDICT: Synology Diskstation DS212
| | |
| --- | --- |
| Performance | 9 |
| Value | 7.5 |
| Quality | 9 |
| Features | 10 |
| Innovation | 9 |

We are using a new addition to our scoring system to provide additional feedback beyond a flat score. Please note that the final score isn't an aggregate average of the new rating system.

Pros
Cons

Excellent speed for an NAS

Great versatility

Quick, easy setup

Clean, stylish appearance

 

High price when considering it comes with no drives

Configuration of some features can be difficult for novice users
Summary: The Synology Diskstation DS212 has excellent performance potential and even better features that make it a great multi use choice, though it comes at a steep price without storage drives included. For outstanding features, it earns the Bjorn3D Silver Bear Award.