The Thermaltake Frio OCK might not be a quiet cooler at full fan speeds, but it is currently the most powerful air cooler available for the overclocking enthusiasts!
Introduction
"Hail to the King!" appears to be the Thermaltake message when they dropped this cooler on the market. We knew we had to give it a try as we have had the original Frio and were very impressed. We also had Prolimatech's Megahalems, Thermalright's TRUE and Noctua's NH-D14, which are all excellent coolers. Any newcomer would be hard-pressed to unseat these as our personal favorites. First thing we see is the wattage as this cooler is designed to handle up to 240W. This is something of a surprise as today's top end CPU's have a TDP of 130W, which means users definitely have some headroom for overclocking if this specification is correct. This could be possible because of the 6 heatpipes on each side of the heatsink as well as the powerful fans that come preinstalled with the Frio OCK. We will be testing this in our review to see how far we can push this monster cooler. The Thermaltake Frio OCK retails for $65.99 on Newegg.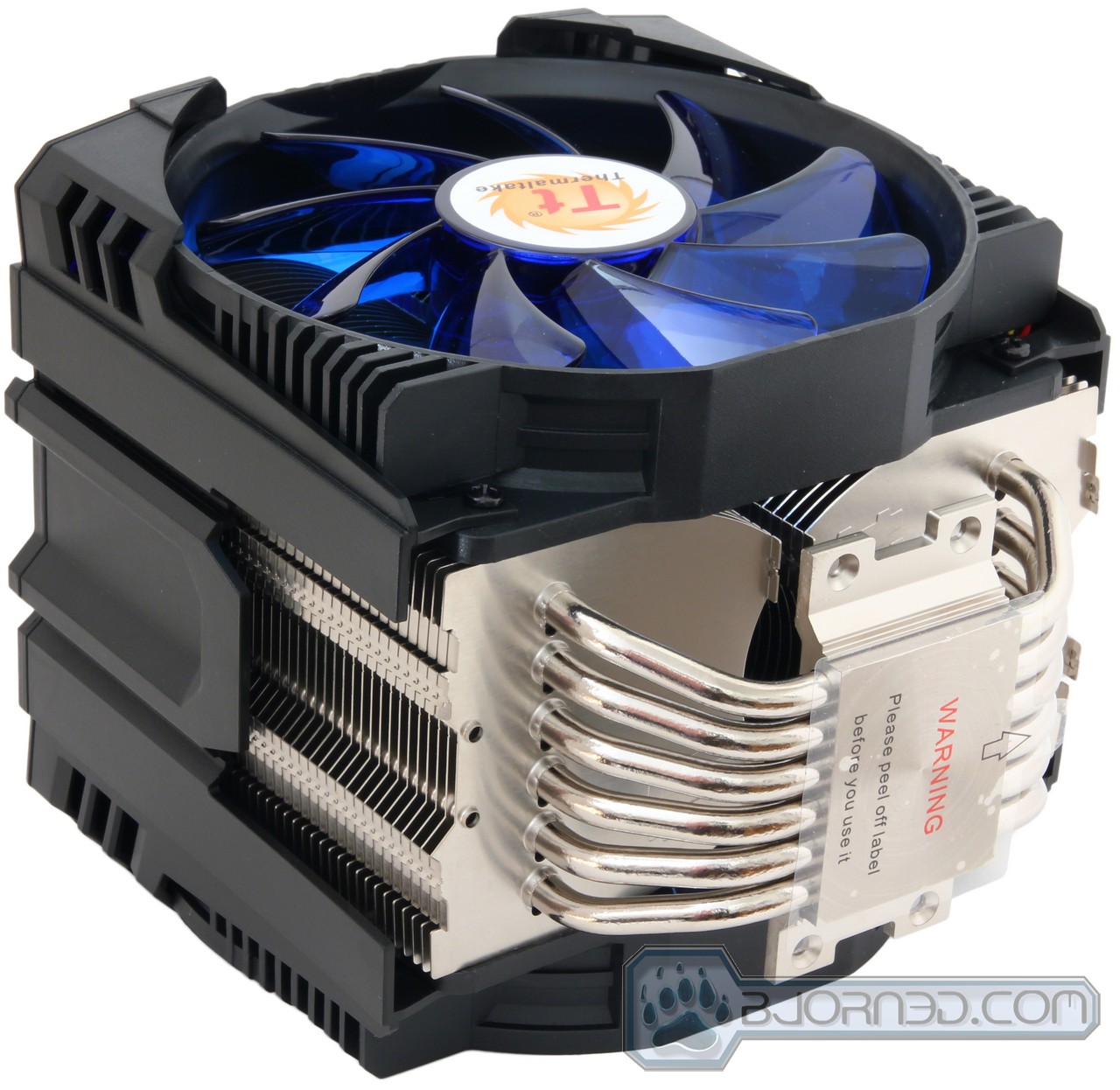 Features
Ultimate Overclocking Thermal Structure Design, supports up to 240W.
• Dual tower heat-sink with 0.4mm aluminum fins provide large surface for heat dissipation.
• 6 x Ø6 mm-U-shape copper heat pipes for accelerated heat conduction.
• Tower side flow design efficiently optimizes cooling performance.
• Premium thermal grease maximizes heat transfer from the CPU into the cooler copper base for rapid dissipation
Integrated Module for Dual 130mm VR™  OC Fan  and the dazzling Cover.
• Single VR control knob adjusts fan speed from 1200~2100rpm.
• Overclocking efficiency with Starcraft II design.
• Convenient and Tool-less design for dismantle and install the fan module.
Universal Socket Compatibility & Accessory Package.
• All-in-one back-plate design, support all Intel and AMD platform
• Universal socket support :
Intel: LGA1366, LGA1155, LGA1156, LGA775
AMD: AM3, AM2+, AM2
Specifications
Thermaltake Frio OCK
Compatibility   
Intel® Latest Sandy Bridge & 6-Core Processors
Intel® Core i7 Extreme (Socket LGA1366)
Intel® Core i7 (Socket LGA1366 & LGA1155/1156)
Intel® Core i5 / i3 (Socket LGA1155/1156)
Intel® Core 2 Extreme / Quad / Duo (Socket LGA775)
Intel® Pentium & D / 4 (Socket LGA775)
Intel® Celeron & D (Socket LGA775)

AMD® Latest Llano & 6-Core Processors


AMD® Llano Processors (Socket FM1)
AMD® Phenom II X6 / X4 / X3 / X2 (Socket AM3/AM2+)
AMD® Phenom X4 / X3 (Socket AM3/AM2+)
AMD® Athlon II X4 / X3 / X2 (Socket AM3)
AMD® Athlon 64 & FX / X2 (Socket AM2/939)
AMD® Sempron (Socket AM2/939/754)* Supports All CPUs up to 240W TDP
Heatsink Dimension   
143(L) x 136.8(W) x 158.4(H) mm
(with 2 Fans)
Heatsink Material   
Aluminum Fins
Aluminum & Copper Base
Heatpipe   
6mm (x6)
Fan Dimension   
130(L) x 130(H) x 25(W) mm
Fan Speed   
1,200 ~ 2,100 RPM
Bearing Type   
—-
Noise Level   
21 ~ 48 dBA
Max. Air Flow   
121 CFM
Max. Air Pressure   
3.12 mmH2O
LED Fan   
—-
Power Connector   
3 Pin
Rated Voltage   
12 V
Started Voltage   
7 V
Rated Current   
1.2 A
Power Input   
14.4 W
MTBF   
50,000 Hrs @ 40℃
Weight   
1093 g (with 2 Fans)
Pictures & Impressions
Click Image For a Larger One
First we see the box, which has an interesting space-like design. We're not sure where that idea came from, but the box design works and it has all the necessary information that a buyer will need when looking at it in a store.
Click Image For a Larger One
Upon opening it we can see that everything is well placed with supporting foam inserts suspending the cooler in its box. There is a cutout in the foam to hold the installation hardware box. Additional installation manual and other warranty information is also placed inside the box.
Click Image For a Larger One
The installation hardware box has all the necessary components to allow users to install the cooler on several different platforms. The installation manual explains all the mounting components and which ones to use depending on the socket and platform the user will be installing the Frio OCK on. There is also thermal paste in case the user might not have some around the house.
Click Image For a Larger One
The overall cooler design itself closely mirrors that of the Megahalems, but Thermaltake went all out as they not only included dual fans but the fitted them into a shroud, which means users don't have to hunt down and test fans to fit to the cooler. Additionally, they did all this while keeping the cooler's form/function ratio very balanced. The cooler looks nice and the coloring of the fans/shroud mix makes for a very attractive heatsink, whether it is on the bench or in a windowed case. It is important to know that the fans and the shroud are made out of plastic which makes it difficult to prevent vibrations.
Click Image For a Larger One
Here we take a look at the base of the cooler. We can see 6 massive heatpipes on each side of the base of the cooler. The base also has a nice mirror finish. It's not perfect, but still great.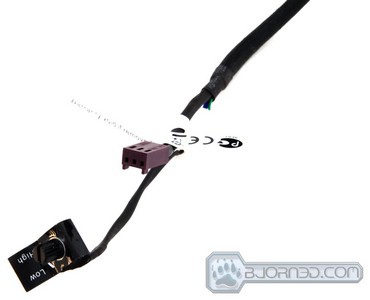 Click Image For a Larger One
Here are some key points we noticed when unpacking the kit and taking off the fan shroud: The heatpipe/fin array is very similar to the popular Megahalems cooler, but Thermaltake also has additional mounted plastic clips on the side that the fan shroud is attached onto. Dual fans are included, with a single fan connector so that ideally both fans will run synchronized, which should help avoid turbulence from mismatched fan speeds. Integrated Fan/Shroud combo means all air is directed through the fin array and makes mounting the fans an easy "snap in" affair. The cooler also has a fan speed controller to meet users' noise/cooling needs.
Installation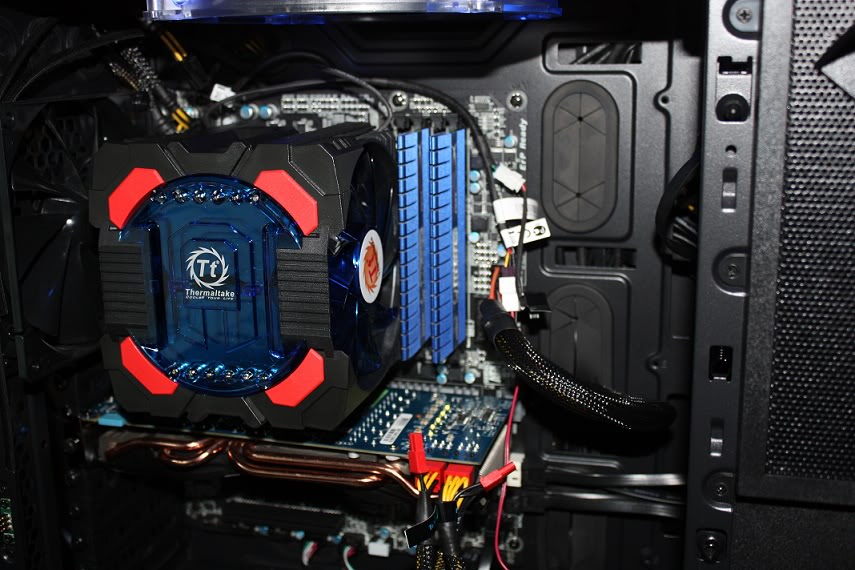 Installation was rather straight forward. Depending on the case being used, installation of the backplate may be required outside of the case, but since we were using the Level 10 GT, the case has a much larger access hole on the motherboard tray which allowed installation without removing the board.  Also note that the shroud/fan assembly will have to be removed to install the heatsink. It simply clips on each side of the heatsink and slides off easily.
One thing to note is that like most any tower cooler there may be clearance issues if populating all DIMM slots with taller RAM modules.
Testing Methodology
This cooler will be compared to the Prolimatech Megahalems and standard Frio to see how well it performs.  The Megahalems will be used with push/pull fans just like the Frio OCK.
Test Rig
Test Rig
Case
Thermaltake Level 10 GT
CPU
Intel Core i7 2600K
Motherboard
GIGABYTE Z68x-UD3H-B3
Ram
Kingston DDR3 1600MHz Cas 7 2x2GB
CPU Cooler
Noctua NH-D14
Hard Drives
WD Velociraptor 300GB
SSD
120GB SATA III/6G SSD
Optical
ASUS DVD-Burner
GPU
Gigabyte GTX 560Ti SOC
PSU
Thermaltake Toughpower Grand 1200W
Mouse
Razer Mamba
Keyboard
Thermaltake Meka G1 Mechanical Keyboard
Results
The following demonstrates Idle temperatures for the 2600K with the standard Frio, the Megahalems and finally the Frio OCK for comparison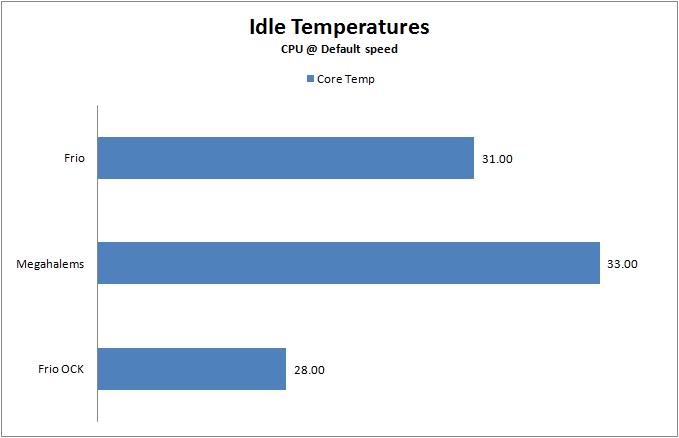 Next we have loaded temps as measured with a constant real world load of Wprime 1024 run 5 times back to back and peak temp recorded and averaged from all runs.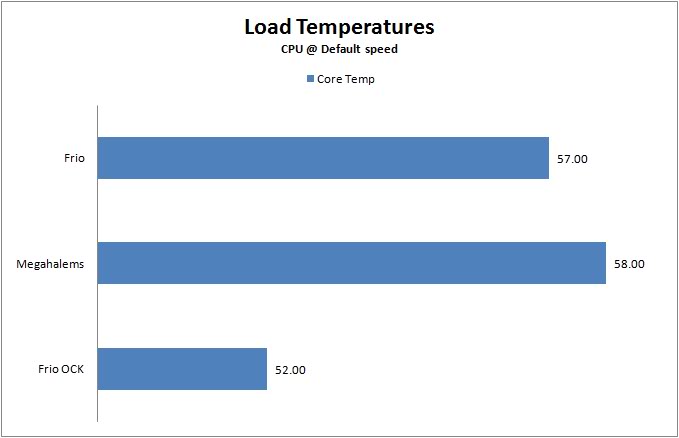 As we can see the Frio OCK can hold its own under load and idle, providing excellent perform. One thing to note is that when we turned the fans to max and connected to constant 12V connection, they moved a lot of air, but also created a lot of noise in the process. Then again, to get this kind of cooling capability the cooler must have quite a bit of force behind it.
We pumped up the speed to see how it would handle real load. The Frio OCK handles stock CPU speed/volts just fine and very efficiently.
This CPU has been proven to run completely stable at 4.8 GHz with a CPU multiplier of 48X and a base frequency of 100.0 MHz  For this test just to add a more consistent heat load, we manually set the CPU Vcore to 1.4V for all overclocked testing.
Here are the Idle temperature results: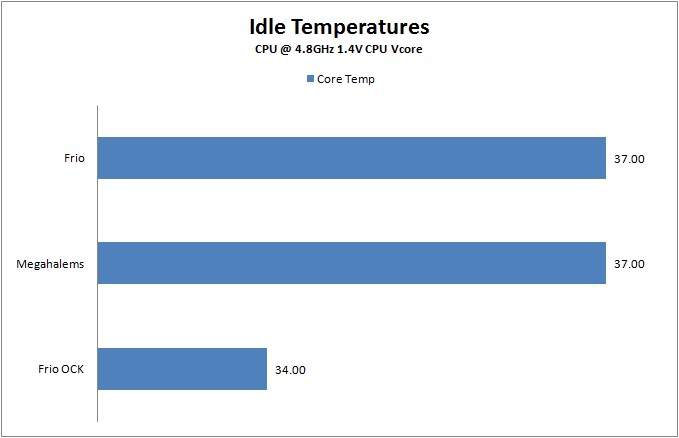 And next comes the loaded temps again, running Wprime 1024 five times back to back.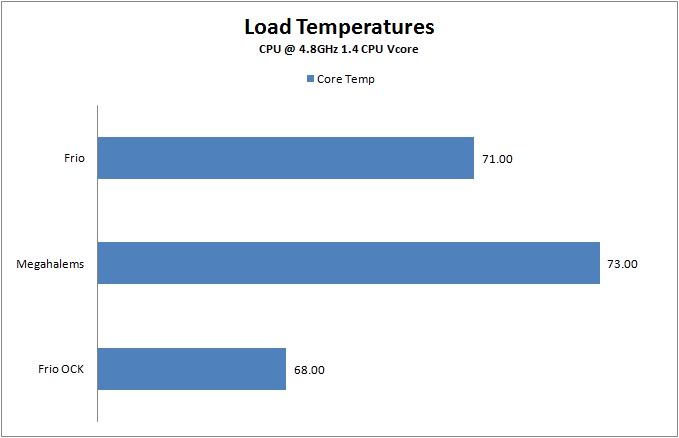 As we can see again the temps continue to impress as the cooler handles whatever we throw at it and does a better job than the Megahalems across the board, by a couple degrees.
Conclusion
The Frio OCK from Thermaltake has made a very bold statement by claiming the title OCK (OverClocking King), but upon testing we can see that the cooler has what it takes to pull it off. With a bit of style it will keep the system looking vibrant. There are a few things however that might not be a problem for a testbench overclocker, but might be for an everyday user that just wants to use the heatsink to get the best possible performance. This problem has to do with the overall fan shroud design, which is made out of plastic and the contact between the heatsink and the shroud is also plastic. This can create a very annoying vibration on the heatsink that can became unbearable to listen to after extensive amounts of time. If the fan speed is left at minimal settings, the acoustic levels are not bad at all, though the performance will not match with a massive quiet heatsink like the Noctua NH-D14.
While not mentioned on the labeling or anywhere in the specifications, the Thermaltake Frio OCK will also be compatible with Intel's next generation Sandy Bridge E 6-core processors that run at 130W TDP. To be quite honest, we cannot wait to test out the Frio OCK on that platform and push those enthusiast processors as far as we can!
If it wasn't for the noise of the fans this cooler would be perfect, but a cooler with this much capacity will generate noise for the simple fact that it needs to move a lot of air.
Our Verdict: Thermaltake Frio OCK CPU Cooler
| | |
| --- | --- |
| Performance | 9 |
| Value | 9.5 |
| Quality | 8.5 |
| Features | 9 |
| Innovation | 9 |

We are using a new addition to our scoring system to provide additional feedback beyond a flat score. Please note that the final score isn't an aggregate average of the new rating system.

Pros
Cons
Excellent cooling performance for an air cooler

Dual fans on a single plug, with controller

Stylish shroud, with good performance

Socket LGA2011 Compatible

At full speed, fans are very loud.

Mounting may require removal of motherboard to install

Fans are not vibration-dampened
Summary: The Thermaltake Frio OCK can dissipate tremendous amounts of heat at full fan speed. Due to its excellent thermal performance, the Frio OCK will receive the Bjorn3D Golden Bear Award.