The Cooler Master Spawn is an affordable and vibrant gaming mouse for those who want a good gaming tool in their hands.
Introduction
When one thinks about Cooler Master, the first thing that comes into mind is cases, power supplies, and cooling accessories. Recently, however, Cooler Master has been venturing into the peripheral market for gaming enthusiasts. Many other companies have begun to add peripherals to their product lineup as well. In order to stay competitive with other companies, Cooler Master has developed the Spawn gaming mouse as part of the CM Storm series of Cooler Master's gaming peripherals. This mouse was developed as an affordable solution for gamers who want a competitive edge over their opponents. Retailing at $50, this product is designed as a mid range gaming mouse developed for "claw-grip" style mouse users.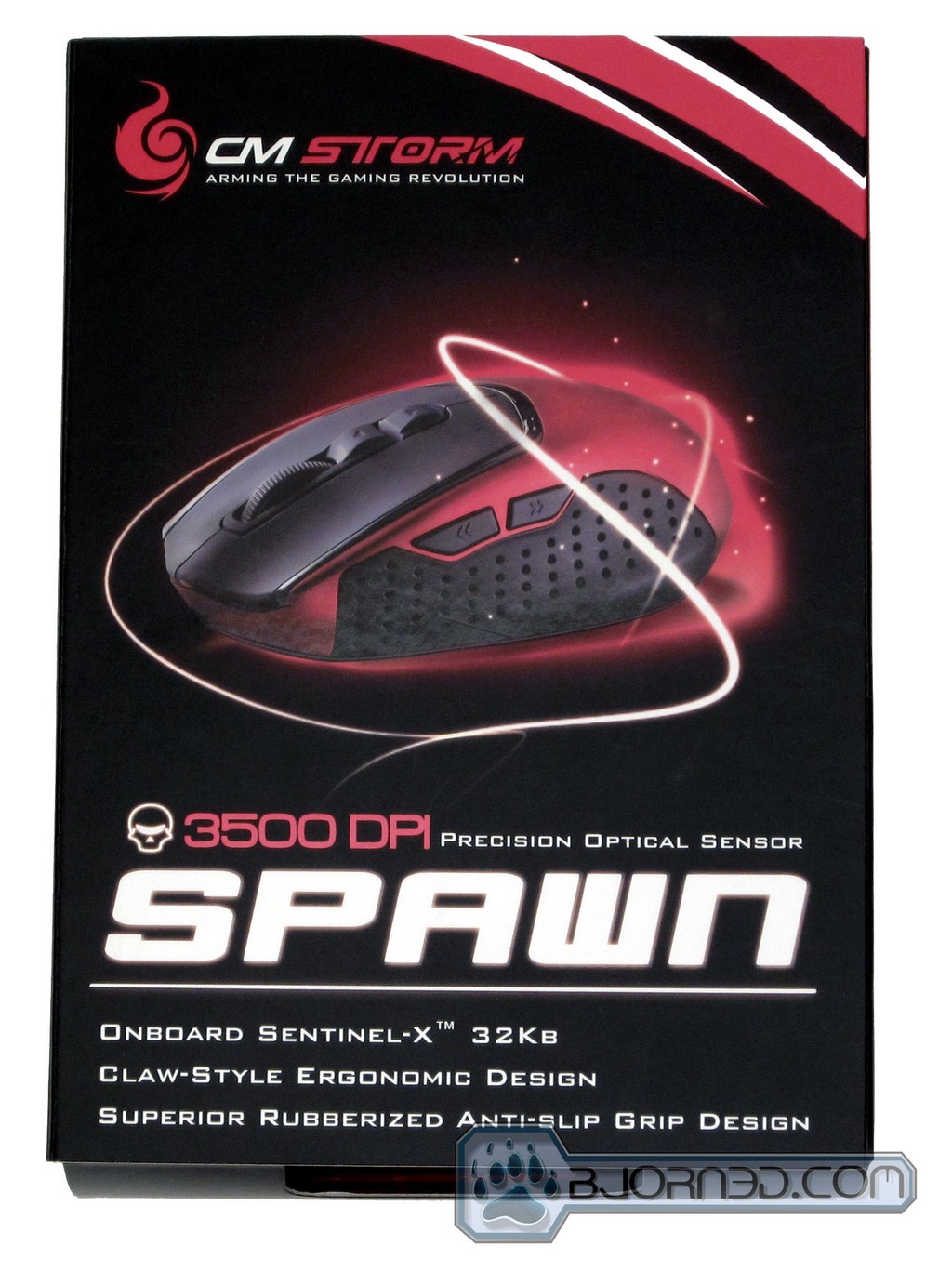 Features
3500 DPI Optical Sensor
800, 1800, and 3500 DPI Presets
Max. Speed: 60 IPS (inches per second)
Max. Acceleration: 20G
Image Processing: 6400FPS (frames per second)
Image Processing: 5.8 Megapixels / Second
Mouse Settings Storage: Sentinel-X TM 32 KB
Polling Rate: 1000 Hz USB Transfer Rate
Right-hand Ergonomic Claw-style
7 Fully Programmable Buttons
Durability: Precise & Long-lasting Mouse Buttons & Scroll Wheel
Ultra Swift Teflon Feet
Cable Length: 2 Meters
Gold Plated USB Connector
Anti-Drift Control Sensor
The Spawn gaming mouse utilizes a high performance optical engine that ensures extreme stability. Built with an anti-drift system, it provides lossless performance during lifts and drops. With a built-in angle snapping option, one can formulate the perfect flick shot to maximize their kill rates with sheer accuracy.
Onboard Sentinel-X 32 KB
The Sentinel-X microprocessor safeguards your mouse setting by storing button assignments, advanced macros and other mouse customization – allowing gamers to plug and play on any other system without losing their initial settings.
Omron Micro Switches (5 Million Clicks)
Ultra tactile mouse clicks for in-game fragging is afforded through the utilization of Omron's patented micro switch technology. Backed by a minimum guarantee of 5 million clicks, the Spawn gaming mouse offers an extended gaming life-span for the avid gamer.
Japanese-Made Ultra-Step Wheel Encoder
Ultra precise stepping encoder allows gamers to navigate small distances with the scroll wheel while establishing great control and precision.
DPI on the Fly
Comfortably placed under the scroll wheel, gamers can switch DPI settings easily to 800, 1800, and 3500.
Superior Anti-Slip Rubberized Grip Design
Sweat proof and highly slip resistant, Spawn includes two thick rubber grips that have been deployed on both sides of the mouse. This affords full control to lift-off style gamers during game play.
Specifications
Model

SGM-2000-MLON1

Available Color

Black + Red

Material

Rubber Grip / ABS Plastic

Dimension

(W) 75.5 X (H) 110 X (D) 35 mm
(W) 3 X (H) 4.3 X (D) 1.3 inch

Weight

142 g / 0.313 lb

Sensor

3500 DPI Storm Tactical Optical Sensor

Maximum Tracking Speed

60 IPS

Maximum Acceleration

20g

Polling Time

1.0ms

Speed Measurement

6400 fps

Onboard Memory

32Kb

Form Factor

Right Hand Ergonomic

Button Assignment

7

Weight System

No

Warranty

1 year

UPC Code

884102010439
Pictures & Impressions
Click Image For a Larger One
The first thing we noticed with this mouse is that it is a very bright red. This mouse stands out from many of the other gaming mice by having a very distinct color. This mouse definitely has originality in terms of style and design with such a bright color. As this mouse is designed for "claw-grip" style users, the size of the mouse is somewhat small compared to "palm-grip" style mice. Another feature that stands out on this mouse is the rubberized grips on both sides of the mouse that provide a comfortable non-slip hold even in long sessions of gaming. Being designed for gamers, this mouse has many features that appear on some of the bigger names of gaming peripherals such as on-the-fly DPI adjustment and side mouse buttons for the thumb.
Click Image For a Larger One
When first placing our hand on the mouse, we noticed that the mouse was very comfortable. One feature that we found surprisingly comfortable was the additional rest for the ring finger, which is not very common on gaming mice. Users who do not use a "claw-grip" might find this mouse to be very small. For those who use the "claw-grip" this will not be an issue as it is very well designed for those gamers that prefer that grip style. One item to note is that this mouse, although being very bright red, does not have any LEDs. This mouse has a very unique and comfortable styling that really causes this product to stand out amongst other professional gaming mice.
Embedded Software
The Cooler Master Spawn mouse does not come with a software disk, although the CM Storm Spawn gaming mouse software is available on the Cooler Master website here: http://www.coolermaster-usa.com/product.php?product_id=3021
The main control screen of the driver software provides the user with options to configure the mouse buttons however the user prefers. Also on this screen there are sections to adjust double click and scroll speeds as well as pointer acceleration and angle snapping.
The macro page allows a user to set up a custom macro command for the mouse and even record mouse button or keystroke combinations to be carried out by the software, which turns out to be very handy for macro users.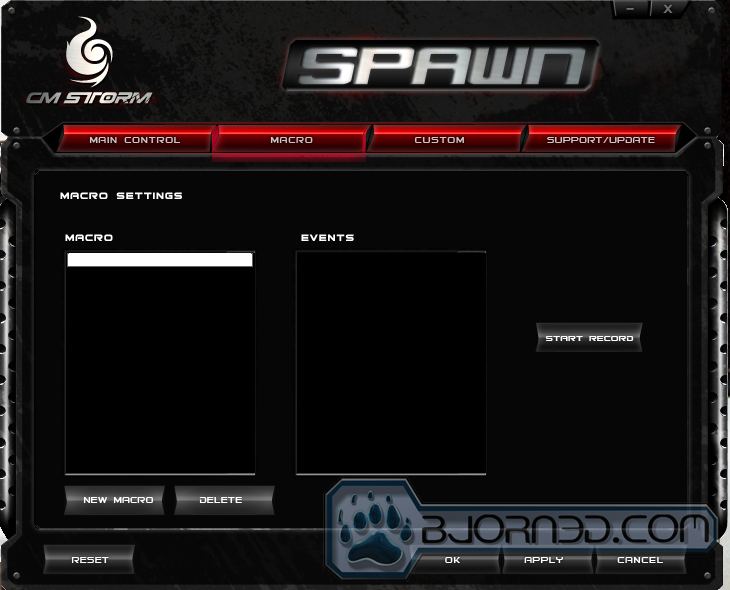 The custom settings screen allows a user to adjust the DPI settings for the 3 set DPI modes as well as adjust the polling rate, which helps in the overall accuracy and response of the mouse and how it communicates with the USB port on the computer.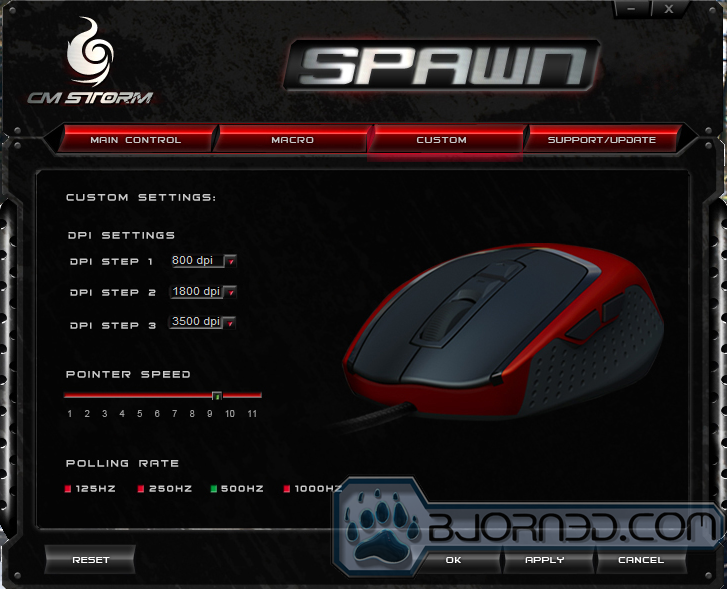 The support and update page allows users to contact support if needed and update the mouse to the latest drivers which means users do not have to hunt around for drivers on the website.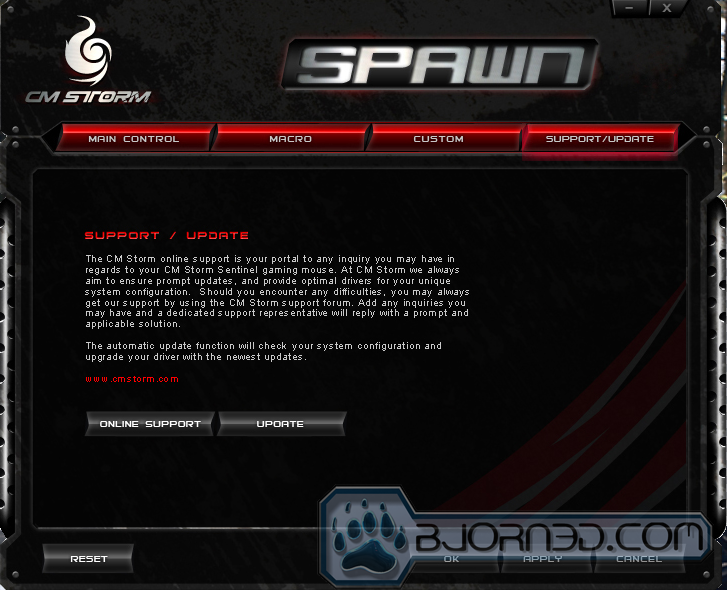 Testing
To test this mouse, we played a series of games ranging in different genres to qualify the performance, accuracy, and comfort of this mouse. We used the mouse for several hours in Counter Strike: Source, Battlefield Bad Company 2, and StarCraft II, and were very pleased with the comfort and reliability of this mouse. There were no issues with accuracy or sensor tracking problems as the mouse tracked smoothly on almost any surface it was placed on such as cloth mouse pads or desks. One thing we did notice was that the feet of the mouse were not as smooth as other gaming mice we have used in the past and this did not create seamless mouse movement during gameplay. Although the device does not have a laser for the tracking method, the optical sensor had no problems keeping up with our demands and provided steady aim in first person shooters. For a mid-range mouse, this device provided decent performance during our testing.
Conclusion
Cooler Master has once again shown that they can create a quality product no matter if it is something that is not in their comfort zone or not. The Cooler Master Spawn gaming mouse would be an excellent selection for those looking for a professional gaming mouse that does not hurt the wallet. Note that this mouse is not for everyone. This mouse is designed for "claw-grip" style mice users and would not be ideal for those who prefer the "palm-grip" as the surface area on this mouse is somewhat small. While testing, we noticed that the Teflon feet were somewhat rough and did not provide the smoothest movements at times. Also, the bright red color of this mouse may not be ideal for some gamers as it may not match their color scheme of their PC setup. Others however may enjoy having a mouse that stands out from their peers.
OUR VERDICT: Cooler Master Spawn Mouse
| | |
| --- | --- |
| Performance | 7 |
| Value | 8 |
| Quality | 7 |
| Features | 6 |
| Innovation | 7 |

We are using a new addition to our scoring system to provide additional feedback beyond a flat score. Please note that the final score isn't an aggregate average of the new rating system.

Pros
Cons

Affordable

Comfortable after long hours of gameplay

Unique red color scheme

Rubberized side grips promote excellent handling

Accurate tracking

Easy to use configuration software

Teflon feet were somewhat rough, which led to uneven movements at times

Bright red color may not be suitable for all gamers

3 DPI levels are not adjustable

Size limitations for large hand users

No integrated weight system

Cord is not braided

Mouse driver software not included in package

 
Summary: The CM Spawn has good performance, a vibrant color, and tracks accurately. It is an affordable and easy-to-use gaming mouse for gamers. However, some of its features are lacking, such as the DPI levels, and it does not have any drivers included. Its Teflon feet can also make movement somewhat uncomfortable.