The ASUS ENGTX560 Ti DirectCU II demonstrates incredible overclocking stability and astonishing performance, making this card a serious contender on the market.
Introduction
On January 25th, Nvidia announced the release of the GTX 560 Ti. Oriented to fill the lowest high-end slot previously occupied by GTX 460, it is a card that demonstrated excellent performance, but still retained low power consumption. These factors make GTX 560 Ti an excellent contender for overclocking. Distributors, like ASUS, understood the overclocking potential of GTX 560 Ti and have already released several of their own overclocked cards to the market. While the standard GPU clock is set to 822 Mhz, some of the cards released on the market are factory overclocked to up to 1 Ghz.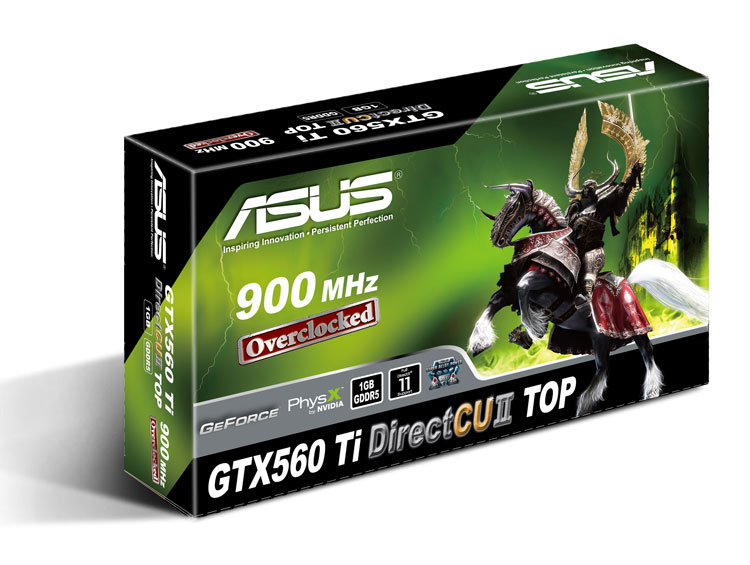 The ASUS ENGTX 560 Ti Direct CU II TOP has been factory overclocked to 900 Mhz in order to provide excellent performance for gaming enthusiasts looking for a satisfying Direct X 11 experience. Like any GTX 560 Ti, this card is equiped with the GF114 chip for extra performance and extra PolyMorph and raster engines for a faster rate of tessellation. With the 822 MHz model priced at $250, and and the 900 MHz priced at $270, the factory overclocked version is a serious competition to other GTX 560 Ti cards on the market. However, the stock GPU clock of 900 MHz is merely a starting point for any overclocker that is willing to take this video card to its limit. As the Direct CU designation implies, this card is designed with an extremely efficient cooling system and equipped with high quality capacitors in order to withstand extremely high voltages. In fact, according to ASUS, the card was able to achieve a GPU clock of 1349 MHz with the use of liquid nitrogen. With these factors in mind, the testing of overclocking capabilities as well as overall performance seem to carry promising results. However, only the data after rigorous tests will prove this card to be worthy, so let's get to it.
Features & Specifications

| | |
| --- | --- |
|   |  – Engine overclocked to 900 MHz for faster and smoother performance and increased Frame Rate/FPS |
|   | -Faster heat disspitation with Double airflow through DirectCU with dual fan |
|   |  -Best in class PCB Design and Components with Super Alloy Power Design that deliver 15% performance boost, 2.5 longer lifespan, 35 C cooler operation |
| | -Boost 50% faster with exclusive voltage tweak technology |
|   |  – Double sealed dust-proof fans have an increased lifespan of up to 10,000 hours. |
|   |  -Unique reinforcement technique to improve shockproof performance and prevent cracks |
| |  -Double protection prevents overcurrent-related loss of performance and eliminate dangerous temperature rises |
| |  -Efficiently blocks 66% of radiation emitted to protect user's health and improve graphics clarity. |
SPECIAL COMPONENT HIGlIGHTS

Capacitors are designed from the unique super alloy in order to increase maximum voltage threshhold by 30%.

This design provides the video card with lifespan of up to 150,000 hours in 75 C ambient conditions, which ensures that ASUS ENGTX 560 Ti DirectCUII will last 2.5 longer than any traditional video card.
| | |
| --- | --- |
| On the back of the PCB, the SAP CAP is positioned back to back with the GPU to provide more efficent power supply for stable overclocking | |
| | |
| --- | --- |
| | ASUS GPU GUARD doubles the structural reinforcement providing the GPU adjacent region with complete protection from cracks resulting in the rapid temperature change |
ASUS Fuse Protection provide double protection against electric current overload

While majority of conventional graphics cards without Fuse  Protection are more susceptible to shortcircuiting resulting in complete loss of function, fuses on ASUS ENGTX560 Ti ensure safety of the graphics card under extremely high voltages.


Specifications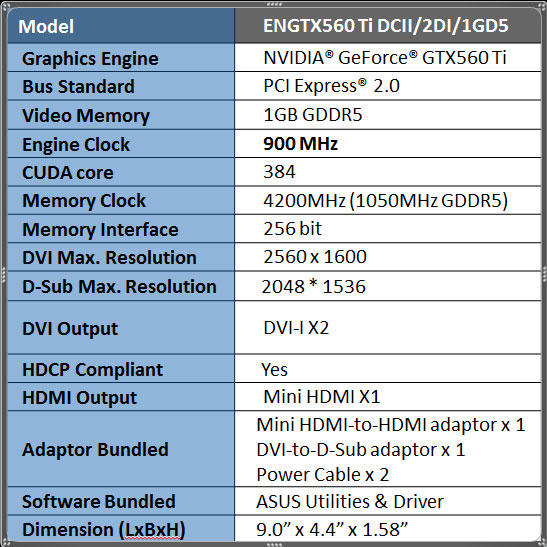 ASUS SOFTWARE OVERVIEW
The CD provided with ASUS ENGTX560 Ti Direct CU II TOP provides valuable information as well as useful software that can be used to optimize and enchance the performance of the video card. The readme and contact information can be used in order to directly contact ASUS, if any questions arise during the installation and/or use of the video card. A digital instruction manual, as well as provided 266.44 NVIDIA driver are provided in order to ensure that the card is installed properly. Finally, ASUS has provided programs like GamerOSD, ASUS Splendid, and SmartDoctor in order to provide easy consoles for overclocking as well as image enchancement.
ASUS Splendid
 ASUS Splendid Video Intelligence Technology is able to enchance the image through reduction of noise and conversion rate for a sharp display. This program provides the user with 6 different modes that improve contrast, brightness, skin tone, and color saturation. The six modes are: normal, gamma correction, vivid mode, theater mode, soft mode, my profile.
The primary goal of this application is to improve the overall performance of LCD monitors, and is especially apparent during movies. ASUS Splendid can be easily accessed through the list of programs in the Start Menu or by simply clicking right clicking on the screen. Upon access of the Splendid Control Panel, a user is able to compare the modes, two modes at the same time, in order to enhance their visual experience.
 GamerOSD
GamerOSD can attend to all of a gamer's needs, and is able to accomplish tasks that would normally require multiple programs. The best advantage of this softwere is the ability to control various video aspects of a game without leaving the game. Some of the tasks that can be accomplished in-game include taking videos and high resolution screenshots, as well as observing frames per second, which are commonly accomplished by programs like Fraps. GamerOSD is also capable of providing a temperature reading on the cards (just like MSI Afterburner), and allows overclocking while gaming.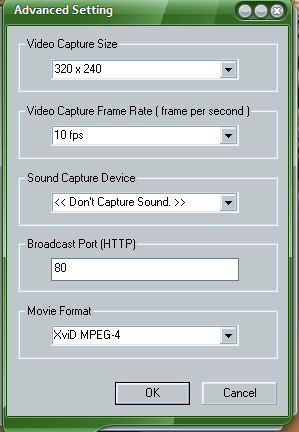 The main console is really simple. Capture mode is essentually equivalent to the commonly used Fraps, with advanced settings to allow the user to adjust video capture size, capture frame rate, sound capture settings, and movie format. The Broadcast feature allows for the user to record his own track while playing. This is a nice feature because it essentially saves the user hours of editing. Hot Keys can be easily adjusted to the likings of the user and are quite self-explanatory. View allows the user to access the screenshot and movie folders, and is a convenient alternative to thumbing through My Documents folder-by-folder.
SmartDoctor
Out of all the utility software tools provided, SmartDoctor is definitely the most important one. It is a very simple version of MSI Afterburner, and allows the user to easily adjust overclocking settings. In addition, this program allows for the user to determine stability right away, although some advanced tests may be required.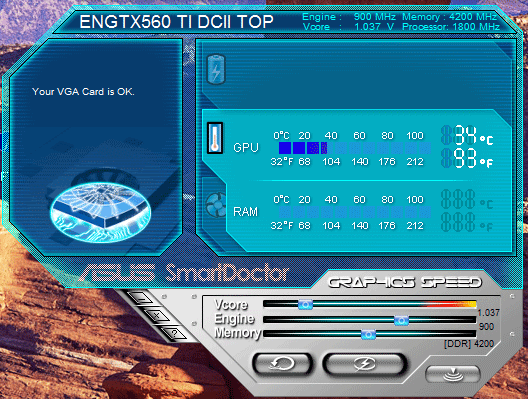 The SmartDoctor console is very simple. Like with any overclocking console, voltage can be adjusted, as can GPU clock (Engine) and Memory Clock. The settings observed on this console are actually the default for this card. This program can recognize whether the graphics card is performing properly right away, but the stability can be compromised during testing due to the present of heat. The lower right section of the console leads to a more advanced settings menu that allow for the user to fine-tune their graphics card according to their taste.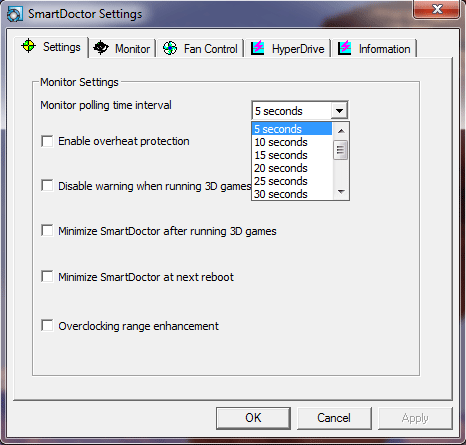 The first tab in the SmartDoctor Settings window allows users to adjust monitor polling, as well activate other modes. For example, overclocking range enchancement mode allows for the adjustment of GPU clock past 1 GHz. Unfortunatel,y that mode does not allow to us raise the voltage cap.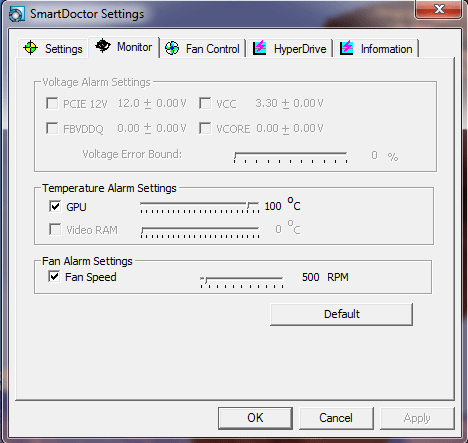 The Monitor tab allows the user to adjust the alarm settings and the actions taken when the card has reached critical temperature. The fan speed can also be adjusted here, however the scale does not change according to the maximum capability of the actual fan. Raising the speed past the 100% of fan's capability results in an error report in the main console of SmartDoctor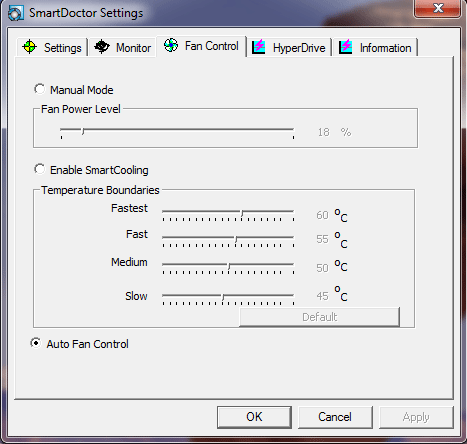 The Fan Control tab allows users to adjust fan settings, providing nice cooling dynamics. Smart cooling is a particularly nice feature. It is able to adjust the fan according to the GPU temperature, and provides a smooth gaming experience by eliminating the possibility of the card overheating.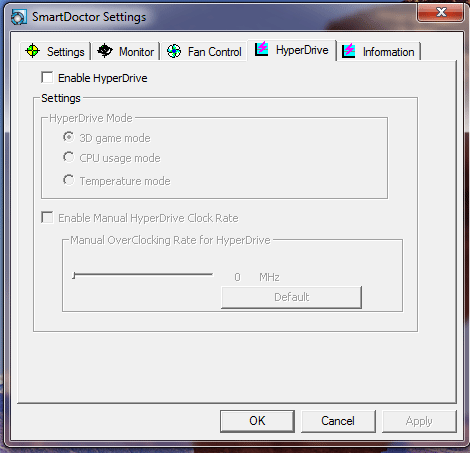 HyperDrive is a rather a unique feature: it allows users to rapidly overclock the card during a game. This feature allows for the graphics card to run even smoothly through the most graphically challenging parts of a game. Lastly, the information tab provides latest information about the graphics card, but is rather redundant to GPU-Z, and is therefore not displayed.
Pictures and Impressions
Click Image For a Larger One
ASUS ENGTX 560 Ti Direct II TOP packaging appears to have the same design that has been circling the graphics industry for quite some time. The symbol of the knight on the horse has practically become a mascot for ASUS, and is a nice design to contribute to any graphics card. While the front of the packaging simply states the name of the product, the back provides valuable information about the basic features of the product. Note that the cardboard itself is very thin and can be easily torn if not handled with care.
Click Image For a Larger One
The inner packaging is sleek: a plain black box with the ASUS logo stamped in gold. After opening the box, yet another smaller box is revealed, as well as the compartment with 2x 6-pin power cables. The packaging does a great job at providing excellent protection and ensures that all of the auxillary items can be put away as easily as taken out of the box.
Click Image For a Larger One
 The card itself is placed inside a foam enclosure and lies beneath the smaller box with auxillary items. Auxillary items include 2x 6 pin power cables, the ASUS ENGTX 560 Ti manual, a CD containing drivers and other software, as well as DVI and HDMI adapters. The instruction manual covers some very basic graphics card intallation procedures, and can definitely make installation an easy task for anyone. The CD contains a digital version of the intstruction manual, NVIDIA driver 266.44, and ASUS software covered in the software section of this review.
Click Image For a Larger One
The ASUS ENGTX 560 Ti uses the red racing stripe on black color scheme, which ASUS normally reserves for AMD cards. Unlike the older generation GTX 460, which was equipped with only a single fan, this card clearly takes advantage of its dual fan feature in order to provide maximum cooling. Though it uses a steel sheet cover and looks massive, this card is actually fairly light. At 9 inches long, this card will likely fit into any case, including mid-towers. 
Click Image For a Larger One
An extensive aluminum heatsink can be seen throughout the card, while large copper piping is adjacent to the GPU to ensure maximum heat dissipation. All components are connected to the cooling system. More information about cooling system and DirectCU thermal deisgn is provided in the Features and Specifications section. The video output includes 2x DVI and 1x HDMI ports. For users using a VGA input cable, the DVI to VGA adapter included in the packaging will come in handly. The ASUS ENGTX560 Ti is capable of supporting 2-way SLI, like all GTX 560 Ti video cards.
Click Image For a Larger One
Several modifications in comparison to the Nvidia reference card in terms of chips are clearly visible at the first glance. All of the components that are potentially exposed to heat are made of supper alloy- a special blend of elements internally developed by ASUS. Supper Alloy components are made from metals that are highly-magnetic, heat-resistant, and anti-corrosive to reduce power loss, enchance durability and ensure that the video cards runs cooler. On the back of the PCB, the voltage chips are connected by the SAP CAP in order to provide a more efficient power supply for overclocking. On the picture to the right the chip that is found right beaneath the fan wire is a super hybrid engine, which serves as an intelligent power consumption optimizer. Overall super alloy capacitors look rather impressive and are designed to support an overall 30% increase in maximum threshold.
Testing & Methodology
The OS we use is Windows 7 Pro 64bit with all patches and updates applied. We also use the latest drivers available for the motherboard and any devices attached to the computer. We do not disable background tasks or tweak the OS or system in any way. We turn off drive indexing and daily defragging. We also turn off Prefetch and Superfetch. This is not an attempt to produce bigger benchmark numbers. Drive indexing and defragging can interfere with testing and produce confusing numbers. If a test were to be run while a drive was being indexed or defragged, and then the same test was later run when these processes were off, the two results would be contradictory and erroneous. As we cannot control when defragging and indexing occur precisely enough to guarantee that they won't interfere with testing, we opt to disable the features entirely.
Prefetch tries to predict what users will load the next time they boot the machine by caching the relevant files and storing them for later use. We want to learn how the program runs without any of the files being cached, and we disable it so that each test run we do not have to clear pre-fetch to get accurate numbers. Lastly we disable Superfetch. Superfetch loads often-used programs into the memory. It is one of the reasons that Windows Vista occupies so much memory. Vista fills the memory in an attempt to predict what users will load. Having one test run with files cached, and another test run with the files un-cached would result in inaccurate numbers. Again, since we can't control its timings so precisely, it we turn it off. Because these four features can potentially interfere with benchmarking, and and are out of our control, we disable them. We do not disable anything else.
We ran each test a total of 3 times, and reported the average score from all three scores. Benchmark screenshots are of the median result. Anomalous results were discounted and the benchmarks were rerun.
Please note that due to new driver releases with performance improvements, we rebenched every card shown in the results section. The results here will be different than previous reviews due to the performance increases in drivers.
Test Rig


Case
In-Win Dragon Rider
CPU

Intel Core i7 930 @ 3.8GHz


Motherboard

ASUS Rampage III Extreme ROG – LGA1366

RAM

3x 2GB Corsair 1333MHz

CPU Cooler
Thermalright True Black 120 with 2x Noctua NF-P12 Fans
Drives

3x Seagate Barracuda 1TB 7200.12 Drives
Zalman N Series 128GB SSD

Optical
ASUS DVD-Burner
GPU

Nvidia GeForce GTX 560 Ti

ASUS ENGTX 560 Ti

ASUS ENGTX580 1536MB

Nvidia GeForce GTX 580 1536MB

Nvidia GeForce GTX 570 1536MB

Galaxy GeForce GTX 480 1536MB

Palit GeForce GTX460 Sonic Platinum 1GB in SLI

ASUS Radeon HD6870

AMD Radeon HD5870

Case Fans

3x Noctua NF-P12 Fans – Side

3x In-Win 120mm Fans – Front, Back, Top

Additional Cards

Ineo I-NPC01 2 Ports PCI-Express Adapter for USB 3.0
PSU

SeaSonic X750 Gold 750W

Mouse
Logitech G5
Keyboard
Logitech G15
Synthetic Benchmarks & Games
We will use the following applications to benchmark the performance of the Nvidia GeForce GTX 560 Ti video card. 
Synthetic Benchmarks & Games
3DMark Vantage
Metro 2033
Stone Giant
Unigine Heaven v.2.1
Crysis
Crysis Warhead
HAWX 2
3D Mark 11
Methodology:
In order to make sure that the testing  of the ENGTX 560 Ti DirectCU II TOP is objective, its performance will be compared to the Nvidia GTX 560 Ti reference card. The ASUS ENGTX 560 Ti will rated upon criteria relative to both normal performance and overclocks. These criteria include overall FPS performance, maximum overclocking limit, stability in overclocking, cooling capability, and performance increase due to overclocking. The drivers used in these tests are 266.66, and will not depend upon different set ups. Additionally, the ASUS GTX 560 Ti will be stabilized at 1.15 V in order to test the limits of the card in normal settings.
Crysis v. 1.21

Crysis is the most highly anticipated game to hit the market in the last several years. Crysis is based on the CryENGINE™ 2 developed by Crytek. The CryENGINE™ 2 offers real time editing, bump mapping, dynamic lights, network system, integrated physics system, shaders, shadows, and a dynamic music system, just to name a few of the state-of-the-art features that are incorporated into Crysis. As one might expect with this number of features, the game is extremely demanding of system resources, especially the GPU. We expect Crysis will soon be replaced by its sequel, the DX11 compatible Crysis 2.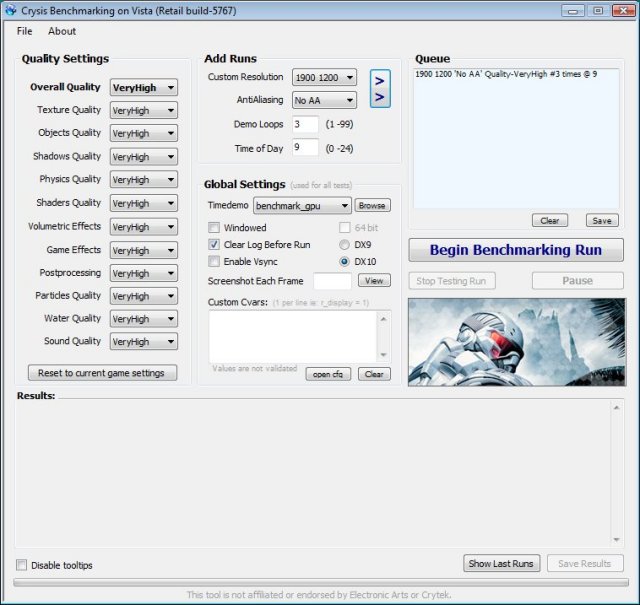 The Settings we use for benchmarking Crysis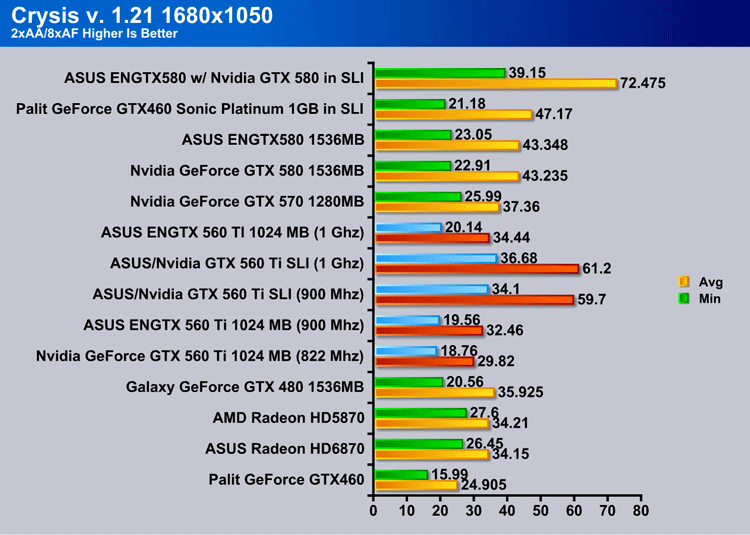 After running the Crysis benchmark at a resolution of 1680×1050, we can see clearly how the ASUS ENGTX 560 Ti performs after receiving the overclock to 900 MHz and 1 GHz. While the original reference card demonstrates a roughly 15% increase over the GTX 460, the ASUS ENGTX 560 Ti at 1 GHz delivers a performance close to that of the Galaxy GeForce GTX 480, and while it is just a little below, the ability of this card to compete with the 480 is impressive.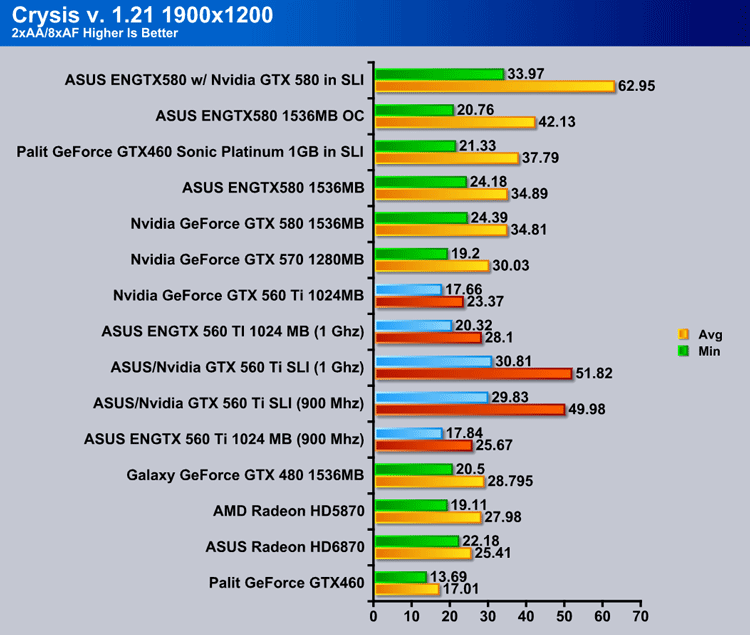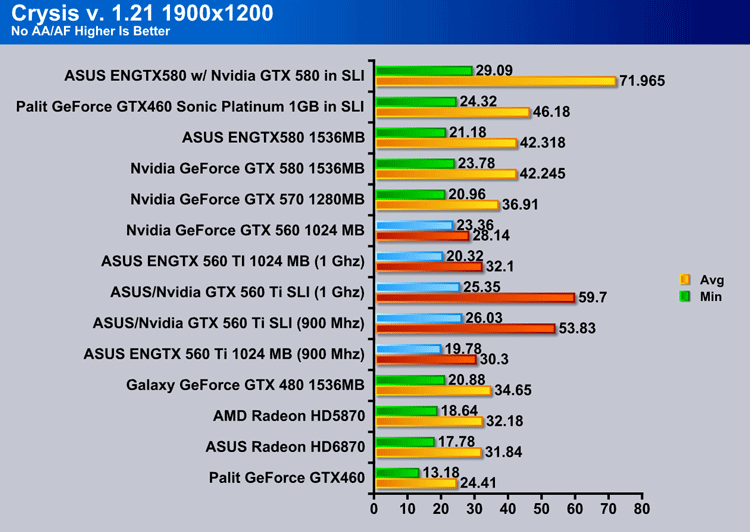 Results obtained under 1900×1200 resolution are concurrent with lower resolution results and confirm that the ASUS ENGTX 560 Ti is capable of rivalling the old GTX 480. The combination of the ASUS ENGTX 560 Ti and the reference NVIDIA GTX 560 Ti in SLI was able to provide almost twice as much performance as a GTX 560 Ti. An overclocked SLI demonstrates an increase of up to 6 FPS, which is a rather significant change. 
CRYSIS WARHEAD

Crysis Warhead is the much anticipated standalone expansion to Crysis, featuring an updated CryENGINE™ 2 with better optimization. It was one of the most anticipated titles of 2008.

The Settings we use for benchmarking Crysis Warhead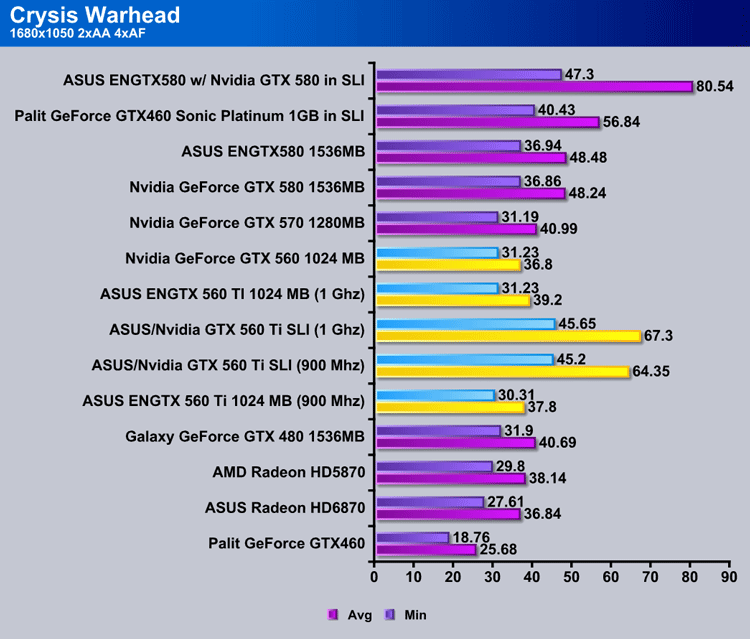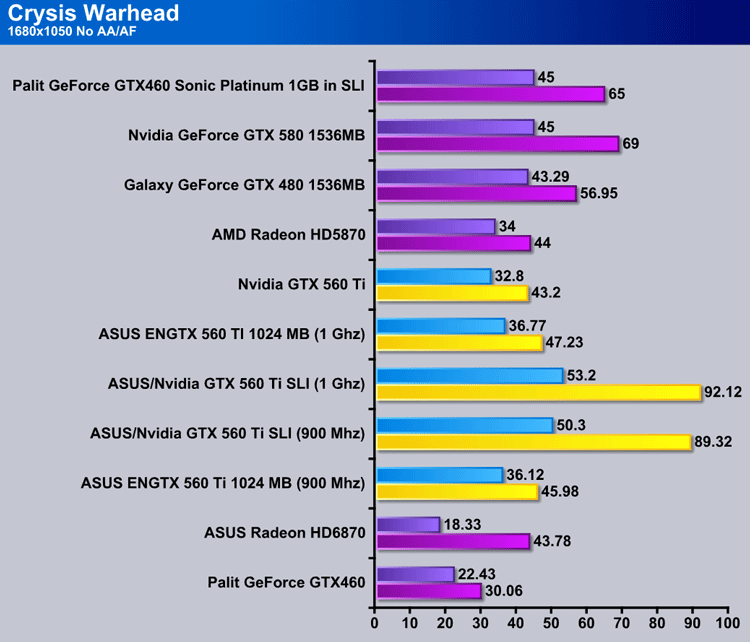 Crysis Warhead confirms results observed in Crysis. On average there is a 2-3 FPS performance increase of card with the higher clock in comparison to those with lower clock. Still the performance of a single ASUS ENGTX 560 Ti is within 1-2 FPS of the Galaxy GTX 480.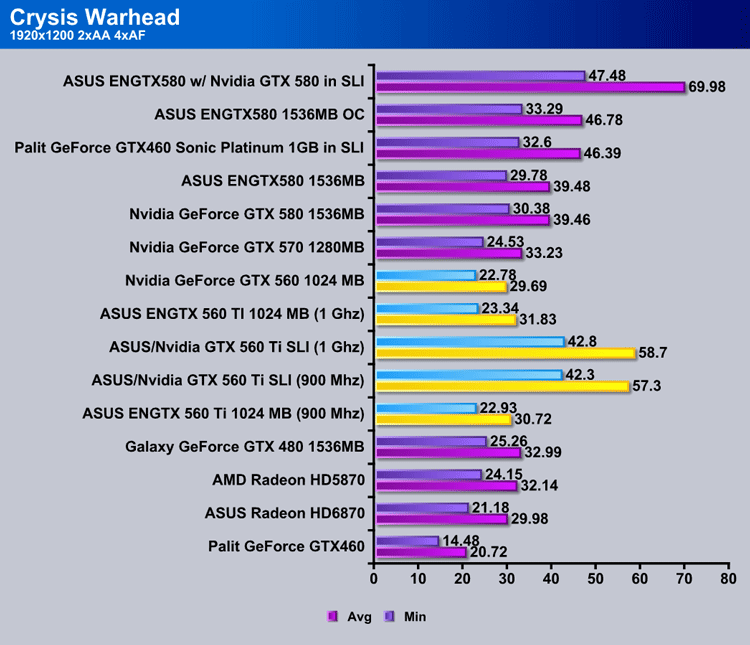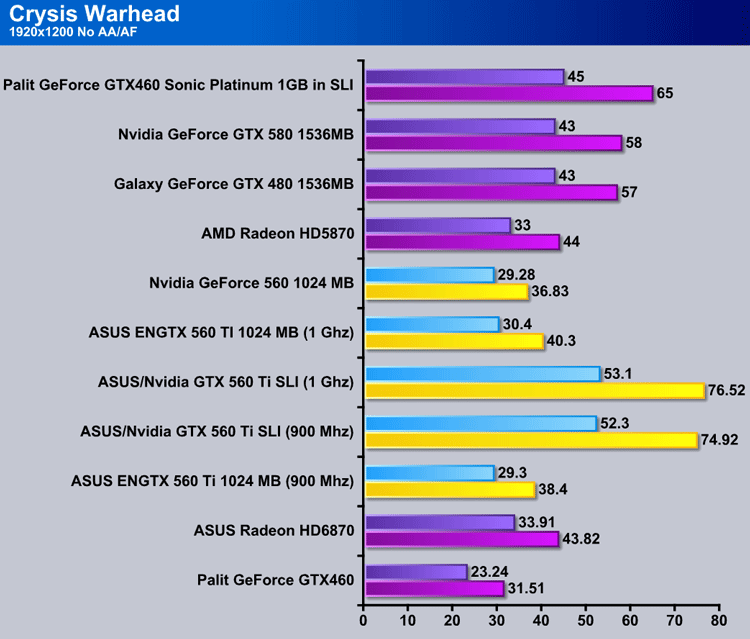 While running Crysis Warhead at a resolution of1920x1200, the performance results confirm earlier observations. Each overclocking set up adds roughly 1-3 FPS, but the SLI performance is not as apparent, and while we would normally expect a roughly 6 FPS increase, due to the higher temperature, the performance could have been minimized to an increase of 2-3 FPS instead. Notice that the second card used in SLI was an Nvidia GTX 560 Ti, equiped with a much simpler cooling system; it ran at temperatures above 75 C, which could affect the overall performance. 
Unigine Heaven 2.1

Unigine Heaven is a benchmark program based on Unigine Corp's latest engine, Unigine. The engine features DirectX 11, Hardware tessellation, DirectCompute, and Shader Model 5.0. All of these new technologies combined with the ability to run each card through the same exact test means this benchmark should be in our arsenal for a long time.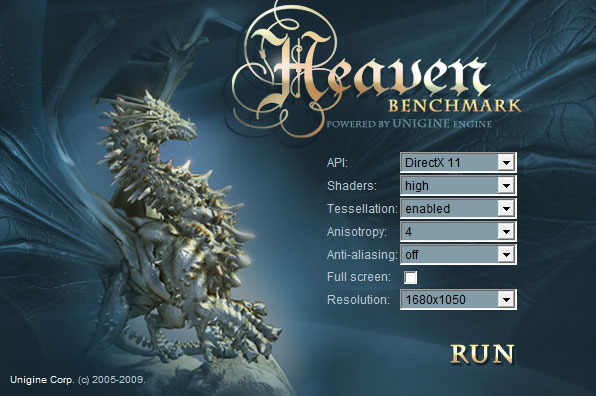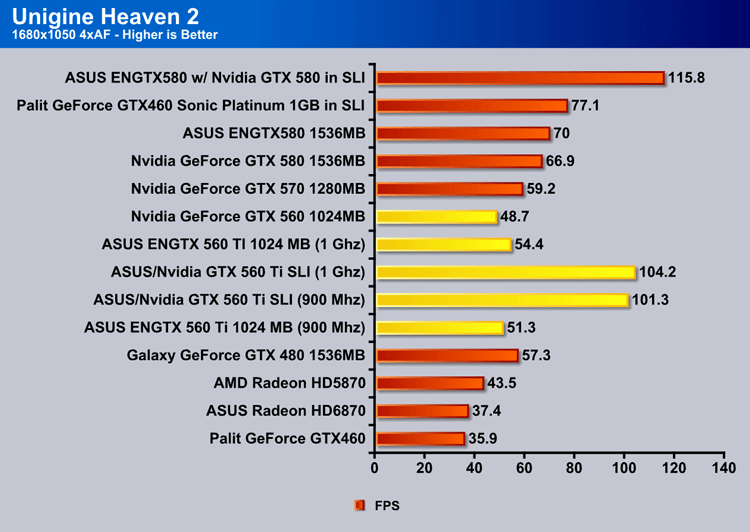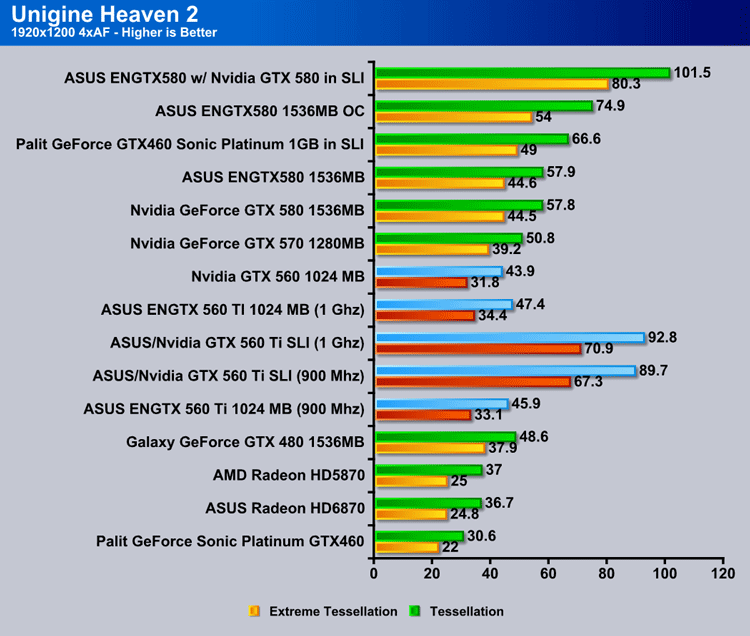 While Crysis and Crysis Warhead benchmarks primarily utilize DirectX10 and focus on stressing the GPU, newer benchmarks like Unigine Heaven, Stone Giant and HAWX 2 also test the depth of field tessellation performance. The overall performance in DX 11 benchmarks as well as games is expected to be higher to due to the presence of 8 PolyMorph engines, as well as additional raster engines in each of the GTX 560 Ti present in this testing. The performance of an overclocked ASUS ENGTX 560 Ti DirectCU II does not disappoint. While it is not quite as good as the GTX 480 at extreme tessellation, the overall SLI and the lower resolution performance are rather impressive.
We used a 60 second Fraps run and recorded the Min/Avg/Max FPS rather than rely on the built in utility for determining FPS. We started the benchmark, triggered Fraps and let it run on stock settings for 60 seconds without making any adjustments of changing camera angles. We just let it run at default and had Fraps record the FPS and log them to a file for us.
Key features of the BitSquid Tech (PC version) include:
Highly parallel, data oriented design
Support for all new DX11 GPUs, including the NVIDIA GeForce GTX 400 Series and AMD Radeon 5000 series
Compute Shader 5 based depth of field effects
Dynamic level of detail through displacement map tessellation
Stereoscopic 3D support for NVIDIA 3dVision
"With advanced tessellation scenes, and high levels of geometry, Stone Giant will allow consumers to test the DX11-credentials of their new graphics cards," said Tobias Persson, Founder and Senior Graphics Architect at BitSquid. "We believe that the great image fidelity seen in Stone Giant, made possible by the advanced features of DirectX 11, is something that we will come to expect in future games."
"At Fatshark, we have been creating the art content seen in Stone Giant," said Martin Wahlund, CEO of Fatshark. "It has been amazing to work with a bleeding edge engine, without the usual geometric limitations seen in current games".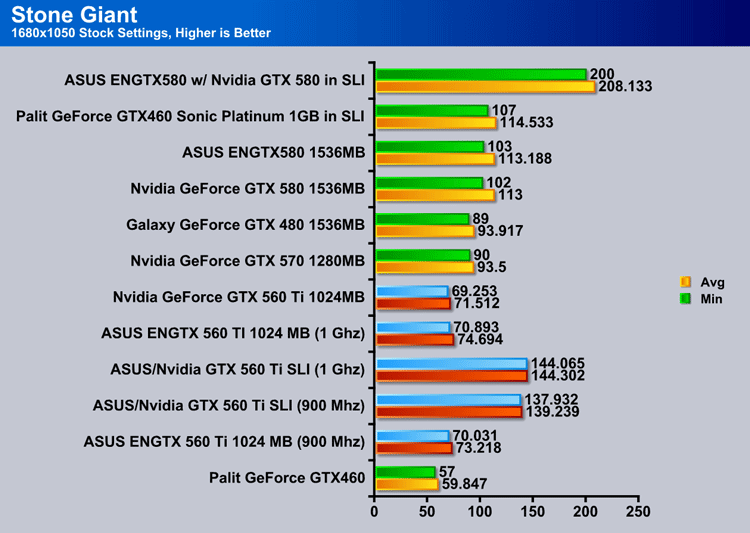 In Stone Giant, the ASUS ENGTX560 Ti demonstrates an almost 30% increase over its predecessor, the GTX 460, making this card a serious competition to the older card.
Tom Clancy's H.A.W.X. 2 plunges fans into an explosive environment where they can become elite aerial soldiers in control of the world's most technologically advanced aircraft. The game will appeal to a wide array of gamers as players will have the chance to control exceptional pilots trained to use cutting edge technology in amazing aerial warfare missions.
Developed by Ubisoft, H.A.W.X. 2 challenges you to become an elite aerial soldier in control of the world's most technologically advanced aircraft. The aerial warfare missions enable you to take to the skies using cutting edge technology.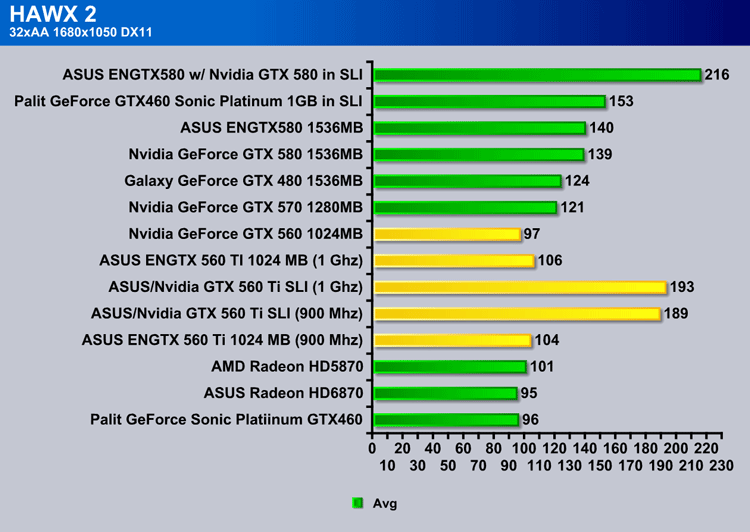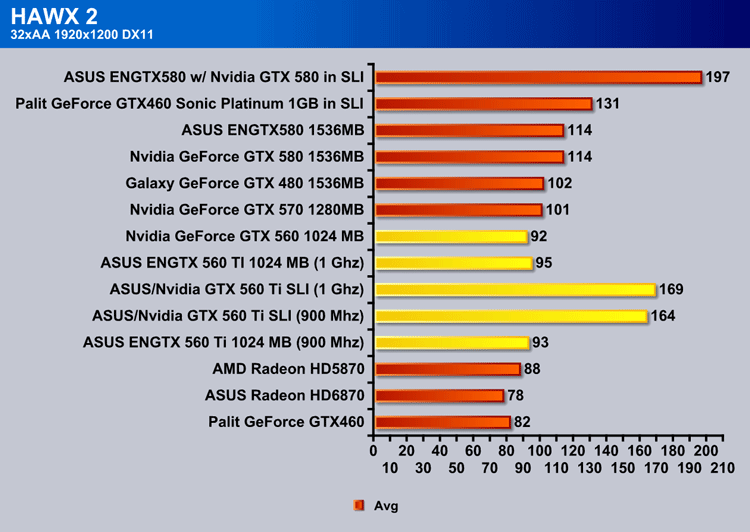 While HAWX 2 generally has a fairly large margin of error, the overall results were consistent with previous observations. The GTX 560 Ti card's SLI performance is rather impressive, and is essentially in the middle between the performance of GTX 460 Sonic Platinum SLI and ASUS ENGTX 580 SLI. While there are there is no comparison to the GTX 480 SLI, the performance is suspected to be close to that of the GTX 560 Ti SLI. 
Metro 2033

Metro 2033 is an action-oriented video game blending survival horror and first-person shooter elements. The game is based on the novel Metro 2033 by Russian author Dmitry Glukhovsky. It was developed by 4A Games in Ukraine and released in March 2010 for the Xbox 360 and Microsoft Windows. In March 2009, 4A Games announced a partnership with Glukhovsky to collaborate on the game. The game was announced a few months later at the 2009 Games Convention in Leipzig; a first trailer came along with the announcement. When the game was announced, it had the subtitle "The Last Refuge," but this subtitle is no longer being used.
We left Metro 2033 on all high settings with Depth of Field on.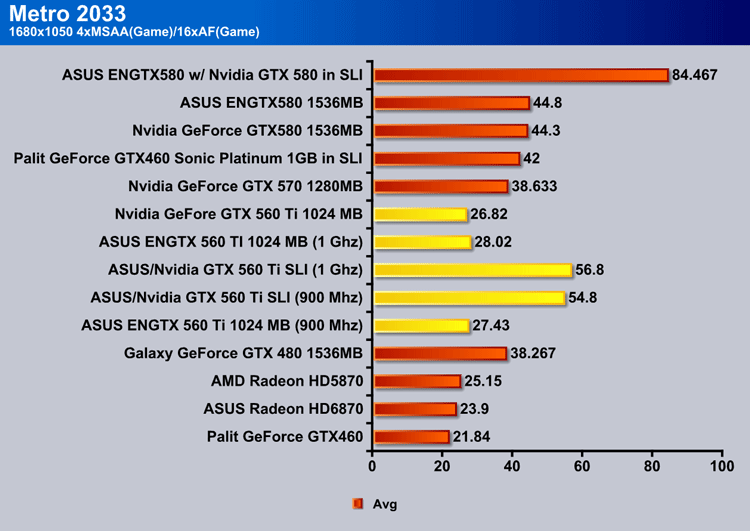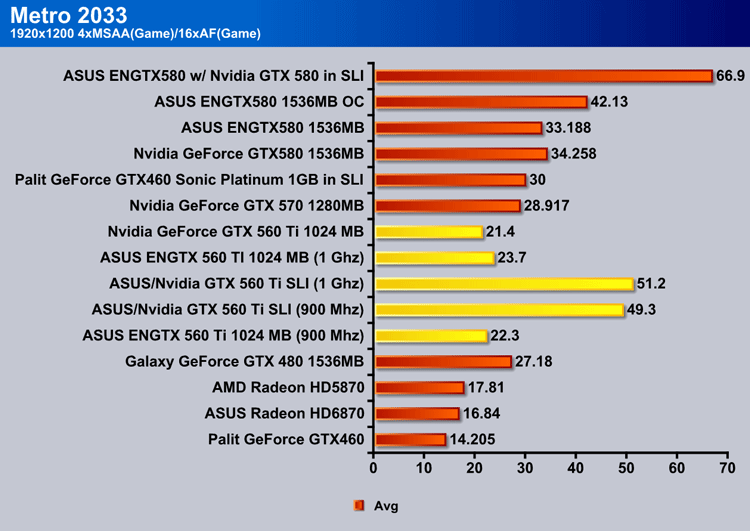 By running Metro 2033 at maximum setting, we can see that this card can provides smooth DirectX 11 gaming performance even on the latest games. While a single 560 delivers the bare minimum FPS necessary for gameplay at maximum settings, two 560 cards SLI are definetely capable of running this game smoothly. However, there were problems with testing this game in SLI. While the drivers are not yet optimized, the overall FPS fluctuates greatly. Users should make sure to use the latest driver, because earlier GTX 560 Ti drivers do not support SLI, and essentially provide the performance of a single card.
3DMark Vantage

For complete information on 3DMark Vantage Please follow this Link:
www.futuremark.com/benchmarks/3dmarkvantage/features/
The newest video benchmark from the gang at Futuremark. This utility is still a synthetic benchmark, but one that more closely reflects real world gaming performance. While it is not a perfect replacement for actual game benchmarks, it has its uses. We tested our cards at the 'Performance' setting.
The 3D Mark Vantage results for overclocked ASUS GTX560 Ti are quite impressive. Clearly the performance has surpassed its ATI competition and is catching up to GTX 480. Comparing the overclocked GTX 560 Ti SLI against Palit GeForce GTX 460 SOC, we see a roughly 20% increase.
TEMPERATURES

To measure the temperature of the video card, we used MSI Afterburner and ran Metro 2033 for 10 minutes to find the Load temperatures for the video cards. The highest temperature was recorded. After playing for 10 minutes, Metro 2033 was turned off and we let the computer sit at the desktop for another 10 minutes before we measured the idle temperatures.
| Video Cards – Temperatures – Ambient 23C | Idle | Load (Fan Speed) |
| --- | --- | --- |
| 2x Palit GTX 460 Sonic Platinum 1GB GDDR5 in SLI | 31C | 65C |
| Nvidia GTX 560 Ti | 30 C | 64 C |
| Palit GTX 460 Sonic Platinum 1GB GDDR5 | 29C | 60C |
| Galaxy GTX 480 | 53C | 81C (73%) |
| Nvidia GeForce GTX 580 | 39C | 73C (66%) |
| ASUS ENGTX 560 Ti Direct CU II TOP (900 Mhz) | 33 | 62 |
| ASUS ENGTX 560 Ti Direct CU II TOP (1 Ghz) | 35 | 64 |
| ASUS ENGTX 560 Ti Direct CU II TOP SLI (900 Mhz) | 36 | 68 |
| ASUS ENGTX 560 Ti Direct CU II TOP SLI (1 Ghz) | 39 | 73 |
ASUS ENGTX 560 Ti Direct CU II Top moniker is appropriate for its cooling performance. Even at a voltage of 1.087, and 1 GHz, the temperature did not go past 73C. After cranking up to 1.15 V in SLI, the card was running at 75 C, which was impressive. In comparison, the Nvidia reference card was getting roughly 15 C higher, and was the primary cause for the instability of the system at 1.15 V, by running at the shut off temperature of 85 C.
POWER CONSUMPTION

To get our power consumption numbers, we plugged in our Kill A Watt power measurement device and took the Idle reading at the desktop during our temperature readings. We left it at the desktop for about 15 minutes and took the idle reading. Then we ran Metro 2033 for a few minutes minutes and recorded the highest power usage.
| Video Cards – Power Consumption | Idle | Load |
| --- | --- | --- |
| 2x Palit GTX 460 Sonic Platinum 1GB GDDR5 in SLI | 315W | 525W |
| Palit GTX 460 Sonic Platinum 1GB GDDR5 | 249W | 408W |
| Nvidia GTX 460 1GB | 237W | 379W |
| Galaxy GTX 480 | 248W | 439W |
| Nvidia GTX 560 TI 1GB | 260 W | 412 W |
| ASUS ENGTX 560 Ti DirectCU II TOP (900 Mhz) | 262 W | 423 W |
| ASUS ENGTX 560 Ti DirectCU II TOP SLI (1 Ghz) | 284 W | 542 W |
| ASUS ENGTX 560 Ti DirectCU II TOP SLI (900 Mhz) |  279W | 534 W |
| ASUS ENGTX 560 Ti DirectCU II TOP (1 Ghz) |  264W |  436W |
The ASUS ENGTX560 shows some pretty impressive power consumption results. It is actually rather impressive that a computer with 2-way SLI with such performance is able to consume less than 550 W. In comparison, we only see a 25W increase for a 30% overall increase in performance.
Conclusion
After rigorous testing, the ASUS ENGTX 560 TI Direct CU II TOP demonstrated excellent performance. Suprisingly, overclocked at 1 GHz, the ASUS ENGTX 560 Ti was able to provide performance almost rivalling GTX 480, while running at significantly lower temperatures. The Direct CU design integrated into this video card seemed to be promising at the first glance, and did not disappoint later. In fact, even at the highest voltage of 1.15 V, the card ran within the normal temperature range of below 75 C. As an overclocking card, it is very stable at almost any voltage and provides a rather significant increase in performance. In 2-way SLI the performance of this card was even more so surprising. According to the 3D Mark Vantage, the ASUS ENGTX 560 Ti in SLI with Nvidia GTX 560 Ti was actually able to produce a GPU score similar to the GTX 480 SLI, with a difference of only about 5%. While we did not test GTX 480's in SLI, the general reference was taken from other reviews we conducted that did. On that note, the power consumption in comparison to GTX 480's in SLI is 60% lower, yet again proving that the ASUS ENGTX560 Ti, even in overclocked states, has an outstanding performance per watt ratio.
Aside from the plethora of positive qualities of this card, the only source of disappointment actually came from software, which limits voltage to 1.15 V. Considering that this card is able to handle 1.15 V easily, it is a pity that the voltage cap has not been lifted a little bit higher.
ASUS ENGTX 560 Ti DIRECTCU II TOP
| | |
| --- | --- |
| Performance | 10 |
| Value | 9 |
| Quality | 10 |
| Features | 9 |
| Innovation | 10 |

We are using a new addition to our scoring system to provide additional feedback beyond a flat score. Please note that the final score isn't an aggregate average of the new rating system.

Pro

Cons

Stable overclocking

High quality components, including Super Alloy Power Design

Easy to use and helpful software

Excellent cooling due to the Direct CU II Design

 

 

 Voltage limited to 1.15 V

 

 

 

 

 

 

 

 
Summary:  This card performs amazingly, and still has low power consumption and temperatures. We are proud to give the ASUS ENGTX 560 Ti DirectCU II Top the Bjorn3D Golden Bear Award for excellent performance and quality with a total score of 9.5/10. In addition, we would like to award this card our Best Bang for the Buck Award for the excellent value of this product.