Kingson is one of the first manufacturers to come out with the latest SD10A/64GB – 64GB SDXC Class 10 memory cards available on the market. SDXC uses the latest exFAT file system along with a faster transfer speed than any previous SD or SDHC cards.
Introduction
Compact storage media is a must-have for cameras, camcorders, MP3 players, smart phones and other such devices. With the rise of HD cameras and camcorders, users find themselves able to take high resolution pictures, or record their favorite moments at higher bit rates. As a result, we also require more storage space to store all of this information. While SDHC cards are capable of storing data from 4GB to 32GB at acceptable transfer speeds, some are anxious to acquire even higher capacity cards that will allow them to store more data at an even faster transfer rate. With the introduction of SDXC memory cards, this is no longer a problem.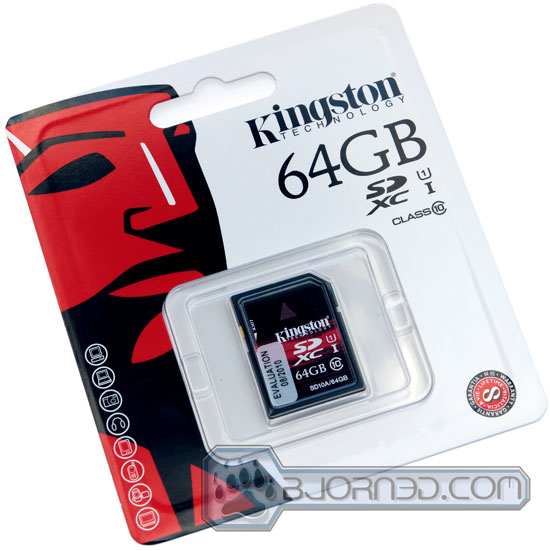 We first heard about the new SDXC cards at CES 2009, but it took well over a year till we saw the new SDXC cards appear in stores for purchase. Kingston was one of the first to introduce the new 64GB SDXC card to the market: the SD10A/64GB. According to Kingston, the SD10A/64GB SDXC cards are capable of 60MB/s read speeds, and a 35MB/sec write speed. We will use the Canon Rebel T2i, which supports the latest SDXC memory cards, to test the performance, reliability, and the possibilities this card offers.
About SDXC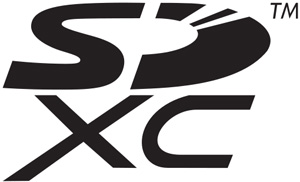 The newly released SDXC (Secure Digital Extended Capacity) format was first unveiled in January at CES 2009. The SDXC format is capable of a 2TB or 2048GB of maximum capacity, but the most recent released models are only available in the 32GB and 64GB capacities (October 2010).
The first SDXC memory cards developed were using the SD 3.0 specification, capable of up to 832 Mbit/s (UHS104) speeds. In spring of 2010, the new SD 4.0, which is capable of speeds up to 2.4 Gbit/s, was introduced. With the new SD 4.0 specification, a new file format has also emerged: the exFAT file system. The new system allows users to take advantage of features the SD 3.0 specification and FAT32 did not have: the possibility to transfer data larger than 4GB. This does not necessarily mean that the user is limited to the exFAT file system that new SDXC cards like the Kingston SD10A/64GB SDXC card comes with. Since the SDXC format is still a plain block device and thus uses arbitrary partitioning, other file systems can be used, such as FAT32, NTFS, ext2, etc.
The new SDXC memory card standard provides up to to a maximum transfer rate of 104 MB/sec. today and 300 MB/sec. in the future. With expanded storage capacity and improved interface speed, SDXC can help realize the full potential of digital cameras and camcorders with continuous shooting and higher resolution movie recordings. It will also facilitate high-speed transfers of data to and from cards.
Despite its successes, the new SDXC format has some limitations that need to be addressed:
SDHC devices will only support SDXC cards which use UHS104 speeds; SDHC hosts will not recognize the SDXC cards which use the faster (SD 4.0), final specification of SDXC.
SDXC devices are backward compatible with SD and SDHC memory cards.
Linux (with a proprietary driver for the exFAT file system), Microsoft Windows 7/Vista SP1+/XP SP2+ (with exFAT update), and Mac OS X Snow Leopard (Available on all Intel Macs) are the only operating systems to currently support SDXC.
The performance of different Secure Digital products:
Class 0 – These cards do not specify performance, which includes all legacy cards prior to class specifications.
Class 2 – Minimum of 2 MB/s performance. Lowest speed for SDHC cards.
Class 4 – Minimum of 4 MB/s performance.
Class 6 – Minimum of 6 MB/s performance.
Class 10 – Minimum of 10 MB/s performance.
Rating
Write Speed
(Mbit/s)
Write Speed
(MB/s)
6×
7.2
10×
12.0
13×
16.0
2
26×
32.0
4
32×
38.4
5
40×
48.0
6
66×
80.0
10
100×
120.0
15
133×
160.0
20
150×
180.0
22
200×
240.0
30
266×
320.0
40
300×
360.0
45
exFAT File System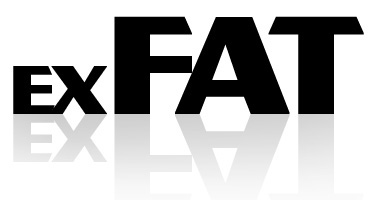 The new exFAT (Extended File Allocation Table), also known as FAT64, was introduced by Microsoft. exFAT becomes useful in situations where the NTFS file system is not a feasible solution, mainly due to data structure overhead, or other problems where the file size or directory restrictions of previous versions of FAT file systems are unacceptable.
The advantages over previous File Allocation Table (FAT) file system versions include:
Scalability to large disk sizes: 64 ZiB theoretical max, 512 TiB recommended max, raised from the 2 TiB limit of FAT32 partitions. Note that the built-in Windows XP format utility limits new FAT32 partitions to 32 GiB.
Cluster size up to 32 MiB
Subdirectory size up to 256 MiB
File size limit of 16 EiB (Limited by volume size), raised from close to 4 GiB in FAT32
Free space allocation and delete performance improved due to introduction of a free space bitmap
Support for up to 2,796,202 files per subdirectory, increased from 65,536
Support for access control lists (not supported yet in Windows Vista SP1)
Support for TFAT, a transactional file system standard (optionally WinCE activated function)
Provision for OEM-definable parameters to customize the file system for specific device characteristics
Support for UTC timestamps (starting with Vista SP2)
Timestamp granularity of 10 ms (better than previous FAT versions' 2 sec, but worse than NTFS's 100 ns)
The disadvantages compared to previous FAT versions include:
Windows XP and Windows Server 2003 users must have Service Pack 2 or later and install an update to support exFAT
Windows Vista must be Service Pack 1 or later for exFAT support
Devices formatted using exFAT cannot be read by any version of Windows prior to Windows XP or by any version of DOS or OS/2 (unless emulated as otherwise).
Devices using exFAT are unable to use Windows Vista's ReadyBoost capability (Windows 7 adds support for ReadyBoost on exFAT formatted drives and enables a larger ReadyBoost cache due to the removal of the 4GB file size limit of FAT32)
Microsoft has not released the official exFAT file specification, and a license from Microsoft is required in order to make and distribute exFAT implementations
Limited or no support outside PC environment at present — most current consumer electronics, such as televisions and A/V receivers, can only handle previous FAT versions (this may change with the new SDXC cards and Memory Stick XC requiring exFAT)
Features & Specifications

The Kingston® SDXC card is based on the SDA (Secure Digital Association) Memory Card Standard Version 3.01 and is compliant with Ultra High Speed bus (UHS-1) and Class 10 rating. UHS-1 bus controls the ultra-fast read/write functions. The Class 10 rating guarantees a minimum data transfer speed of 10MB/sec to address the demands of recording data to the SDXC card for applications such as video recording, where uninterrupted writing of data is critical. The card has a massive 64GB capacity. With speeds up to 60MB/s read and 35MB/s write, this card is ideal for storing and recording HD high-definition video, high resolution, or RAW still photos with SDXC-supported host devices.
The SDXC UHS 1 Class 10 is covered by a lifetime warranty, 24/7 tech support and legendary Kingston reliability.
Features/benefits
Capacities** — 64GB†
Dimensions — 0.94″ x 1.26″ x 0.08″ (24mm x 32mm x 2.1mm)
Weight — 0.09 oz. (2.5 g)
Class Rating — Class 10: 10 MB/sec. minimum data transfer rate
Bus Interface Mode — Version 1, SDR104, up to 104MB/sec.
Operating Temperature — -13° F to 185° F (-25° C to 85° C)
Storage Temperature — -40º F to 185º F (-40º C to 85º C)
Compliant — with the SD Card Association card 3.01 specification
Copy Protection — Support for CPRM (Content Protection for Recordable Media)
Secure — built-in write-protect switch prevents accidental data loss
Compatible — with SDXC host devices; not compatible with SDHC and standard SD-enabled devices/readers
File System — exFAT
Reliable — lifetime warranty
Operating System Support — Windows 7, Windows Vista (SP1 or later), Windows XP (SP2 or later) with exFAT update
Due to the SDXC specifications, the Kingston SD10A/64GB card will not be read on previous SD or SDHC compatible devices. The SD10A/64GB SDXC card will only be read by devices with full SDXC compatibility.
A closer Look at the Kingston SD10A/64GB SDXC card
Click Image For a Larger One
The Kingston SD10A/64GB SDXC Class 10 memory card comes in very elegant packaging. Though thin, it has enough protection to prevent damage to the memory card during shipment. The front of the packaging shows a nice Kingston Logo with the type, performance and capacity of the memory card. The SDXC card can also be seen through the cutout area. The back of the packaging has the serial number and the UPC code in case the card needs to be returned for any reason.
Click Image For a Larger One
We removed the top of the packaging and took out the inside plastic covering the SD10A/64GB card. The only disappointment we see here is that the card does not come with any carrying case, limiting it's portability. Users who already own multiple SD cards should have a case themselves, but for users who don't, this lack of carrying case could prove to be a problem.
When the SD10A/64GB SDXC card is taken out of it's packaging, we can clearly see that it appears no different from its SD and SDHC predecessors. Users should be sure that the product they are buying is compatible with SDXC, as the similarity to SDHC cards could cause confusion. The Kingston SD10A/64GB SDXC card comes with a locking mechanism as well. This locking switch allows the user to lock the data when the card is not used or to prevent accidental deletion or overwrites of data.
Click Image For a Larger One
On the back of the card, we can see the 9 golden contacts. Once again the SDXC card looks just like the previous SDHC or SD cards. Though the card may fit into an SD or SDHC slot, older devices will not recognize it because the SDXC format is not backwards compatible with SD or SDHC.
Testing Methodology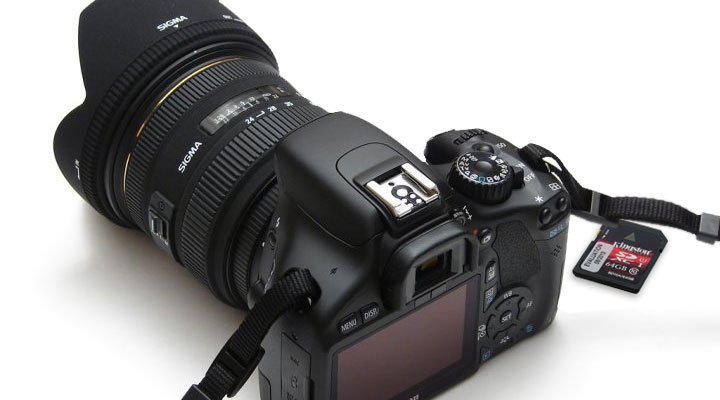 To test the Kingston SD10A/64GB SDXC memory card, we have taken several different steps to measure both the performance, reliability, and features of the card. To test for performance, we have acquired a USB 3.0 SDXC adapter which would allow us to plug in the SDXC card into the adapter, and then measure the performance of the SDXC card through the new USB 3.0 interface. Because USB 3.0 is capable of up to 5Gbit/s, the USB 3.0 connector will not bottleneck our test. We used HD Tune Pro to evaluate the read and write speeds of the different memory cards.

To measure reliability, performance, and other features of the card, we have used our Canon Rebel T2i, because it supports the latest SDXC memory cards. The performance was tested through the picture burst mode, where we took multiple of 18MP (5184×3456 resolution) pictures and roughly measured the amount of pictures the camera could take per second in JPEG and RAW formats. The second test was to test the video recording performance of the card, and see how the camera would react to scenes where high bit rates are required. The average bit rate of the Canon Rebel T2i at HD 1080p 24fps is around 45Mbit/s, but the bit rate could change depending on the complexity of the recording. What we are looking for here is to see whether the video recording will stop when certain bit rates are reached. If it does, this means that the card is not able to keep up with the information being recorded.
Test Rig
Test Rig

Case
Silverstone Temjin TJ10
CPU
Intel Core i7 930 @ 3.8GHz

Motherboard
ASUS Rampage III Extreme ROG – LGA1366
Ram
Kingston HyperX H20 DDR3-17066 2133MHz (9-11-9-27 @ 1.65V)  4GB Dual-Channel Kit
CPU Cooler
Thermalright True Black 120 with 2x Zalman ZM-F3 FDB 120mm Fans
Hard Drives
4x Seagate Cheetah 600GB 10K 6Gb/s Hard Drives

2x Western Digital RE3 1TB 7200RPM 3Gb/s Hard Drives

Optical
ASUS DVD-Burner
GPU
2x Palit GTX460 Sonic Platinum 1GB GDDR5 Video Cards in SLI
Case Fans
2x Zalman ZM-F3 FDB 120mm Fans – Top

1x Zalman Shark's Fin ZM-SF3 120mm Fan – Back

1x Silverstone 120mm fan – Front

1x Zalman ZM-F3 FDB 120mm Fan – Hard Drive Compartment

1x Zalman ZM-F3 FDB 120mm Fan – Side Ventilation for Video Cards and RAID Card SAS Controller.

Additional Cards

LSI 3ware SATA + SAS 9750-8i 6Gb/s RAID Card
PSU
Sapphire PURE 1250W Modular Power Supply
Mouse
Logitech G5
Keyboard
Logitech G15
Test Camera
Test Camera

Camera
Canon Rebel T2i (550D) DSLR
SD/SDHC/SDXC Cards Used

Kingston 64GB SD10A/64GB SDXC Class 10

SanDisk 8GB SDSDX3-008G-A31 Extreme SDHC Class 10

Delkin Devices 16GB DDSDPRO2-16GB SDHC Class 6

Patriot 2GB PSF2G40SD SD Class 4
Results
Performance Comparison – HD Tune Pro
Card Name and Type
Average Read / Write Speeds
Kingston SD10A/64GB SDXC Class 10
39.3MB/s / 28.4MB/s
SanDisk 8GB

SDSDX3-008G-A31

Extreme SDHC Class 10
27.1MB/s / 24.7MB/s
Delkin Devices 16GB DDSDPRO2-16GB SDHC Class 6
19.8MB/s / 16.2MB/s
Patriot 2GB PSF2G40SD SD Class 4
13.0MB/s / 9.8MB/s
Just as expected, the Kingston card outperforms all other cards, and even beat the SanDisk 8GB Extreme SDHC Class 10 memory card by over 12MB/s in read and 13MB/s in write speeds. Readers should note that the other cards were included for comparison only, and that diminished performance is to be expected as they are lower class SDHC and SD cards and not SDXC cards.
Camera Results
The camera picture burst speeds were not noticeable between the Kingston SD10A/64GB SDXC and SanDisk SDSDX3-008G-A31 Extreme SDHC cards on the JPEG format, however there was a noticeable performance increase on RAW burst mode shooting. Since RAW on the T2i averages around 20MB per image, the actual number of pictures that we could take in one second was a bit higher, meaning we could capture the given moment more frequently on RAW format with the SD10A/64GB than on the SDSDX3-008G-A31 Extreme.
Video recording wise, while the SanDisk 8GB card did not have any recording problems at all, there were some minor recording problems with the Kingston and Delkin Devices cards, where the recording would stop due to reaching the limit of the internal buffer memory the T2i comes with. The error message presented would be "Recording has stopped automatically" after several seconds after the recording was started. Restarting the recording solved the problem. This only happens when the camera is not able to push enough data to the card in a given time. The Patriot memory experienced this same problem more than the other cards due to the lower write speeds, but we are not yet sure why the Kingston SDXC and the Delkin Devices cards would have problems. The problem is also less noticeable with the Delkin Devices memory card. We believe the problem is with the camera's firmware. We are working with Canon directly to find the cause behind this problem. We also believe that this issue will be resolved in future camera firmware updates, but till now we will have to live with it.
One final problem we noticed is that despite the new exFAT file system, the old recording limitation of 4GB or 29 minutes and 59 seconds is still present. This is because when the Kingston SD10A/64GB SDXC card is placed into the Rebel T2i, the memory automatically gets reformatted to Canon's own file system. Unfortunately, at this moment, this cannot be bypassed by any way other than to hack the firmware and install a file system that does not have this limitation.
Conclusion

Overall, the Kingston SD10A/64GB SDXC Class 10 Memory Card was a pure joy to play around with. We were able to shoot HD video without having to replace the memory card. With 16GB SDHC cards we used prior to this one, we were only able to shoot about 48 minutes of video. With the Kingston SD10A/64GB card, we can shoot up to about 192 minutes. We are also able to take more than 9999 pictures at 18 MegaPixels with the JPEG compression, and about 3000 RAW pictures at the same resolution. This is fantastic, because it eliminates the needless hassle of carrying, switching out, and keeping track of multiple memory cards.
Performance was amazing, and during photo shooting we were able to get a much higher pictures/sec in RAW mode than on previous SDHC Class 10 cards. However, there were some video recording problems every now and then that stopped us from recording our video with our Canon Rebel T2i camera. This problem would only happen at the beginning of the recording, so users who experience this problem can restart the recording like we did. We believe this is caused by Canon's premature Firmware for SDXC cards, but we will find out more about this problem in the following days.
Also even thoug the new Kingston SD10A/64GB SDXC card uses the new exFAT file sytem, the limitation of the camera for recording more than 4GBs is still there. This is because Canon uses it's own file system when you place the memory card into the camera. At this moment, we can just hope that Canon will be able to provide us with a different file system, or an updated file system that will allow us to record pass the 4GB limitation.
OUR VERDICT: Kingston SD10A/64GB SDXC Memory Card
| | |
| --- | --- |
| Performance |  8.5 |
| Value |  9 |
| Quality |  10 |
| Features |  9 |
| Innovation |  8.5 |

We are using an addition to our scoring system to provide additional feedback beyond a flat score. Please note that the final score isn't an aggregate average of the rating system.

Pros
Cons
Performance improvement over previous Class 10 SDHC cards.

Large Capacity

new exFat File System

Does not come with a card case.

Does not come with the latest SD 4.0 specification.
Summary: While the Kingston SD10A/64GB SDXC card came in a large capacity, and great performance, it would have been nice to see the new SD 4.0 specification and a card case included. With a total of 8.5/10, the Kingston SD10A/64GB SDXC card receives Bjorn3D's Silver Bear Award.