While the ENGT430 is primarily geared towards a life in the multimedia world, it still packs a punch in the 3D graphics arena, with entry-level DirectX 11 performance.
INTRODUCTION
Not all new graphics cards are destined to find homes in high-end gaming rigs. Sure, most graphics cards are aimed at providing great looking images in games, but another up and coming venue is the home theater PC. This is the market that Nvidia aims at with their new GeForce GT 430 GPU. We will be taking a look at ASUS' iteration, the ENGT430.
The ASUS ENGT430 features the Nvidia GeForce TG430 GPU (based on the GF108 Fermi GPU) running at 700MHz and 1GB of DDR3 memory. The memory is clocked at 1600MHz and is on a 128-bit interface. This card is ideal for HTPCs with its low profile design, allowing it to fit into thinner cases with the included optional mounting brackets. While the ENGT430 is primarily geared towards a life in the multimedia world, it still packs a punch in the 3D graphics arena, with entry-level DirectX 11 performance.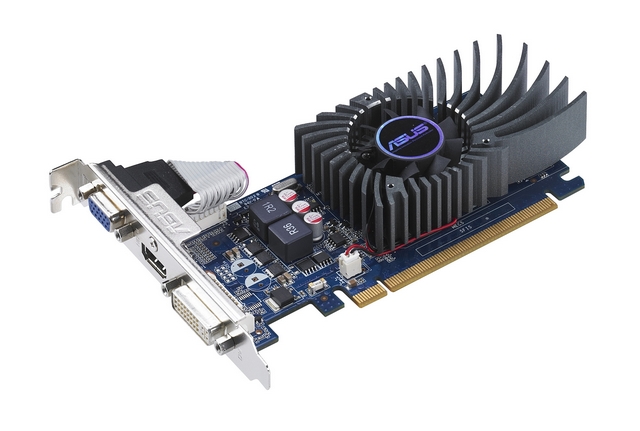 FEATURES
Dust-Proof Fan – Provides 25% longer life span with double seals
Fuse Protection – Two fuses provide protection from short circuits and current overloads
Low Profile – Optional low profile brackets allow for installation into a thinner case
Efficiency – Covered chokes are used instead of traditional coil chokes for less heat and more efficient power
Durability – Solid capacitors are less susceptible to power loss and bulging that traditional capacitors
GPU Guard – Doubled structural reinforcement for the PCB provides a stronger card and protects against warping due to card size
Blu-ray 3D – Places the stress on the GPU rather than the CPU for great looking movies
SPECIFICATIONS
| Specifications | ASUS ENGT430 |
| --- | --- |
| Graphics Engine | Nvidia GeForce GT430 |
| Bus Standard | PCI Express 2.0 |
| Video Memory | 1GB GDDR3 |
| Engine Clock | 700MHz |
| Memory Clock | 1600 MHz (800 MHz DDR3) |
| Memory Interface | 128-bit |
| Cuda Core | 96 |
| DVI Max. Resolution | 2560 x 1600 |
| D-Sub Max. Resolution | 2048 x 1536 |
| D-Sub Output | 1 |
| DVI Output | 1 |
| HDMI Output | 1 (Native) |
| HDCP Compliant | Yes |
| Adaptor Bundled | 2 x 1 slot low profile bracket |
| Software Bundled | ASUS Utilities and Driver |
| Dimensions | 6.3″ x 2.8″ |
One note worth mentioning in the specifications is that the refrence NVIDIA GT 430 has a default memory speed of 1800MHz. The ASUS memory is clocked at 1600MHz, however, in the overclocking section, we were able to take it quite higher than the refrence speeds.
CLOSER LOOK
Taking a look at the retail packaging for the ASUS ENGT430 gives us a quick look at some of the features included. Of note is the large graphic emphasizing the "Dust-proof Fan" mentioned in the 'Features' section of this review. This is definitely a point that ASUS is trying to get across to potential buyers.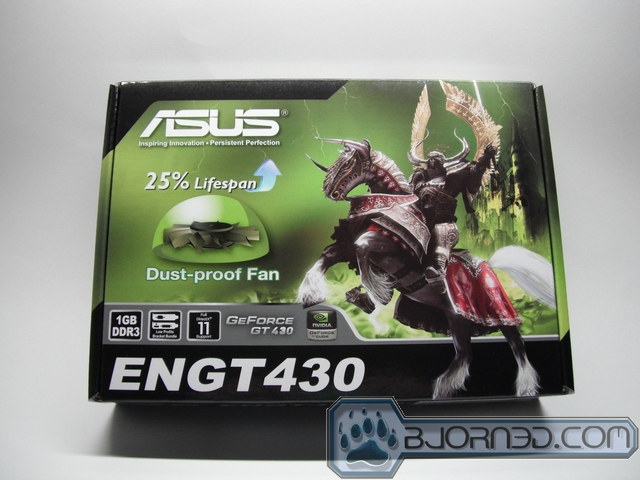 Out back we are again shown the large fan image as well as information about the fuse protection and GPU guard.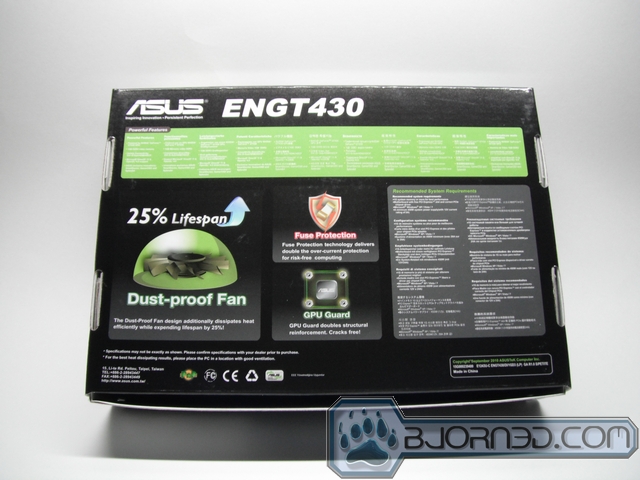 The two brackets below allow for the full size mounting bracket to be removed from the card to let it fit in a smaller case that may not allow full-size expansion cards. The flexible cabling for the VGA port allows it to be mounted next to the other ports.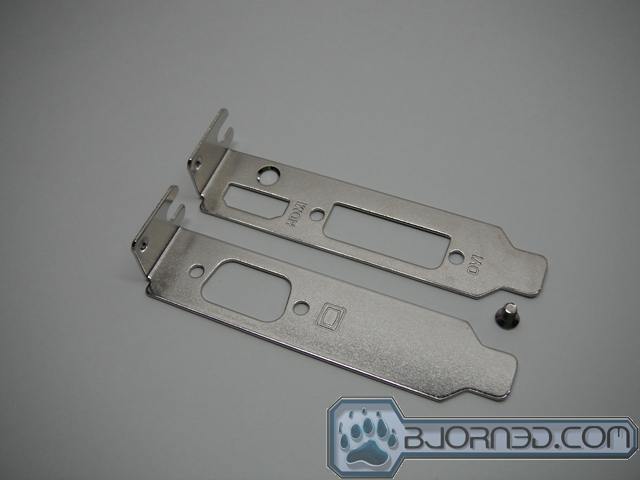 Here we get a look at the full card. Note that it is much smaller than most graphics cards, and does not require any external power to operate. Here we can also see the use of the solid capacitors and covered chokes.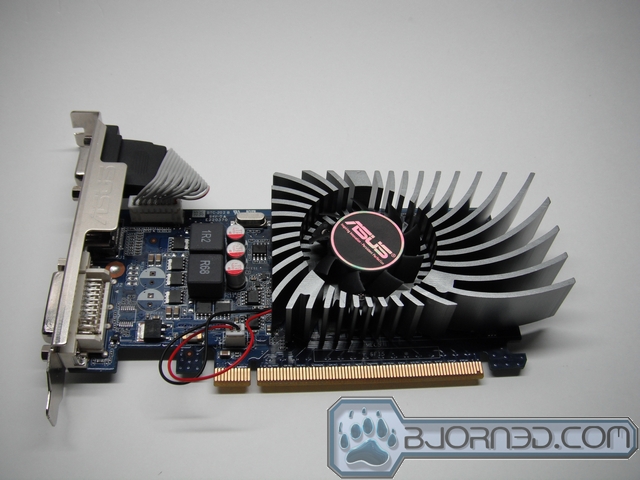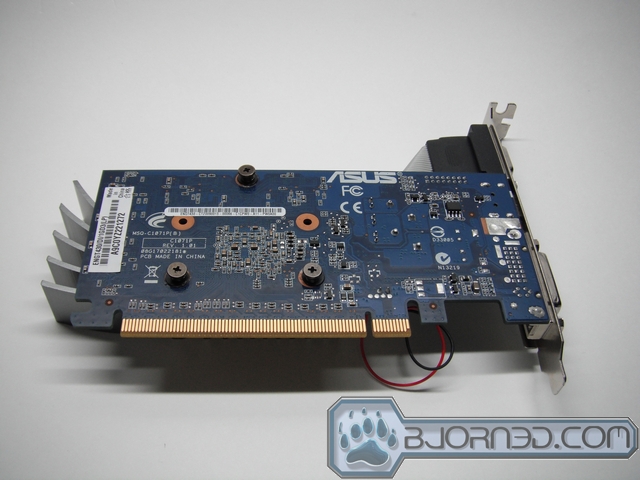 The standard fare of ports is included to ensure that wherever the ENGT430 is used, it will provide plenty of connectivity options.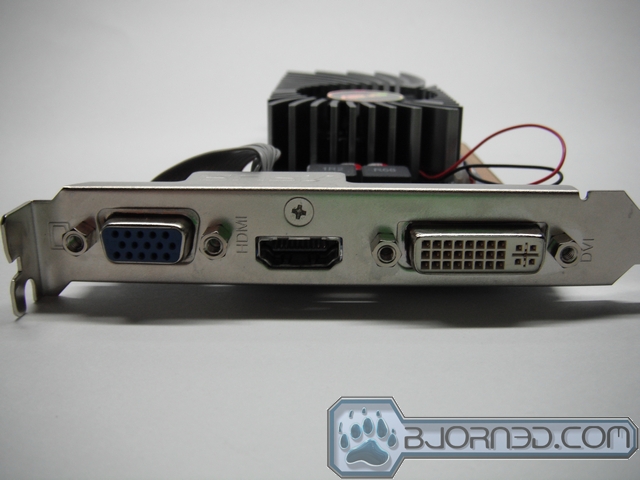 The heatsink for the ASUS ENGT430 actually extends past the end of the PCB. This is not a concern as this video card is fairly small. Nonetheless, it is a curious rarity. The fan that ASUS uses sports a double dust seal to increase operational life by 25%. We would like to see this trend move on to all graphics cards, as it seems as though GPU fans are one of the first things to fail in modern PCs.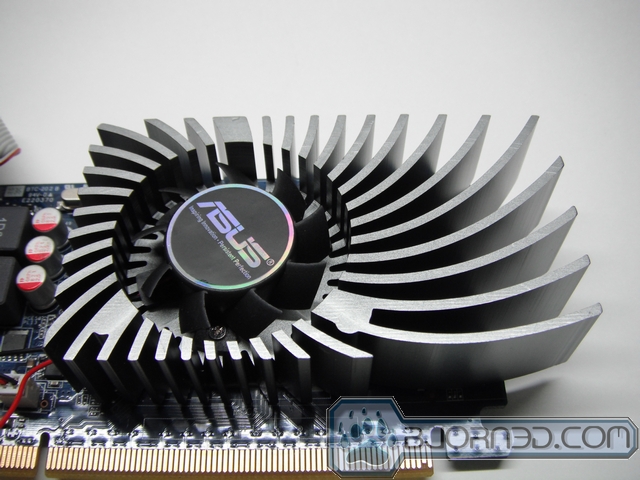 TESTing & Methodology
Test Platform

Processor
AMD Phenom II X4 970 BE
Motherboard
ASUS M4A88TD-V EVO/USB3
Memory
Kingston HyperX DDR3 1600 4GB Kit
Hard Drive (internal)
250GB Western Digital SATA 3.0Gb/s 16mb cache
Video Cards
ASUS ENGT430

BFG GeForce GTX 260 OC MaxCore 55

Power Supply
Thermaltake Toughpower XT 750
Case
Antec P182B
Operating System
Windows 7 Ultimate 64-bit
Since the ENGT430 is geared towards the HTPC role, we ran benchmarks in two different resolutions when available. For the HTPC role we ran 1280×720 to simulate 720p usage, and for the role of an entry-level gaming card we ran at 1280×1024.
OVERCLOCKING
Overclocking was simple thanks to ASUS' provided application, Smartdoctor. Unfortunately, we maxed out the ASUS application and were forced to use MSI Afterburner to reach the final overclocks. The GPU successfully overclocked from 700MHZ to 800MHz. Any higher, and artifacts were present. The Memory jumped from 800MHz to 960MHz for an effective speed of 1920MHz.
These are pretty impressive results from an entry-level graphics card, and the benchmarking results for the overclocked ENGT430 are included on the following pages.
TEMPERATURES
With faster clock speeds come higher temperatures, which is exactly what we found when we overclocked the ASUS ENGT430. Thankfully, these temperatures are nothing to worry about and are definitely suitable for an HTPC-geared video card.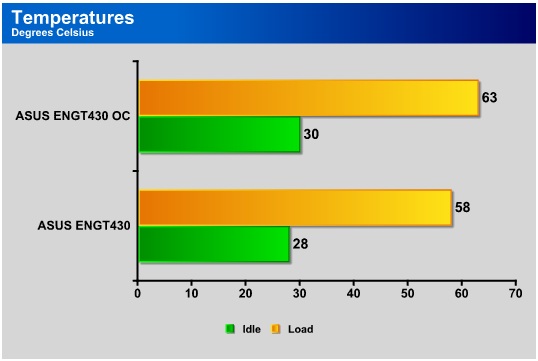 UNIGINE HEAVEN 2.1

Unigine Heaven is a benchmark program based on Unigine Corp's latest engine, Unigine. The engine features DirectX 11, Hardware tessellation, DirectCompute, and Shader Model 5.0. All of these new technologies combined with the ability to run each card through the same exact test means this benchmark should be in our arsenal for a long time.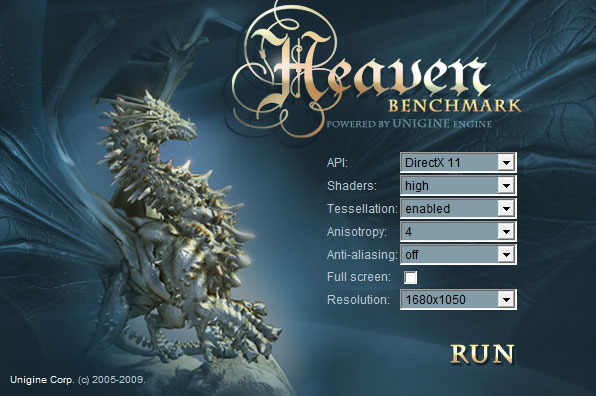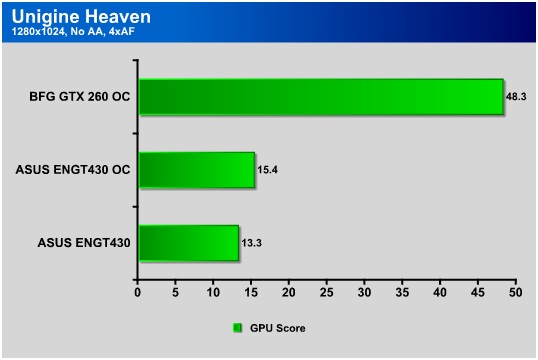 As the ENGT430 is an entry level graphics card, we are not expecting very high numbers from this benchmark. While the overclocked 430 does yield higher results, the improvement is too small to yield any noticeable performance increase.
STONE GIANT
We used the built in utility for determining FPS. We started the benchmark, and let it run on stock settings for 3 passes without making any adjustments of changing camera angles.
Key features of the BitSquid Tech (PC version) include:
Highly parallel, data oriented design
Support for all new DX11 GPUs, including the NVIDIA GeForce GTX 400 Series and AMD Radeon 5000 series
Compute Shader 5 based depth of field effects
Dynamic level of detail through displacement map tessellation
Stereoscopic 3D support for NVIDIA 3dVision
"With advanced tessellation scenes, and high levels of geometry, Stone Giant will allow consumers to test the DX11-credentials of their new graphics cards," said Tobias Persson, Founder and Senior Graphics Architect at BitSquid. "We believe that the great image fidelity seen in Stone Giant, made possible by the advanced features of DirectX 11, is something that we will come to expect in future games."
"At Fatshark, we have been creating the art content seen in Stone Giant," said Martin Wahlund, CEO of Fatshark. "It has been amazing to work with a bleeding edge engine, without the usual geometric limitations seen in current games".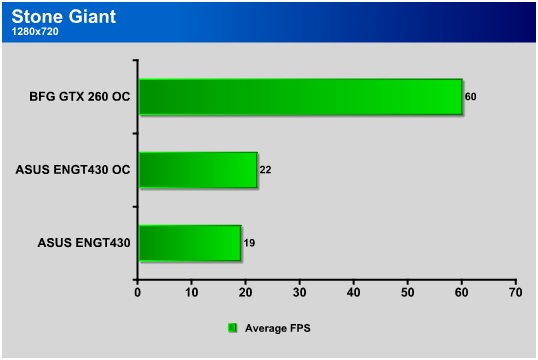 As with the Unigine Heaven benchmark, the ASUS ENGT430 struggles and fails to deliver acceptable frame rates with the Stone Giant benchmark. Again, this DX11 benchmark taxes a videocard that is more at home in a HTPC with light gaming mixed in.
S.T.A.L.K.E.R.: Call of Pripyat
Call of Pripyat is the latest addition to the S.T.A.L.K.E.R. franchise. S.T.A.L.K.E.R. has long been considered "the thinking man's shooter," because it gives the player many different ways of completing the objectives. The game includes new advanced DirectX 11 effects as well as the continuation of the story from the previous games.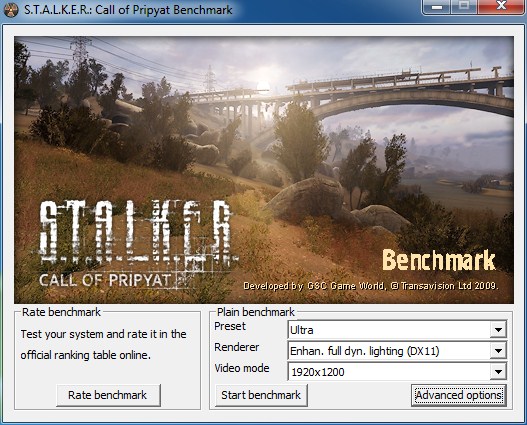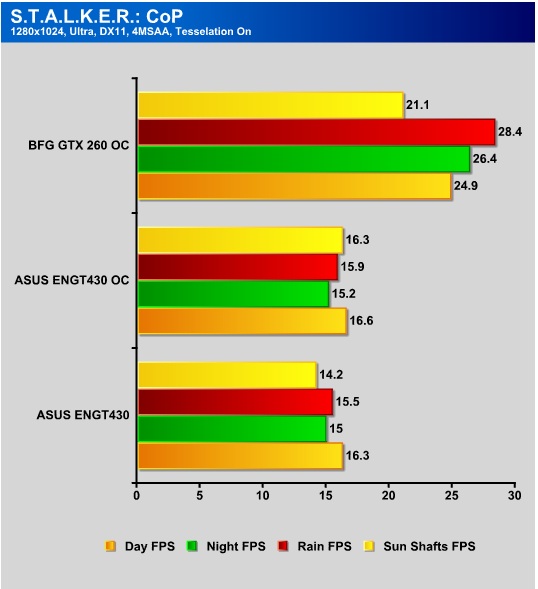 The difference between the stock clocked and overclocked ENGT430 is practically non-existent in the S.T.A.L.K.E.R. benchmark. Users should keep in mind that although this card may not perform well at the settings we benchmark at, it will still perform fine with settings turned down.
3DMARK VANTAGE

For complete information on 3DMark Vantage Please follow this Link:
www.futuremark.com/benchmarks/3dmarkvantage/features/
The newest video benchmark from the gang at Futuremark. This utility is still a synthetic benchmark, but one that more closely reflects real world gaming performance. While it is not a perfect replacement for actual game benchmarks, it has its uses. We tested our cards at the 'Performance' setting.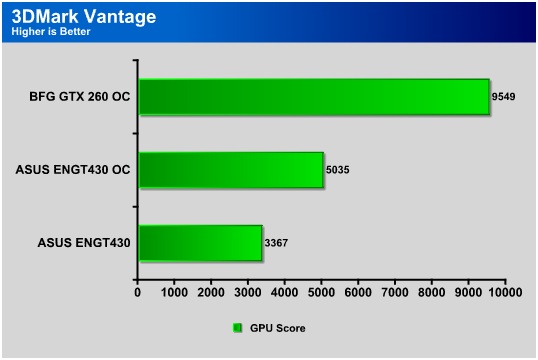 While this benchmark is beginning to become long in the tooth, it is still a good refrence for graphics cards. We can really start to see how much the overclocking of the ENGT430 helped with this benchmark.
CINEBENCH 11.5
CINEBENCH is a real-world cross platform test suite that evaluates your computer's performance capabilities. CINEBENCH is based on MAXON's award-winning animation software CINEMA 4D, which is used extensively by studios and production houses worldwide for 3D content creation. MAXON software has been used in blockbuster movies such as Spider-Man, Star Wars, The Chronicles of Narnia and many more.
CINEBENCH is the perfect tool to compare CPU and graphics performance across various systems and platforms (Windows and Mac OS X). And best of all: It's completely free.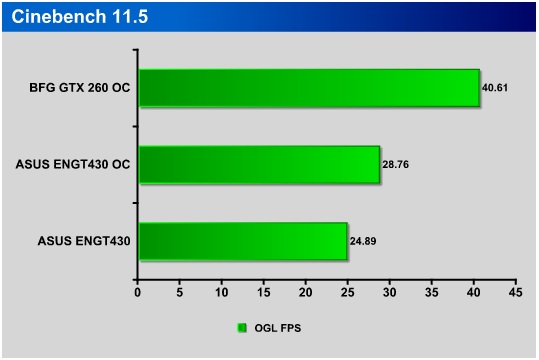 The 3D rendering capabilities of the 430 show that it is indeed a competetive card, and as always, overclocking increased the output.
HD Playback
To test out the multimedia performance of the ASUS ENGT430, we used the short 3D animation movie 'Big Buck Bunny'. Big Buck Bunny was created using the open source 'Blender' software package. We used the 1080p MP4 video file played in Windows Media Player.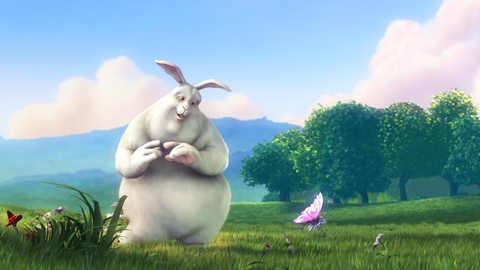 The playback quality of this file was phenomenal. Video was smooth both when played back from the local disk and when streamed from our NAS device. Paired up with the right components, the ASUS ENGT430 functions as a great HTPC video card that works well with streamed HD content.
CONCLUSION
With an MSRP of around $79, the ASUS ENGT430 will be a welcome upgrade to many PCs utilizing on-board graphics chipsets. And while this card will be available in the retail and e-tail realms, over 90% of the GT430 line will be sold to system integrators.
We believe this card will excel in the HTPC market. The HDMI port will allow for easy connections to an HD television or projector. The cooling on the ENGT430 not only does its job of keeping the card cool, but it is nearly silent as well.
Another great option for the ASUS ENGT430 is for PhysX offloading. With 1GB of DDR3, the 430 can do the PhysX calculations while a more advanced graphics card handles the 3D heavy lifting. Users who don't need to take advantage of PhysX can always run Nvidia CUDA applications like Folding@Home to help the Bjorn3D team (Team 41608)!
OUR VERDICT: ASUS ENGT430
| | |
| --- | --- |
| Performance | 7 |
| Value | 9 |
| Quality | 9 |
| Features | 8 |
| Innovation | 7 |

We are using a new addition to our scoring system to provide additional feedback beyond a flat score. Please note that the final score isn't an aggregate average of the new rating system.

Pros
Cons
Overclocks very well

Runs cool and quiet

Affordable

Blu-ray 3D playback possible

Gaming performance not up to par with slightly more expensive cards
Summary: While the ASUS ENGT430 looks appealing on the outside, the performance that is provided does not make for a great gaming video card. However, the card will do wonders for users wanting to upgrade from an integrated GPU to a dedicated graphics card.