The HIS Multi-View II offers an easy way to attach a extra monitor via the USB-port on an older stationary compuer or a laptop.
INTRODUCTION
Anyone that has used more than one monitor for their computer can attest to the boost in productivity it brings. Both AMD and NVIDIA have long had support for multiple monitor setups, and AMD even supports 3-6 monitors on one card with their HD5k series. However, there are situations where it is hard to hook up more than 1-2 monitors to the system. Laptops and notebooks usually only have one display port. Though users also can use the built-in screen of the laptop, it usually is much smaller than a regular monitor, and it is difficult to pla. Likewise a lot of stationary computers have older graphics cards that only support up to 2 monitors. One of our test computers, the author's computer at work, for example has an old HD4650 card that only supports 2 monitors. But since we want to use 3 monitors on that system we have to either buy a new HD5k-card or find another solution.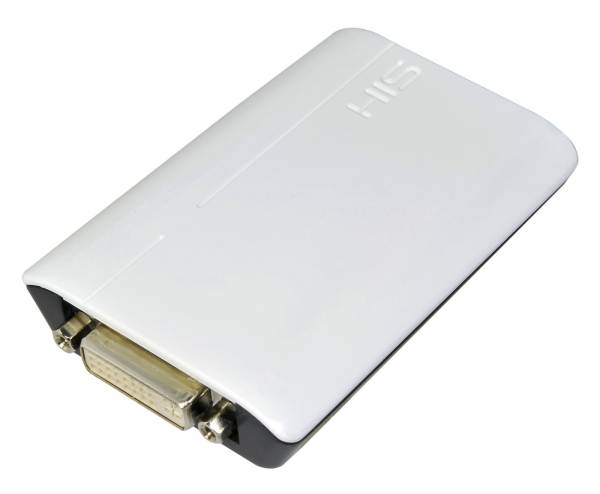 The product we are reviewing today, the HIS Multi-View II, is such a solution. It is essentially a USB graphics card which can be hooked up to a USB2.0 port on one side and connected to a monitor on the other. We've tested it with a laptop and a stationary system to see if it is comparable to connecting the monitor to a dedicated card inside the system.
HOW IT WORKS
The HIS Multi-View II is based on hardware from the company DisplayLink (www.displaylink.com)
USB 2.0 Hi-Speed compliant input
Dual DisplayLink DL2+ Decompression Engines 
High definition resolution up to 2048×1152 including Full HD (1080p)
High performance (DDR) memory interface
Comprehensive operating system support including full support for Windows Vista (including Aero 3D) and Windows 7*
Windows driver Auto-Install via SPI flash interface
Support for standard and widescreen aspect ratio displays
32-bit True Color depth for high quality graphics
Integrated DVI (TMDS) and analog (VGA) DAC
Support for direct LCD panel connections via LVDS
Video output via DisplayPort and HMDI supported via external chips (12/24-bit RGB-TTL)
Ultra low power consumption compatible with USB bus-powered designs
Automatic display detection using VESA compliant protocols
Support for a wide range of static, interactive, and video content
Fast and simple installation using Microsoft WHQL signed drivers
Configuration flexibility allowing extend and clone desktop display. Configurations are remembered with the unique benefit that when unplugging the device, all applications are brought back to the computer's main display, to enhance mobility.
Fully software upgradable allowing performance and feature enhancements over the life of the product
Optional Auto-Update to provide users with the latest software enhancements
The adapter is using one of the new DL-1×5 chips from DisplayLink which has support for higher resolutions including HD-resolutions. Since only the high-end DL-195 supports 2048×1152 it is this chip that the Multi-View II uses. It also has a better decompression engine which should mean better performance. We are surprised that the HIS Multi-View II is not DisplayLink certified but as far as we can tell it does not affect the usage of the adapter.
But how does it actually work? DisplayLink has some interesting information over at their site describing how the adapter (and other products that use their chip) works:
How It Works


DisplayLink USB graphics technology is a unique approach to USB 2.0 graphics, allowing smooth video playback and providing a low latency connection that feels very much like a traditional monitor while providing the "plug and display" simplicity of USB. DisplayLink USB graphics technology allows for high resolution, full 32-bit color graphics, at resolutions up to 2048×1152 (DL-195). Here's how it works:

1. DisplayLink software is installed on the PC and uses resources available in the CPU and GPU to process the graphical information from your USB connected display.

2. Updates to the screen are automatically detected and compressed using the DL2 (DL-1×0) or DL2+ (DL-1×5) compression technology. This adaptive compression technology automatically balances the compression methods based on the content, available CPU power, and USB bandwidth, providing the best possible USB graphics experience at any given moment.

3. Compressed data packets are sent over the standard USB 2.0 cable as quickly as possible to maintain a very interactive user experience.

4. A high speed DisplayLink chip embedded in the monitor, docking station, projector or adapter decodes the compressed data back into video or graphics data.
The technology splits up the image into separate areas and compresses each area separately. This allows the adapter to be much more effective, as it can selectively decide how much each small area needs to be compressed, instead of having to compress the whole image in one action.
 
USING THE HIS MULTI-VIEW II
We selected two systems for testing with the HIS Multi-View II:
System 1 (Fujitsu business computer):
Core 2 Duo 8400
8 GB DDR2 memory
AMD Radeon HD4650
Windows Vista Business 64-bit
Monitors directly connected to computer: HP 22", Samsung 17"
Monitor connected via HIS Multi-View II: 19"
System 2 (Acer Aspire TimelineX 3820TG laptop):
Intel Core i5 450M
4 GB DDR3 memory
AMD Mobility Radeon HD5650 and Intel HD graphics
Windows 7 Pro 64-bit
Monitor connected via HIS Multi-View II: Dell 24" (1920×1200)
Installation
Installing the Multi-View II was easy, at least on the two Windows computers we used. Even though HIS includes a small CD with drivers, they still recommend going to www.displaylink.com to get the latest drivers. We did not have to do that since the adapter has flash memory which contains both the driver and the application to get the product up and running. Despite the presence of the flash memory, however, we do still recommend going to www.displaylink.com to get the latest drivers as they improve the performance of the adapter.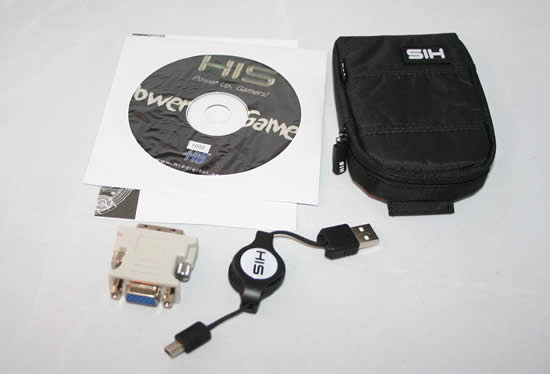 Together with the Multi-View II adapter we get a DVI-VGA adapter, which allows us to connect the product up to a VGA monitor or projector. The product also comes with a retractable USB cable (which is unfortunately still not very long) and a pouch to keep the adapter and the cable in.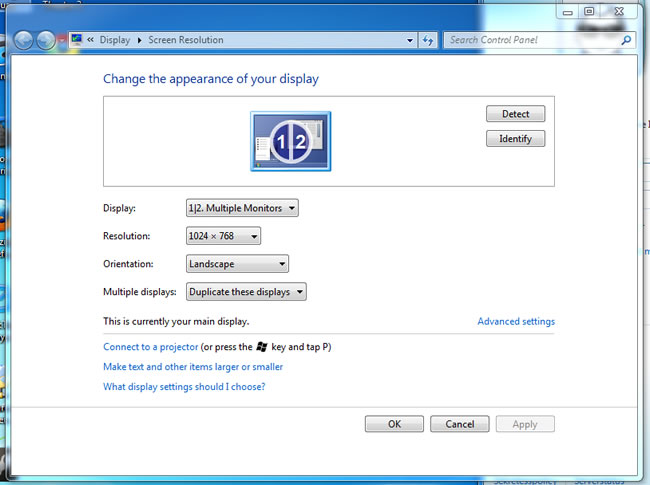 After installing the adapter, the attached monitor will come up as a regular monitor, onto which users can extend or clone the image from the original monitor.
Performance
We used the Multi-View II over the course of a few months to really get a feel for how well it works in daily life over a sustained period of time.
At first, it feels like just a regular monitor. A little monitor icon appears in the taskbar, allowing users to quickly extend the desktop to the monitor attached to the Multi-View II. However, when scrolling quickly in a webpage, there is noticeable difference difference in quality – the image blurs for a millisecond and then sharpens again. This is of course due to the fact that the image is compressed, sent over the USB-cable to the adapter and then decompressed, all of which happens almost instantaneously. The glitch doesn't occur all the time, but regularly enough that it is something users need to get used to.
After upgrading to the latest drivers (released 29th September 2010), we noticed that the blurring reduced significantly compared to the previous beta-drivers we used. It is clear that future optimizations will improve it further.
We tested playing video on the attached monitors, with mixed experience. Standard definition clips (like DVDs) played fine, and even some 720p DivX clips played fine, but when we tried a 720p-matroska clip or a 1080p-matroska clip, it was choppy and blurry.
Users should similarly keep gaming light, as the Multi-View II can't cope with fast moving games. We actually tested the original StarCraft, which worked fine.
Overall, we were quite happy with the Multi-View II, especially on our work computer, as long as the loads were light. When the load got too high, the image froze. It was easily fixable by extending the monitor to a new side (right instead of left and so on) and then back, but it was still annoying.
CONCLUSION
We have mixed feelings about the Multi-View II. Even with the sacrifices in quality (the minor split second blurring of the image), when it works, the Multi-View II is an excellent piece of technology that really is useful if you in an easy way want to expand with more monitors. At $65 it's a cheap alternative to buying a new video card, and it is the only way to attach 2 or more monitors to a laptop.
What ultimately brings the rating down, though, is the fact that the product is unstable under a high amount of load. Though it was not severe, the instability under heavy load forced us to put in a dedicated HD5650. In all fairness though, the Multi-View II has worked well over the last few months under light or moderate loads.
OUR VERDICT: HIS Multi-View II
| | |
| --- | --- |
| Performance |  6 |
| Value |  7 |
| Quality |  6 |
| Features |  8 |
| Innovation |  8 |

We are using a new addition to our scoring system to provide additional feedback beyond a flat score. Please note that the final score isn't an aggregate average of the new rating system.

Pro

Cons

Makes it very easy to attach a monitor

Good performance with the right system

Easy to carry with the notebook

Good price

Minor image quality issues due to compression

Unstable when system is under load




 

Summary: The HIS Multi-View II is a nice product that makes it easy to attach a monitor to any system. It does, however, need better drivers that can handle a system under load.