A great case that displays not only unique innovation, but also genuine quality.
 INTRODUCTION
One of the most overlooked components of any computer is the case itself. Many people are unaware of the importance of having a good computer case: easier hardware changes with a tool-less design, greater airflow with more powerful fans, and significantly easier cable management. Most people also want to have an attractive case that will make others say "WOW."
The NZXT Phantom provides all of these measures and more. Not only does it include a fan controller, it also has a design that strays away from the usual rectangular box. Its innovation is only matched by its size and its staggering 140 USD price tag. 
 Features
| | |
| --- | --- |
| • | High Performance Cooling Advantages – Phantom's extensive cooling capabilities include 7 fan cooling options with dual 200mm, single side 230/200mm (NZXT only guarantees fitment with NZXT's FN-200), triple 120mm, and front 140mm fans. For enhanced control and expandability, NZXT includes dual radiator support, quad watercooling cutouts, and an integrated fan controller with up to five 20W channels. |
| • | Simple Installation – Phantom celebrates an array of innovative features designed to enhance every stage of the build. Meticulous wire management is easily attainable with large spacing behind the motherboard. The innovative all-new 5.25" screwless rails make installing and swapping HDDs an effortless process. Rubber grommets dampens vibration during operation. |
| • | Additional Advanced Features – Further distinct features include an LED on/off button to control fan lighting, rubber PSU and case feet to reduce vibration, easily removable front and top panels, and top mounted USB, Audio/Mic, and E-SATA ports. |
| • | Extensive Compatibility and Expandability – Features support for larger heat sinks, graphics cards, and E-ATX motherboards enabling enthusiasts to include any of today's hottest components. Vast space within the enclosure allows for 7 hard drives with SDD support and up to five 5.25" bays. |
This case has so many features that it easily appeals to many enthusiasts and is not only packed with features, but it's also very impressive looking.
Specifications
Feature/Specification
NZXT Phantom
Case Type
Full Tower Steel
Front Panel Material


Plastic/Steel

Demensions (W x H x D)


222 x 540 x 623 mm / 8.74 x 21.26 x 24.53 in

Fan Layout


Front, 1 x 140
Rear, 1 x 120mm(included)
Side, 2 x 120mm, 1 x 200/230 (2 x 120mm included)
Top, 2 x 200mm (1 x LED 200mm included)

Drive Bays


5 External 5.25″
7 Internal 3.5″
Screwless Rail Design

Material(s)
Steel with black finish
Expansion Slots

7
Power Supply
500 Watt PS2 ATX 12V 2.0 (Optional)
Weight

11 KGS (W/O Power)
Motherboard Support

 E-ATX, ATX, Micro-ATX, Baby AT
NZXT decided to pull out all of the stops with this one offering a large variety of extras to appeal to even the most demanding consumer. They also made sure to include plenty of fans for optimal airflow and even managed to squeeze in a few extra spots for more fans which you could add at a later time. All of this is bundled together for a feature packed full tower at $140.
 Pictures & Impressions
The box looks great and will definitely excite anyone who gets to see this beautiful case. The box itself is very simple, but provides plenty of useful insight to the case. Let's hop into the details of this extravagant case.
The side of the box includes a list of specifications and the packaging label. This part of the box lists all of the features NZXT included with this case, starting with the five tool-less 5.25″ drive bays and seven tool-less 3.5″ drive bays. The box also lists all the cooling options included in the case: 1 x 140mm case fan located in the front, 1 x 200mm Blue LED fan located in the top with an opening for another 200mm fan, 1 x 120mm fan located in the rear, and lastly 2 x 120mm fans with room for another 200/230mm fan.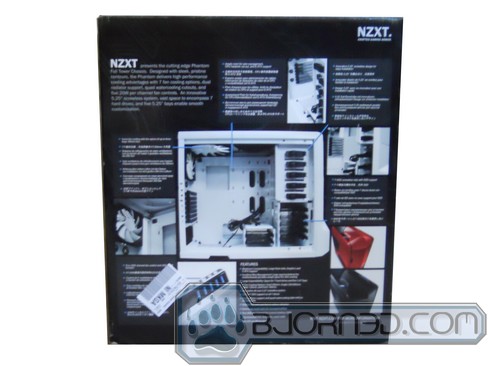 The back not only lists various bits of important information, but also provides buyers with a great look at the inside of the case. The large picture details all features inside the case, including the aforementioned drive bays, cooling options, and lists some newly added features, such as the built-in fan controller.
This side of the case is relatively simple, and has a hole that allows for airflow. This is the side behind the motherboard, where all cable management happens. Towards the top left of the case is the fan controller. NZXT included five 20 watt channels for superb cooling options.
This is what the inside of the other side panel looks like. NZXT also provides the ability to mount another 200/230mm fan on this side panel. Both of the side fans shown have a pictured wire that will show users which part of the fan controller it is attached to. This also allows the user to easily remember which fans they are controlling in the case.
The inside of the case is absolutely stunning, and has many options for cable management. The case has plenty of holes that allow users to manage their cables very neatly. The holes with the rubber grommets attached allow for cables to be hidden due to their close proximity to the drive bays.
The front of the case is very sleek, and has a door for the drive bay. The front fan is located towards the bottom, blowing directly onto the bottom of the drive bay.
The rear of the case is relatively standard, but looks great and provides the owner with many options for water cooling. The quad cut-outs allow for the case to provide dual radiator support which is great for anyone interested in having an intense water cooling rig.
This side of the case is where all of the cable management happens. It contains some anchor points where users can zip-tie all their cables. This is a very popular feature among enthusiasts that are concious of their cable management. The case design gives users direct access to the back of the hard drives, side access to the top drive bay and motherboard, and the bottom hole, which is extremely useful for managing the power supplies cords.
The overall case design and innovation are unmatched by competitors. Not only will it appeal to the physical demands of your case, but it's also extremely appealing to the eye. 
METHODOLOGY
To test the case, kept every piece of hardware the same between the two testbenches. We then let the system sit idling for 30 minutes, and recorded the temperature as the idle temperature. We then booted up Prime95, and waited 30 minutes for the machine to heat up. The highest CPU temperature was recorded. Furmark was then run on the system for 30 minutes to find the highest GPU temperature, which was then recorded.
Test Rig
Test Rig

Case Type
NZXT Phantom
Cooler Master HAF 932
CPU

 

Intel i5 750

Motherboard

Asus P7P55D-E Pro

RAM
OCZ Reaper 4GB
CPU Cooler
CoolIt Vantage
Hard Drives
WD 750GB Green
Optical
Lite-On DVD R/W
GPU(s)
MSI GTX465 Twin Frozr II
Testing PSU
In Win 1200W Commander
 
RESULTS
| Case | Idle Temp (C) | Load Temp (C) |
| --- | --- | --- |
| Phantom | 32 |  49 |
| HAF 932 |  34 |  51 |
The results were great, and we were genuinely surprised at how good the airflow was throughout the inside of the case. The NZXT Phantom was clearly designed with great ventilation in mind.
 Conclusion
The case's appearance and quality really shined through. One of our favorite features on the case was its built in fan controller. It's something most people end up buying anyway for their own case. It is also an extremely quiet case, as one would expect with the built in fan controller. 
OUR VERDICT:  NZXT Phantom

| | |
| --- | --- |
| Performance | 9 |
| Value | 7 |
| Quality | 9 |
| Features | 10 |
| Innovation | 10 |

We are using an addition to our scoring system to provide additional feedback beyond a flat score. Please note that the final score isn't an aggregate average of the rating system.

Pro
Cons

Cable Management

Amount of Fans

Sleek Design

Feature Packed

Quiet

Expansion slots are not tool-less

 

 
Summary: The NZXT Phantom is a great computer case and is well worth the price tag to any enthusiast who is serious about their rig. We are proud to give it the Bjorn3D Golden Bear Award.