The sequel to the successful third person action game game Mafia is finally here. The game starts you off with a massive 10 square miles available for you to explore, and different ways of completing your mission.
Introduction

The PC version of the original Mafia was very well received by players as well as critics. This was in part due to its serious and realistic nature. The game has been released on consoles and PC, we are reviewing today the PC version of Mafia II.
| | | |
| --- | --- | --- |
| | Many times, the best games in a series are the sequels. This of course depends on the developers' ability to retain the magic of the first game, and improve on the mechanics. The developer has to balance these elements with keeping the game's story interesting and engaging. After all, no one wants to play a sequel with the same story as the original. This year, we saw Blizzard accomplish at this feat with Starcraft II. Can 2K Games do the same with the Mafia  franchise? | |
We sure hope 2K can pull it off, and if we go by the success they had with the original Mafia game this should be an excellent game. However besides the original Mafia game 2K Czech has not had any other successful game. Lets hope they can work some magic and make the sequel just as good as the first.
Required System Specifications

| Specification | Minimum | Recommended |
| --- | --- | --- |
| Operating System | Windows XP/Vista/7 | Windows XP/Vista/7 |
| CPU | Pentium D 3 GHz or AMD Athlon 64 X2 3600+ | Intel Core 2 Quad 2.4 GHz |
| Memory | 1.5 GB | 2 GB |
| Hard Drive Space | 8 GB of free space | 10 GB of free space |
| Graphics Hardware | Nvidia 8600 / ATI Radeon HD 2600 | Nvidia GeForce 9800 GTX / ATI 3870 |
| Sound Hardware | DirectX 9.0c | DirectX 9.0c |
| Network | Internet connection required for online activation | Internet connection required for online activation |
The minimum requirements are not surprising, considering most games these days require a dual core CPU to run. The game may run on a faster single core CPU, but will almost certainly have spots were the game will lag. The graphics requirements are also unsurprising, since the Nvidia 7 series and the ATI X1000 series are getting up there in age. However the later high end cards from these series are at least on part with the 8600 and 2600 series, so they should have probably been included.
Plotline
The game takes place in a fictional city called Empire Bay, from 1943 to 1951. The player character is a World War II soldier named Vito Scaletta who is trying to make it to the top. The player starts out the game before the war: Vito and his friend, Joe Barbaro, are caught robbing a jewelery store. Joe manages to get away with the money. Vito is faced with the choice of going to jail or joining the army, so he decides to enlist.
Click Image For a Larger One
The tour of duty in Sicily serves as a playground of sorts, where players learn basic combat for the game. You start off in a town, and the plan is to ambush the Italian soldiers there. You quickly mow down a bunch of soldiers before coming up against a tank. The tank fires near you, and knocks you unconscious, but miraculously at that moment the US Army comes to save the day with a mob boss. The mob boss tells everyone to lay down their weapons, and surrender so the Italian soldiers gladly comply. During his tour, Vito is injured, and is sent to Empire Bay for a month of leave.
Click Image For a Larger One
When he meets up with his old friend Joe, he is surprised find him much richer than before. After a quick conversation with Joe, you reveal that you will have to go back to fight in the war again. When Joe hears this news he quickly offers to buy him fake papers so he can stay in Empire Bay. This is were the story begins, but we will avoid giving spoilers, and move on to the rest of the review.
Graphics
A whole eight years have passed since the original Mafia came out on PC, so a serious graphical update is to be expected. Though Mafia II may not match Crysis Warhead or Metro 2033 in graphical intensity, it definitely does not disappoint.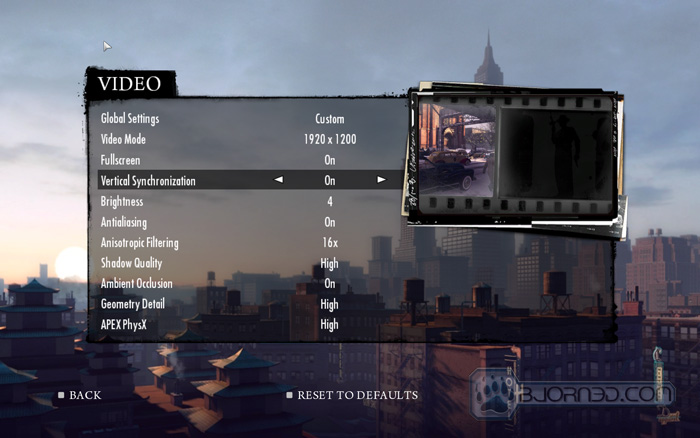 Mafia II takes advantage of Nvidia's PhysX acceleration engine, which provides the gamer with more realistic physics simulations during game play. PhysX allows compatible Nvidia video cards to do real time physics calculations during the game, relieving the processor from excessive calculations. From explosions going off, to moving clothes on each character, PhysX takes tremendous processing load off the CPU, allowing for higher frames-per-second when combined with a dedicated PhysX accelerated video card.
Click Image For a Larger One
While the game does not take advantage of DirectX 11, the eye candy that separates this game from others is the exceptional physics simulations with the PhysX engine. Also, while the geometry count in the game might not be as high as in some of the latest games, the higher texture qualities really bring out the beauty in this game even on higher resolutions.
Click Image For a Larger One
Even without the added PhysX effects, the game looks very good. We see some screen shots here with PhysX turned on. Explosions seem to pop straight out of the screen, as players will most likely see for themselves. The rain effects were also done excellently. The bottom right hand picture is a great example of this. The drops coming from the sprinklers look very realistic, and the smoke coming from the gun's muzzle is also of exceptional visual quality. Overall, this game has one of the best physics and texture qualities we have seen in a non-DX11 game.
Gameplay
The gameplay in the original Mafia was as good as, if not better than Grand Theft Auto. Before playing the game we were hoping that 2K would once again be able to beat out Rockstar's Grand Theft Auto, which always seems to be the yardstick by which any free roam game is judged.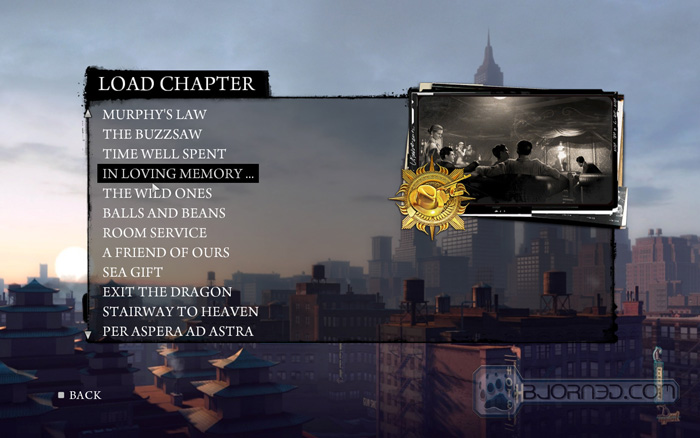 The main menu is like just about any other game, with basic selections for everything from the story mode to the graphics settings. Here we see the screen for loading a chapter in story mode.
Click Image For a Larger One
2K did not disappoint here. The gameplay in Mafia made it obvious that the game was dated. The kickback on the guns was ridiculously high, the driving felt boring, and the car handling could definitely have improved.
Click Image For a Larger One
It is amazing what eight years of innovation can do for a game. Right off the bat, we noticed that the shooting felt great, even on par with dedicated shooters such as Call of Duty. The cover system was much smoother than in GTA 4, which was a pleasant surprise. The driving felt much more up to date, though the winter driving was not completely realistic. During the winter scenes, the road looks completely covered in a sheet of ice, but we found that we were still able to turn around corners at high speed without spinning out.
Click Image For a Larger One
Mafia II has the ability to customize cars. There are quite a few options for customizing cars, but nothing as sophisticated as in the Need For Speed series. There are also many stores thought the city that sell clothing. This is very similar to GTA 4, though GTA 4 was a bit more realistic: In Mafia II players are given more of a menu system, whereas in GTA 4 they can just walk up to what they want to buy. Mafia II trumps GTA 4, however, with gas usage. The GTA series has had a long tradition of cars with an infinite amount of gas. In Mafia II however, players find gas stations strategically placed all around the map. Nonetheless, gas tanks in the game are fairly large: we were able to drive around for half an hour without running out of gas.
Click Image For a Larger One
The cut scenes are rendered with the games graphics engine like many games these days. One of the reasons why the cut scenes are rendered real time is to make sure that Vito does not create a discontinuity by changing clothes in between a mission and a cut scene. Players can change clothes in the game, and the cut scenes will show the appropriate clothing.
Click Image For a Larger One
Some more screenshots of the game. These last three images show some action parts during a combat. Vito can use objects as his cover while he waits out the perfect time to take out his enemies.
Performance
We used a couple different cards to test the performance of the game across various setups (variables include graphics cards and CPU speeds). For testing we ran each benchmark three times to ensure that we achieved close results, and then put up a screen shot of the middle score. We used the maximum settings for the game as well as 16x Antiscopic Filtering. Listed below are the individual system specifications.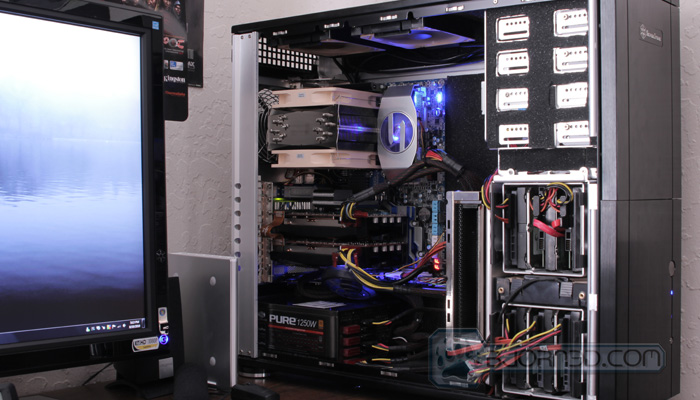 Peter Kapas's Test Rig

Case
Silverstone Temjin TJ10
CPU

Intel Core i7 930 @ 3.8GHz

Motherboard

GIGABYTE X58A-UD7 Motherboard – LGA1366

Ram
OCZ 6GB DDR3-12800 1600Mhz (8-8-8-24 1.65v) Kit
CPU Cooler
Thermalright True Black 120 with 2x Noctua NF-P12 Fans
Hard Drives

4x Seagate Cheetah 600GB 10K 6Gb/s Hard Drives

2x Western Digital RE3 1TB 7200RPM 3Gb/s Hard Drives

Optical
ASUS DVD-Burner
GPU

2x Palit GTX460 Sonic Platinum 1GB GDDR5 Video Cards in SLI

Case Fans

2x Noctua NF-P12 120mm Fans – Top

1x Silverstone 120mm Fan – Front and Back

1x Noctua NF-P12 120mm Fans – Hard Drive Compartment

1x Noctua NF-B9 92mm Fan Mounted right next to Video Cards for side ventilation. (Case does not come with side ventilation)  

Additional Cards

LSI 3ware SATA + SAS 9750-8i 6Gb/s RAID Card
PSU

Sapphire PURE 1250W Modular Power Supply

Mouse
Logitech G5
Keyboard
Logitech G15
Scott Sherman's Test Rig

CPU

 Intel Core i7 940

Motherboard

 Asus Rampage II Extreme

Ram
 6GB Corsair
Hard Drives

2x 1TB Seagate 7200 12 in RAID 0

1x 1TB Seagate 7200 11

Optical
 Lite-On DVD-RW
GPU

 Nvidia GTX 480

Additional Cards

 Creative X-Fi Fatality PCI-E
Mouse
 Logitech MX Wireless Mouse
Keyboard
Logitech G15 Keyboard
Tony Chartrand's Test Rig

Case
NZXT Vulcan
CPU

Intel Core i7 930 @ 3.6 GHz

Motherboard

DFI X58 Jr

Ram
6GB Crucial BalistX Tracer DRR3 1600
CPU Cooler
Noctua C12P SE14
Hard Drives

Corsair P64

2x Western Digital SE16 750 GB

Optical
Lite-On DVD-Burner
GPU

Gigabyte GTX 470 Super Overclock

Case Fans

1x Side 200mm Fan

1x Front 120mm Fan

Additional Cards

None
PSU

Corsair HX1000w

Mouse
Logitech MX-518
Keyboard
Dell "Teh Pwn Loudie"
Results
We ran the built in benchmark to get our results.
Peter Kapas
High PhysX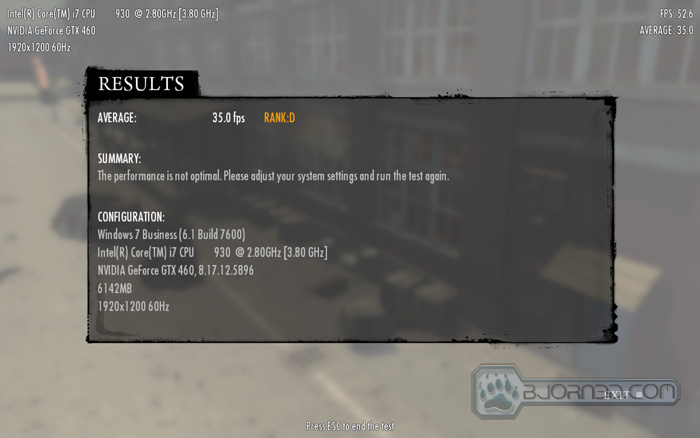 Medium PhysX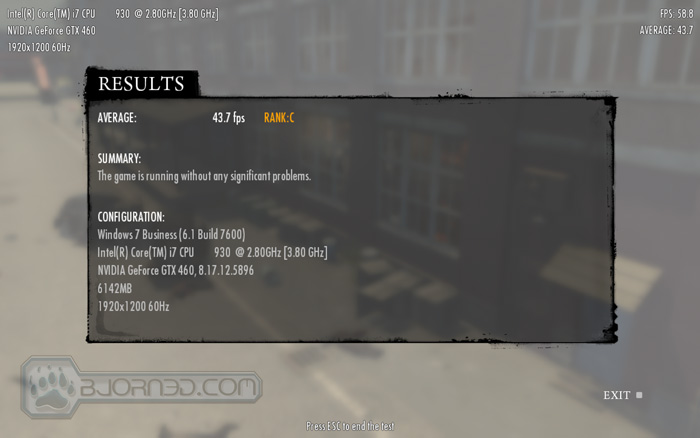 No PhysX
Scott Sherman
Medium PhysX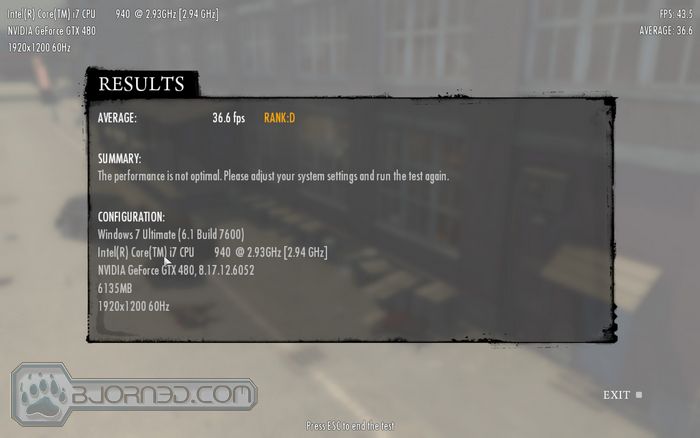 High PhysX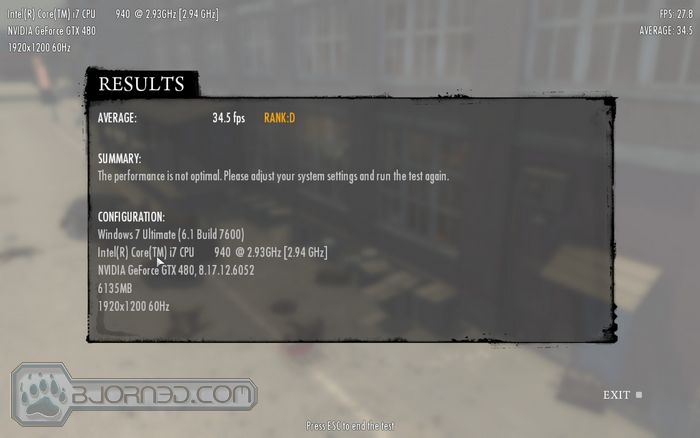 No PhysX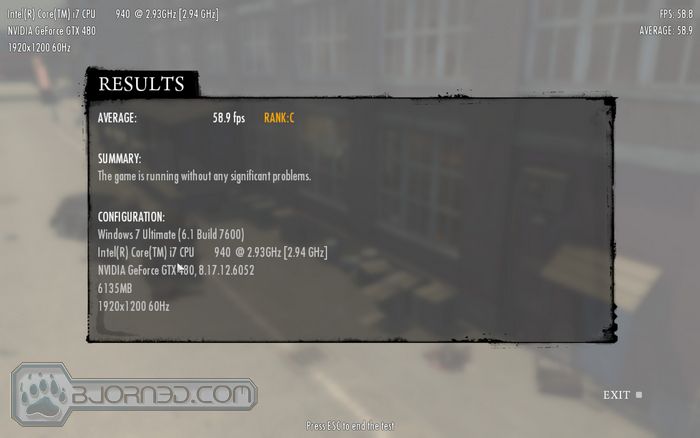 Tony Chartrand
High PhysX
Medium PhysX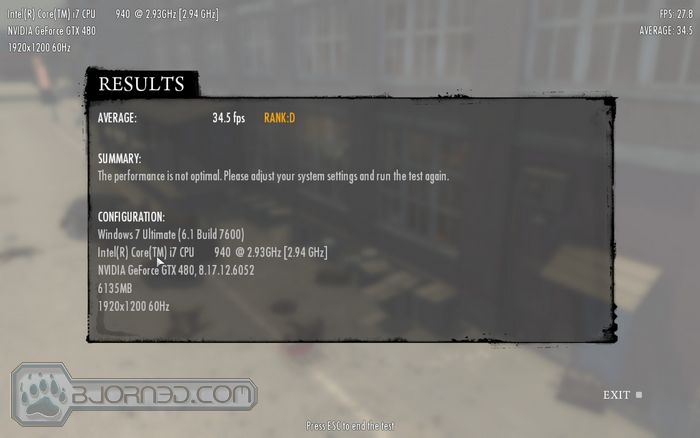 No PhysX
Overall, the scores were pretty good. When PhysX is disabled, we see a pretty large jump in performance, though most of that was particle effects. The smoke and rag doll physics were relatively the same, but with PhysX off, there were no particles coming off the wall after gunshots. Overall, the results were right in line with what they should be. The only way we can t expect a solid 60 FPS from a maxed out game while using 16x AF is if we have a CrossFire or SLI setup, a fact which was once again proven true here.
Conclusion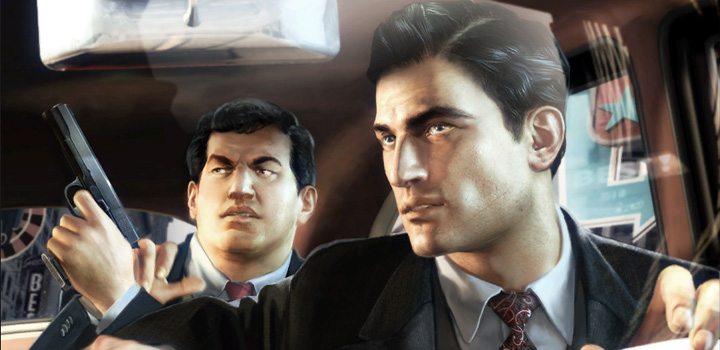 Mafia II is a great improvement over the original. It improves on every aspect of the original game, which puts it on par if not higher than its competitors. The combat is some of the best that we have seen in a free roaming game. The driving is very well polished, and the cars handle smoothly. The only complaint we had was with the road conditions. While the graphics may not be the best we have ever seen, they are very fairly advanced. The textures and effects are amazingly polished.
The inclusion of PhysX was a plus here, as it helps make the experience more realistic. The cinematic scenes are very detailed even though they use the game engine instead of being pre-rendered or filmed. The content of the scenes, which progress the story and keep the player interested, is excellent.
OUR VERDICT: Mafia II
| | |
| --- | --- |
| Performance | 8 |
| Value | 8 |
| Quality | 8 |
| Features | 9 |
| Innovation | 9 |

We are using an addition to our scoring system to provide additional feedback beyond a flat score. Please note that the final score isn't an aggregate average of the rating system.

Pros
Cons

Combat
Driving
Just About Everything Else
Summary: Mafia II excels in combat, driving, and storytelling. This is one of the best games of the year so far, and quite possibly the best sandbox games ever. We are proud to give Mafia II the Bjorn3D Silver Bear Award.