Hauppauge has come up with a HD recorder that record from a lot of different sources. Lets check out this little device.
Introduction
For years, I have been trying to find a HD recorder that can not only record any Cable/Satellite show, but also one that would allow me to record my dad's old VCR movies onto the computer so that we can optimize them to today's standards. I am always on the lookout to try new things, to review the unique or unusual devices that can or will make our lives a whole lot easier.The Hauppauge HD-PVR is such a device that can make our daily movie/show watching lives a lot easier.
This little device can record from any video source, and I do mean any video source. I recorded shows from my Cable set top box, recorded a Xbox 360 game, a Xbox game, satellite television, recorded some of my Blu-Ray movies (In full High Definition of 1080i mind you), a DVD movie, I even went retro with a few movies. I felt that since this recorder was recording from the all the above with success, I wanted to see if I could even record a VCR movie. Yep, them movie players from the good ole Eighties and early Nineties that we all had at one point in our lives. Low and behold this little HD PVR from Hauppauge did just that; it would record anything I threw at it. If it had a video output, this little unique device would record it.
Packaging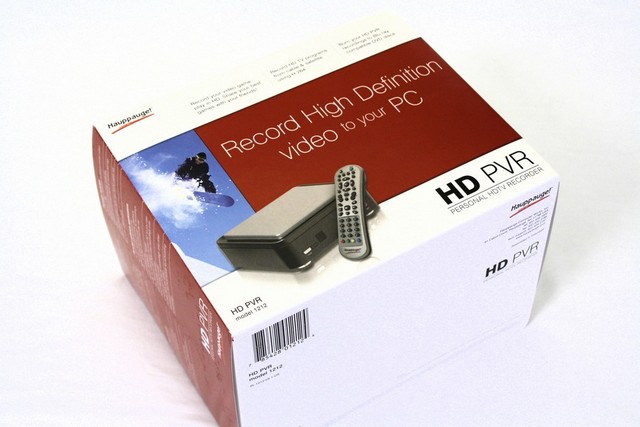 Hauppauge does make sure we, as consumers know what comes inside of the box, and what the capabilities of the unit are. I of course will have to take things one step further.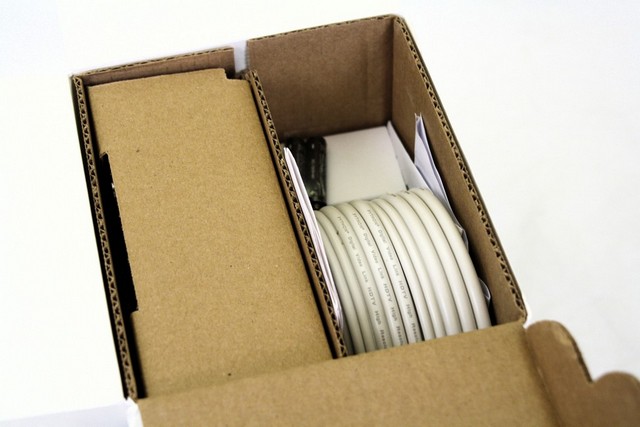 Upon opening the package; Hauppauge makes sure this unit would not get damaged during shipping, by separating the HD-PVR recording from the cables in individual compartments.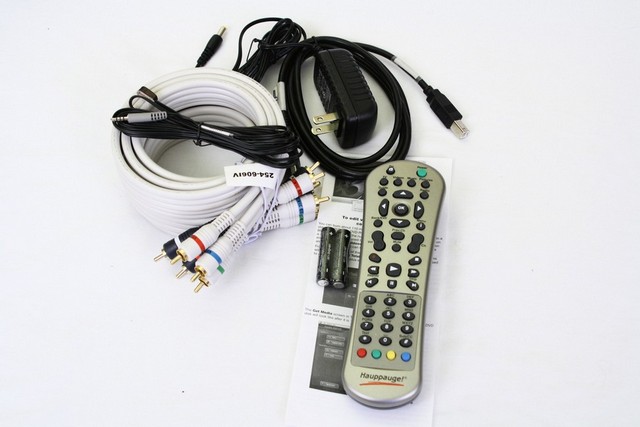 I laid all of the extras out so we can see what comes inside of the packaging. Hauppauge gives us everything we need to hook this PVR (Personal Video Recorder) right up and get down to business. Hauppauge includes a remote (I will explain its purpose later), extra batteries, a power cable, a HD analog RCA cable, an IR sensor (this works in conjunction with the remote) and finally a USB cable for us to hook up to our PC's.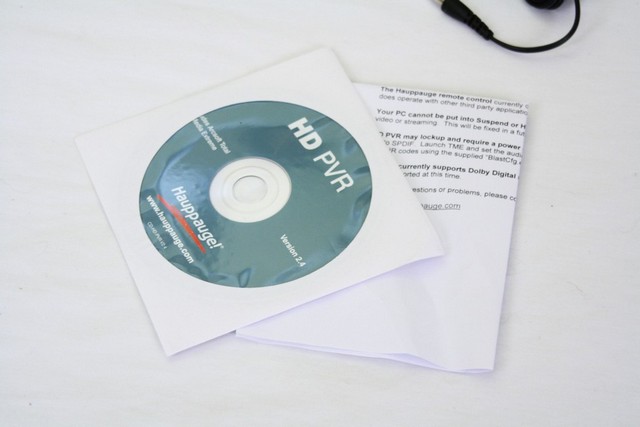 We also get a driver disk that will be needed to use this device properly on our computers.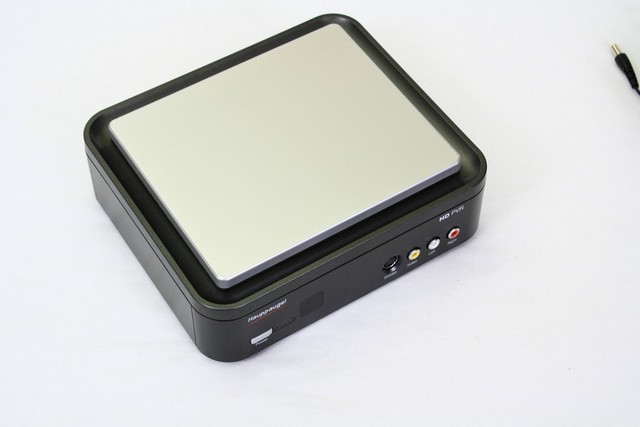 Finally we get the HD-PVR itself.
Specifications
Hardware encoder

H.264 AVCHD video encoder
AC-3 audio encoding
Recording data rate: from 1 to 13.5 Mbits/sec (user selectable)
Recording format: up to 1080i from component video (YCrCb)
Note: the video input format determines the recorded format. For example, 1080i input records at 1080i, 720P records at 720P, etc.. Any other format conversions needs to be done with the MediaConvert program (supplied).
NTSC or PAL supported

Size:

19.8cm wide x 17.3 cm deep x 7 cm high

Power:

5V at 2 amps
Input voltage of power supply provided: 110-220v at 50/60Hz

Weight:
System Requirements
Note: when playing back video recordings made with the HD PVR, a fast CPU and at least 256MB of graphics memory are needed.
Processor Requirements (minimum): Dual core CPU 2.0GHz or faster
Graphics with 256MB memory (or greater)
Sound card
CD-ROM drive for installing the HD PVR software
Overview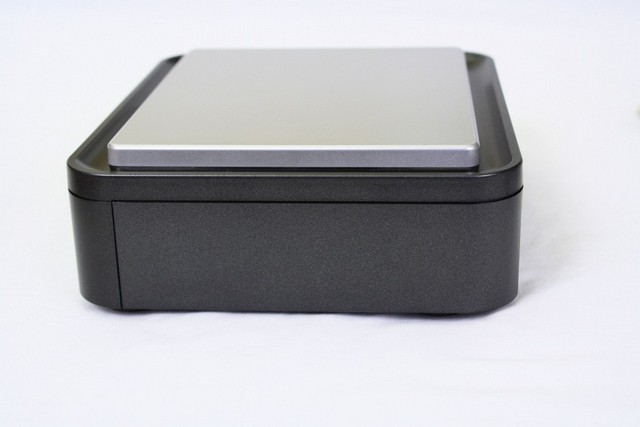 Since I have gone over the packaging and given you the specifications of this unit, I need to go over the overview of this unit before I jump right into the usage of this device.  This is what the right and left side of this unit looks like. I just wanted to tease you readers a bit more, lol.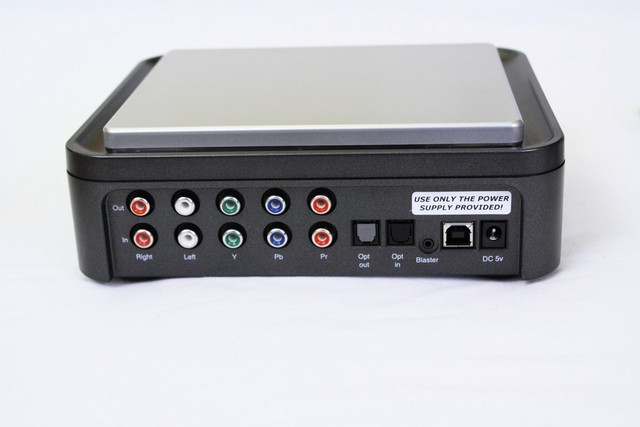 This is how the backside of the HD PVR looks. One thing we notice that this unit does not have is any HDMI ports. This unit can still record in HD, but we will have to use the analog RCA cables to do so. The one area I was pleased with was the included Audio Optical inputs and outputs. This will ensure we can get that 5.1/7.1 surround sound while we record our shows. But you will need to use the Audio Optical cable as well as the RCA cables; otherwise it will only record in stereo. The remote unit (IR Blaster) gets hooked up to the rear of the HD PVR unit. The IR blaster works in conjunction with the unit you are going to record from. What you do is hook the IR Blaster remote sensor over the top of the IR sensor of your Cable/Satellite box, then program the remote so you can change channels with the HD PVR remote. It was a bit confusing at first, but it was not all that hard to figure it how to use it. To the right of the IR Blaster port we get an USB hook up, this will need to be hooked up to our PC's in order for us to record our favorite shows. Finally we get the power hook up port.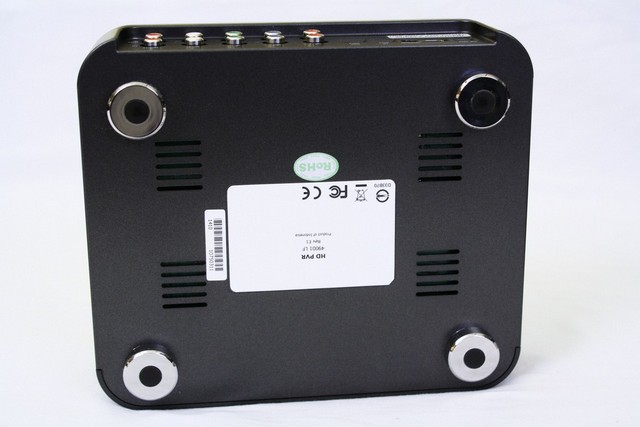 I felt we needed to see how this unit looks like on the bottom side. Hauppauge ensures this unit should get plenty of ventilation to help keep this unit cool. Hauppauge puts the fresh air vents on the bottom side of the unit, which makes perfect sense since heat rises.
Here is what the front of the unit looks like. Hauppauge includes a standard RCA hook ups (Video, Yellow: Left audio channel, white: Red, right audio channel) and we get an S-Video port as well. The remote sensor for the IR blaster is on the front of this unit as well.
Just some close ups of the ports that is on the HD PVR unit.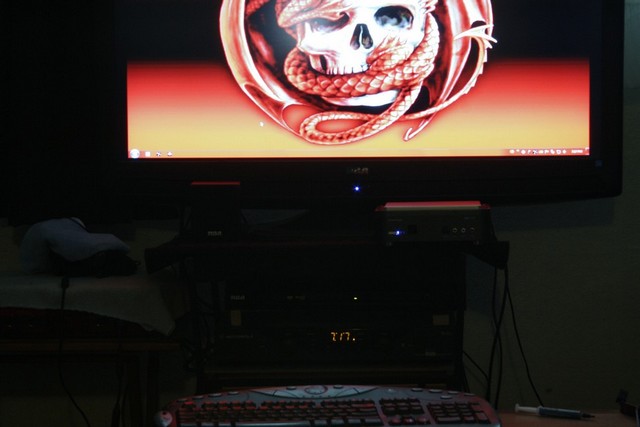 I used this unit over at my house which I recorded from Cable, Xbox, and an Xbox 360; then I took over to my parents house, and then hooked up to their Satellite, Blu-Ray player, and a VCR.
Software
After we get all of the drivers installed on our computer (HTPC), and also got the HD PVR all hooked up to our video cource we want to record from; it is time for us to start our recording. By click on the Arc Soft Total Media Icon, this window appears on our screens. There are four options we can choose from, the first choice is we can record from our video source to our computer, we can burn that recorded movie to a Dual Layer DVD disc (In case you do not have a capable buring program similar to Nero Burning ROM), You can play your copied show that you made with the HD PVR, (In case you do not have a DivX codec installed, or VLC player installed). The last option allows us to choose a portable device so we can transfer our copied show to an portable media device (ie. iPod)
Before we can do anything with burning, coping, or watching our copied movie we first need to record one to our computer or HTPC. These top screens is what you will see once you select record from the previous window. There are a lot of settings in this portion, the main key settings you need to keep in mind are the source (from which you are recording from, and where your sound is coming from. It is not complicated to set up, it does however takes a few minutes for you to get familiar.
The Hauppauge HD PVR records to our computers or HTPC via the USB 2.0 cable. This has too be hooked up to our computers in order for us to record our shows from what ever our source is. We can adjust the quality of the movie we are recording by the Max Bitrates under the format settings. By adjusting this setting, will only use that set amount of Mb/s through the USB Cable; lower this setting is, the lower quality of your recorded movie will be.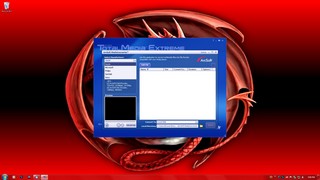 The Mobile device portion or Arc Soft Total Extreme. This allows us to transfer our copied our recorded movies over to our portable media devices.
Hauppauge, allows us to record on a schedual, so if you not going to be home, and you are going to miss out on an important show you wanted to see, you can set up the HD PVR to record that show while you are gone.
General Usage
I hooked up anything and everything I could possibly think of to this recorder. I started off using a Xbox, Xbox 360, as I wanted to see if this unit could record the game play, I quickly found out that not only could I record the game play, this unit would record anything that was displayed on the screen. I was also able to record from the Xbox 360 in full HD 1080i; below format is a YouTube link of that game I recorded using this PVR.
Then I decided to record from our Cable, unfortunately we do not have HD here, so I was limited to the standard 4:3 format. Nonetheless, this unit recorded from this input quite easily, also it recorded anything we were doing with the Cable box itself, switching channels, looking at previews etc.
Which gave me the idea to see if this unit can record from Satellite, a Blu-Ray player, and also from a VCR player. But this required me to go over to my parent's house and hook this unit up to those items. A few minutes later I was over at my parent's house hooking this unit up to the Satellite box, and to the HTPC that they have. Got all the drivers installed, and everything hooked up, it was time to start recording. Low and behold this unit would record from their Satellite box, just like the Cable recording I did at my house; this unit would record anything that we were doing on the Satellite box.
The machine that my dad is using for his HTPC, is the smallest computer out of our family. It is a tyipcal HTPC that was thrown together with misc. parts that myself and my dad had floating around. That computer is running a Intel Pentium D 805 dual core CPU, 2 gigs of memory, with a ATI Radeon 5670 video card. It is nothing really powerful but it does get the job done.
Up next was the Blu-Ray player, we hooked up the HD PVR to it and got everything set up and running, I hit the record button, and guess what? This unit recorded from that source as well. The HD PVR would record in full 1080i, now since my parent's HTPC is not quite as powerful as my HTPC "Minor Me" (which is a 4 GHz Core i5 750 screamer) I had little stutters during the playback of the 1080i format. I ended up dropping the recording resolution too 720p and the stutters disappeared, during playback.  After recording from the Blu-Ray player, I felt it was time for one last test of this unit. If this unit would record from this source, I would be sold. The last test, was seeing if this unit would record from my parents ever ancient and out dated VCR player/recorder. After a few minutes on switching out cables, getting everything set up and hooked up, we got the VCR all hooked up and playing. Shortly after doing all of this, I hit the record button, and then we were recording one of my parent's favorite movies Medicine Man.
After recording several full 2 hour shows, the file size of each of the movies was on or around 6-8 GBs in size regardless of resolution or ratio that movie was played. And it could be burnt to a Dual layer DVD disc to be played on any device that played MPEG4 format, as my dad found out when we fired up Nero Burning Rom, he could convert the movie he recorded to a format that any DVD player could read. Which made him perfectly happy, because he can now record all of his old VCR movies over to a DVD with very little effort.
Conclusions
No matter what I wanted to record from, the HD PVR would record from it. The hook up of this unit was simply effortless, and did not require any real knowledge on your equipment to hook this unit up, the hardest thing I encountered was the IR Blaster. I found out the minor issue I was having with the IR Blaster was my own fault, for not lining up the IR sensor of the box I wanted to control with the remote from the HD PVR.
During my usage, I tried the HD PVR on two different types of machines, a fairly high end quad core CPU which is a Intel Core i5 750 "Minor Me" (my HTPC), and on a fairly older (actually Intels very first dual core CPU) Intel Pentium D 805 CPU based HTPC. I am going to have to say, that the absolute bare minimum HTPC to record 720p HD movies or shows would be a Pentium D 805 CPU. Any higher resolution (1080i) will give you some playback studdering as trying to record in this format is a tad too much for this little CPU can handle. Recommended CPU based HTPC for 1080i recording I will have to say atleast a Core 2 DUO/AMD Dual core AM2 with at least 2.2GHz. Optimal 1080i recording would be a Core 2 Quad/AMD Tri core based CPU or larger.
The only area I feel Hauppauge could have done differently was include some HDMI ports, as the analog RCA cables are much more cumbersome to hook up, also a bit more complicated to utilize then a single HDMI cable which literally is Plug and Play. Looking around the Internet I see this unit goes from 180 to 240 USD depending on the E-Tailor. I will consider that most of your DVR's are on a rented basis from the Cable/Satellite companies and record from their sources only, while the Hauppauge HD PVR can record from any device that plays video, and it is yours; that makes this an affordable unit that we can expand our HTPC to a whole new level.
OUR VERDICT: Hauppauge HD PVR
| | |
| --- | --- |
| Performance | 9 |
| Value | 9 |
| Quality | 10 |
| Features | 9 |
| Innovation | 9.5 |

We are using a new addition to our scoring system to provide additional feedback beyond a flat score. Please note that the final score isn't an aggregate average of the new rating system.

Pros
Cons

Ease of use, and hook up

Can record from any source VCR, Blue Ray players, Game  Consoles, Cable/Satellite box's

The recorded file size was surprisingly small.

Could use HDMI in/out puts

 

 

 
Summary:
The Hauppauge HD PVR is a perfect candidate for anyone who wants a versatile HD recorder that also wants to record from multiple devices.