Using two 80mm fans and a four heatpipe design, this GTX 465 has the ingredients to make it one of the best GTX 465's available. We review Gigabyte's GTX 465 to see if it all makes sense.
Introduction
When the GTX 400 series cards launched in March 2010, consumers were greeted with a new architecture that met our expectations, and Nvidia lovers finally had an alternative to the ATi HD 5000 series. Nvidia stole back the single GPU performance crown, also made their footprint on tessellation with very impressive results. CUDA cores were increased, overall performance was increased, now Nvidia lovers finally had a DirectX 11 card to purchase. Aside from power draw and heat output, the only real negative trait the GTX 400 series had was pricing.
With the GTX 470 going for $349 MSRP and the GTX 480 going for $499 MSRP, Nvidia was lacking a Fermi powered card in the mainstream $250 price range. ATi has a $239 MSRP HD 5830, and Nvidia had nothing to answer with. However, things were looking great for Nvidia because hardcore enthusiasts finally got the card they had waited over 6 months for and the performance crown was back in Nvidia's camp. Unfortunately for budget gamers, they were left without any Fermi offering to purchase. Now, a full two months after Fermi's appearance, Nvidia released the GTX 465, which has an unexpected launch MSRP of $279.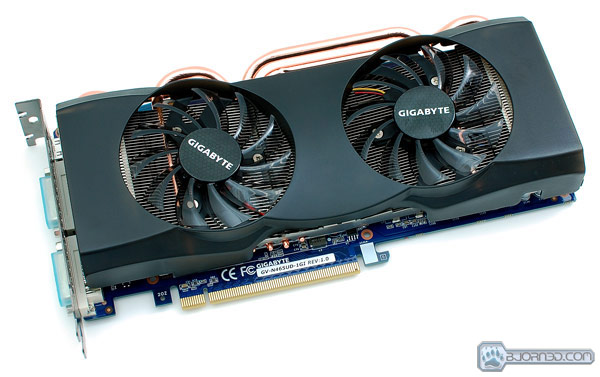 Using four heatpipes, two 80mm fans, and Ultra Durable VGA+ technology, Gigabyte's GTX 465 offers lower temperatures and quieter operation in comparison to a reference GTX 465. This means better performance, a cooler operating card, a cooler running system, and more overclocking headroom. Gigabyte is known for making high quality products that perform well, so we are eager to test their GTX 465 and see how it competes.
| | | | | |
| --- | --- | --- | --- | --- |
| GPU | GTX-480 | GTX-470 | Gigabyte GTX-465 | GTX-285 |
| Shader units | 480 | 448 | 352 | 240 |
| ROPs | 48 | 40 | 32 | 32 |
| GPU | GF100 | GF100 | GF100 | GT200b |
| Transistors | 3000M | 3000M | 3000M | 1400M |
| Memory Size | 1536 MB | 1280 MB | 1024 MB | 1024 MB |
| Memory Bus Width | 384 bit | 320 bit | 256 bit | 512 bit |
| Core Clock | 700 MHz | 607 MHz | 608 MHz | 648 MHz |
| Memory Clock | 924 MHz | 837 MHz | 802 MHz | 1242 MHz |
| Price | $499 (MSRP) | $349 (MSRP) | $279 (Launch MSRP) | $340 |
Features & Specifications
Like it's big brothers, Gigabyte's GTX 465 supports everything that the GTX 470 and GTX 480 support. This includes SLI, DirectX 11, and of course CUDA technology. Below is the entire feature & specification list of what Gigabyte's GTX 465 supports.
GIGABYTE Ultra Durable VGA Series
1. Powered by NVIDIA GeForce GTX 465 GPU
2. Integrated with 1024 MB / 256-bit GDDR5 video memory
3. GIGABYTE Ultra Durable VGA High Quality Components
4. Supports Microsoft DirectX 11 and OpenGL 4
5. NVIDIA 3-way / 2-way SLI Ready
6. NVIDIA Pure Video HD technology & 3D Vision Surround Ready
7. Supports NVIDIA PhysX / CUDA technology
8. Features Dual Link DVI-I*2/ mini-HDMI 1.3a connector

As a citizen of the global village, GIGABYTE exert ourselves to be a pioneer in environment care. Give the whole of Earth a promise that our products do not contain any of the restricted substances in concentrations and applications banned by the RoHS Directive, and are capable of being worked on at the higher temperatures required for lead free solder. One Earth and GIGABYTE Cares!
Microsoft® DirectX® 11
World's first DirectX 11 GPU with full Shader Model 4.0 support delivers unparalleled levels of graphics realims and film-quality effects.
PCI Express® 2.0 –Now you are ready for the most demanding graphics applications thanks to PCI Express® 2.0 support, which allows up to twice the throughput of current PCI Express® cards. Doubles the bus standard's bandwidth from 2.5 Gbit/s (PCIe 1.1) to 5 Gbit/sec.
High-Bandwidth Digital Content Protection (HDCP) is a form of copy protection technology designed to prevent transmission of non-encrypted high-definition content as it travels across DVI or HDMI digital connections.
Microsoft Windows 7 is the next generation operating system that will mark a dramatic improvement in the way the OS takes advantage of the graphics processing unit (GPU) to provide a more compelling user experience. By taking advangate of the GPU for both graphics and computing, Windows 7 will not only make todays's PCs more visual and more interactive but also ensure that they have the speed and responsiveness customers want
High Definition Multimedia Interface (HDMI) is a new interface standard for consumer electronics devices that combines HDCP-protected digital video and audio into a single, consumer-friendly connector.
NVIDIA® CUDA™ technology unlocks the power of the hundreds of cores in your NVIDIA® GeForce® graphics processor (GPU) to accelerate some of the most performance hungry computing applications. The CUDA™ technology already adopted by thousands of programers to speed up those performance hungry computing applications.
NVIDIA's fourth-gereration GPU architecture built for Windows Vista gives users the best possible experience with the Windows Aero 3D graphical user interface.
Available on HD DVDs and Blu-ray discs, high-definition movies are bringing an exciting new video experience to PC users. NVIDIA® PureVideo™ HD technology lets you enjoy cinematic-quality HD DVD and Blu-ray movies with low CPU utilization and power consumption, allowing higher quality movie playback and picture clarity.PureVideo HD technology provides a combination of powerful hardware acceleration, content security, and integration with movie players, plus all the features found in PureVideo.
NVIDIA® PhysX™ is the next big thing in gaming!Delivering physics in games is no easy task. It's an extremely compute-intensive environment based on a unique set of physics algorithms that require tremendous amounts of simultaneous mathematical and logical calculations. The best way to get real-time physics, such as explosions that cause dust and debris, characters with life-like motion or cloth that drapes and tears naturally is with an NVIDIA®PhysX™-ready GeForce® processor. PhysX software is widely adopted by over 150 games, is used by more than 10,000 registered users and is supported on Sony Playstation 3, Microsoft Xbox 360, Nintendo Wii and PC. PhysX™ technology will take gaming to a whole new level.
Shader Model 5.0 adds support for indexed temporaries which can be quite useful for certain tasks.Regular direct temporary access is preferable is most cases. One reason is that indexed temporaries are hard to optimize. The shader optimizer may not be able to identify optimizations across indexed accesses that could otherwise have been detected. Furthermore, indexed temporaries tend to increase register pressure a lot. An ordinary shader that contains for instance a few dozen variables will seldom consume a few dozen temporaries in the end but is likely to be optimized down to a handful depending on what the shader does. This is because the shader optimizer can easily track all variables and reuse registers. This is typically not possible for indexed temporaries, thus the register pressure of the shader may increase dramatically. This could be detrimental to performance as it reduces the hardware's ability to hide latencies.
Faster clocks, double the transistor density of earlier 40nm technology. 40nm technology helped make GTX 465 series products the most advanced GPUs ever highest clocks speeds, incredible feature integration, full performance and precision all the time, and ability to take advantage of future, higher-speed memories.
OpenGL 4.0® Optimizations
Ensure top-notch compatibility and performance for all OpenGL 4.0 application.
Delivers up to 2X the performance of a single GPU configuration for unparalleled gaming experiences by allowing two graphics cards to run in parallel. The must-have feature for performance PCI Express graphics, SLI dramatically scales performance on 60 top PC games.


*
The entire materials provided herein are for reference only. GIGABYTE reserves the right to modify or revise the content at anytime without prior notice.
*
All trademarks and logos are the properties of their respective holders.

*
Due to standard PC architecture, a certain amount of memory is reserved for system usage and therefore the actual memory size is less than the stated amount.
Pictures & Impressions
Click Image For a Larger One
Gigabyte packaged their GTX 465 in typical cardboard packaging. The outside of the box displays both features and specifications on what the GTX 465 is capable of. The front of the box shows that the card comes with a 3 year warranty, a unique cooling configuration, and has the Ultra Durable technology that we mentioned on the specifications page.
Click Image For a Larger One
On the Inside, Gigabyte used plenty of styrofoam to keep the card cushioned during shipment.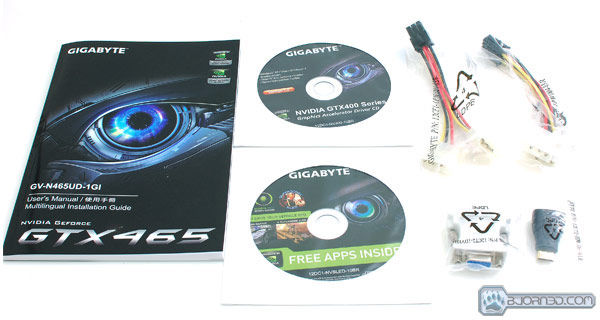 Bundled with Gigabyte's GTX 465 is a manual, driver disc, software disc (PhysX and Tessellation related demo apps), two Molex to 6 pin PCI-E power adapters, mini HDMI adapter, and a DVI to VGA adapter.
Click Image For a Larger One
With their GTX 465, Gigabyte decided to use their own fan and heatsink solution which we found to be very nice looking. Using two 80mm fans and a four heatpipe heatsink, Gigabyte's GTX 465 is currently in a league of its own by skipping on the reference design. Similar to a GTX 470, Gigabyte's GTX 465 also uses two 6 pin PCI-E power connections.
Click Image For a Larger One
The back of Gigabyte's GTX 465 has the same design that the majority of GTX 470's have. Using the Gigabyte Ultra Durable VGA+ blue PCB, Gigabyte's GTX 465 easily stands out from the GTX 465 crowd. Like the other 400 series siblings, this 465 also has the extra air openings on the back of the card to increase the cooling fan's airflow.
Click Image For a Larger One
Like all GTX 400 series cards, Gigabyte's GTX 465 has two DVI connections and a mini HDMI connection. Although three outputs reside on the 465, only two can be utilized. This is the one major flaw to the GTX 400 series that we think should have been addressed, especially since multiple monitor gaming is the next upcoming trend. The second picture once again shows the unique four heatpipe cooling solution Gigabyte used. The pipes transfer the heat and the fins help disperse it, very effective design.
Overall, we like what Gigabyte has done with their GTX 465. Skipping the reference design and using two 80mm fans means lower temperatures and quieter operation. Naturally, GTX 465's consume less power and produce less heat due to it using a less demanding design, but this doesn't mean the reference design is the best cooling option available. Combined with the Ultra Durable VGA+ designed PCB, Gigabyte's GTX 465 has the potential to be one of the coolest operating GTX 465's available today.
Testing & Methodology
We've expanded our testing suite considerably for Socket AM3, 1156, and 1366 and will continue to use the same tests across most of the motherboards and CPU's we test. We run each test a total of at least three times minimum, some tests we run more than 3 times. We average the total of all the tests from each benchmark then report the average here.
The OS we use is Windows 7 Professional 64bit with all patches and updates applied. We also use the latest drivers available for the motherboard and any devices attached to the computer. We don't disable a bunch of background tasks or particularly tweak the OS or system for bigger numbers. We do turn off drive indexing and daily defragging. We also turn off Prefetch and Superfetch. This is not an attempt to produce bigger benchmark numbers. Drive indexing and defragging can interfere with testing in that one test might occur without defragging going on and the next test defragging might be active, the same thing goes for drive indexing. We can't control when defragging and indexing occur precisely enough to guarantee that they won't interfere with testing, so we turn them off.
Prefetch tries to predict what you will load the next time you boot the machine. We disable it because we want to know how the program runs without any of the files being cached, otherwise each test run we'd have to clear pre-fetch to get accurate numbers. Lastly we disable Superfetch, Superfetch loads often used programs into memory and is one of the reasons people consider Vista to be such a memory hog. Vista fills the memory in an attempt to predict what you will load. Having one test run with files cached, and another test run with the files being un-cached would result in skewed numbers. Again since we can't control it we turn it off. Other than those 4 things which can potentially interfere with benchmarking, and do so out of our control, we leave everything else running.
Test Rig
"Station_i5"
Case Type
NZXT Tempest EVO
CPU
Core i5 750 @ 3.8GHz
Motherboard

ASUS P7P55D Deluxe

Memory

Kingston HyperX Blu DDR3 1600MHz – 4GB

CPU Cooler
Noctua NH-U12P
Hard Drives
Western Digital Black 1TB
Optical
ASUS DVD R/W
GPUs Tested
Gigabyte GTX 465
ASUS GTX 465
ASUS GTX 470
Sapphire 5870
Sapphire 5850
Gigabyte GTX 275
PSU
Corsair HX 650W
Mouse
Razer DeathAdder
Keyboard
Logitech Illuminated
Sound Card
Onboard
*** Any attempt copy this system configuration may lead to awesomeness. 
Synthetic Benchmarks, Games, & Utilities
3DMark Vantage (GPU Test)
Battlefield Bad Company 2
Dirt 2
Metro 2033
Unigine Heaven v.2.1
MSI After Burner 1.6.1
GPU-Z 0.4.4

For complete information on 3DMark Vantage Please follow this Link:
http://www.futuremark.com/benchmarks/3dmarkvantage/features/

The newest video benchmark from the gang at Futuremark. This utility is still a synthetic benchmark, but one that more closely reflects real world gaming performance. While it is not a perfect replacement for actual game benchmarks, it has its uses. The cards were tested using the "Performance" and the GPU tests only.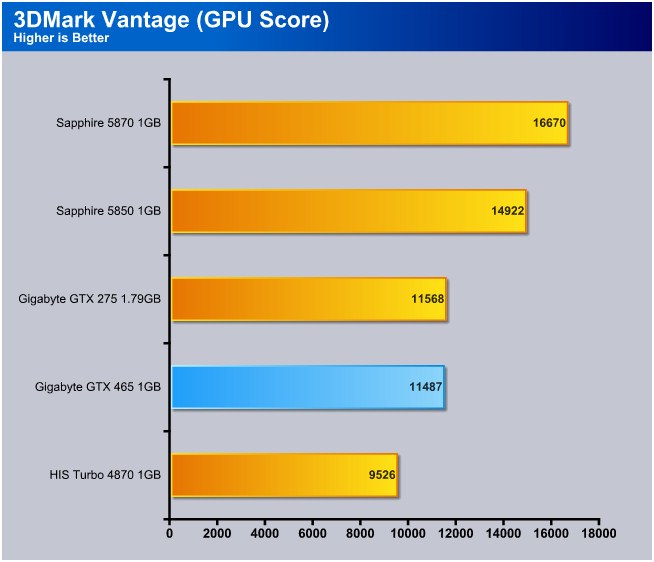 We were a bit surprised to see Gigabyte's GTX 465 actually get beat by a last generation GTX 275. Keeping limitations in mind, the GTX 465 is hindered by a 256 bit memory bus, less ROP's and less shaders. So although this is surprising, its not too far fetched considering the GTX 275 has a 448 bit memory bus and 1.79 GB of flexing memory space. Both the 5870 and the 5850 easily surpass Gigabyte's GTX 465 by 3,400+ points which are the results that we expected. Being the only DirectX 10 based benchmark in our review, we wanted to display the strong points of the last generation "affordable" card, the GTX 275. Although it is aged, the GTX 275 still has some grunt left to display.
Bad Company 2
Battlefield Bad Company™ 2 brings the spectacular Battlefield gameplay to the forefront of next-gen consoles and PC, featuring best-in-class vehicular combat set across a wide range of huge sandbox maps each with a different tactical focus. New vehicles like the All Terrain Vehicle (ATV) and the UH-60 transport helicopter allow for all-new multiplayer tactics in the warzone. Extensive fine-tuning ensures that this will be the most realistic vehicle combat experience to date. Tactical destruction is taken to new heights with the updated DICE Frostbite engine. Players can now take down entire buildings or create their own vantage points by blasting holes through cover, thereby delivering a unique dynamic experience in every match.
Players can also compete in 4-player teams in 2 exclusive squad-only game modes, fighting together to unlock exclusive team awards and achievements. Spawn on your squad to get straight into the action and use gadgets such as the tracer dart in conjunction with the RPG to devastating effect. Excellence in the battlefield is rewarded with an extensive range of pins, insignias and stars to unlock along with 50 dedicated ranks to achieve. Variety also extends into the range of customizable kits weapons and vehicles available. With 4 distinct character classes, dozens of weapons, several gadgets and specializations, players have over 15,000 kit variations to discover and master. Players will be able to fine-tune their preferred fighting style to give them the edge in combat.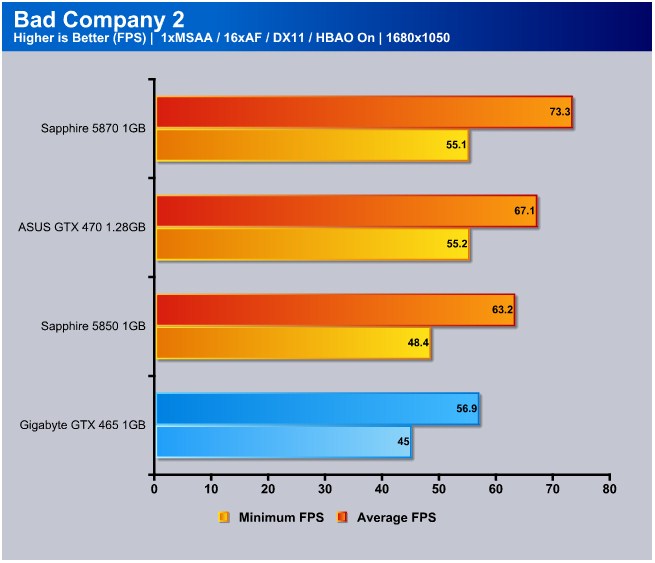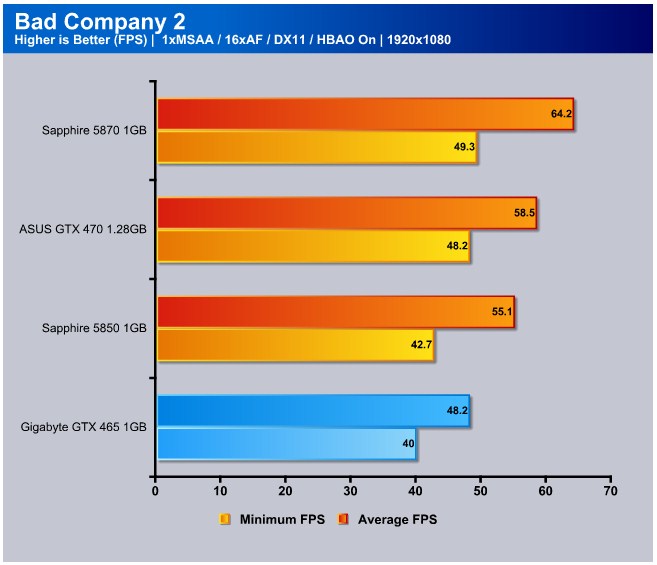 In both 1680×1050 and 1920×1080, Gigabyte's GTX 465 easily fell behind Sapphires 5850 by an average of 7 FPS and about 3 FPS for a minimum. Framerates are certainly playable with basically maxed out settings at 1680×1050, but when 1080p is introduced the 465 starts to show its lack of shader power.
Dirt 2
Colin McRae: Dirt 2 (known as Dirt 2 outside Europe and stylized, DiRT) is a racing game released in September 2009, and is the sequel to Colin McRae: Dirt. This is the first game in the McRae series since McRae's death in 2007. It was announced on 19 November 2008 and features Ken Block, Travis Pastrana, Tanner Foust, and Dave Mirra. The game includes many new race-events, including stadium events. Along with the player, an RV travels from one event to another, and serves as 'headquarters' for the player. It features a roster of contemporary off-road events, taking players to diverse and challenging real-world environments. The game takes place across four continents: Asia, Europe, Africa and North America. The game includes five different event types: Rally, Rallycross, 'Trailblazer,' 'Land Rush' and 'Raid.' The World Tour mode sees players competing in multi-car and solo races at new locations, and also includes a new multiplayer mode.
Colin McRae: Dirt is the first PC video game to use Blue Ripple Sound's Rapture3D sound engine by default.
A demo of the game was released on the PlayStation Store and Xbox Live Marketplace on 20 August 2009. The demo appeared for the PC on 29 November 2009; it features the same content as the console demo with the addition of higher graphic settings and a benchmark tool.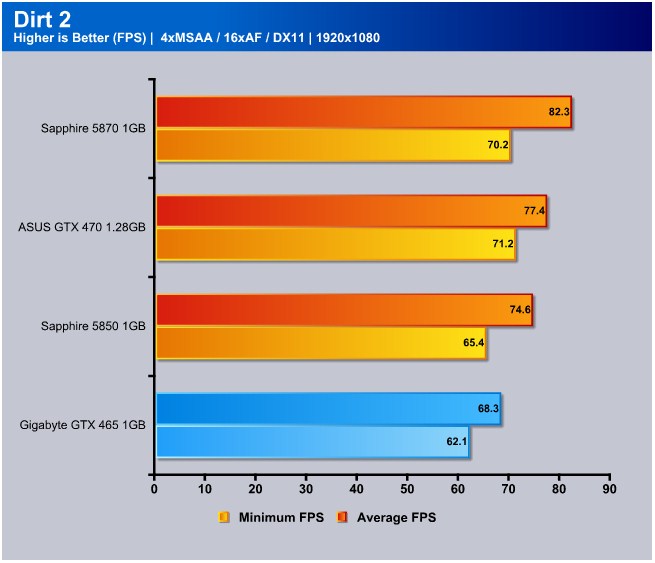 In Dirt 2 Gigabyte's GTX 465 puts up some strong numbers in both resolutions. With an average of 74.1 FPS at 1680×1050 and 68.3 FPS at 1920×1080, the 465 was able to deliver a solid game play experience with ease. Gigabyte's GTX 465 is 6-7 FPS behind the 5850 on average in Dirt 2, which equals about 8%. Considering the new price point on the GTX 465's ($249), 8% sounds about right.
Metro 2033

Metro 2033 is an action-oriented video game with a combination of survival horror, and first-person shooter elements. The game is based on the novel Metro 2033 by Russian author Dmitry Glukhovsky.
The enemies that the player encounters range from human renegades to giant mutated rats and even paranormal forces known only as "The Dark Ones". Players frequently have to defend themselves with makeshift combination's of different weapons, e.g a revolver with a sniper scope attached.
Ammunition is also scarce, and the more rare Military Grade bullets are used as currency (to purchase supplies and guns), or in combat as a last resort, giving an added damage boost, forcing the player to hoard supplies.
The game lacks a health meter, relying on audible heart rate and blood spatters to show the player what state they are in and how much damage was done. A gas mask must be worn at all times when exploring the surface due to the harsh air and radiation. There is no on-screen indicator to tell how long the player has until the gas mask's filters begin to fail, so players must set a wrist watch, and continue to check it every time they wish to know how long they have until their oxygen runs out, requiring the player to replace the filter (found throughout the game). The gas mask also indicates damage in the form of visible cracks, warning the player when a new mask is needed. The game does feature traditional HUD elements, however, such as an ammunition indicator and a list of how many gas mask filters and adrenaline shots remain.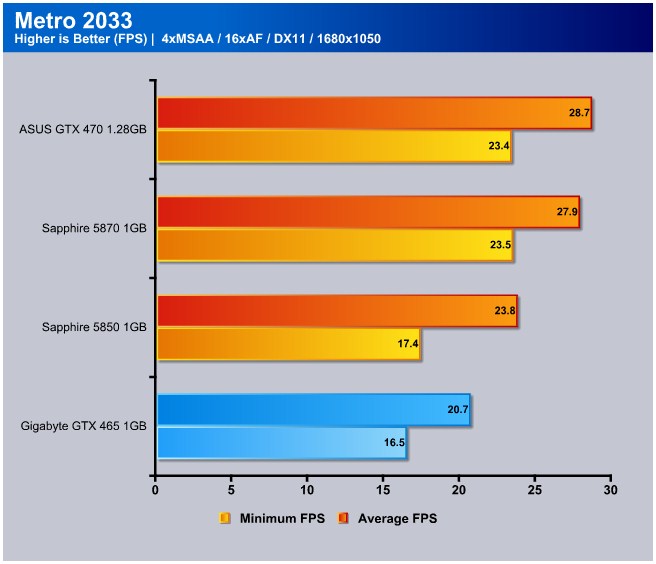 As of today, Metro 2033 is without a doubt, one of the most demanding PC titles available easily sending the most powerful GPU's to their knees. Even the sub $300 king, the 5850, had a hard time dishing out a decent amount of frame rates. Not one card was able to hit an average of 30 FPS, which we consider to be the lowest "enjoyable" frame rate for Metro 2033. Trailing the 5850 by only 3 FPS, Gigabyte's GTX 465 definitely utilized all of it's 352 shader units averaging 20.7 FPS at 1680×1050. Nvidia GPU's have been showing a small edge over ATI's offerings in Metro 2033 and that is reflected again here in our 1680×1050 benchmark.
Having played this game for a fair amount of hours prior to this review, 20-25 FPS in Metro 2033 is actually playable. Very similar to the way that 25 FPS was playable when Crysis was released. The blur effect definitely hides the slideshow feel that lower frame rates usually exude.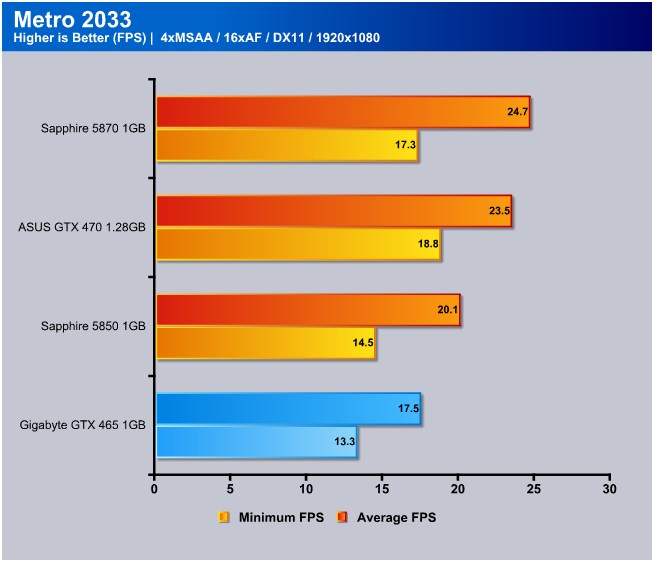 At 1920×1080, things start getting real slideshow like. Dipping below 20 FPS, Gigabyte's GTX 465 was only able to deliver 17 FPS. Sapphire's 5850 did no better dishing out only 20 FPS. To really enjoy this game in all its glory in 1080p, you're going to need to invest in either a GTX 470 or a 5870 at the least. A 465 or even a 5850 just doesn't seem to cut it with the majority of the settings maxed out, Metro 2033 is super demanding.
unigine heaven v2.1

Unigine Heaven is a benchmark program based on Unigine Corp's latest engine, Unigine. The engine features DirectX 11, Hardware tessellation, DirectCompute, and Shader Model 5.0. All of these new technologies combined with the ability to run each card through the same exact test means this benchmark should be in our arsenal for a long time.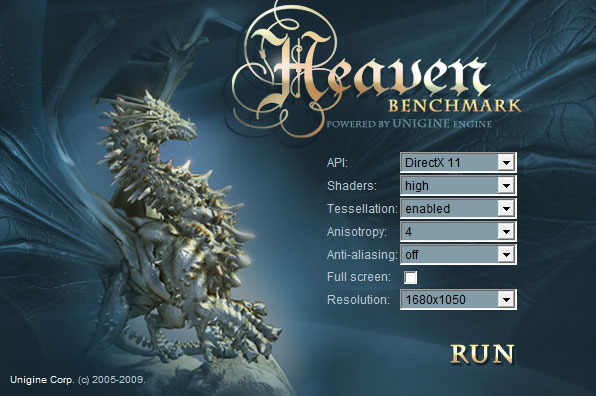 The settings we used in Unigine Heaven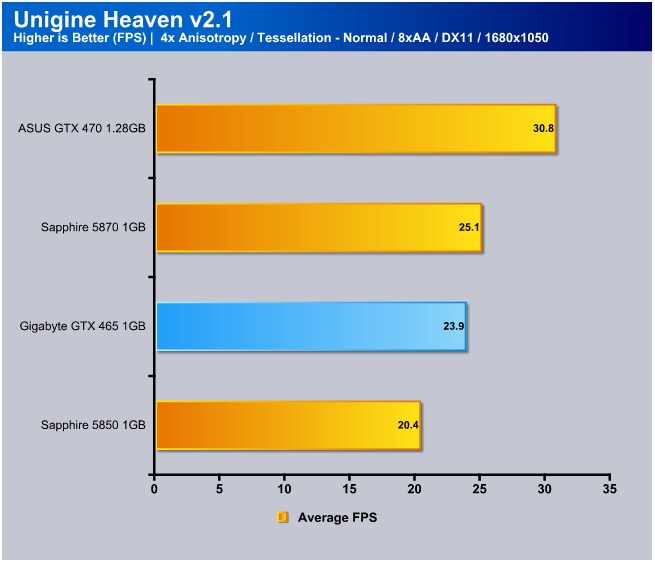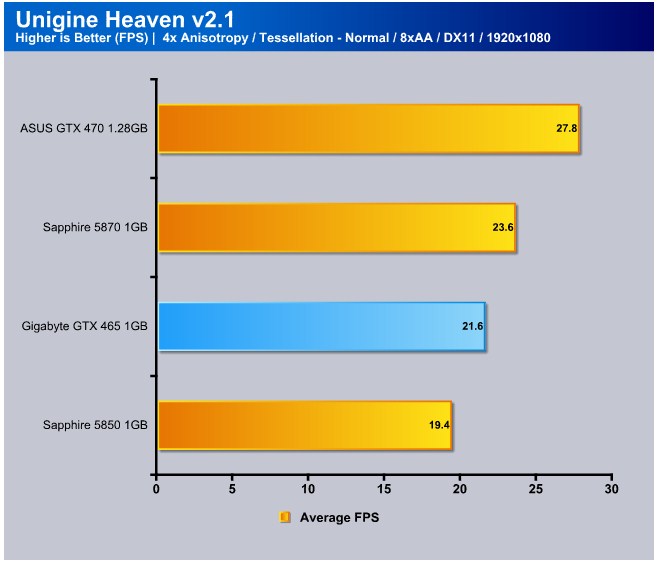 In Unigine Heaven 2.1, Gigabyte's GTX 465 shows it's Fermi roots. Beating the 5850 in both resolutions and niping at the 5870's heels, trailing by only 1.2 FPS at 1680×1050 and 2.2 FPS at 1920×1080. Tessellation is definitely one of Fermi's strong points that even the 465 can deliver on.
overclocking
Using MSI's After Burner software we overclocked Gigabyte's GTX 465 to very respectable frequencies. To our surprise, the results from overclocking were much higher than we anticipated, so high that we ran the numbers multiple times. Before getting to the results, here is how Gigabyte's 465 looks at default values.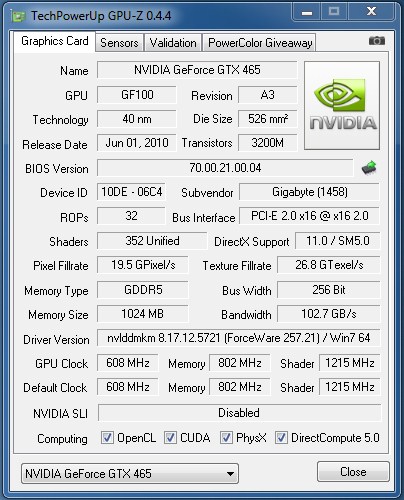 And after a fairly long overclocking session, here is what we were able to squeeze out of Gigabyte's GTX 465.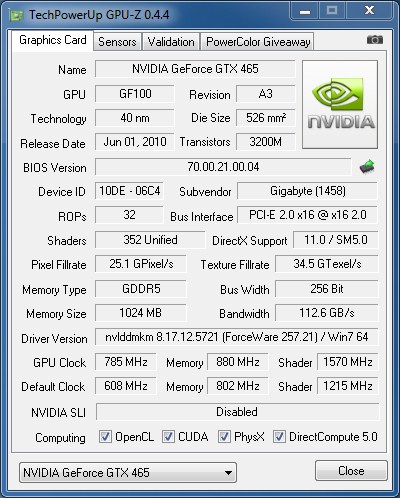 177MHz core overclock, 78MHz memory overclock, and a 355MHz shader overclock. We were quite impressed with our core and shader overclock considering we left the voltages at default values. The memory overclock however, left a lot left to be desired. The GDDR5 memory on Gigabyte's GTX 465 is actually rated for a 1000MHz frequency so you can see why a 880MHz result kinda deflates our balloons. The real surprise however, were the increases in scores and frame rates.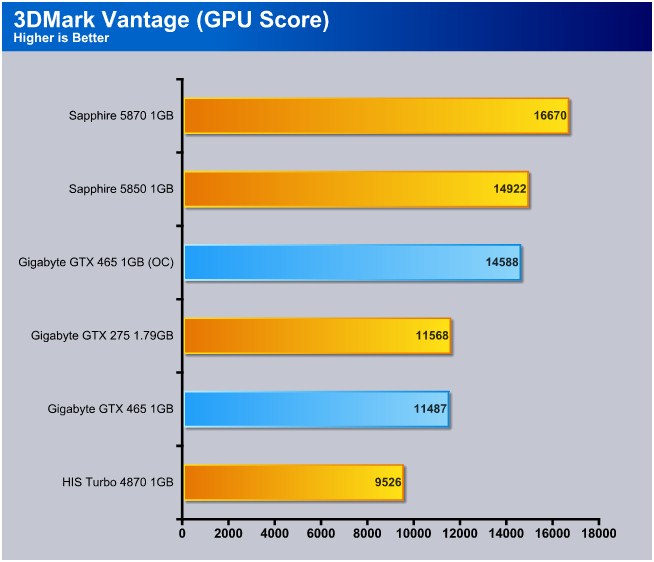 With a huge 3,101 point increase, the GPU score went up almost 27% over default clocks. This is a huge increase. With the steroids added to its arsenal, Gigabyte's GTX 465 was only a measly 334 points behind Sapphire's 5850.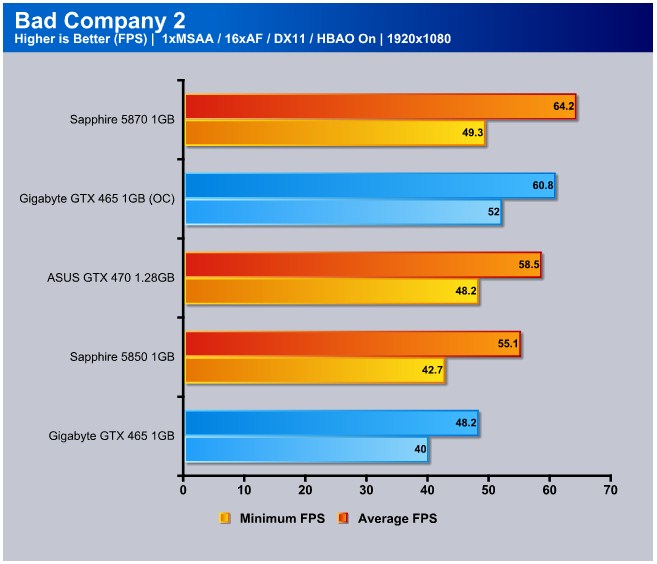 With a 27% increase in a synthetic benchmark, we weren't expecting a similar result in an actual game, but boy were we wrong. In Bad Company 2, Gigabyte's GTX 465 was able to puff up its chest and display a whopping 12.6 FPS increase from the overclock, which equated to a 26% overall increase in performance. With the overclock, Gigabyte's card beat out both the 5850 and the GTX 470. Trailing the 5870 by only 4 FPS, the GTX 465 really shows that it has some hidden overclocking potential.
Temperatures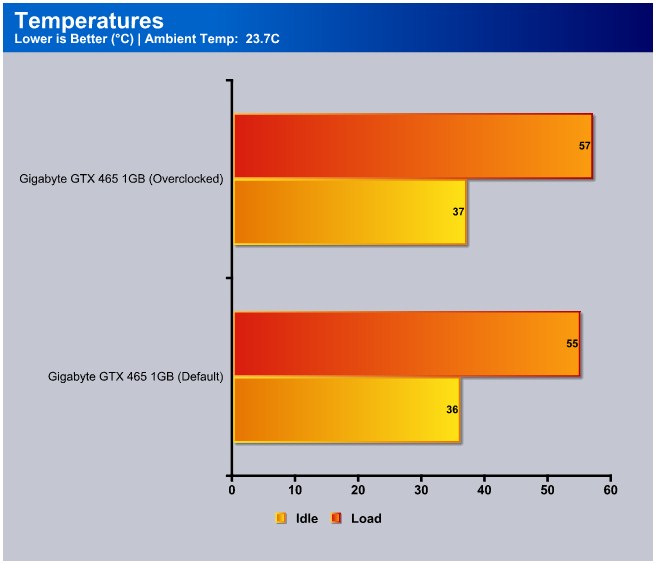 Even when overclocked Gigabyte's card stayed fairly cool. With a marginal increase at idle and only 2C during load, the overclock barely effected temperatures at all thanks to Gigabyte's unique cooling design. Performance however, increased greatly.
Conclusion
First, let's take a look at the pricing. The GTX 470 has a MSRP of $349, while the much less performing GTX 465 has an asking MSRP of $279, a $70 difference. $70 is not the price gap we expected, especially when you consider the results we gathered. With the GTX 465 having an MSRP of $279, it's easily approaching ATI's 5850 pricing territory. Currently you can buy an ATI 5850 for as low as $289, including shipping. If you had $279 to spend on a video card, we would call you completely and utterly crazy, if you didn't find an extra $10 to get yourself a 5850. The 5850 easily beats the the GTX 465, so buying a $279 GTX 465 over a 5850 is certainly proof of insanity. But, lets not forget strategic pricing. After all, ATI and Nvidia can't make money without selling cards.
As of right now, Gigabyte's GTX 465 is going for $249. To make things even sweeter, there is a $20 rebate, making the total price $229 after rebate. Currently the average GTX 465 is going for $249, a full $30 under MSRP. When we first saw the GTX 465's launch pricing we were very surprised, negatively. But now that Nvidia has come back to earth and lowered the asking price $30, things start making a lot more sense. Taking Nvidia specific features into the picture, you're actually getting a lot of card for the right amount of money. CUDA, 3D Surround, PhysX, Tessellation, and DirectX 11, are all features that the GTX 465 supports, which are the same exact features the GTX 470 and GTX 480 support. So where does Gigabyte's GTX 465 fit in? Does Gigabyte's own design and features live up to the $249 price tag? To answer that with one word, yes.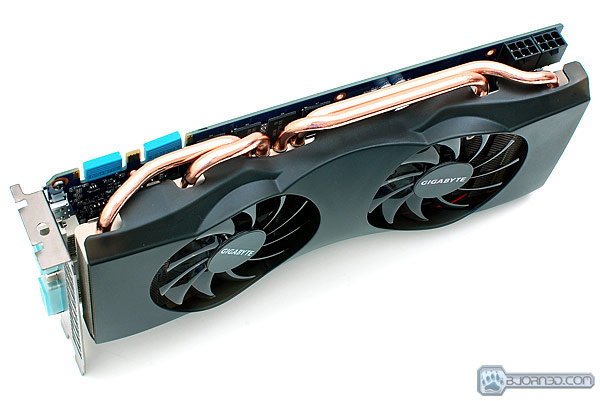 The biggest difference between the reference design and Gigabyte's GTX 465 design is the cooling solution and PCB. Using Ultra Durable VGA+ and a four heatpipe heatsink with two 80mm fans definitely keeps temperatures lower than reference. With less shaders and less going on in general, the GTX 465 doesn't equate to a ton of heat output, very unlike its big dog brothers. The GTX 465 in general outputs less heat and runs much cooler than the GTX 470 and GTX 480, and Gigabyte's rendition runs even cooler.
The only flaw we found on Gigabyte's GTX 465 was the way it cools the card. Although Gigabyte's version has a vent on the back, like 99% of the other GTX 465's have, we didn't notice much air venting. Because of the dual fan design, air is simply spread across the card and not vented out. This doesn't mean the design is ineffective, because it does keep the card very cool. The issue with the dual fan design is that it doesn't disperse the hot GPU air outside the chassis, it spreads it around inside the chassis. This seemed like a bad side effect, but we didn't notice any increases in CPU temps or motherboard temps which means those two 80mm fans are doing a great job.
On the overclocking end, Gigabyte's GTX 465 showed that it definitely had some GTX 470 genes because its performance went up 26% on average when frequencies were increased. Unfortunately for the majority of GTX 465's, performance is right above a 5830 and sometimes manages to match a 5830 in some cases at stock clocks. The GTX 465's value only starts to show when clocks are increased, at stock clocks it barely meets its asking price. The Nvidia specific features (CUDA, PhysX, & 3D Vision Surround) combined with its decent performance are what will ultimately make you add this card to your cart.
To sum it all up, we don't really have any issues with Gigabyte's GTX 465. It does what it was designed to do, and it does it without issue. Gigabyte added better cooling and a better designed PCB which results in lower temps, and our overclocking results were a nice surprise. For $229 after rebate, Gigabyte's GTX 465 ends up being nice bargain that you might want to consider.
OUR VERDICT: Gigabyte GTX 465
| | |
| --- | --- |
| Performance | 7.8 |
| Value | 8.2 |
| Quality | 8.5 |
| Features | 8.5 |
| Innovation | 8.5 |

We are using a new addition to our scoring system to provide additional feedback beyond a flat score. Please note that the final score isn't an aggregate average of the new rating system.

Pros
Cons

Unique cooling design

Runs cool

Finally an affordable Fermi based offering

Overclocker friendly

CUDA

PhysX

3D Vision Surround

Consumes more power than ATI offerings

Cooling solution doesn't vent heat from the chassis

 

 

 

 
Summary:
 Gigabyte's GTX 465 was an eyesore just like the rest of the GTX 465's were when we saw the $279 MSRP price tag. But, now that things are priced inside affordable boundaries, Gigabyte's features plus the lowered GTX 465 pricing equates to a nice bargain.