We compare the latest budget SSD from OCZ, the Solid 2, that is based on the Indilinx Barefoot controller to the mechanical hard drives in RAID configuration. Let's find out if it is time to dump that big and heavy 3.5" hard drives for a smaller and faster SSD.
INTRODUCTION
One of the many questions that people may ask is "Should I sacrifice storage capacity for performance?". With the mechanical drives getting so cheap and the storage capacity getting insanely large, sacrificing TB of storage for the expensive, yet high performance, SSD can be a hard decision.
A quick search online and you can find that various vendors have launched a budget oriented SSDs that is targeted toward consumer users who wish to have the performance of SSD without breaking their bank account. Granted, SSDs are still quite expensive compare to traditional hard drives in terms of gigabytes per dollar ratio. They are nonetheless getting cheaper but are still not yet at the price that everyone who wishes to have one can afford.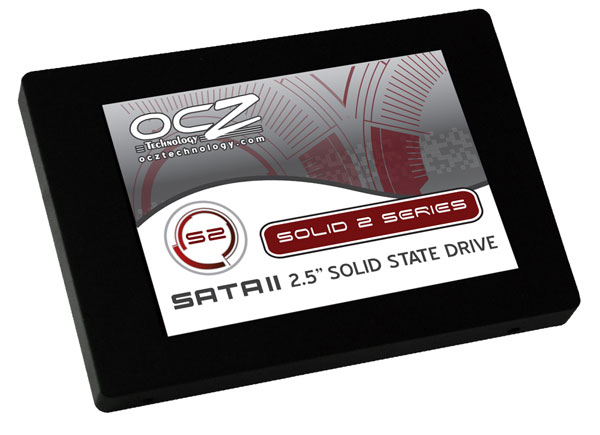 This makes us wonder what would offer a better performance; two 1 TB mechanical hard drives in RAID 0 that can be purchased for less than $200 or for the same amount of money, a SSD with storage capacity of only 60GB to 80GB. Since almost all motherboards, regardless if they are enthusiast board or budget board, come with a controller that supports RAID 0, setting up RAID will not need any additional cost, so we set out to test the performance difference by comparing a SSD to a system setup with two hard drives in RAID 0.
FEATURES AND SPECIFICATION
Available in 32GB, 64GB, and 128GB capacities
64MB Onboard Cache
TRIM Support
Seek Time: < .1ms
Slim 2.5″ Design
99.8 x 69.63 x 9.3mm
Lightweight: 77g
Operating Temp: 0-70°C
Storage Temp: -55°C ~ +140°C
Low Power Consumption: 4.5V-5.5V
Vibration: 20G. Peak, 10 ~ 20KHz
Shock Resistant up to 1500G
RAID Support
MTBF: 1.5 million hours
30GB Performance
Read: Up to 170 MB/s
Write: Up to 70 MB/s
60GB Performance
Read: Up to 200 MB/s
Write: Up to 120 MB/s
120GB Performance
Read: Up to 220 MB/s
Write: Up to 130 MB/s
One thing to watch out for when purchasing an SSD is making sure that the drive you purchase supports TRIM so you do not get the degraded performance after using the drive for a period of time. As expected, the Solid 2 fully supports TRIM when you pair it with an OS that also supports TRIM (Windows 7).
You get three different capacity to choose from for your needs and of course the pricing will be different. The most expensive model, 128GB, will set you back 334.99, the 60 GB will set you back 189.00, and the 30 GB is selling for $99.99, one cent shy of $100.
Pictures & Impressions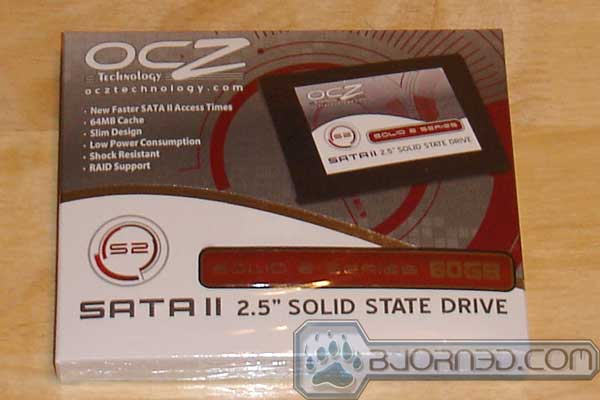 Our testing sample is provided courtesy of OCZ. OCZ is brand that we often associated with memory and it simply makes sense that the company would venture into the SSD world. In fact, OCZ is one of the biggest players in the SSD market. It has SSD for PCI Express, mini PCI Express, 3.5'' SATA form factor, and 2.5'' form factor. With no less than 10 lines of SSD products, it pretty much has you covered if you want to buy a SSD.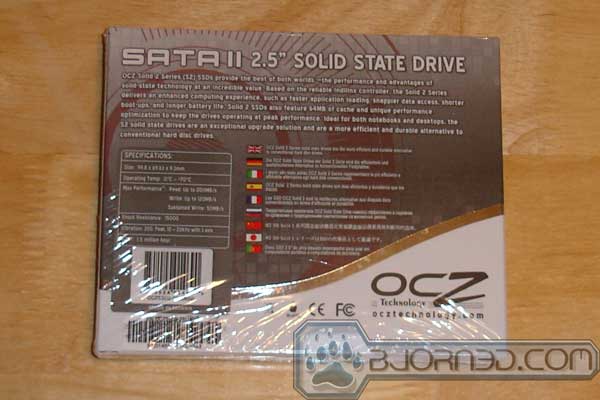 The company has performance SSDs called Vertex and Agility, midrange SSDs and budget SSDs called Solid 2 and Onyx. The unit we have received is the Solid 2 Series with 60GB storage.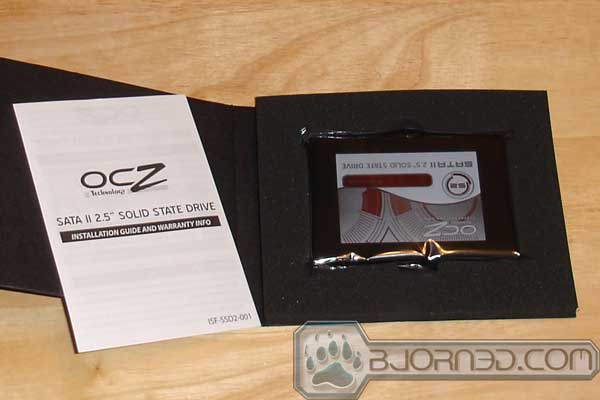 I have got to say, OCZ packages their SSD in a very nice padded box. As you can see, your expensive piece of storage device is being protected within a mold that secures the drive in place so it will not get damaged during shipping. You can see that OCZ includes a quick installation guide and the warranty information.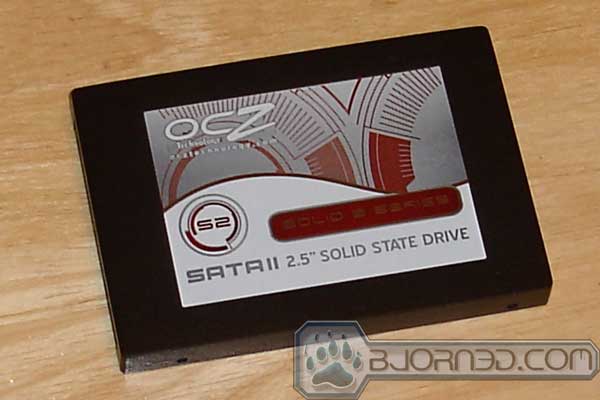 The Soild 2 is a 2.5" MLC SSD that plugges into a SATA 2.0 port.The Solid 2 features an Indilinx Barefoot controller. The Indilinx controller has quickly made its name in the SSD market with its excellent balance of performance and reasonably affordable pricing.
The Solid 2's storage capacity ranges from 30 GB, 60 GB, and 120 GB. Our 60GB drive has a rated read transfer rate of up to 200 MB/s and Write transfer rate of up to 120 MB/s. It has 64 MB onboard cache and TRIM and RAID support.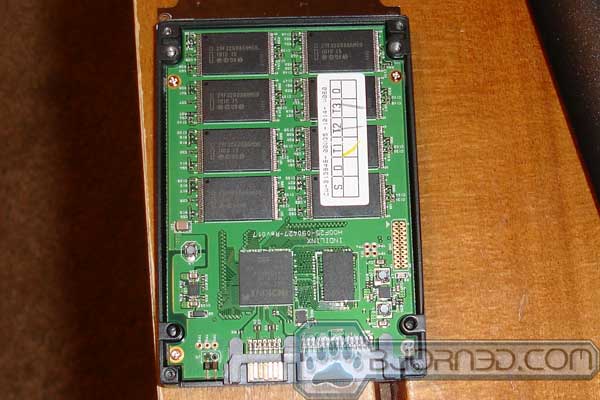 The marking on the memory chip is 29F32G08AAMDB. We did a quick search and found that it is based on Intel but other than that, we do not have too much information.
One of the biggest problem with SSD besides the insane pricing and low capacity is the performance degradation with used hard drive. Now, with Windows 7 adds to the TRIM support and many SSD controllers implement the TRIM support, the used state degraded performance is no longer an issue. Of course, this means that if you want the best SSD drive, you must be using Windows 7 (or an OS that supports TRIM, sorry Vista users) and a drive that supports the TRIM command. Luckily the latest Indilinx Barefoot controller that is found on the Solid 2 supports TRIM.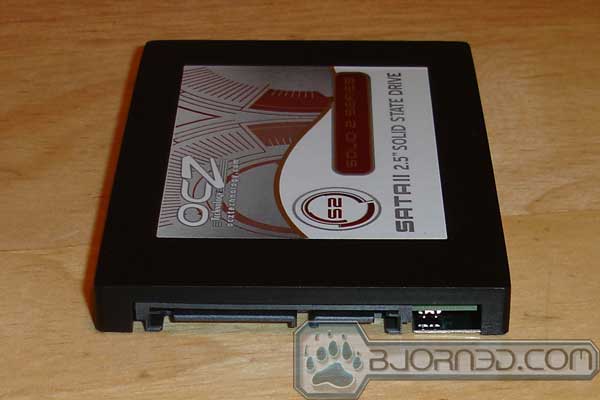 You will find the usual SATA and power connector on the back. Next to them is a 2 pin jumper for flashing the firmware. Often a SSD will have firmware updates that adds features and performance. For the latest firmware, check out OCZ's site.
OCZ warranties the Solid 2 for 3 years, which is comparable to other manufacturer warranties.
TESTING & METHODOLOGY
To test the OCZ Solid 2 SSD we cloned our test rig drive to the SSD. It is the same test drive we've been using on all of our drive testing and is nothing more than a clean Windows load with all the drive testing software installed, as well as all the current drivers and patches for the OS. It's the equivalent of doing a fresh load of Vista from the disc but takes a lot less time and ensures that every drive tested uses exactly the same OS load and drivers. Nothing that may effect the outcome of the testing procedure can creep in. We ran all of the tests a total of 3 times and averaged those results. The Average of the three results are presented here. In the case of a pictorial benchmark we ran the bench 3 times and picked the median result. As with most SSD testing differences from run to run are minimal and the median result is a good indication of what you can expect from the drive.
We ran our usual battery of tests on the drive, and used it as the primary boot drive during testing. All of the drives tested were used as the primary boot drive during testing. That's a more realistic test than strapping the drive in and testing it with a bare format or as a non-boot drive and it represents real life transfer rates, much like you can expect when you install and operate the drive in your own system. Each test was performed 3 times and the average of the 3 test run is reported here.
Test Rig
Test Rig
"Quadzilla"
Case Type
None
CPU
Intel Core I7 920
Motherboard
Gigabyte EX58-UD4P
Ram
Kingstone HyperX 1600
CPU Cooler
Prolimatech Megahalem
Hard Drives

OCZ Solid 2
Kingston SSDNow V+ 128GB MLC
OCZ Agility EX 60GB (SLC)
Kingston SSDNow V 40GB (MLC)
Kingston SSDNow V+ 128GB (MLC)
G.Skill Titan 256 GB SSD (FM-25S2S-256GBT1) (MLC)
Patriot 128GB Warp SSD (MLC)
Intel 80 GB SSD X25-M
G.Skill 64GB SSD (FM-25S25-64GB) (MLC)
2 WD VelociRaptor's 300GB (In single and Raid0)
WD 160 GB SATA 2
Maxtor 160 GB SATA 2
WD & Maxtor in Raid 0

Optical
None
GPU
Gigabyte GTX 260 OC
Case Fans
120mm Fan cooling the mosfet CPU area
Docking Stations
None
Testing PSU
Cooler Master UCP 900W
Legacy
None
Mouse
Microsoft Intellimouse
Keyboard
Logitech Keyboard
Gaming Ear Buds

None
Speakers
None
 
Test Suite
Benchmarks
ATTO
HDTach
Crystal DiskMark
HD Tune Pro
AS SSD Benchmark
ATTO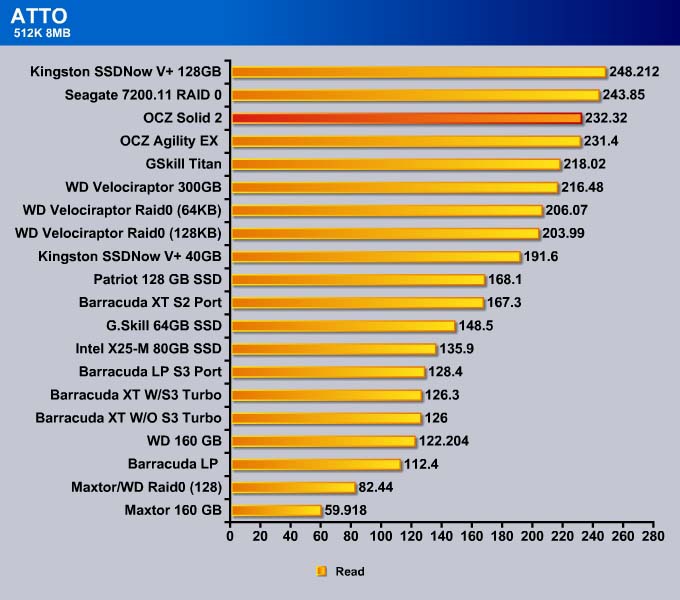 OCZ Solid 2 performs quite well in this test against other SSDs we have tested with a 232.32 MB/s transfer rate. Only the Kingston SSDNow V+ is able to yield a slightly better read result. For our 512K read test, we can also see that mechanical hard drives in RAID 0 actually are quite fast, beating out quite a few SSDs with 243.85 MB/s.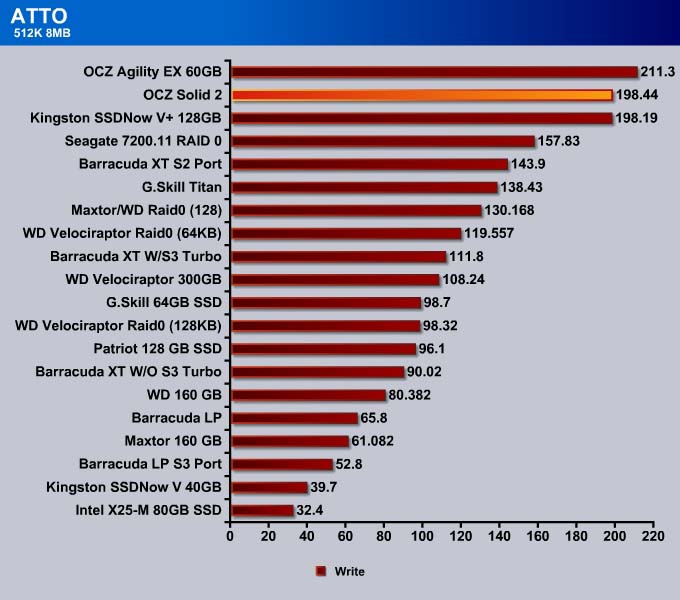 Similar to the Read result, the Solid 2 performs quite admirably here as it comes in just beind the OCZ Agility EX. While the Seagate hard drive in RAID 0 performs quite well against other mechanical hard drives and even beating a few SSDs, it still lags behind significantly against the top three SSDS.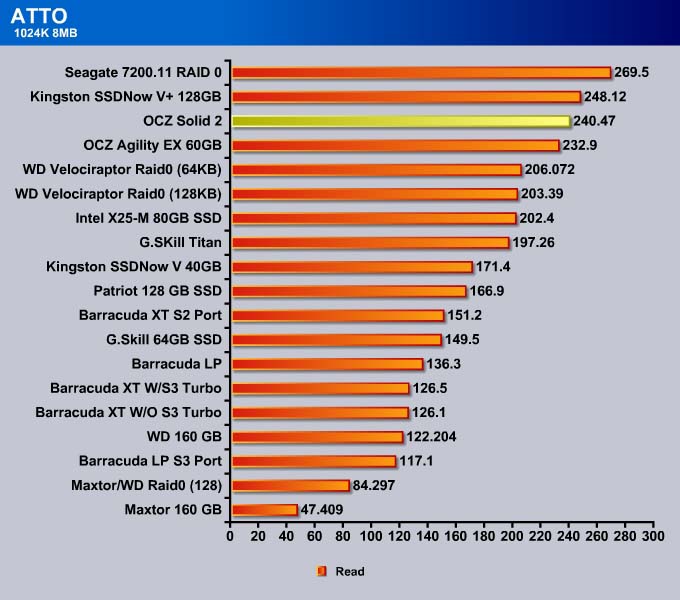 Moving on to the 1024k test we see the Solid 2 still holds onto its ground placing just behind the Kingston SSDNow V+ and ahead of other SSDs. Again, in RAID 0 configuration, mechanical hard drives still has a bit edge over the SSD.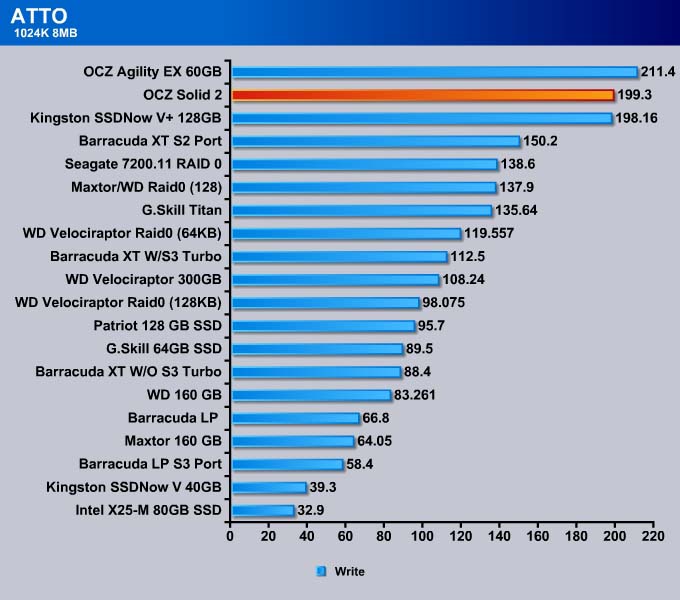 The 1024k Read test shows the same result as we have seen. The Solid 2 is able to yield a good 199.3 MB/s transfer rate, just a tad shy of 200 MB/s.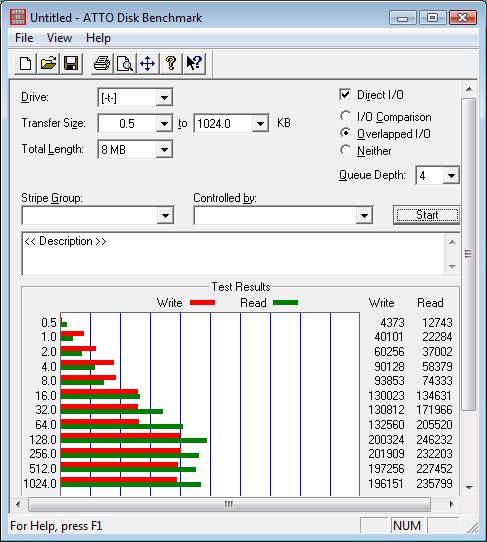 ATTO shows a lot of information regarding the file transfer rate. We can see that at small file size transfer, the Solid 2 has better write speed than the read speed but once the file size reaches to 64 KB, the write speed reaches to 200 MB/s and the read speed tops off to 230 MB/s.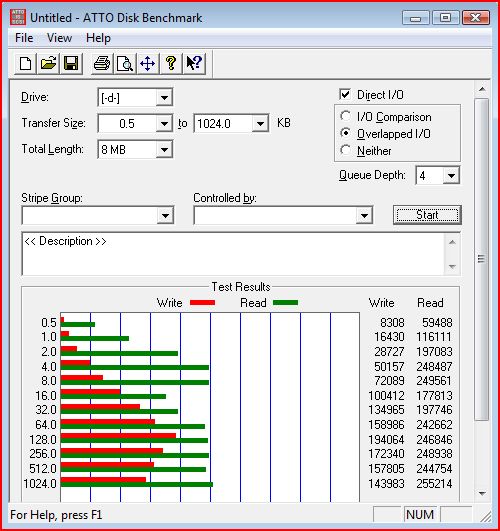 Let's take a quick look at the result of the Seagate HDs in RAID 0. Here you can see that while the mechanical hard drives write rate also tops off 200 MB/s, it starts to level off to 150 MB/s as the file size increases. This is quite a contrast to what we have seen with our SSD as the write rate stayed consistantly at 200 MB/s even with a file size of 1024 KB. The read performance of the mechanical hard drives shows a much better result than our SSD across the different file sizes. The drives also reached to 250 MB/s read as oppose to 230 MB/s for the SSD.
Crystal DisKMark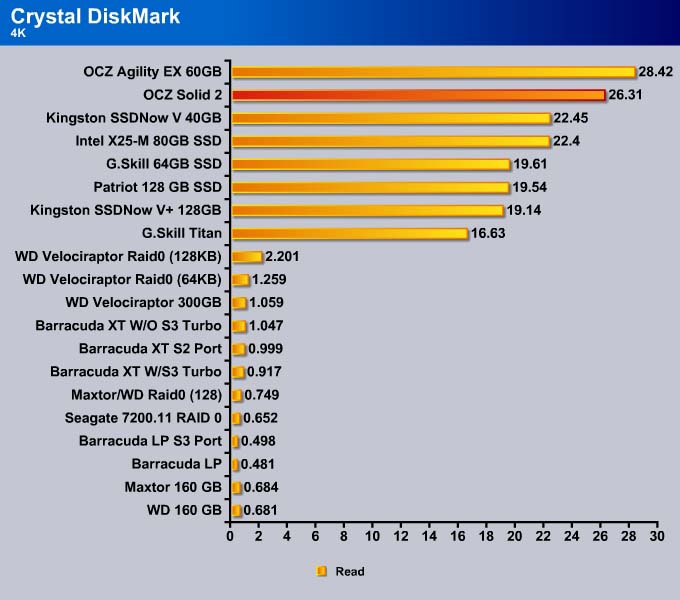 In the 4k read test we see the SSD comes in just behind the OCZ Agility at 26.31 MB/s. You can clearly see the Indilinx controller showing a very good read result. None of the mechanical hard drives are able to compete with the SSD in this test.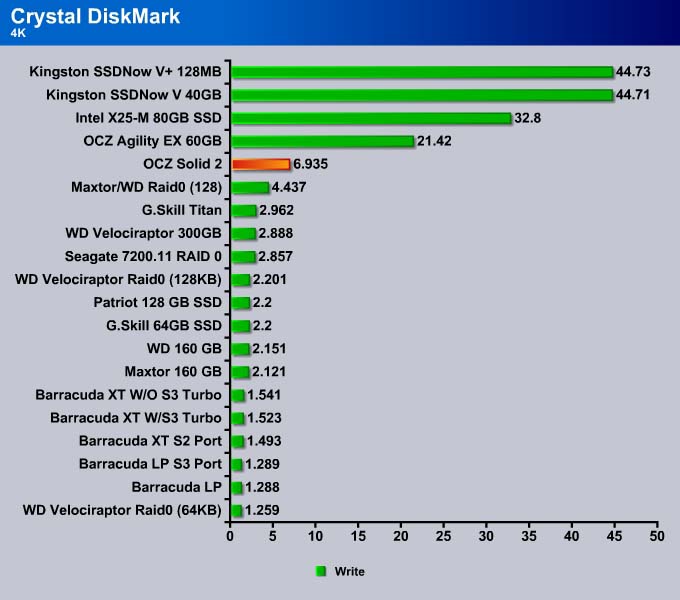 This is the first time we see where the OCZ Solid 2 falls quite far behind other SSDS. The drive scored 6.935 MB/s, while it is still better than mechanical hard drives (even under RAID), it lags significantly behind other SSDs. Do not completely discount the drive though as it still manages to beat out the G. Skill Titan and Patriot 128, which are both using a JMicron controller.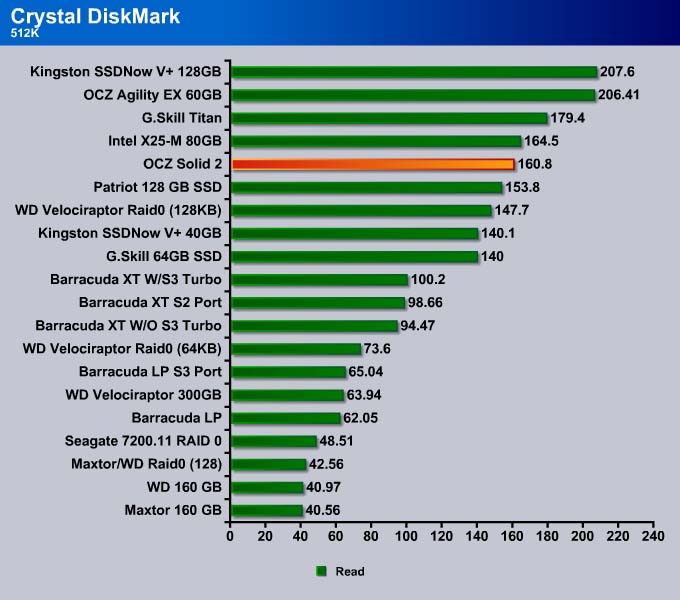 In the 512K test, the Solid 2 falls behind a bit compare to other SSDs. Here we can see that the drive scored 160.8 MB/s, which itself is still quite good, especially if we compare it against the Kingston SSDNow V+ where it is sold at similar price range. It is no doubt that the Indilinx controller out-shines the JMicron controller but it still lags a bit behind the Intel based controller.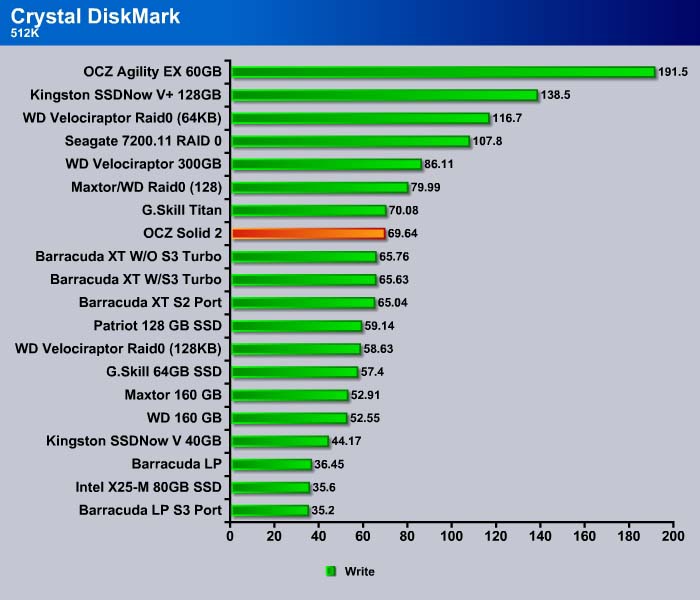 We get a much better result with the Solid 2 in our 512K test. Though its 69.64 MB/s transfer rate is not earth shattering when we compare to other more expensive SSDs, it's still decent enough when we comapre it with other SSDs in its price range. Again, we can see here that it may not be a good idea to throw away your mechanical drive yet because in RAID 0, the hard drives are able to yeild a quite respectable result of 187.8 MB/s.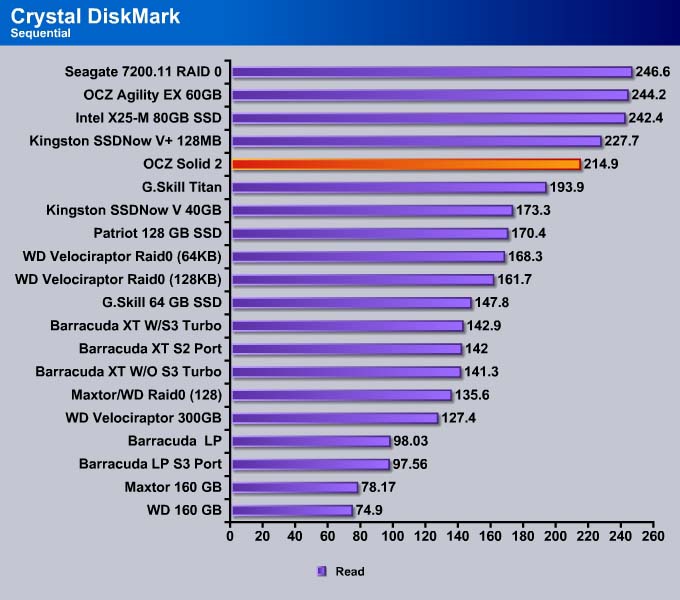 The Sequential test shows the Solid 2 once again comes in the middle of the pack, out-performing the G.Skill, Patriot, and the Kingston SSDNow V drive. At 214.9 MB/s, the drive comes in just a tad under the Kingston SSDNow V+.
The Seagate drives in RAID 0 actually posts the best sequential read than all of our test drives. Again, it just goes to show you that it may not be a good idea to throw away your mechanical drives yet as they can still out-perform the SSD in an environment where a large file is being read.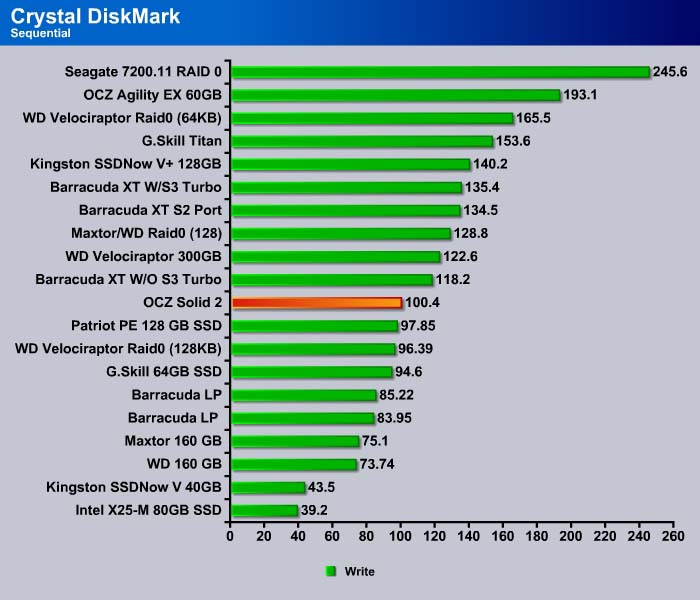 Similar to what we have observed with the sequential read, the sequential write also puts the OCZ Solid 2 right in the middle of our other SSD drives. Here the Solid 2 yields 100 MB/s, just a bit shy of what OCZ's specification states. Once again, RAID 0 mechanical hard drives out-shine all other drives with its impressive 245 MB/s write speed.
HDTach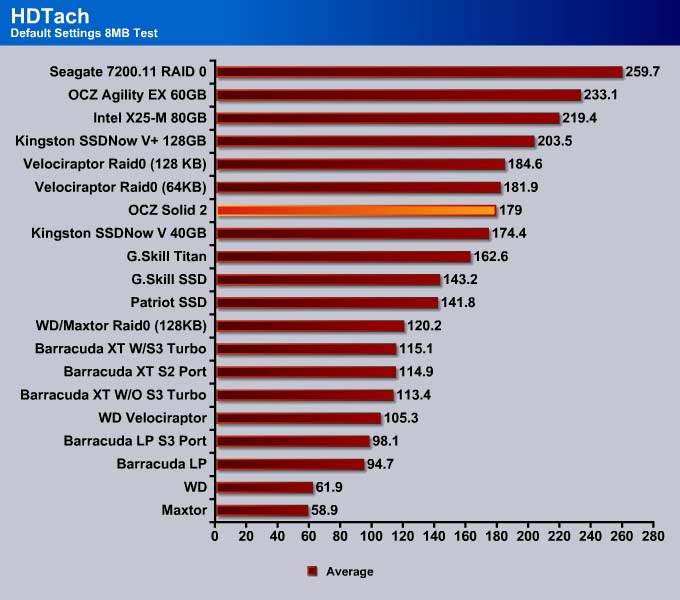 HDTach average speed came in for the Solid 2 SSD at 179 MB/s, placing it right in the middle pack of our SSD drives and just ahead of the Kingston SSDNow V. We all know that the Kingston SSDNow V is a very competitive budget SSD but 40GB storage space can easily be filled, so the Solid 2 can be a very attractive replacement for 20GB of extra storage space.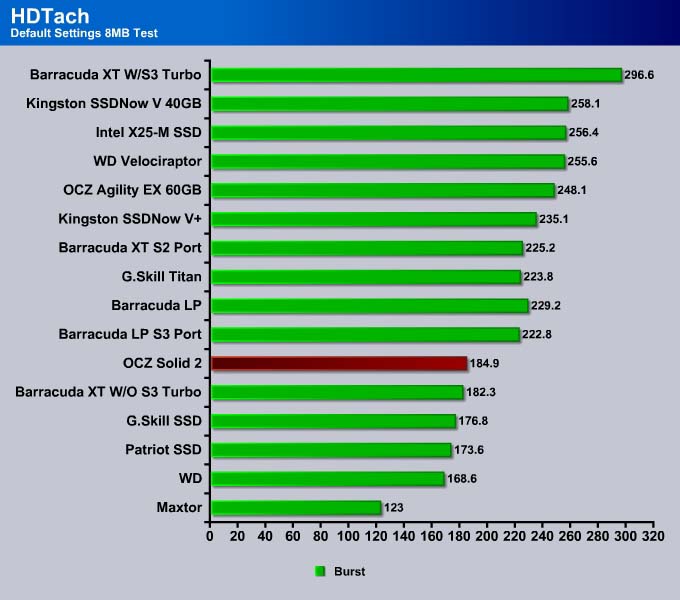 The Burst test in HDTach shows the drive coming in at 235.1 MB/s. That's a pretty decent burst speed.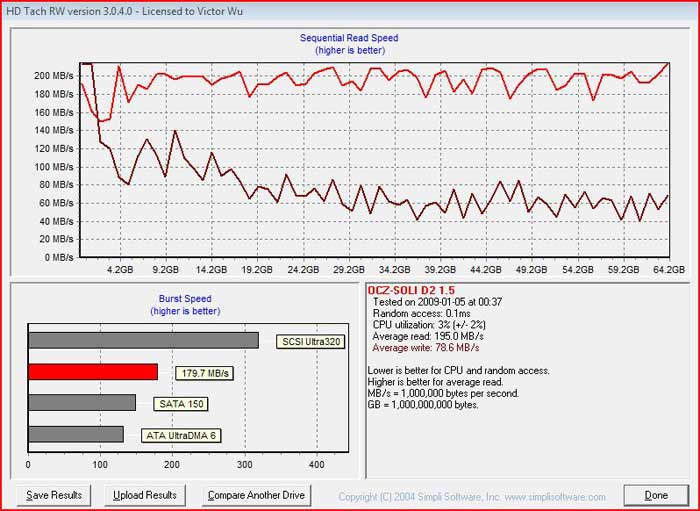 OCZ Solid 2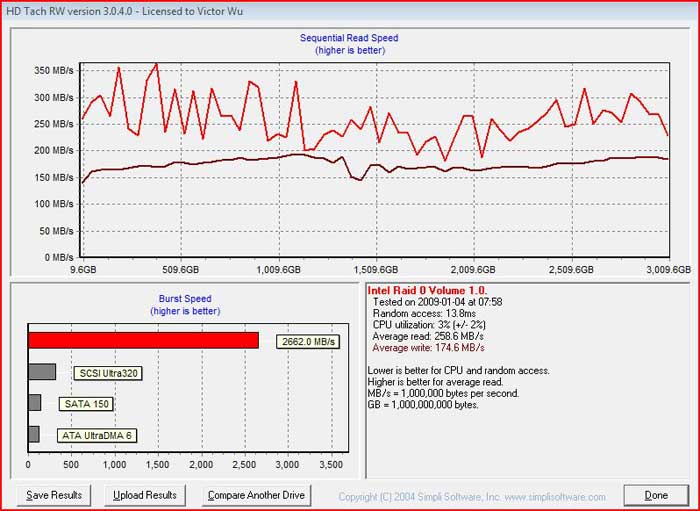 Seagate 7200.11 RAID 0
We wanted to toss in a screen shot of HDTach. We can see the Solid 2 posting 180 MB/s burst speed with 195 MB/s average read speed and 78.6 MB/s average write speed. Pairing up two hard drives in RAID 0 helped the mechanical hard drives significantly in the burst speed. Not only that, we can see the Seagate hard drives are posting excellent average read and write speed, 258 MB/s and 174.6 MB/s respectively.
Sisoft Sandra
We didn't chart Sandra because it provides a nice graph in the process of testing, and at times those provide more information than a bar chart.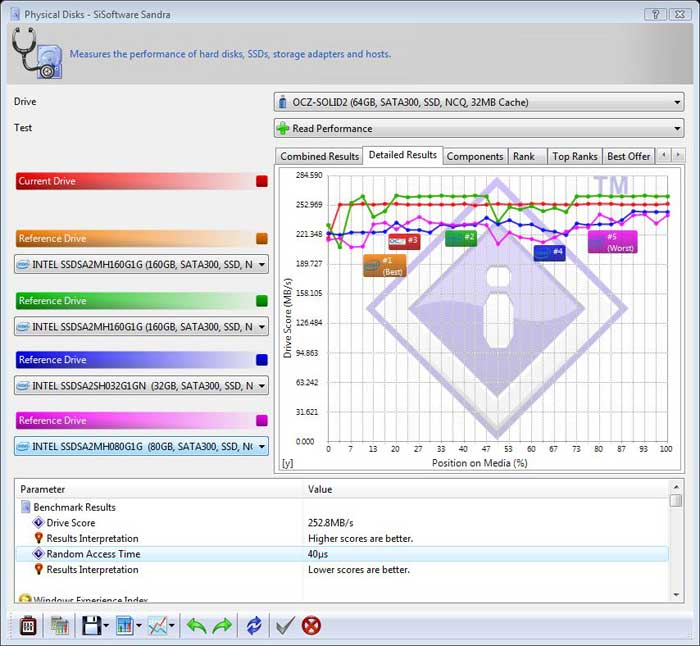 Solid 2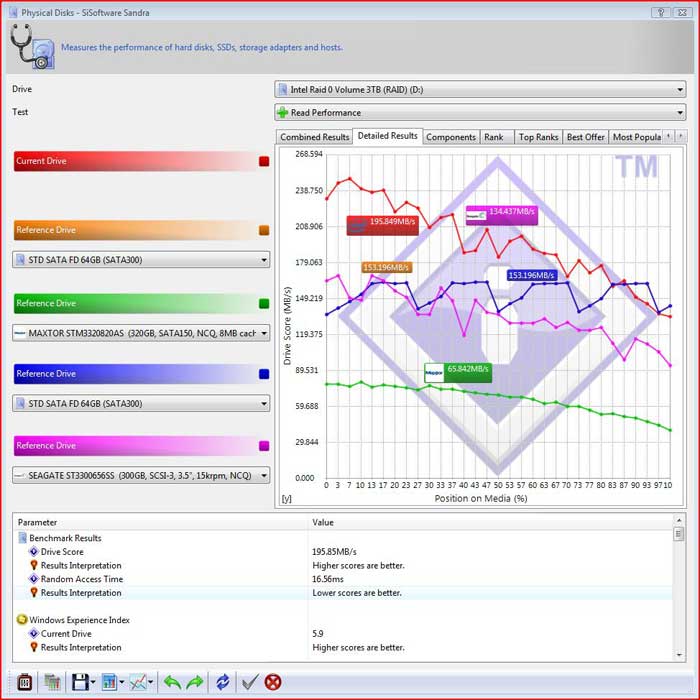 Seagate 7200.11 RAID 0
Notice how the other SSD's wander all over the graph and the Solid 2 (red chart line) provides a level transfer speed in the 252 MB/s range the entire test. That's the consistency we expect from high end, well engineered drives. While the Seagate hard drives in RAID 0 has a higher output at the 7% position, the drive shows a progressive decrease in the transfer speed throughout.
Also, it can be seen that mechanical hard drives, even when paired up in RAID 0, simply cannot compete with the SSDs when it comes to the random access time. The Solid 2 has a 40 µs random access time while the RAID 0 is 16.56 ms. This is 400 times faster than the mechanical hard drives.
Hard Drive Tune Pro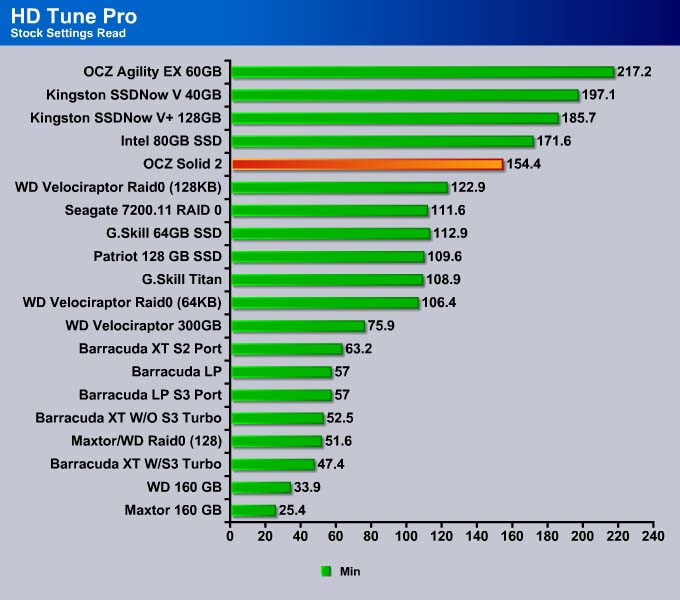 The Solid 2 performs admirably in the HD Tune Pro test. It again places right in the middle of the SSD drives. The drives that are able to beat it are either with an Intel Controller (Kingston SSDNow V, Intel SSD) or based on SLC memory (Agility EX). With a 154.4 MB/s minimum transfer rate, it comes quite far ahead of the mechanical drives and other SSDs with a JMicron controller (Patriot and G. Skill SSDs).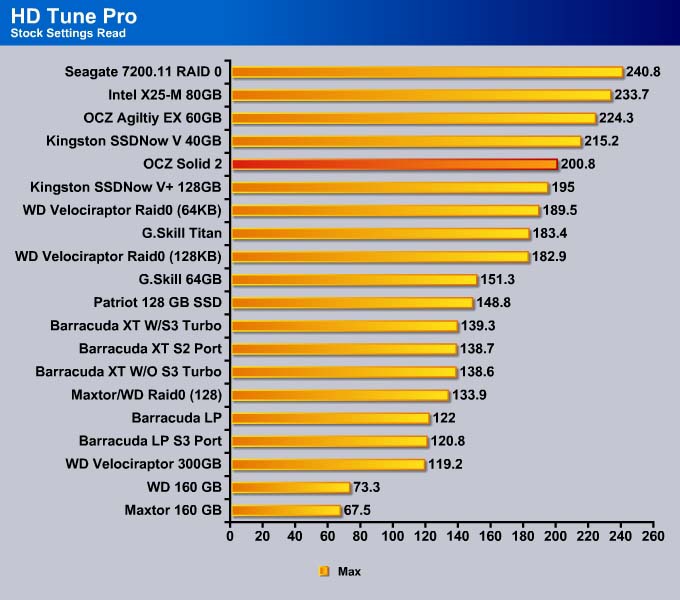 The Maximum speed test shows the Solid 2 at 200 MB/s, just a tad behind the Kingston SSDNow V. Looks like the Indilinx baed drive sure is making a good show. Only the Intel based controller or SLC based memory SSDs are able to yield better result. The RAID 0 drives once again takes our first place.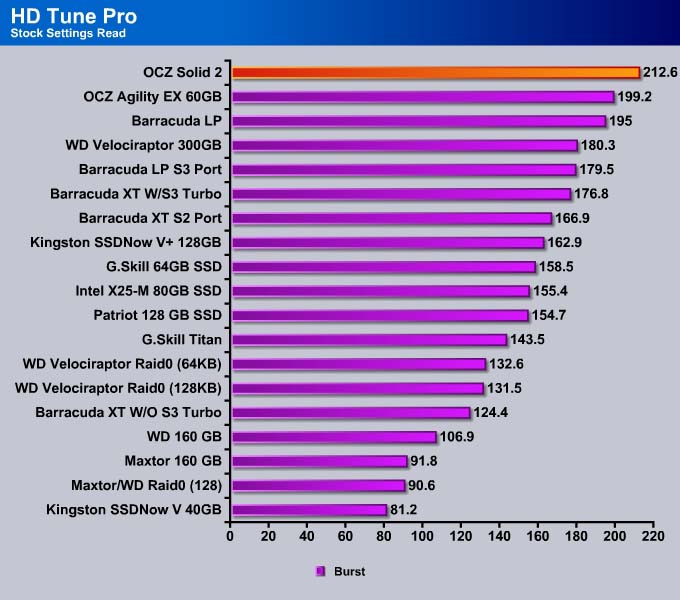 Quite surprisingly, the Solid 2 takes the lead in the HD Tune's burst speed test.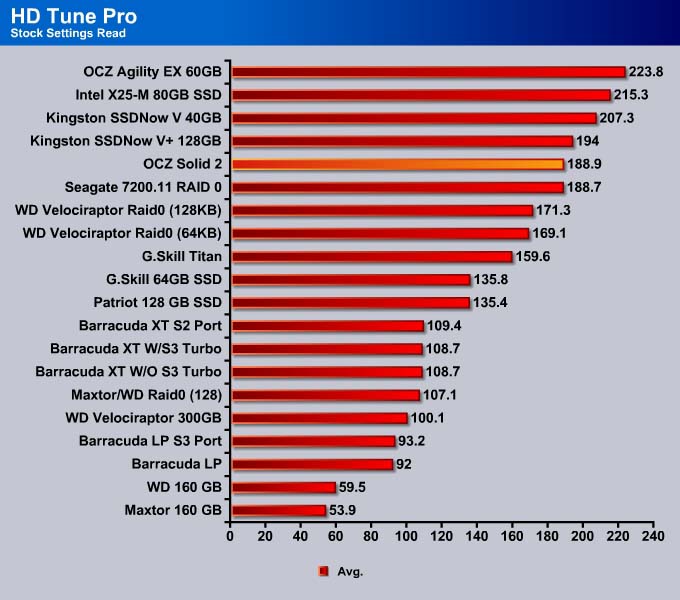 Average speed in Hard Drive Tune Pro was 188.9 MB/s and again the Intel controller drives bested it as did the SLC drive. Still, 188.9  MB/s is a pretty good speed in this test.
AS SSD Benchmark
 4K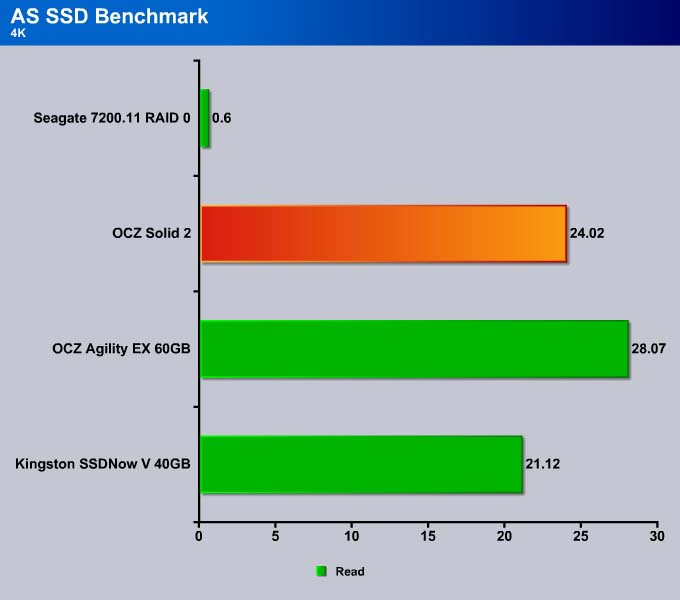 OCZ Solid 2 did quite well here and comes in ahead of the Kingston SSDNow V with 24.02 MB/s transfer rate but a bit slower than then Agility. Our mechanical hard drives are painfully slow in the 4K reading with only 0.6 MB/s.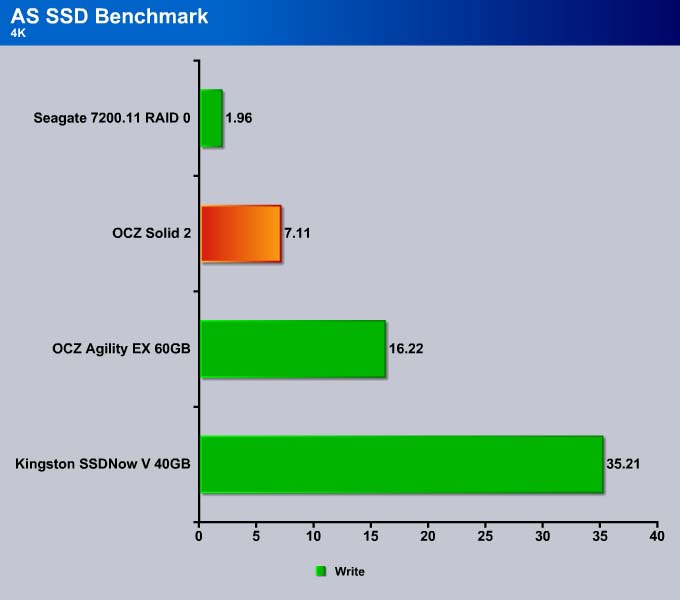 The Kingston SSDNow V puts a great show here thanks to the Intel controller. The Indilinx based Solid 2 falls to last place with only 7.11 MB/s. While it is not the best we have seen with the SSDs, it is still far better than the mechanical hard drives in RAID 0 where we only see 1.96 MB/s. Not too shabby in our mind for a budget drive.
4K-64K Thread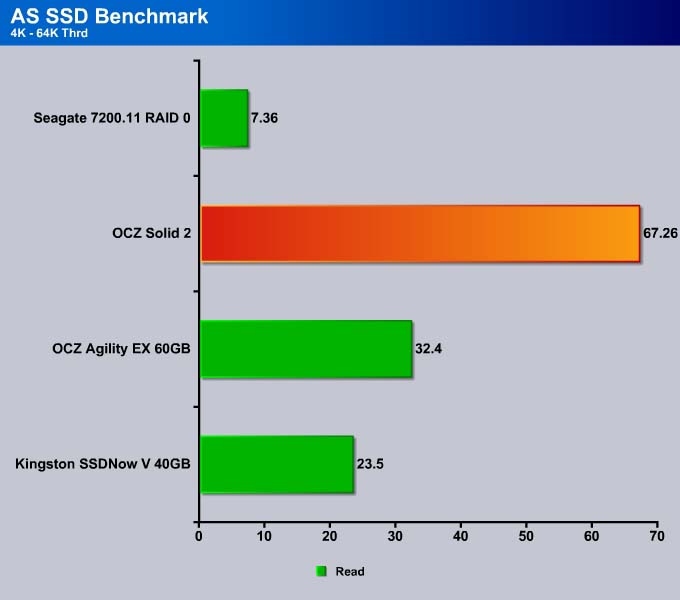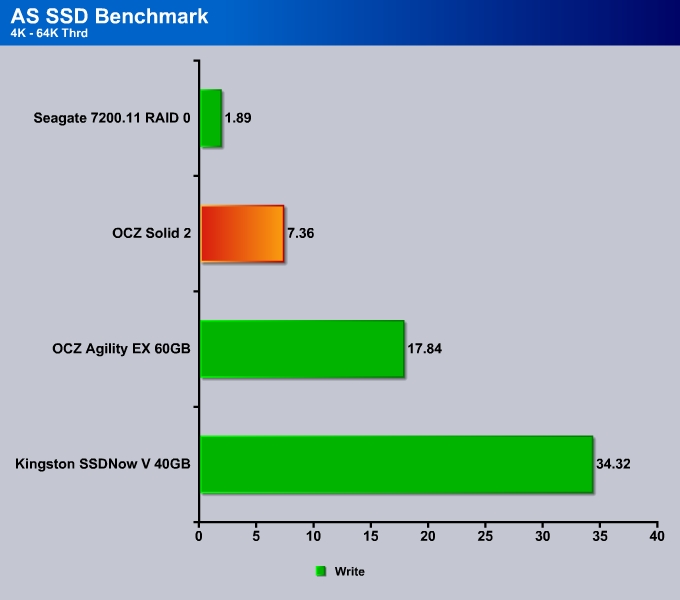 What a surprise! The Solid 2 puts on a great performance in our 4K-64K thread with a 67.26 MB/s read, out-performing the Intel based drive. Its write still lags behind the Intel controller based SSD and also the SLC with only 7.36 MB/s.
Sequential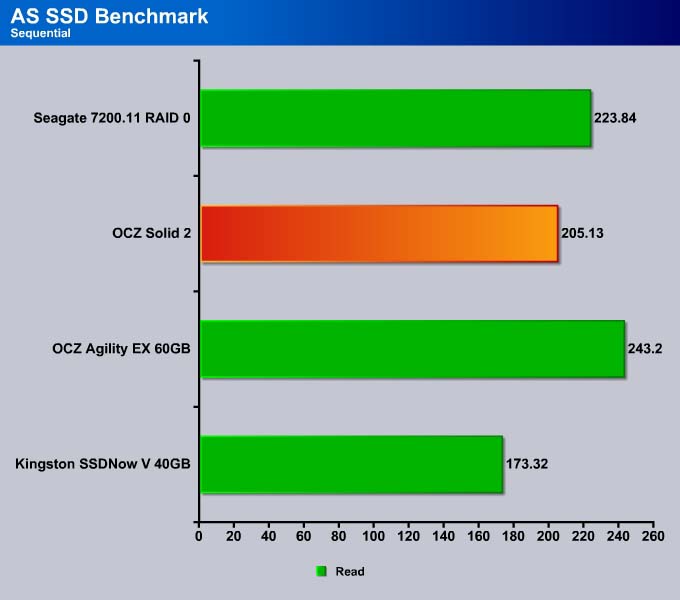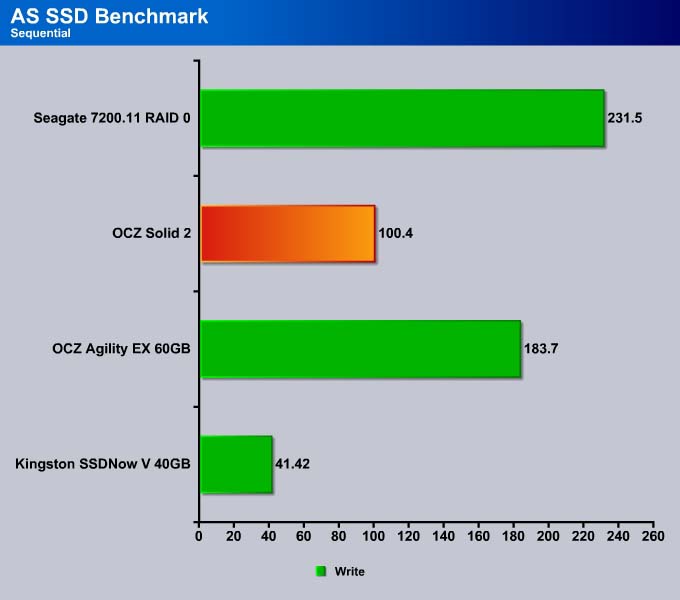 The Solid 2's sequential read and write beats the Kingstong SSDNow with 205.13 MB/s read and 100.4 MB/s write. As we can see from the chart above, the Solid 2's sequential write speed is 2.5 times of the SSDNow V. While the Solid 2 falls behind the SSDNow in the random write, it certainly makes up in the sequential write. For common desktop use, random write maybe more important. Still, we are glad to see the Indilinx based SSD to at least offer a good sequential read and write while still offering a significant perforamnce increase in the random write and read when compare to the mechanical hard drive.
Our RAID 0 hard drives beats any SSD in the sequential write as expected. Once again, don't throw those hard drives out yet, they are good for storing your DVD or Blu-Ray movies.
PCMark Vantage
While the previous tests shows the raw transfer speed of the hard drives, they may not show just how much you can expect in the real-world. We use PCMark Vantage to test how we can expect the hard drive's performance affecting the common computer usage.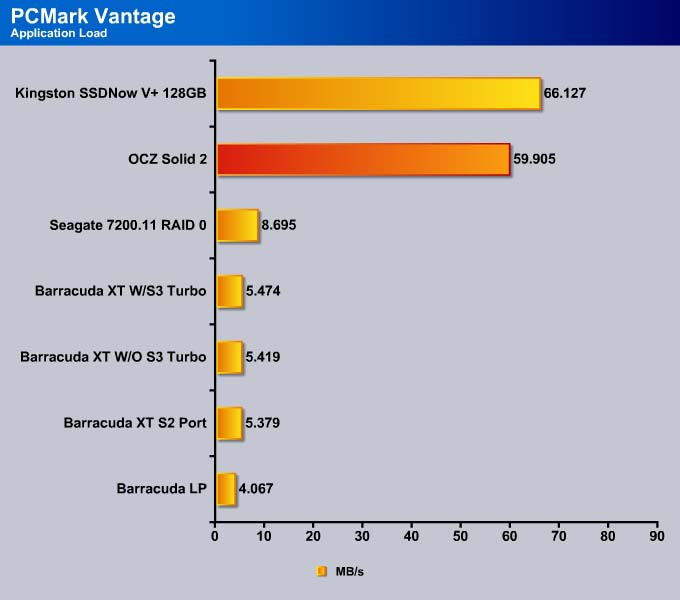 Application loading is where SSDs truly shine due to its incredible quick random access time.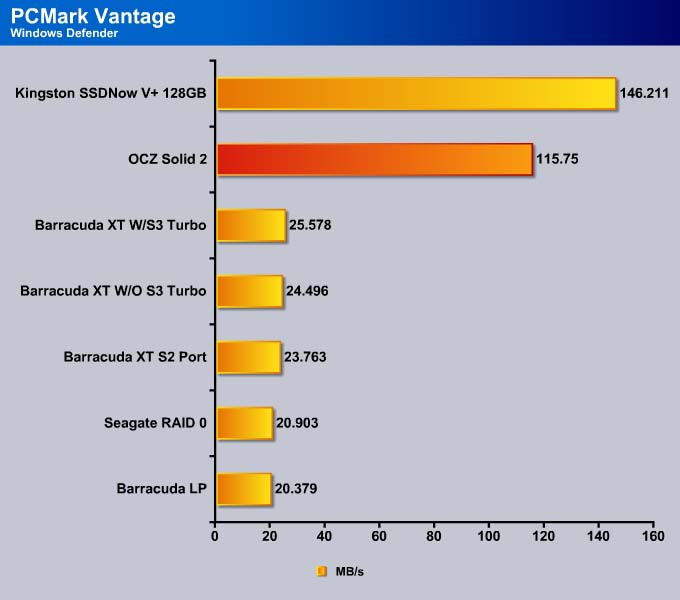 The Windows Defender test shows the Solid 2 coming in at  115.75 MB/s, the Barracuda XT SATA 3 drive hitting 25.578MB/s, and the Seagate RAID 0 drives comes in at 20.908 MB/s. We can see the Solid 2 clocks in a decent result compare to the more expensive Kingston SSDNow V+.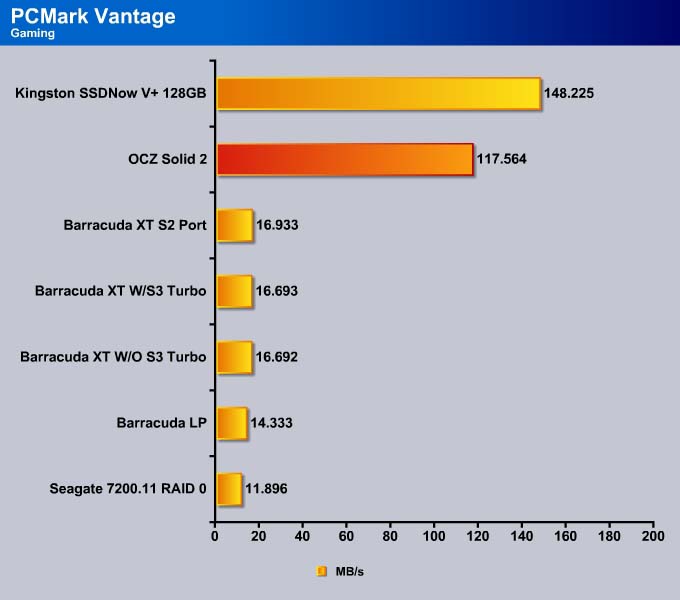 Gaming gets a big boost with SSD as well. Again, the Solid 2 comes in just a tad bit behind the Kingston SSDNow V+.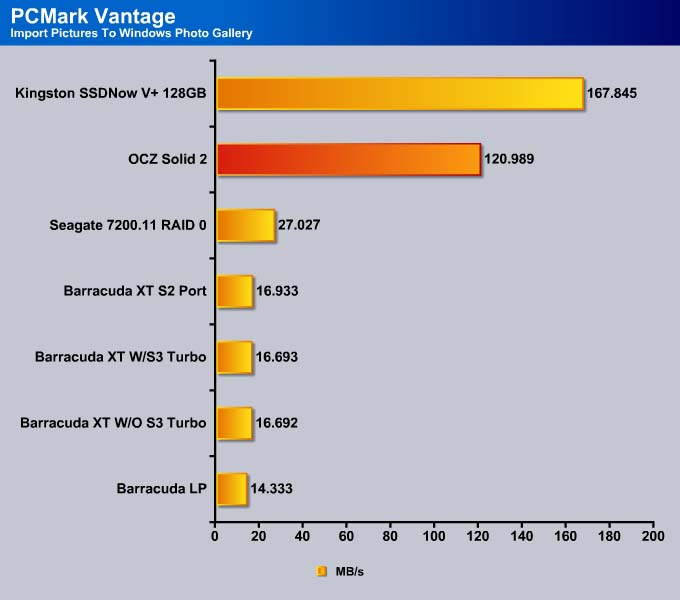 When importing pictures to the Windows Photo Gallery, we see the SSDNow making 120.989 MB/s. Our RAID 0 mechanical hard drives comes in just 27.027 MB/s, which is one fifth of the Solid 2.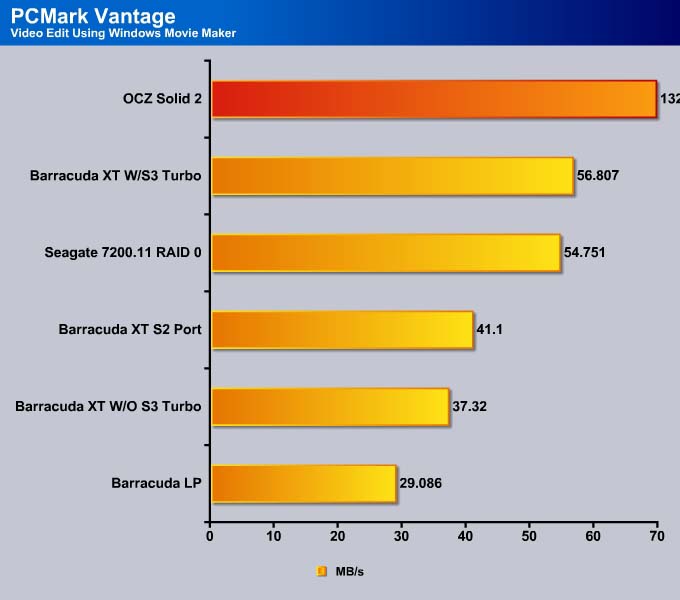 Solid 2 makes a big performance jump in our Video Editing test at 133 MB/s, taking the leads among the drives we have tested. The drive even tops the Kingston SSDNow V+, which is costing twice of what the Solid 2 is selling. The excellent sequential read performance of the Solid 2 is what we believe that puts it into the first place.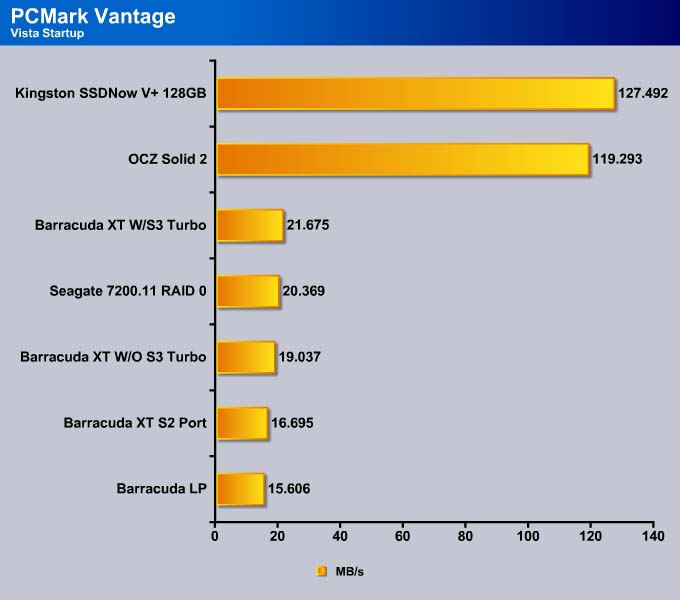 The quick random access and better random access speed is what puts the SSD over the mechanical hard drive.
Solid 2 is placed in number 1 spot among the drives tested. It even beats out the Kingston SSDNOw V+.
CONCLUSION
Is it time to ditch your mechanical drives? Not yet, at least not until the SSD price drop and the storage capacity increases to match the mechanical hard drives. We can see from our tests that while the SSD are great in the random access and low access time, it may not always puts the best sequential read and write result. This is where the mechanical hard drives still have a bit of edge, especially if you use RAID 0 configurations. We are sure that if you had enough money to run 2 SSDs in RAID 0, the performance would beat the mechanical hard drive. But then we are talking about $700 for two 256 GB SSDs while for the same amount of money you can get two 2 TB SATA 3 mechanical hard drives in RAID and maybe even having extra cash for beers. Such an investment is not something where most people can afford.
Because SSDs still carries a quite high price to performance ratio, we would suggest anyone who wishes to purchase the SSD to get a mid-range SSD in the neighborhood of 100 GB as your primary hard drive. Then simply setup a RAID 0 or RAID 5 as data storage. As our tests have shown, mechanical hard drives offers excellent sequential read and write performance in RAID 0, which would be ideal for storing HD contents.
Now the OCZ Solid 2 that we have reviewed today shows a very promising SSD for anyone who wish to venture into the SSD world without breaking the bank. The Indilinx controller shows a very good balanced performance. While the controller still lags behind the Intel controller in the random access, it does make up in the sequential read and competitive pricing. At the moment, it may just be the best alternative to the Intel controller. As it can be seen in our tests, the JMicron controller based SSDs are simply unable to compete against the Indilinx based balanced performance. So if you are looking for the SSDs, we would definitely suggest you to look into the one that is based on Indilinx controller with TRIM support.
We absolutely loved how OCZ is able to make the Solid 2 at such affordable price ($164) for our 60 GB unit. While the 120 GB unit would set you back for $300, it is still the cheapest among other drives at this storage capacity. With TRIM support and a 3 year warranty, the Solid 2 may just be the best SSD that is available on the market right now.
OUR VERDICT: OCZ Solid 2
| | |
| --- | --- |
| Performance | 8.5 |
| Value | 8.5 |
| Quality | 9 |
| Features | 9 |
| Innovation | 8 |

We are using a new addition to our scoring system to provide additional feedback beyond a flat score. Please note that the final score isn't an aggregate average of the new rating system.

Pros
Cons

TRIM support

Good sequential read and write

Relatively cheap

3 year warranty

Random read and write still lags behind Intel controller drives

 

 
Summary: The OCZ Solid 2 proves to be a very good SSD with its Indilinx controller that offers a balanced performance to price ratio. For this, we award it our coveted Silver Award.