The Gigabyte HD 5870 Ultra Durable 1GB GDDR5 GPU is a welcome addition to the Gigabyte lineup of ATI cards and promises cooler temperatures and better overclockability.
Introduction
The days of buying a stock reference video card and not having other options is long past and Gigabyte is capitalizing on the aftermarket bonanza. Their Ultra Durable line of GPU's feature a 2oz copper PCB to decrease electrical resistance and decrease operating temperatures. Solid Capacitors to extend the life of the GPU and Tier 1 Samsung or Hynix memory for better overclocking. Combine all that with a great aftermarket fan factory installed and you have a lean mean overclocking machine.
Enter the Gigabyte HD 5870 Ultra Durable (GV-R587UD-GD) ATI Radeon video card and you get all that in a massive graphic powerhouse and it features a nice dual fan inclined cooling solution that is pretty unique. While we love the look of the ATI 5800 series GPU's and their black and red cowling heat is always a concern when purchasing an expensive GPU and the Inclined cooling fans on the Gigabyte HD 5870 might be just what the doctor ordered.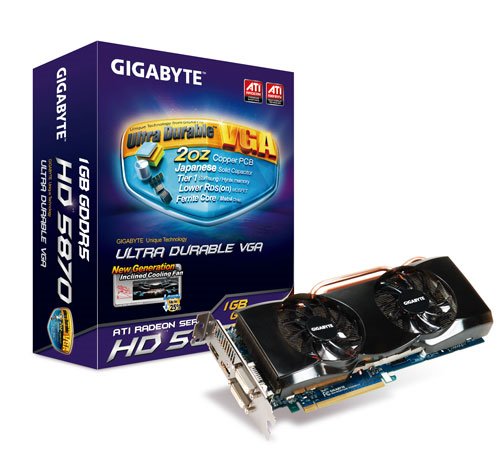 Packed with features like DirectX 11, Dual DVI-D, HDMI and display port Gigabyte manages to make it even sweeter with all copper heat pipes and an inclined fan design to ensure that both ends of the card are well cooled and to pull heat away from the GPU core. We are betting we get better overclocking and cooler temperatures from this gem!
Features & Specifications
Each GPU is based on AMD's TeraScale 2 Architecture that offers over 2 TFLOPs of processing power.
Each GPU has 1600 stream processors, arranged into 20 SIMD engines
Each with 16 thread processors that have 5 processing cores each.
There are 80 texture units per GPU
They Have 32 raster operation units
Built on the 40 nm silicon process by TSMC
New energy-saving performance profiles with low power draws on idle idle
Some of the highest performance per Watt
Each GPU uses a 256-bit wide GDDR5 memory interface, which provides 128 GB/s of memory bandwidth (256 GB/s for the entire card)
The improved PCI-Express bridge chip now supports the new PCI-Express 2.1 standard which renders the 4870×2 Sideport useless because the new PCI-E 2.0 bridge chip provides so much bandwidth. (According to AMD)
GPU
GeForce
GTX 280
Radeon
HD 4870 X2
GeForce
GTX 285
Radeon
HD 5850
Radeon
HD 5870
GeForce
GTX 295
Radeon
HD 5970
Shader units
240
2x 800
240
1440
1600
2x 240
2x 1600
ROPs
32
2x 16
32
32
32
2x 28
2x 32
GPU
GT200
2x RV770
GT200b
Cypress
Cypress
2x GT200b
2x Cypress
Transistors
1400M
2x 956M
1400M
2154M
2154M
2x 1400M
2x 2154M
Memory Size
1024 MB
2x 1024 MB
1024 MB
1024 MB
1024 MB
2x 896 MB
2x 1024 MB
Memory Bus Width
512 bit
2x 256 bit
512 bit
256 bit
256 bit
2x 448 bit
2x 256 bit
Core Clock
602 MHz
750 MHz
648 MHz
725 MHz
850 MHz
576 MHz
725 MHz
Memory Clock
1107 MHz
900 MHz
1242 MHz
1000 MHz
1200 MHz
999 MHz
1000 MHz
Price
$329
$429
$340
$299
$399
$500
$599
ATI 5800 Features Overview
 
 
 

40nm Technology


Faster clocks, double the transistor density of earlier 40 nm technology. 40nm technology helped make HD5870 series products the most advanced GPUs ever highest clocks speeds, incredible feature integration, full performance and precision all the time, and ability to take advantage of future, higher-speed memories.
 
 

Avivo™HD


Avivo™HD could provide vibrant high fidelity, flawlessly smooth next-generation video playback. Avivo™HD technology easily allows your PCs to become digital home media center by its compelling video pipeline design that comprises the latest high definition video hardware acceleration, including H.264 and WMV9.
 

Catalyst™ Control Center


ATI's all-new Catalyst Control Center goes far beyond traditional driver configuration software—it's a feature-rich and stable 3D acceleration control application that puts you in complete command of your ATI visual processing unit (VPU). Catalyst Control Center offers exceptional graphics performance and visual quality for the ultimate in performance, stability, and innovation. Safe GPU overclocking, custom profiles, and assignable hotkeys are just a few of the many new features. You'll also enjoy frequent updates, reliable customer service, and an interactive user feedback program, all backed by ATI's technical confidence, industry-leading capability, and uncompromising commitment to creating your ultimate visual experience.
 
 
Microsoft® DirectX® 11
The power of DirectX® 11 with awesome performance, stunning visual effects, and more dynamic interactivity than ever before.Ensures the best performance and application compatibility for all DirectX® 11 applications. Microsoft® DirectX® 11 games, with stunning 3D graphics and shading effects.
 
 

Shader Model 5.0


cShader Model 5.0 adds support for indexed temporaries which can be quite useful for certain tasks. Regular direct temporary access is preferable is most cases. One reason is that indexed temporaries are hard to optimize. The shader optimizer may not be able to identify optimizations across indexed accesses that could otherwise have been detected. Furthermore, indexed temporaries tend to increase register pressure a lot. An ordinary shader that contains for instance a few dozen variables will seldom consume a few dozen temporaries in the end but is likely to be optimized down to a handful depending on what the shader does. This is because the shader optimizer can easily track all variables and reuse registers. This is typically not possible for indexed temporaries, thus the register pressure of the shader may increase dramatically. This could be detrimental to performance as it reduces the hardware's ability to hide latencies.
 
 
OpenGL 3.1® Optimizations
Ensure top-notch compatibility and performance for all OpenGL 3.1 application.
 

CrossFireX™


Upgrade to even greater 3D performance quickly and easily thanks to plug-and-play ATI CrossFireX multi-GPU technology
 
 

PCI-E 2.1


PCI Express® 2.1 –Now you are ready for the most demanding graphics applications thanks to PCI Express® 2.1 support, which allows up to twice the throughput of current PCI Express® cards. Doubles the bus standard's bandwidth from 2.5 Gbit/s (PCIe 1.1) to 5 Gbit/sec.
 

RoHS Compliant


As a citizen of the global village, GIGABYTE exert ourselves to be a pioneer in environment care. Give the whole of Earth a promise that our products do not contain any of the restricted substances in concentrations and applications banned by the RoHS Directive, and are capable of being worked on at the higher temperatures required for lead free solder. One Earth and GIGABYTE Cares!
 

HDCP Support


High-Bandwidth Digital Content Protection (HDCP) is a form of copy protection technology designed to prevent transmission of non-encrypted high-definition content as it travels across DVI or HDMI digital connections.
 

HDMI Ready


High Definition Multimedia Interface (HDMI) is a new interface standard for consumer electronics devices that combines HDCP-protected digital video and audio into a single, consumer-friendly connector.
 
Windows Vista®
Enjoy powerful graphics performance, improved stability, and an immersive HD gaming experience for Windows Vista. ATI Catalyst™ software is designed for quick setup of graphics, video, and multiple displays, and automatically configures optimal system settings for lifelike DirectX 10 gaming and the visually stunning Windows Aero™ user interface.
 

Microsoft Window7


Microsoft Windows 7 is the next generation operating system that will mark a dramatic improvement in the way the OS takes advantage of the graphics processing unit (GPU) to provide a more compelling user experience. By taking advangate of the GPU for both graphics and computing, Windows 7 will not only make todays's PCs more visual and more interactive but also ensure that they have the speed and responsiveness customers want
Specifications Gigabyte HD 5870
| | |
| --- | --- |
| Chipset | ATI Radeon HD 5870 |
| Core Clock | 850 MHz |
| Mem Clock | 4800 MHz |
| Memory | 1GB |
| Memory Bus | 256 bit |
| Memory Type | GDDR5 |
| Card dimension | ATX |
| Bus Type | PCI-E 2.1 |
| Bus Speed | x16 |
| D-SUB | Yes |
| TV-OUT | No |
| DVI Port | Yes |
| VIVO | No |
| Multi View | Yes |
Ultra Durable VGA

2 oz Copper PCB Board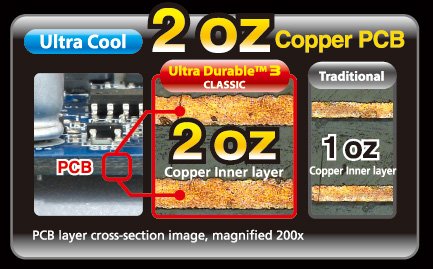 Ultra Durable VGA doubles the copper inner layer of PCB board and the mount of copper weight in 1 square foot (12 inch x 12 inch) area PCB is 2 oz. Thus, 2 oz PCB board has lower impedance and helps heat spread. Ultra Durable VGA with 2 oz PCB board provides unrivaled performance compared with traditional graphics accelerators.
Tier 1 Memory
Ultra Durable VGA promises 1st tier memory built with 100% fully testing. These tier 1 memories provide high quality and deliver 10% guard band.
Japanese Solid Capacitor

Solid capacitors contain a solid organic polymer, while electrolytic capacitors use a common liquid electrolyte. Our cards use Japanese solid capacitors made by leading Japanese manufactures and offer longer life span under extreme condition.
Ferrite Core Chokes

Ferrite core chokes are comprised of a compound of iron-oxide whose properties hold energy much longer than common iron-core chokes at high frequency. They are able to store energy longer and prevent rapid energy loss at high frequency.
Low RDS (on) MOSFET

MOSFET is a switch that allows or disallows electric current to pass through an electronic circuit Lower RDS(on) MOSFETs are specially designed to produce lower switching resistance for faster electric current charging and discharging
Temperature

Ultra Durable VGA provides dramatic cooling effect on lowering both GPU and memory temperature. By adopting 2 oz PCB board, Japanese Solid Capacitor, Ferrite Core Chokes, and Low RDS (on) MOSFET, Ultra Durable VGA makes PCB board as a big heat sink. According to our testing results, Ultra Durable VGA graphics accelerators can lower GPU temperature by 5% to 10% and lower memory temperature by 10% to 40%.
Overclocking Capability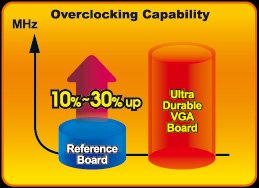 Ultra Durable VGA reduces voltage ripples in normal and transient state, thus effectively lowers power noises and ensures higher overclocking capability. GIGABYTE Ultra Durable VGA graphic accelerators improve overclocking capability by 10% to 30%.
Power Switching Loss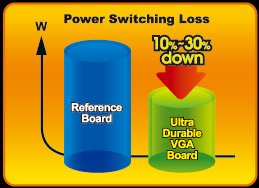 Ultra Durable VGA allows more bandwidth for electron passage and reduces circuit impedance. The reduction of circuit impedance will provide stable current flow and thus improving power efficiency. GIGABYTE Ultra Durable VGA graphic accelerators can lower power switching loss by 10% to 30%
Pictures & Impressions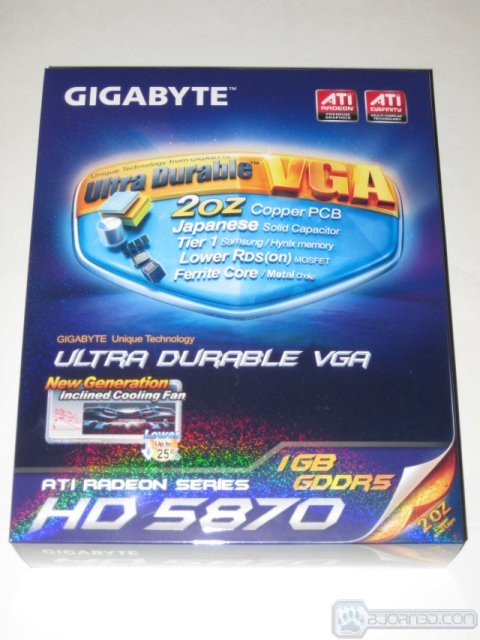 As usual the Gigabyte Ultra Durable HD 5870 comes in an attractive blue box with plenty of information and specification to help the consumer make an informed choice about it's purchase.

Since Gigabyte mentions it on the front of the box we are leading out with a top down shot of the all copper heatpipes and Inclined fan design.  Inclining the fans slightly will help the cooling solution to direct the airflow toward the front and rear of the card providing a more even airflow keeping the card cooler.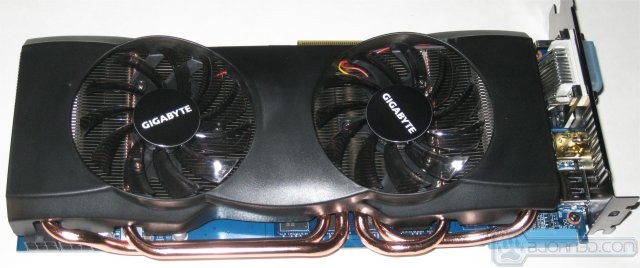 The dual fan black cowling on the Gigabyte HD 5870 Ultra Durable GPU gives it a distinctive look and instead of being a full cowling card it stops short of reaching the PCB so it has more room for the hot air to escape to.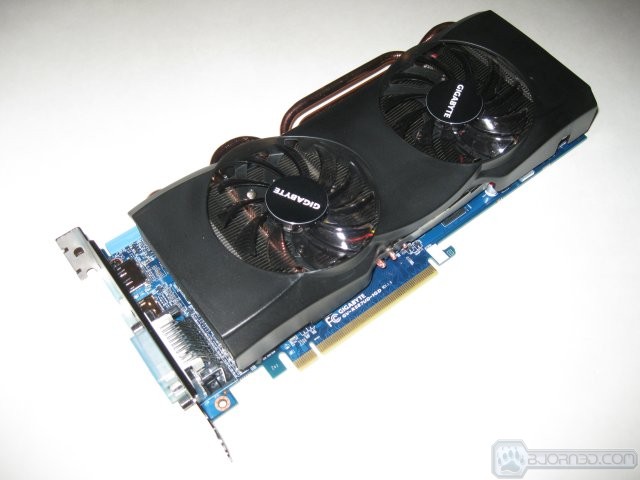 The one questionable thing we found on the Gigabyte HD 5870 is the way that the DVD-D connector closest to the fans is soldered on. The soldering itself is immaculate but the connector has long silver wires reaching up from the board to meet the connector. We have a shot of that in more detail a little later.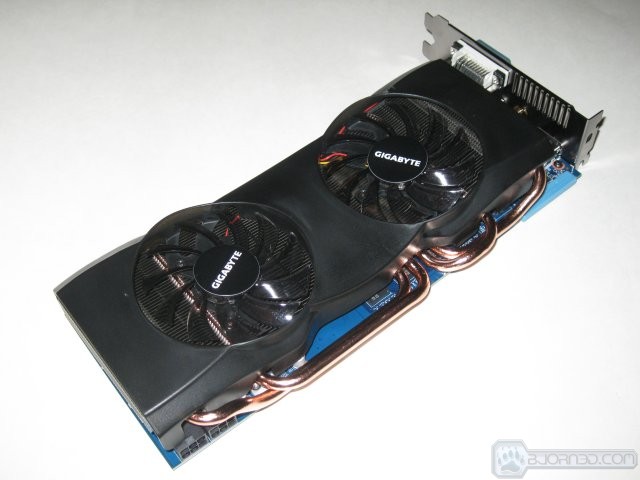 Notice that the cowling doesn't seat directly against the PCB? The GPU itself has a standard dual slot bracket with a heat exhaust but without a full cowling a lot of the heat will get into the chassis and not out the rear of the card. The card will stay cooler but it might come at the cost of a higher chassis ambient temperature.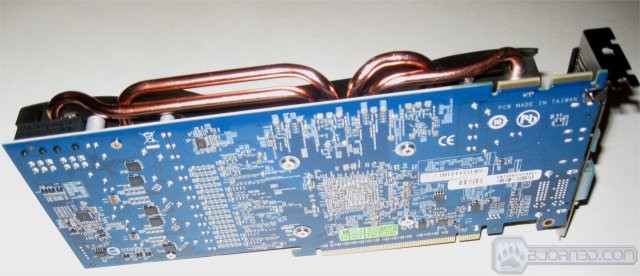 Catching a glance at the card from the back standing up you get a nice peek at the heat pipes and in a tower chassis this is about what you see. Blue PCB and heatpipes.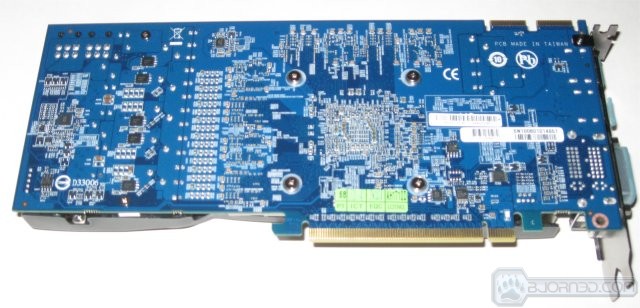 The back of the card is fairly unremarkable like most cards but we noticed the heatsink/cowling is held on with a total of 6 screws and removing it for cleaning or modding would be extremely easy.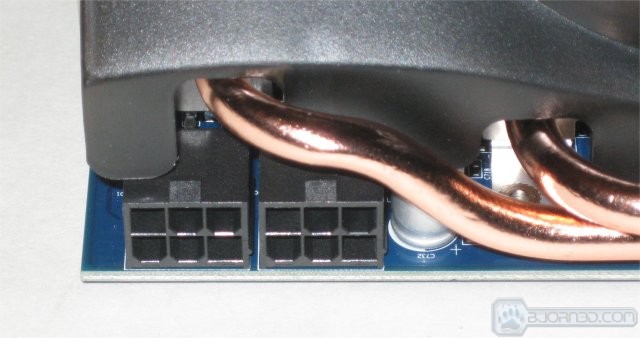 The Gigabyte HD 5870 Ultra Durable packs a good punch but it still only needs two six pin PCI-E power connectors.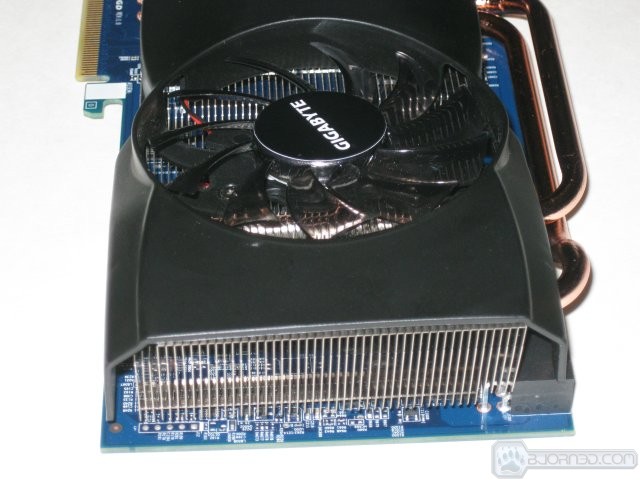 One of the things we noticed about the HD 5870 is that a lot of care has been taken to insure that the heatsink cooling vanes and absolutely flat and even insuring good heat dispersion and airflow.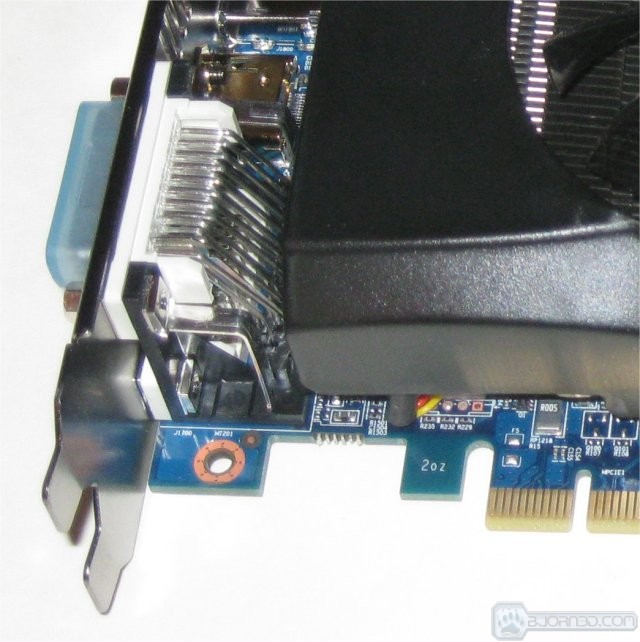 Here's a shot of the DVI-D connector we spoke of earlier. Notice the wires come from the PCB all the way up to the DVD-D connector so figure they are close to an inch long. It probably won't make much difference performance wise but the longer the distance the signal has to travel the higher the resistance. Then how likely are you to snag a Molex connector on one if you change components like we do. It shouldn't be an issue for most people but it's worth noting.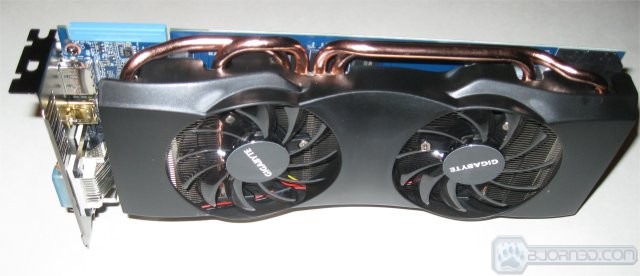 Looking at the card standing up you can see how the fans are slightly tilted toward the front and back. One is directly on top the memory and the other is on top the GPU core so they should keep the GPU nice and cool but like we mentioned earlier that might come at a slightly increased chassis temperature. With good airflow in the chassis it shouldn't be an issue. If you have a birds nest of wires it might be an issue.

On the business end of the card you find two DVI-D and HDMI and a Displayport.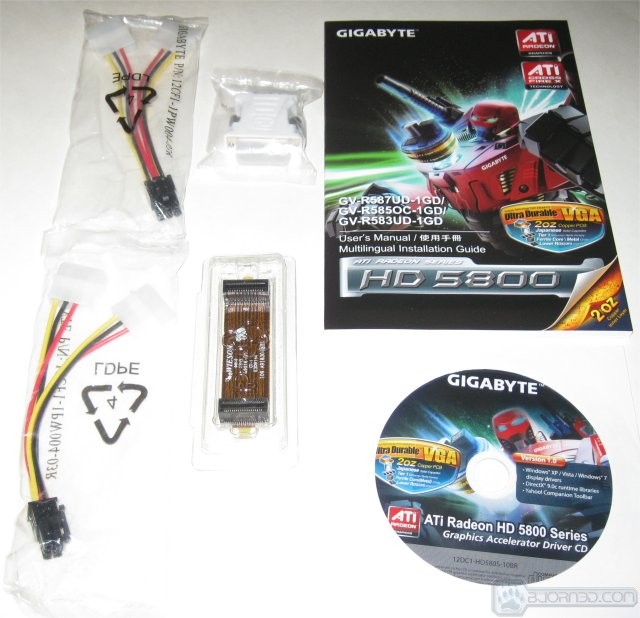 Included in the bundle you get two Molex to PCI-E power adapters, we don't recommend using those on any GPU. The adapters pull the required voltage from the 12v lines, the same lines powering everything else in your rig and while they will work in a pinch we don't like them. In other words if you plan on having an expensive GPU plan on having a nice Power Supply with native PCI-E power connectors. You also find a DVD to D-Sub (15 pin) adapter, a Crossfire ribbon, a generic manual covering 3 different models and the driver disk.
TESTING & METHODOLOGY
To Test the Gigabyte HD 5870 we did a fresh load of Windows 7 Ultimate, applied all the updates we could find, installed the latest motherboard drivers for the Asus P6T6, updated the BIOS, and loaded our test suite. We didn't load graphic drivers because we wanted to pause to clone the HD with the fresh load of Windows 7 without graphic drivers. That way we have a complete OS load with testing suite and it's not contaminated with GPU drivers. Should we need to switch GPU's or run some Crossfire action later all we have to do is clone our clone and install GPU drivers and we are good to go.
We ran each test a total of 3 times and report the average here. In the case of a screenshot of a benchmark we ran the benchmark 3 times, tossed out the high and low and post the median result from the benchmark. If we got any seriously weird results we kicked out that run and redid the run. Say if we got 55FPS in two benchmark runs, then the third came in at 25FPS we kick out the 25FPS run and repeat the test. That doesn't happen very often but anomalous runs do happen rarely.
Test Rig
Test Rig
"Quadzilla"
Case Type
Top Deck Testing Station
CPU
Intel Core I7 980 Extreme (3.74 GHz)
Motherboard
Asus P6T6 WS Revolution
Ram
Kingston HyperX 12GB 1600MHz 8-8-8-24
CPU Cooler
Thermalright Ultra 120 RT (Dual 120mm Fans)
Hard Drives
Patriot 128 GB SSD
Optical
Asus DB-Combo Blu-Ray Drive
GPU Tested

Gigabyte 5870 Ultra Durable
Asus 5970
Visiontek 5870
Gigabyte HD Radeon 4890 OC
Asus HD Radeon 4890 Voltage Tweak Edition
PNY GTX-285 Performance Edition
EVGA GTS-250 1 GB Superclocked
XFX GTX-285 XXX
BFG GTX-295
Asus GTX-295
XFX 9800 GTX+ Black Edition
BFG GTX-260 MaxCore
Palit HD Radeon 4870X2
Sapphire HD Radeon 4870 512MB
Diamond HD Radeon 4870 1 GB
Sapphire HD Radeon 4850 Toxic
Drivers for Nvidia GPU's 196.21
Drivers for ATI GPU's 10.2

Case Fans
120mm Fan cooling the mosfet CPU area
Docking Stations
Thermaltake VION
Testing PSU
Thermaltake Toughpower 1200 Watt
Legacy
None
Mouse
Razer Lachesis
Keyboard
Razer Powered Everglide Brushed Aluminum
Gaming Ear Buds

Razer Moray
Speakers
Logitech Dolby 5.1
Any Attempt Copy This System Configuration May Lead to Bankruptcy
Synthetic Benchmarks & Games
Synthetic Benchmarks & Games
3DMark Vantage
Company of Heroes v. 1.71
Crysis v. 1.2
World in Conflict Demo
FarCry 2
Batman Arkham Asylum
 Crysis Warhead
HawX
 Call Of Duty 4
 Stalker COP (DX11 Only)
 FurMark 1.8
 Mass Effect 2
 Wolfenstein
 Unigine Heaven (DX11 Only)
Please note that we might toss in a few more screenshot benchmarks, but we list the charted Games and synthetic benchmarks. So if you happen to see a screenshot of a new bench it's us expanding on the info we have or testing a new benchmark for it's potential for inclusion in the benchmarking suite.
We can't give any details on it but we are preparing for a new DX11 GPU which is why you are seeing Stalker COP and Unigine Heaven, we will likely add Dirt 2 later for a third DX11 benchmark. Those benchmarks in DirectX 11 of course will be limited to current (ATI 5xxx) DirectX 11 capable GPU's so the DX11 charts are a little small but with Nvidia coming to market DirectX 11 ready they will grow quickly.
Call of Duty 4

Call of Duty 4: Modern Warfare, the new action thriller from the award-winning team at Infinity Ward, the creators of the Call of Duty series, delivers the most intense and cinematic action experience ever.
Armed with an arsenal of advanced and powerful modern-day firepower, players are transported to treacherous hotspots around the globe to take on a rogue enemy group threatening the world. As both a U.S. Marine and British S.A.S. soldier fighting through an unfolding story full of twists and turns, players use sophisticated technology, superior firepower, and coordinated land and air strikes on a battlefield where speed, accuracy, and communication are essential to victory.
The epic title also delivers an added depth of multiplayer action providing online fans an all-new community of persistence, addictive, and customizable gameplay.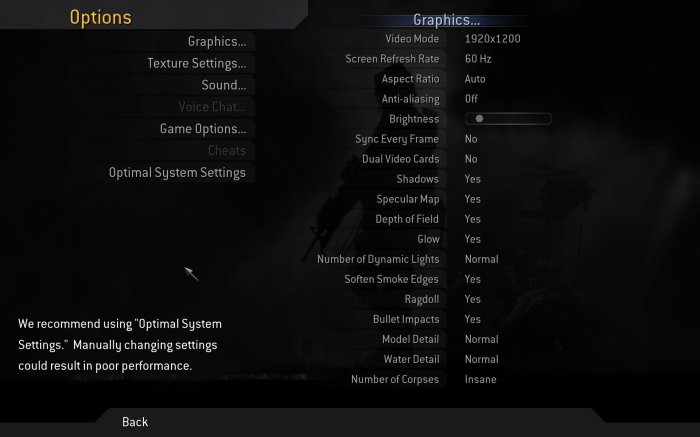 Call Of Duty 4 is one of those games that just isn't that demanding on GPU's so we only bench it at 1680×1050 and 1920×1200 with AA/AF turned on. Getting the insane frame rates we do with AA/AF turned on makes it a little moot benching with AA/AF turned off.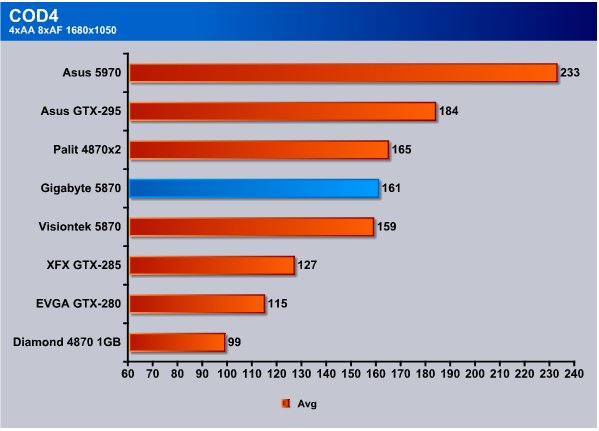 Going back to an old favorite, Call of Duty 4 we see the Gigabyte HD 5870 coming in a couple of FPS ahead of the Visiontek HD 5870 and only the dual core GPU's top it's performance.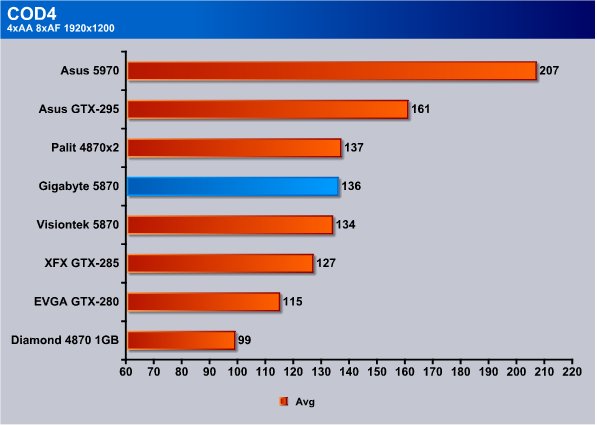 Here again the Gigabyte HD 5870 Ultra Durable topped the other 5870 by 1 FPS and in most of our testing you will see a slight lead on the Gigabyte card. Chock it up to a later release with a more mature BIOS is all we could come up with.
Batman Arkham Asylum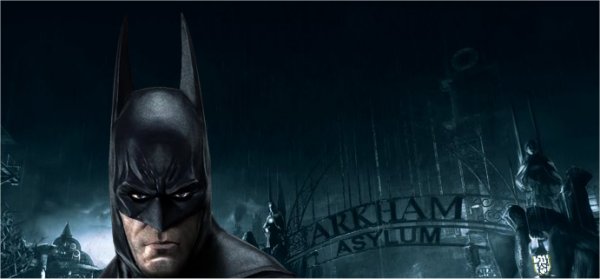 Batman: Arkham Asylum exposes players to a unique, dark and atmospheric adventure that takes them to the depths of Arkham Asylum – Gotham's psychiatric hospital for the criminally insane. Gamers will move in the shadows, instigate fear amongst their enemies and confront The Joker and Gotham City's most notorious villains who have taken over the asylum.
Using a wide range of Batman's gadgets and abilities, players will become the invisible predator and attempt to foil The Joker's demented scheme.
Batman: Arkham Asylum features an original story penned exclusively for the game by famous Batman author and five-time Emmy award winner Paul Dini, whose credits include Lost season one and Batman: The Animated Series.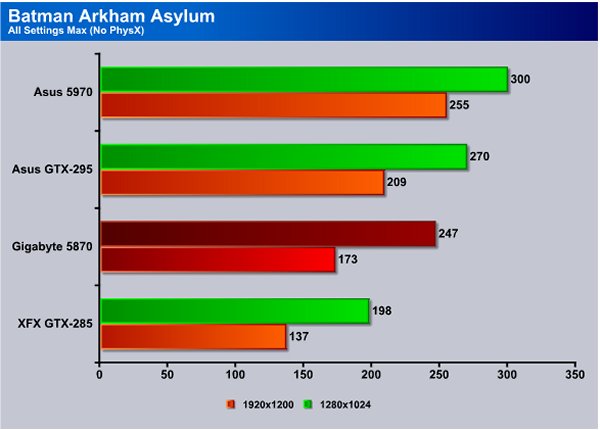 We are just starting to dabble with Batman as a benchmark and it's not that demanding a game but it scales well across the GPU's. We tested without PhysX because we all know PhysX kneecaps ATI cards and FPS on those drop to 15 – 16FPS with it turned on and that's just not a fair comparison.
The Gigabyte HD 5870 Ultra Durable came in well ahead of Nvidia's current top single core GPU offering but at frame rates like these even a 4850 would still be very playable.
Company Of Heroes v. 1.71

Company of Heroes(COH) is a Real Time Strategy(RTS) game for the PC, announced on April, 2005. It is developed by the Canadian based company Relic Entertainment and published by THQ. COH is an excellent game that is incredibly demanding on system resources thus making it an excellent benchmark. Like F.E.A.R., the game contains an integrated performance test that can be run to determine your system's performance based on the graphical options you have chosen. It uses the same multi-staged performance ratings as does the F.E.A.R. test. Letting the games benchmark handle the chore takes the human factor out of the equation and ensures that each run of the test is exactly the same producing more reliable results.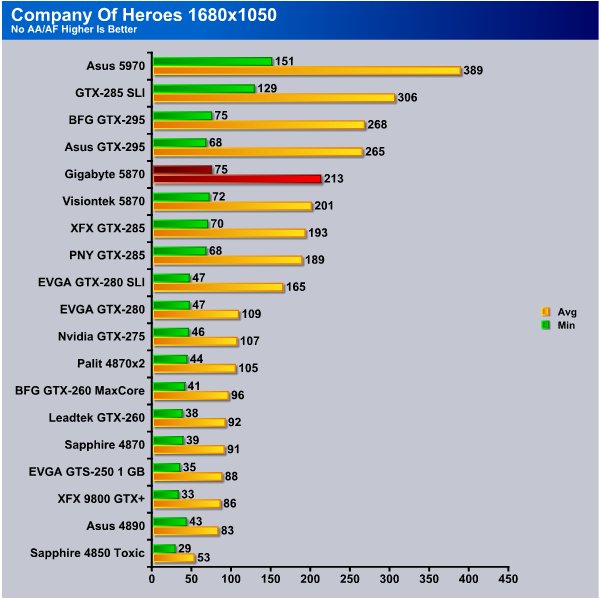 Company of Heroes is long in the tooth as far as games go but we have a massive amount of data on it so we went ahead and tossed it in the mix.
The Gigabyte HD 5870 topped the Visiontek 5870 by a few FPS and managed to beat out all of the Nvidia single core GPU offerings.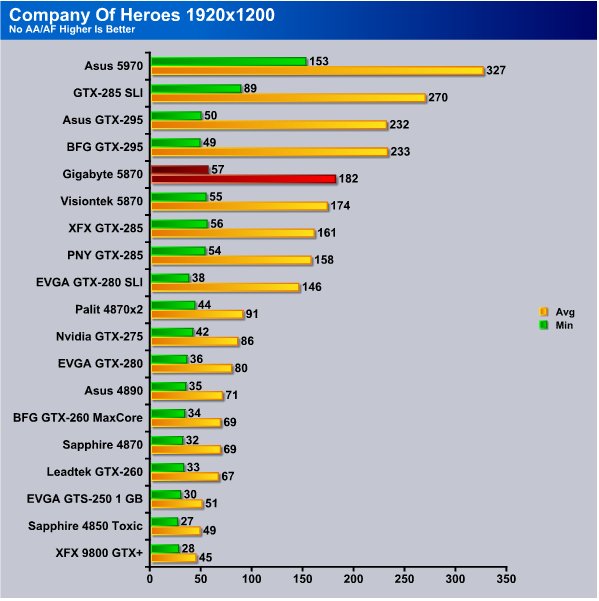 Moving up to 1920×1200 doesn't show us much of anything new and the Gigabyte HD 5870 Ultra Durable keeps the lead in the Single core GPU lineup.
The XFX GTX-285 decided to get a little revenge and managed to edge out the Gigabyte HD 5870 by a FPS or two but COH is highly optimized for Nvidia cards so we don't find that unusual.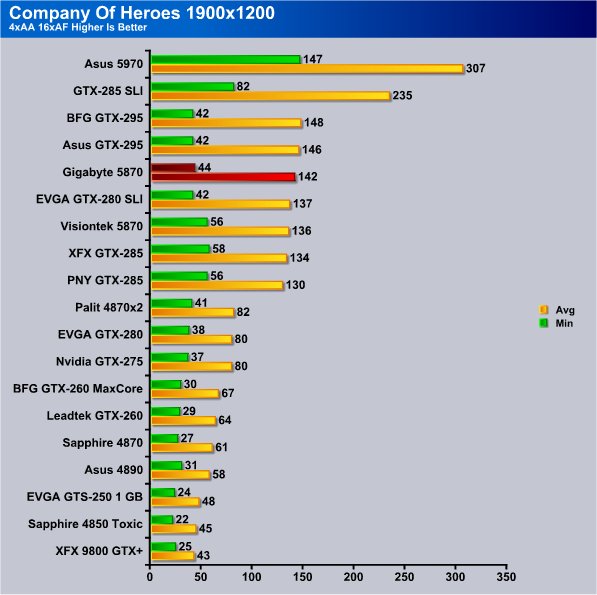 The Minimum FPS dropped on the Gigabyte HD 5870 from what we expected to see but we are on the Cat 10.2 drivers which are fairly new and that happens occasionally. Average FPS where the money is it hits 142 FPS which is pretty respectable.
Far Cry 2

Far Cry 2, released in October 2008 by Ubisoft, was one of the most anticipated titles of the year. It's an engaging state-of-the-art First Person Shooter set in an un-named African country. Caught between two rival factions, you're sent to take out "The Jackal". Far Cry2 ships with a full featured benchmark utility and it is one of the most well designed, well thought out game benchmarks we've ever seen. One big difference between this benchmark and others is that it leaves the game's AI (Artificial Intelligence) running while the benchmark is being performed.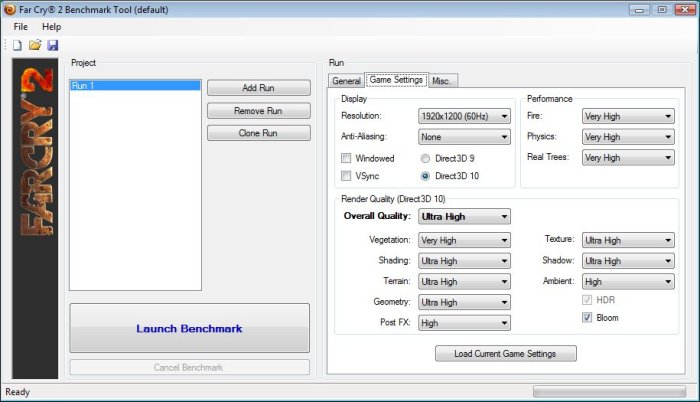 The Settings we use for benchmarking Far Cry 2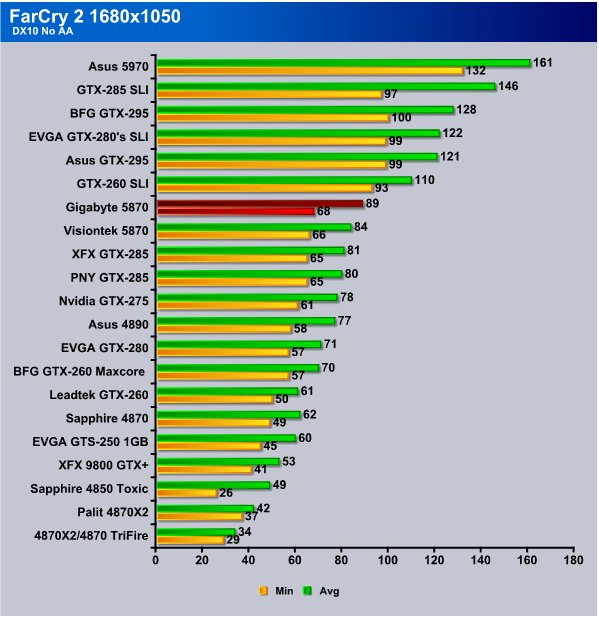 Farcry 2 has been around for a while and modern GPU's run great on it. It makes a nice comparison between GPU's from previous generations and the current generation to show how much more powerful the current GPU's really are.
The Gigabyte HD 5870 topped the Visiontek model by a few FPS and came out on top the single core GPU lineup. It seems like the only thing capable of beating it are the dual GPU and Dual core GPU setups.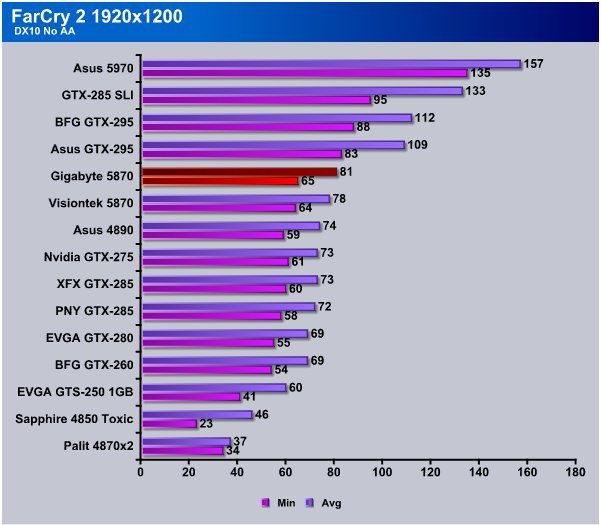 Moving up to 1920×1200 barely slowed the Gigabyte HD 5870 down at all and it still hits 65 FPS Minimum and 81 FPS average.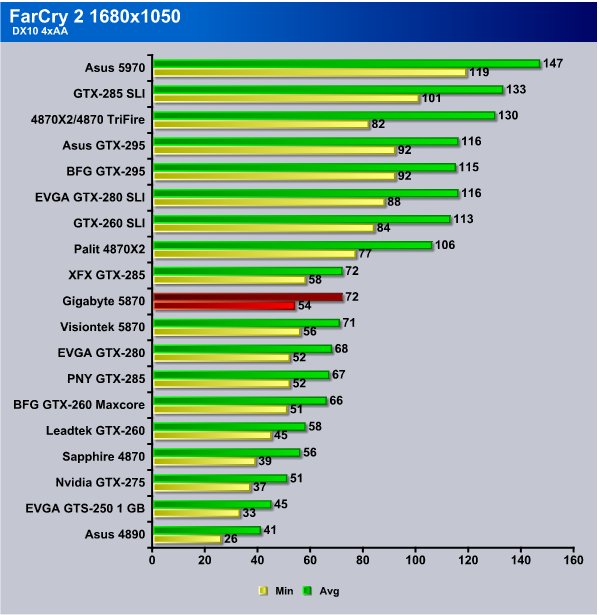 Hitting 1680×1050 with AA/AF turned on  the Gigabyte HD 5870 slowed down a little dropping 17 FPS from the same resolution without AA/AF turned on. The Gigabyte HD 5870 dropped behind the GTX-285 by 4  FPS on the Minimum FPS test but it's still well into the playable frame rate region.
Highest resolution tested in FarCry 2 the Gigabyte HD 5870 took it's spot back at the top of the single core GPU's and beat the Visiontek 5870 by 1 FPS in both the minimum and average FPS tests.
Crysis v. 1.21

Crysis is the most highly anticipated game to hit the market in the last several years. Crysis is based on the CryENGINE™ 2 developed by Crytek. The CryENGINE™ 2 offers real time editing, bump mapping, dynamic lights, network system, integrated physics system, shaders, shadows, and a dynamic music system, just to name a few of the state-of-the-art features that are incorporated into Crysis. As one might expect with this number of features, the game is extremely demanding of system resources, especially the GPU. We expect Crysis to be a primary gaming benchmark for many years to come.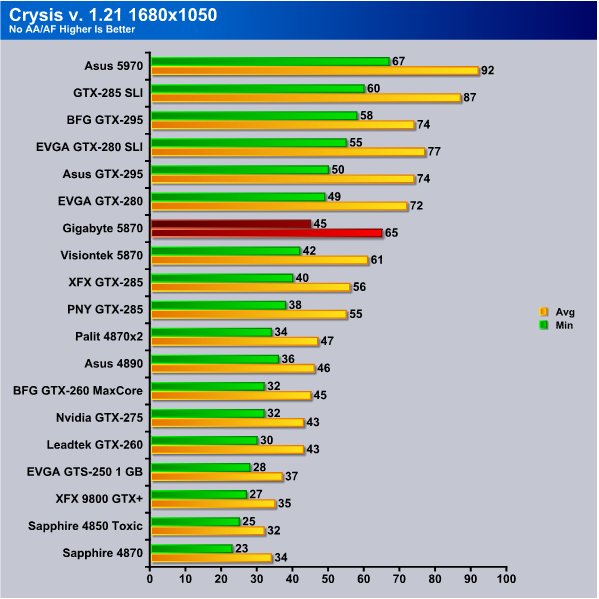 Crysis and Crysis Warhead have been slaughtering video cards ever since we got our hands on the first 8800 series Nvidia GPU's and it's good to see that the Gigabyte HD 5870 is mastering this GPU crushing game.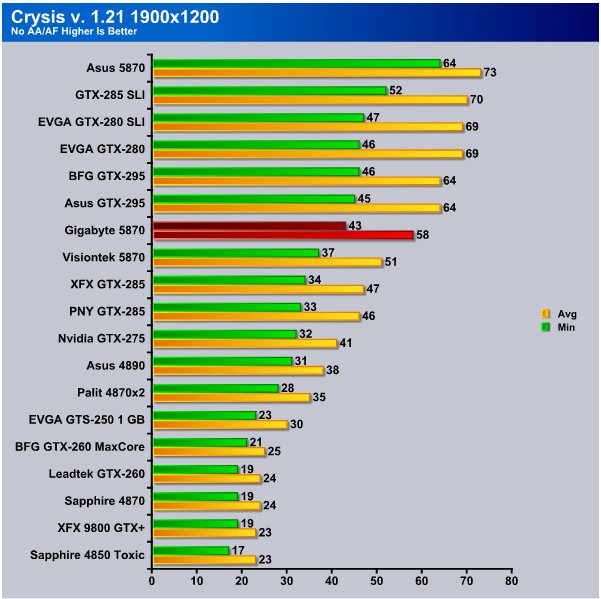 Moving to 1920×1200 the Gigabyte HD 5870 put a pretty good whipping on the Visiontek model and we may need to flash the BIOS on the Visiontek to get frame rates up. We hesitate to do that because the average end user isn't going to flash away from factory settings.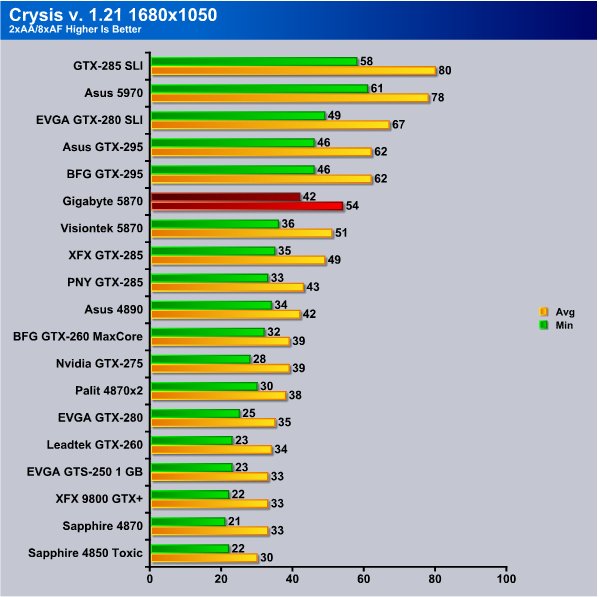 Turning AA/AF on at 1680×1050 we see a lot of GPU's folding to their knees and even the GTX-275 dropped below 30 FPS minimum. The Gigabyte HD 5870 is still chucking frames out at 42 FPS minimum and it's looking very very good.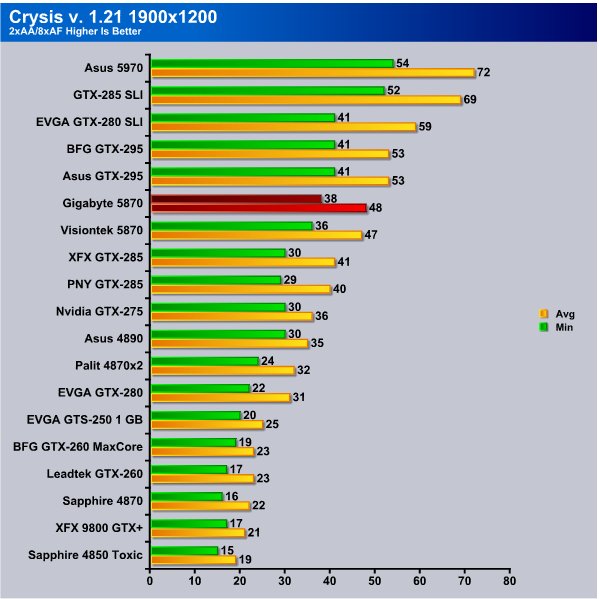 At 1900×1200 Crysis usually tears single core GPU's a new core, the Gigabyte HD 5870 is still on top and running strong at 38 FPS minimum and 48 FPS average.
CRYSIS WARHEAD

Crysis Warhead is the much anticipated sequel of Crysis, featuring an updated CryENGINE™ 2 with better optimization. It was one of the most anticipated titles of 2008.

The Settings we use for benchmarking Warhead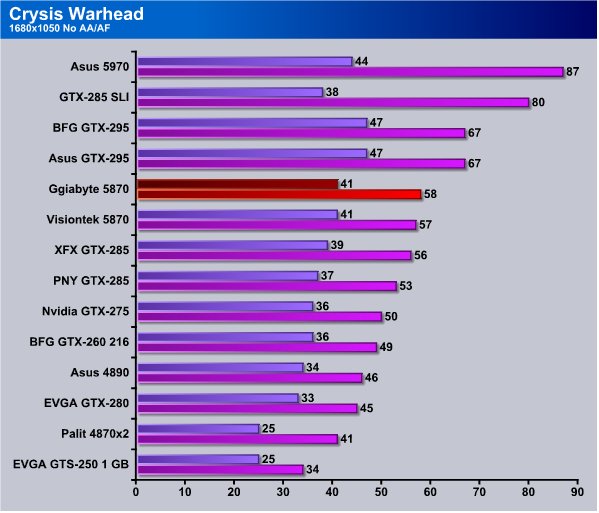 It's no surprise that the Gigabyte HD 5870 comes in on top the single Core GPU's at 1680×1050 and it's minimum FPS hit 41 FPS and the average came in at 58 FPS so it's looking good here.
By the time you hit Warhead at 1900×1200 even with AA/AF off most major league GPU's have started to falter but the Gigabyte 5870 is still at 44 FPS minimum and 53 FPS average.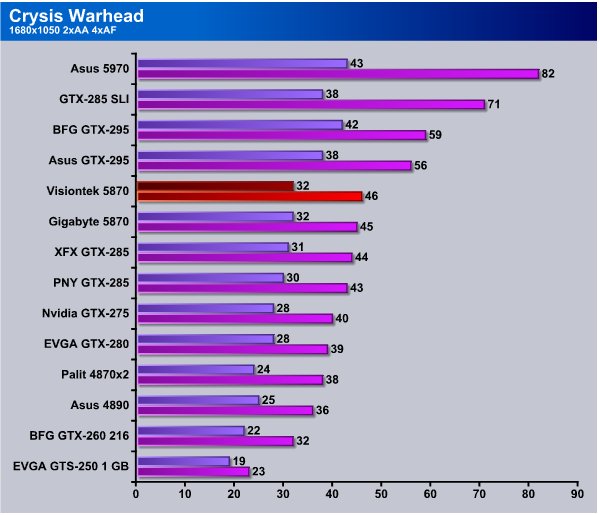 Turning AA/AF on in Crysis the Gigabyte HD 5870 maintains 32 FPS minimum and 46 FPS average and is in that elite class of GPU that can maintain playable frame rates at this level.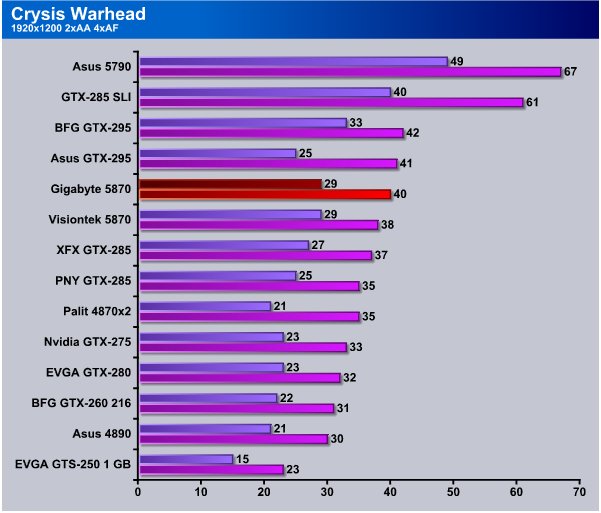 At the highest resolution tested with AA/AF even the Gigabyte HD 5870 drops to 29 FPS but it must have been so momentary a drop we didn't see any on screen stutters in the benchmark. We've revisited Crysis with the GTX-285 and Gigabyte HD 5870 and played at 1900×1200 with AA/AF enabled and we have to tell you that at that resolution and filtering it's quite stunning.
S.T.A.L.K.E.R.: Call of Pripyat
Call of Pripyat is the latest addition to the S.T.A.L.K.E.R. franchise. S.T.A.L.K.E.R. has long been considered the thinking man's shooter, because it gives the player many different ways of completing their objectives. The game includes new advanced DirectX 11 effects as well as the continuation of the story from the previous games.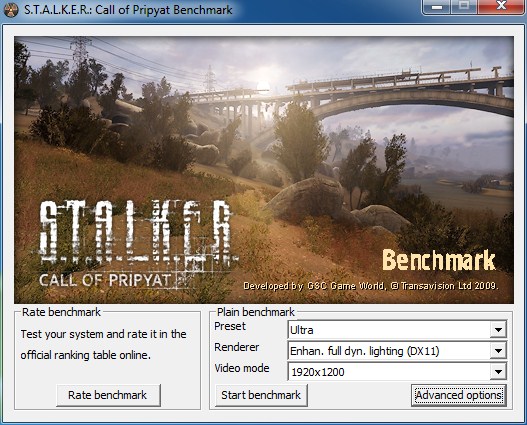 The settings we used benching Stalker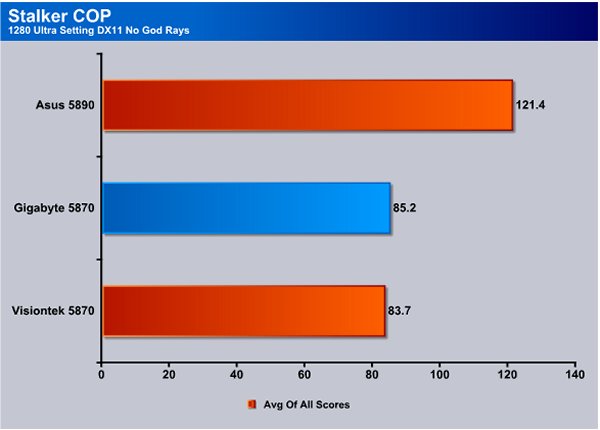 Sun Shafts aka God Rays make Stalker COP extremely demanding so we test Stalker with and without God Rays because frankly some GPU's just aren't up to the task. What makes them so demanding you ask. Well Ray Tracing for one thing and another is to make them look real you can't just paint a sun shaft onto a backdrop and have it as a static image. You have to introduce dust particles and debris floating through the shaft and between dust notes and ray tracing you can lose up to half the performance of a GPU. It's nice if you have a top end GPU because they add a lot of realism and beauty to a game but it's a hard performance hit to take.
You start tossing in all the eye candy on ultra modern  games, like sun shafts and ocular occlusion then kick up the eye candy, add in a dash of tessellation and displacement mapping and your GPU can bog down quickly sending you scampering to the Options menu to ratchet down the eye candy. We aren't into ratcheting down, we are into cranking it up and letting it run in all it's glory so lets see how the Giga HD 5870 does.
Without sun shafts at 1280 x 1024 we are getting 85.2 FPS but that will quickly change when we crank on the eye candy,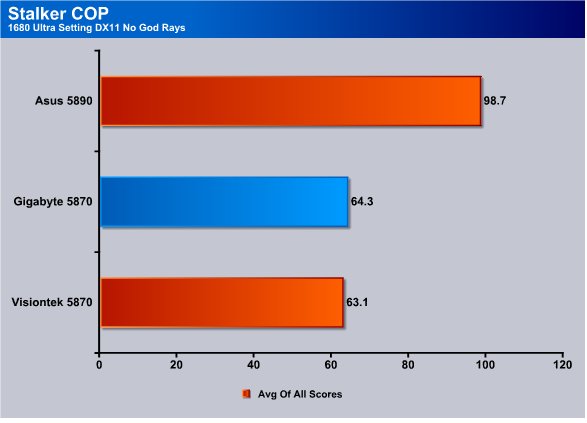 Just moving from 1280×1024 to 1680×1050 we see a 20 FPS drop  so you know things can get ugly when we really crank it up.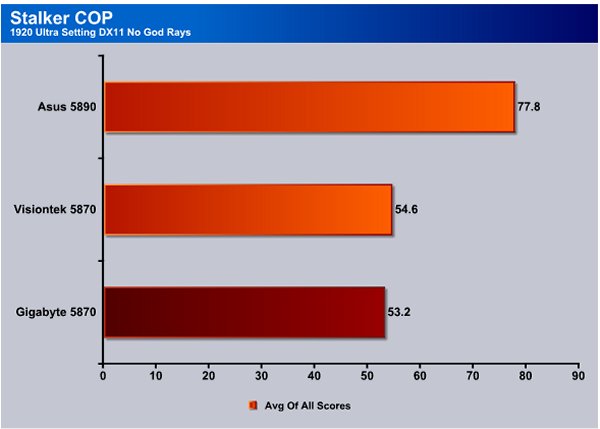 Moving to 1920×1200 we see about a 9 FPS drop from 1680 and a total of about a 30 FPS drop from 1280. The Gigabyte HD 5870 is still churning out frames at 54.6 FPS but we are missing the God Rays because once you've had great eye candy it's hard to back up.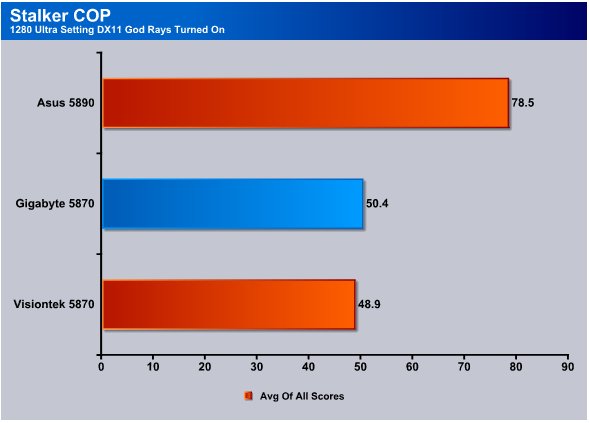 Turning on God Rays at 1280×1024 cost us more than 30 FPS from the frames we saw at the same resolution without them. The Gigabyte HD 5870 is still well above the playable frame rate level.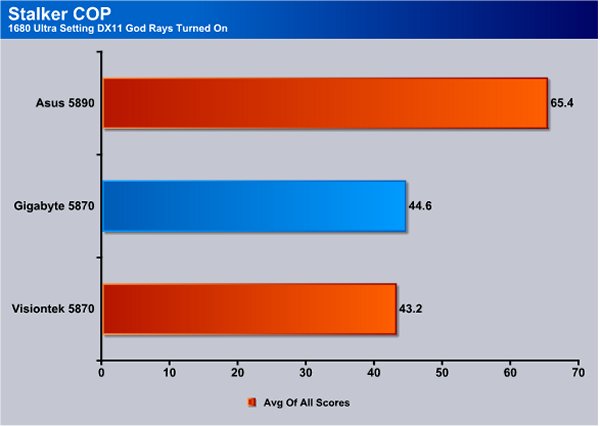 At 1680×1060 we see a 20 FPS drop from the same resolution without sun shafts but the Gigabyte HD 5870 is still resting at 44.6 FPS but lets see how it does at the GPU crushing 1920×1200 level.
At the highest resolution with sun shafts wafting their way through the trees performance drops to 30.5 FPS and even the HD 5870 may experience the occasional stutter. Remember this is an average of all the scores in the Stalker bench and during the sun shaft portion even the mighty HD 5970 struggled with it.
The problem with GPU's and sun shafts thus far is that in order to build a GPU capable of handling massive computations required for rendering sun shafts throughout an entire virtual forest the GPU becomes so massive that it has it's own gravitational field and soon collapses into a mini black hole.
Mass Effect 2
Two years after Commander Shepard repelled invading Reapers bent on the destruction of organic life, a mysterious new enemy has emerged. On the fringes of known space, something is silently abducting entire human colonies. Now Shepard must work with Cerberus, a ruthless organization devoted to human survival at any cost, to stop the most terrifying threat mankind has ever faced.
To even attempt this perilous mission, Shepard must assemble the galaxy's most elite team and command the most powerful ship ever built. Even then, they say it would be suicide. Commander Shepard intends to prove them wrong.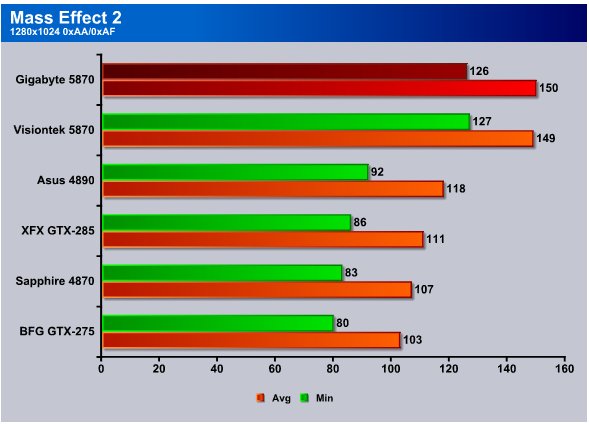 We went ahead and ran ME2 at 1280×1024 with no AA/AF but didn't bother with the same resolution with A/AF turned on because it quickly became apparent that there was no real need to. With frame rates like these even mainstream GPU's will be fine in this epic adventure.
The Gigabyte HD 5870 hit 126 FPS minimum and 150 average and has a good lead over the GTX-285 we tested. The HD 5870 is 40 FPS faster than the GTX-285 at the minimum FPS level and 37 FPS faster on average FPS.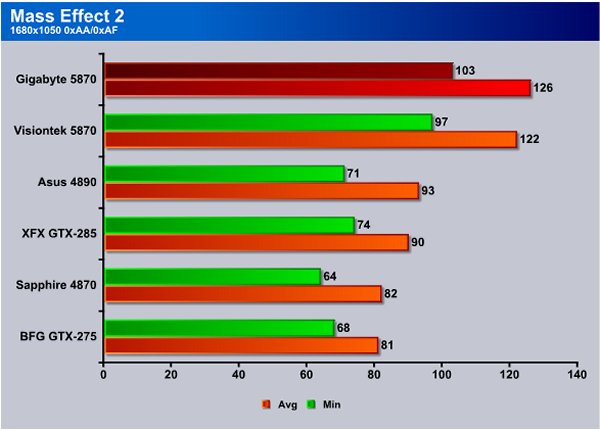 The 1680×1050 resolution gives us a hint at how well ME2 is optimized and the Gigabyte HD 5870 is still above 100 FPS minimum.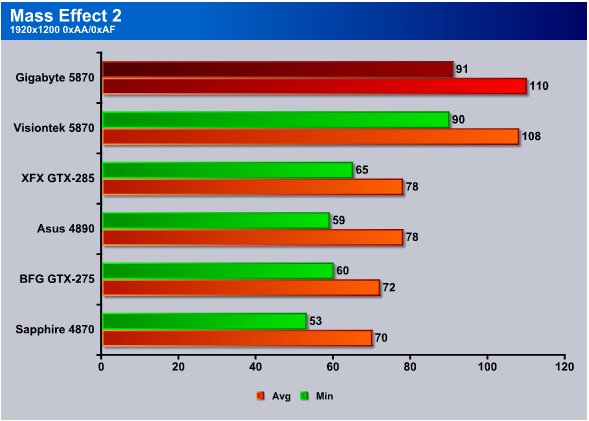 We played Mass Effect 2 at the highest resolution and highest setting so it looked a little strange to us without the maximum eye candy. At 1920×1200 without AA/AF you could see some jagged lines on edges but the HD 5870 was hitting 91 FPS minimum and looking good in ME2.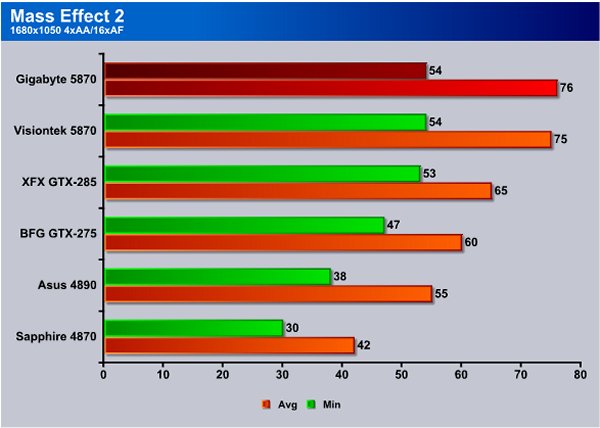 At 1680×1050 with 4xAA/16xAF the HD 4870 was struggling with minimum FPS but the Gigabyte HD 5870 was still at 54 FPS minimum and with 24 FPS more then the previous generation 4870 you can see just how big a quantum leap the 5870 really is.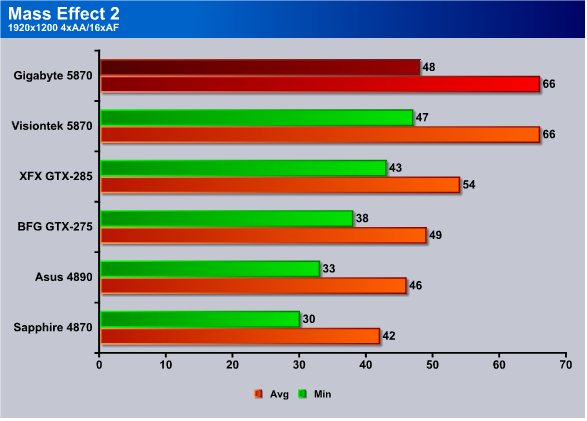 Here's what surprised us, the HD 4870 didn't drop any FPS when we moved to 1920×1200. We retested a couple of times but apparently Mass Effect 2 has an affinity for the 4870. The Gigabyte HD 5870 Ultra Durable got top honors in Mass Effect 2 and came in at 48 FPS minimum and 66 FPS Average.
If you haven't checked out Mass Effect 2 we highly recommend the game. ME2 is probably the most fun we've had gaming in a while and incorporates state of the art weaponry with interpersonal relationships between you and the in game characters. The graphics are stunning and the story pulls you through the action with baited breath.
Wolfenstein

You are sent on a special mission into the heart of the Reich to investigate evidence of the Nazi's possession of a new and mysterious power.
While behind enemy lines, you discover they have done much more than develop a new weapon. The Nazis are harnessing the power of a dark parallel dimension called The Veil; in order to create a weapon of war-ending magnitude.
Move between the Nazi's dark reality and yours as you command an enormous arsenal of Resistance and Axis Weapons. You can also turn to the Black Market for weapon upgrades, or unleash the Nazis own dark powers and perverted science against them with supernatural weapons and Veil-enhanced firepower.
We benched Wolfenstein with all settings maxed and 8xAA 8xAF at 1680×1050 and 1920×1200. You'll see why when you look at the chart.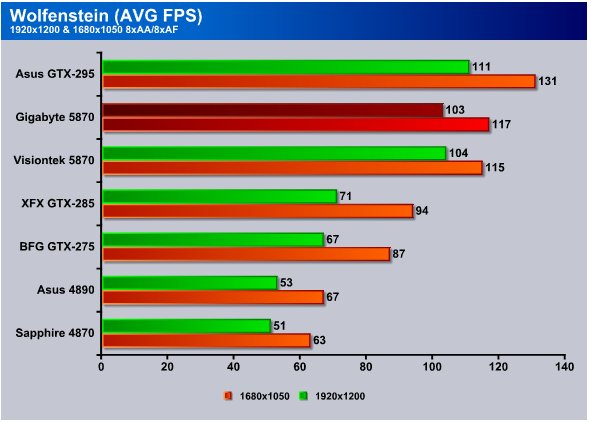 When we got into benching Wolfenstein it quickly became apparent that it wasn't going to stress GPU's very well and even the 4870 hits 51 FPS average at 1920×1200 and the 5870 more than doubles that performance and hits 103 FPS. It's good to show generational leaps in performance but we don't think it's quite what we are looking for to stress GPU's. It's kind of a curve ball the GPU vendors won't see coming so it might hang around for a while in the benches but we really like to see games stress cards.
HawX

The story begins in the year 2012. As the era of the nation–state draws quickly to a close, the rules of warfare evolve even more rapidly. More and more nations become increasingly dependent on private military companies (PMCs), elite mercenaries with a lax view of the law. The Reykjavik Accords further legitimize their existence by authorizing their right to serve in every aspect of military operations. While the benefits of such PMCs are apparent, growing concerns surrounding giving them too much power begin to mount.
Tom Clancy's HAWX is the first air combat game set in the world–renowned Tom Clancy's video game universe. Cutting–edge technology, devastating firepower, and intense dogfights bestow this new title a deserving place in the prestigious Tom Clancy franchise. Soon, flying at Mach 3 becomes a right, not a privilege.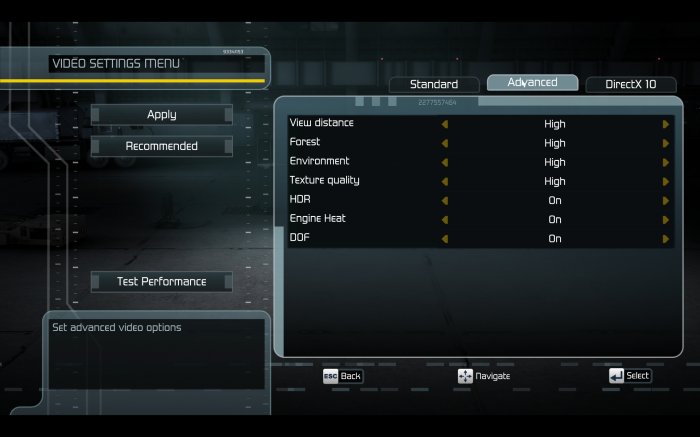 The Settings we use for benchmarking HawX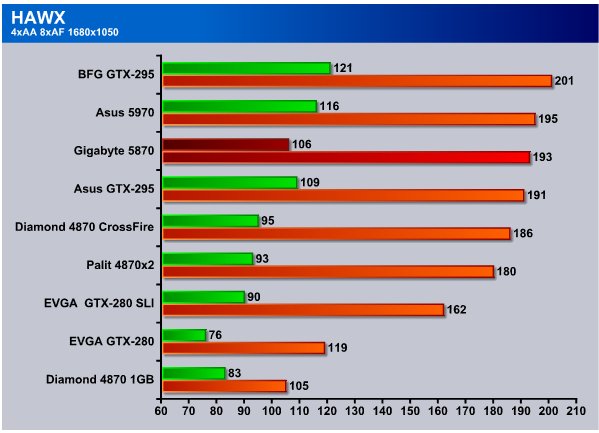 Hawx is another one of those games that scales well across GPU's but isn't really very demanding on GPU's. We have some GTX-280 and 4870 Crossfire data on it so we thought it would be interesting to toss in in the mix. In HawX at 1680×1050 with 4xAA and 8xAF the Gigabyte HD 5870 hits 193 FPS Max and 106 FPS Average which topped the 4870 1GB Crossfire setup we were using. It also beat the GTX-280 cards so that should give you an idea of how powerful the HD 5870 really is.
We may have to look at HawX some more before we invest much time in benching it any farther. Even when we benched it at 1920×1200 FPS were above 100 on modern cards and older cards had no trouble keeping frame rates up. We are beginning to thing we need a new improved Crysis like game with built in benchmarks aimed directly at cards like the HD 5870 and 5890 because the HD 5xxx series is just ripping games up.
World in Conflict Demo

World in Conflict is a real-time tactical video game developed by the Swedish video game company Massive Entertainment, and published by Sierra Entertainment for Windows PC. The game was released in September of 2007. The game is set in 1989 during the social, political, and economic collapse of the Soviet Union. However, the title postulates an alternate history scenario where the Soviet Union pursued a course of war to remain in power. World in Conflict has superb graphics, is extremely GPU intensive, and has built-in benchmarks. Sounds like benchmark material to us!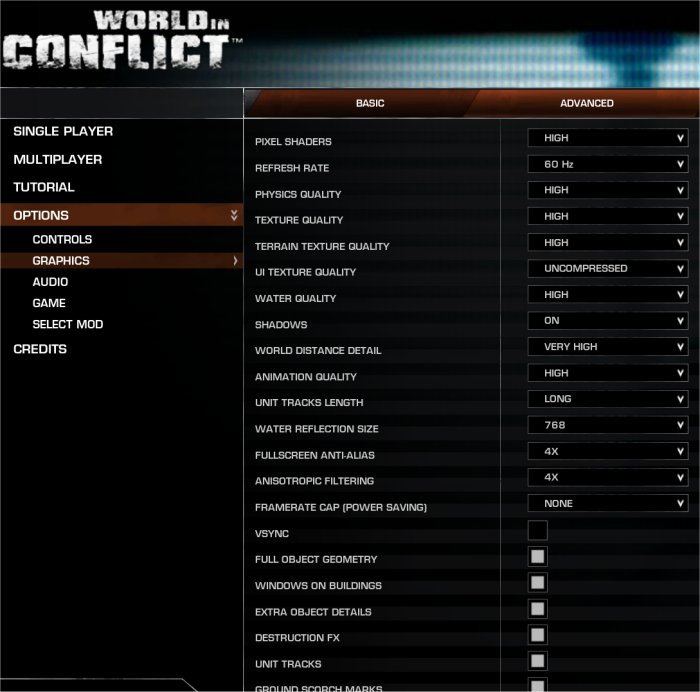 The Settings we use for benchmarking WiC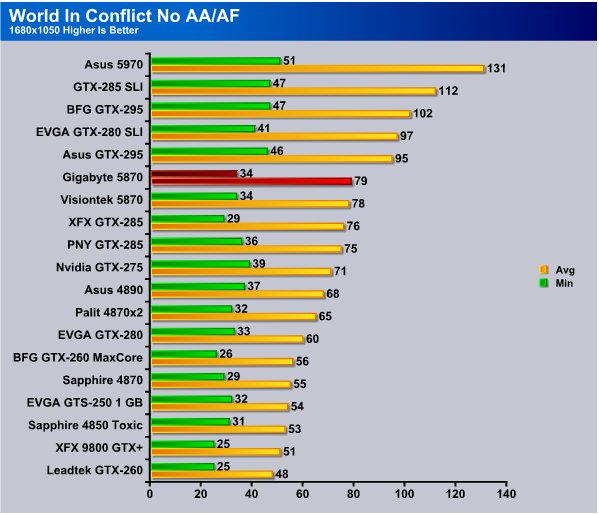 World in Conflict is a lot long in the tooth as far as games are concerned but we have tons of data on it and at higher settings it's one of the few games that still stresses new GPU's.
The Gigabyte HD 5870 sits at the top of the single core GPU pile in average FPS but drops a few places back on minimum FPS.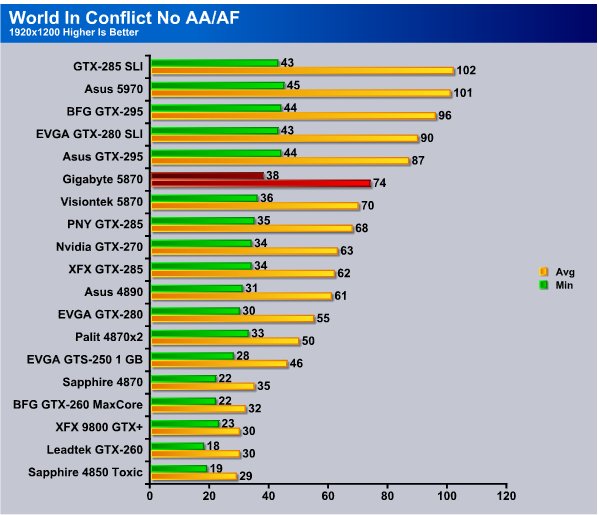 At 1920×1200 the Gigabyte HD 5870 Ultra Durable is hitting 38 FPS minimum and 74 FPS average and you can see why we still occasionally bench it. It scales well and as you ratchet up the settings stress cards very well.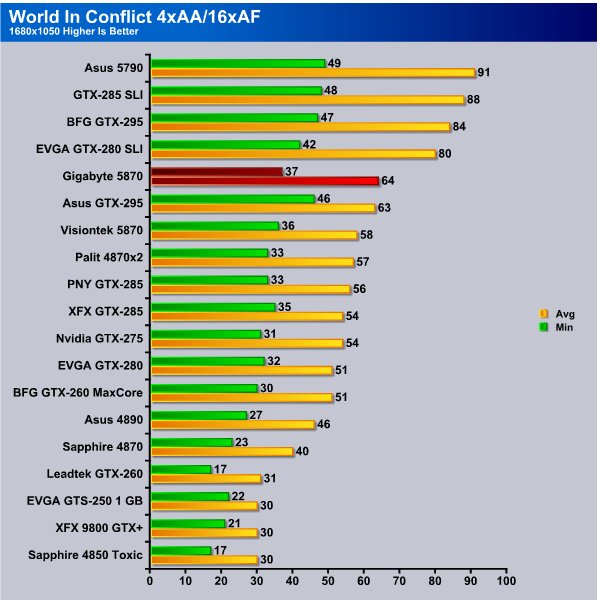 Backing up to 1680×1050 with 4xAA/16xAF the Giga HD 5870 does 37 FPS minimum and 64 FPS average so the game is stressing the card some at this point.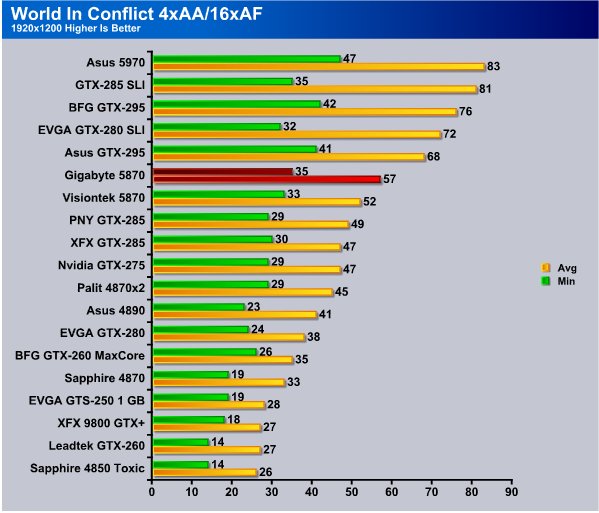 Maximum resolution tested the Gigabyte HD 5870 maintains a 35 FPS minimum frame rate and average FPS is at 57 but if you notice other current top end cards like the GTX-285 are struggling to keep 30 FPS. For a long in the tooth game World in Conflict still has enough bite to be useful as a benchmarking tool.
Unigine Heaven

Unigine Heaven is a benchmark program based on Unigine Corp's latest engine, Unigine. The engine features DirectX 11, Hardware tessellation, DirectCompute, and Shader Model 5.0. All of these new technologies combined with the ability to run each card through the same exact test means this benchmark should be in our arsenal for a long time.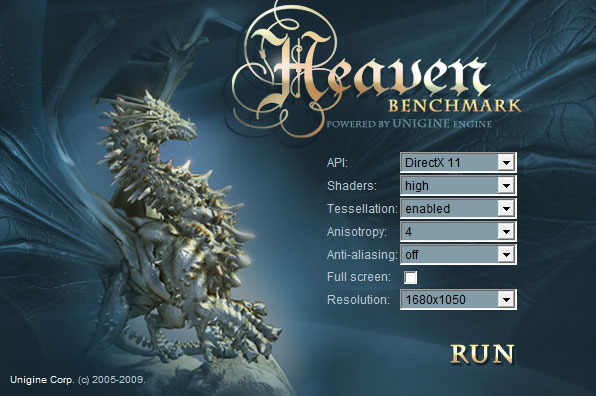 The settings we used in Unigine Heaven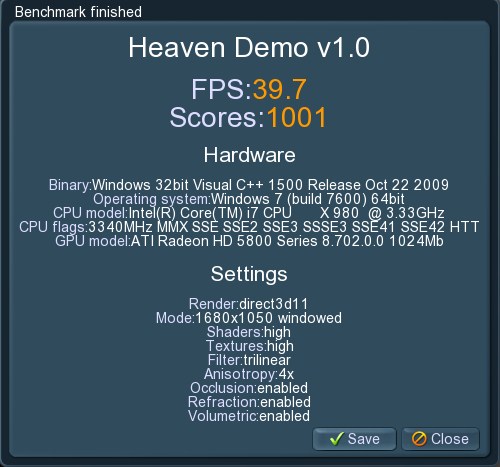 With Fermi (GF100) around the bend it's time to break out Unigine Heaven and start compiling data on it. We generally like to have both Nvidia and ATi GPU's on the charts but since Nvidia has been late in bringing DirectX 11 to their cards we've held off on the Heaven benchmark. By this point we were tired of building charts but wanted to get ready for the DirectX battle between Nvidia and ATI so we screenshotted the results.
The Gigabyte HD 5870 running DirectX 11 at 1680×1050 on the Core i7 980x (which was running at 3.74 GHz not the 3.33 GHz the benchmark says) got 39.7 FPS and scored a 1001. You can read the options we had set so we aren't going to reiterate them here.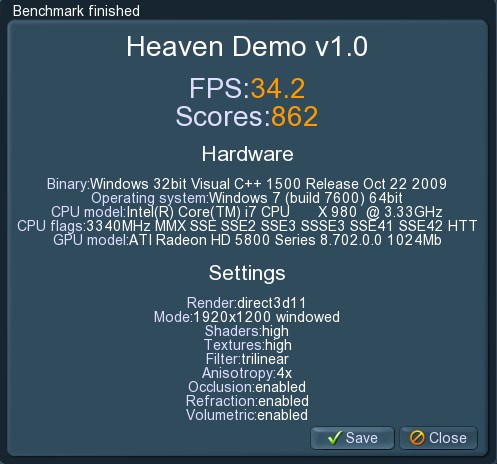 Now it starts to get good at 1920×1200 and the Gigabyte HD5870 hit 34.2 and this is the type of stressing we like to see on our GPU's.
GPU-Z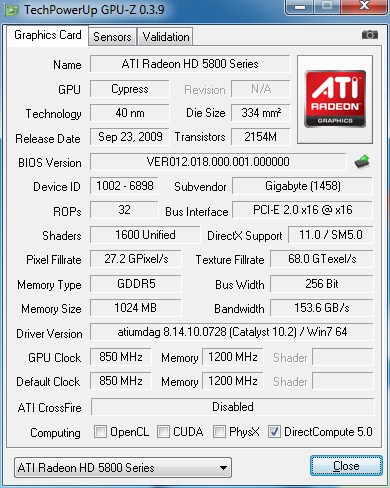 We've already covered the specifications on the Gigabyte HD 5870 Ultra Durable but we like to verify those with a look at GPU-Z and take baseline idle temperatures. From this shot of GPU-Z you can see that everything is as advertised.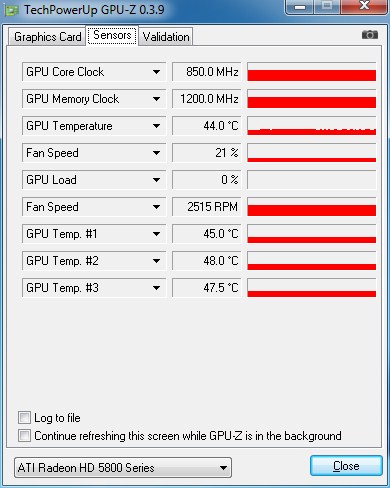 We checked GPU-Z against a few other GPU temperature reading programs and in all the utilities we used we got a 44°C idle so we are using that as our baseline idle temperature and between each test will let the GPU cool down to baseline before proceeding.
TEMPERATURES

To get our temperature reading, we ran Furmark 1.08 looping for 10 minutes to get the load temperature. To get the idle temp we let the machine idle at the desktop for 30 minutes with no background tasks that would drive the temperature up. Please note that this is on an open test station, so your chassis and cooling will affect the temps you are seeing.
Since Furmark has a built in benchmark we decided to play with that a little bit to evaluate it's benchmark viability.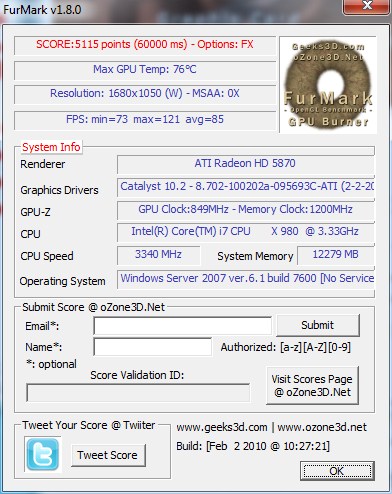 At 1680×1050 we scored a 5115 and got a minimum FPS of 73 and an average FPS of 85. One of the advantage of this test is that it shows the thermal maximum of the GPU during the test and we like that feature a lot. The hottest the Gigabyte HD 5870 with it's dual inclined fan design got was 76°C.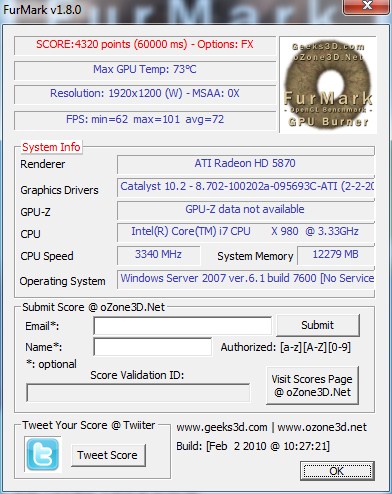 Moving to 1920×1200 the GPU hit 73°C and the minimum FPS hit 62 and averaged 72 FPS. We might have to play with Furmark a little more but it may be worthy benchmark material.
Now we will tell you right up front that nothing we have ever seen heats up a GPU like Furmark and it represents a worst case scenario when checking thermals. No game or benchmark we've ever seen heats up a GPU this much so it's a little bit unrealistic to expect a GPU to operate at these temperature in normal operation. It does provide a level platform for thermal testing and is completely automated so we are looking at standardizing it for heat testing GPU's.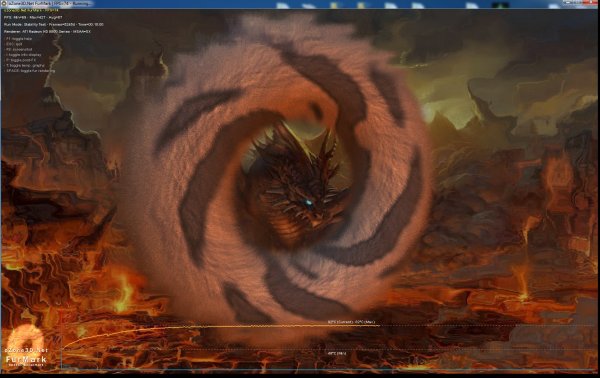 Click Image For a Larger One
Manually setting the fan for 100% in CCC yielded a maximum temperature of 82°C. Now we have had a lot of people ask why we don't do longer than 10 minute runs on Furmark. Because 10 minutes is enough to level off the temperatures and letting it run longer the temperatures just don't go up. If you enlarge the image and look at the Mega image you'll see that the temperature leveled off long before we stopped the test.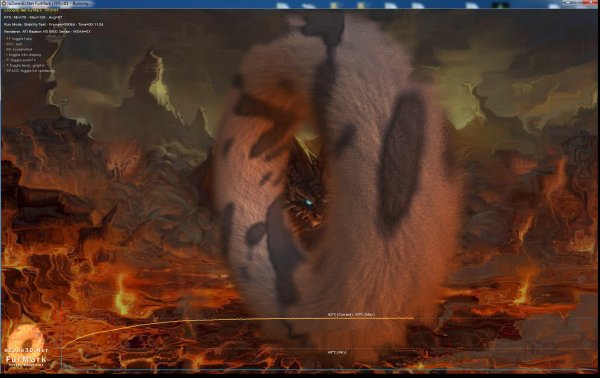 Click Image For a Larger One
Leaving the fan on automatic settings we got a maximum temperature of 93°C which is pretty hot for a GPU but you have to keep in mind that Furmark is a lot like Intel Burn and purposely heats the GPU to it's maximum. In reality the hottest we saw the GPU during normal benchmarking and gaming was more like 74°C. If you happen to run Furmark for fun and walk off for an hour or so it might be an issue but how many people run Furmark for fun.
Just how unrealistic is Furmark for temperatures?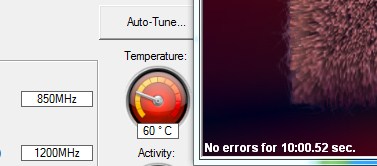 Here's a 10 minute run of ATITool scanning for artifacts at stock GPU speed and we hit 60°C, activity on the GPU ran between 96 and 98% during the test. During extended gaming lasting 4 – 5 hours on the Gigabyte HD 5870 we saw one instance of 74°C. That's about 20°C lower than Furmark is reporting. Furmark represents the worst case scenario.
Overclocking the 5870 Beyond CCC Limitations
It's no secret ATI's control panel has been limiting the overclock on most 5870 model GPU's and the Gigabyte HD 5870 Ultra Durable was no exception. CCC probably limits it to a safer core speed but some people want to know the maximum you can get so we went ahead and pushed past the CCC limitation of 900MHz core on this card.
You can use CCC to overclock the Gigabyte HD 5870 but it will limit the OC to 900 MHz or you can grab a copy of AMD GPU Clocking Tool. For safety reasons you might want to grab a copy of MSI Afterburner.
Here's all you have to do. Make sure CCC isn't running because it will interfere with the process. Just fire up AMD GPU clocking tool then fire up MSI Afterburner. First thing set the clocks you want in AMD GPU clocking tool and you'll find it will let you exceed the CCC limitations. Then set the fan speed you want in MSI Afterburner and click apply.
Every time you up the clocks in AMD GPU Overclocking Tool you have to manually reset the fan in MSI Afterburner unless you are happy with the Auto fan setting. If you leave it on the Auto fan setting you'll find out it limits the top end OC your looking for by as much as 20 – 25 MHz.
We tried the latest version of the AMD GPU Overclocking Tool and it wouldn't allow us to go over 900 MHz, the version we have linked should go above 900MHz on most models unless they happen to be non-reference designs. Some non-reference designs it may work on but we can't guarantee that. Neither AMD GPU Clocking Tool or MSI Afterburner would give us voltage control on the Gigabyte HD 5870. Hitting the core speed we attained we were comfortable with that without trying to increase the core voltage.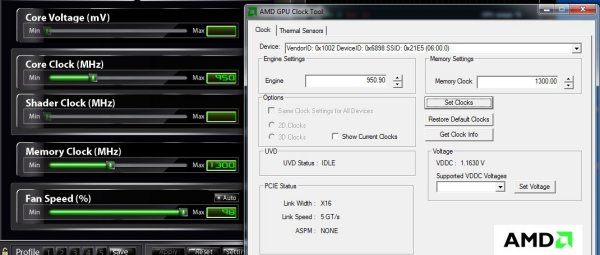 Click Image For a Larger One
We hit a 950MHz core OC with the memory at 1300 MHz. On memory we were absolutely maxed out at 1300 MHz and increasing it a single MHz beyond that yielded blue lines across the screen forcing us to reboot quickly. On the Core 950 MHz is almost the absolute limit. We could hit 955MHz but it was completely stable at 950/1300 and completed every test we ran on it at that speed.
As per usual we are not saying that it is safe to run beyond stock clocks, we aren't saying we run beyond stock clocks 24/7. All we are saying is that our card reached this speed and it's still running but we only ran this speed for about an hour to test stability and safe thermal limits. Overclocking is a crap shoot but Gigabytes Ultra Durable design and core selection should greatly increase your chances for a good OC.
Conclusion
We put the Gigabyte HD 5870 Ultra Durable through it's paces and clocked it to the max. We achieved a core clock of 950MHz and a memory speed of 1300 MHz (Both 100MHz over factory) which is pretty good for a non-voltage modded GPU. The Gigabyte HD 5870 remained at or close to the top of the charts for single core GPU's and performed flawlessly.
Frame rates were consistently high in all the games we benched and played (including Crysis) and you would be hard pressed to find a better HD 5870 for gaming and Overclocking.
The Ultra Durable design using high end components combined with rigorous in house testing gives you the assurance that your Gigabyte HD 5870 will be a good performer. The Aftermarket cooling with it's dual inclined fans insures that your GPU will remain nice and cool while driving it to the max. In short Gigabyte takes a lot of the overclocking craps shoot out of the equation and provides you with a GPU that has known overclocking capabilities. So if you looking to avoid the "Oh no I got a cruddy overclocker" syndrome the Gigabyte HD 5870 Ultra Durable is a good bet for you.
OUR VERDICT: Gigabyte HD 5870 Ultra Durable
| | |
| --- | --- |
| Performance | 10 |
| Value | 9 |
| Quality | 9 |
| Features | 9 |
| Innovation | 10 |

We are using an addition to our scoring system to provide additional feedback beyond a flat score. Please note that the final score isn't an aggregate average of the rating system.

Pros
Cons

Overclocks well

Runs Cool (outside Furmark)

100MHz Core and memory OC

Looks great

Ultra Durable Components with in factory testing

Inclined Fans

2X DVI-D, 1x DP, 1X HDMI

Top of the chart single core GPU performance

Plastic cowling seems a little flimsy

No Voltage Control options

.

 

 
Summary: The Gigabyte HD 5870 Ultra Durable is a great card for those wanting extra cooling or great overclocking ability. Performance was top of the chart good and the distinctive black dual fan cowling makes it stand out in a crowd.