Ever wonder what CPU platform was the best between the Core i5 750 and the Core i7 920? lets step inside and find out.
Introduction
When we look at purchasing computer components, we start asking ourselves; what is the best, which CPU will give me the best performance for my games, photo editing, video editing, or what ever we use our computers for. One of these questions, has always been asked between two particular CPU's. Nope not AMD CPU's vs Intel CPU's, this regards the question between Intel's CPU's, the Core i5 1156 CPU, and the Core i7 1366 CPU. Well today we are going to compare the cheapest quad core CPU's of the two socket types against one another, and hopefully answer that question what CPU is indeed the best.
We are also going to look at a very well known socket 1366 motherboard, and strap on a proven overclocking CPU, the ever popular Core i7 920 CPU (Review can be found HERE). That motherboard is none other then ASUS Rampage II Extreme. Just hearing the name of this motherboard is enough to send cold shivers down our spine, because we all know this motherboard is considered the best of the best.
To keep things fair, I am going to use the Core i5 750 CPU (Review can be found HERE) on another motherboard that has proven itself, to be both powerful and reliable. That motherboard is one of newest members, the ASUS Sabertooth 55i (Review can be found HERE).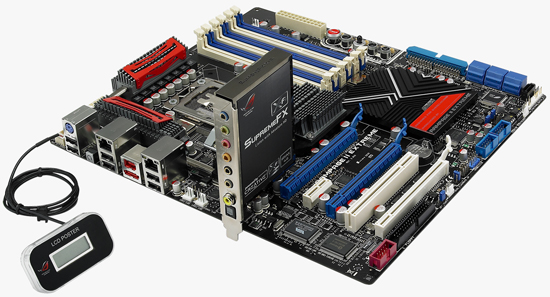 Now I am going to break away from the everyday norm I follow when it comes to motherboard reviews. Normally I only overclock the reviewed motherboard and compare it with the other motherboards set to their default settings. This review/article, I am going to do a clock-by-clock comparison. In a nut shell, both CPU's and motherboards will be clocked at the same exact CPU speed, Memory frequency, Memory timings, and BCLK. Since my Core i7 920 CPU went to the great overclocking heaven, right along side the MSI X58 Platinum on the first of January, I had to borrow a friend's Core i7 920 CPU to do this review. Since he knows how I go kinda crazy, he personally put me on a max clock speed of 3.6GHz, with his CPU. Well he did not mention how I could get to 3.6GHz.
Features
The Republic of Gamers consists only the best of the best. They offer the best hardware engineering, the fastest performance, the most innovating ideas, and welcome the best gamers to join in.
In the Republic of Gamers, mercy rules are only for the weak, and bragging rights means everything. They believe in making statements and excel in competitions. If your character matches those traits, then join the elite club, make your presence felt, in the Republic of Gamers.
CPU & Chipset Features
LGA1366 Intel® Core™i7 Processor support
This motherboard supports the latest Intel® Bloomfield processors in LGA1366 package which has memory controller integrated to support 3-channel (6 DIMMs) DDR3 memory. Support Intel(R) QuickPath Interconnect (QPI) with system bus up to 6.4GT/s and a max bandwidth of up to 25.6GB/s. Intel® Bloomfield processor is one of the most powerful and energy efficient CPU in the world.
PCIe 2.0
Double Speed; Double Bandwidth
This motherboard supports the latest PCIe 2.0 devices for double speed and bandwidth which enhances system performance.
Intel® X58 Chipset
The Intel® X58 Express Chipset is the latest chipset designed to support latest Intel® Core™ i7 Processors and Intel's next generation system interconnect interface, Intel® QuickPath Interconnect (QPI), providing improved performance by utilizing serial point-to-point links, allowing increased bandwidth and stability. It also supports up to 36 PCI Express 2.0 lanes providing better graphics performance.
Multi-GPU Technology
SLI/CrossFire On-Demand
Why choose when you can have both?
SLI or CrossFireX? Fret no longer because with the ROG Rampage II Extreme, you'll be able to run both multi-GPU setups. The board features SLI/CrossFire on Demand technology, supporting up to three graphics cards in a 3-Way SLI or CrossFireX configuration. Whichever path you take, you can be assured of jaw-dropping graphics at a level previously unseen.
Memory Feature
Triple-Channel, DDR3 1800(O.C.) MHz
The motherboard supports DDR3 memory that features data transfer rates of 1800(O.C.)/1600(O.C.)/1333/1066 MHz to meet the higher bandwidth requirements of the latest operation system, 3D graphics, multimedia, and Internet applications. The triple-channel DDR3 architecture triple the bandwidth of your system memory to boost system performance, eliminating bottlenecks with peak bandwidths of up to 43.2 GB/s.
ROG Exclusive Features
TweakIT
Hardcore OV with finger tweaking fun!
TweakIt is designed for control freaks. Following the success of the Extreme Tweaker overclocking feature, ASUS has engineered TweakIt to give users flexible overclocking control even when running benchmark programs! The joystick-like control puts every overclocking option in the user´s fingertips, allowing the users performance optimizations options during game play to gain the competitive edge. TweakIt brings a brand new dimension to the game of overclocking and benchmarking.
Extreme Engine with ML Cap Design
Say hello to max headroom
Overclocking is all about headroom and for this motherboard has the Extreme Engine—a next-generation dynamic multi-phase power management system equipped with high performance Multilayer type Polymer Capacitors (ML Caps). Extreme Engine ensures a stable power supply during overvoltage by lowering Equivalent Series Resistance (ESR), keeping critical components such as the processor, system memory and the Northbridge reliable. This means you'll be able to push your spanking new Intel Core i7 CPU to the limit, hitting benchmark scores that others only dream of.
BIOS FlashBack
Two BIOS ROM. Two BIOS settings. Twice the overclocking flexibility.
Overclocker´s prayer to have BIOS flexibility is answered! With the new BIOS Flashback, PC enthusiasts can overclock with even more confidence. BIOS Flashback gives overclockers the ability to save two versions of the BIOS simultaneously. Very much like the "SaveGame" function, one BIOS can be used for the overclocking adventure, while the other BIOS is to be stored with any previous version. BIOS Flashback brings the ultimate convenience to overclockers!
Extreme Tweaker
One stop performance tuning shop
Extreme Tweakers is the one stop shop to fine-tune your system to optimal performance. No matter if you´re looking for frequency adjustment, over-voltage options, or memory timing settings, they´re all here!
COP EX
Maximum OC with confidence with burn proof protection to chipsets and GPU!
The COP EX allows overclockers to increase chipset voltages without the worries of overheating. It can also be used to monitor and save an overheating GPU. The COP EX allows more freedom and less constraint for maximum performance achievement.
ProbeIt
Get all hands-on with hardware-based overclocking
ProbeIt takes the guesswork out of locating the motherboard's measurement points, identifying them clearly in the form of eight sets of detection points so you'll know exactly where to get quick yet accurate readings using a multitester.
iROG
Intelligent multiple control at hand
The iROG is a special IC which enables several ROG highlitghted functions that gives users full disposal of the motherboard at any stage! This design allows advanced user control and management to be processed purely at a hardware level. iROG greatly increases fun during overclocking for PC enthusiasts and it offers system maintainence and management with more control and efficiency.
CPU Level Up
A Simple click for instant upgrade
Ever wish that you could have a more expansive CPU? Upgrade your CPU at no additional cost with ROG´s CPU Level Up! Simply pick the processor you wanted to OC to, and the motherboard will do the rest!
See the new CPU speed and enjoy that performance instantly. Overclocking is never as easy as this.
Voltiminder LED
Friendly reminder on the intentional madness
In the pursuit of extreme performance, overvoltage adjustment is critical but risky. Acting as the "red zone" of a tachometer, the Voltiminder LED displays the voltage status for CPU, NB, SB, and Memory in a intuitive color-coded fashion. The voltiminder LED allows quick voltage monitoring for overclockers.
Loadline Calibration
Optimal power boost for extreme CPU overclocking!
Maintaining ample voltage support for the CPU is critical during overclocking. The Loadline Calibration ensures stable and optimal CPU voltage under heavy loading. It helps overclockers enjoy the motherboard´s ultimate OC capabilities and benchmark scores.
Sound with Clarity
SupremeFX X-Fi
Listen with Absolute HD
SupremeFX X-Fi delivers an excellent high definition audio experience to the gamers of ROG. The SupremeFX X-Fi features unique audio innovations for gamers to spot enemes in 3D environment during game play. SupremeFX X-Fi also provides gamers a special tool to emphasize human voices in games to help make dialogues clearer and more audible.
Noise Filter
Eliminate background noise while recording
This feature detects repetitive and stationary noises like computer fans, air conditioners, and other background noises then eliminates it in the incoming audio stream while recording.
ROG EZ DIY Features
External LCD Poster
Debug and read system problems with an new external look!
The new LCD Poster now posts critical POST information in an ever friendly and flexible external display. When system malfunction occurs, the LCD Poster automatically detects device failure and translates the errors on the LCD during POST.
EL I/O
Connect in the dark!
Today´s users demand more than good performance-they demand more heart touching services like user-friendly features. The motherboard comes with the EL I/O, an impressive design that increases convenience in connecting devices on the back I/O. The cool EL lights up your I/O panel under your desk, in the dark, or in a LAN Party. No more jamming devices into the wrong connectors! when you´re in the dark!
ASUS Q-Connector
Make connections quick and accurate
The Q-Connector allows you to connect or disconnect chassis front panel cables in one easy step with one complete module. This unique adapter eliminates the trouble of plugging in one cable at a time, making connection quick and accurate.
Onboard Switch
No more shorting pins or moving jumpers
With an easy press during overclock, this exclusive onboard switch allows gamer to effortlessly fine-tune the performance without having to short the pins or moving jumpers!
Q-Fan Plus
Optimized quietness and cooling for more devices!
The Q-Fan function automatically detects temperature and adjusts fan speed accordingly to achieve quiet and efficient cooling. With Q-Fan Plus, special temperature sensor cable is provided to detect temperature on any device. When used with a optional fans, you may activate Q-Fan function on up to 3 additional devices of your choice!
ASUS EPU-6 Engine
System Level Energy Saving
The new ASUS EPU – the world's first power saving engine, has been upgraded to a new 6 engine version, which provides total system power savings by detecting current PC loadings and intelligently moderating power in real-time. With auto phase switching for components (which includes the CPU, VGA card, memory, chipset, hard drives and CPU cooler/system fans), the EPU automatically provides the most appropriate power usage via intelligent acceleration and overclocking – helping save power and money.
Rich Software Bundled
3DMark® Vantage Advanced Edition
The Gamers´ Benchmark
3DMarkVantage is the new industry standard PC gaming performance benchmark from Futuremark, newly designed for Windows Vista and DirectX10. It includes two new graphics tests, two new CPU tests, several new feature tests, and support for the latest hardware. 3DMark® Vantage is based on a completely new rendering engine, developed specifically to take full advantage of DirectX10, the new graphics API from Microsoft.
Kaspersky® Anti-Virus
The best protection from viruses and spyware
Kaspersky® Anti-Virus Personal offers premium antivirus protection for individual users and home offices. It is based on advanced antivirus technologies. The product incorporates the Kaspersky® Anti-Virus engine, which is renowned for malicious program detection rates that are among the industry´s highest.
Specifications
CPU
Intel® Socket 1366 Core™ i7 Processor Extreme Edition/Core™ i7 Processor Supports Intel® Dynamic Speed Technology
* Refer to www.asus.com for Intel CPU support list
Chipset
Intel® X58 /ICH10R
System Bus
Up to 6400 MT/s with QuickPath Interconnection
Memory
6 x DIMM, Max. 24 GB, DDR3 2000(O.C.)/1800(O.C.)/1600(O.C.)/1333/1066 Non-ECC,Un-buffered Memory
Triple channel memory architecture
* Supports Intel® Extreme Memory Profile (XMP)
**Due to Intel spec definition, DIMMs of DDR3-1333 or above are out of spec. Please refer to www.asus.com or user manual for the Memory QVL(Qualified Vendors List).
Expansion Slots
3 x PCIe 2.0 x16 support at x16, x8, x8, or dual x16 speed
2 x PCIe 2.0 x1 ( the PCIEx1_1 (black) is compatible with audio slot)
1 x PCI 2.2
Multi-GPU Support
Support NVIDIA 3-Way SLI™ / ATI CrossFireX™ Technology
* We recommend that you use full tower chassis for building a 3-Way SLI system.
Storage
Intel ICH10R controller
6 xSATA 3 Gb/s ports
Intel Matrix Storage Technology Support RAID 0,1,5,10
JMicron® JMB363 PATA and SATA controller
1 xUltraDMA 133/100/66/33 for up to 2 PATA devices
1 xExternal SATA 3.0 Gb/s port (SATA On-the-Go)
1 xSATA 3.0 Gb/s port

*Due to the Windows XP/ Vista limitation, the RAID array with the total capacity over 2TB cannot be set as a boot disk. A RAID array over 2TB can only be set as a data disk only. For more information, please refer to http://support.microsoft.com/kb/946557/en-us

LAN
Dual Gigabit LAN controllers, both featuring AI NET2 Support Teaming Technology
Audio
SupremeFX X-Fi Audio Card
– ADI® AD2000B 8 -Channel High Definition Audio CODEC
– EAX® Advanced™ HD 4.0
– X-Fi CMSS®-3D
– X-Fi Crystalizer™
– Creative ALchemy
– Supports 1 x S/PDIF out header
– Supports Coaxial/Optical S/PDIF out ports on rear
IEEE 1394
2 x 1394a ports (1 port at back I/O, 1 port onboard)
USB
12 USB 2.0 ports (6 ports at mid-board, 6 ports at back panel)
Overclocking Features
TweakIt
ProbeIt
Extreme Engine with ML Cap
– 16-phase CPU power
– 3-phase QPI/DRAM power
– 3-phase NB power
– 3-phase Memory power
– ML Caps on CPU, memory and NB respectively
CPU Level Up
iROG
Extreme Tweaker
BIOS Flashback
Loadline Calibration
Intelligent overclocking tools:
– AI Gear 4™
– ASUS AI Booster Utility
– O.C Profile
Overclocking Protection:
– COP EX (Component Overheat Protection – EX)
– Voltiminder LED
– ASUS C.P.R.(CPU Parameter Recall)
Special Features
External LCD Poster
Onboard Switches: Power / Reset / Clr CMOS (at rear)
EL I/O
Q-Fan Plus
ROG BIOS Wallpaper
ASUS EPU-6 Engine
ASUS Q-Connector
ASUS Fan Xpert
ASUS EZ Flash 2
ASUS CrashFree BIOS 3
ASUS MyLogo3
Back Panel I/O Ports
1 x PS/2 Keyboard port(purple)
1 x External SATA port
2 x LAN (RJ45) port
6 x USB 2.0/1.1 ports
1 x IEEE1394a port
1 x Clr CMOS switch
Internal I/O Connectors
3 x USB connectors supports additional 6 USB 2.0 ports
1 x Floppy disk drive connector
1 x IDE connector
7 x SATA connectors
1 x IEEE 1394a connector
1 x Chassis Fan connector
x 8-pin ATX 12V Power connector
24-pin ATX Power connector
1 x EL I/O Shield Connector
3 x thermal sensor connector
1 x En/Dis-able Clr CMOS connector
System Panel
8 x Fan connectors: 1 x CPU / 1 x PWR / 3 x Chassis / 3 x Optional
8 x ProbeIt connectors
1 x LCD Poster connector
1 x BIOS FlashBack boot up selection header
1 x ROG light connector
BIOS
16 Mb Flash ROM
AMI BIOS, PnP, DMI2.0, WfM2.0, SM BIOS 2.4, ACPI2.0a Multi-Language BIOS
Manageability
WOL by PME,WOR by PME,Chasis Intrusion,PXE
Accessories
ProbeIt Cable
3-Way SLI Cable
SLI Cable
ASUS Optional Fan
SupremeFX X-Fi Audio Card
External LCD Poster
3 in 1 ASUS Q-Connector Kit
UltraDMA 133/100/66 cable
SATA cables
SATA power cables
2-port USB2.0 + IEEE 1394a module
EL I/O Shield
Thermal sensor cables
Cable Ties
User's manual
Support Disc
Support DVD:
– Drivers and applications
Sound Blaster X-Fi Utility
Futuremark® 3DMark® Vantage Advanced Edition
Kaspersky® Anti-Virus
ASUS TurboV utility
ASUS PC Probe II
ASUS Update
ASUS AI Suite
Form Factor
ATX Form Factor
12 inch x 10.6 inch ( 30.5 cm x 26.9 cm )
* One inch greater than standard ATX form factor
Packaging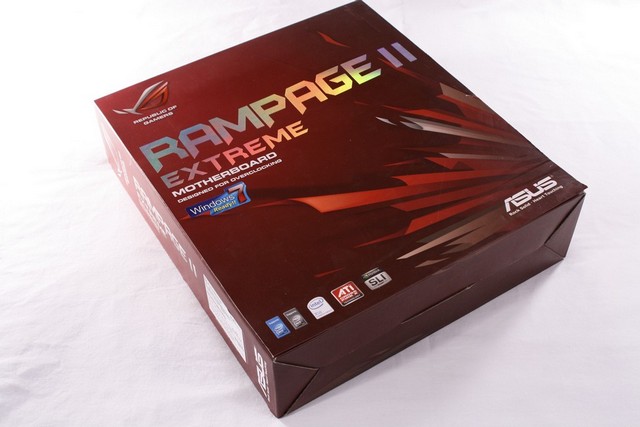 Like all of ASUS's ROG (Republic Of Gamers) motherboards the Rampage II Extreme is no different in the external packaging.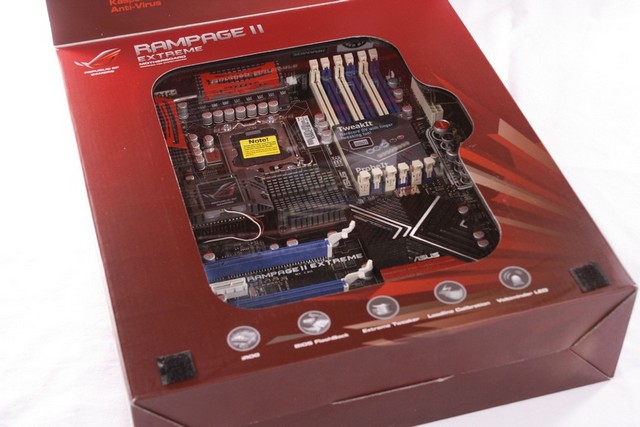 On the inside though, ASUS gives a sneak peek at what the Rampage II Extreme looks like.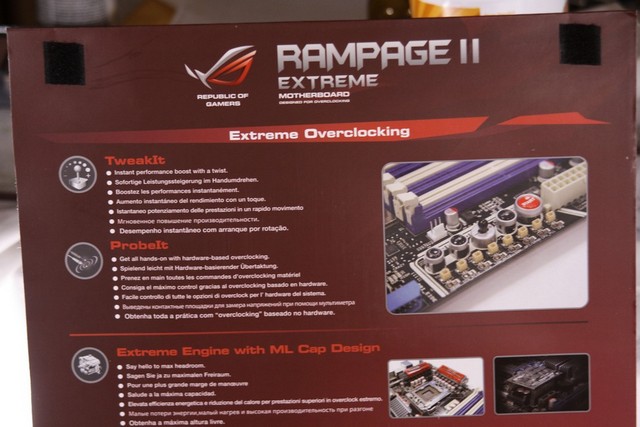 On the bottom side of the lid, ASUS lists the most important features the Ramage II Extreme is capable of. Like the ASUS Rampage II GENE motherboard, the Extreme also supports extra probes for us to monitor other vital computer components. Another Great feature, is the ability to do some on the fly FSB adjustments, and the ability to do some real-time voltage checking.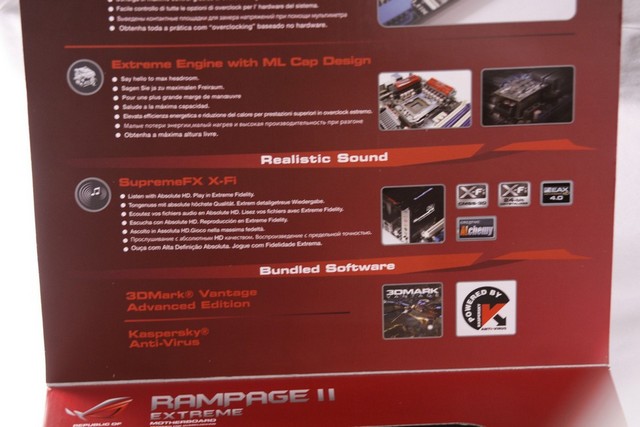 Rampage II Extreme also uses ASUS ML cap design, which will give us maximum overclock on our socket 1366 CPU's. Another great feature is the inclusion of Creative's X-FI sound card as an add on. ASUS also gives us a copy of Futuremarks popular benchmark, 3DMark Vantage. And for those who need a good Anti virus program, ASUS includes Kapersky.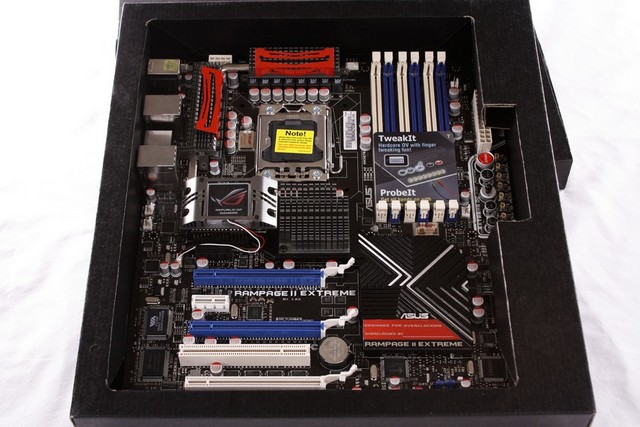 I need to drool for another minute at the Rampage II Extreme motherboard before continuing on.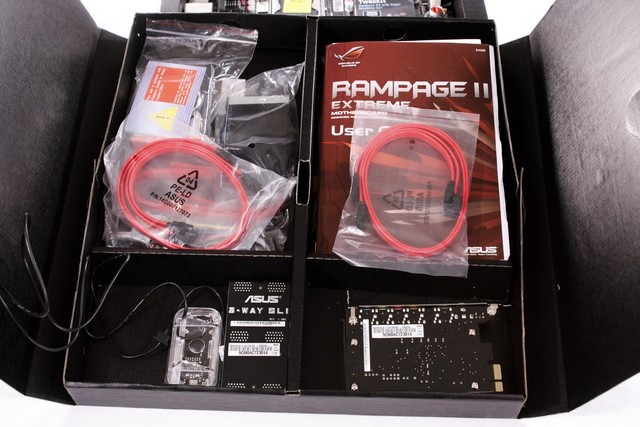 Ok, with all the drool mopped up, time to move on. One of ASUS's strong points when it comes to packaging, is how ASUS separates the motherboard accessories from the motherboard in individual compartments.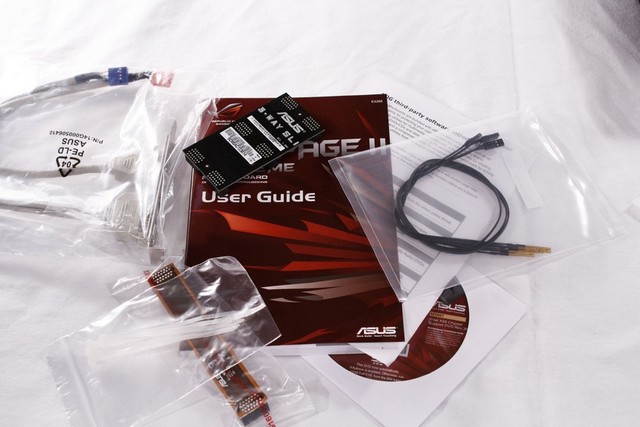 Since there is way to much to fit in a single picture, I decided to separate everything. ASUS includes, an instruction manual, a couple of extra temperature probes, a driver disk, a three way SLI ribbon, a single SLI ribbon, and finally a extra USB rear PCI expansion header.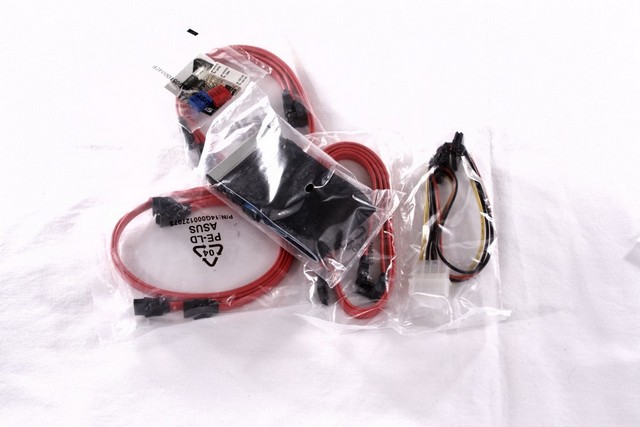 ASUS also includes their popular Q-Connect front IO header adapter, this is for us to organize our front IO connectors to a much more manageable hook up. We get an IDE ribbon, six SATA cables, and a molex to 2 SATA power adapter.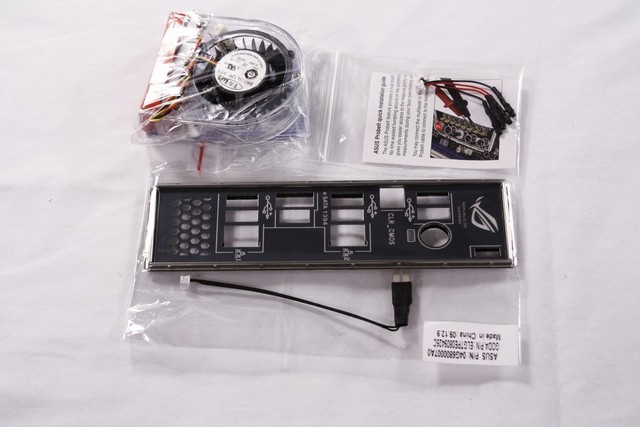 Continuing on, I told you there be a lot of stuff included. We get a rear IO cover, now this rear IO cover will light up. ASUS also includes two easy-to-use probe hook ups for us to do some real time voltage monitoring. And then finally we have a squirrel cage fan, hmm I got a feeling I may have to thumb through the instruction manual.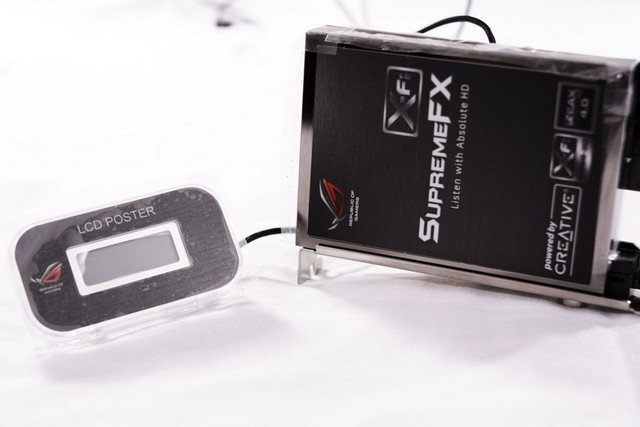 And just when you thought i was done, I still have two more important items for you. We get what I personally like, the LCD Poster. This will allow you to view post codes as the motherboard boots up.  Also we can have the LCD poster scroll through the temperatures. Then finally the included X-FI expansion card.
Overview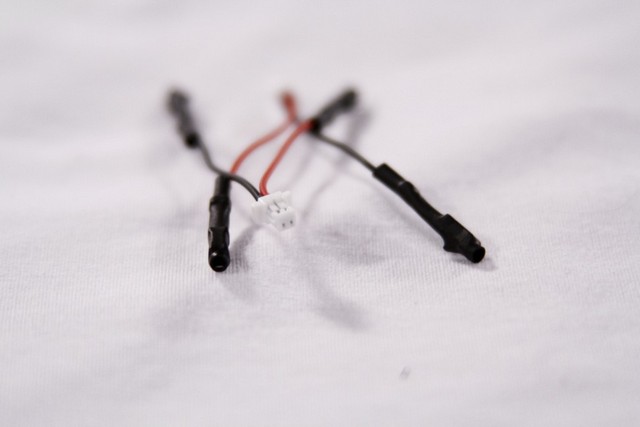 Starting off,  we have the two included multimeter adapters. These have a 2 pin molex connector that plug into the motherboard, leaving the rubber coated black ends for us to put our probes into to accurately read the voltages. These are easy to install and remove from from the motherboard for multiple voltage checks.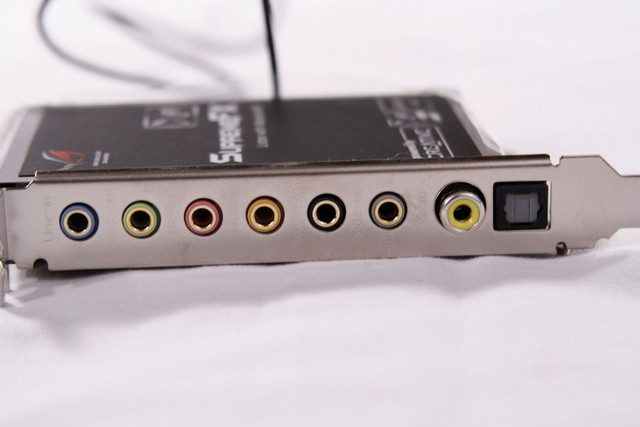 The included Creative X-FI sound card does support 7.1 capabilities, and has a SPDIF connector along with an audio optical port.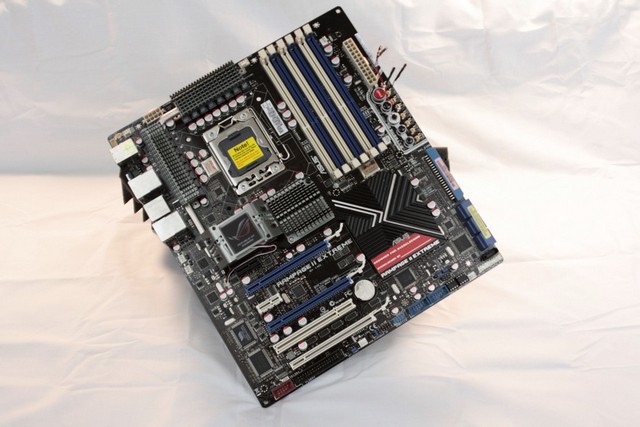 Looking at the Full board of the Rampage II Extreme motherboard, the only thing that concerns me is the upper PCI-E x1 port. There is not much room between it and the IOH heatsink. But other than that, I like the overall layout of this motherboard.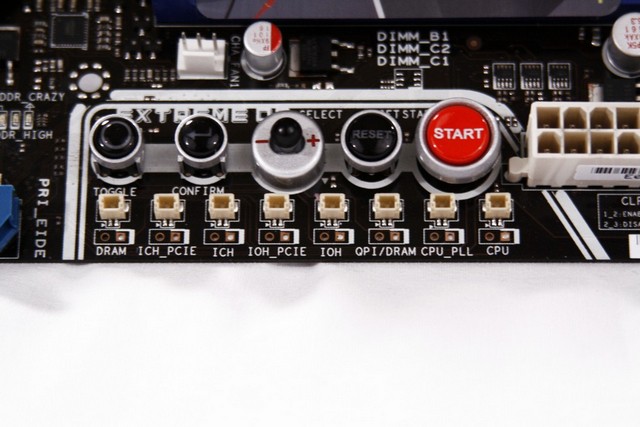 Here's a close look at the added extra functions the Rampage II Extreme has. The buttons above the check points can do a variety of different things. From setting the voltages of our motherboard to adjusting the CPU's BCLK, without the need to enter the BIOS. Notice there are two types of voltage checking abilities, we can use the included adapter, or we can just work right off the solder pads themselves on the PCB itself.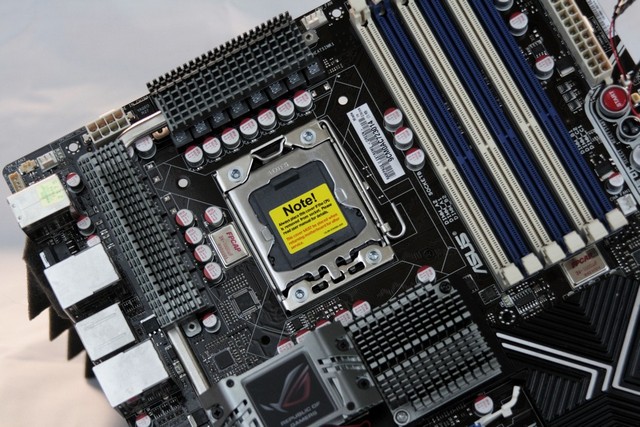 Starting off up near the CPU socket area of the motherboard, ASUS includes two heatsinks that will help keep the power mosfets cool during our extreme overclocking endeavors. The EPS CPU power connector is located towards the edge of the motherboard instead of right behind the rear IO ports, gaining access here should be painless. Counting up fan connectors as I see them, we have fan header #1 in the upper corner, and fan header #2 is located at the very bottom left hand corner of the image.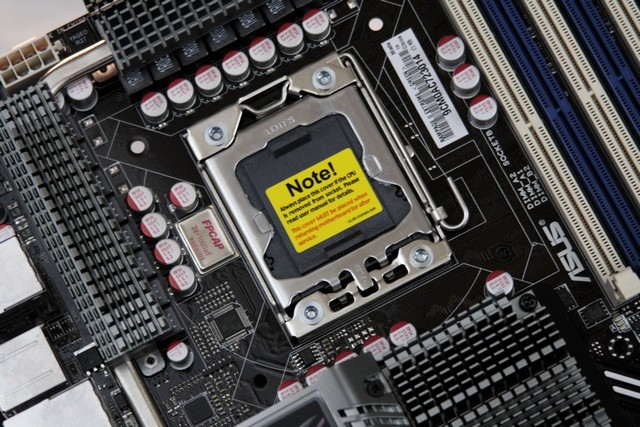 Getting a straight on look at the CPU socket area itself, I do not notice anything in the area that could present a problem when using our water blocks and or large CPU coolers. The capacitors, do seem to be far enough away not to hinder the use of our custom coolers.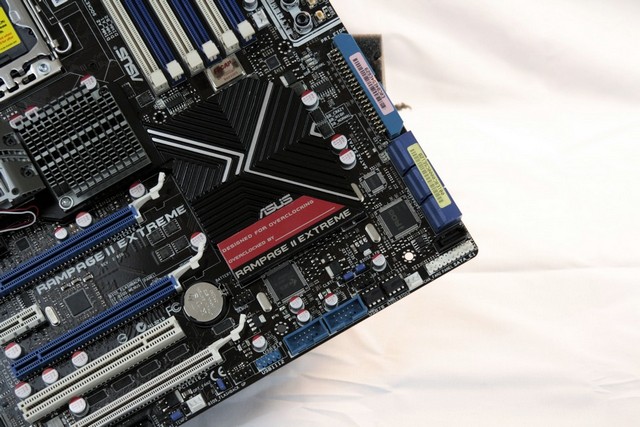 Turning our attention over to the south bridge area of the motherboard, ASUS still continues to use 180° SATA ports. We also see a 180° IDE port, for those who still are using these ancient devices. Right above the front IO header is another 90° SATA port, then on the bottom edge of the motherboard we see the 6 extra USB ports. Near the two BIOS chips for the rampage II Extreme motherboard, we see Fan Header #3.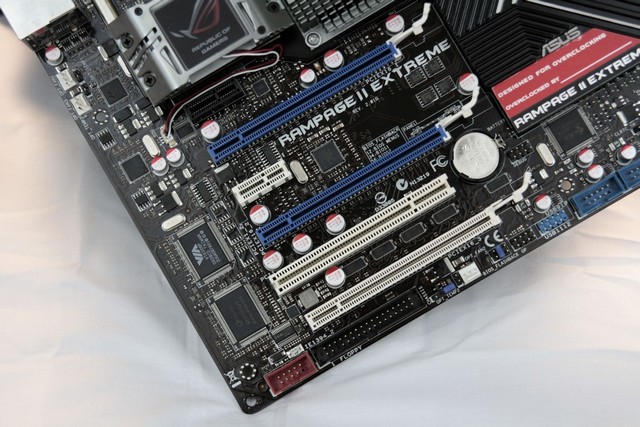 Lets take a look at how the PCI-E's are laid out, shall we. If you do plan on using two or three video cards, you may want to make sure your video cards have plenty of airflow around them, or make sure your video cards are not using a three PCI expansion heatsink. ASUS also includes the ever ancient floppy drive port. On the bottom Edge of the motherboard we can see Fan Header #4.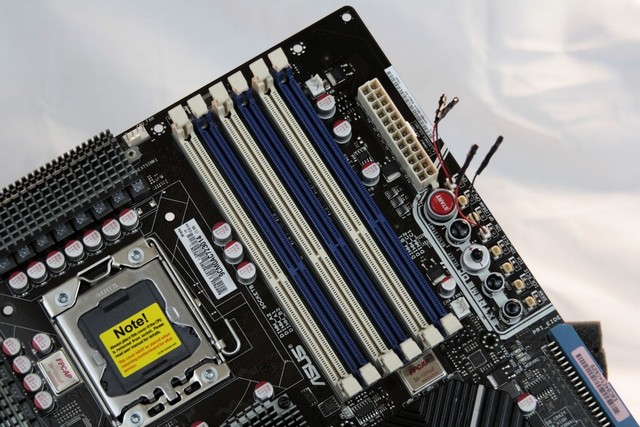 Like all X58 motherboards, the Rampage II Extreme also handles up to 24 gigs of Triple Channel memory. At the bottom end, towards the memory DIMMS, we see Fan Header #5. Up towards the top memory DIMMs is fan header #6. So far I have counted more fan headers then any other motherboard I have seen or used.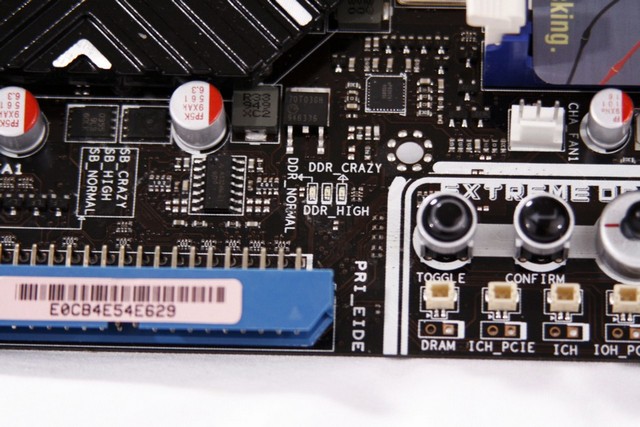 Like all of the ROG series motherboards, the Rampage II Extreme also uses LEDs to give us indications when we might be going a tad overboard on our voltages. This is the LEDs for the memory.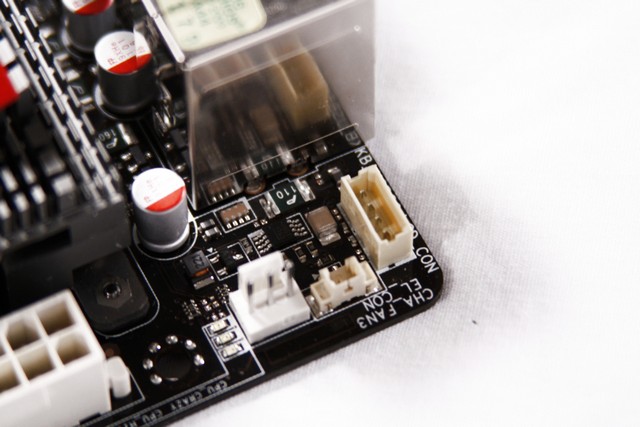 This is the area where we would hook up the LCD poster, and where the LED from the rear IO plate gets plugged into. If you look to your right, right next to the fan header these LED warning lights are for the CPU volts.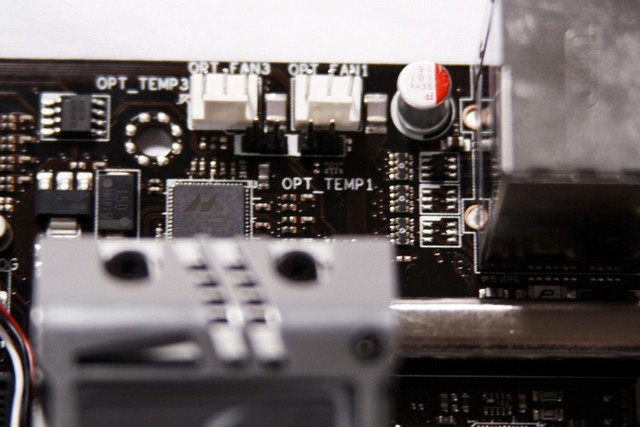 The Rampage II Extreme also supports 2 extra temp probes for us to monitor our vital computer components. This temperature probe hook-up is located right behind fan Header #7,8.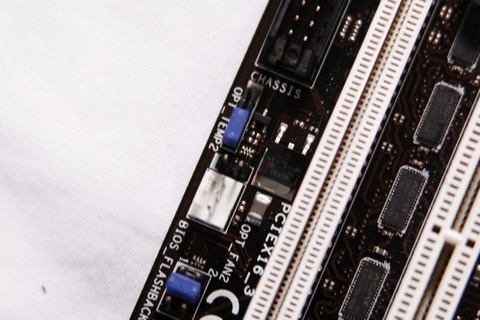 The second temperature probe gets plugged in near the bottom edge of the motherboard, right below the last PCI-E x16 port.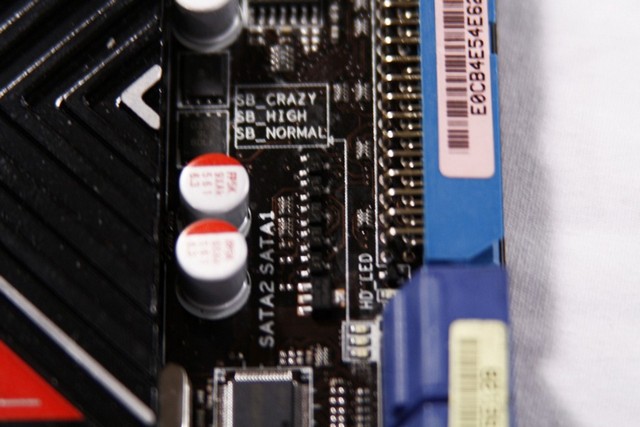 The SB warning LEDs are located right behind the 180° SATA ports.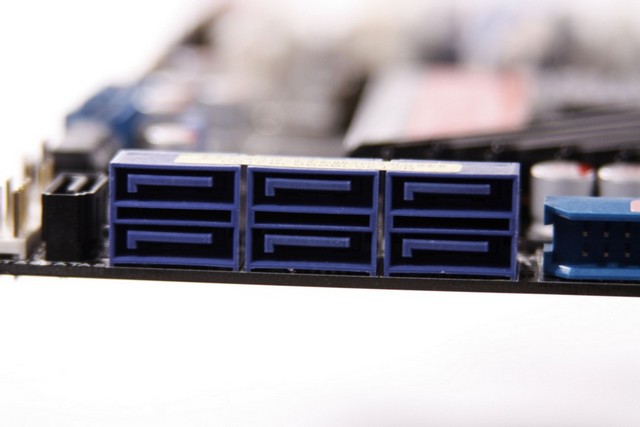 Looking at the six ICH10R native SATA ports.
Just as I suspected, the CPU area is clear of tall objects, so the use of large CPU coolers should not be an issue. Counting up the amount of chokes the Rampge II Extreme has, we see this motherboard distributes 16 phase power to the CPU.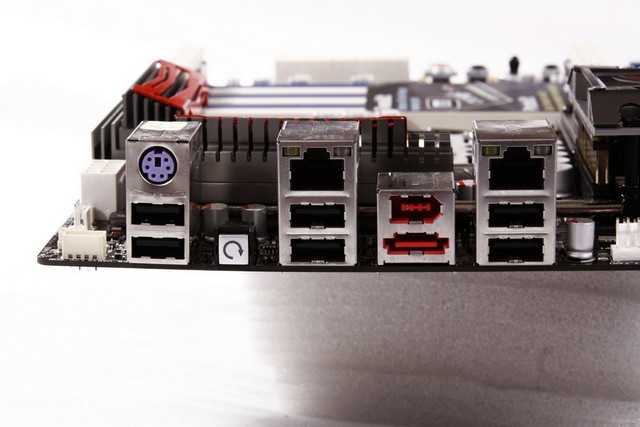 Finally we get to the rear IO ports. ASUS did not add too much in the way of extra ports back here, but there should be enough for us to use the basics. We have a PS2/USB header, followed by a rearward clear CMOS button. ASUS also includes a Ethernet/USB header, a firewire/E-SATA header, and finally another Ethernet/USB header.
Extras
Some extra pictures for you to look at to get an idea of ASUS's quality.
Some Assembly May Be Required
Well at least that's what they put as warning when we buy our furniture from Wal-Mart. I felt since they could put it as a warning, so could I.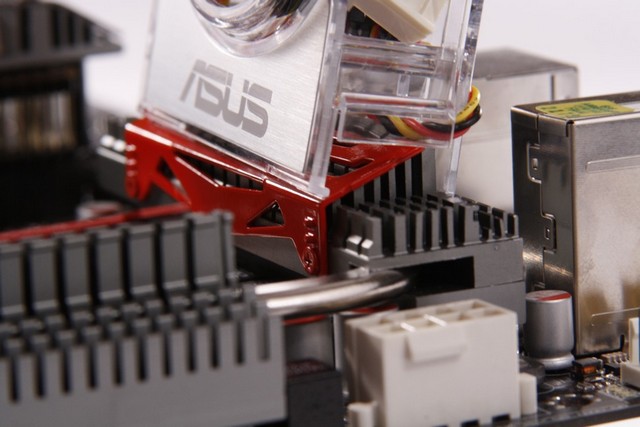 This is where the Squirrel cage fan will get mounted. This gets placed on the power mosfet heatsink nearest the rear IO ports. There is a small notch located on the rear side of this heatsink and the fan will clip right into this.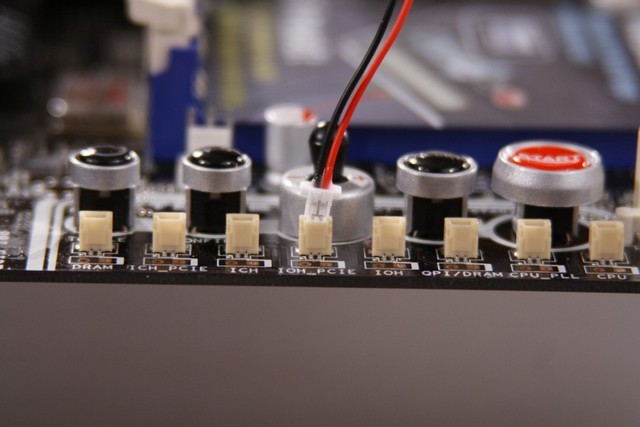 This is how the probe adapter gets connected to this motherboard. pretty simple thing to do, just line up the pins and push down gently.
Assembly of the Rampage II Extreme motherboard, I gotten most everything hooked up, but I did not have my radiator quite ready to be used, I was cleaning it up. The two video cards were just used during the initial boot up. I switched out to my water cooled 5870 for testing purposes.
Testing Methodology
Test Setup &Testing Methodology
CPU
Intel Core i7 920 C0 2.66GHz @ 3.6, Core i5 750 2.66GHz @ 3.6GHz
Motherboard
ASUS Rampage II Extreme, ASUS Sabertooth 55i
Case
Open Chassis
Memory
Crucial 1333MHz, Gskill 2000MHz Rip Jaws
Video Card's
Sapphire 5870
Hard Drives
2x Seagate 320Gig 2.5″ Momentus HDD's
CDRom Drive
Lite On Blue Ray
Power Supply
SilverStone 1200 Watt Zeus
CPU Speeds Used
3.6GHz (Both CPU's) And default 2.66GHz (Both CPU'S)
Operating System Used
Microsoft Windows 7
Video Card Cooler

Bistpower Cooled 5870, Modified DD MC TDX (750), Koolance 340 CPU (920)
CPU Cooler

Koolance 340CPU water block
I ran each of the following programs and/or benchmarks a total of three times to ensure my results were consistent, and that there were no erroneous readings. Both motherboards/CPU's will be tested at both default and overclocked, and both motherboards/CPU's will be clocked identically. This is to ensure both systems "Minor Me" (the Core i5 750 system), and "Mini Me" (the Core i7 920 System) are treated fairly. This will be a classic David vs Goliath type of review. No computer components were harmed during the making of this review. Something must be wrong with me, normally something has to be sacrificed to the Gods Of Overclock, maybe it was because my friend refused me to go beyond 3.6GHz.
Programs used for testing both computer systems
SiSoft: Arithmetic, Multimedia, Memory Bandwidth, Memory Latency
Everest: Memory Read, Memory Write, Memory Copy, Memory Latency, CPU Queen, CPU Julia
wPrime: 32 Million Calculation, 1024 Million Calculation
POV Ray 1280 x 1024 Resolution: Animation Camera, Animation Ambient, Still Image Buscuit, Still Image Wood Box
Auto MKV: Converted an AVI movie file to a MKV movie file
Blender: Rendered a Squirrel
Excel: Measured the time it took to calculate a given set of numbers, Monte, and Number Crunching
3DMark Vantage: Default Performance Run
Far Cry 2: 1920 x 1080 No AA
World In Conflict: 1920 x 1080 No AA
Dirt 2: 1920 x 1080 No AA
Overclocking
Overclocking the Core i7 920 CPU while using the ASUS Rampage II Extreme was easy as pie. I started up "Mini Me", I entered the BIOS and started to make my adjustments. I was setting up my RAID-0 array on my HDD's, when my friend came in and reminded me that I could not go above 3.6GHz. I mentioned to him I was not overclocking the CPU just yet, I was setting up my HDD's for a fresh Windows 7 install. Well of course, he just had to look at the BIOS, to make sure I was not going over his set limit of 3.6GHz. So just to be ornery, I set the BCLK ( Base Clock/FSB) to 181, left the CPU multiplier to 20, then turned around at my friend and stuck my tongue out at him. Now both computers, the core i5 750 running the ASUS Sabertooth 55i (Minor Me) and the Core i7 920 running the ASUS Rampage II Extreme (Mini Me), will both running the same exact clock speeds, right down to the BCLK.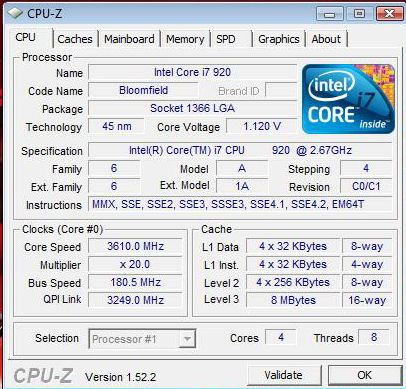 ASUS Rampage II Extreme Overclock settings used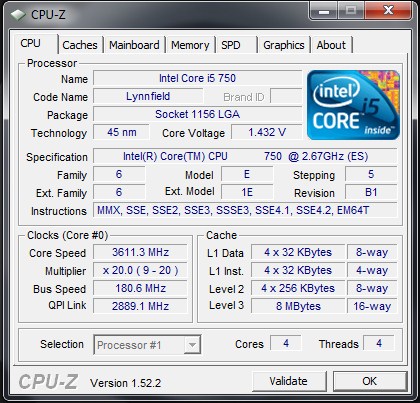 ASUS Sabertooth 55i Overclocked Settings used.
BIOS Overclocking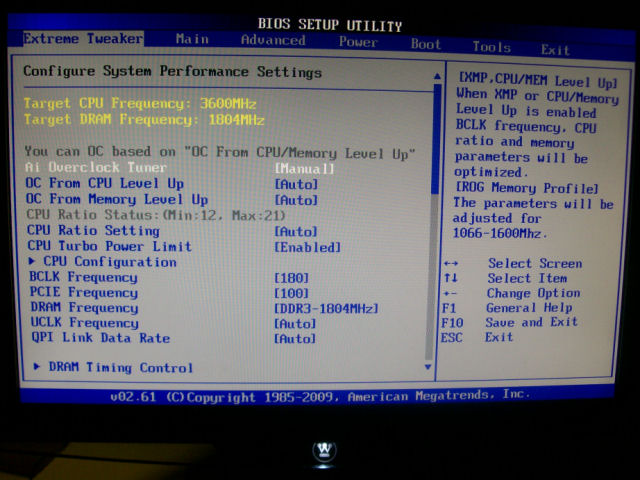 ASUS Like with all of their motherboards does a great job on keeping all of our adjustments in one easy to read area. They also provide us with enough voltages to really fine tune our Rampage II Extreme. This motherboard will also allow us to go way over the recomended voltage settings to really get this motherboard to start dancing.Since I was unable to go above a 3.6GHz on the CPU I was limited on what I could do as far as adjustments.
Let the Pummeling Begin
SiSoft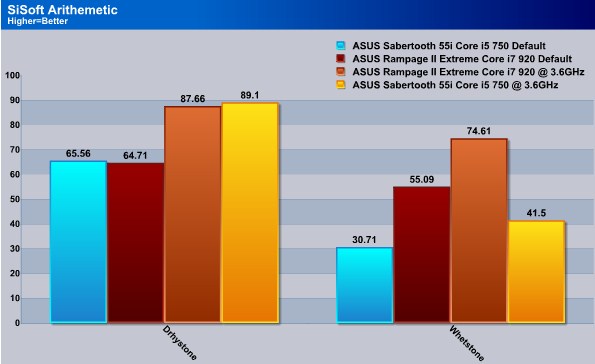 Now lets start the pummeling. Starting off with one our all time favorites, SiSoft, during the Drhystone portion of the testing, both CPU's (Core i5 750, and the Core i7 920) performed almost identical to one another. Taking a quick glance at the Whetstone portion of the test, the Core i7 920 takes a commending lead and flat out crushes the core i5 750 CPU.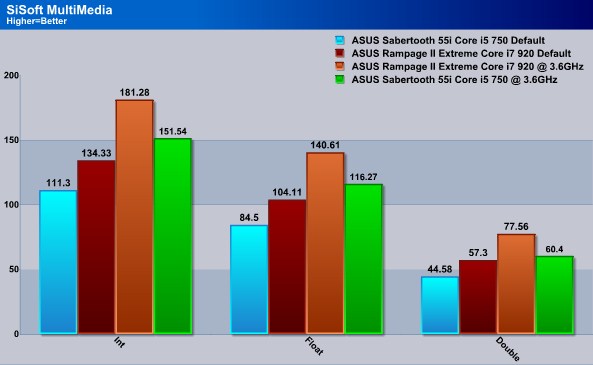 The Multimedia testing portion of SiSoft is one of the most highly threaded benchmarks. Again the ASUS Rampage II Extreme and the Intel Core i7 920 combination is a lethal combination to have in our computers. The harder we ran the CPU's the more of a gain the Core i7 920 and the ASUS Rampage II Extreme had.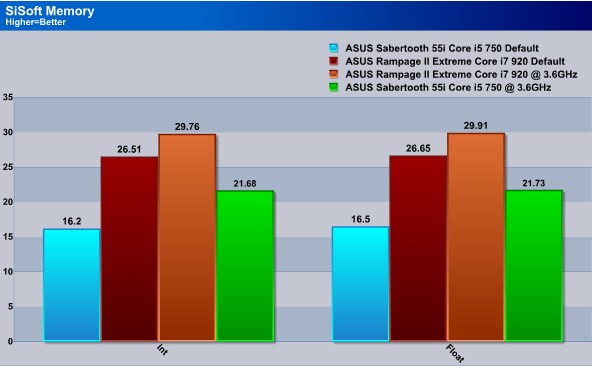 Turning our attention over to the memory side of SiSoft, the triple channel memory capability of the Core i7 920 clearly out classes the dual channel memory of the Core i5 750 CPU.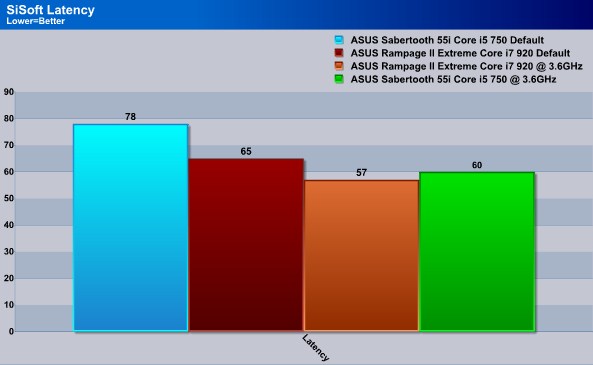 In the latency portion of testing, the ASUS Rampage II Extreme motherboard has the upper hand when both CPU's were at their default frequencies. Once we started to up the clock speeds on both motherboards, the ASUS Sabertooth 55i starts to close the gap, showing us the IMC on the Core i5 750 CPU is a bit more optimized.
wprime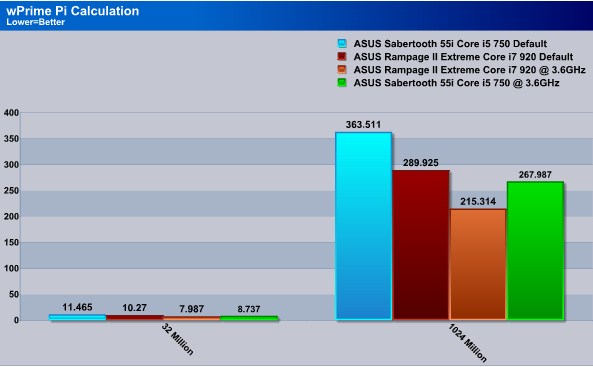 Lets move over to wPrime testing. Now you probably thinking that with the 32 million test that a second difference is not enough of a gain to declare clear winners. Lets look at the 1024 million portion of testing. Hmm, notice that the longer the Core i7 920 is ran, the bigger the gap between the two CPU's get.
POV Ray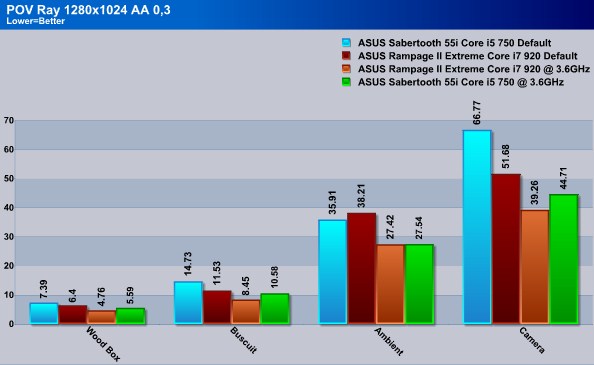 The only time that the little ole Core i5 750 had a chance at competing against the mighty Core i7 920 was when I rendered the Ambient animation test. But again, the harder I worked the CPU's, that Core i7 920 keeps coming out on top.
everest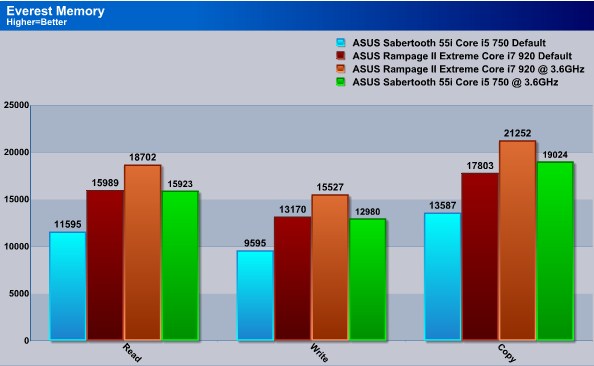 During our Everest Memory testing, this reconfirms that the Triple Channel memory capabilities of the Core i7 920 is still superior in all aspects.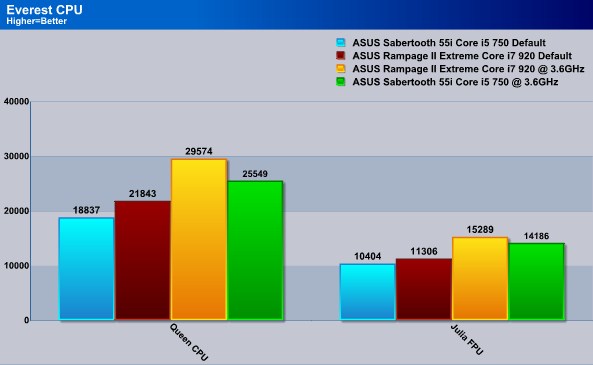 During the CPU portion of Everest, we can see that the Queen test perfers to have more threads at its disposal then core speed. But during the Julia portion of testing, both CPU's performed identical and prefers to have CPU core frequencies over threads.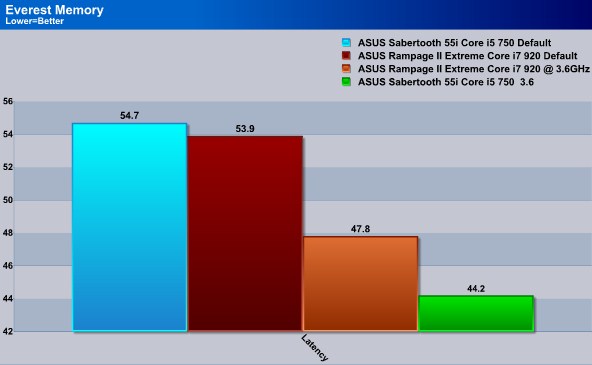 Oh wow, the Core i5 750 CPU and the ASUS Sabertooth 55i combination does have teeth after all. When I overclocked both motherboards, the Core i5 750 CPU had the best latency out of the two CPU's tested.
AUtoMKV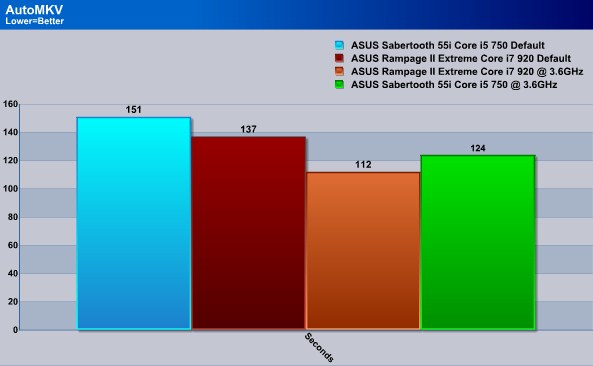 Auto MKV is another one our favorite benchmarks to use, because it gives us some real time numbers when comparing one CPU motherboard combination to another. You may be thinking a few seconds is not much of a difference. We have to take into consideration the longer the conversion goes, the more the Core i7 920 will take the lead. A few seconds gained turns into a few hours gained when converting large home movies.
Blender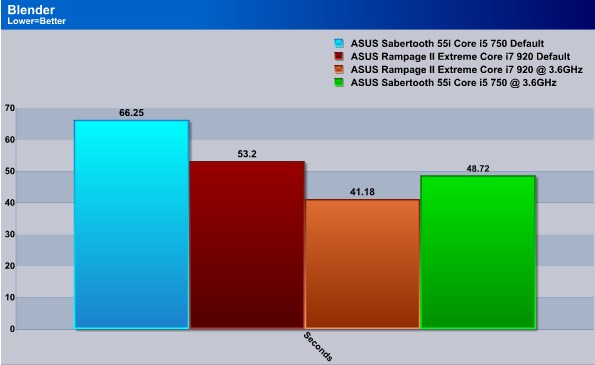 Blender is another great rendering program that likes to have CPU Threads at its disposal. This lso reaffirms that no amount of CPU frequency can compete with a CPU that has more threads at its disposal. Look at the Rampage II Extreme Core i7 920 default time and then compare that to the overclocked 3.6GHz Core i5 750 with the Sabertooth 55i combination.
Excel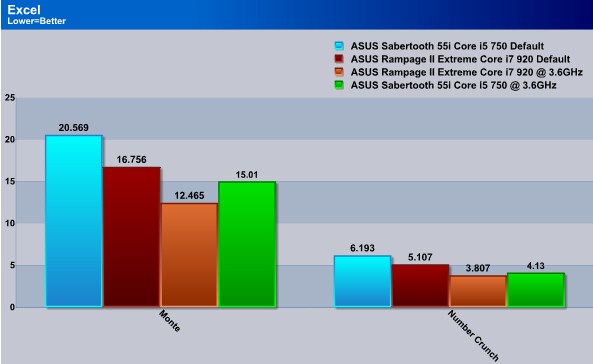 Even Microsoft's Excel prefers to have multiple threads at its disposal.
3DMARK VAnTAGE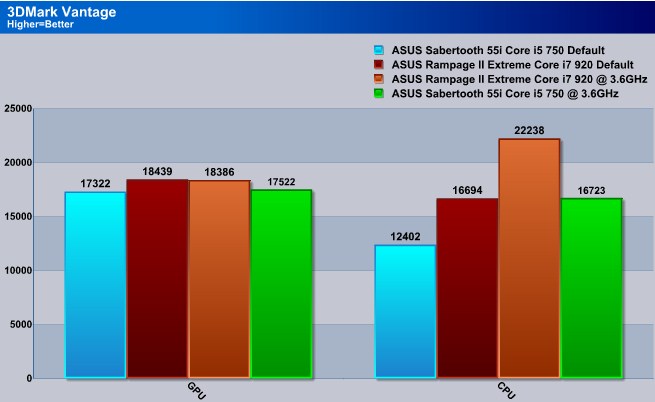 3DMark Vantage is another one of our personal favorites to use when comparing CPU's and Motherboards. Just as I suspected, the GPU portion of 3DMark Vantage there is no real difference between the two motherboards and CPU's tested. Its not until the physx testing, we start to see the effects the number of CPU threads can have on our gaming. Now lets move on to a more of a real world game engine and lets see how things stack up then.
Far cry 2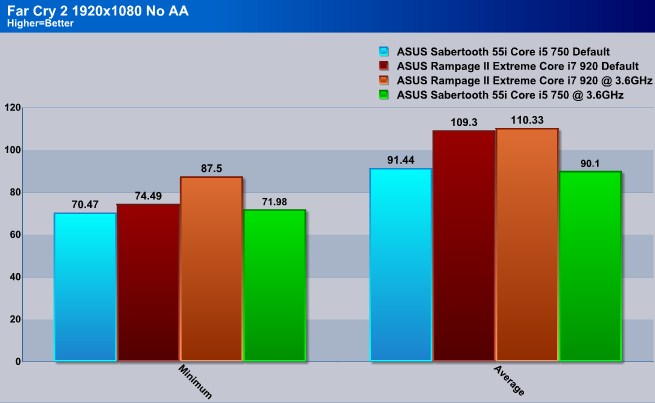 In Far Cry 2, we can see what the difference is between a CPU with only 4 threads at its disposal vs having a CPU with 8 threads. Not even the overclocked Core i5 750 CPU could keep up with the Default CPU Core i7 920 Rampage II Extreme combination.
Dirt 2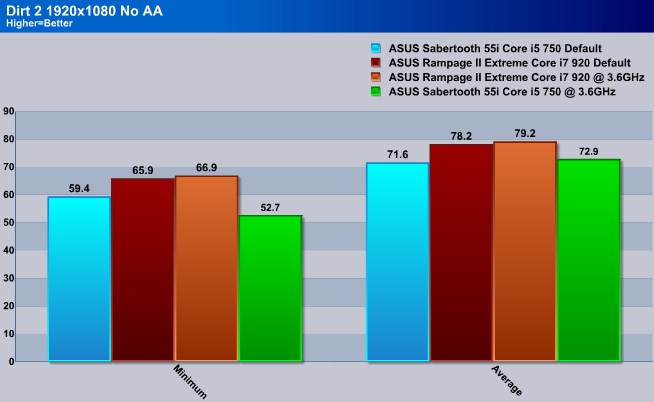 When comparing both of the motherboard CPU combinations, the Core i7 920 and the Rampage II Extreme combination still out performs the Core i5 750 Sabertooth 55i combination.
COnclusions
What did we learn from this review/article? The ASUS Rampage II Extreme paired up with Intel's Core i7 920 is a lethal combination to have. What makes the ASUS Rampage II Extreme motherboard even sweeter deal is that it will be able to handle Intel's upcoming CPU line of Hex cores. So if you are one of those types that need the extra power that only a multi-threaded CPU can give, the Rampage II Extreme is a definite winner.
The only area I was not to keen with the Rampage II Extreme motherboard was the how they placed the top PCI-E x1 port so close to the IOH heatsink. If I wanted to use a Tri-Fire or Triple SLI video cards I be forced to use the standard sound card and not have the ability to use my higher end Creative X-FI Titanium Fataltiy Pro sound card. Do not get me wrong, the included sound card is a decent one and sounds better then the standard Realtek onboard sound, we see on so many other motherboards. In my eyes, nothing can compete with the Fatality Pro sound card. Looking around the web I see the Rampage II Extreme sells for on or around the 350 USD mark, taking in on the amount of extras we get, the overclock-ability we have while not forgetting ASUS's attention to detail makes this a good price to pay for such an awesome motherboard.
Now for the comparison between the Core i7 920 and the Core i5 750 CPU I did during this review. As we've seen 90% of the time the Core i7 920 out-performed its smaller, younger brother by leaps and bounds. If you need a CPU that can go from serious gaming, to video editing, you just cannot compete with the all out raw power of the Core i7 920 CPU. If you use your computer for light gaming and to browse the internet the Core i5 750 CPU is a perfect candidate. It is cheap enough to provide you that extra bit of power for your games; while at the same time not making a large dent in your wallet. But keep in mind this, if and when you are thinking on purchasing computer parts, ask yourself what is the sole purpose of your computer. Ask around in forums, ask your friends who are computer guru's for advice then base your purchase upon that advice that was given to you. Like always, be honest with yourself and to your friends, so they can properly guide you.
OUR VERDICT: ASUS Rampage II Extreme
| | |
| --- | --- |
| Performance | 9 |
| Value | 8 |
| Quality | 10 |
| Features | 9 |
| Innovation | 9 |

We are using a new addition to our scoring system to provide additional feedback beyond a flat score. Please note that the final score isn't an aggregate average of the new rating system.

Pros
Cons

High quality

ASUS Attention to detail

Decnt Layout

Has more bells and whistles then a fire truck

Other then nit picking about the upper PCI-E x1 not a thing.

 
Summary: The ASUS Rampage II Extreme is the ultimate motherboard for anyone who wants the ultimate computer.