The BlackArmor PS110 uses an ExpressCard to upgrade your laptop to USB 3.0 and can be used on a desktop with USB 3.0. The PS110 mates portability with speed in a big way!
INTRODUCTION
USB 3.0 is the marriage of universal portability and blazing speed. While a lot of desktops have E-Sata available, it never really took off. E-Sata was a step in the right direction. Much like Firewire, it's lack of universal portability has kept it from going mainstream. Both Firewire and E-Sata gave us the speed we craved. They just didn't provide the level of portability we were looking for.
The new USB 3.0 standard is backward compatible with USB 2.0. So just about every desktop you run into will be able to read USB 3.0 devices, but will be limited to USB 2.0 speeds. But with the use of an expansion card, it can get the full speed of USB 3.0. Laptops have also been limited to USB 2.0 speeds. We are sure that newer models will adopt USB 3.0. But if you are like us, a laptop is a significant investment. And we aren't looking to buy an expensive new laptop just to get USB 3.0.
At CES 2010, Seagate showed us the BlackArmor PS110 USB 3.0 External Drive and we couldn't wait to get our hands one. Why would we what USB 3.0 on a laptop? Well for one thing, it's theoretically up to 10x faster than USB 2.0. Backing up to USB 2.0 on the lab's laptop was a "Start the backup and go to sleep." affair. Our only other option was to pull the 2.5 inch Sata drive out, connect it to a desktop, and backup or clone it from there. Which is what we had been doing.
The inherent problem with cloning, is that it's a one to one drive operation. So for every backup on the 9 or 10 machines we have around, we have to have an extra drive to spare, per rig. The included software, BlackArmor Backup (Powered by Acronis), backs up the entire drive, operating system included, to a single file. In other words we can use the blazing speed of the Seagate BlackArmor and the BlackArmor Backup software to fit as many hard drive backups on one drive, as space will allow. The drive also provides blazing fast storage for any type file you want to store.
For the E-tail Price of $179.99, you get blazing speed and a lots of storage. It can be used for laptops with ExpressCard slots, or for desktop operation through USB 2.0 or USB 3.0. It's capable of backing up multiple hard drive operating systems on one drive. And It's a relatively inexpensive backup method for multiple machines. Don't forget, that your also upgrading a laptop from USB 2.0 to USB 3.0. And you know USB 3.0 capable laptops are going to command a premium price.
Just how much faster is the drive than our previous USB 2.0 backup method? Well, on USB 2.0 it took 6 to 7 hours to back up the lab's laptop. Needless to say, backups weren't getting done in a timely manner. The first time we backed-up with the Seagate BlackArmor, it took 33 minutes flat. In that amount of time, we can take a short lunch break and have a complete backup of the most vital laptop we use in our day to day operation. That's piece of mind and an increase in productivity. You can't put a price on that. We recently had laptop issues and it took more than two full days to get back up to a reasonable level of operation. As a result, there was a gap in our email communications, with valued vendors. This wouldn't have happened had we owned the BlackArmor PS110. A 30 minute burp in daily operations is all it would have taken to avoid this. That's the speed and advantage the Seagate BlackArmor gives us. And you can have that speed and advantage too.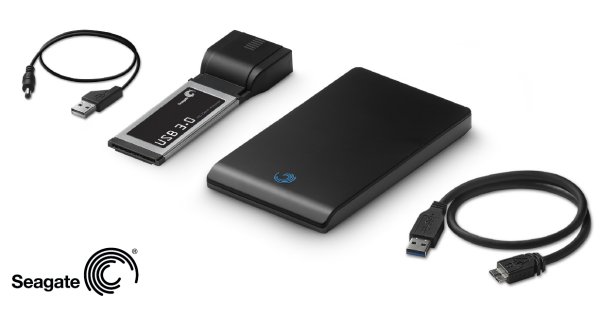 The kit includes everything you need to upgrade your laptop to USB 3.0. But you will need to ensure that you have an ExpressCard slot available.
Features & Specifications
BlackArmor PS 110
ModeL: ST905003BPA1ES-RK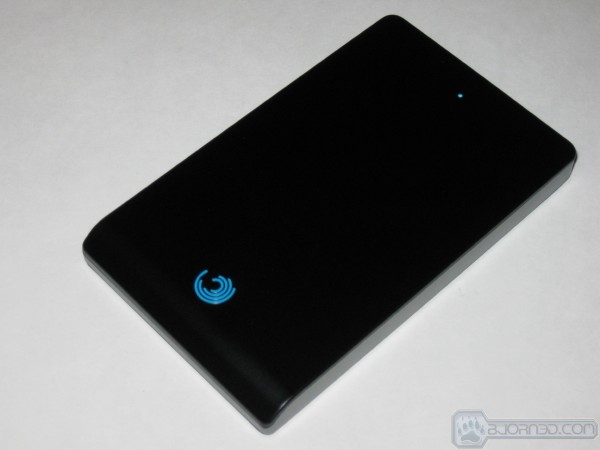 The Seagate BlackArmor PS110 USB 3.0 performance kit gets Seagate in the USB 3.0 game, in a big way. Not only is it a complete kit that can upgrade your ExpressCard capable laptop to USB 3.0. But it can also be used on USB 3.0 capable desktops. The fun doesn't stop there. The BlackArmor PS110 USB 3.0 drive is backwards compatible with USB 2.0, for the ultimate in universal portability.
Inside the BlackArmor PS110, Seagate is using a 7200 RPM 2.5 inch drive. This would have been attractive enough if it were just the drive and adapter kit. But Seagate has raised the ante and include BlackArmor Backup (Powered by Acronis). This is business class backup software capable of backing up data, entire drives, and operating systems.
Not only will it backup your hard drive (OS included if you want), it also ensures data protection with SafetyDrill+™ recovery (Bare Metal Restore) and AES 256-bit encryption. With speeds up to 3x faster than USB 2.0 external drives, your data fill fly off the drive like you've never seen. Backups take a fraction of the time they used to.
The Seagate BlackArmor PS110 USB 3.0 performance kit is the ultimate Road Warriors portable storage device. The 12.5mm form factor isn't going to slow you down when you're lugging your briefcase. For the first time, you can carry your laptop, have smoking fast external storage, and carry a complete backup of your hard drive. Stored and ready to save the day, should disaster happen.
Kit includes everything you need to upgrade your laptop to USB 3.0
Automatically back up your entire system including files, programs, OS and settings
SafetyDrill+™ recovery software allows you to restore your entire system to a previous point in time using a backup image
Secure backed up files with AES 256-bit encryption
Slim 12.5mm thin form factor makes it effortless to carry while traveling
5-year limited warranty.
With the rock solid Seagate 5 year warranty, you'll enjoy miles and miles of smiles. Secure in the knowledge that for at least 5 years, your external storage and backup needs will be taken care of.
Pictures & Impressions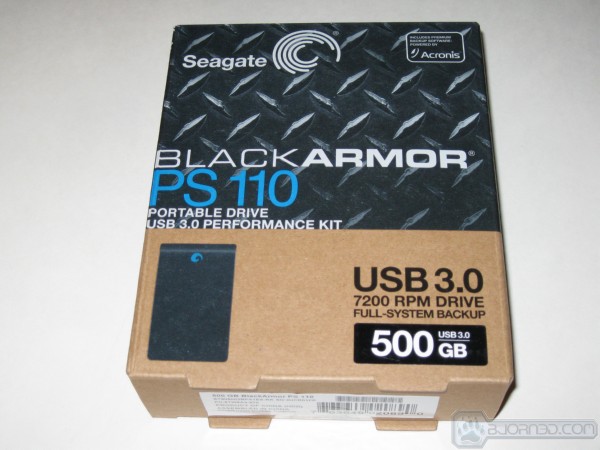 The BlackArmor PS110 Portable Drive USB 3.0 Performance Kit came in a sturdy cardboard box that provided plenty of protection, information, and specifications for the prize inside.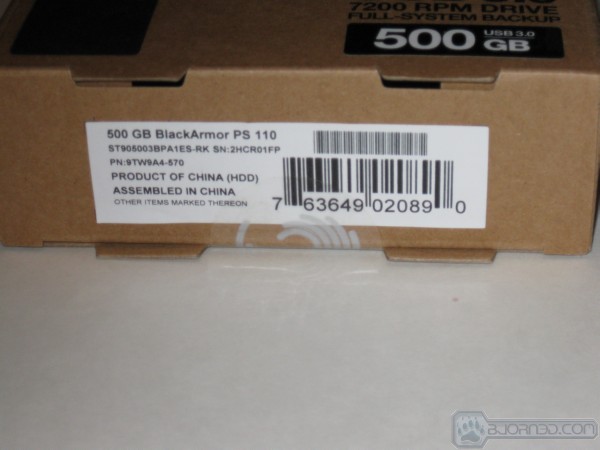 Please note that there a couple of BlackArmor kits out there. This one is the ST905003BPA1ES-RK. You will need to ensure that you are purchasing the Performance Drive USB 3.0 Kit. Because if you make a mistake you'll end up getting a ST905003BPA1E1-RK. Which is the USB 2.0 version of the kit.
Included in the kit you'll find the Quick Start Guide, the warranty pamphlet, the ExpressCard adapter, the power cable, the USB 3.0 cable, and finally the drive itself. While it is a complete kit, a carrying bag would have been a nice addition. This wo help keep track of the parts when you are in Road Warrior Mode.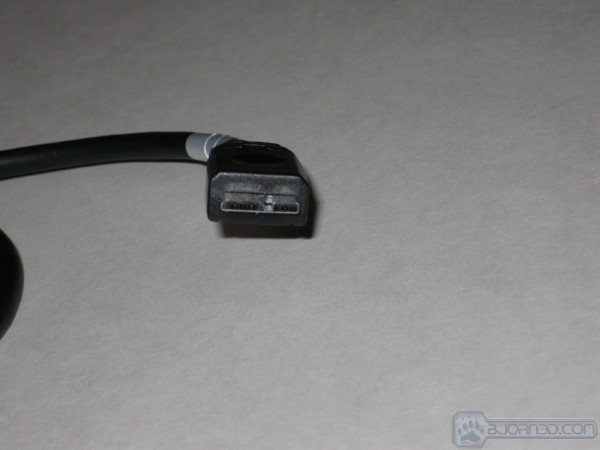 The USB 3.0 connector isn't the same as we've seen on other USB 3.0 external drives probably because the connector we've seen is just to large for this form factor.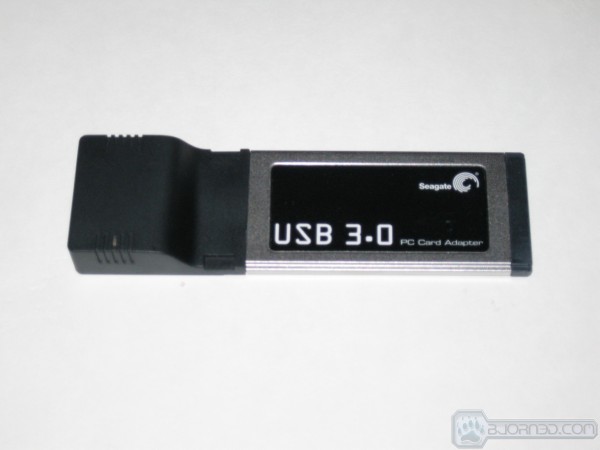 The ExpressCard Adapter just slips into your ExpressCard Slot. Run the small power cord from another USB port to the ExpressCard, hook the drive to it and your good to go. If your BlackArmor drive and ExpressCard isn't immediately recognized, you can hook the drive itself directly to a USB 2.0 port that's already on your computer. Then you'll be able to install the driver for the ExpressCard and be up and running in seconds. That's the beauty of the BlackArmor PS110 kit. As long as you have access to a USB port, you can access the drive, even if it's not a USB 3.0 port. Once you've used USB 3.0, you will never want to go back to USB 2.0 speeds. So prepare to be spoiled.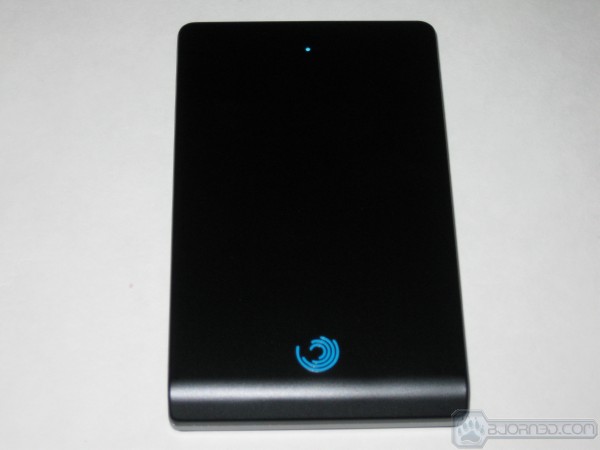 The BlackArmor Drive has a distinguished professional look. It would be right at home on your desk or in the office boardroom. It's small enough that when you're in Road Warrior mode, you can perch it on your leg. Great for the cramped conditions of your favorite airline. You'll still be able to access your vital files while on the.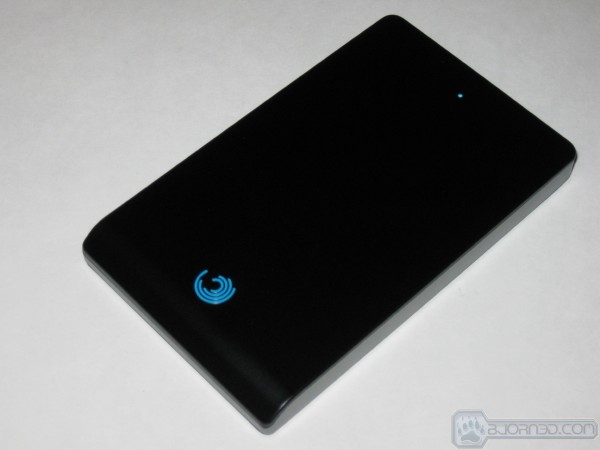 While there isn't a HD access light on the BlackArmor PS110. It does have a power-on light. Which is the small blue dot over the USB 3.0 connector, on the rear.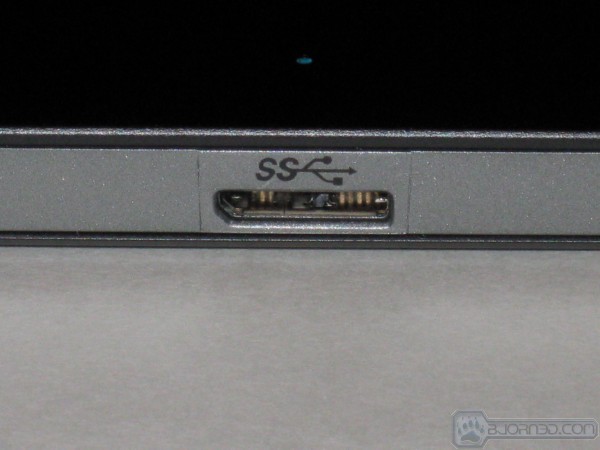 On the back of the drive you'll find the USB 3.0 connector for the cable we showed you earlier.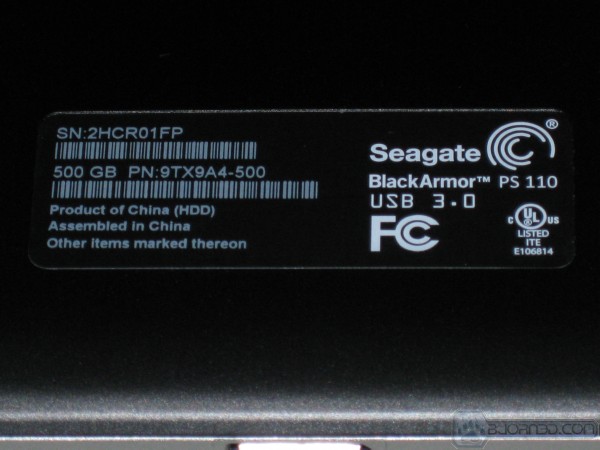 Here's a shot of the sticker on the bottom of the drive. Make sure model number you're purchasing matches what you see here.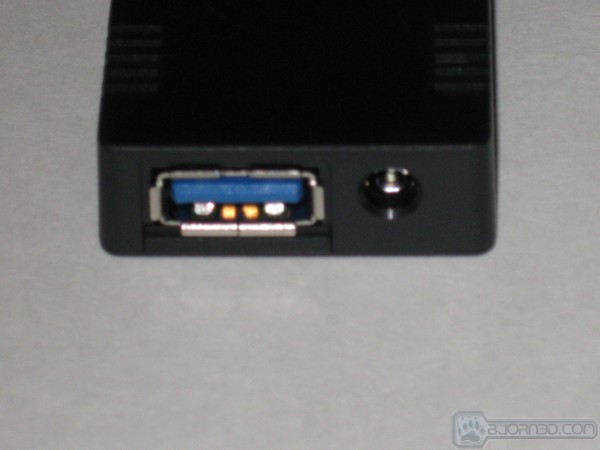 Lastly, the business end of the ExpressCard Adapter. The round hole is for the power cable.The Blue port is for the USB 3.0 connector.
The Install
Most of the time, we pass right over the install procedure. But since this is a new laptop kit and had a few issues. We'll go that extra mile and detail them here.
Please keep in mind, we often get early kits. And this might not hold true for the BlackArmor kit you receive. We've passed this information along to Seagate. We are sure that they will take a look at it and make any corrections needed to make the drive, instructions, and software mesh smoothly.
Here's the background on it. Normally, all the software that a company is including with a hard drive, resides on the drive. You just plug it in and install the software. But when we connected Black Armor drive via the ExpressCard slot, as per the quickstart instructions. The launch screen didn't appear. Since the drive is USB 2.0 backward compatible, we were able to plug it into an existing USB port, on the laptop. This allowed us to install the driver for the ExpressCard, from it. However for end users that more accustom to things just working, and you encounter this same problem, here's what we did. Plug into a USB 2.0 port that's already on your laptop, locate the driver folder on the BlackArmor, install the ExpressCard Driver, and plug the drive back up to the ExpressCard.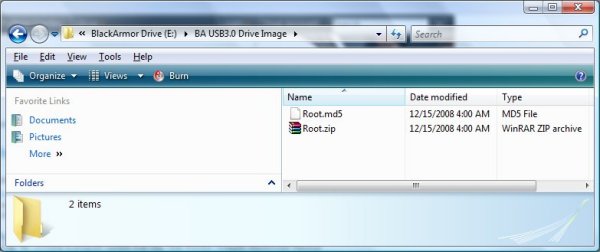 When we got to the BlackArmor software, the file structure in the folder didn't match the Quick Start Guide. What we found was a Zip file.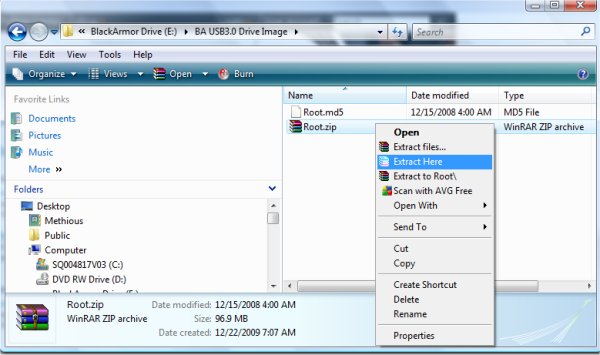 In XP and later, right-click on the zip file and choose Extract Here.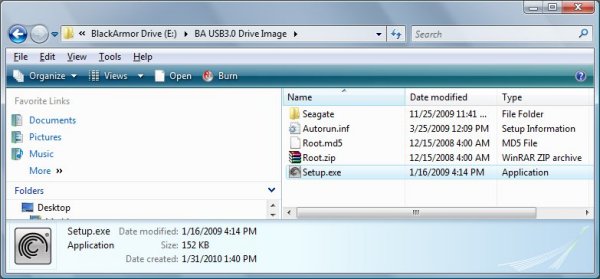 Open the folder that was just created. You should see the Setup.exe file. Double click that.

We hadn't registered the product at this point. So this minor error might be because we hadn't done so. We waited a few seconds and the next screen came up.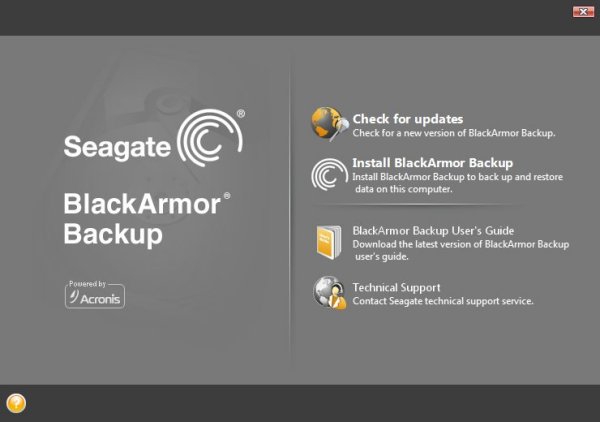 We just clicked on Install BlackArmor and we were good to go.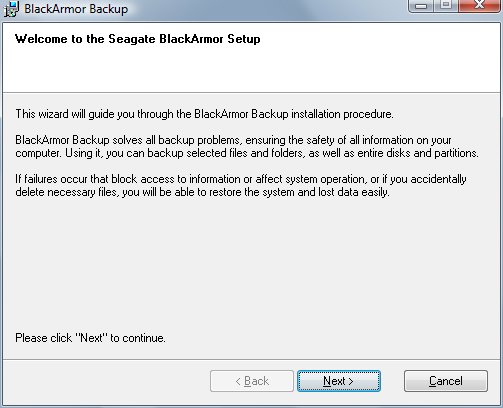 Just click next here and the software will prompt you through.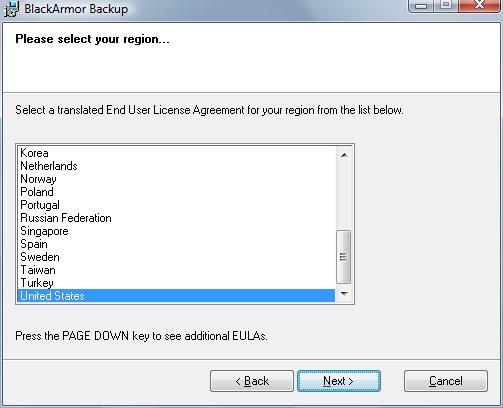 Pick your language and click next.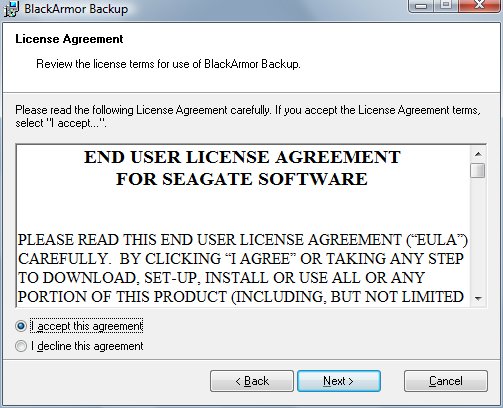 Accept the agreement or the software will close.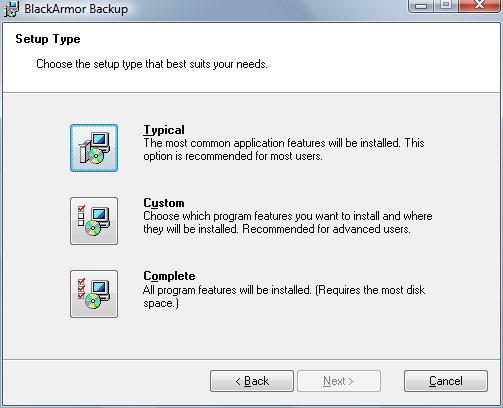 Unless you are a BlackArmor/Acronis guru, select Typical and then click next.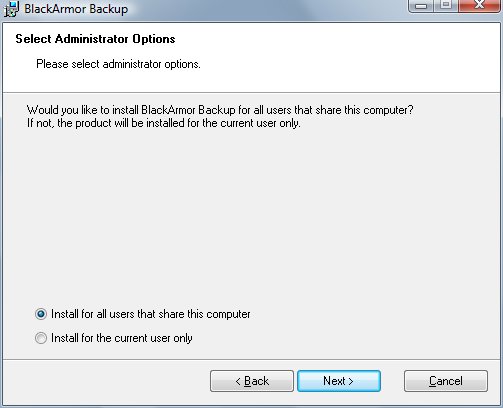 If you have kids or something, you might want the selective install. But we chose install for all users.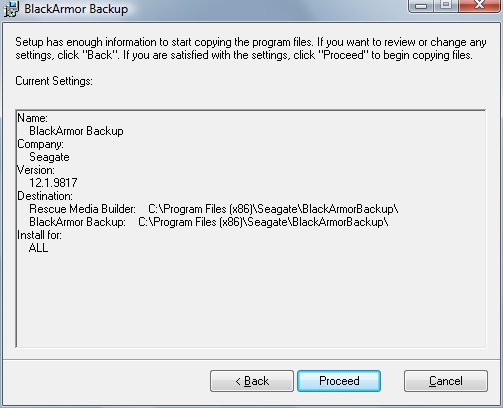 When you hit this screen, just click the next buton and go on through.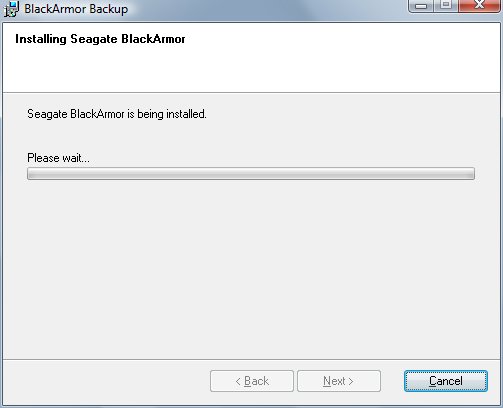 Then wait for a few minutes (our laptop took about 4 minutes).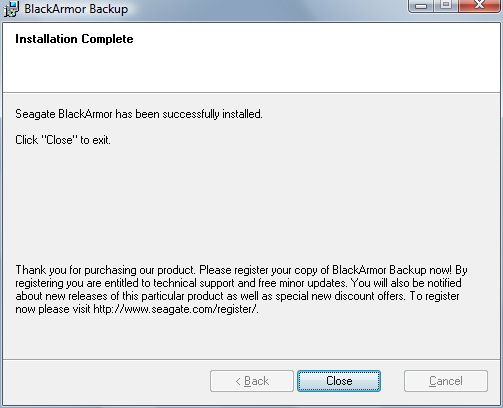 Then you get this screen. Just click close.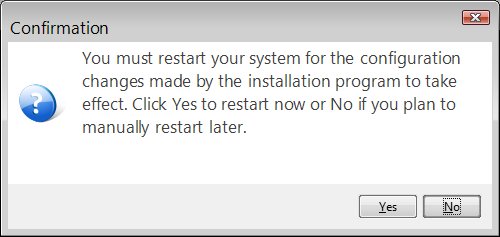 Then click yes to reboot. After that, you're good to go.
The BlackArmor Software section is next. So move along, nothing to see here. (I always wanted to say that)
BlackArmor Backup
This is just the screens and functions available in BlackArmor. In the next section we do a full HD backup, including OS. Then we restore that backup to new hard drive.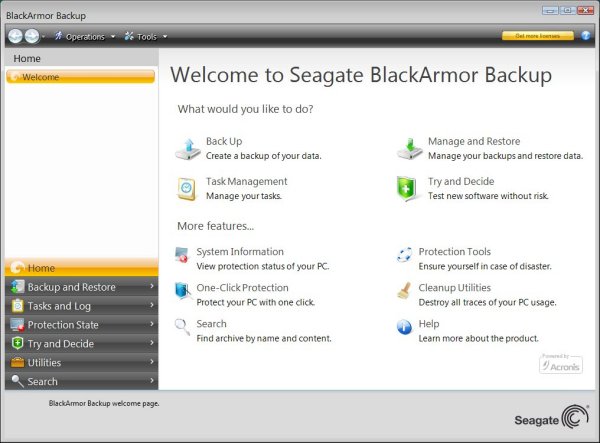 On the Home screen, you'll find most of the common tasks that you'll b for every day backup operations. The most interesting thing on the screen is One-Click Protection. We'll go into detail about that in the next section.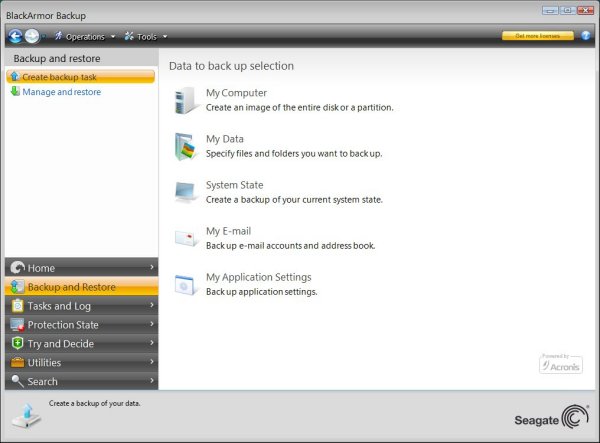 You can go old school and bypass One Click by going directly to the Backup and Restore Screen.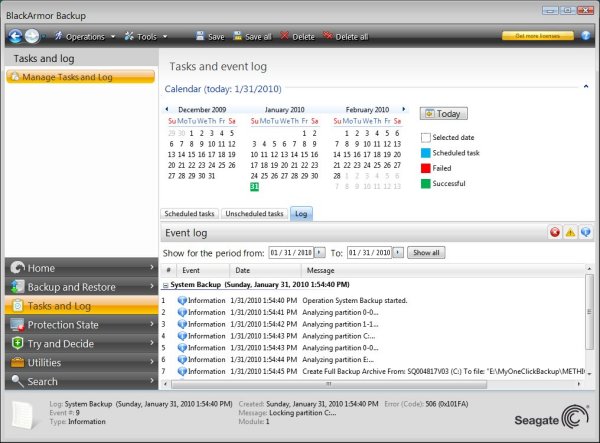 From the Tasks and Log screen you can review scheduled tasks and read a log of events. Here's one from a trial backup we did.
This screen details the "State" of your protection. By this time we had deleted our trial backup and formatted that drive so we could get a clean run at it for the next section.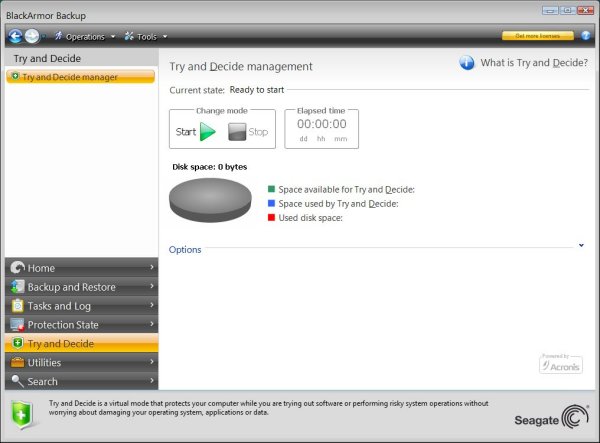 Ever want to try software without taking the risk of it buggering up your whole rig? Try and Decide will let you do that. But we still recommend having a good backup prior to trying new software.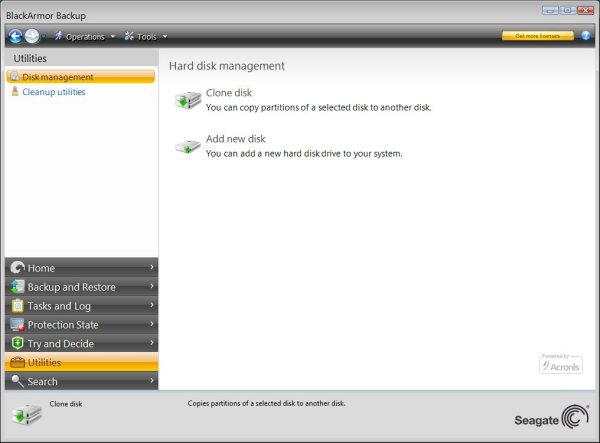 We use this screen a lot. It's handy when doing reviews, to have a "ready to drop in" spare drive. You can clone an existing operating system drive. That way if you get a virus or crash, restoring the drive from a clone will have you back up and running in minutes. You can also add a new HD to your rig easily.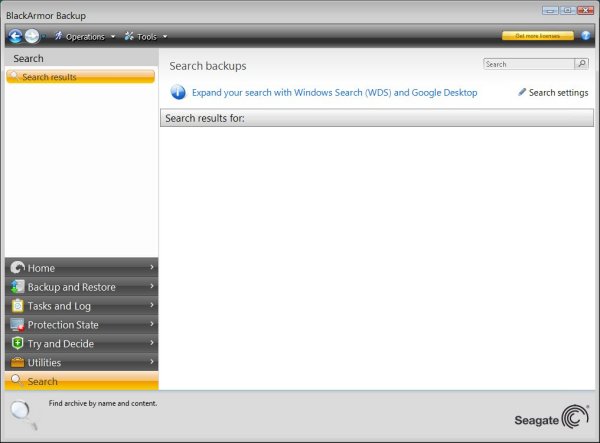 To top it off, they threw in a Windows Search and Google Desktop utility. It will let you download and install the utilities. We passed on that little tidbit, stuff running in the background bothers us.
The Backup & Restore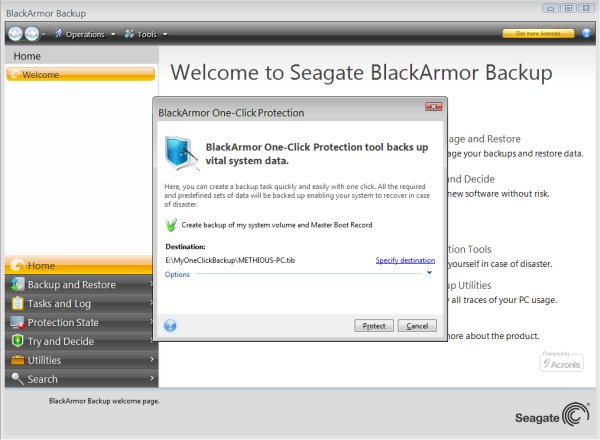 Once we had BlackArmor loaded, we needed to backup our lab laptop. We were pleased when we got this One-Click Protection screen immediately.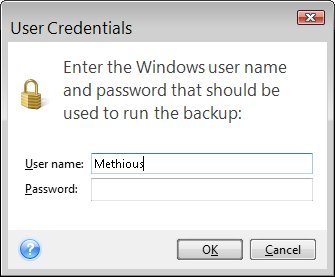 Then we got this screen, I only entered my forum name and clicked OK.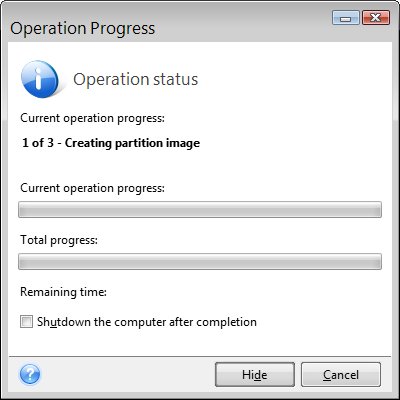 We waited for the bars to run across the screen. 33 minutes 47(Ish)GB later we got the next screen.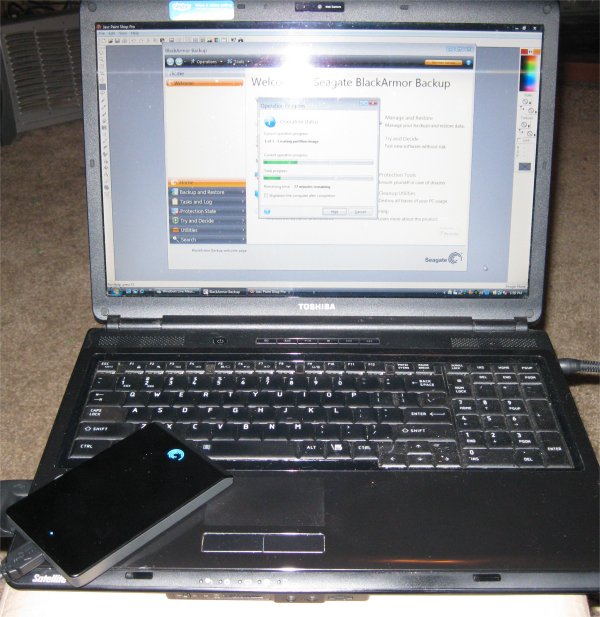 Here's a shot we took during the actual backup and everything was running fine. The proximity of the HD to the touch pad, on the laptop, made the cursor go wonky. But that's not Seagate's fault. We had a Dohhhh moment is all.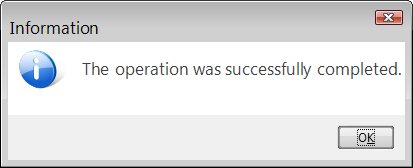 So it wasn't one click like the name says. But four clicks isn't bad for the whole drive, including operating system.
We need to inject a little blurb in at this point. We have a Seagate Momentus 500GB drive in the lab laptop. however the data on that laptop is absolutely vital to the operation of Bjorn3D and has tons of files and E-Mail contacts on it. We ripped that functional operating system drive out and put in a SSD that had a corrupted OS on it to restore to. While we implicitly trust Seagate and Acronis there are some things you just don't do. Spitting into the wind, stepping on Superman's cape, messing around with Jim, and overwriting a vital HD come to mind. Mainly we were afraid we'd bugger things up by choosing the wrong option and lose our day to day operations drive. We had a backup about a month old but a month is forever in reviewing. So taking no chances we replaced the drive in the laptop with a SSD we had used in the same laptop until for no good reason it stopped booting.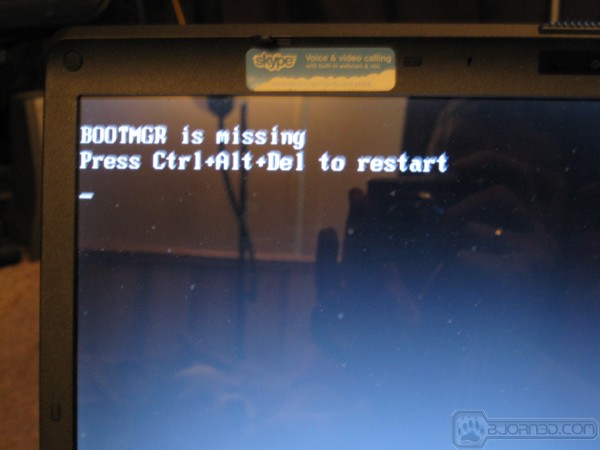 Once we had the SSD installed, we tried for a boot. The rig reported the same thing as when we removed the drive a couple of weeks ago. Ignore the reflection in the screem that's not some naked guy with a camera that's a uhhhh review gremlin. Yea that's it. Oh and ignore the dogs reflection on the bottom left that's just the official review dog helping out. What can we say we were going for a real life operation here and had the laptop where else, on a lap.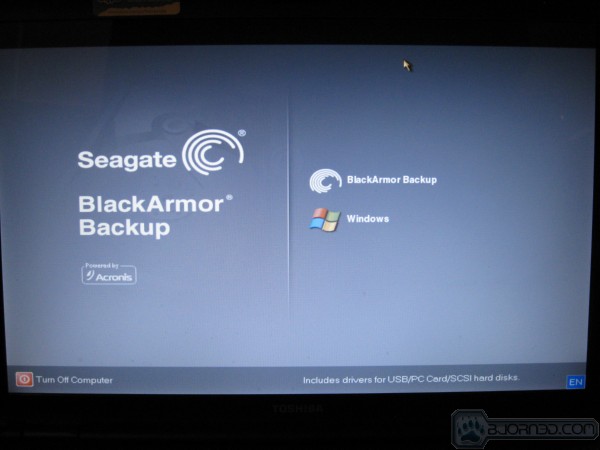 Previously we had created a Rescue media disk on a CD-R so we could recover from a boot CD and we fired that up and were greeted with this screen. We chose the BlackArmor Backup option.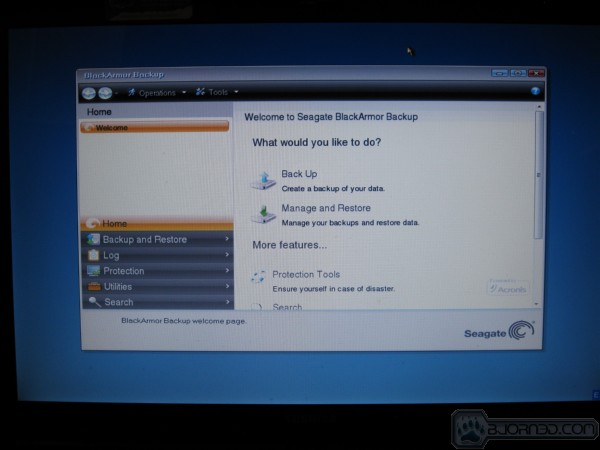 From this screen we chose Manage and Restore and got a little shock.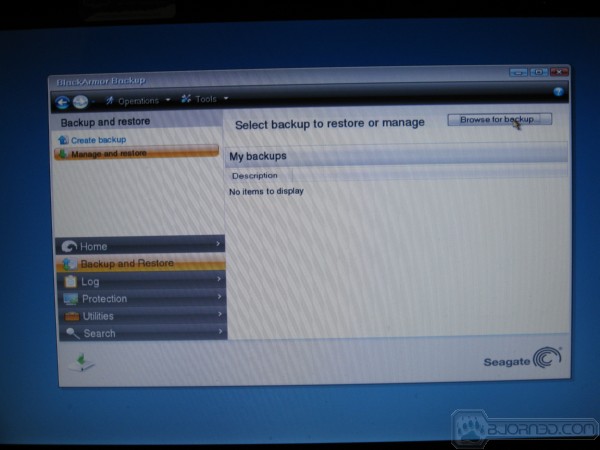 Reminds us of a little ditty we heard as a child, "Where oh where did my little backup go", ok so we had a somewhat jacked up nerdish upbringing. Years of therapy later it's all good. On this screen we "Browsed for Backup".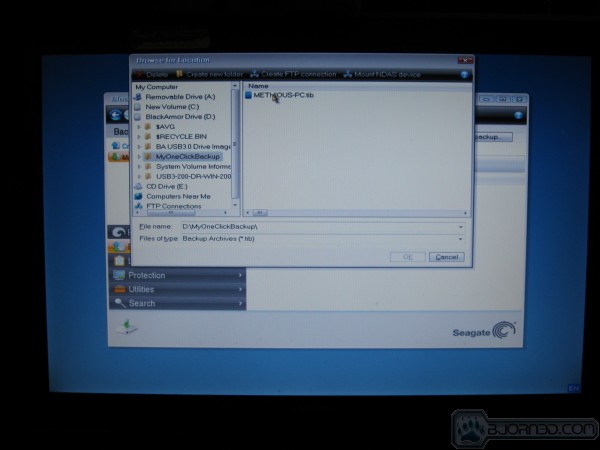 We navigated over to the BlackArmor Drive and highlighted the MyOneClickBackup folder and found our backup file.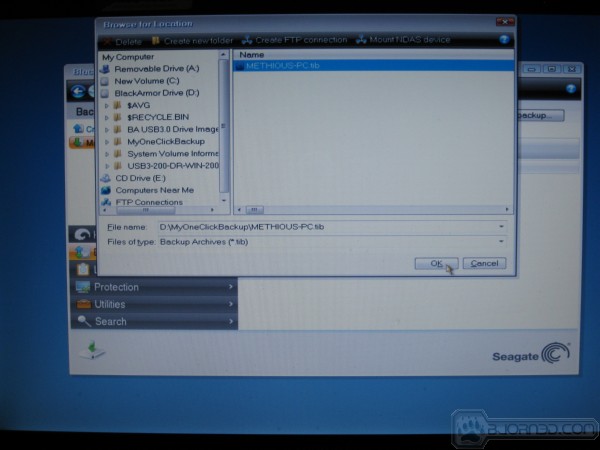 Once we had it highlighted we clicked OK.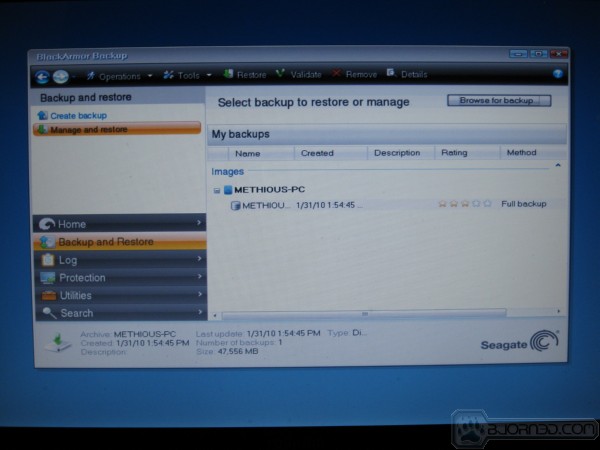 Hmmmmm not much happened there but we were bound and determined not to resort to the manual.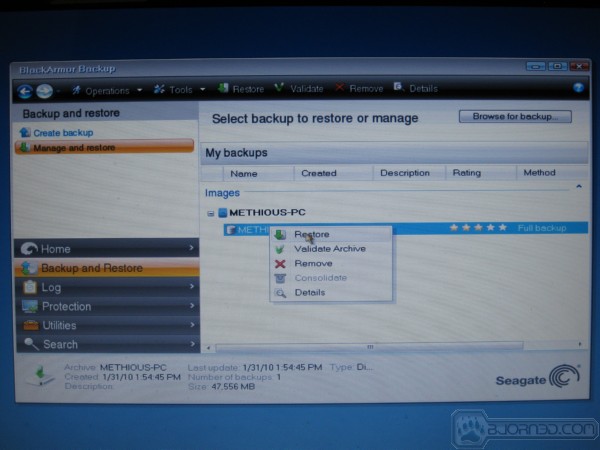 We highlighted the file name and right clicked and dot a drop down dialog box with an option to Restore and since we were sitting on a crashed SSD that seemed like a good idea so we clicked it.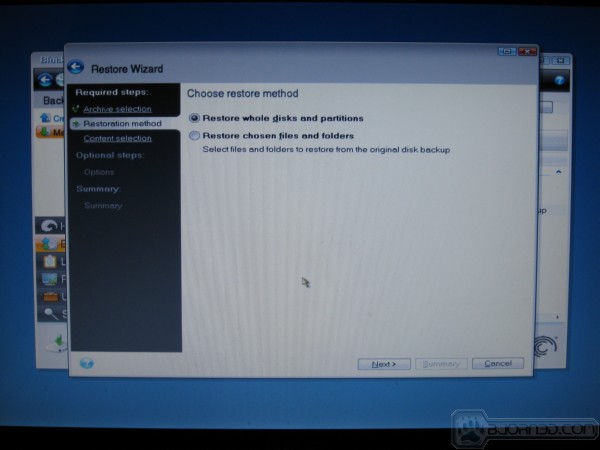 We wanted the whole drive whole again so our review efforts didn't end up in a whole errr hole so we selected "Restore whole disk and partitions" and clicked next.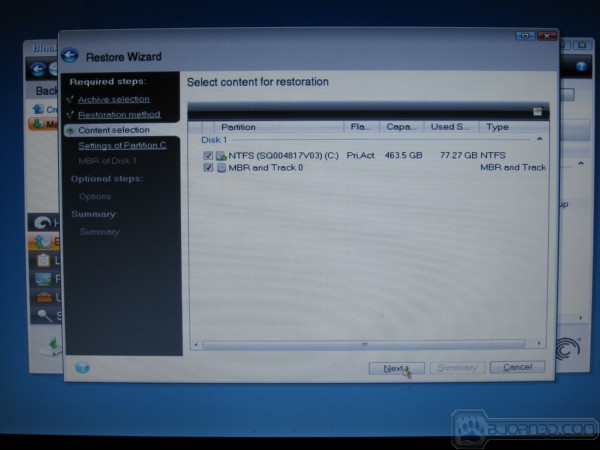 Then we selected both boxes because we want the C Drive and Master Boot Record Restored then we clicked next.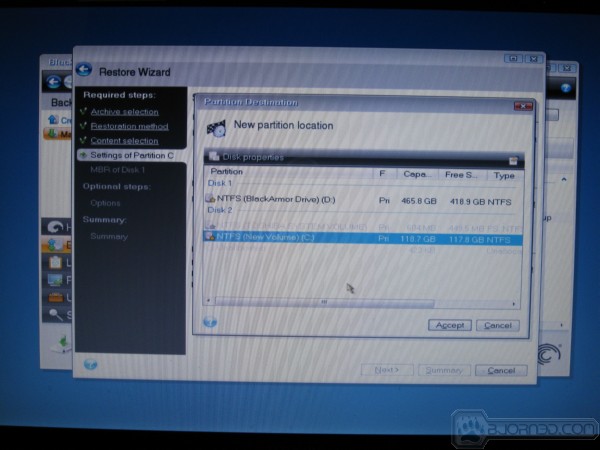 Then we highlighted the SSD we had installed and clicked accept.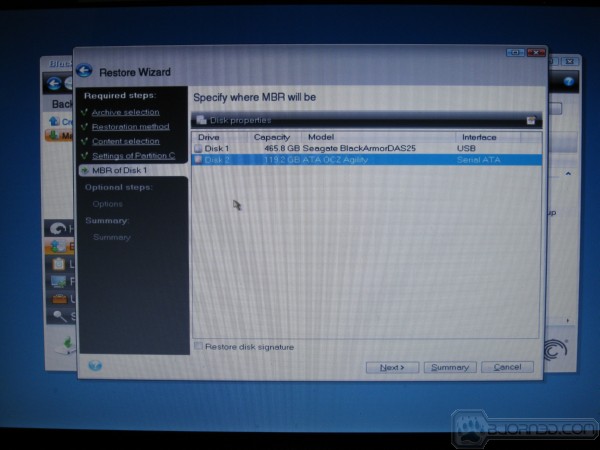 We had the OCZ Agility SSd installed because Seagate informed us that having a 5900 RPM drive installed in the laptop might slow down benchmarking some. We couldn't have that so we went to a SSD capable of speeds in excess of 200MB/s. Full speed benchmarking ahead! After selecting the drive we clicked next.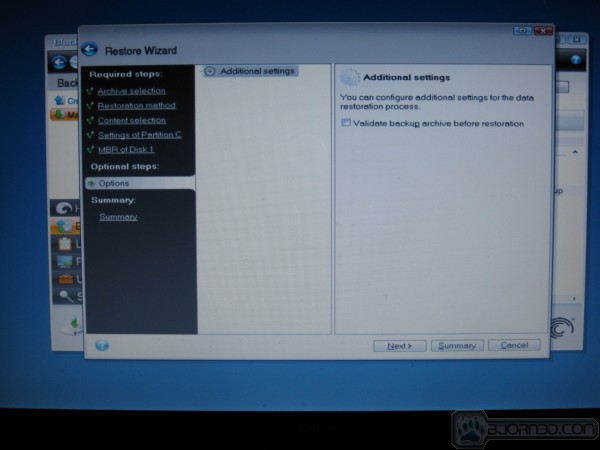 We didn't validate the backup archive because, obviously we were sitting on a crashed drive (And we had done a run through of this operation previously so we know it's good). We just clicked next and said a little computer prayer.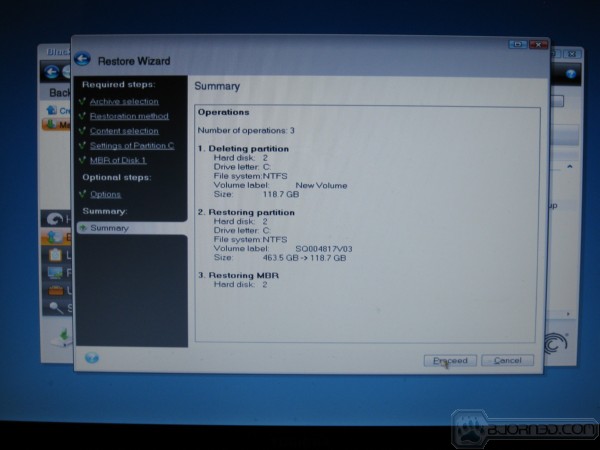 Here's where you want to pay attention. Deleting partitions is a serious thing so make sure the target drive is the correct one before clicking proceed.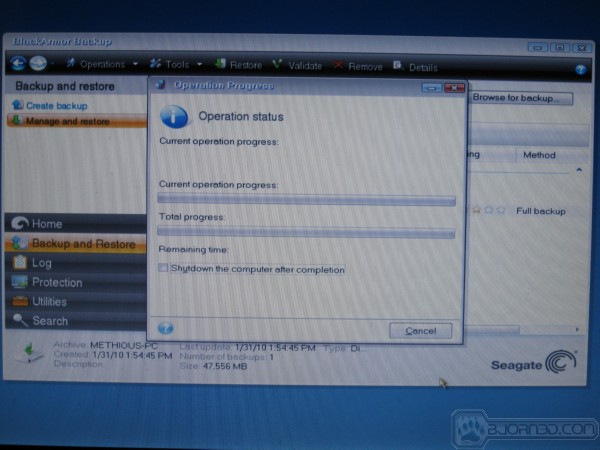 At this point we just made a pot of coffee and waited for the restore to complete. It took about 30 minutes thanks to the faster SSD we had installed.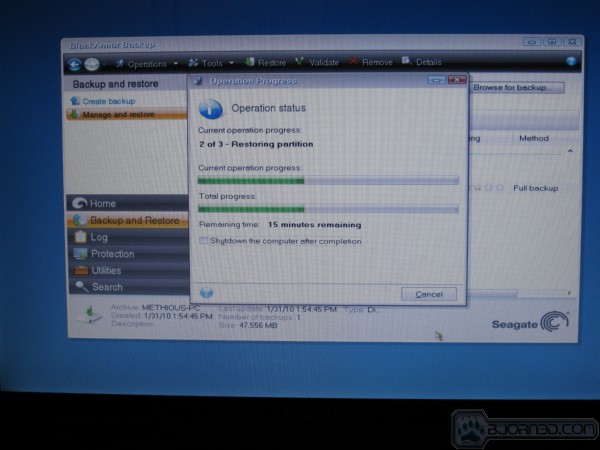 And we are still waiting so we took a progress shot of the screen.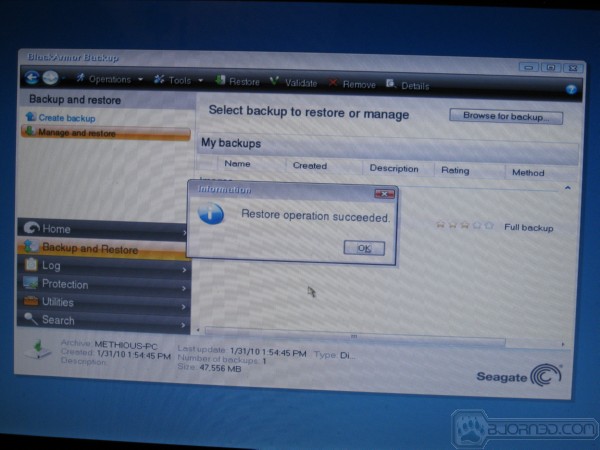 The a little later we were greeted with a Restore operation succeeded dialog box. You should know, if you have any experience with dialog boxes they are notorious liars. They;ll look you right in the face and tell bald faced lies sometimes so rather than take the dialog boxes word for it we clicked ok and the rig attempted to reboot.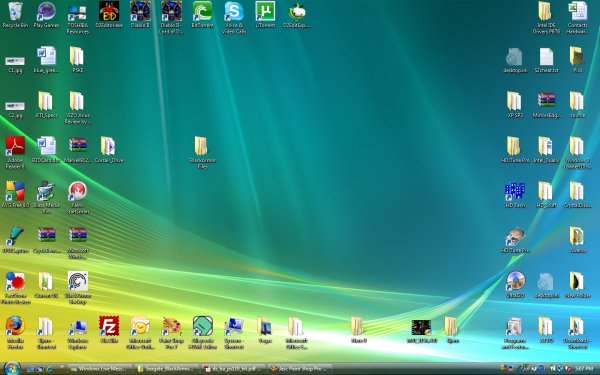 We were greeted with a completely functional primary boot drive with Operating system ready to go. Notice the task windows on the task bar at this point we had already tested a few programs to make sure they work. Good job Seagate you already saved up a ton of work loading a faster drive to benchmark the BlackArmor PS110 with.
Speaking of benchmarking lets get on to that.
Benchmarks
For benchmarking the Seagate Black Armor we went with the normal suite of hard drive testing software. Initially we were going to chart against external USB 2.0 drives but the BlackArmor PS110 slaughtered them so badly performance wise there wasn't much point. The BlackArmor PS110 operates more than 3x faster than traditional USB 2.0 drives and simply dominates them so we went with screenshots of the benchmarks.
We ran each benchmark 3 times and are reporting the median speed of each benchmark here. We used a functional working mans laptop and didn't strip out the operating system or disable a bunch of background tasks to make benches run faster. We see that a lot where reviewers run a stripped OS or a fresh load of the OS to bench an external drive. An external drives whole point is to hook it to an existing system that already has a functional operating system. The average end user isn't going to reload his machine and strip out background tasks to run an external drive so this is a lot more realistic to represent the performance you will get. That being said we aren't running any heavy background tasks and CPU usage on the laptop runs about 2 – 3% at any given time at idle.
We are using a run of the mill Toshiba Satellite locally purchased at our favorite Wal Mart. It has an Intel T5800 2GHz dual core processor and 4GB of memory with Windows Vista home premium 64 bit. It features an ICH9R northbridge and we have the OCZ Agility 128GB SSD installed because Seagate let us know that a slower internal HD might cause benchmarks to show the BlackArmor PS110 running slower. Like we said it's nothing special, no background tasks were disabled and it's a fair representation of your average everyday working mans laptop.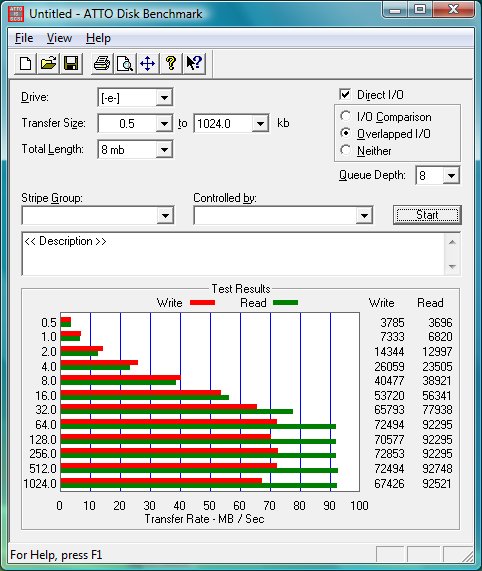 In ATTO all drives start out on the slow side because of the small transfer size and the Seagate PS110 isn't an exception here. At 0.5kb it hits 3.785MB/s write and 3.696MB/s Write. The BlackArmor PS110 picks up speed quickly from there and at 16kb transfer size it hits 53.720MB/s Write and 56.341MB/s. Performance levels out at 64kb when the drive hits it's stride and write speeds are in the 70MB/s range and reads stay in the 92MB/s range.
Having seen SSD's run at 250MB/s that doesn't look like blazing speed but lets take a little reality check. It doesn't matter what drive you hook to a USB 2.0 port it will max out at between 22 – 30MB/s and 30MB/s is the exception not the rule. Generally USB 2.0 drives, platter and SSD as well as Thumb drives, tend to run at 25MB/s. The BlackArmor is running at 92MB/s on USB 3.0 and that's more than 3 times the speed of USB 2.0. Like we mentioned earlier it's not really fair to compare external drives to internal drives but we have seen plenty of internal platter drives that don't run as fast as the BlackArmor PS110.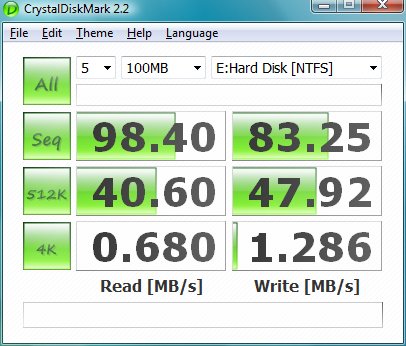 CrystalDiskMark is showing us a sequential read speed of 98.40MB/s and 83.25 write. When we get to the 512k test we see 40.60MB/s read and 47.92 write. The 4k test is brutal to all drives and the small 4k transfer size slows down every drive we;ve seen to a crawl. The 4k read test shows the BlackArmor PS110 at 0.68MB/s read and 1.2MB/s write. That's pretty typical for hard drives in the 4k test. For internal hard drives anyway but once again the Seagate BlackArmor PS110 is showing us internal speeds in an external USB 3.0 laptop adaptor kit. You just can't ask for much more than that.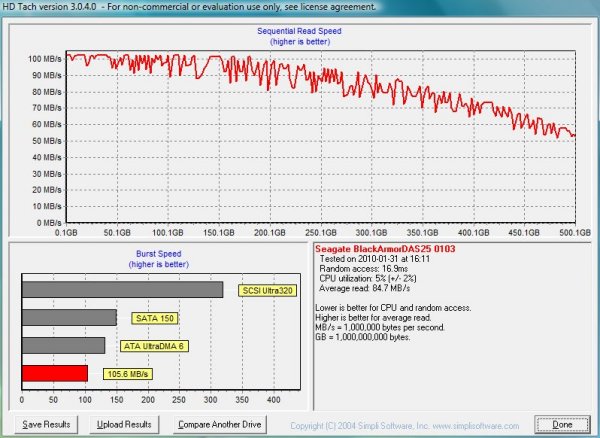 Hard Drive Tach shows a burst rate of 105MB/s and an average read speed of 84.7MB/s with a random access time of 16.9ms and CPU usage of 5% plus or minus 2% which is a little higher than we've seen from most USB 2.0 drives. This is an ExpressCard USB 3.0 adapter kit so we expect a little heavier CPU usage during benchmarks.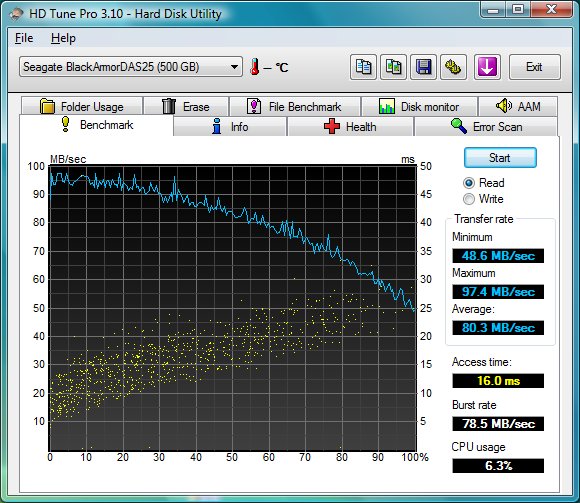 HD Tune Pro we get a minimum speed of 48.6MB/s when the read head hits the end of the hard drive platter and slower speeds are normal there. The Maximum speed we see is 97.4MB/s and the average is 80MB/s. The access time almost matches the previous benchmark and runs at 16ms. The burst rate was a little slow on this test that's probably test specific because previous tests showed a higher burst rate. CPU usage still ran a little high at 6.3% but that's just one of the things external drives are know for. The higher CPU usage is a good trade off for the much higher transfer rates and convenience of add on storage.
Conclusion
It has quickly become apparent that a new era of external storage is well underway. While we've had Firewire and E-Sata that rivals the speed of USB 3.0 we've never had speeds like this so universally portable from machine to machine.
With speeds in the 90MB/s range from a 2 1/2 inch external drive we are very happy with the Seagate BlackArmor PS110 Portable Drive USB 3.0 Performance kit. We have seen large bulky USB 3.0 drives in a 3 1/2 inch form factor that run slightly faster but nothing with this level of portability.
We always get this, "A USB 3.0 external SSD will beat it's performance". Yes it probably will but at 500GB of storage it will cost you around $1000. What the Seagate BlackArmor PS110 brings to the table is reasonably affordable external storage with business class backup software that rivals internal platter hard drive speeds.
We backed up our lab laptop on the BlackArmor PS110 and it took 33 minutes where previous backups on USB 2.0 drives took 6 – 7 hours. We did a restore from the BlackArmor backup and that took about 30 Minutes. Previous restores from a 2 1/2 inch USB 2.0 external drive took the same 6 – 7 hours. Lets figure best case, backup and restore on USB 2.0 took 12 hours, it took 63 minutes on the BlackArmor PS110 with the included BlackArmor Backup software. That's a savings of 11 hours and that's productivity time.
We had been resorting to drive clones and had to have one spare hard drive per machine for every clone we did. Considering we have 9 or 10 machines running at any given time that's a lot of hard drives. Our normal benchmark load runs about 50GB for non-GPU testing machines. So we can reasonably expect to backup 9 machines on the BlackArmor PS110 500GB drive saving us 8 hard drives that can be used for different tasks. That's 8 hard drives at close to $75 per 500GB drive (3 1/2 inch internal small cache drives) or $600 worth of drives re-tasked.
Blazing speed compared to USB 2.0, much less expensive storage than SSD's, universal portability, backup times cut from 6 – 7 hours to 33 minutes, restores in 30 minutes, rescue media for when the HD crashes how much more can you ask from external storage?
We are happy with the Seagate BlackArmor PS110 Portable Drive USB 3.0 Performance Kit. It's not often that a product comes along and literally saves you 44 hours a month, that's figuring 4 backups a month which is what we normally do on the lab laptop. Now 44 hours times 12 months is 528 hours a year. It's that or we can rip out the drive and backup on a desktop by slaving the drive to the desktop and we are here to tell you that is a major pain so we are very happy with the BlackArmor PS110.
The blazing USB 3.0 speed without backup capabilities would have been enough to thrill us. Toss in BlackArmor Backup (powered by Acronis) and the deal is even sweeter. The BlackArmor PS110 is a choice that makes sense on a lot of levels. Laptop USB 3.0 upgrade, faster speeds, easy and fast backups, external storage that won't slow down dedicated road warriors, and a rock solid 5 year warranty from Seagate one of the most trusted name in storage.
OUR VERDICT: Seagate BlackArmor PS110 Portable Drive
| | |
| --- | --- |
| Performance | 9 |
| Value | 8 |
| Quality | 10 |
| Features | 9 |
| Innovation | 10 |

We are using an addition to our scoring system to provide additional feedback beyond a flat score. Please note that the final score isn't an aggregate average of the rating system.

Pros
Cons

Feature Packed

ExpressCard USB 3.0 Laptop Upgrade

90MB/s From External Storage That's Universally Portable

BlackArmor Backup Software Included

All In One Upgrade Kit For ExpressCard capable Laptops

USB 2.0 Backward Compatible

Can Be Used On Desktops With And Without USB 3.0 Capabilities

5 Year Warranty

Carrying 2 Cables, Adaptor Card And Drive

No Storage Case Included.

 
Summary: The Seagate BlackArmor PS110 Portable Drive USB 3.0 Performance Kit provides blazing external storage speed in a laptop upgrade kit that offers universal portability, easy backup, and tons of external storage for your files. With our potential time savings of 528 hours a year just backing up one laptop weekly it's a solution we can't afford to live without.