The Asus BD-Combo drive reads Blu-Ray Discs and reads and writes DVD and CD Discs making it a versatile choice for today's computing needs. The Cyberlink Software sweetens the deal
Introduction
Computer drive standards come and go but not nearly as often as a lot of the other components. Drive standards take time to mainstream and since Blu-Ray won out over HD-DVD it's looking like the next Optical Drive standard is pretty much a done deal. Storing 27GB (single sided) or 54GB (Dual Layer Disc) it's by far the largest optical storage device widely available for the desktop platform.
Right now Blu-Ray drives are in the still pricey but not in the "Cutting Edge" price range. We've seen Blu-Ray Combo drives dropping to the $100 – $120 price range and as they mainstream the prices are sure to drop even farther. If you've been around computers for a while you'll remember CD burners that cost $270 and ran at 2 – 4x with semi-unreliable results and expensive disks that ran about $1 each. Now CD burners are old technology and 50 discs cost $14 and the drives are in the $20 price range. The same thing happened with DVD drives and DVD burners, at first they were very expensive and discs were priced at more than we like to pay. Now DVD burners are around $20 and discs run about $0.50 for high quality disks.
The same thing should happen to Blu-Ray but for now Blu-Ray Combo drives are in the "Still New but not Cutting Edge" price range. Blu-Ray Burners are priced sky high but the Combo drives that can read Blu-Ray but write DVD and CD are in a more attractive price range. Combo drives help bridge the gap between drives before they go totally mainstream and prices drop yet still give you access to read the newer format.
Since prices on the Blu-Ray combo drives have started to drop we got with Asus and obtained an Asus Blu-Ray BD-Combo (Model BC-08B1ST) that reads Blu-Ray and writes and reads DVD and CD format discs. Packed with Asus's innovative technology and Blu-Ray playback capabilities, the BD-Combo drive provides amazing HD content for HTPC and computer movie playback and a significant amount of bragging rights.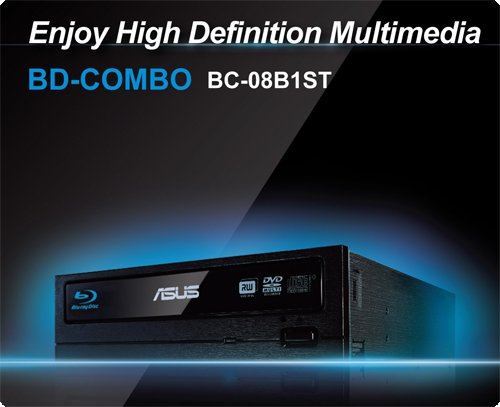 Features & Specifications
The ASUS BC-08B1ST is a powerful and energy-saving Blu-ray drive capable of reading/writing DVD's and CD's and reading Blu-Ray disks. Capable of boosting DVD format to almost HD format using TTHD and has disk encryption capabilities the BD-Combo drive has a good combination of performance and features.
TTHD (True Theater High Definition)
TTHD Technology is an innovative suite of advanced video enhancement technologies that deliver unsurpassed quality for DVD movies on PC-based home-theater systems.
TTHD fills the gap between standard resolution content and high-definition display capabilities, Boosting DVD video quality to achieve HD-like results and smoother playback, TTHD enables you to enjoy your high definition display.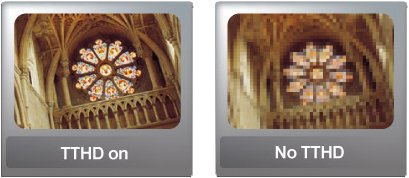 Disc Encryption
Disc Encryption allows you to protect an entire disc or its partial contents with a password. Disc Encryption features provide 128-bit encryption for protecting data discs. Users can protect an entire disc or partial content. It also allows users to hide the names of files. Users can protect their important data easily and flexibly.
E-Green (Energy Green Engine)
The innovative drive E-Green Engine technology features an E-Green Mode that automatically closes drive applications when not in use to help conserve energy – helping the environment by decreasing CO2 emissions and reducing the depletion of trees.
OTS (Optimal Tuning Strategy)
With OTS, the drive will perform a test before really burning which generates the optimal burning strategy automatically for the best burning quality.

Specifications
Write Speed
DVD-R: 16X,12X,8X,6X,4X
DVD-RW: 6X,4X,2.4X
DVD+R: 16X,12X,8X,6X,4X
DVD+RW: 8X,6X,4X,2.4X
DVD+R(DL): 8X,6X,4X,2.4X
DVD-R (DL): 8X,6X,4X
Read Speed
BD-ROM/R/RE: 8 X max.
DVD-ROM (Single): 16 X max.
DVD-ROM (Dual): 12 X max.
DVD-RAM: 12 X max.
CD-ROM: 48 X max.
CD-R: 48X,40X,32X,24X,16X
CD-RW: 32X,24X,16X,10X,4X
DVD-RAM: 12X,10x,8x,6x,5X,3X,2X
Access time
BD: 250 MS
DVD: 150 MS
CD: 150 MS
Writing Mode
DVD-R & DVD-R(DL): DAO(Disc-At-Once)/Incremental Recording (Multi-Border Recording)
DVD-RW & DVD-RW (DL): DAO(Disc-At-Once)/Incremental Recording (Multi-Border Recording)/Sequential Recording (Multi-Session Recording)
DVD+R & DVD+R (DL): Incremental Recording (Multi-Border Recording)
DVD+RW & DVD+RW (DL): Random Recording
O/S Compatibility
Windows 2000
XP compatible
Vista compatible
Win 7 (Per Bjorn3D testing)
Interface
Data Buffer
Disc Formats
Write: DVD+/-RW,DVD+/-R,CD-R,CD-RW
Read: BD-ROM,BD-R,BD-RE,DVD-ROM,DVD+/-RW,DVD+/-R
Disc Diameters
MTBF
60000 Power On Hours
Operating Duty Cycle (Read) 20 % POH
Operating Duty Cycle (Write) 2 % POH
Mounting Orientation
Vertical and Horizontal ( +5 ° ~ -5 °)
Dimension(WxHxD)
41.3x146x185 mm (W x D x H)
Weight
Power Requirements
Temperature
Operating: 5℃ to 50℃
Storage: -40℃ to 65℃
Pictures & Impressions
The Asus BD-Combo drive arrived in great shape and was nicely packed in a box covered in information and specifications to help inform the consumer about the product.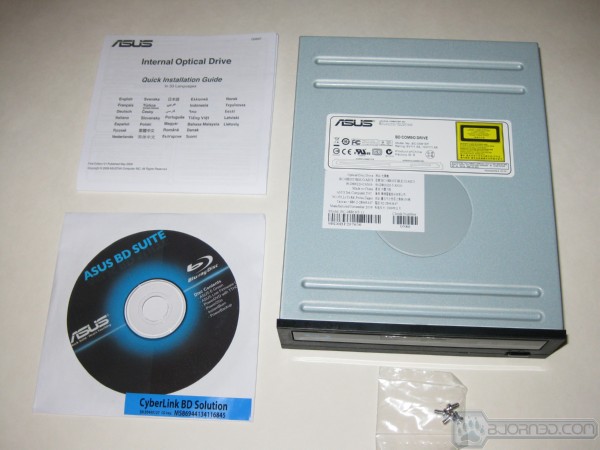 Like most retail box drives the Asus BD-Combo drive came with a Manual (in more than 30 languages) and a software suite, in this case Cyberlink BD Suite, the drive itself and 4 screws to secure the drive in your chassis.
Here's a shot of the sticker on the drive so you can verify the model number if you are looking to buy a Blu-Ray drive. We can easily recommend the Asus BD-Combo for it's functionality and bundled software.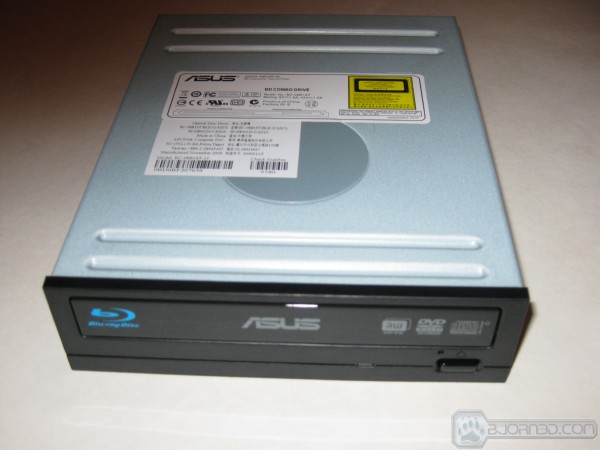 Looking from the face back the only difference between our Asus DVD burner and this drive, cosmetically speaking, is the Blu-Ray logo on the drive door.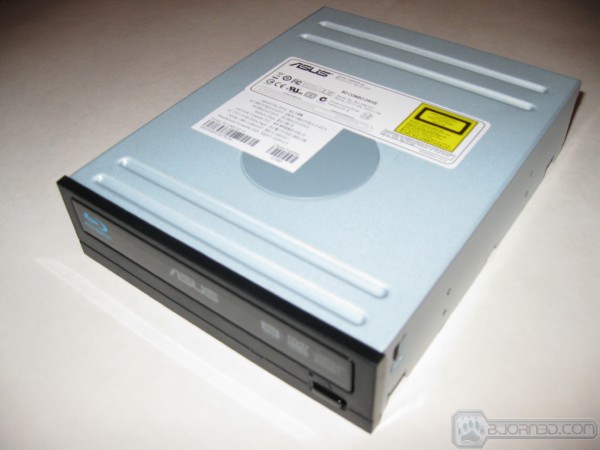 Like most drives once you get past the front face it's pretty much a grey metal chassis with a sticker on it but then optical drives aren't known for their good looks.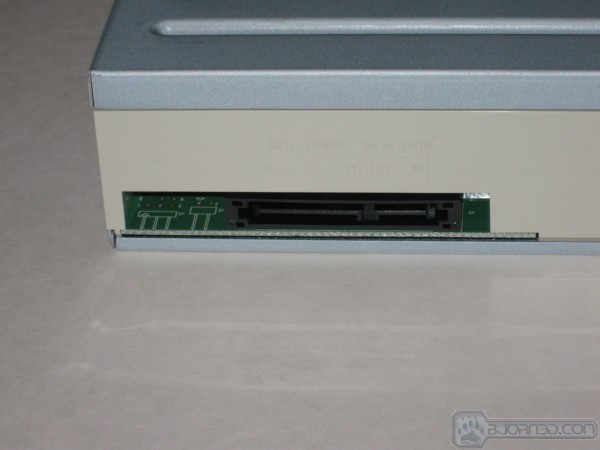 The drive has a Sata and power connector and no Audio output but that's not a big issue for us because if you are going for Dolby sound above 2.0 there are ways to get surround sound without a dedicated sound output on the drive itself.
Cyberlink BD Suite
Since the Asus BD-Combo drive came with the Cyberlink BD Suite we are going to cover the Suite in a "Review Lite" manner. While we tested the suite in every way we felt it needed to be tested we are not covering it in depth.
We played back several Blu-Ray movies flawlessly, read and wrote DVD +R and CD +R, retail games, retail software, and about any type of disk you are liable to come across in daily use.
You should note that certain system requirements have to be met for Blu-Ray playback in that everything in the Blu-Ray chain needs to be HDCP compliant in order to watch Blu-Ray movies on your computer. If you happen to run into HDCP errors during the install there are two roads to take, Cyberlink has a diagnostic utility that the Cyberlink BD Suite will offer to let you download and you can trouble shoot that way, or you can buy a copy of AnyDVD and it will (in most cases) eliminate the need for HDCP compliant hardware.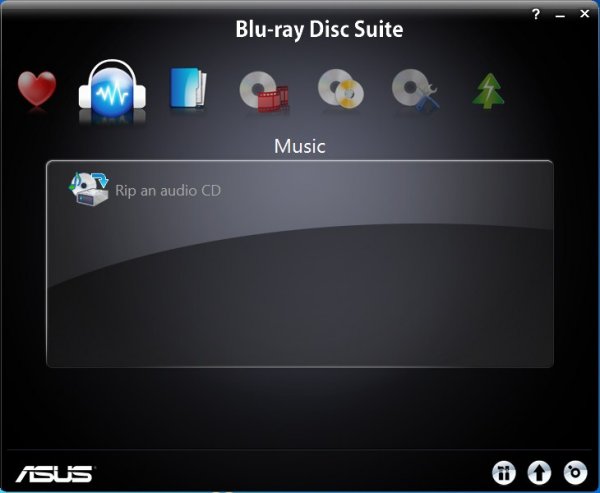 Cyberlink BD Suite puts a launcher Icon on the desktop and when you click the icon you get this screen that leads you to all the functionality of the Suite in one spot.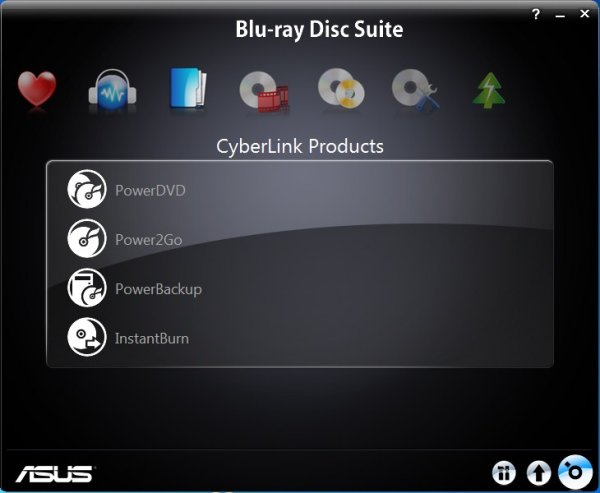 The programs included in the suite make it a full featured suite suitable for most end users and unless you have special needs there's really no need to purchase another suite to accomplish most tasks.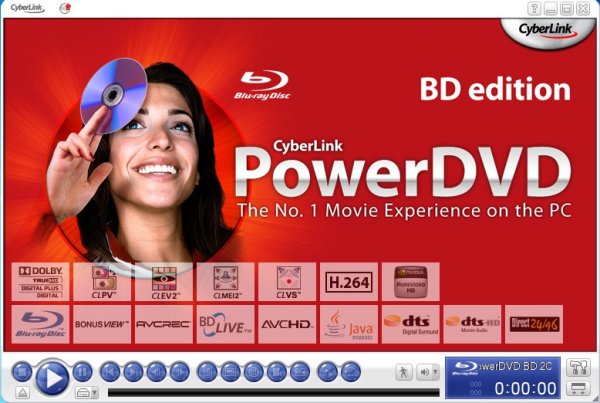 Since we are looking at a Blu-Ray combo drive the first one we fired up was Cyberlink PowerDVD BD edition which can (and did) playback DVD and Blu-Ray content. In our case the first two movies we watched were Live Free/Die Hard with Bruce Willis. One on DVD and one on Blu-Ray. That may seem a little strange watching the same movie twice in two different formats but we watched it first in DVD format then Blu-Ray format and we have to tell you there was noticeable improvement on the Blu0Ray version.
Playback is in VCR format and right click gets you a drop down text menu. We tried both the drop down and VCR controls and both worked well. If you have to shut your movie down prematurely the software remembers where you were and offers to take you back to the point of interruption.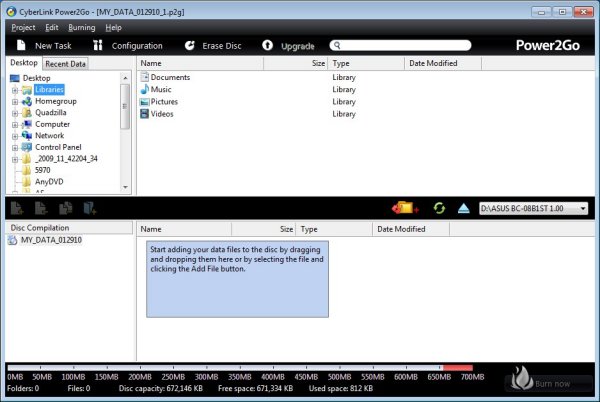 Power2Go of course has CD Data burning capabilities in the easy to use, easy to understand drag and drop format or you can old-school with the click and click add method.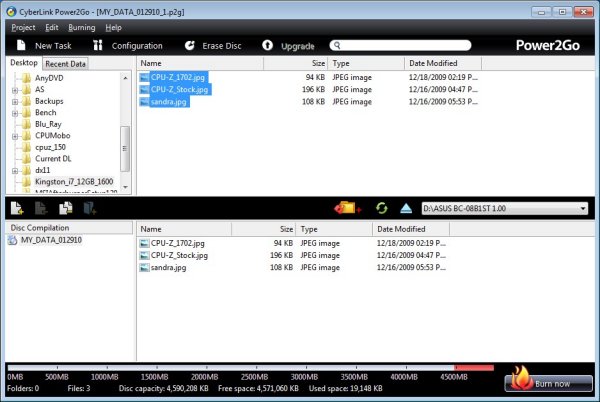 The same thing goes for DVD burning in this shot we selected 3 files and dragged and dropped them in the bottom window and from there you just click burn now and the software prompts you to insert a disk (if you haven't already) We burned several CD's and DVD's without error and the burns went fast so we are good with Asus's selection of the Cyberlink Suite.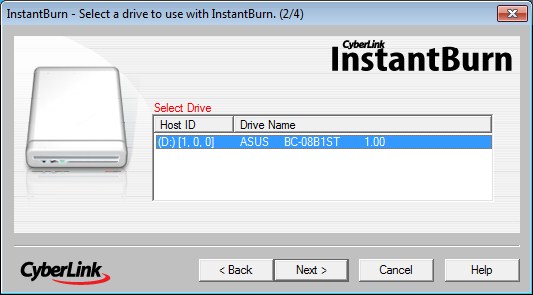 Instant Burn, drag and drop to the drive directly but unless we miss our guess the disk needs to be formatted first. (We aren't guessing we use InstantBurn, just format the disk and drag and drop on the drive Icon)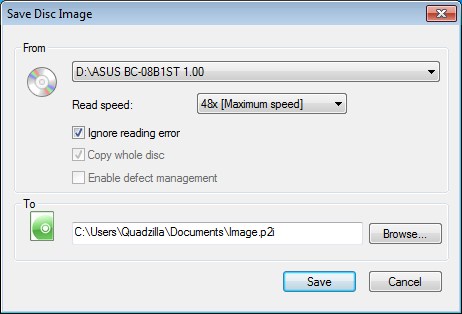 This is the one area where Cyberlink fell short, at least for us. The only option we found was to burn a disk image in .p2i format and formats like ISO and others just weren't apparent. We prefer Image software to provide a wide variety of ISO formats for compatibility reasons so if you image disks a lot or DL images you might need 3rd party software.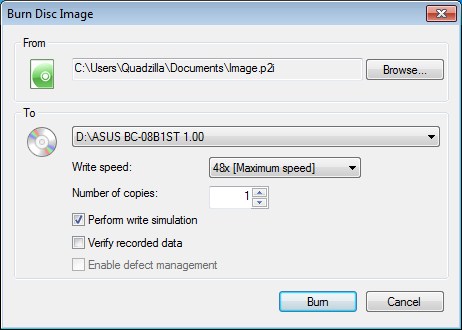 Same thing goes for the Burn Disk Image section, it's an exclusive club and we only found the .p2i format supported. This would be acceptable if you Image your own disks for archival purposes but if you have an ISO or other format you'll be looking for a different imaging software.
The Suite also includes an Audio CD Ripper which will come in handy for converting your CD collection into your preferred computer format.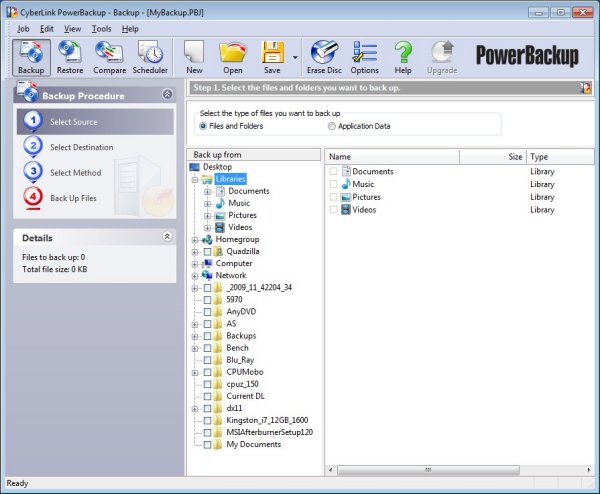 We didn't get a chance to test PowerBackup because time was running short but in our experience backup programs that run inside Windows exclusively can't back up your Operating System and only take care of Data. That's all good if you need your data protected but if you want a complete hard drive image you'll likely be looking at Acronis, NTI, or Norton Ghost.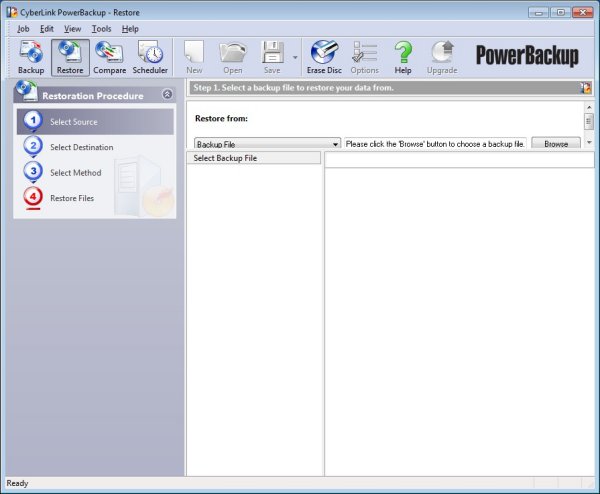 Once you've backed up your files you may eventually need to restore them so there is, of course, a PowerBackup Restore screen.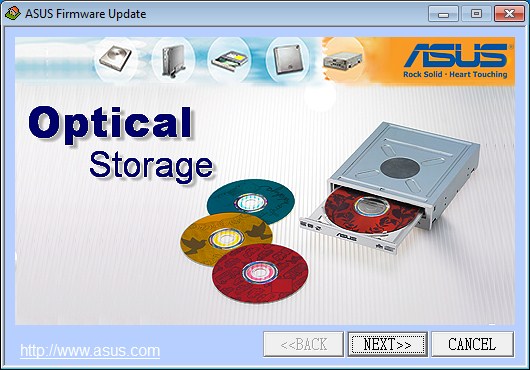 The last and (to us) most interesting is a drive firmware update utility so when Asus improves the firmware you can upgrade to the new firmware with just a click or two. We checked for new firmware and the program found that we have the latest firmware so we couldn't test it on a firmware update. In matter like this we trust Asus and we are confident that the firmware update software will indeed update the drive and short of a catastrophic power failure interrupting the flash it won't kill the drive.
Testing & Methodology
To test the Asus BD-Combo drive we did a fresh load of Windows 7 Ultimate 64 Bit, loaded all the latest drivers, made sure the BIOS was the newest available then updated Windows 7 with all the available patches.
Once we had the drivers and rig up to par we loaded the Cyberlink DVD Suite and Opti Drive Control. Opti Drive control is an optical drive testing suite and frankly we haven't found any better or more comprehensive optical drive testing suite available.
We ran each test three times and took the median result of the three tests. Since Opti Drive control produces a graph of the results we are using the graphs generated by Opti Drive control and presenting screenshots of those results.
Test Rig
Since Blu-Ray playback is much more demanding on your computer than DVD Playback we went with our heavy duty Quadzilla rig which is an Intel i7 965 Extreme sitting on an Asus P6T6 WS board. Here's a table of all the components we used but in reality a nice dual core system with 4GB of ram is probably enough for Blu-Ray playback. Older systems will likely struggle with Blu-Ray playback so if you are sitting on an older system please check your rigs specs to make sure they meet the requirements prior to purchasing a Blu-Ray drive. On top of computer specifications you also need to make sure your rig is HDCP compliant on the GPU and Monitor as well as the connection type between the monitor and computer. Most modern GPU's support HDCP playback through DVI or HDMI, if both your Monitor and GPU have HDMI then you are probably good to go for HDCP. If you are on DVI then make sure the GPU and Monitor support HDCP through DVI and if you run into problems, you are probably better off purchasing AnyDVD which bypasses HDCP, than to spend mega-bucks trying to bring the hardware up to compliance.
As you can see the test rig has more than enough horsepower for Blu-Ray playback so rig based bottlenecks won't be an issue.
Why is it called Blu-Ray
You find out all kinds of interesting facts when reviewing products. Most times we just file it away for later reference but sometimes we like to toss a little education into the review process.
CD-ROM, DVD, and Blu-Ray drives are called optical drives because they use lasers to read data from discs. That data is stored as pits in spiral grooves that run from the center of the disc to its edges. The Laser reads the other side of the pits (the bumps) and interprets those bumps as data. Since a Laser is reading the bumps the drives quickly became known as optical drives.
CD-ROM's (wavelength 780nm) and DVD's use a red laser with a wavelength of 650nm. Blu-Ray uses a Blue Laser that has a shorter wavelength of 405nm. In other words Blu-Ray uses a Blue Laser and since the Laser is blue they adopted the name BLU-Ray. Since the laser has a shorter wavelength (a more precisely focused beam) This enables the beam to read data recorded in pits that are only 0.15 microns (µm) (1 micron = 10-6 meters) long which is more than twice as small as the data on a DVD. Blu-Ray reduced the pitch of the track from (DVD) 0.74 microns to 0.32 (Blu-Ray) microns. The smaller pits and tighter tracks allow for storing more data.
Each Blu-ray disc is about the same thickness (1.2 millimeters) as a DVD. But the two types of discs store data differently. In a DVD, the data is sandwiched between two polycarbonate layers, each 0.6-mm thick. Having a polycarbonate layer on top of the data can cause a problem called birefringence, in which the substrate layer refracts the laser light into two separate beams. If the beam is split too widely, the disc cannot be read. Also, if the DVD surface is not exactly flat, and is therefore not exactly perpendicular to the beam, it can lead to a problem known as disc tilt, in which the laser beam is distorted. All of these issues lead to a very involved manufacturing process.
The Blu-ray disc overcomes DVD-reading issues by placing the data on top of a 1.1-mm-thick polycarbonate layer. Having the data on top prevents birefringence and therefore prevents readability problems. A hard layer is placed over the data to protect it.
Now here's the kicker to CD-ROM/DVD production. CD's and DVD's are produced as two 0.6mm disks and the data medium is sandwiched between. The 0.6mm disks are done by plastic injection and the manufacturing process is complicated and precise in order to prevent birefringence. Blu-Ray is still made with plastic injection but it's a single disk 1.1mm in thickness which offsets the cost of adding the protective layer. Blu-Ray disks don't cost any more to produce than CD/DVD discs cost to produce.
Since they don't cost any more to produce than CD/DVD why do they cost so darn much? Because vendors charge what the market will bear. We see that Blu-Ray stores more than CD/DVD so it must cost more. It costs us more, the vendors make out like a bandit on the discs themselves. Part of that is because fewer people are buying the discs and when Blu-Ray mainstreams and more people buy the discs they will get cheaper. The other part of that is corporate greed. "We can charge it so we do charge it". In reality lower cost discs would prompt more people to buy the media so they would sell more. Until Blu-Ray mainstreams you can still expect to pay between $2 and $8 for a Blu-Ray burner disc which according to everything we read doesn't cost any more to produce than a CD/DVD.
Now we aren't going into transfer speeds on CDROM so if you want that data, go digging on your own. DVD's are more current and they transfer at 10 Mbps, Blu-Ray has a higher data transfer rate — 36 Mbps (megabits per second). All things equal a Blu-Ray burner can record 25GB of data in about an hour and a half (1x). The larger data capacity and greater speed make Blu-Ray a better, yet more expensive, storage media then previous formats.
Is Blu-Ray the end all be all of optical storage, probably not Panasonic is working on an optical drive that uses Ultraviolet which has an even shorter wavelength than Blu-Ray and theoretically can store up to 500GB. Imagine how much those discs will cost. In the mean time Blu-Ray is as good as it gets (since the premature death of HD-DVD).
Well that's Blu-Ray basics 101 but if you want to see more information like this feel free to let us know.
Blu-Ray
For Blu-Ray testing we watched 3 or 4 movies and read from Blu-Ray data discs but our primary focus was on Blu-Ray movies. Since this isn't a Blu-Ray burner we used commercially pressed discs and not Blu-Ray burner copies. We did read several Blu-Ray burner discs just to confirm that the Asus BD-Combo drive had no problem with them and it read the discs with no problems. What you run into with any Blu-Ray burner disc is the disc quality itself. Like most things "computer", there can't just be one quality and generally the higher the quality the higher the price. Commercially prepared movie discs are usually high quality and avoid the whole "What if you used this disc" rhetoric. Your results will vary with the quality of disk you use. We went with Live Free/Die Hard with Bruce Willis and the Blu-Ray disc is in completely pristine condition. Not one scratch or smudge on the discs we used, they are in factory new condition. In fact they are factory new and just opened. Once we conclude testing they go back into the jewel cases and wait for more devices to test ensuring continuity of testing.
Now to Blu-Ray drives. With Blu-Ray drives all you need for Blu-Ray playback is a 1x speed. The 8x speed the BD-Combo drive is capable of is a fairly new development and 8x discs (commercially pressed) just aren't available. You can find the occasional "Up to" 8x burner disc but then your back to what quality is the disk. The movie we chose and all the movies we tried came on 4x Dual Layer discs so until we find a commercially pressed 8x disk the 4x type will have to suffice.
The 8x factor isn't an issue with playback but it is for say archiving your Blu-Ray collection to hard disk. At 40 – 50GB a shot not many people are doing that. It will however make a big difference in the Blu-Ray rip speed.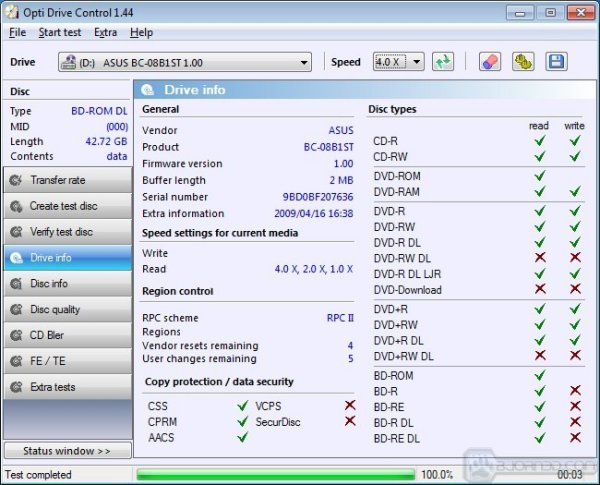 The movie itself has 42.72GB of data and here's a screenshot of the drive and movie disc results reported by Opti Drive Control. As you can see the drive will read BD-Rom, BD-R, BD-RE, BD-R DL and BD-RE DL which should tell you that the Asus BD-Combo drive is a Dual layer drive. As for DVD and CD formats the drive reads about every DVD and CD format we've ever heard of.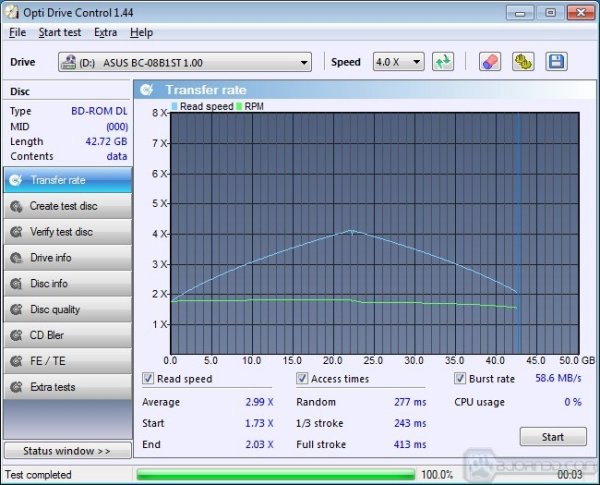 The transfer rate test took just under an hour and the drive peaked out at the 4x speed of the disc itself. When/if we run into an 8x commercially pressed disc we can update the review. It's going to be a while before we encounter an 8x movie disc so don't hold your breath.
Average transfer rate was 2.99x and the drive came out of the gate at 1.73x and ended with a 2.03x. The random access time was 277ms and the 1/3 stroke access time was 243ms with nominal CPU usage (0% according to Opti). The drives RPM's held pretty steady through the first half of the test then dropped off slightly in the last half. That's likely the drive adjusting for the position of the read head on the disk. All optical drives (in sequential storage like movies) read from the inside hub of the disk moving to the outside hub because optical drives start storing data on the inside hub of the disc. Meaning unlike phonograph (yes I'm old, I own records) records which store from the outside edge in, Optical discs store from the inside edge out. So at the beginning of the disk (the center) there's only a small amount of data passing the drive head when compared to the outer edge.
Now notice that the speed peaked at 22GB, one side of the Dual layer disk contains 25GB s unless we miss our guess that would be the drive reaching the outside edge of that disk where more data is going past the read head. Then the read starts to slow down again so what we believe is happening is the drive is reading from the inside edge of the first disk until it hits the outside edge of that layer then reading from the outside edge of the second layer and reading to the inside edge making the nice tent shaped graph. We haven't taken the time to verify that and if you know for a fact that isn't what the drive is doing feel free to click on my name in this review and E-Mail me with the information you have and I'll verify the information and update the review. If you E-Mail me about that include the link to the information so I can cross check it against the information I found on the subject. While we are amused by the rants of readers with unsubstantiated information, unsubstantiated information is no good to us. 
DVD
We did pretty much the same thing for DVD as we did for Blu-Ray, we watched the same movie Live Free/Die Hard which was a little boring but there's no better way to see the difference between DVD and Blu-Ray. Trying to translate that difference to a 600 pixel wide picture and show you in this format is useless. You get two pretty pictures that look good but show no difference here.
The difference on the computer/television screen we viewed the movie on it made a tremendous difference. You get a much crisper picture in Blu-Ray HD than DVD format. Once again the Asus BD Combo drive had no problem with the 2 or 3 DVD movies we watched.
Again we used factory new discs, both commercially pressed movies and DVD Burner discs. We can't see going into DVD movie transfer rates. The BD-Combo drive played Blu-Ray which is much more demanding so you know it will play DVD's with no problem. We focused on the Asus BD Combo drives ability to burn discs. We also read 10 or 15 discs burned on different machines on different drives and the BD-Combo drive had no issues with those discs. Now lets get to some DVD Burn results.
Verbatim 8x DVD+R 4.7GB
We tested some Verbatim 8x discs we had around (yes we also tested 16x) and here are the results of those tests.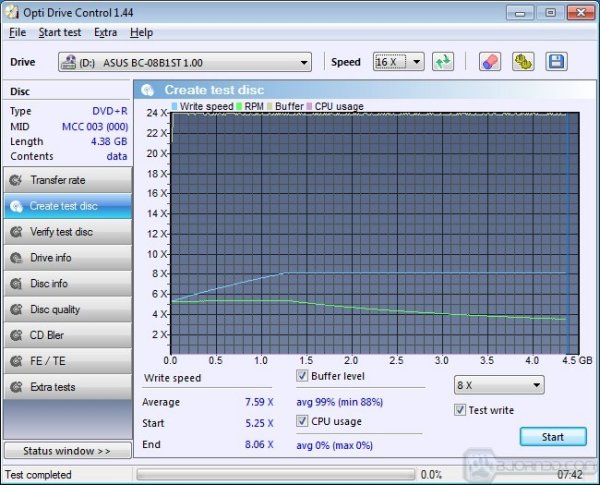 At 8x the Verbatim single sided disc just wasn't a challenge for the Asus BD-Combo drive. The drive hit it's stride at 1.2GB of data written and stayed at 8x the rest of the disc. Average speed was 7.59x and the process started at 5.25x and ended at 8.06x. Buffer usage averaged at 99% but the initial buffer load caused a minimum load of 88%. The entire 4.38GB of data written took 7.42 Minutes. Now these are rough numbers so if you don't mind, will the precision math freaks please let it pass. We don't need 35 E-Mails from egocentric eggheads with calculators E-Mailing us saying :here's the exact numbers." We stated these are rough numbers and just used to give you an idea of data transferred per second. Taking a raw 4.38GB of data and dividing it by 7.42 minutes converted to seconds we get 9.329 Million Bytes per second.
Maxell 16x DVD+R 4.7GB
We also tested Maxell 16x DVD+R 4.7GB disc's. Most people, in our experience, use single layer burner discs to write data to. These are locally available high quality discs that are in common use. We aren't particularly interested in testing every brand bargain disc out there. This isn't a disc review it's a drive review so we are going with discs you can purchase locally from any number of retail outlets.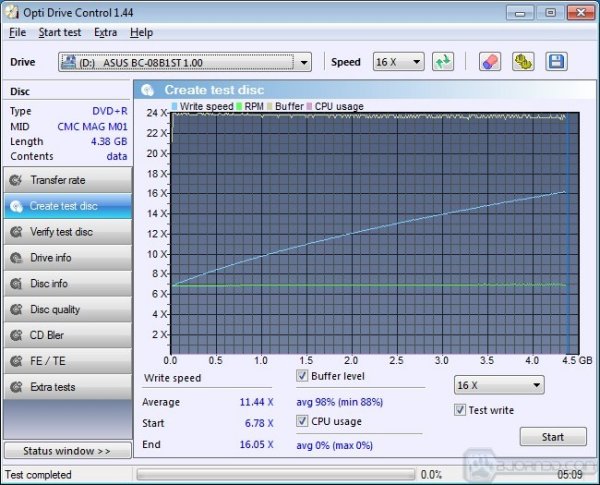 The Asus BD-Combo drive starts out at 6.78x and averages 11.44x. At the very end of the disk it hits 16.05x and the drives RPM's remained almost completely level the entire test. Again we see nominal CPU usage (0%) and the whole burn took 5.09 minutes. Since we are fairly sure we are going to hear about the fuzzy math in the previous test we'll let you divide 5.09 minutes into 4.38GB of data to get a per second write rate if you like. Figure roughly 0.8GB of data per minute. On both these tests we also verified the test disc and got flawless burn results. Flawless burns will depend a lot on the quality of disc you use and if you use the cheapest disc out there you will likely get errors occasionally. Cheap discs fail and that's nothing to do with the burners that is more to do with the quality of the recording medium than the burner. We chose reasonably high quality discs so if you have a stack of bargain basement price discs your results will vary.
Now notice that the drives performance slope on the chart continually increases on the single sided disc. Remember the DVD disc is read from the small center to the larger outer edge. Smaller center less data flying past the read head, larger outer edge more data flowing past the laser. That's why generally we see increasing speed as the laser approaches the edge of the disc.
Game DVD
We know that a lot of readers here on Bjorn are avid gamers so we did a game DVD transfer rate test. We used one that was just handy and it happened to be Sacred 2 Fallen Angel. Like most of our discs it lives in the jewel case and doesn't have a scratch or mar on it. Scratched, marred and smudged discs will make a difference.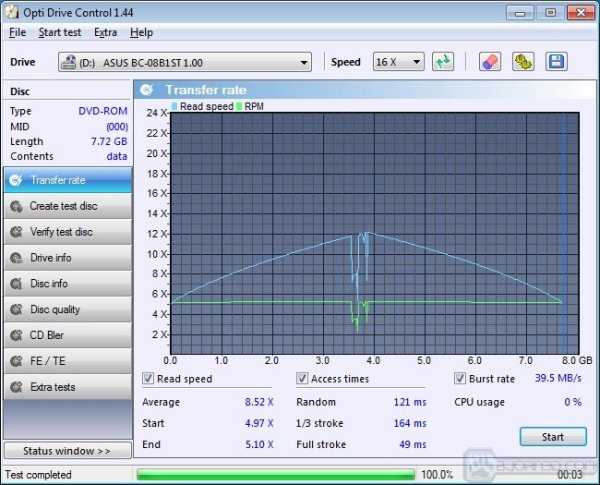 Sacred 2 Fallen Angel comes on a 12x Dual Layer DVD-Rom, game vendors seldom use the fastest disc available because it increases production costs. Of five games we checked all 5 came on single layer 12x or Dual layer 12x so we assume this is a pretty common speed disk.
The Asus BD-Combo drive starts at 4.97x and averages 8.52x and since it's a dual layer disk finished out at 5.10x. Once again we see the typical tent chart lines from dual layer discs. We tested several other games and most dipped right in the center of the test (on Dual layer Discs) so we suspect that vendors are doing something at that point for copy protection purposes, The Drive was mounted in a chassis and there was no movement in the room except typing notes during the test. Since we were typing about 4 feet away, we know that other than normal machine vibrations nothing was interfering with the test. A couple of the game DVD's we tested didn't dip at the center point so that's why we suspect it's something the game vendors copy protection scheme is doing. We can't place the blame on the drive but with as many pirated copies of games as we've seen we can't blame the vendors for trying to throw a curve at rippers. We don't use anything but Retail games on Bjorn so the copy protection on the disk is intact.
The Random access on the game disc was 121ms with the 1/3 stroke time hitting 162ms and for some odd reason the full stroke time hit 49ms which we suspect is an anomaly. Full stroke should be in the 200ms range but in several runs of the test it came up as 50ms or under.
Verbatim Data DVD 16x
We had a Verbatim 16x DVD+r around with 3.3GB of data on it. Assorted review files, pictures, a song or two, and some programs and files we downloaded. Just your ordinary every day data DVD with as much variety as we could find. Since this is a BD Combo drive with burner capabilities we burnt the disk using Cyberlink on the BD Combo drive and these are the read results from that burn.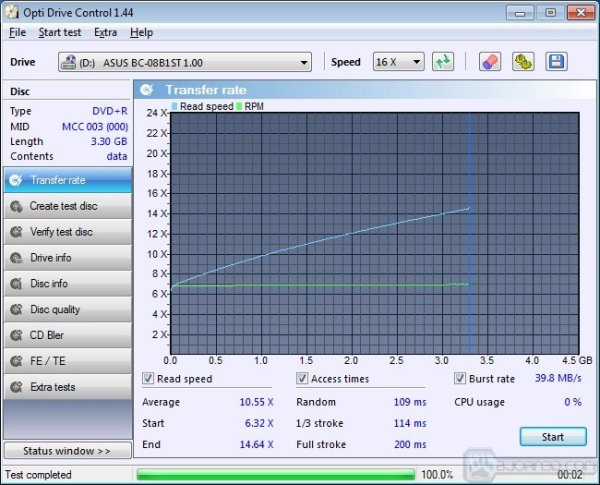 In the Verbatim 3.3GB Data DVD test the Asus BD-Combo Drive hit 10.55x average and like usual started slower at 6.32x. The test ended at 14.64x which is pretty decent for a Data DVD that isn't full. Since the drive didn't hit the full stroke of the read head it didn't reach 16x but performance increased across the full length of the data. The RPM's held steady and the data transfer was a smooth slope up to it's maximum speed (14.64x) which is what we look for on optical drives.
The Random stroke was 109ms with the 1/3 stroke acess time at 114.ms and full stroke hit 200ms. Figure full stroke access time to be about 1/5th of one second which is pretty good for optical drives. The technology has made great increases in access time since the dinosaurs roamed the Earth and our first CDROM (1x external) had an access time in excess of 600ms. When we broke down and cracked the $240 1x external out of it's chassis and mounted it internally the access time didn't drop. The $240 price tag on the 1x CD reader from days gone by should serve to illustrate what happens as technology mainstreams and passes, now CDROMs litter the E-Tailers shelves and we've seen factory new CDROM's at $1 for a 52x Max drive. The shipping on the drives cost more than the drive itself. DVD/burner drives were uber-expensive and now they retail for about $20, the same process will happen to Blu-Ray Burners and combo drives but I suspect that the Blue laser is more expensive so they may not bottom out at today's DVD burner prices.
CDROM
CDROM's and CD burner technology is older but far from dead. Music still comes in CDROM format which is one big reason we suspect it is still included on most optical drives. More and more DVD disks are prevalent in retail software and games. We still use CD+R a lot because with ever changing drivers and new versions of benchmarking files it's handy to keep new benches and drivers on smaller more affordable disks. Even though the technology is the oldest desktop computer optical format, we are still going to cover it. Music has taken over so much of the CD burner technology that a lot of programs report minutes of standard audio format on the disk space instead of actual storage. Almost every CD burner disk we've seen in years past includes MB size and minutes of song time standard on the disk. We digress though, so on to the tried and trusted CD burner.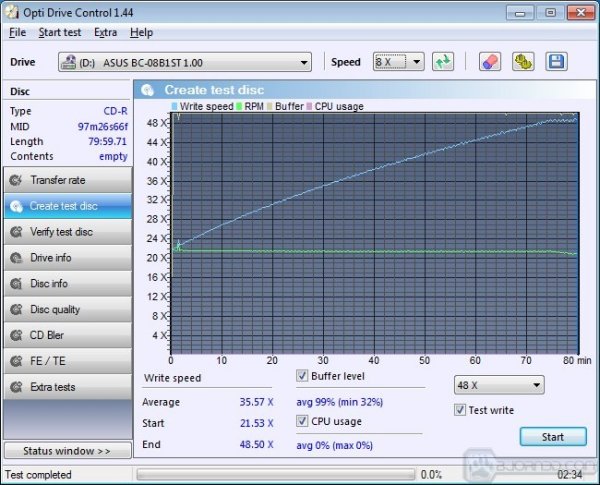 What we used was a Maxell 48x 80 minute (700 MB) disk for our test burn. The Asus BD-Combo drive burned the CD in 2.34 Minutes and the start speed was 21.53x while average speed ran 35.57x and the end speed was 48.5x. This is just as fast as any 48x capable burner we've ever seen.
We also tested the transfer rate and it almost exactly mirrored the write test and we felt no need to go in depth on CD read speeds. Once again it reads BD and DVD's at maximum speed so the older format is no obstacle to the drive.
Conclusion
We found the Asus BD-Combo drive to be packed with innovative technology and we wouldn't expect less from Asus. That's what Asus does, they take products and make them better and more feature packed. We often find Asus leading the pack then later on, other vendors skulk in and copy what they have pioneered.
The TTHD (True Theater High Definition) enhancement improved DVD playback quality tremendously and the technology impressed us to no end. TTHD changes DVD quality to almost HD quality and it happens in the background with no degradation of playback speed.
The disc encryption allows you to password protect discs or partial discs and is a handy feature if you have sensitive data or just want to keep your parents from finding your extensive collection of pictures of fully clothed women attending church (yea right). In any case the ability to encrypt and password protect data on Optical drives is long overdue and we are glad we finally got that functionality from a trusted vendor.
Here's a short quote from the company brief on "E-Green Engine". The innovative drive E-Green Engine technology features an E-Green Mode that automatically closes drive applications when not in use to help conserve energy – helping the environment by decreasing CO2 emissions and reducing the depletion of trees.
We understand the concept of turning things off to conserve energy and help the environment and we like that feature. We also understand that reducing C02 emissions is good for the environment. However, trees like C02 and without it they die and they don't produce 02 (Oxygen) and since we don't burn trees to make electricity we don't see how the E-Green drive concept is saving trees. Perhaps some poor Asus employee is somewhere in the woods chained to a tree with several BD-Combo drives standing in the way of oncoming bulldozers? (Sorry JJ had to toss that one out there 🙂  )
OTS (Optimal Tuning Strategy), with OTS, the drive will do a test burn prior to the actual burn and generate the optimal burning strategy. We are on the fence about OTS, we're big fans of burn and run because the failure rate of burns today is so low that simulated burning isn't really needed. However it's a feature you might use if burning multiple copies of disks so it has it's purposes.
We liked the Asus BD-Combo drive and it's wide variety of supported discs. We especially liked the Blu-Ray movie playback and ability to read Blu-Ray data disks. As soon as we can lay hands on a Blu-ray burner we can put all our review files on a single double sided disk and have 54GB of programs ready to install without having to swap disks every minute or so. Until then the Asus BD-Combo drive will fill the gap between Blu-Ray reading and Blu-ray writing and we are glad that we have another disc format supported.
Performance on the drive was more than acceptable and we couldn't help but take some disks that have been used and abused for years. These disks have more scratches than a mother cat with a litter of kittens and the Asus BD-Combo drive did slow down a little but read every one of those faithfully. There's a lot to like about the BD-Combo drive and very little not to like.
OUR VERDICT: Asus BD-Combo Drive
| | |
| --- | --- |
| Performance | 9 |
| Value | 9 |
| Quality | 10 |
| Features | 9 |
| Innovation | 10 |

We are using an addition to our scoring system to provide additional feedback beyond a flat score. Please note that the final score isn't an aggregate average of the rating system.

Pros
Cons

Feature Packed

Wide Variety of Discs Supported

Flawless Blu-Ray Playback

Error Free DVD & CD Burns and reads

Asus Innovation

Blu-Ray drives in general are still expensive

 
Summary: The Asus BD-Combo drive is a more than capable Blu-Ray reader, it excels at DVD and CD burning and handled everything we could throw at it without so much as a hitch. Blu-ray looks to be the format of choice in the near future if it's not already the preferred format and people are just waiting for prices to drop. With Combo drive prices dropping it might be time to pull the trigger and we couldn't think of a better drive to move you into Blu-Ray unless you are willing to spend a lot more money for a Blu-Ray Burner. Until Blu-Ray Burner prices drop the Asus BD Combo is the smart choice.