The Seasonic X-Series 750W PSU is one of the most exciting power supplies reviewed this year. Its silent operation is due to its very high efficiency which got this PSU the 80Plus Gold Certification.
Introduction
There are times when new products have to come out, especially after we see tons of other products that copy each other and never improve on their peroformance or efficiency.
Seasonic has been making top notch power supplies since I got to know them last year. With their new Seasonic X-750 750W power supply, not only is this power supply 80Plus Gold rated, but also comes with a silent fan. The PSU's fans don't kick in till the user reaches 20%±5% load, and it maintains a 16dB(A) acoustic noise level until it reaches 50% load. From that point on the fan speed begins speeding up from 16dB(A) still maintaining low acoustic noise. The Seasonic X-750 750W power supply is also 100% modular which makes it very easy to install and makes it very convenient to only use the cable leads you really need for your system.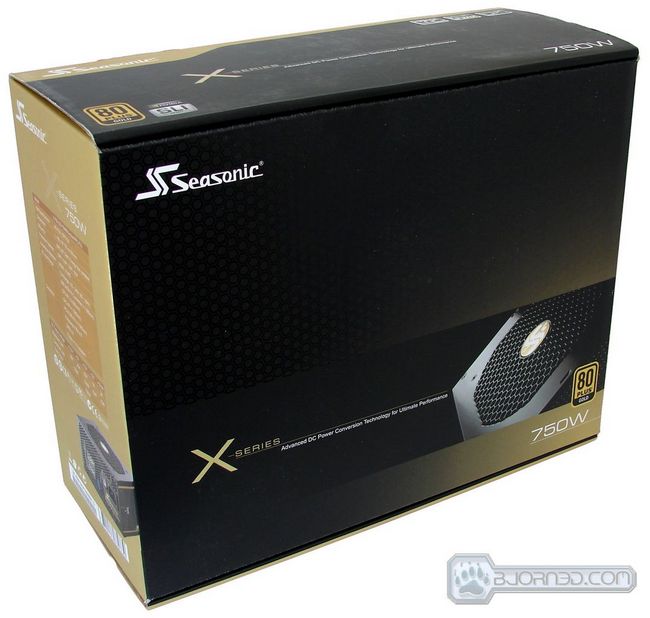 I am very excited to take a look at this power supply because I love low noise and silent products. Who wouldn't like to have a quiet PC, right? From the specs it seems that it will perform quietly and exceptionally. AcousticPC also carries the Seasonic X-Series 650W and 750W modular power supplies, so now I am really interested to see if it performs as quietly as it is advertised. Let's take a look to see if this is really true.
| | |
| --- | --- |
| Product Name | Price |
| Seasonic X-Series 750W Modular Power Supply | |
| Ultra X4 750W Modular Power Supply | |
| Silverstone Strider Plus 850W Modular Power Supply | |
| Sapphire Pure 1250W Modular Power Supply | |
Features
80PLUS® Gold Certified Super High Efficiency
Patented DC Connector Module with Integrated VRM
DC to DC Converter Design
Patented Hybrid Silent Fan Control
Sanyo Denki San Ace PWM Silent Fan
Conductive Polymer Aluminum Solid Capacitors
Highly Reliable 105℃ Japanese Brand Capacitors
Tight Voltage Regulation [±3%]
Active Power Factor Correction [99% PF Typical]
Ample +12V Output
Dual Sided PCB Layout
Ultra Ventilation
Full Modular Cabling Design
Multi-GPU Technologies Supported
All-in-One DC Cabling Design
Patented Easy Swap Connector
Universal AC Input
5 Years Warranty
It's very nice to see that Seasonic decided to use Japanese capacitors in this power supply. Many companies don't take the extra expense to put Japanese capacitors in their power supplies which leads to less reliable power. We'll compare the performance and power usage of this power supply to some other power supplies with higher wattages to see how it will compare.
specifications
The very first full modular multi-output ATX, high-wattage power supply that has ever obtained the 80PLUS® Gold certification was introduced by Seasonic. This coveted power supply is named "X" and is initially offered in 650 and 750 watt versions to fulfill computer enthusiast's need for an ultimate power source.
Featuring a patent pending design of "DC Connector Module with Integrated VRM", the X Series is set to achieve both near-perfect DC to DC conversion and fully modularized design without compromising efficiency. After a long wait, finally there is a product that delivers the complete package, ultra-high efficiency, greatly improved dynamic response, and customizable cable arrangement that is tailored to meet any individual's needs.
As a leading provider of silent power supply, Seasonic this time around delivers a true breakthrough solution for thermal and noise management. The X Series adopts a clever "Hybrid Silent Fan Control" design, which offers three distinct operation modes, fanless mode, silent mode, and cooling mode. The X automatically adjusts fan mode and speed according to the ambient temperature level. This brand new design not only optimizes heat dissipation, but also prolongs lifespan of the system by reducing unnecessary fan rotation. To make the X Series even more robust and exciting, Seasonic offers Sanyo Denki San Ace PWM Silent Fan on X, the best fan there is in the industry and taking advantage of the PWM feature.
The X Series represents the "Green PC technology" that helps computer users
to save in electricity bills at all times. It achieves the 80PLUS® Gold standard
that guarantees an above 87% efficiency rating across 20%, 50% and 100%
loading along with a true power factor of >0.9. Moreover, the X series is
compliant with Energy Star 5.0 and reduces energy consumption under
standby, sleep and idle modes.
Product Information –
1. AC input & DC output voltages ( 100~240V, 50/60Hz )
Model: X-750 (SS-750KM Active PFC F3)
2. Wire Configuration
3. Main Specifications: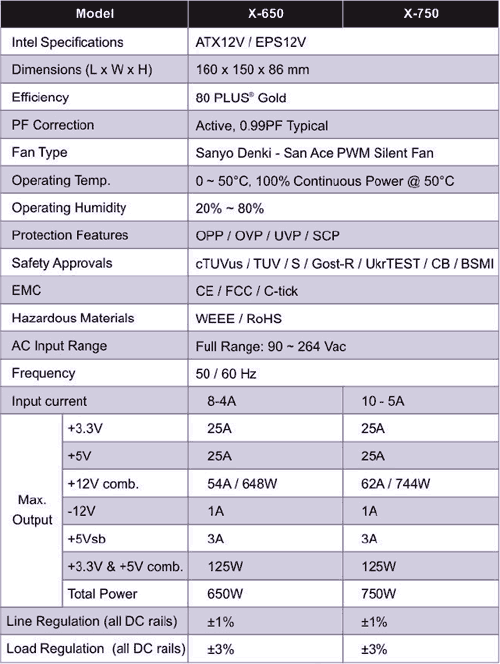 Looking at the specs, we can see that the power supply can handle 62A of power. This means that SLI or Crossfire would be possible, however I would not push this power supply with two Nvidia GTX 295's. I would say two single-GPU video cards would still be fine, but two dual-GPU cards might be pushing it. In our test system we will be using a BFG GeForce GTX 275 video card as a main GPU and a XFX GeForce 8800GTS 512MB video card for dedicated to PhysX. This should be an excellent setup to push this PSU for our testing.
WHAT ABOUT THEM RAILS?
We have all, no doubt, been told that when purchasing a power supply that the number to look for is the amps on the 12V rail. What are each of the different rails for though, and why is the 12V rail typically the most important? Why the heck are they called rails? Let's take at look at each and see.
-12V – This rail is pretty much obsolete now and is only kept on to provide backward compatibility with older hardware. Some older types of serial port circuits required both -12V and +12V voltages, but since almost no one except industrial users use serial ports
anymore you as a typical home user can pretty much disregard this rail.
-5V – Again this is another obsolete rail, the -5V was used for old school floppy controllers and some ISA bus cards. Again, no need for the typical home user to worry about this rail.
0V – Though not listed on any manufacturer spec sheet, every power supply
has a 0V ground line. The ground signal is used to complete circuits with other voltages and provide a plane of reference against which other voltages are measured.
+3.3V – Finally we are starting to get into something useful! The +3.3V rail was introduced with the ATX form factor in order to power second generation Pentium chips. Previously the CPU was powered by the +5V rail (along with the system memory and everything else on the motherboard), but a reduced voltage was needed in order to reduce power consumption as the chips got faster. Until just recently, the +3.3V was used to exclusively power the CPU as well as some types of system memory, AGP video cards and other circuits.
+ 5V – As mentioned above, the +5V used to run the motherboard, CPU and the majority of other system components on older pre ATX based systems. On newer systems, many of the components have migrated to either the +3.3V or +12V rails, but the motherboard and many of its onboard components still use the +5V rail so it is of importance to the typical home user.
+5V SB – The +5V Standby or "Soft Power" signal carries the same output level as the +5V rail but is independent and is always on, even when the computer is turned off. This rail allows for two things. First, it allows the motherboard to control the power supply when it is off by enabling features such as wake up from sleep mode, or wake on LAN technology to function. It also is what allows Windows to turn your computer off automatically on shutdown as opposed to previous AT supplies where you had to bend over and push the button. Every standard ATX power supply on the market will include this rail.
+ 12V – The +12V, also known as the mother of all rails, is now used to power the most demanding components in your system including the CPU, hard drives, cooling fans, and graphics cards. Historically the +12V rail was used only to power drives and cooling fans. With the introduction of the 4-pin CPU plug on P4 motherboards and then eventually AMD based motherboards, in order to supply newer power hungry CPUs, the +12V rail suddenly started to grow in importance. Today, dual core based motherboard require an 8-pin +12V connector to supply their power needs. High end GPU cards have also jumped on the +12V rail, which has required PSU makers to adapt. Where previously there was only a single +12V rail, there are now two or more, each designated to power specific devices in order to ensure that nothing is underpowered.
Now as to why they are called rails, the best explanation that I can find is that the term comes from the wacky world of electronics and it refers to a long metal bar or strip that is used to provide a particular voltage level. Perhaps someone with a deeper understanding of all things electrical could let me know whether or not that is true.
A Closer Look
Click Image For a Larger One
The Seasonic X-Series 750W modular power supply comes in a solid thick box. It's overall presentation of graphics and specifications is simple but very effective in the buying process. The front shows the biggest feature of this power supply which is it's efficiency. The 80Plus Gold Certified logo will definitely bring a lot more attention to this power supply than another one with a lower certification. The back of the box has some of the other features explained like the Seasonic's Hyper Fan Control system that controls the speed of the fans on the power supply.
Click Image For a Larger One
Inside the box, there was plenty of cushioning to protect the power supply and there was another part to the box that separated the accessories from the power supply. To give extra protection to the power supply, Seasonic also included a very handy soft carrying bag. We assume that it is also anti-static to prevent any damage to the power supply from the soft bubbly Styrofoam-like cushioning inside the packaging. Finally, here is a quick peak of the power supply outside the soft bag. 
Click Image For a Larger One
While the overall look of the power supply did not really impress me, one feature of this power supply stands out from the rest of the power supplies on the market. Over the past few years after testing many fan configurations, I have come to notice that 120mm fans are probably the best solution for cooling power supplies quietly. The reason for this is simple. While small fans like 80mm fans could push enough air to cool down a power supply, the job would not be silent. While moving onto bigger fans can help reduce overall noise due to the fan spinning at a lower RPM, and still accomplish the exact CFM rating as a faster RPM smaller fan would, according to my tests, once you go higher than 120mm, you start introducing noise from air being pushed against the fins and sides of the fans. This is why it is very nice to see Seasonic including a 120mm fan instead of the larger 135mm or 140mm fans that other companies use. 
Click Image For a Larger One
This is not all however. The Seasonic X-Series 750W modular power supply uses Hyper Fan Controlled settings. This helps the fan being at 0 decibels till the overall load reaches 25%. After 25% load is reached, the fan starts spinning at a low RPM only producing 16 decibels of noise. This is not audible to human ears especially if the PSU is in a closed chassis, or 1 or two meters away from the ears. You really need to get close to the power supply before you start hearing a tiny noise coming from the fans. The RPM stays at this level till it reaches 50% of the lead and after that slightly speeds up the fan to keep the power supply cool under operation.
Click Image For a Larger One
Now the build quality of this power supply is very good. It is very solid and its 100% modular design is a plus because you can even get rid of cable mess and cables that other companies still hardwire into their power supplies. Not many people will need two 8-pin CPU connectors so why hardwire two 8-pin CPU connectors? This is why I like Seasonic's 100% modular design. When connecting the cables into the power supply, it is very easy to figure out which cable goes where. First of all, there is a picture right above the connectors showing which one is the CPU, MB and other connectors. If you just cannot see well then you can easily figure it out as well because the cables will only fit in the connectors that they have been designed for. There is no way you can mess up connecting the cables incorrectly. 
Click Image For a Larger One
Seasonic uses 100% solid Japanese capacitors, which is an excellent choice because they are better in reliability, they have a longer lifetime, less heat is produced, and they have better performance over standard capacitors. We can see the 120mm fan from the inside on the first picture. The second picture shows the power cable the carrying bag that comes with the Seasonic X-Series power supplies and a users manual. The carrying bag allows you to easily transport and keep your modular cables together.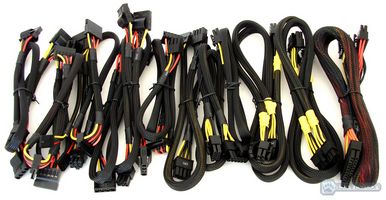 Click Image For a Larger One
And finally, here we see a picture of the modular leads that the Seasonic X-Series power supply comes with. For more information about the cable length and the exact number of leads that come with this power supply, please visit the specifications page in this review.
Testing Methodology
When it comes to power supplies, any power supply, what you're really looking for is good clean voltage and plenty of it. Current standards are 5% variance on any rail maximum, which is a little more lax than my personal standard of 3% max everywhere but the +5vSB (+5v stand by) which is always on even when the power supply and computer are off. On the +5vSB it's not unusual to see 5% and since it's only for wake on Lan or by device feature it's not a big deal.
Like a lot of you enthusiasts out there, our PC's are an ongoing work of art that we have a lot of cash invested in. If a PSU won't hold to 2 or 3% load/idle no matter what we do to it, we won't use it or recommend it.
Testing Equipment
Seasonic X-Series 750W Modular Power Supply
Testing Equipment
Multimeter
RadioShack Digital Multimeter
Wall Voltage
Craftsman 400A AC/DC Clamp Meter
Oscilloscope

Hitachi Oscilloscope V-212
Noise Measuring

Our trusty ears! (dBA in my opinion is always misused)
To test the Voltages on each rail and then measure the overall Wattage used by the whole computer system, we have used two different equipment. We used the RadioShack Digital Multimeter to measure the voltages on each rail (5V,12V,3.3V). To measure the overall wattage used by the computer system we used a Craftsman 400A AC/DC Clamp Meter. We attached the clamp straight to the wall outlet with a special divider to measure the overall Wattage being used accurately. The results were precisely recorded in a word document. And finally to finish testing the power supply's ripple, we have used a Hitachi V-212 Oscilloscope. To measure the ripple we have measured the 12V, 5V, and 3.3V rails with the oscilloscope and measured the AC current. To test for ripple the AC current needs to be measured instead of the DC. The results are below.
Test Rig
Test Rig
Case
Zalman MS1000-H1
CPU
Intel Xeon X3470 2.92Ghz @ 3.2GHz
Motherboard
ASUS P7P55 WS Supercomputer Motherboard
Ram
OCZ DDR3-12800 1600Mhz (7-7-7-18 1.66v) 8GB Kit
CPU Cooler
Thermalright True Black 120 with 2x SilenX 120mm fans
Hard Drives
4x Seagate Cheetah 600GB 10K 6Gb/s Hard Drives
Optical
LG Blu-Ray Drive
GPU

BFG GeForce 275 OC 896MB – Main Video Card

Case Fans

1x Noctua NF-P12 120mm Fan – Top

1x Noctua NF-P12 120mm Fan – Bottom      

Additional Fans
SilenX 120mm Silent fan on Thermalright HR-03 VGA Cooler
Testing PSU

Thermaltake TR2 1000 Watt Power Supply

Sapphire PURE 1250 Watt Modular Power Supply

Ultra X4 750 Watt Modular Power Supply

Silverstone Strider Plus Series 850W Modular Power Supply

Seasonic X-Series 750W Modular Power Supply

Mouse
Logitech G5
Keyboard
Logitech G15
Two different tests will be done with this testing system. One test will be conducted under stock settings, while the second test will be conducted under overclocked settings on the CPU and Video Card. To put the system under load condition, we used OCCTs Power Supply tester to stress the whole system. Let's take a look at the results.
results
Power Output Results(V) – Overclocked System (GPU, CPU)
Measured With RadioShack Multimeter And
Craftsman 400A AC/DC Clamp Meter

Power Rail

Sapphire Pure 1250W PSU

Silverstone Strider Plus 850W Modular

Ultra X4 750W Modular PSU

Seasonic X-Series 750W Modular


Idle

Load

Idle

Load

Idle

Load

Idle

Load

3.3v

3.30V

3.29V

3.38V

3.35V

3.30V

3.28V

3.41V

3.37V

5v

5.05V

5.04V

5.08V

5.07V

5.09V

5.06V

5.07V

5.07V

12v1

12.24V

12.23V

12.18V

12.15V

12.2V

12.05V

12.21V

12.21V

12v2

12.24V

12.23V

N/A

N/A

N/A

N/A

N/A

N/A

12v3

12.22V

12.19V

N/A

N/A

N/A

N/A

N/A

N/A

12v4

12.22V

12.21V

N/A

N/A

N/A

N/A

N/A

N/A

12V5

12.21V

12.19V

N/A

N/A

N/A

N/A

N/A

N/A

12V6

12.22V

12.22V

N/A

N/A

N/A

N/A

N/A

N/A

Wattage Used

182W

480.3W

 179W

479.5W 

192W 

487.5W 

170W

476.4W
We can definitely see that the Seasonic X-Series 750W modular PSU is extremely efficient compared to the other power supplies. It might just be a few watts from other lower certified power supplies, but every bit helps right? Not only that, but higher efficient power supplies will produce less heat as well. The Seasonic power supply was very stable with the voltages as well and we couldnot see big variations and jumps in the voltage like we have see with the Ultra X4 power supply.
Ripple Test Results
Example Images for our testing – Click Image For a Larger One
| Rails Tested | Overclocked System – Hitachi Oscilloscope V-212 – Ripple Results |
| --- | --- |
| 12V |  ~11mV ripple |
| 5V |  ~7mV ripple |
| 3.3V |  -3mV ripple |
Fan Noise Results
Even if we do not have the testing equipment to measure the exact dBA of the fan on the power supply, we have used our ears to personally measure the noise and explain what we heard.
When you first turn on your system and stop all the fans in the computer, you can hear nothing besides the working of the hard drives. If we unplugg the hard drives, there is absoultely 0 decibels coming from the system. After leaving the system on for about 10 minutes, the fan on the Seasonic PSU finally turned on. I was quite surprised that it was not on for 10 minutes. After we pushed a lot of load through the PSU, the acoustic noise coming from the PSU was so quiet that you would not be able to hear it if your chassis is closed. I was very surprised by the results and very satisfied with the Hyper Fan Control System.
conclusion
I am very satisfied with the Seasonic X-Series 750W 80Plus Gold Certified modular power supply. This power supply has very high efficiency, produces little heat and the most important of all, it is one stable power supply. I would rather go with the Seasonic X-Series 750W power supply than the Silverstone 850W 80Plus Silver certified power supply for these few reasons:
1. The Seasonic power supply is smaller and is silent most of the time.
2. The Seasonic power supply produces a lot less heat than the Silverstone PSU.
3. The Seasonic power supply saves a bit on your electricity bill and has a very solid construction.
4. And finally the Seasonic PSU has 100% solid Japanese capacitors.
OUR VERDICT: Seasonic X-Series 750W Modular Power Supply
| | |
| --- | --- |
| Performance |  9.0 |
| Value |  9.5 |
| Quality |  9.5 |
| Features |  9.5 |
| Innovation |  9.0 |

We are using a new addition to our scoring system to provide additional feedback beyond a flat score. Please note that the final score isn't an aggregate average of the new rating system.

Pro

Cons

 100% solid Japanese capacitors

Silent/Quiet Fan control

Low Heat

Very solid construction

Excellent voltages and very efficient PSU.

80Plus Gold Certified

 The cables are a bit stiff to work with and could hurt your fingers a bit.




 

Summary: The Seasonic X-Series 750W Modular Power Supply deserves Bjorn3D's Golden Bear Award with a 9.5 out of 10 points for it's excellent efficiency, low heat, and silent operation. This PSU is definitely one of the best buys you can get on the market right now.

The Seasonic X-Series 750W Modular PSU is available at major stores as well as at AcousticPC, with many other low noise products.