Bitspower has brought us a unique, and great water cooling block to use on our ATI 5870 video cards. lets step inside and see why.
Water, Water, Everywhere
Water, Water everywhere and not a drop to drink. Well I don't think you would remotely want to drink the water we use in our computers to help keep them cool. Water cooling has picked up pace among computer users, it has picked so much that there are more companies that dedicate their entire product line to water cooling.
Granted, water cooling has a bit higher start up cost, then its direct competitor air cooling products. Unlike Air cooled heat sinks, water blocks still remain quite small, and can fit into most of today's newer chassis. They also give users more flexibility with other computer components, for instance air coolers are getting so large we can not use taller memory because the air cooler will prohibit their use. Another area that water cooling can do, is out perform its air cooled competitors, water cooled users can use lower CFM fans therefore reducing the amount of noise coming from our computers. Water cooling also allows creative decorating within the chassis due to the lack of gigantic air coolers, we can utilize UV reactive fluid/hoses pulsating fluid through out our computers. Then we get that, ohh and aww you will get, well not to forget the actual look of complete and total horror when we tell our friends and family on how we are cooling our 1500+ USD computers, that in itself is "Priceless".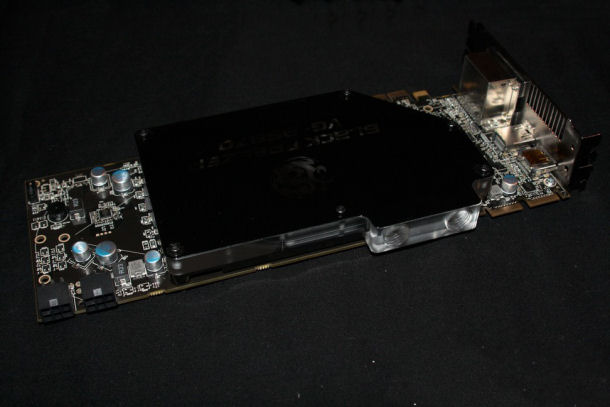 Which brings me to the whole purpose of this review. We all know in some form or another that air cooling just can't handle the extreme heat our computer components produce when being stressed to new levels. Don't get me wrong, air cooling does give plenty of room overclocking but it has its limitations. Water cooling gives us the ability to break through that heat barrier, and set new levels of overclocking that were unobtainable with air cooling.
This time we get a water block from a rather un-expected source, Bitspower. I never heard of Bitspower making water blocks although I did know they make some of the best and top of the line barbs in the water cooling world. This water block from Bitspower, can be utilized in a 90° barb orientation for those who still require this configuration, this water block can be configured in a 180° orientation for those like myself, who want to (or have to) keep their water flow rate at its highest. Lets take a look at the, Bitspower Black Freezer VG-A5870 water block and lets see what this water block can do.
Specifications
Dimension ( LxWxH ):
164x104x19.6 MM (Out-Line)
Thread:
G1/4″ x 2
Packing List:
Arctic Silver 5 3.5G X 1
Fujipoly GR-d
Backup O-Ring for VG-A5870 x 1
Black Sparkle Rotary Angel IG1/4″ Adapter x2
Black Sparkle Direct-Plug Adapter x 1
Black Sparkle Direct-Plug Adapter 35MM Version Female Part only x 1
Mounting Screws/Accessories
Packaging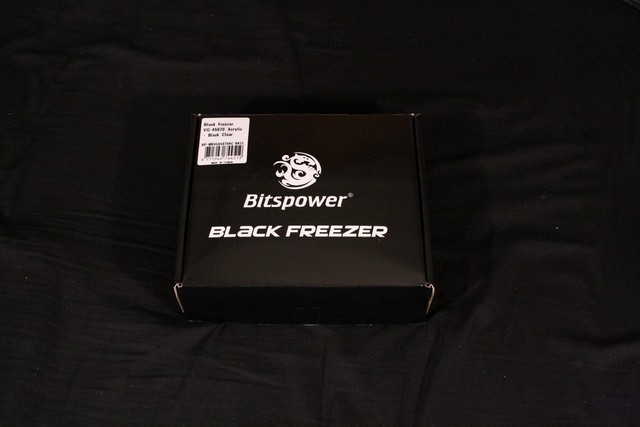 Starting off on the packaging that Bitspower uses for the 5850/5870 water block. Nothing spectacular, simple but effective.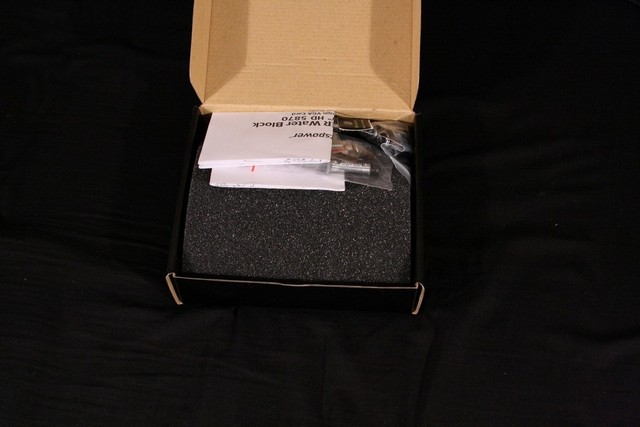 What matters most to me is how the companies package the product. As we can see Bitspower does an outstanding job on making sure the water block would not get damaged during transport.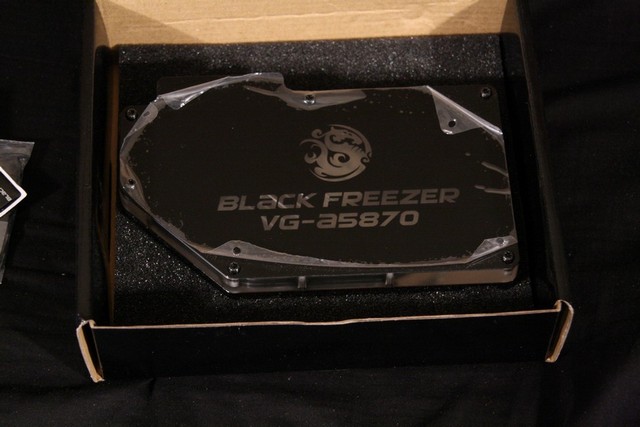 I just removed the extras that comes with this water block and the top foam protector. This is a quick shot on the 5850/5870 water block.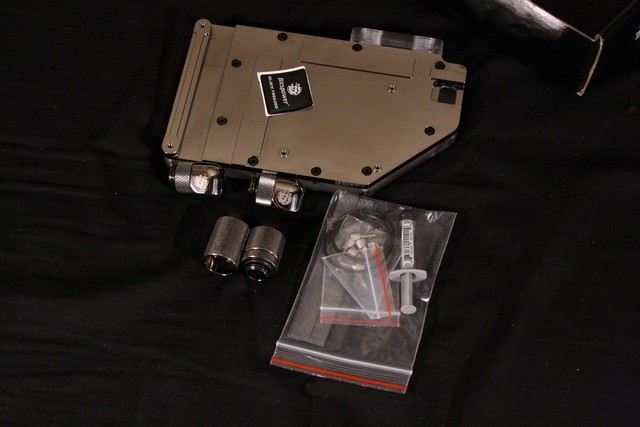 Here is what comes with the 5850/5870 water block. We get the water block itself, that fits both reference design 5850/5870 video cards, two 90° angled barbs, a small package of needed screws/nuts to mount this water block. A small tube of Arctic Silver AS5 thermal paste. Now the two extra looking barbs, are for when you want to run this water block with another Bitspower video card water block in series. Also Bitspower includes an extra rubber O-Ring.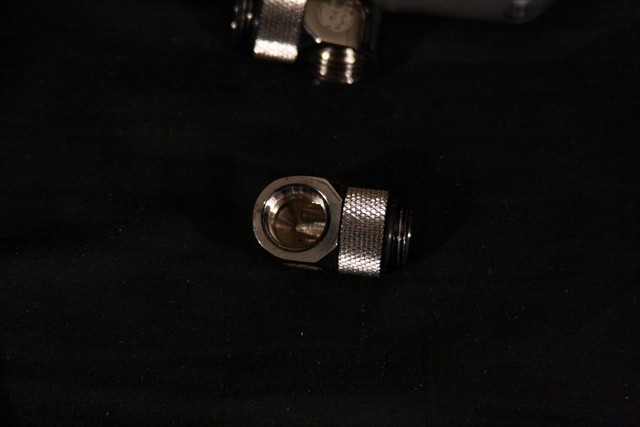 Looking at the 90° angled barb, this is a 1/4 inch NPT thread design.
A quick look at the water block barb interconnect. This is a bit different design from what we are used to seeing, instead of having to put a small hose in between two multi GPU water blocks Bitspower uses a split design barb interconnect that will make separating the multi GPU water blocks easier.
Overview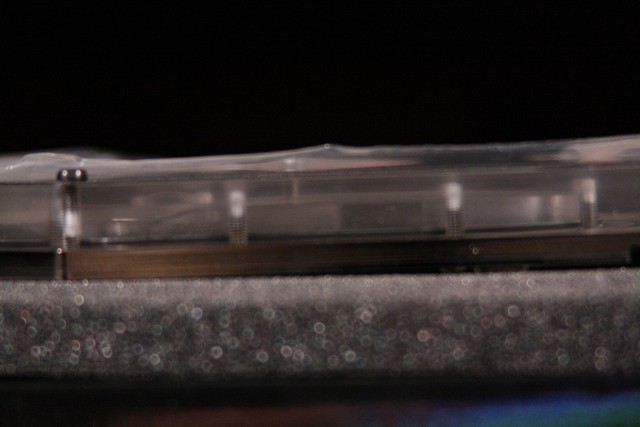 For some strange reason the camera just would not focus in on the water block. Looking in through the Lexan top of the Bitspower water block, we can make out the water chamber.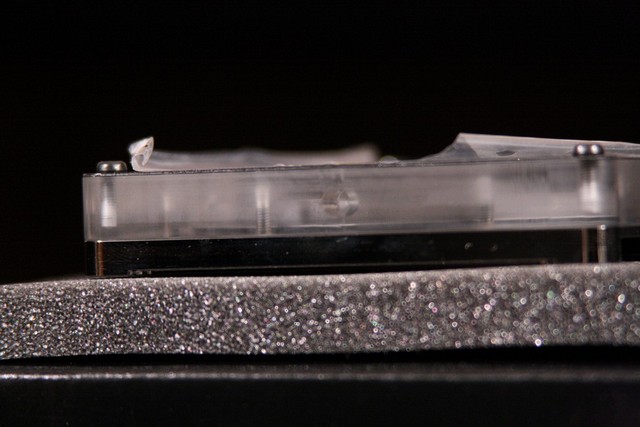 This water block can accommodate an LED for those who want to light up the water block itself to add that extra little bit of personalization to our rig.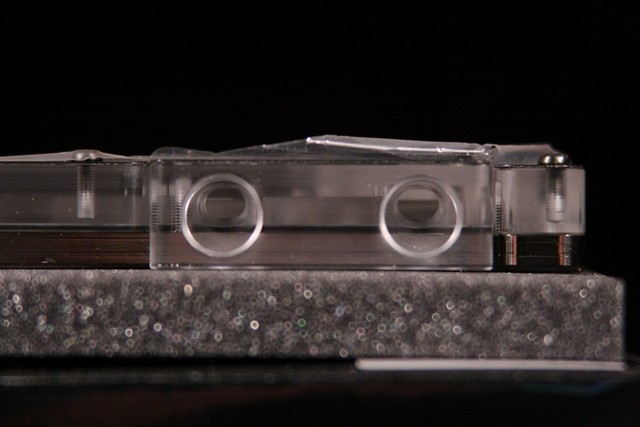 Since the top of this water blocks houses the water chamber, the barbs screw right into it. The only thing I am not to crazy about this water block, is that this water block goes from a 1/4″ NPT barb to a rather small hole. I blew into this water block to get an idea of the restriction I will be presented with. I did feel a little bit of restriction but not a whole lot but I still think it could have been better.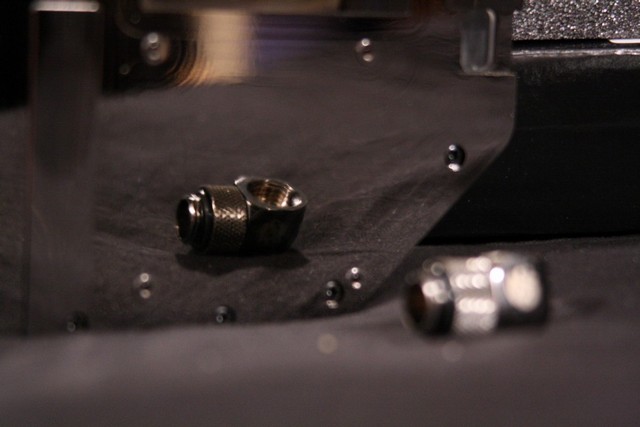 The entire copper base of this water block is nickle plated. I used a 90° barb for a reflection test, this is in the area where the GPU core will be placed at. We can barely make out small machining marks left, but the base of this GPU cooler is still flat and smooth.
Installation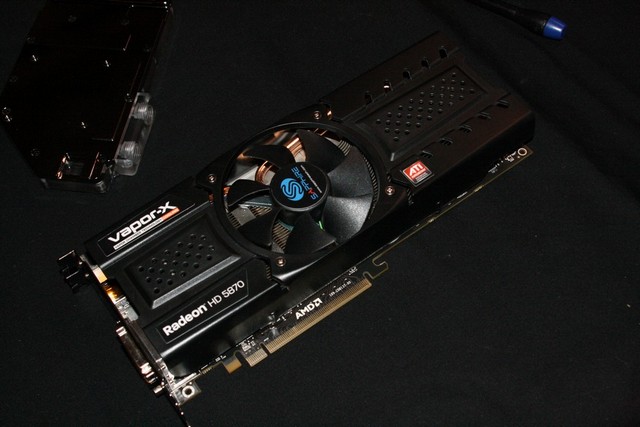 The Victim of this water block endeavor, is none other then the Sapphire 5870 Vapor X video card. Before you say, " Isn't that video card limited to 900 MHz on the GPU core and 1300 on the memory?" You are correct it is, but I will explain what I had to do to remove that limitation. Stay tuned.
We need to remove all of the screws that hold the heat sink onto the 5870 Vapor X video card. I went ahead and removed all of the screws on the backside of the video card. Your video card may vary on the amount of screws that will be used.
There are two more screws that hold the heat sink directly onto the rear IO plate of the video card that have to be removed as well.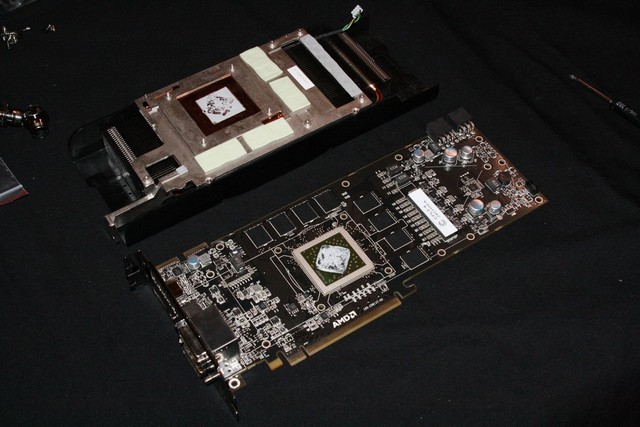 Then we can carefully remove the heat sink off of the video card. Be careful when doing this step, I had to gently twist the heat sink, then lift upwards to fully remove it from the PCB of the video card.
A quick comparison of the Bitspower water block to the Vapor X heatsink.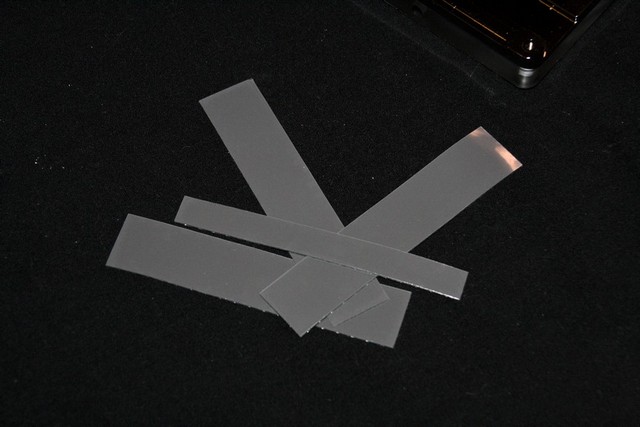 Inside of one of the small ziplock baggies, you will see these grey thermal pads inside.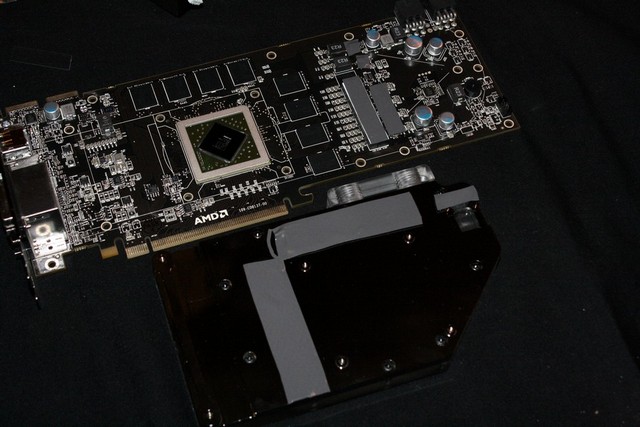 These will have to be cut, and placed on the areas that I already have placed. There is a plastic film on both sides of the gray thermal pads that has to be removed prior to their use. Oops, I forgot to place the included studs onto the water block itself.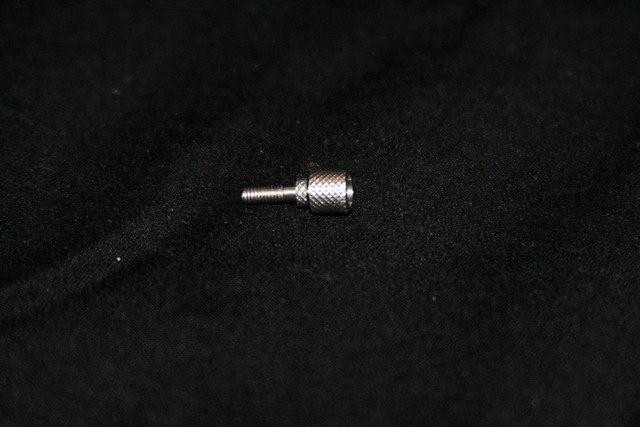 These are what the included studs look like prior to installation.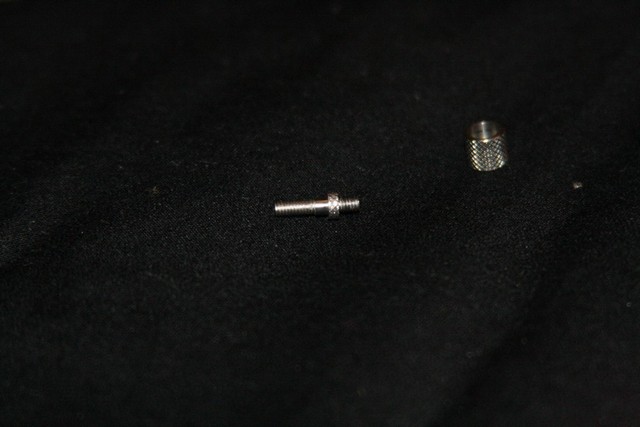 The nut and the stud separated from one another. Notice the stud has a raised area, this is helpful when installing these onto the water block.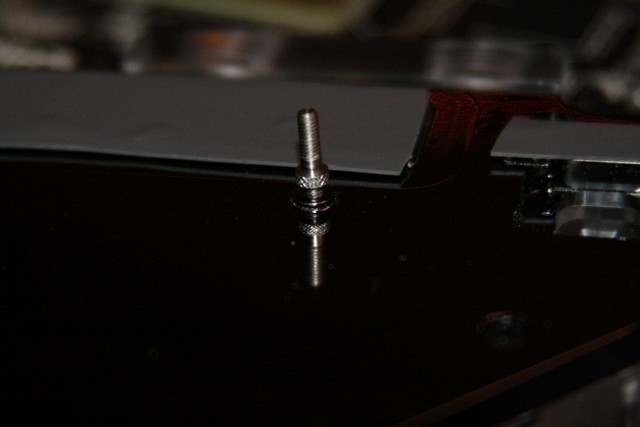 The shortest end of the stud, gets threaded directly into the water block.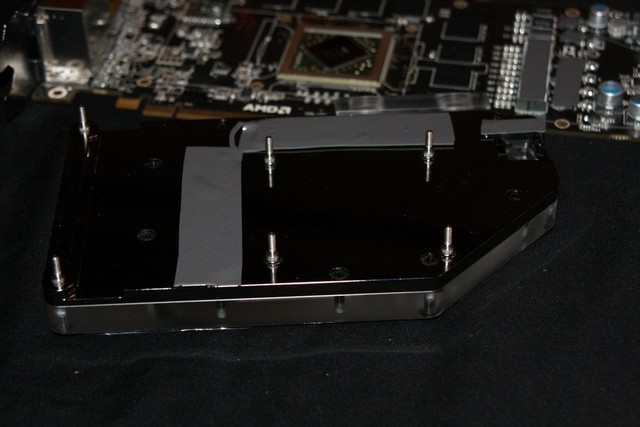 All six of the studs threaded into their respected spots.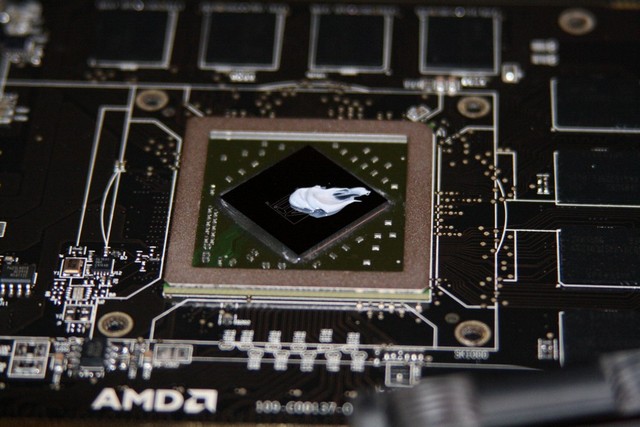 Time for test fit number 1. I just placed a small blob of thermal paste directly into the center of the GPU core itself, I used Coolermaster Thermal Fusion, as AS5 tends to be a bit rough to work with, if your not careful.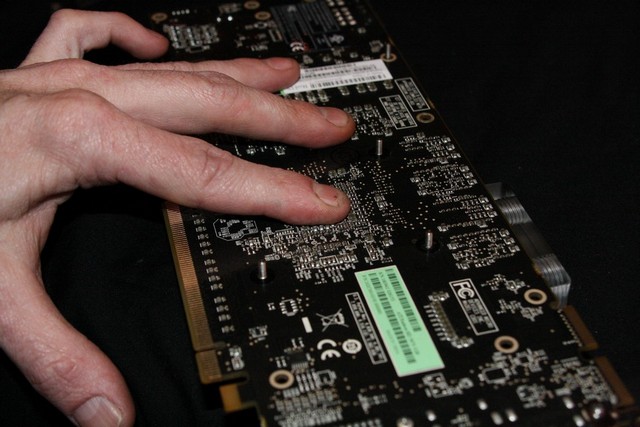 I lined up all of the studs to the corresponding holes on the video card then use the weight of my hand to hold the two together, counted to thirty.
Then separated the video card and water block. Thermal paste dispersion looks real good. the only thing I did not like was the gray thermal pads did not seem like they were properly hitting the digital VRMs (not shown). I found out, that by tightening the studs a bit more to the block by using a set of small pliers, helped out by decreasing the distance of the water block and VRMs. Just make sure you always do test fits, with any GPU cooler you are using prior to full installation.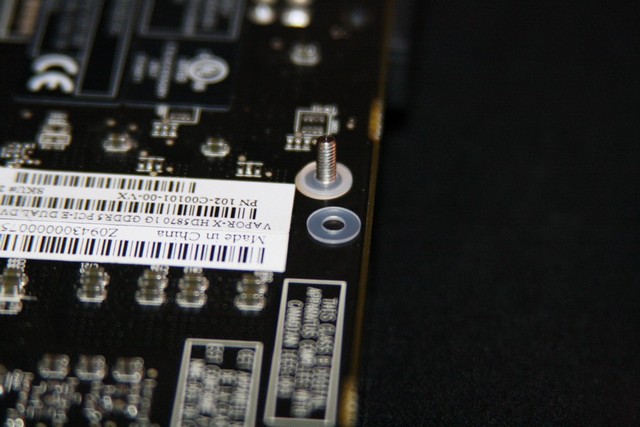 After several test fittings, I was happy with the consistency of the results I was getting. It was time to fully mount this water block to the 5870 video card. Again this water block will also fit the 5850 video card. Bitspower includes neoprene washers to use to keep the stainless steel nuts from damaging the PCB of the video card and help reduce short circuits.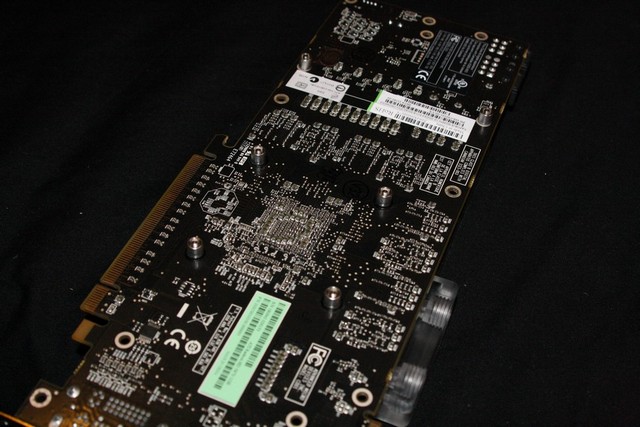 Get all of the washers on, then use the nuts to fully secure the water block to the video card. All you need is to tighten the nuts up snugly. Bitspower does allow us to either use spring mounting or hard mounting the water block. I prefer hard mounting. If you use the springs, those will get placed on around the GPU core 4 bolts.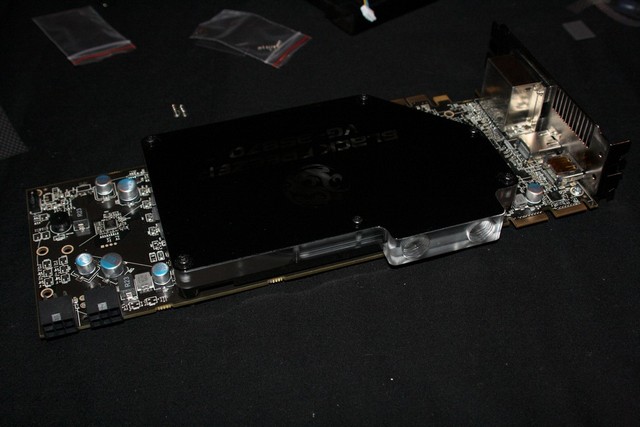 Water blocked fully installed. I did not use any of the included 90° angled barbs, instead I directly screwed my Bitspower compression style 1/2″ barbs directly to the block.
What the water block looks like fully installed, with a white LED.
Testing Methodology
Test Setup &Testing Methodology
CPU
Intel Core i7 920 C0 2.66GHz, @ 4.15GHz
Motherboard
MSI X58 Platinum
Case
Cooler Master Cosmos 1000
Memory
GSkill trident 2000MHz
Video Card's
Sapphire 5870 Vapor X, Hybrid
Hard Drives
2x Seagate 320Gig 2.5″ Momentus HDD's
CDRom Drive
Lite On Blue Ray
Power Supply
SilverStone 1200 Watt Zeus
CPU Speeds Used
4150 MHz
Operating System Used
Microsoft Windows 7
Video Card Cooler

Original cooler, Bitspower 5850/5870 water block
CPU Cooler

Koolance 340 CPU water block
There is only one real way to test the Bitspower 5870 water block. Overclock the living crud out of the video card, and run as many benchmarks and or games as I could possibly find. When I first received the Sapphire Vapor X video card, I could not go above 900MHz GPU core, and 1300MHz on the memory. I had to flash the video card BIOS to an ASUS 5870 BIOS in order  to unlock the full potential of the video card overclocking capabilities. By flashing the BIOS of your video card with another manufacturer you will void the warranty of that video card, as well as possibly ruining said video card. Do this at your OWN risk. After the flash, I was able to go beyond the limitations I had originally with the 5870 Vapor X.
I will be only listing the highest achievable overclock with both the original cooler, and with the water block. No point even remotely listing stock clock speeds. Since my temperatures are in the low teens (Celsius), I ramped up the Original Vapor X fan to 45% to just about where I could barely hear it. I like and try to keep my video cards below 70C full load. Your temperatures will vary greatly from my own.
RESULTS
Before I go directly to the results of this testing, I am going to post a picture of my current temperatures.
The upper number is the actual temperature of the air coming from the vent that sits above the temperature monitor, while the bottom temperature is from the probe that is sitting right next to my computer on the floor. Do not get confused it is cold down here.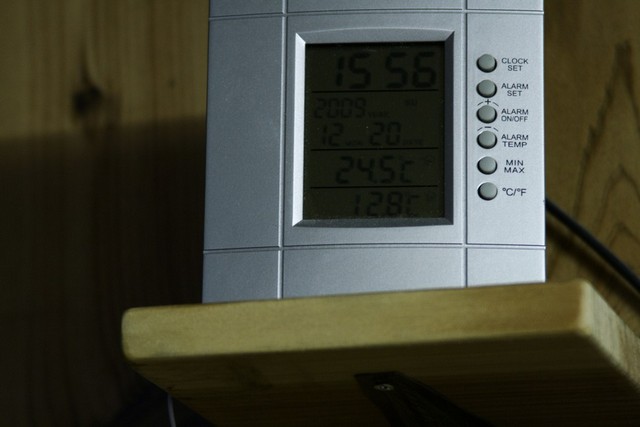 Yes people ambient air temperature is hanging around the 12°C mark. I have actually had a heat wave happen once this month, it actually gotten up to staggering 13.8°C, and I felt like I was in a Sauna, boy was it hot that day, LOL. Then it got cold and dropped to 12°C again.
| | | |
| --- | --- | --- |
|  Core i5 750 2.66GHz | Idle | Load |
| Standard Sapphire Vapor X Cooler 965/1311 | 21°C | 69°C |
| Bitspower 5870 water block 990/1325 | 16°C | 30°C |
As we can see the Bitspower 5870 water block, is vastly superior then the standard Vapor X air cooler. Looking at the idle temperatures the Bitspower water block defeats the Vapor X air cooler by 5°C. The Bitspower 5870 water block also allowed me to set a new level of performance out of the 5870 video card by allowing me to add some more voltages to the GPU core, so I can gain that extra 25MHz on the GPU core itself. Not to forget that the Bitspower water sill outperforms the Vapor X cooler by another 39°C.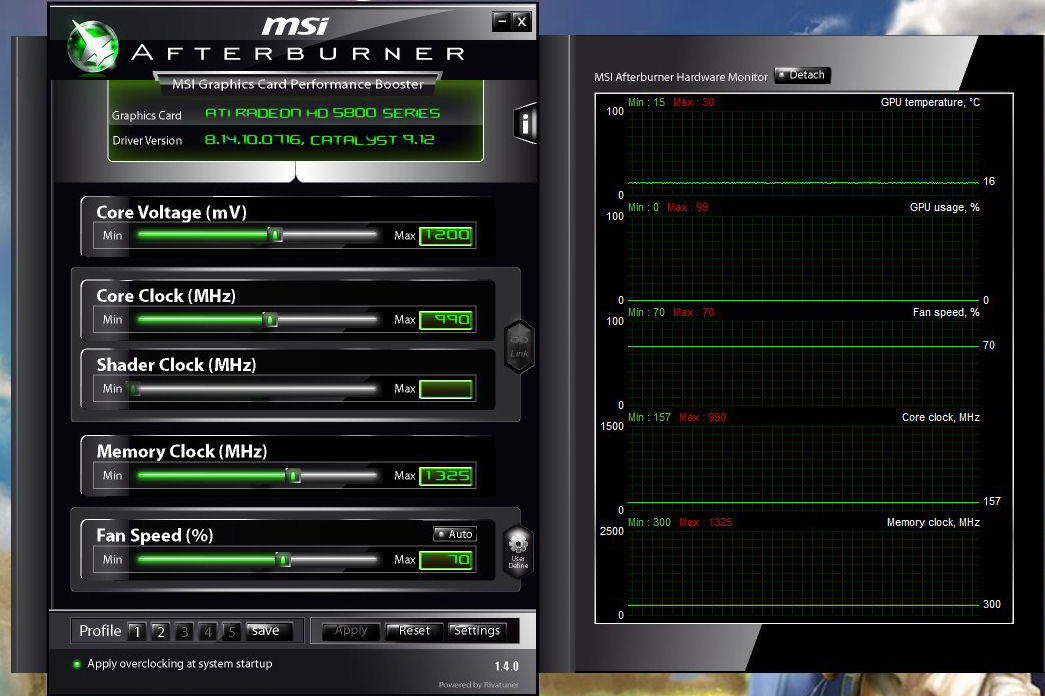 MSI Afterburner monitoring the temperatures. In the top most monitoring window, we can see a green set of numbers and a set of red ones. The green set is the minimum temperature, and the red number is the maximum temperature.
Conclusions
There is no question in my mind the Bitspower 5870 Black Freezer water block can, and will out perform any air cooler on the market today. Another area that stands out is that this water block can be used in a 180° configuration to help reduce the amount of 90° angles in our water cooled loop, which we all know can spell certain death for any water cooled rigs.
The only area I think that Bitspower could have done better with this water block is the size of the actual hole where the water comes and goes from, these holes are one fourth the the actual size of a standard 1/2″ barb. By increasing the diameter of these holes it would increase overall water flow of the water block, which in turn would decrease the amount of back pressure on our pumps. As with my pumps I am using are geared more for flow then pressure.
The only place I saw that has this water block is Frozen CPU, the cost varies on the model you are looking at, pricing ranges from $120-130USD. Again water cooling does have a high start up costs, but gives the ability to overclock our computer components higher. For those not looking for extreme overclocks on their components, water cooling allows users to dampen the overall noise from our computers, reducing the amount of hot air being released into our computers, and lets not forget by running our computer components cooler it increases the overall life span of that component because it does not get nearly as hot as it did when on air. I think it is fair price to pay for a water block.
OUR VERDICT: Bitspower 5870 Black Freezer

| | |
| --- | --- |
| Performance | 9 |
| Value | 8 |
| Quality | 9 |
| Features | 9 |
| Innovation | 10 |

We are using an addition to our scoring system to provide additional feedback beyond a flat score. Please note that the final score isn't an aggregate average of the rating system.

Pro
Cons

Cools well

LED capability will add that extra bling to our computer chassis

Ease of installation

Can fit a reference 5870 or the 5850 video card

In/Out water ports, are one quarter the size of a 1/2″ barb

No included LED

No included barbs these will have to be purchased seperatly

 
Summary: Bitspower has designed another great product that breaks away from the average norm we seen with so many other water blocks. It also gives the users the ability to truly customize the interior of the chassis one step farther.