If you are on a tight budget, and need a card that can play games then you have come to the right place. With 40nm technology, GDDR3, and a 128 it bus this card is a great value for your dollar.
Introduction
For many people $200 USD is just too much for a graphics card, but they still want to be able to play games. While mid range cards don't have the performance to max out all of the latest games, they can at least play them and deliver that playability at a low price point. Today we have the latest addition to ATI's lineup, the HD 5570. This card aims to replace the aging HD 4670. Many owners of a 4670 will praise its amazing price to performance ratio. These same owneres will no doubt pick up a 5570, or maybe take a step up to the 5600 series. However if you are not able to afford a 5600 series card, or are planning a lower power PC then the 5500 series is an amazing option.
The 5500 series combines all of the features of its big brothers incldueing its amazing power useage. When I say the 5500 series uses almost no power, I mean it uses almost no power (under 45 watts). This card is a great option for a HTPC, or budget gameing machine, but lets take a closer look at the card!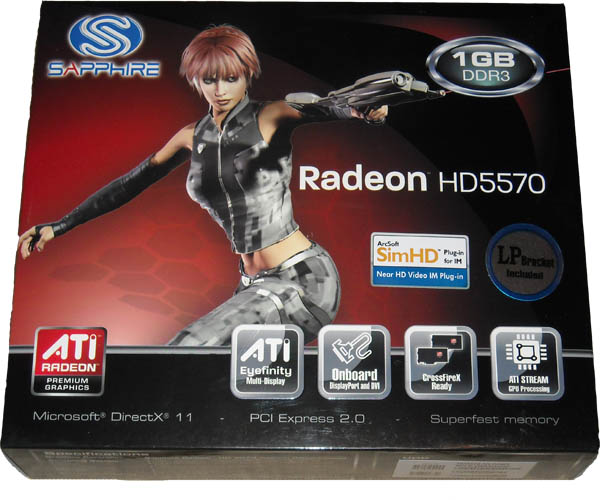 Features
Expand

Expand your visual real estate with ATI Eyefinity Technology, with revolutionary multi-display capabilities that let you see more and get more done.
 
ATI Eyefinity technology maximizes your field of view across up to three displays, fully engaging your peripheral vision and putting you right IN the game.
Flight Sim and Racing Games:
Create the ultimate flight or racing simulation platform by extending supported games across multiple displays for a panoramic view that gives you a true sense of height and speed.
 
Role-playing Games (RPG):
Get a bird's-eye view and spread out game information across multiple screens and still stay in the center of the action.
 
Real-time strategy (RTS): 
See more of the battlefield without having to zoom.
 
First-Person Shooter (FPS):
Get a better view of what's going on around you, use your peripheral vision so you can see the enemy before they see you.
 
Help increase productivity by maximizing your visual workspace so you can see more Windows simultaneously
The perfect solution for your home or office, ATI Eyefinity technology makes multi-tasking a snap by eliminating the need to flip between windows. Surf the internet, do email, edit photos or videos, track your stocks and much more all at the same time.
 
ATI Eyefinity technology is ideal for multimedia applications; it allows you to keep several 'palettes' or 'panels' open while you edit images or videos.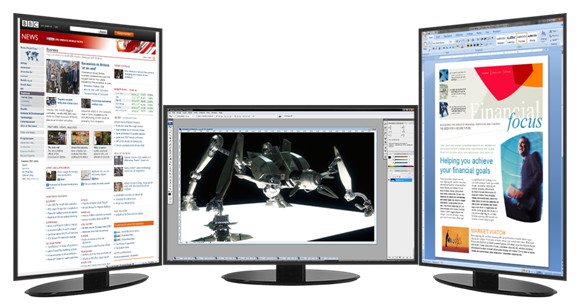 Accelerate

Perform tasks on a PC faster with ATI Stream technology, speed up demanding everyday applications and get more done in less time.
Unleash the massive parallel processing power of your GPU to help you do more with your PC than ever before.
With multimedia softwares that support ATI Stream, users can enjoy fast video encoding and transcoding so video playback, editing and transferring content to portable media players is quick and easy.
DirectCompute presents even more opportunities for you to take advantage of your ATI Radeon™ HD 5600 Series GPU for tasks other than just rendering
DirectCompute, helps improve PC performance by taking on some or all of a DirectX 11-enabled application's processing load, freeing up the computer's mainprocessor to take on additional tasks.
DirectX 11-enabled applications are designed for fast performance on your PC running Windows 7. In addition, programs designed for Windows 7 can convert a digital media file to a different size or format can perform a faster conversion (i.e. transcode) under Windows 7 than under previous versions of WIndows.
Windows® 7 with built-in drag and drop transcoding is a great example how ATI Radeon™ HD 5600 Series GPUs provide an exceptional experience for the upcoming operating system.
High performance anisotropic filtering and 24x custom filter anti-aliasing (CFAA) smooth jagged edges and create true-to-life graphics, for everything from grass to facial features.
Dominate 
With DirectX® 11 support you can play the latest HD games with unrivalled visual quality, astonishing realism and ultra-fast frame rates.
 
Get unrivalled visual quality and intense gaming performance and for today and tomorrow with support for Microsoft® DirectX® 11
ATI Radeon™ HD 5600 Series graphics accelerators and software drivers are the first to offer full support for Microsoft DirectX® 11.
Get striking 3D visual effects and dynamic interactivity with DirectX® 11 support, including features like HDR Texture Compression, DirectCompute and Tessellation.
DirectX® 11 brings new levels of visual realism to gaming on the PC and you'll get top-notch performance for these titles with ATI Radeon™ HD 5600 Series GPUs.
Get AMDs most advanced technology and massive compute power with ATI Radeon™ HD 5600 Series GPUs
Experience the speed, responsiveness and performance of ultra-high bandwidth GDDR5memory.
 
Get up to 1.8X of a graphics performance boost with ATI CrossFireX™ technology in dual mode.
 
Unparalleled anti-aliasing (AA) and enhanced anisotropic filtering deliver slick graphics with remarkable realism.
ATI Radeon HD 5600 Series GPUs are designed to deliver all the benefits of Microsoft Windows® 7
Engineered to take advantage of all the graphical features within the new Windows 7 operating system, ATI Radeon™ HD 5600 Series GPUs deliver a visually compelling experience and a fast, responsive PC.

Exclusive Software Bundle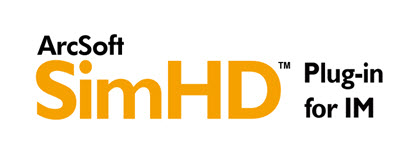 A Plug-in For  Higher Quality Video and Audio In Video  
 Conference/Chat. 
Supports MSN, Yahoo Messenger and Skype
 
Supports Windows® Vista and Windows® 7
 
Supports ATi Stream

Upscale and enhance the video/audio quality for instant messenger softwares
Remark
– SKU 11168-00-40R is bundled with ArcSoft SIMHD™ IM
Sapphire  HD 5570 System Requirements 
PCI Express® based PC is required with one X16 lane graphics slot available on the motherboard
 
400 Watt or greater power supply recommended (475 Watt for ATI CrossFireX™ technology in dual mode)
 
Certified power supplies are recommended. Refer to http://ati.amd.com/certifiedPSU for a list of Certified products
 
Minimum 1GB of system memory
 
Installation software requires CD-ROM drive
 
DVD playback requires DVD drive
 
Blu-ray™ playback requires Blu-ray drive
 
 For an ATI CrossFireX™ system, a second ATI Radeon™ HD 5570 graphics card, an ATI CrossFireX Ready motherboard are required.
It is worth noting that this card does not require a CrossFire cable to use CrossFire. However I feel that most buyers of this card will not run CrossFire, so this will not matter. As stated before all of the features from the more expensive cards are on the 5570 as well.
Specifications
| Specification | 5670 | GT220 | 4670 | 5570 |
| --- | --- | --- | --- | --- |
| Core Clock (MHz) | 775 | 720 | 750 | 650 |
| # of Shaders | 400 | 48 | 320 |  400 |
| Shader Clock (MHz) | 775 | 1566 | 750 | 650 |
| Memory Size (MB) | 1024 | 1024 | 512 | 1024 |
| Memory Bus (bit) | 128 | 128 | 128 |  128 |
| Memory Clock (MHz) | 1000 | 800 | 1000 | 900 |
| Memory Type | GDDR5 | DDR3 | GDDR3 | GDDR3 |
A quick glanse shows that the 5570 should end up being right around the performance level of the 4670. This is not bad since the 4670 was the high end mid range card of its day, while the 5570 is the low end mid range card of its. This should be a very interesting comparison indeed.
Pictures & Impressions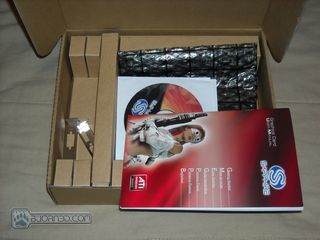 When we open the box we are greeted with the manual first. This is the most important part if you are not familiar with installing computer components. Below that is the driver CD, which we normally don't recommend, but since this was written before the release of the card there is no other choice. The low profile brackets are tucked away where they wont jab into the card.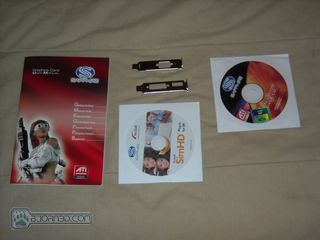 This is all that is included. Since this is a cheaper card you can pretty much expect it to come with the bare bones, but the inclusion of low profile brackets are a nice addition that many manufacturers overlook. The included SimHD is ok, but we would prefer to have a Vantage key or some cheap game in its place.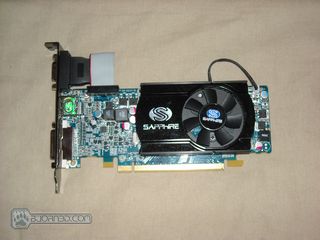 This card is just about as basic as you can get. The heatsink is surprisingly large for a cheaper card. Normally the heatsink for these cards amounts to a fan with an aluminum block under it. We see that the card is extra small so it will easily fit in low profile case, however you will loose the VGA connection. This can easily be remedied with a DVI to VGA adapter.
All of the ports you would expect to see are here. Surprisingly there is a DisplayPort. This was certainly a surprise to me, but a welcomed surprise none the less. For some reason Sapphire includes a VGA low profile bracket, but thats impossible to use so I don't know their reasoning there.
Methodology
To test this card, we did a fresh load of Windows 7 Ultimate 64 bit and applied all the patches and updates for the OS, then we updated all the motherboard drivers and made sure that we had the latest 9.12 Catalyst drivers. We didn't install any video drivers on the test rig at first, we just installed the basics and then cloned the hard drive using Acronis. That way when we switch from the ATI GPU to the Nvidia GPU we can have a fresh load with no old drivers hanging around to bugger up our benchmark numbers.
We ran each test 3 times and averaged the results, the average of those results are reported here. The one exception to the 3 run rule is Stalker, this test is just long so all of the individual tests were averaged together. Below is a detailed list of the components used during testing.
Test Rig
Case
Cooler Master HAF 932
CPU
Intel i7 920 @ 3.91 Ghz
Motherboard
Asus P6X58D
Ram
(6x2GB) DDR3 @ 1646 9-9-9-22
CPU Cooler
D-Tek Fuzion
Hard Drives
Corsair P64
Western Digital 750 GB
Optical
LiteOn DVDR
GPU's Tested

Sapphire HD 5670
Sapphire HD 5570
MSI HD 4670
Gigabyte GT220
Sapphire HD 5770

Testing PSU
Corsair HX1000 Watt
Synthetic Benchmarks & Games
 
Synthetic Benchmarks & Games
3DMark 06
3DMark Vantage
Crysis
Crysis Warhead
Far Cry 2
Hawx
Dirt 2
Unigine
Overclocking

To overclock the Sapphire 5570 I used ATI Catalyst. I slowly increased the clocks by 10 MHz until the system became unstable, then I baked down the clocks a bit and tested for stability. I kept lowering the clocks until the system was rock solid. Below where my results.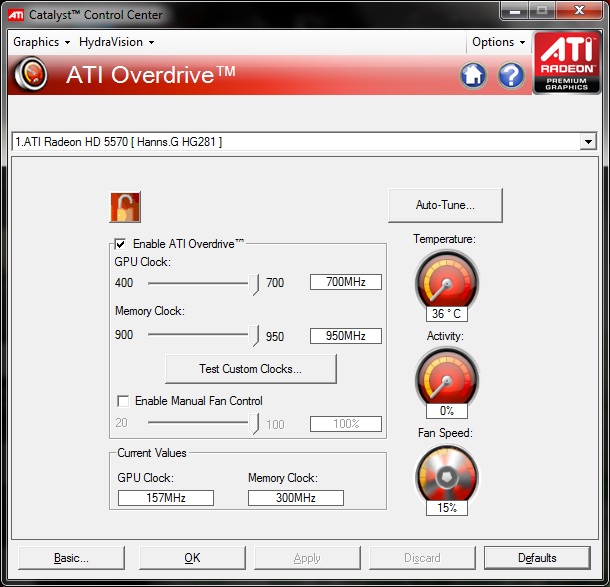 Unfortunately ATI has limited the 5570 to the clocks above. The good news is this card easily climbed to them, and was stable. This boost is simple enough for anyone too do even if you have never overclocked anything in your life. It should provide a mild boost to gaming. Below is a Vantage run showing the difference.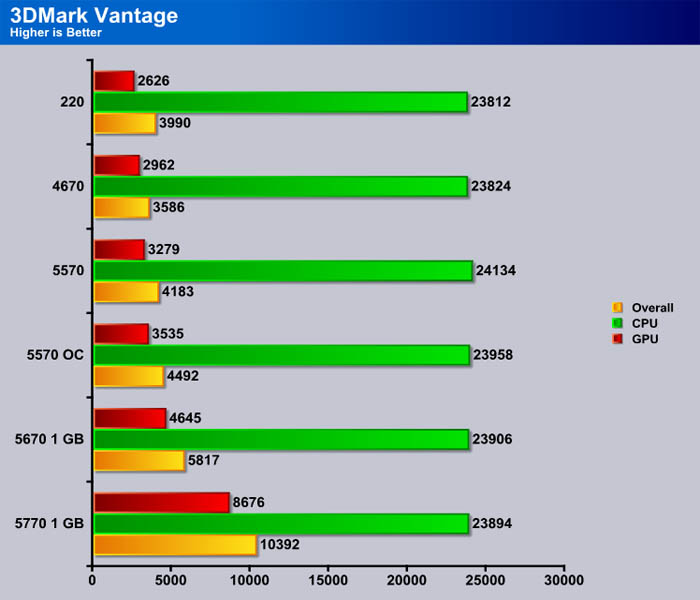 You can see here that the overclock makes a difference. The difference is pretty minimal, but its free performance that you would otherwise not have.
3DMARK06 V. 1.1.0

3DMark06 developed by Futuremark, is a synthetic benchmark used for universal testing of all graphics solutions. 3DMark06 features HDR rendering, complex HDR post processing, dynamic soft shadows for all objects, water shader with HDR refraction, HDR reflection, depth fog and Gerstner wave functions, realistic sky model with cloud blending, and approximately 5.4 million triangles and 8.8 million vertices; to name just a few. The measurement unit "3DMark" is intended to give a normalized mean for comparing different GPU/VPUs. It has been accepted as both a standard and a mandatory benchmark throughout the gaming world for measuring performance.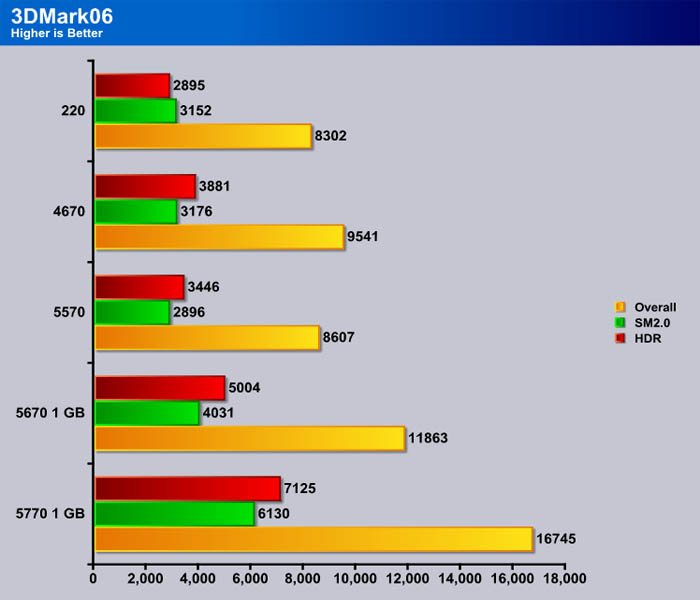 The 5570 doesn't get off to a bad start, but it ends up being behind the 4670. We see that even the GT220 almost matches the 5570. Hopefully the 5570's luck changes in Vantage.
3DMark Vantage

For complete information on 3DMark Vantage Please follow this Link:
www.futuremark.com/benchmarks/3dmarkvantage/features/
The newest video benchmark from the gang at Futuremark. This utility is still a synthetic benchmark, but one that more closely reflects real world gaming performance. While it is not a perfect replacement for actual game benchmarks, it has its uses. We tested our cards at the 'Performance' setting.
Currently, there is a lot of controversy surrounding NVIDIA's use of a PhysX driver for its 9800 GTX and GTX 200 series cards, thereby putting the ATI brand at a disadvantage. Whereby installing the PyhsX driver, 3DMark Vantage uses the GPU to perform PhysX calculations during a CPU test, and this is where things get a bit gray. If you look at the Driver Approval Policy for 3DMark Vantage it states; "Based on the specification and design of the CPU tests, GPU make, type or driver version may not have a significant effect on the results of either of the CPU tests as indicated in Section 7.3 of the 3DMark Vantage specification and white paper." Did NVIDIA cheat by having the GPU handle the PhysX calculations or are they perfectly within their right since they own Ageia and all their IP? I think this point will quickly become moot once Futuremark releases an update to the test.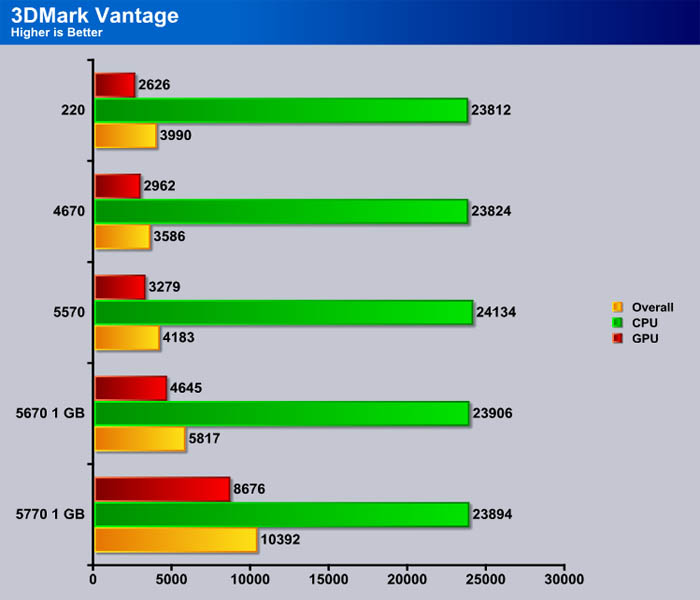 This time the 5570 was easily able to pass the 4670. The 5570 seems like it might be coded better for more recent games, but struggle with the older games. We saw a similar thing in the transition from the 1000 series to the 2000 series. The older cards would outperform their successors in older games, but struggle in newer ones.
Crysis v. 1.21

Crysis is the most highly anticipated game to hit the market in the last several years. Crysis is based on the CryENGINE™ 2 developed by Crytek. The CryENGINE™ 2 offers real time editing, bump mapping, dynamic lights, network system, integrated physics system, shaders, shadows, and a dynamic music system, just to name a few of the state-of-the-art features that are incorporated into Crysis. As one might expect with this number of features, the game is extremely demanding of system resources, especially the GPU. We expect Crysis to be a primary gaming benchmark for many years to come.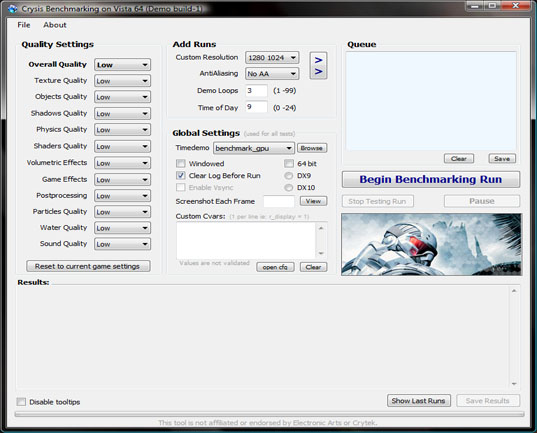 The Settings we use for benchmarking Crysis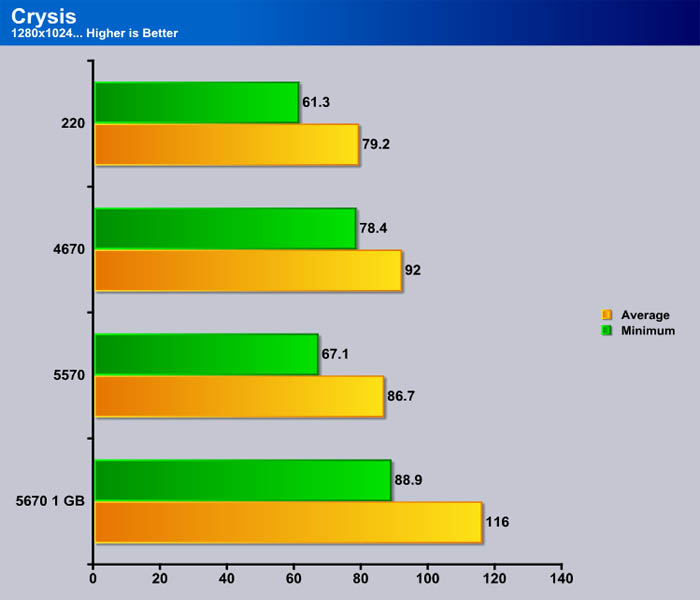 We see here that the 5570 looses by a small margin to the 4670. The 5570 does manage to beat the 220, which is a good thing. Lets see how the 5570 handles higher resolutions.
Again the 5570 comes up short against the 4670, but still beats out the 220.
CRYSIS WARHEAD

Crysis Warhead is the much anticipated sequel of Crysis, featuring an updated CryENGINE™ 2 with better optimization. It was one of the most anticipated titles of 2008.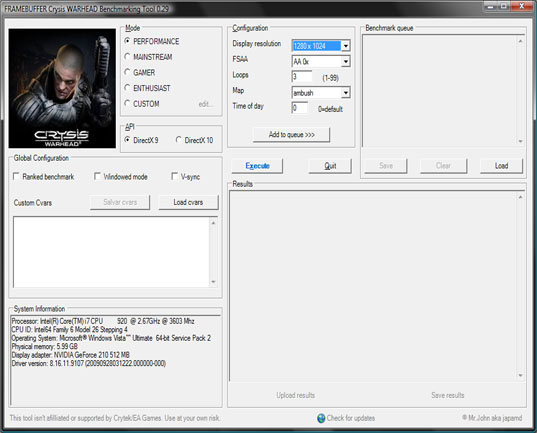 The Settings we use for benchmarking Warhead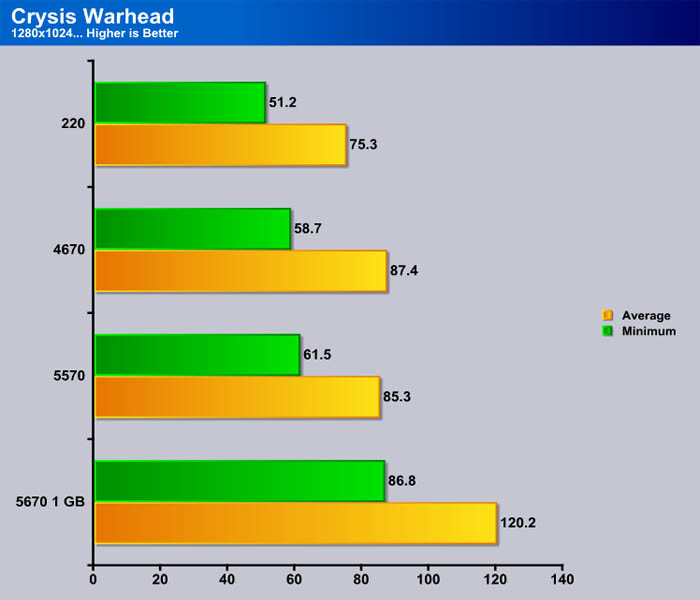 The tide has changed a bit as we move onto Warhead. While the 5570 had a slightly lower average frame rate, the 4670 had a lower minimum.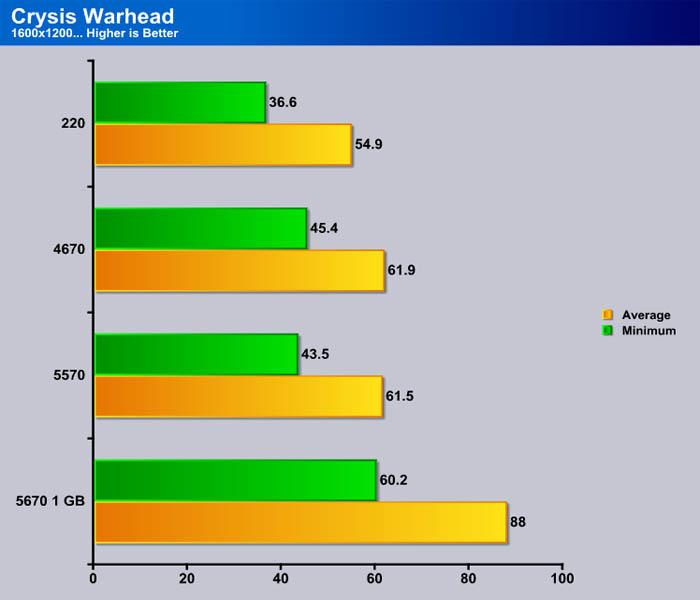 The 5570 manages to come oh so close to the 4670, but no cigar. The way this is going so far the 5570 is looking like a decent replacement for the 4670.
Far Cry 2

Far Cry 2, released in October 2008 by Ubisoft, was one of the most anticipated titles of the year. It's an engaging state-of-the-art First Person Shooter set in an un-named African country. Caught between two rival factions, you're sent to take out "The Jackal". Far Cry2 ships with a full featured benchmark utility and it is one of the most well designed, well thought out game benchmarks we've ever seen. One big difference between this benchmark and others is that it leaves the game's AI (Artificial Intelligence) running while the benchmark is being performed.
The Settings we use for benchmarking FarCry 2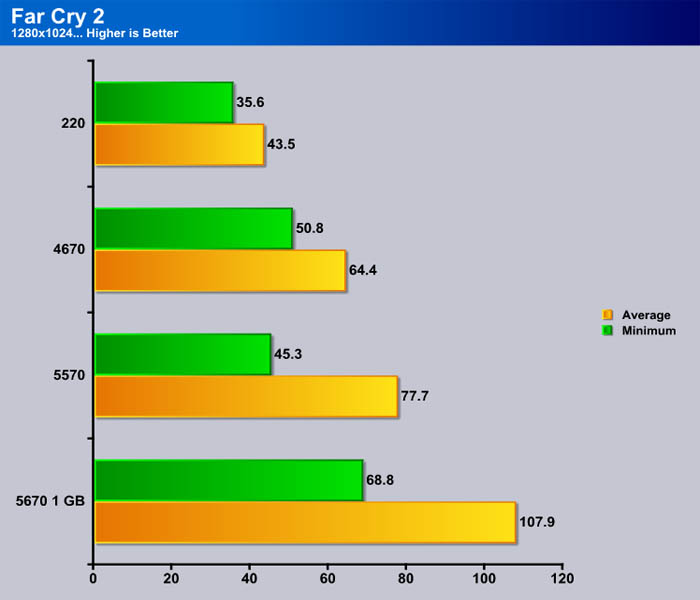 Now these are the results we where looking for. The 5570 really puts a beating on the 4670 here. The 4670 however did have a higher minimum frame rate, but the 5570's minimum frame rate was so high it doesn't matter.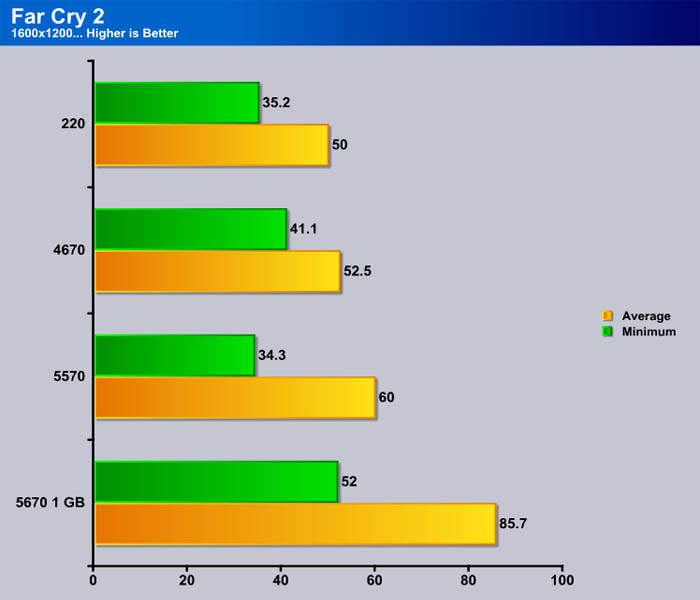 The 5570 doesn't slow down as we increase the resolution. The 4670 again has a higher minimum frame rate, but the 5570 kept its minimum over 30.
HawX

The story begins in the year 2012. As the era of the nation–state draws quickly to a close, the rules of warfare evolve even more rapidly. More and more nations become increasingly dependent on private military companies (PMCs), elite mercenaries with a lax view of the law. The Reykjavik Accords further legitimize their existence by authorizing their right to serve in every aspect of military operations. While the benefits of such PMCs are apparent, growing concerns surrounding giving them too much power begin to mount.
Tom Clancy's HAWX is the first air combat game set in the world–renowned Tom Clancy's video game universe. Cutting–edge technology, devastating firepower, and intense dogfights bestow this new title a deserving place in the prestigious Tom Clancy franchise. Soon, flying at Mach 3 becomes a right, not a privilege.
All the settings where set to low.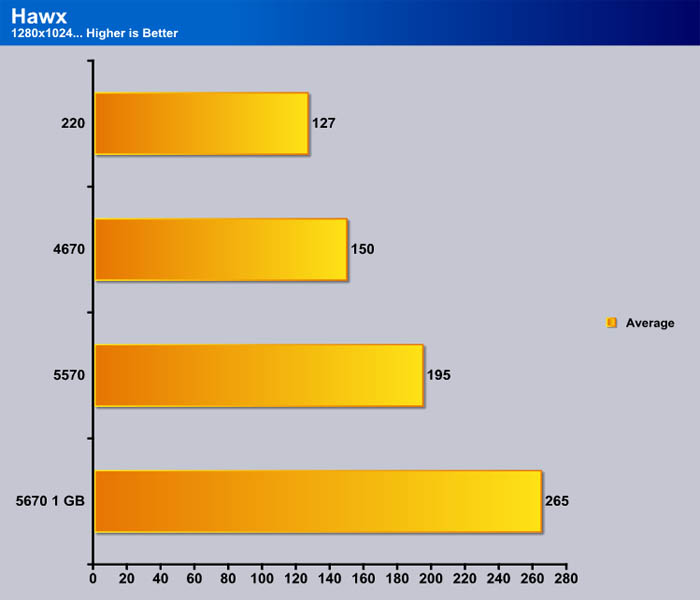 The 5570 pulls out far ahead of the 4670 here. You will easily be able to play the game regardless however.
Again the 5570 easily trumps the 4670. During non DirectX 11 testing the 5570 has shown that it is easily capable of playing any game, and even allowing you to turn up the eye candy a bit. Now lets see how well it handles DirectX 11 content.
Dirt 2

Colin McRae
Dirt 2 is the squeal to the popular racing game Colin McRae Dirt. The game is a racing game, but with an off road twist. Instead of racing Bugattis and Porsches your going to be racing trophy trucks and rally cars. The newest addition adds DirectX 11 effects, and modified physics from the original game.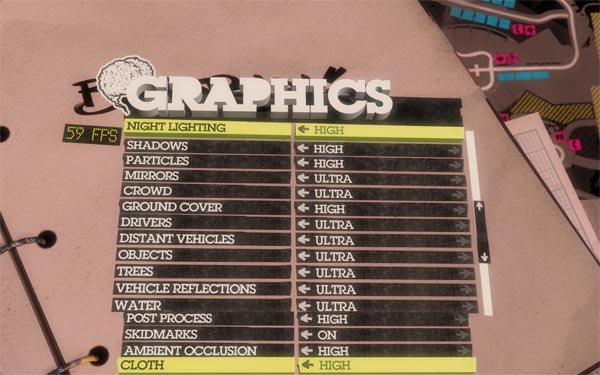 The settings we used in Dirt 2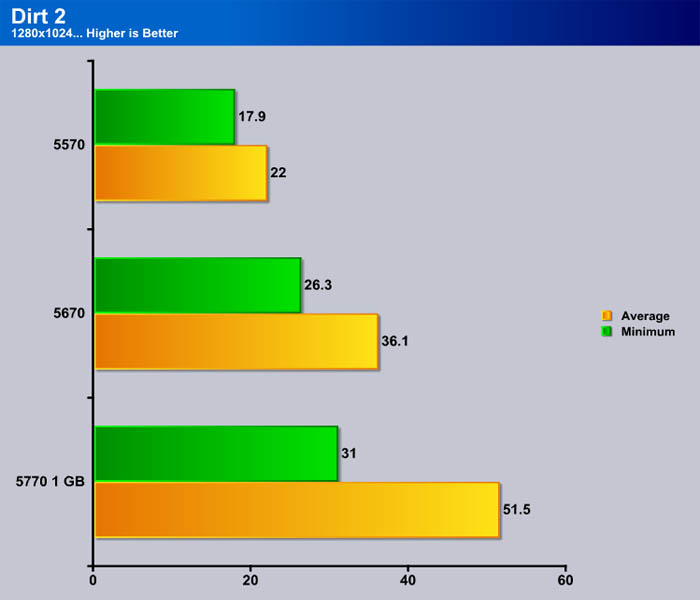 We see that the 5570 just doesn't have enough horsepower to be able to play this game at a decent clip. The game itself is maxed, so there was never much hope this card would excel.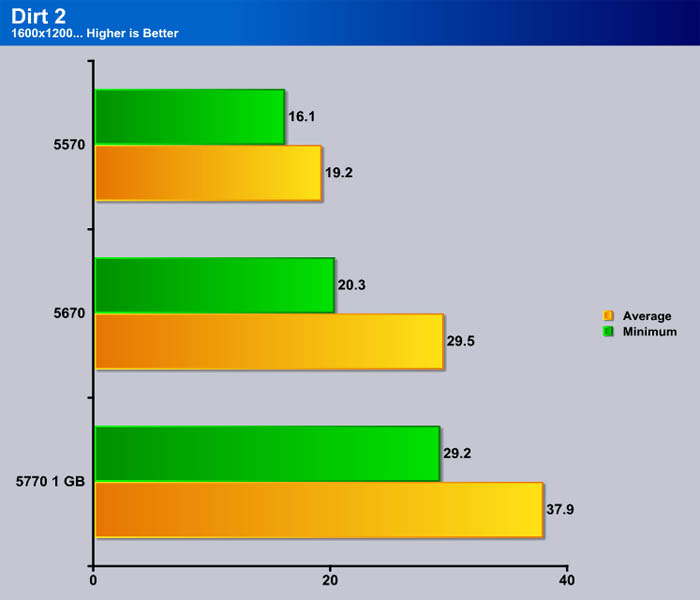 When the resolution is increased we see the 5570 fall deeper into the pit. However it was not at an absolute standstill, so at least theres a bright side to this.
Unigine Heaven

Unigine Heaven is a benchmark program based on Unigine Corp's latest engine, Unigine. The engine features DirectX 11, Hardware tessellation, DirectCompute, and Shader Model 5.0. All of these new technologies combined with the ability to run each card through the same exact test means this benchmark should be in our arsenal for a long time.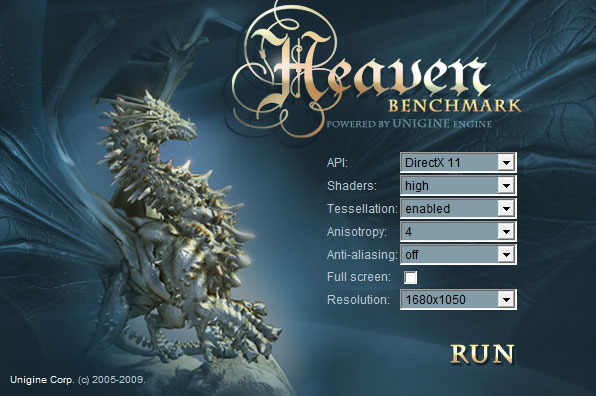 The settings we used in Unigine Heaven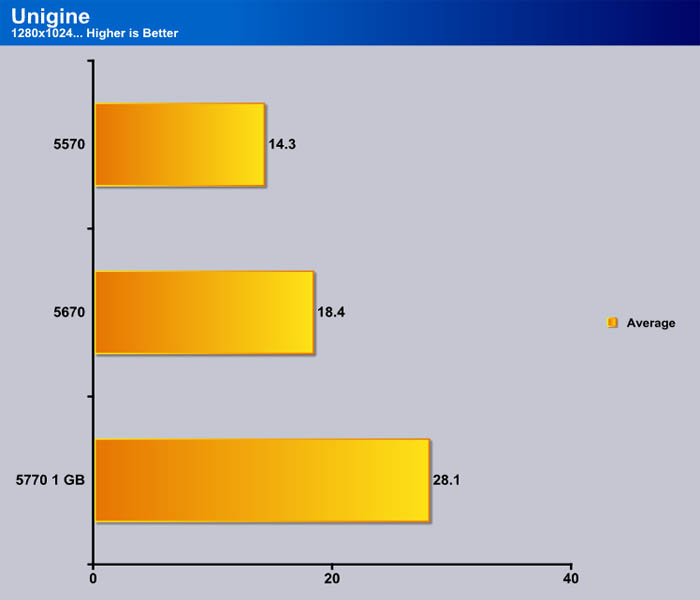 The 5570 didn't do too bad of a job overall considering the 5770 wasn't even able to play this at 30 FPS.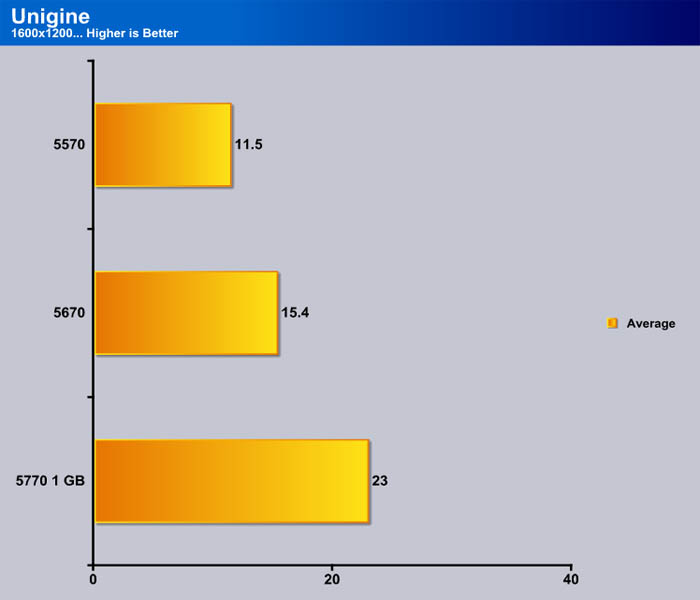 The 5570 looses a few FPS, but still hangs in there. Unigine is pretty demanding on lower end DX11 cards, so this result was to be expected. I do feel that the card did a pretty decent job, but I have no faith that the card will be able to handle future titles with DX11 enabled.
Temperatures

To test the temperatures I booted up Furmark 1.7. I let Furmark run for 30 minutes then recorded the highest reached temperature. I then let the card idle doing nothing for another 30 minutes and recorded the temperature after the wait. Below are the results.
| Idle (°C) | Load (°C) |
| --- | --- |
| 37 | 77 |
The temperatures where actually pretty good. Take in mind that this was with auto fan, so the temperatures could be lowered by a huge margin if you turned the fan up. The fan itself is pretty silent up to around 50%. At 75% the fan is still quite quiet. If you don't mind a little noise I would recommend running it at around 75% to ensure that the card stays cool.
Conclusion
The Sapphire HD 5570 is a budget card that provides the power you need to play the latest games, and even turn up the eye candy a bit. This card is also very appealing to the HTPC market. The card is a low profile card, so it will fit in the small cases that many HTPCs use. It also happens to feature a 40nm chip which uses a very small amount of power, and thus creates much less heat. Heat is often an issue in HTPC cases, so any component that can help the lower the heat level is desired.
Surprisingly this card supports all of the features of its larger brothers, namely Eyefinity. This is pretty amazing for a budget card. The only issue with this is the card just doesn't have the power to play any newer games at the resolutions that are required. None the less it is still nice to see the feature on a card like this. When you combine that with Sapphire's excellent two year warranty, and you have a winning card.
OUR VERDICT:  Sappire HD 5570 1 GB

| | |
| --- | --- |
| Performance | 8 |
| Value | 7 |
| Quality | 8 |
| Features | 9 |
| Innovation | 8 |

We are using an addition to our scoring system to provide additional feedback beyond a flat score. Please note that the final score isn't an aggregate average of the rating system.

Pros
Cons

Decent Cooler

DDR3

No 6 Pin PCIE Needed

 Little Pricey
Summary: The Sapphire HD 5570 1 GB is a great card for a budget gamer or HTPC builder. The cards ability to work in a low profile case only deepens its feature set. This card is sure to meet the needs of many consumers, and provide an excellent performance for years to come.