Many users would love their products to run cooler than stock so they pick up an aftermarket cooler, well now Sapphire has a product just for you, the 5770 Vapor X. The card includes an aftermarket cooler so you can really kick up the clocks.
Introduction
Many of us are always doing whatever we can to get that last MHz out of our equipment. This includes going out and buying an aftermarket cooler to allow us to increase the voltages, or buying a better overclocking motherboard. If you go with an aftermarket cooler for your video card then a few problems arise. First you have to take off the stock cooler then carefully apply the VRM coolers, ect. Why not just buy a card with an aftermarket cooler already installed? The answer to that most of the time is, "But there are no aftermarket cooled cards available." Today we happen to have an aftermarket cooled 5770 by Sapphire. This card gives you all the advantages of aftermarket cooling without the hassle of installing your own aftermarket cooler.
Of course since this is a 5770 the card also comes with DX11 and Eyefinity. That certainly sounds like a winning formula to me.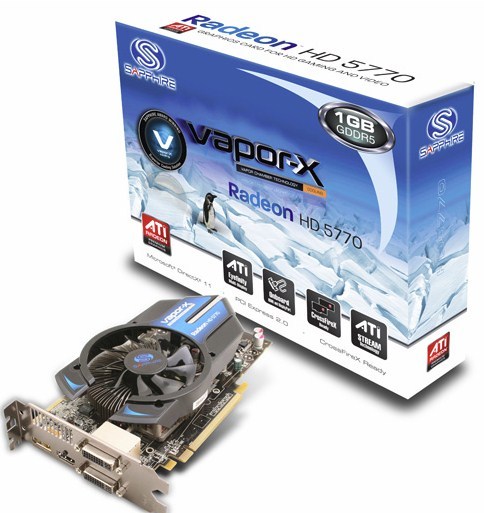 Features
 

Vapor-X Cooling

Vapor Chamber Technology is based on the same principles as heatpipe technology.  A liquid coolant is vaporized at a hot surface, the resulting vapor is condensed at a cold surface then the liquid is returned to the hot surface. The recirculation process is controlled by a patented wick system.

SAPPHIRE Vapor-X flattens the whole system into a slim chamber – which in the graphics application is mounted in contact with the surface of the graphics chip.
 
The Vapor-X cooling can easily be considered the main selling point with this card. Like the 5970, this 5770 uses a Vapor Chamber which increases the cooling capacity of the cooler.
| | |
| --- | --- |
| | ATI Eyefinity Technology(A.B.) |
| | |
| --- | --- |
| | 40 nm Process Technology |
| | |
| --- | --- |
| | 800 Stream Processing Units |
| | |
| --- | --- |
| | Advanced 1GB/128-bit GDDR5 Memory Technology |
| | |
| --- | --- |
| | 2nd Generation TeraScale Engine |
| | |
| --- | --- |
| | Microsoft Windows 7® Support(E.) |
| | |
| --- | --- |
| | ATI CrossFireX™ Technology(C.) |
| | |
| --- | --- |
| | Display Flexibility, Supports DL-DVI, DP, HDMI and D-Sub |
| | |
| --- | --- |
| | HDMI 1.3 support with Deep Color and 7.1 High Bitrate Audio |
| | |
| --- | --- |
| | AC-3, AAC3, Dolby® TrueHD and DTSHD Master Audio TM Support |
| | |
| --- | --- |
| | Dynamic power management with ATI PowerPlay™ technology including memory clocks (D.) |
ATI Avivo™ Technology Enhanced Unified Video Decoder 2 (UVD 2)(D.)

ATI Unified Video Decoder 2 (UVD) for Blu-ray™ and HD Video.

Accelerated Video Transcoding (AVT)
DVD Upscaling
Dynamic Contrast
Built-in HDMI with 7.1 surround sound support
Support for H.264, VC-1 and MPEG-2
Dual Stream 1080p playback support (H.)
DXVA 1.0 & 2.0 support
| | |
| --- | --- |
| | Supports OpenGL 3.2(F.) |
| | |
| --- | --- |
| | 3D stereoscopic display/glasses support (G.) |
| | |
| --- | --- |
| | On chip HDCP Support |
Everything else here falls into the basic feature list of the 5770 card itself.
Specifications
| Feature/Specification | HD 5770 | Vapor-X 5770 | HD 4770 | HD 4890 |
| --- | --- | --- | --- | --- |
| # Of Shaders | 800 | 800 | 640 | 800 |
| Core Clock | 850 | 860 | 750 | 850 |
| Texture Units |  40 | 40 | 32 | 40 |
| Raster Operators |  16 | 16 | 16 | 16 |
| GFLOPS |  1360 | 1360 | 960 | 1360 |
| Memory Interface (bit) | 128 | 128 | 128 | 256 |
| Memory Size | 1 GB | 1 GB | 512 MB/1 GB | 1/2 GB |
| Memory Type | GDDR 5 | GDDR 5 | GDDR 5 | GDDR 5 |
| Memory Clock (effective) | 4800 | 4800 | 3600 | 3900 |
The stock clocked 5770 is very close to the Vapor-X. I am a little bit disappointed in Sapphire for only giving this card a measly 10 MHz OC on the core clock. This amounts to pretty much nothing in the real world.
Pictures & Impressions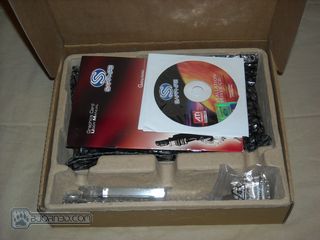 As with just about every other mid range graphics card, this one comes in a paper mache like holder. This material has a little give to it to help absorb any impacts. The heavier included accessories are in a separate pocket. This eliminates the risk of the accessories damaging the card.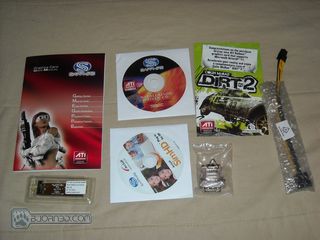 Sapphire opted to not include a bunch of unneeded accessories, and instead included everything you need, as well as a couple extras. As always, there is an included manual that will get anyone who is unsure of what there doing going. There is also a driver disk, Crossfire cable, DVI to VGA adapter, and a 6 pin PCIE adapter. Sapphire was kind enough to bundle Dirt 2 (a DX 11 game) in with the card so you can immediately experience DX11 for yourself.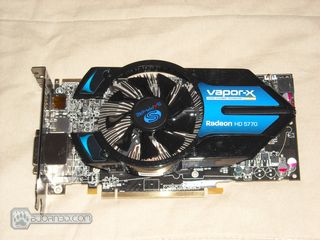 First up is a nice aerial view of the card. We can see that this is clearly far from the reference cooler design. The fan is much larger, which means it is able to run at a higher speed without making as much noise. This helps lower the temperature of the card.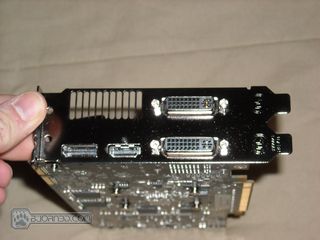 Just like every other stock 5770, this one includes twin DVI connectors, a Display port, and an HDMI port. There is also a tiny vent, but this probably won't do much since the air is not vented out of it like on the stock cooler.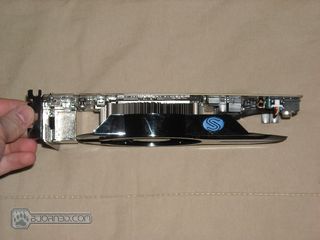 Sapphire has decided to extend the plastic past the physical cooler, and we actually like this idea. It helps hide part of the PCB, making the card look cleaner when you are looking at the top. You probably won't notice this in your case though. The thing you will notice is the little blue Sapphire light. When the card is receiving power, the light turns on, and emits a pretty bright glow.
Metholdology
To test this card, we did a fresh load of Windows 7 Ultimate 64 bit and applied all the patches and updates for the OS, then we updated all the motherboard drivers and made sure that we had the latest 9.12 Catalyst drivers. We didn't install any video drivers on the test rig at first, we just installed the basics and then cloned the hard drive using Acronis. That way when we switch from the ATI GPU to the Nvidia GPU we can have a fresh load with no old drivers hanging around to bugger up our benchmark numbers.
We ran each test 3 times and averaged the results, the average of those results are reported here. The one exception to the 3 run rule is Stalker, this test is just too long so all of the individual tests were averaged together. Below is a detailed list of the components used during testing.
Test Rig
Case
Cooler Master HAF 932
CPU
Intel i7 920 @ 3.9 Ghz
Motherboard
Asus P6X58D
Ram
(6x2GB) DDR3 @ 1560 9-9-9-22
CPU Cooler
D-Tek Fuzion
Hard Drives
Corsair P64
Western Digital 750 GB
Optical
LiteOn DVDR
GPU's Tested

Sapphire HD 5970
Sapphire HD 5770
Asus HD 5770
Sapphire HD 5770 Vapor-X

Testing PSU
Corsair HX1000 Watt
Synthetic Benchmarks & Games
Synthetic Benchmarks & Games
3DMark 06
3DMark Vantage
Crysis
Crysis Warhead
Resident Evil 5
Far Cry 2
Hawx
Grand Theft Auto 4
Dirt 2
Unigine
Stalker Call of Pripyat
Overclocking

To overclock the Sapphire 5770 Vapor-X I used ATI Catalyst. I slowly increased the clocks by 10 MHz until the system became unstable, then I backed down the clocks a bit and tested for stability. I kept lowering the clocks until the system was rock solid.
| Core Clock | Memory Clock |
| --- | --- |
| 950 | 1380 |
Over all the results were pretty good. This is a higher overclock than we were able to acheive on the reference Sapphire 5770. The cooler certainly helped, but I suspect that Sapphire also uses higher binned chips for the Vapor-X edition. Lets see how this overclock affected our 3DMark Vantage scores.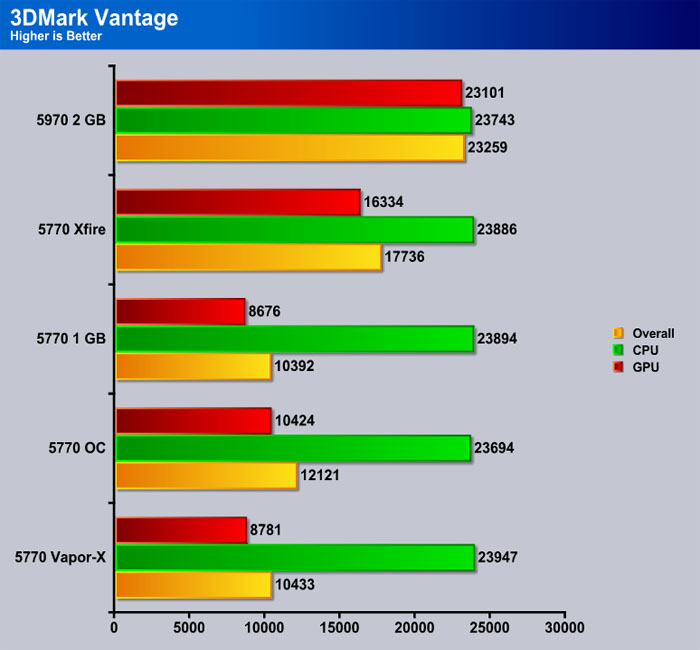 The gain is not too bad. The card is easily outperforming a stock clocked 4890 at this point. Judgeing by the performance gain here, you just might notice a difference in games when this card is overclocked.
 3DMARK06 V. 1.1.0

3DMark06 developed by Futuremark, is a synthetic benchmark used for universal testing of all graphics solutions. 3DMark06 features HDR rendering, complex HDR post processing, dynamic soft shadows for all objects, water shader with HDR refraction, HDR reflection, depth fog and Gerstner wave functions, realistic sky model with cloud blending, and approximately 5.4 million triangles and 8.8 million vertices; to name just a few. The measurement unit "3DMark" is intended to give a normalized mean for comparing different GPU/VPUs. It has been accepted as both a standard and a mandatory benchmark throughout the gaming world for measuring performance.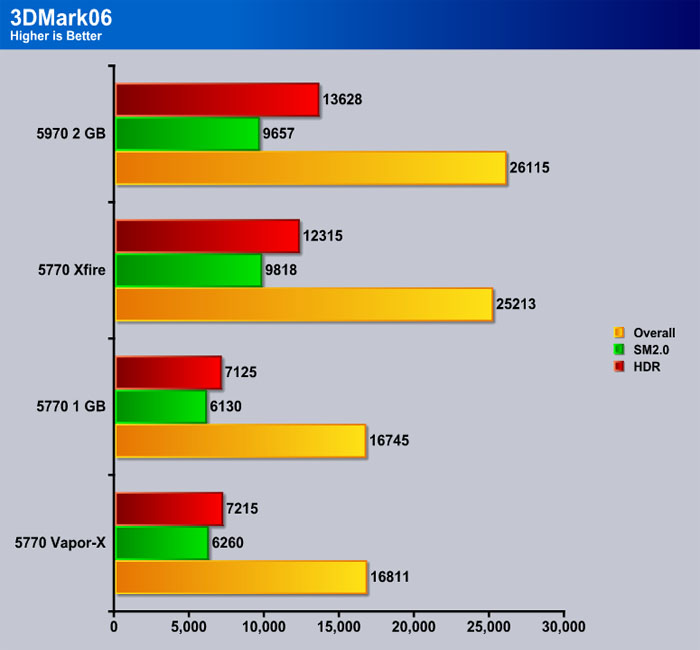 As expected the Vapor-X did not do much better at all. Whats more surprizing is 5770 Crossfire. It almost matches the 5970. As far as 3DM 06 goes, 5770 Crossfire is pretty high up there.
3DMark Vantage

For complete information on 3DMark Vantage Please follow this Link:
www.futuremark.com/benchmarks/3dmarkvantage/features/
The newest video benchmark from the gang at Futuremark. This utility is still a synthetic benchmark, but one that more closely reflects real world gaming performance. While it is not a perfect replacement for actual game benchmarks, it has its uses. We tested our cards at the 'Performance' setting.
Currently, there is a lot of controversy surrounding NVIDIA's use of a PhysX driver for its 9800 GTX and GTX 200 series cards, thereby putting the ATI brand at a disadvantage. Whereby installing the PyhsX driver, 3DMark Vantage uses the GPU to perform PhysX calculations during a CPU test, and this is where things get a bit gray. If you look at the Driver Approval Policy for 3DMark Vantage it states; "Based on the specification and design of the CPU tests, GPU make, type or driver version may not have a significant effect on the results of either of the CPU tests as indicated in Section 7.3 of the 3DMark Vantage specification and white paper." Did NVIDIA cheat by having the GPU handle the PhysX calculations or are they perfectly within their right since they own Ageia and all their IP? I think this point will quickly become moot once Futuremark releases an update to the test.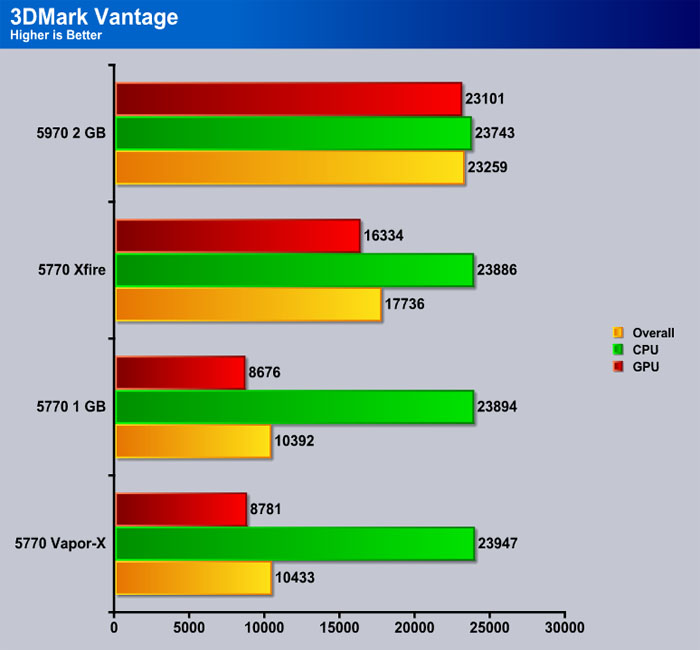 Again the Vapor-X does marginaly better than the stock 5770. We also see here that 5770 Crossfire does not do nearly as well compared to the 5970 as it did in 06.
Crysis v. 1.21

Crysis is the most highly anticipated game to hit the market in the last several years. Crysis is based on the CryENGINE™ 2 developed by Crytek. The CryENGINE™ 2 offers real time editing, bump mapping, dynamic lights, network system, integrated physics system, shaders, shadows, and a dynamic music system, just to name a few of the state-of-the-art features that are incorporated into Crysis. As one might expect with this number of features, the game is extremely demanding of system resources, especially the GPU. We expect Crysis to be a primary gaming benchmark for many years to come.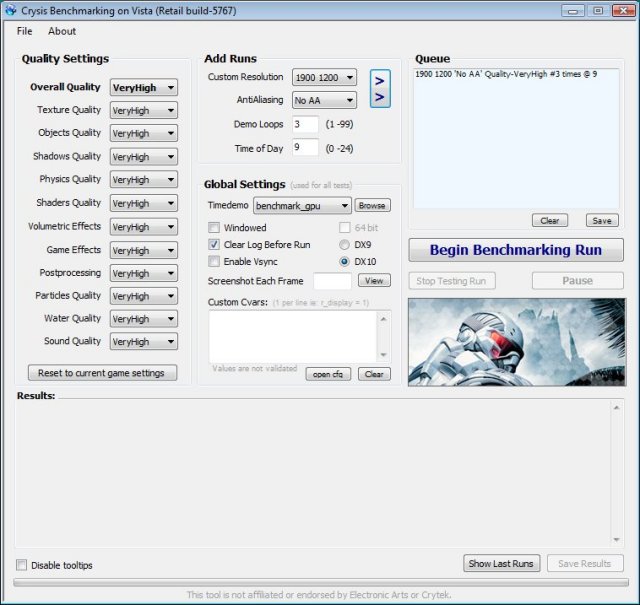 The Settings we use for benchmarking Crysis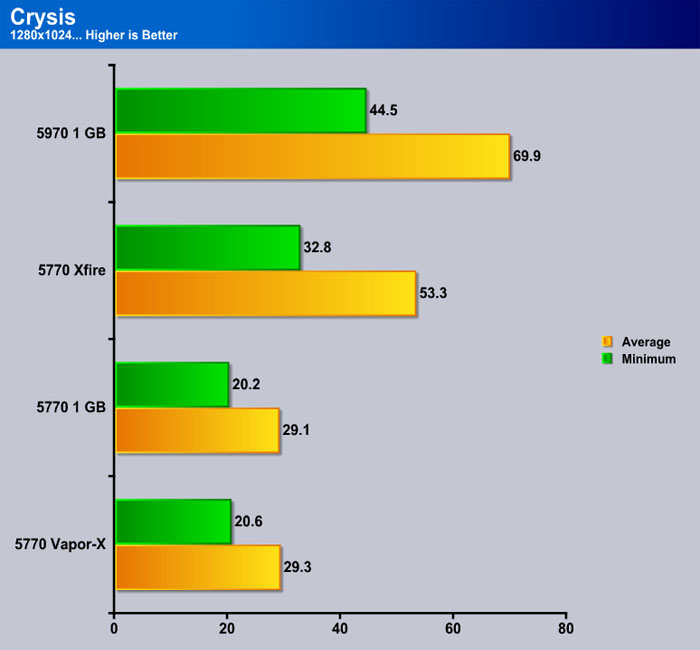 Again the Vapor-x barely out performs the stock clocked 5770. 5770 Crossfire provides pretty close to 90% scaling, which is pretty amazing.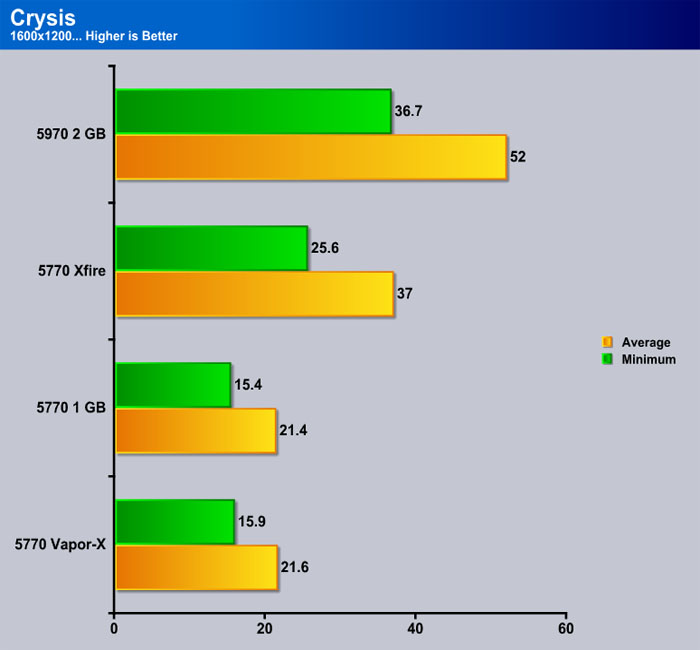 Once again the minimal overclock proves to not do much as far as performance. The Crossfire comes through again giving us great scaling results.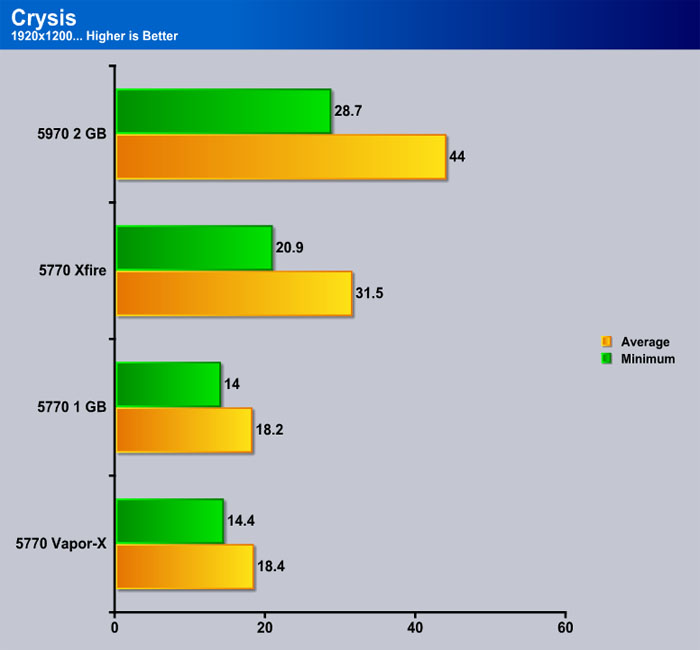 I am very happy with the scaling of the 5770. It is coming so close to 100% that its ridiculous. On the other hand, I am very disappointed in the Vapor-X because of its meager overclock.
CRYSIS WARHEAD

Crysis Warhead is the much anticipated sequel of Crysis, featuring an updated CryENGINE™ 2 with better optimization. It was one of the most anticipated titles of 2008.

The Settings we use for benchmarking Warhead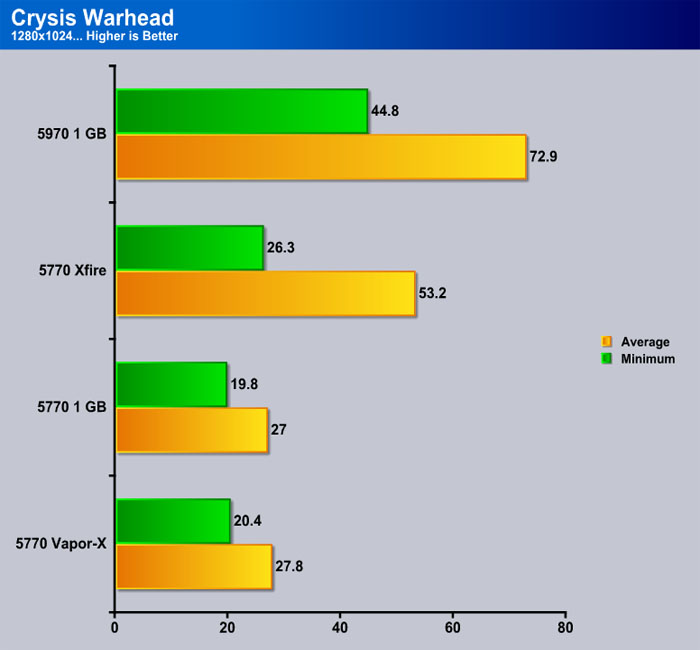 Just like in the first Crysis, the Vapor-X is performing just a smidgen better than the stock 5770. The 5770 Crossfire puts up some great scaling, as well as FPS.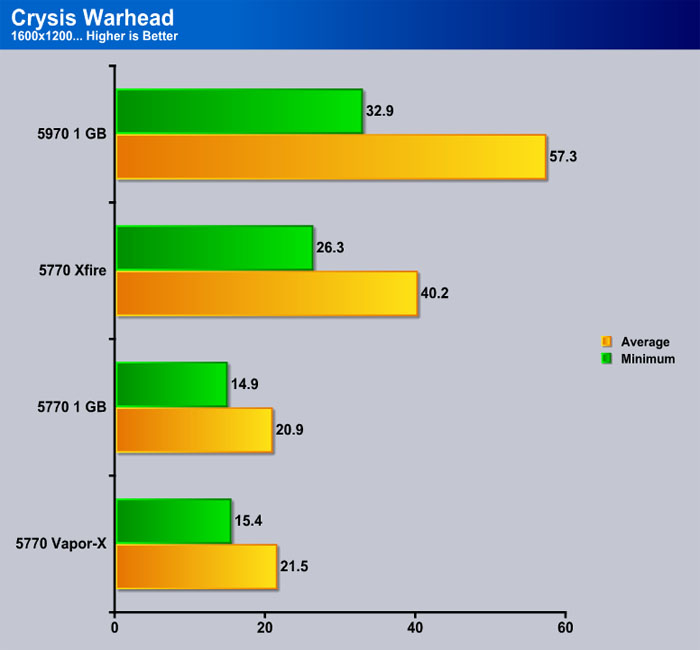 When the resolution is increased we see what amounts to the same picture. Though the scaling has gotten just a bit closer to a full 100%.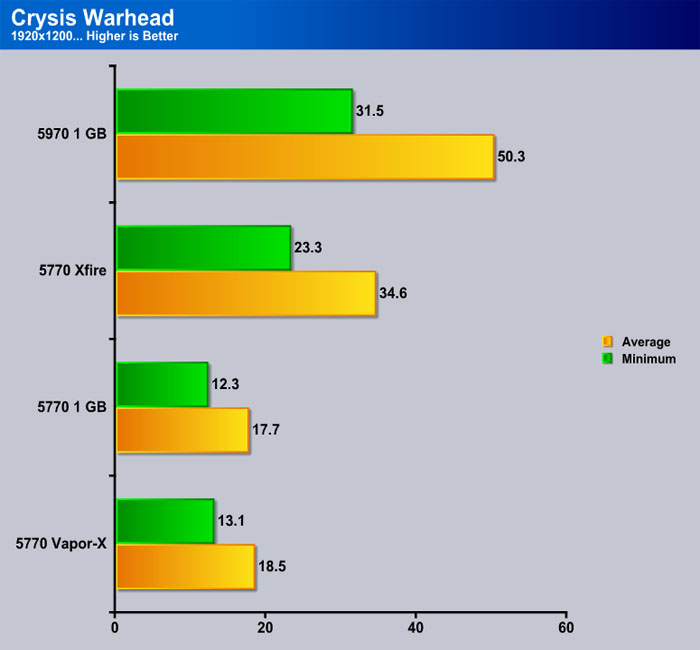 Again we see a minimal difference between the 5770's. This was a pretty lackluster showing, but was expected since the Vapor-X only has a 10 MHz overclock.
Resident Evil 5

Resident Evil 5 is the latest addition to the popular Resident Evil franchise. Set in Africa, you play as Chris Redfeild who is part of the Bio-terrorism Security Assessment Alliance (BSAA). You are sent to capture Ricardo Irving who is trying to bring a bio-organic weapon to the black market. However you quickly unravel something bigger…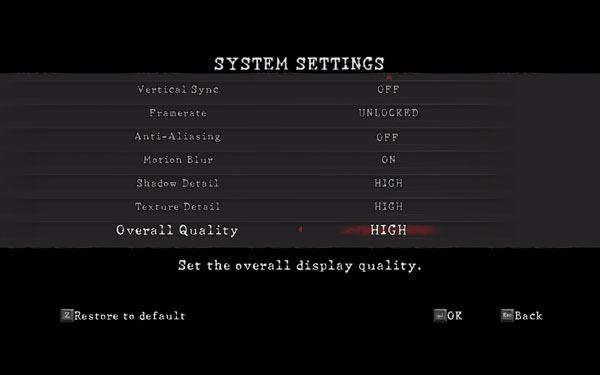 The settings we used in Resident Evil 5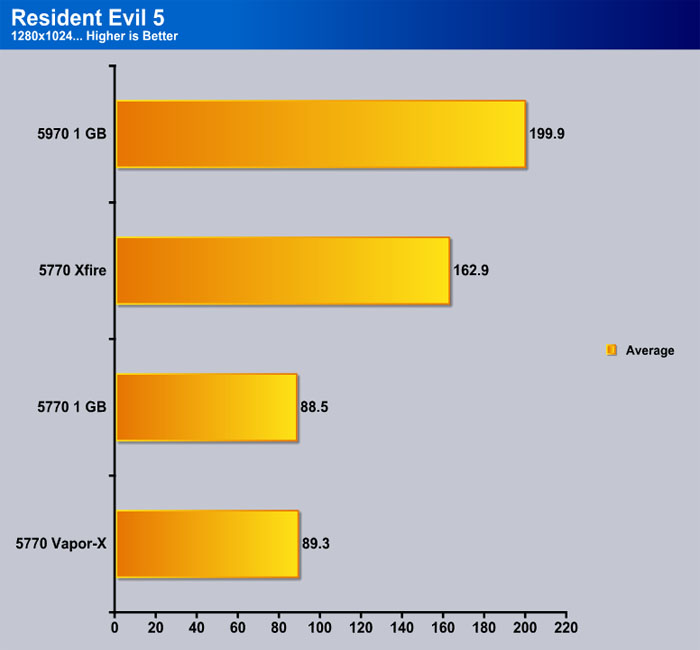 We get the same story here as previously reguarding the 5770's. The 5770 Crossfire happens to be closer to the 5970 than in the Crysis tests.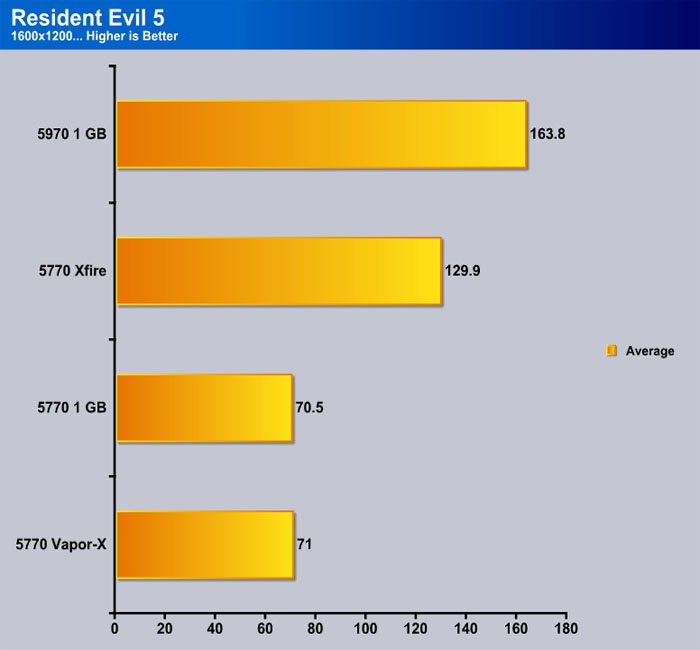 With a small boost in resolution we find the same results as before. The 5770 Crossfire has great scaling as before, and isn't too far off from the 5970.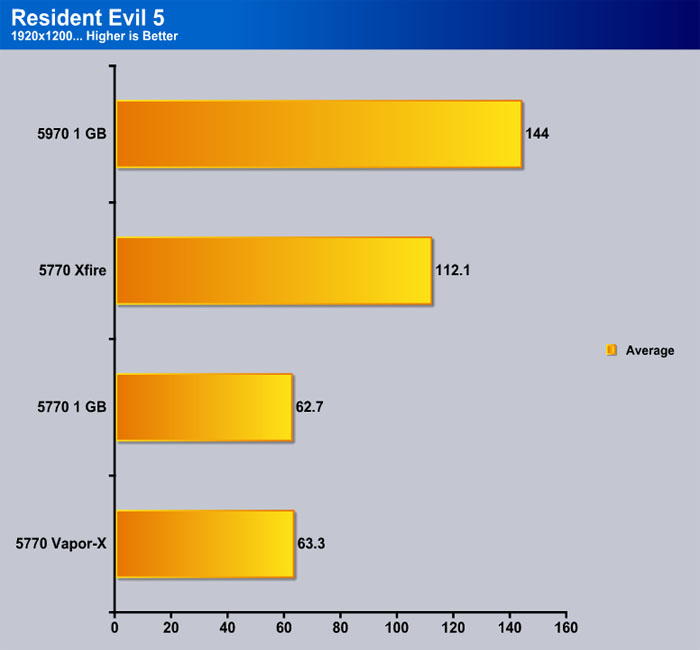 In our highest resolution for today we see the same story as before. The good news is this is a awesome result, and you should not have any issues playing this game maxed at this resolution.
Far Cry 2

Far Cry 2, released in October 2008 by Ubisoft, was one of the most anticipated titles of the year. It's an engaging state-of-the-art First Person Shooter set in an un-named African country. Caught between two rival factions, you're sent to take out "The Jackal". Far Cry2 ships with a full featured benchmark utility and it is one of the most well designed, well thought out game benchmarks we've ever seen. One big difference between this benchmark and others is that it leaves the game's AI (Artificial Intelligence) running while the benchmark is being performed.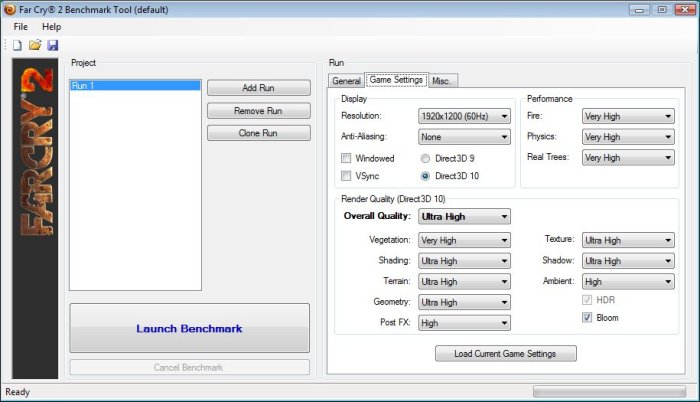 The Settings we use for benchmarking FarCry 2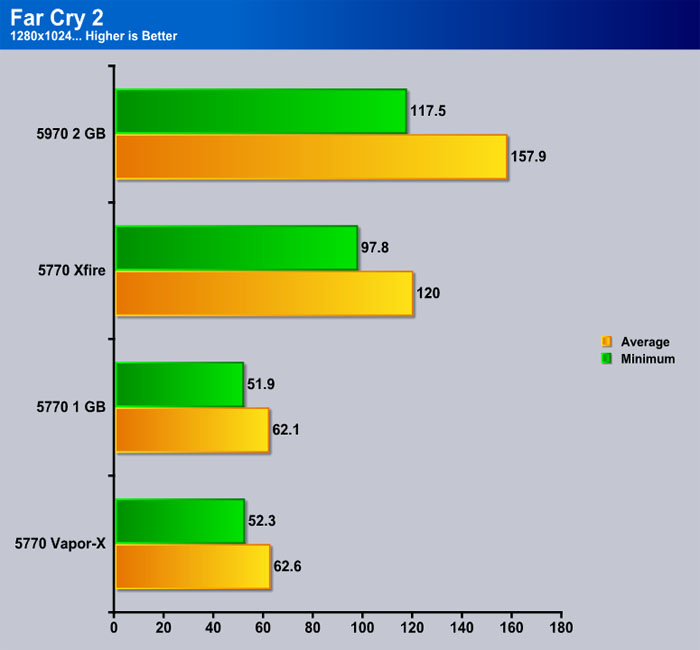 Far Cry 2 so far is showing the same exact thing that Resident Evil 5 did. The 5770's are neck and neck, and Crossfire isn't too far away from the 5970.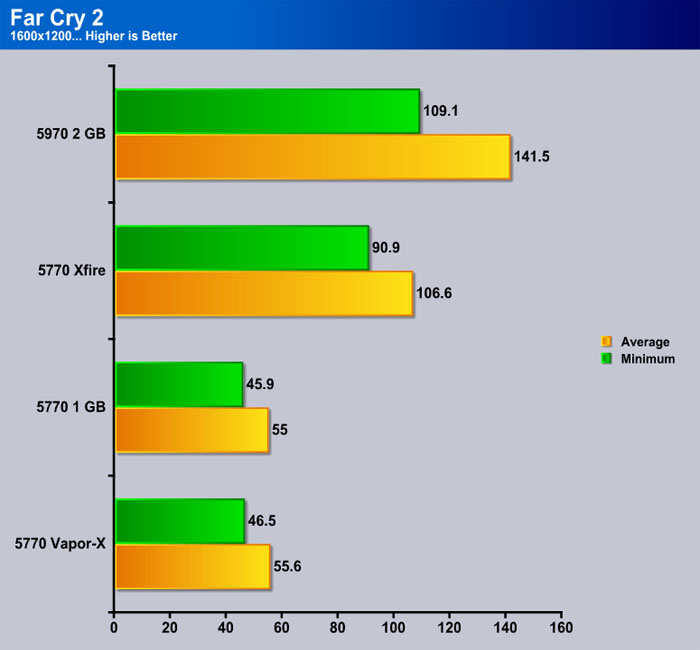 Again the cards perform at around the same area. The 5770 itself is performing quite well. Far Cry 2 is far in the green zone as far as playability.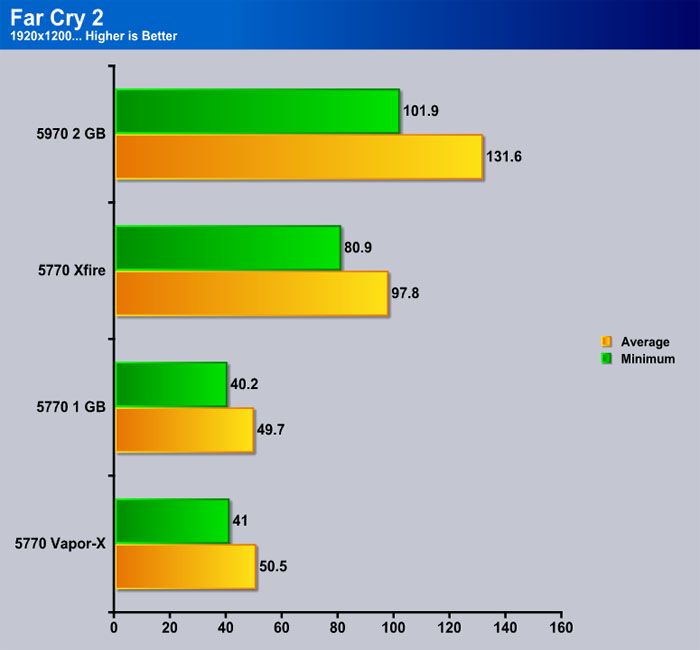 Despite such a high resolution, the 5770's where still able to easily play Far Cry 2 maxed. So far this little card has proven to be a great card for gaming even without sacrificing many settings at all.
HawX

The story begins in the year 2012. As the era of the nation–state draws quickly to a close, the rules of warfare evolve even more rapidly. More and more nations become increasingly dependent on private military companies (PMCs), elite mercenaries with a lax view of the law. The Reykjavik Accords further legitimize their existence by authorizing their right to serve in every aspect of military operations. While the benefits of such PMCs are apparent, growing concerns surrounding giving them too much power begin to mount.
Tom Clancy's HAWX is the first air combat game set in the world–renowned Tom Clancy's video game universe. Cutting–edge technology, devastating firepower, and intense dogfights bestow this new title a deserving place in the prestigious Tom Clancy franchise. Soon, flying at Mach 3 becomes a right, not a privilege.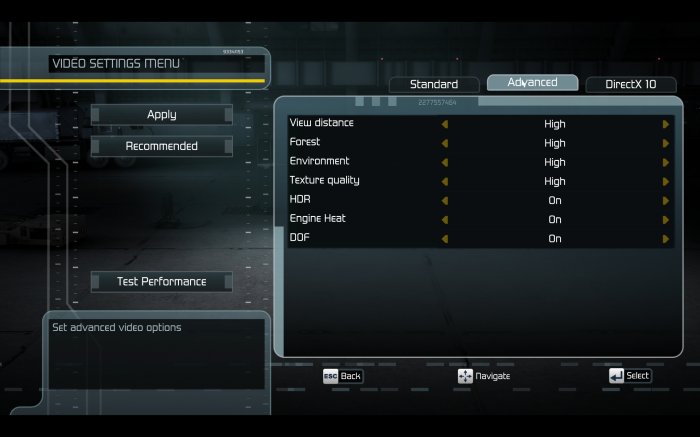 The Settings we use for benchmarking HawX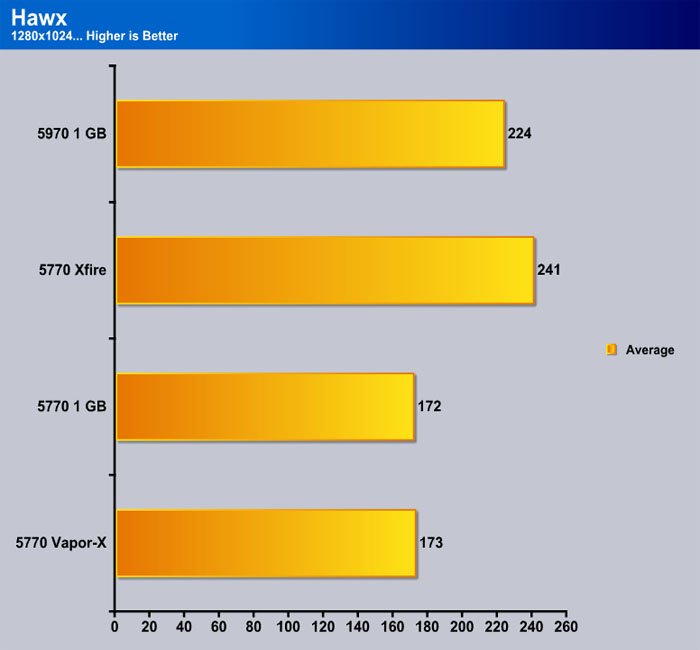 Starting off we see a pretty big surprise with the 5770 Crossfire. Somehow it surpassed the 5970. This is probably because of some issue in the code, but either way the FPS is so high it doesn't really matter.
This time the 5970 manages to catch up to the 5770 Crossfire a bit, but still falls short. As expected the 5770 has a minimal lead on the stock 5770.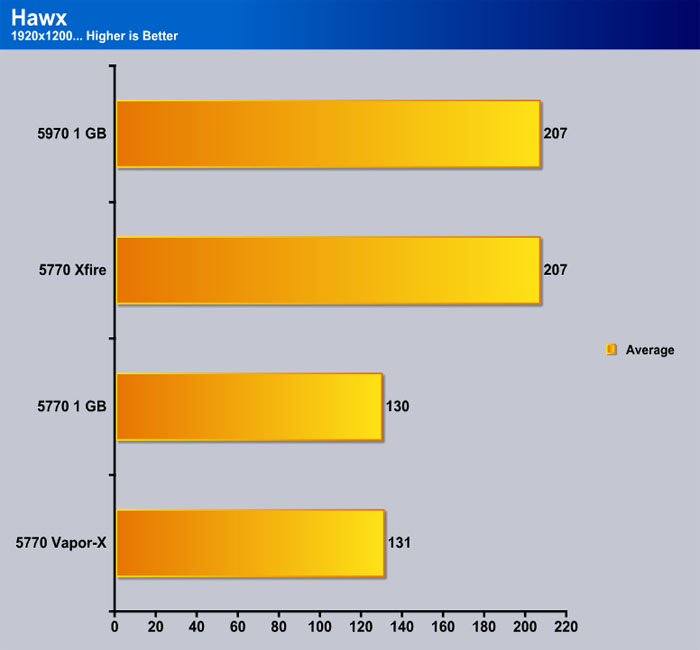 The 5970 finally manages to catch up to the Crossfire 5770's. The 5770's stay in the same neck and neck battle that has been going on since the start of testing.
Grand Theft Auto 4

Grand Theft Auto 4 is the latest edition to the GTA franchise. The game takes you back to Liberty to play as Niko Bellic. Niko has come from an unnamed European country to "live the dream" with his cousin. He soon finds out that his cousin has been lying to him, and he must do odd jobs for big name criminals as well as high ranking officials just to stay alive.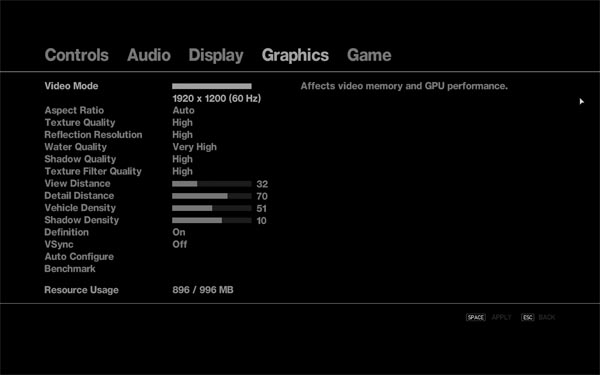 The settings we used in GTA4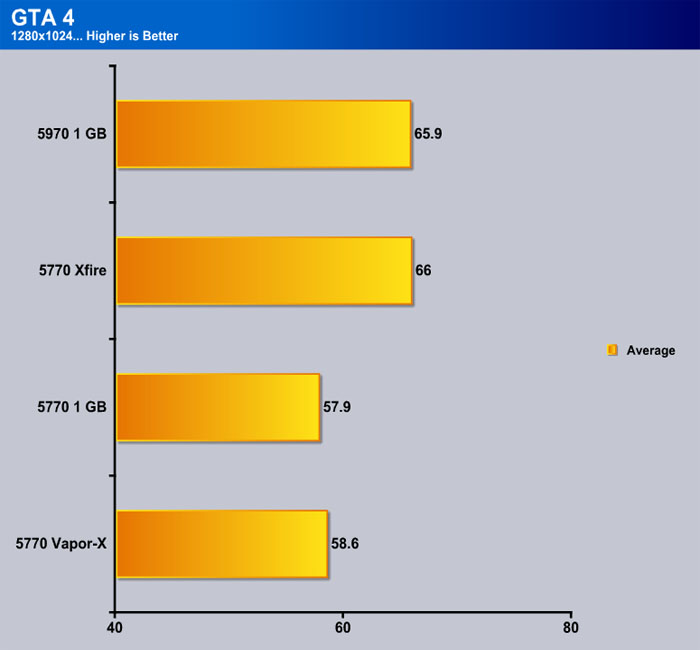 Again the 5770's bench about the same. The Crossfire just beats out the 5970 here. The FPS is certainly lower than desired due to bad coding from Rockstar.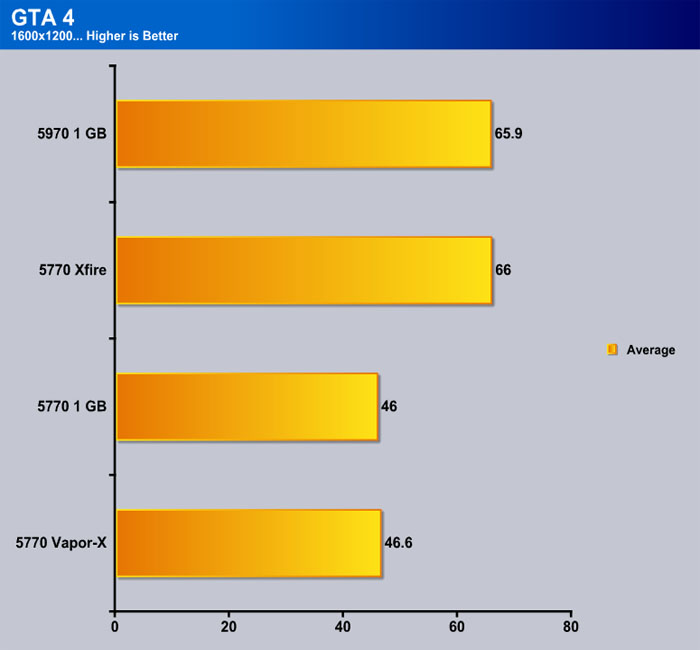 We see the same exact results for two cards as the previous resolution. There has to be something in the engine limiting the FPS of these cards. Take note that Vsync is off.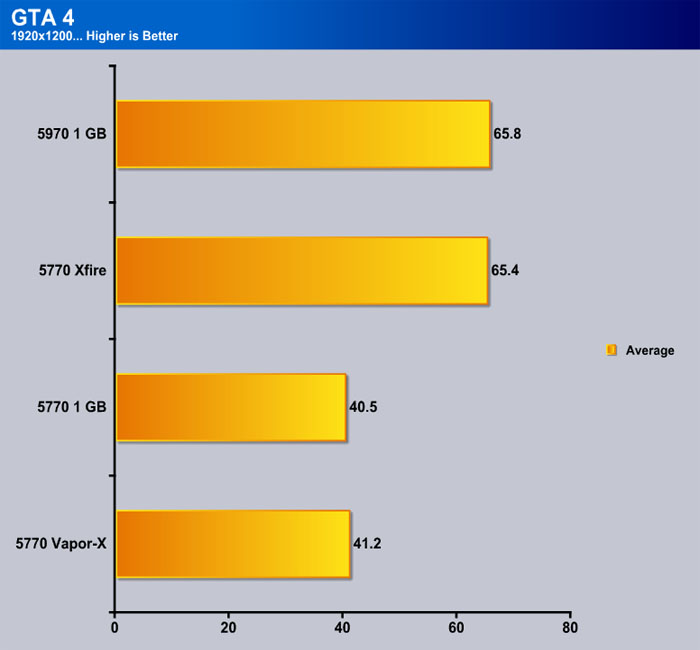 We again see a tiny drop from the single cards, but the dual cards stay at about the same level. The 5970 stays strong only loosing .1 FPS, but the Crossfire drops .6 FPS. Not a lot at all, but enough to say that the Crossfire probably will drop a lot more than the 5970 when this game is taken to higher resolutions.
Dirt 2

Colin McRae Dirt 2 is the squeal to the popular racing game Colin McRae Dirt. The game is a racing game, but with an off road twist. Instead of racing Bugattis and Porsches your going to be racing trophy trucks and rally cars. The newest addition adds DirectX 11 effects, and modified physics from the original game.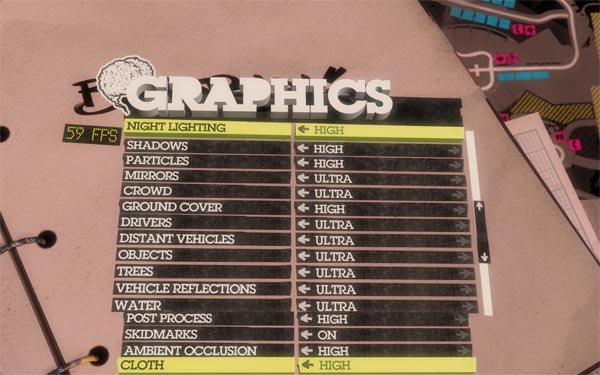 The settings we used in Dirt 2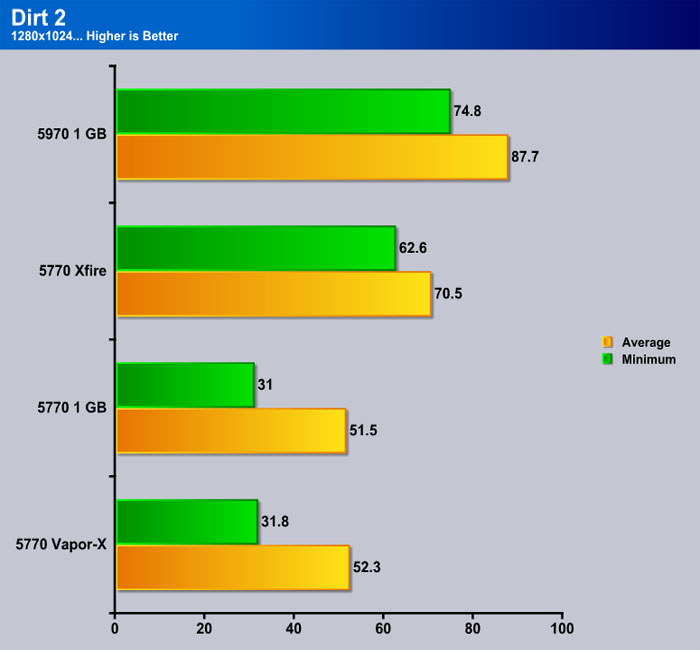 The 5770's are once again neck and neck, and as before the Vapor-X's small OC is just enough to push it ahead of the stock clocked card.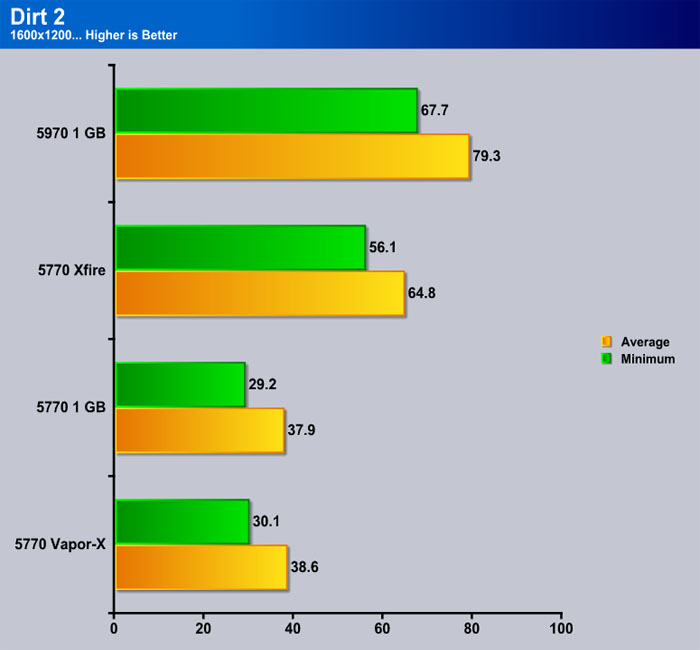 No change when we increase the resolution. We do see some excellent scaling on Dirt 2 however.
We see that at the highest resolution the Crossfire 5770's manage to almost catch up to the 5970. This is probably just one of those gaming anomalies that seem to randomly happen.
Unigine

Unigine Heaven is a benchmark program based on Unigine Corp's latest engine, Unigine. The engine features DirectX 11, Hardware tessellation, DirectCompute, and Shader Model 5.0. All of these new technologies combined with the ability to run each card through the same exact test means this benchmark should be in our arsenal for a long time.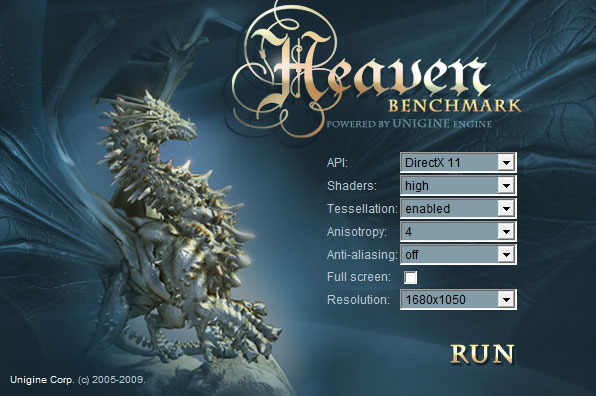 The settings we used in Unigine Heaven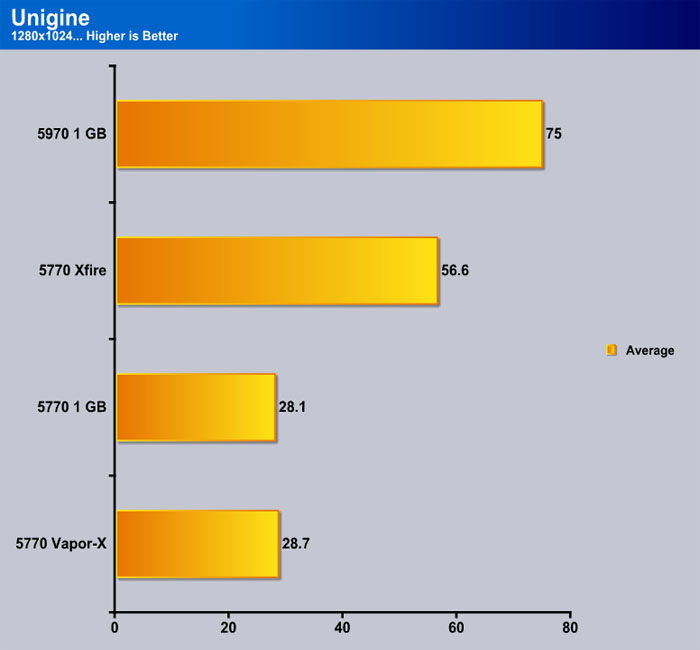 Just like every other test so far, the 5770's have been scaling excellently. The Vapor-X is still holding itself just a bit over the stock clocked 5770.
When we increase the resolution we see that the 5770 is having a hard time keeping up. Crossfire 5770's is still able to hold its head up, but its getting closer and closer to the point of not being able to maintain a smooth picture.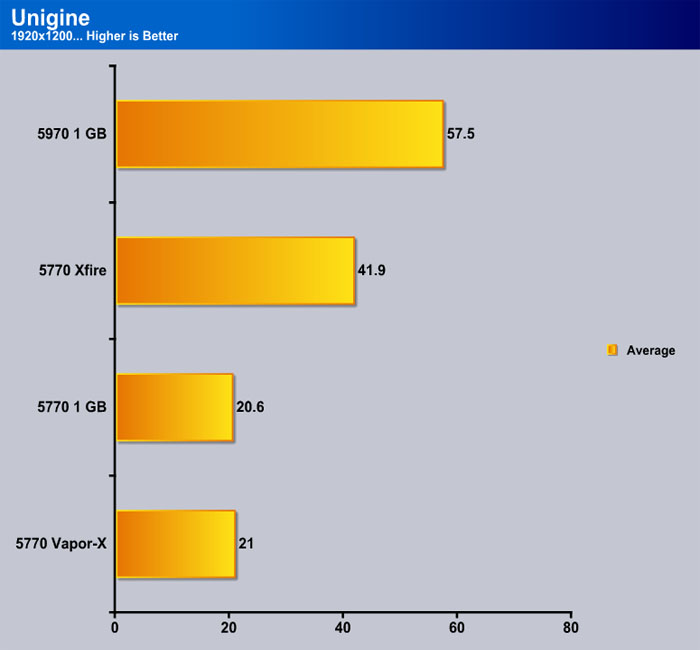 As the resolution is increased further we see that the 5770's struggle even more. This is a sign that the 5770 probably wont be able to handle a completely maxed game that uses advanced DX11 effects.
S.T.A.L.K.E.R.: Call of Pripyat
Call of Pripyat is the latest addition to the S.T.A.L.K.E.R. franchise. S.T.A.L.K.E.R. has long been considered the thinking man's shooter, because it gives the player many different ways of completing their objectives. The game includes new advanced DirectX 11 effects as well as the continuation of the story from the previous games.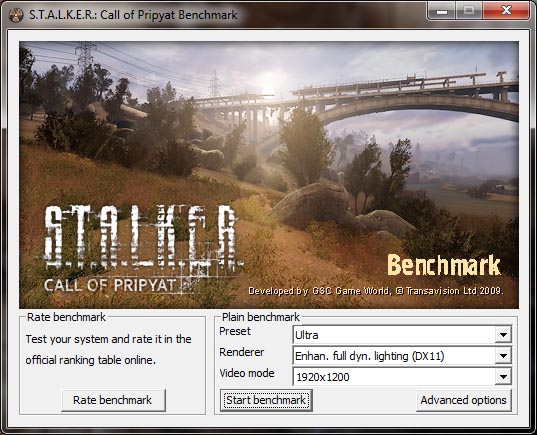 The settings we used in S.T.A.L.K.E.R.: Call of Pripyat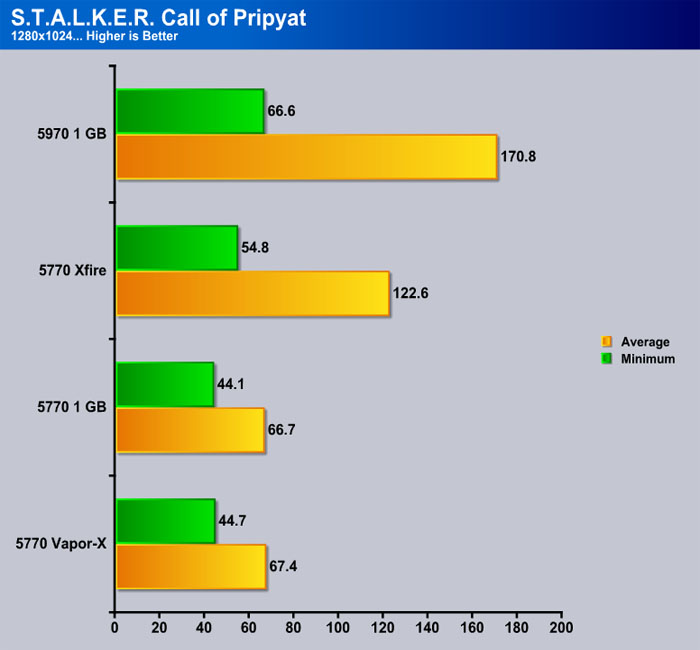 The Vapor-X continues to hold strong against the stock clocked 5770. Crossfire shows great scaling like in all of the other benched games.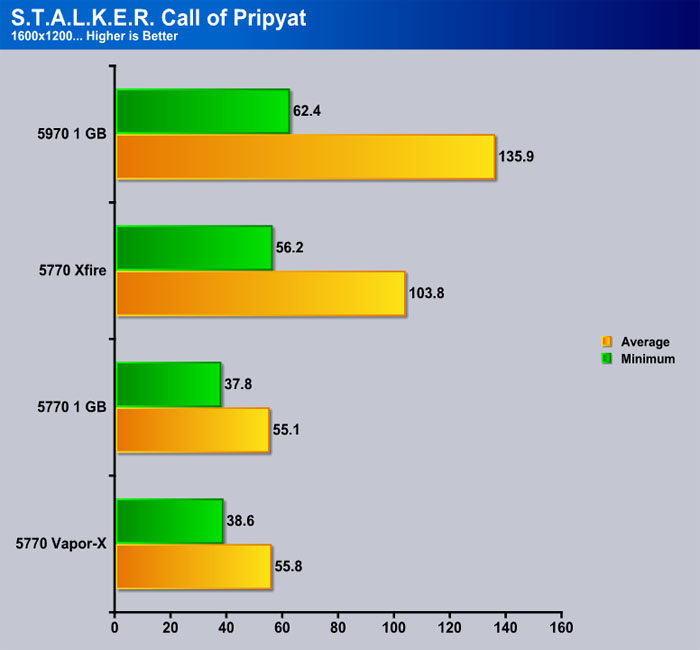 When we increase the resolution we see that the 5770's are still able to stay above 30 FPS minimum. This means that a single card should have no issue at all with this game maxed.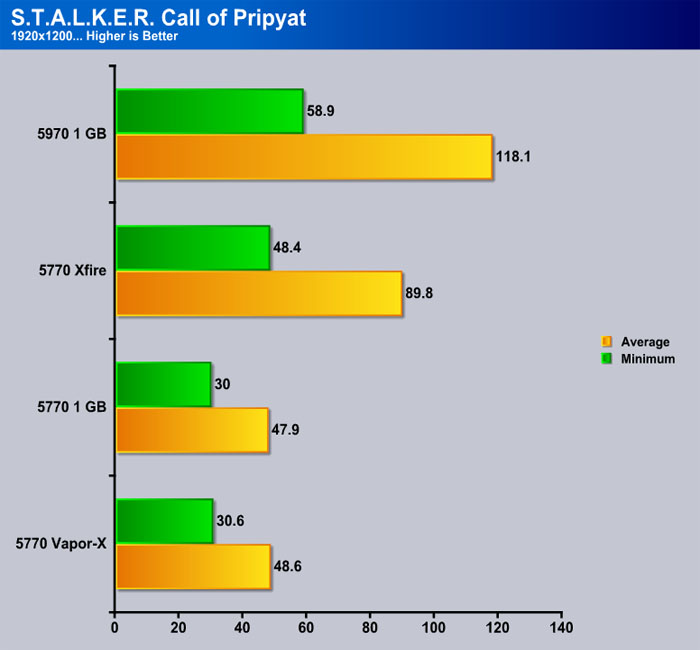 Again the 5770's stay above 30, which is a great result. They also achieve excellent scaling when put into Crossfire.
Temperatures

To test the temperatures I booted up Furmark 1.7. I let Furmark run for 30 minutes then recorded the highest temperature. I then let the card idle doing nothing for another 30 minutes and recorded the temperature after the wait. Below are the results.
| Idle (°C) | Load (°C) |
| --- | --- |
| 31 | 68 |
These are pretty awesome temperatures for having auto fan enabled. It is also worth noting that the fan was completely silent compared to the case fans which generate around 25 dBA.
Conclusion
The Sapphire 5770 Vapor-X is a mixed bag. On one hand you have a card that has a very nice cooler. This cooler helped a little bit with overclocking, and kept the card far under the stock temperatures. On the other hand it wasn't much of an overclock. Any card off the shelf can do 10 MHz, and not have any issue. Generally the manufacturer doesn't overclock the card to the max, but its usually more than a tiny 10 MHz. About all the 10 MHz amounts too is a small edge in testing, so it seems better than the other graphics cards that are tested. This comes down to basically looking better than the competition, so they can sell a few more units.
Thats not to bring down Sapphire, there a great company, and manufacture the majority of ATI cards. They have a pretty good warranty to go with that as well, and unlike some companies Sapphire always delivers if you have an RMA request. They also quickly solve any issues with their cards. This 5770 is a great example of that. Some of these cards have a BIOS issue that makes them show up as 5750's and loose performance. Sapphire quickly provided a BIOS update that fixed this issue. (Can be found HERE, Go in this order to find it: Graphic Card -> PCI-E -> Sapphire HD 5700 Series -> Sapphire Vapor-X HD 5770 1 GB GDDR5 PCIE -> Submit -> BIOS).
What is really killing this card is its price over a normal 5770. The cooler makes it worth it, but the overclock doesn't help a user who isn't going to overclock. If you happen to be someone who isn't going to overclock this card your better off getting a normal 5770 and saving yourself some money. However you had already planned on buying an aftermarket cooler for a normal 5770 then this is sort of a deal since you don't have to buy a separate cooler, and you have the factory warranty.
OUR VERDICT:  Sapphire 5770 Vapor-X

| | |
| --- | --- |
| Performance | 7 |
| Value | 6 |
| Quality | 9 |
| Features | 8 |
| Innovation | 7 |

We are using an addition to our scoring system to provide additional feedback beyond a flat score. Please note that the final score isn't an aggregate average of the rating system.

Pro
Cons

Aftermarket Cooler

Sapphire logo glows

Features of 5770

Worst factory overclock ever
Summary: The Sapphire 5770 Vapor-X is a great card if you planed on buying an aftermarket cooler and overclocking a 5770, but if you are not going to overclock then your better off saving money and just buying a normal 5770.