Razer has produced a mouse that fits both small and large hand types, also has a unique feature that will add more customizing. Lets step inside and see what it is.
Introduction
It seems that Razer, these last few months, has been making all kinds of different mice targeted at many genres of games. Razer has brought us another adjustable, high DPI, simple to use mouse that can be made to fit small or large hands.
Most of us dread having to replace our mice because during the first few hours is an awkward adjustment period we all have to go through to get used to the new mouse. If you are like me and have small hands, trying to find the "perfect" mouse that actually fits your hand perfectly is a long hard road making the awkward adjusment period even more brutal. Another area that makes it fairly rough on small hands, is the actual size of the mouse itself. I tend to hold the mouse towards the rear while resting the heel of my hand on the mouse pad which puts the normal left/right center buttons a tad out of reach for my small fingers. This is where the Imperator mouse from Razer comes into the picture.
The Imperator mouse is one of the only mice that I have used that did not require a lenghy adjustment period. From the minute I gripped this mouse, my hand felt like it belonged there. I felt like the Imperator mouse was designed specifically for my small hands.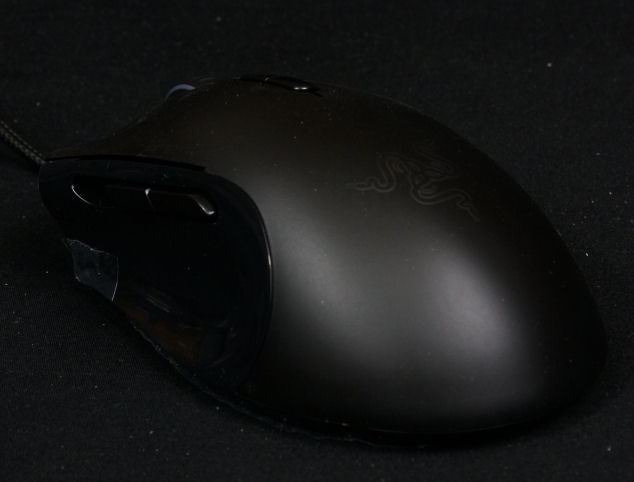 Specifications
The Razer Imperator is not just a mere mouse, it is an extension of your hands. Its right-handed ergonomic form factor with a contoured thumb grip delivers comfort and a better fit for gaming, whether you use a palm or fingertip grip. Be empowered to take on foes and fatigue alike – for longer gaming sessions without strain.

When every aspect of your game matters, customize your game play with the unique adjustable side buttons, giving you optimum reach for easier access to mission critical keys and macros.


Ergonomic right-handed form factor with contoured thumb grip
The Razer Imperator's right-handed ergonomic form factor maximizes comfort during intense and extended gameplay so you can outlast and outfrag the competition. The contoured thumb grip cradles your hand delivering increased control to low sensitivity gamers who often lift and swipe their mouse.

Adjustable side buttons for optimum reach
2 adjustable side buttons delivers optimum reach regardless of palm size or grip style; and for gamers who often lift their mouse or make rapid movements during gaming, the customizable buttons makes mission critical keys and macros accessible at all times.

5600dpi Razer Precision™ 3.5G laser sensor
The 5600dpi Razer Precision 3.5G laser sensor arms you with gaming grade precision and reliable tracking that will keep up with your every movement. Be it a small twitch of your wrist or a long range swipe to take out your foe, the Razer Imperator delivers your every instruction with pinpoint accuracy.
Technical Specifications
Ergonomic right-handed design
Adjustable side buttons
5600dpi Razer Precision™ 3.5G Laser sensor
Razer Synapse™ On-board Memory
Up to 200 inches per second/ 50g acceleration
Seven independently programmable Hyperesponse™ buttons
1000Hz Ultrapolling™ / 1ms response rate
On-The-Fly Sensitivity™ adjustment
Zero-acoustic Ultraslick™ Teflon® feet
Approx. size in mm: 123(L) x 71(W) x 42(H)
Hardware requirement
PC/Mac with USB port
Windows® 7 / Windows Vista® / Windows® XP or Mac OS X (v10.4 and above)
Internet connection (for driver installation)
At least 35MB of hard disk space
As you can see, the Imperator mouse has an adjustable 5600DPI and 7 buttons for users to fully customize this to their specific needs. You can adjust the DPI and switch profiles on the fly without having to load up the configuration tool which saves vital time when game mode is engaged. The Razer Synapse memory in this mouse remembers the last profile that was loaded prior to being unplugged. That means using the mouse on another machine will keep the last active profile saved ensuring you don't have to reinstall the configuration tool on every computer used.
Packaging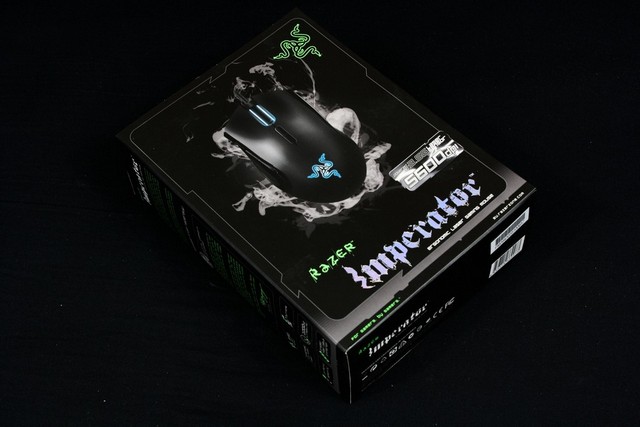 Razer has always used unique packaging for their mice. I can already tell my in game avatar is going to get awfully dizzy.
The presentation of the Imperator mouse is top notch.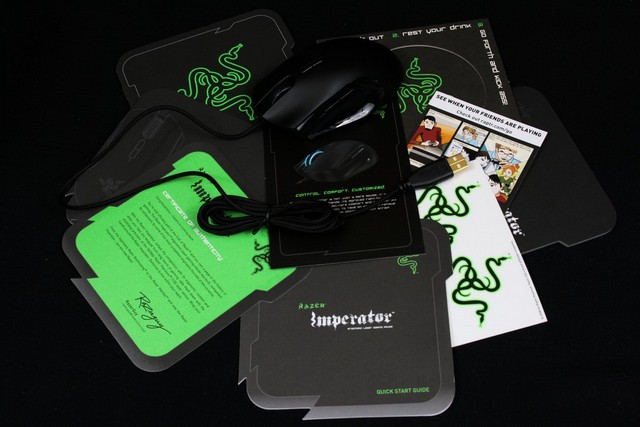 Like most Razer products, they pack in quite a bit of stuff. Here is what you get with the Imperator: Naturally the mouse, a Raptr flyer (a free instant messenger), a Quick Start guide, a coaster for your drinks so you can limit the coffee rings on your desktop, a brochure that contains all the Razer products, a certificate of authenticity, and finally a manual/installation guide.
Overview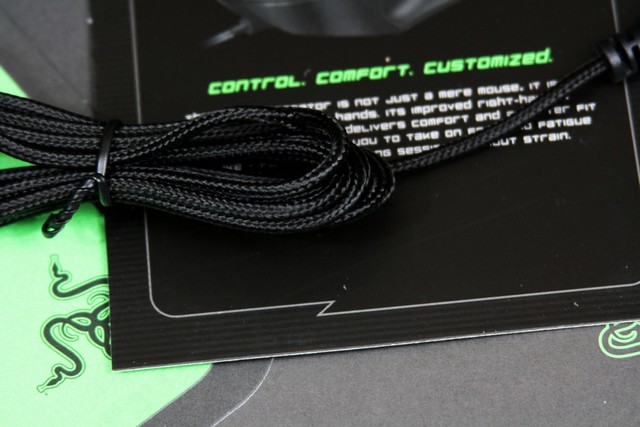 Now this is what I thought was kind of different from Razer. Instead of using a regular rubber coated lead wire for the mouse a cloth covering was used instead. The wire lead is a tiny bit stiff. It's not enough to be a major concern, but I felt it should be mentioned.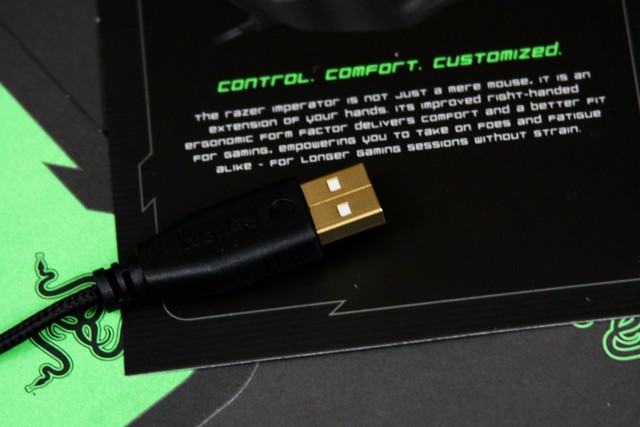 The Imperator mouse uses a gold plated USB connector to ensure optimal connection.
If you look up towards the top of the mouse (behind the mouse wheel), you will see two elongated buttons. These are for the on the fly DPI adjustments.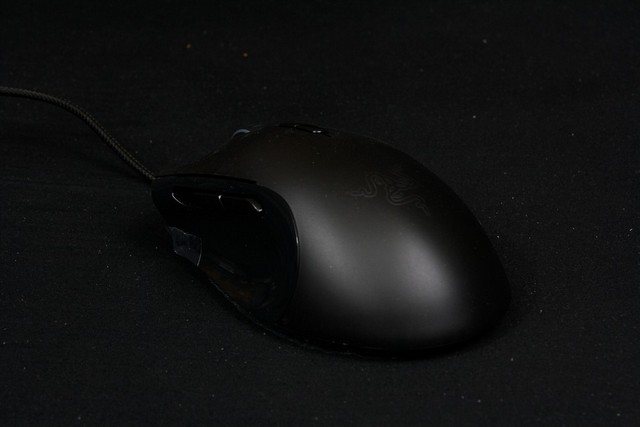 As you can see, the Imperator is designed for right handed users. If you're a left hand user, unfortunately this mouse is not for you. On the backside you can barely make out the Razer symbol, this will pulsate once the mouse is powered on.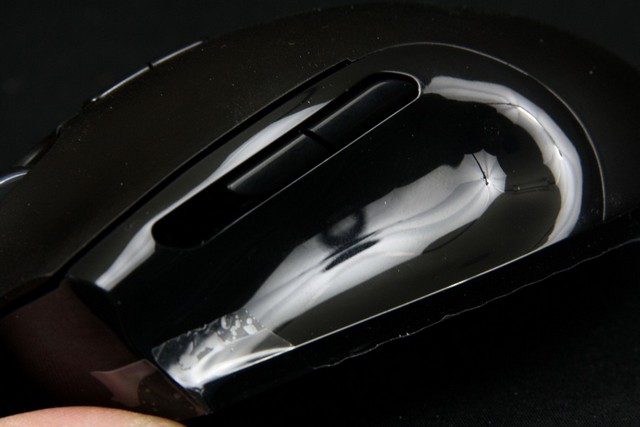 These are the two buttons that can be moved forward or backwards to accommodate larger or smaller hands. If you notice right below these buttons there is an indentation for where your thumb sits.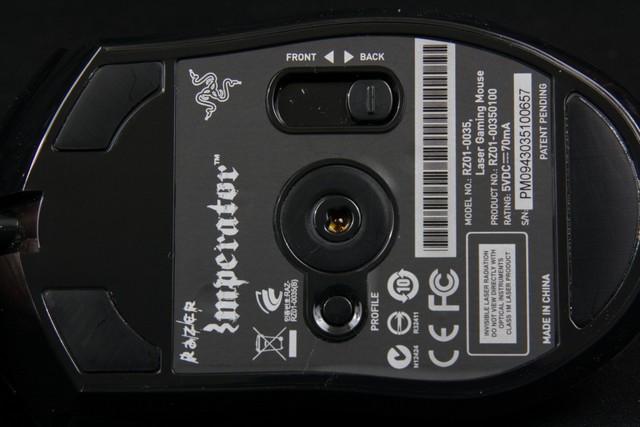 The Imperator uses rather large Teflon skates (Unlike the Lachesis which has small Teflon skates). Right smack dab in the middle is the 3.5G laser that gives the Imperator it's precision and high DPI of 5600. Right below the laser lens is where Razer put the Profile button. I like this placement better than having it on the side. This will make sure you don't accidentally switch to another profile when in the heat of gaming. Right above the laser is a slider, this is what allows you to slide the side thumb buttons forward or backwards.
Me showing how to slide the side thumb buttons. As you can see, it is a rather simple task.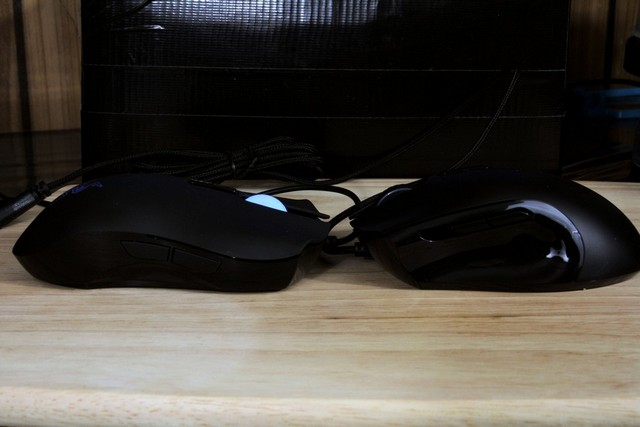 A quick comparison to the ever faithful Lachesis mouse. You can see the differences already, the Imperator is a bit smaller in length and also has a more naturally arched shape.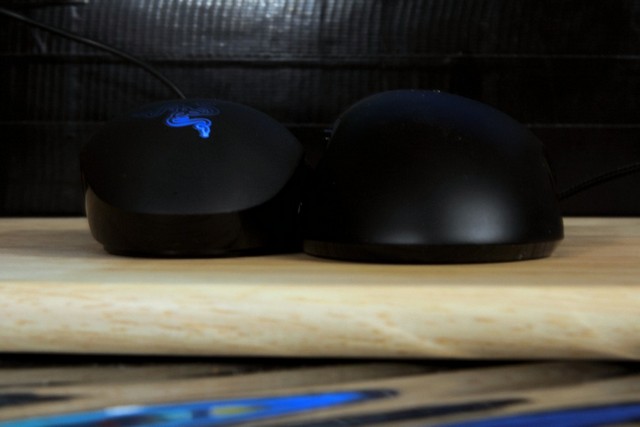 The Imperator has a wider stance and is also higher than its predecessor, the Lachesis.
Instead of lighting up the entire wheel of the mouse, Razer only did the sides and the back of the mouse. Like previous Razer mice, the symbol pulsates.
Software
One thing to note about our review sample was the lack of a driver disc. We resorted to Razer's website for the latest Imperator software to make sure we had the latest version available. All the software does is give you the ability to set the profile specific settings including a Custom DPI, sensitivity, button layout and or macro's.
Once we downloaded the software from Razer's website and got everything installed, we were prompted to reboot. After booting back up we were able to create our profiles on the Imperator. The software is very easy to navigate through and self explanatory. We could adjust the individual DPI on the X/Y axis, instead of adjusting the acceleration on these axis. We thought this was a very cool feature as we could see users utilizing this feature. The side buttons allow the assigning of a keyboard key that acts as the assigned key when the corresponding mouse button is pressed. Macro's can be assigned to these buttons as well.
General Usage
The only true way of testing a mouse is to play games and use an image editing application like Paint Shop Pro. The game I chose to play with the Imperator was Rainbow Six Vegas 2. It's a fairly old game, but like all Rainbow Six series games, the need to go from quick movements to a slower more controlled movement while scoped can mean life or death. The level I chose was the first level you start out on in Rainbow Six Vegas 2. I started off leaving my mouse on the default settings, no adjustments done to the mouse through the configuration panel. The first thing I noticed about the Imperator was that it glides all over my mousing surface. The primary fire buttons were really easy to operate taking little to no pressure to push down. Another thing that was effortless was the "On The Fly" DPI buttons. They were very easy to push down as well. Since the Imperator mouse fits my hand snugly, gaining access to these buttons was a lot less cumbersome.
It took no time at all to get used to the high DPI of 5600 thanks to my previous mouse, the Lachesis. I just had to remember that my character does turn around a bit faster than what I am used to. I spun my guy around so fast, that at one point I had to hold on to the monitor to keep from getting dizzy. Throughout the first level I kept finding myself having to go from scoped mode to normal hip shooting mode very often, I brought up my scope on my rifle, dropped the DPI down to its lowest and I started to chew up acreage on my mouse board (thankfully I learned and got a much larger one this time around), I was able to pop the bad guys heads right off their shoulders then scope out, raise DPI up to its max and let the dead bodies pile up without having to stop a minute to adjust the DPI, or have the mouse move while manipulating the DPI buttons. Things works so much better when a mouse fits your hand properly. During my entire gaming sequence, the Imperator did not once stutter, stammer, or even jitter. Well maybe when the explosions started happening all round me, but that's what I get for having 140 watts of sound with a 10″ sub woofer sitting under my desk.
After gaming for a few hours, you'd be amazed at how the time flies when you're enjoying a really good game. Now that the gaming portion was done, it was time to move on to Paint Shop Pro. I started up Paint Shop Pro and noticed that the high DPI setting made it easy for me to go from one side of the screen to the other while using very little real estate of my mousing surface. This is a blessing for those with high resolution monitors like 1920 x 1080 or larger. I opened up an image to manipulate, cut and paste on it, I adjusted the DPI with a couple of quick clicks down, and I was able to make precision cuts and follow an outline quite easily. I dropped the Imperator to its lowest DPI which gave me much more control over my cutting and pasting but I was finding out I was almost running off the edge of my mouse pad, YIKES. Having the DPI too high, well, lets just say it was disastrous. I could not follow a straight line if my own life depended on it with the DPI maxed out at 5600 DPI.
COnclusion
Throughout my usage of the Imperator, my hand has not once cramped up, hurt, or even twitched. As I said earlier, this mouse felt like it was specifically engineered to fit my hand. This is pretty significant to me because of how small my hands are. Having small hands makes trying to find a mouse that works and fits properly just as rough as going shopping with your family while picking out clothes.
Razer definitely  has a winner with the Imperator. Its small size will ensure that both large hand users and small hand users can properly utilize this mouse. The high DPI of 5600 makes short work of high resolution desktops, while providing the user with precise movements he/she may find themselves needing. Whether it be gaming or photo cropping, and everything in between. The only real con I can find with the mouse, is that it is only suitable for right handed users. This unfortunately leaves the left handed users out of a great performing mouse. I happen to have someone in my family who is a "South Paw", and she is my daughter. Looking around the web, the Imperator goes for around the 80 USD mark. I feel this is a fair price to pay for an all around versatile mouse that is extremely comfortable.
OUR VERDICT: Razer Imperator

| | |
| --- | --- |
| Performance | 9.5 |
| Value | 8 |
| Quality | 9 |
| Features | 9 |
| Innovation | 9 |

We are using a new addition to our scoring system to provide additional feedback beyond a flat score. Please note that the final score isn't an aggregate average of the new rating system.

Pro
Cons

Fits perfectly in the palm of my hand

Comfortable

Does not just move across my mouse pad, it glides

"On the Fly" DPI adjustment

5600 DPI capabilities

No included driver or software disc

The mouse wire lead seems a bit stiff

 

 
Summary: The 5600 DPI setting may make you grab hold of your monitor to keep you from getting dizzy, but that is a small price to pay for a superior "one size fits all" type of mouse.