ATI has introduced the 5670 video cards that fully support Direct X 11 and is bellow the 100USD mark.
Introduction
ATI has always released video cards for just about everyone in every possible price bracket. This normally entails having the most up to date Direct X capabilities on every one of their price bracketed video cards. We all know that Direct X 11 is going to be a reality in our games. Unlike Direct X 10, Direct X 11 is very well optimized and brings to the table a whole slew of newer and exciting features we never have seen before in our games. 
What does this have anything to do with ATI releasing affordable video cards? Well, everything. This time around though ATI is releasing a video card that is targeted for people in the sub 100 USD price bracket who just want a video card for their HTPC's or for their casual gaming lifestyle. Gigabyte like many other video card manufacturers has included the 5670 video card into their video card line up. This time Gigabyte has made their 5670 variant overclocked right from the start.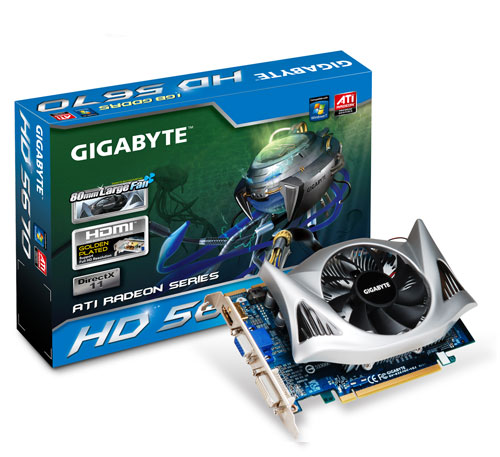 Lets throw in this video card into "Minor Me", and lets see what it got. I think you might be rather surprised by the results of this little video card.
Features
 
 

40nm Technology


Faster clocks, double the transistor density of earlier 40 nm technology. 55nm technology helped make HD5670 series products the most advanced GPUs ever highest clocks speeds, incredible feature integration, full performance and precision all the time, and ability to take advantage of future, higher-speed memories.
 
 

Avivo™HD


Avivo™HD could provide vibrant high fidelity, flawlessly smooth next-generation video playback. Avivo™HD technology easily allows your PCs to become digital home media center by its compelling video pipeline design that comprises the latest high definition video hardware acceleration, including H.264 and WMV9.
 

Catalyst™ Control Center


ATI's all-new Catalyst Control Center goes far beyond traditional driver configuration software—it's a feature-rich and stable 3D acceleration control application that puts you in complete command of your ATI visual processing unit (VPU). Catalyst Control Center offers exceptional graphics performance and visual quality for the ultimate in performance, stability, and innovation. Safe GPU overclocking, custom profiles, and assignable hotkeys are just a few of the many new features. You'll also enjoy frequent updates, reliable customer service, and an interactive user feedback program, all backed by ATI's technical confidence, industry-leading capability, and uncompromising commitment to creating your ultimate visual experience.
 
 
Microsoft® DirectX® 11
The power of DirectX® 11 with awesome performance, stunning visual effects, and more dynamic interactivity than ever before.Ensures the best performance and application compatibility for all DirectX® 11 applications. Microsoft® DirectX® 11 games, with stunning 3D graphics and shading effects.
 
 

Shader Model 5.0


Shader Model 5.0 adds support for indexed temporaries which can be quite useful for certain tasks.Regular direct temporary access is preferable is most cases. One reason is that indexed temporaries are hard to optimize. The shader optimizer may not be able to identify optimizations across indexed accesses that could otherwise have been detected. Furthermore, indexed temporaries tend to increase register pressure a lot. An ordinary shader that contains for instance a few dozen variables will seldom consume a few dozen temporaries in the end but is likely to be optimized down to a handful depending on what the shader does. This is because the shader optimizer can easily track all variables and reuse registers. This is typically not possible for indexed temporaries, thus the register pressure of the shader may increase dramatically. This could be detrimental to performance as it reduces the hardware's ability to hide latencies.
 
 
OpenGL 3.1® Optimizations
Ensure top-notch compatibility and performance for all OpenGL 3.1 application.
 

CrossFireX™


Upgrade to even greater 3D performance quickly and easily thanks to plug-and-play ATI CrossFireX multi-GPU technology
 
 

PCI-E 2.1


PCI Express® 2.1 –Now you are ready for the most demanding graphics applications thanks to PCI Express® 2.1 support, which allows up to twice the throughput of current PCI Express® cards. Doubles the bus standard's bandwidth from 2.5 Gbit/s (PCIe 1.1) to 5 Gbit/sec.
 

RoHS Compliant


As a citizen of the global village, GIGABYTE exert ourselves to be a pioneer in environment care. Give the whole of Earth a promise that our products do not contain any of the restricted substances in concentrations and applications banned by the RoHS Directive, and are capable of being worked on at the higher temperatures required for lead free solder. One Earth and GIGABYTE Cares!
 

HDCP Support


High-Bandwidth Digital Content Protection (HDCP) is a form of copy protection technology designed to prevent transmission of non-encrypted high-definition content as it travels across DVI or HDMI digital connections.
 

HDMI Ready


High Definition Multimedia Interface (HDMI) is a new interface standard for consumer electronics devices that combines HDCP-protected digital video and audio into a single, consumer-friendly connector.
 
Windows Vista®
Enjoy powerful graphics performance, improved stability, and an immersive HD gaming experience for Windows Vista. ATI Catalyst™ software is designed for quick setup of graphics, video, and multiple displays, and automatically configures optimal system settings for lifelike DirectX 10 gaming and the visually stunning Windows Aero™ user interface.
 

Microsoft Window7


Microsoft Windows 7 is the next generation operating system that will mark a dramatic improvement in the way the OS takes advantage of the graphics processing unit (GPU) to provide a more compelling user experience. By taking advantage of the GPU for both graphics and computing, Windows 7 will not only make today's PCs more visual and more interactive but also ensure that they have the speed and responsiveness customers want
Like all the other 5xxx series cards from ATI the 5670 supports DX 11, is Windows Vista/7 compatible, and can be configured in a Multi GPU configuration. But unlike its larger brethren, the 5670 does not support Eyefinity.
Packaging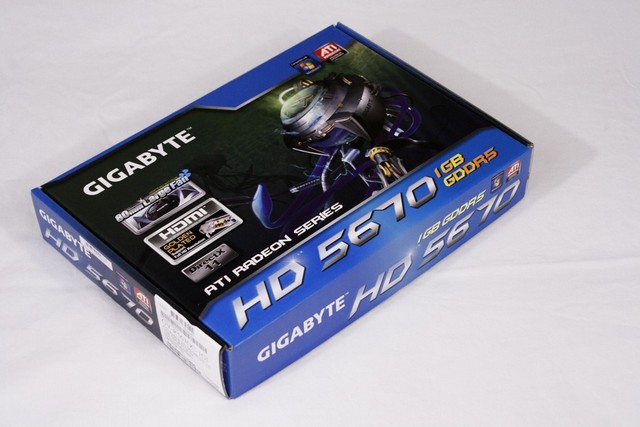 We need to start off on how Gigabyte packaged up their 5670 video card. Unlike previous video cards from Gigabyte, this one does not contain their signature Ultra Durable design. Gigabyte does use an aftermarket cooler on the 5670 video card, I am glad manufacturers are adopting this route instead of the over heating reference coolers. Gigabyte also places an Gold Plated HDMI out put for those who plan on using this video card in a HTPC.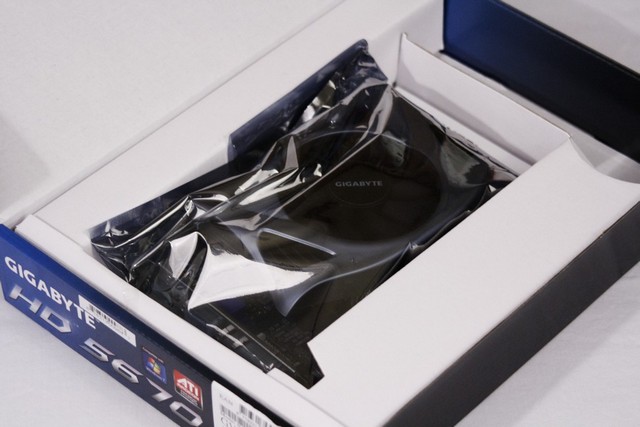 Standard packaging for this video card, just enough to keep it from getting damaged during transport.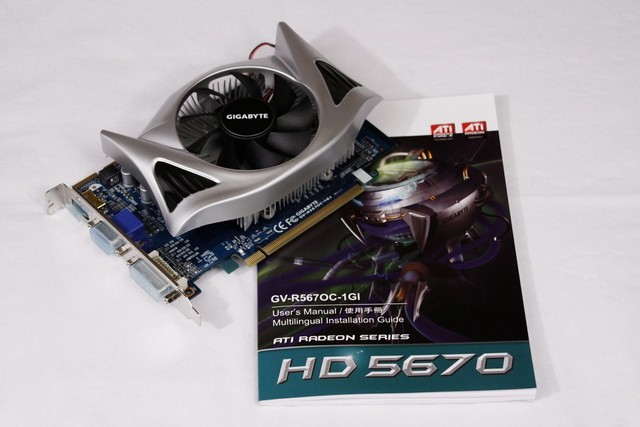 I can not understand why manufacturers don't include the crossfire ribbon on these smaller video cards. They can be ran in a multi GPU configuration, by excluding this ribbon it forces users to purchase one more thing for it when they use two of these video cards. All we get is the 5670 video card, an installation manual, and the driver disk (not shown as it is placed inside of the installation manual).
Overview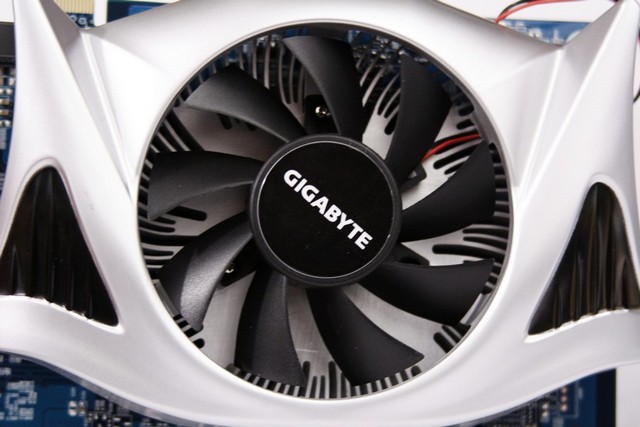 Lets give the 5670 video card a good look over and see what makes it tick shall we. This style of heatsink is becoming rather popular among manufacturers these days, the heatsink is a radial design. It also appears there is plenty of heat sink material in between the fins/fan and the GPU core it self. The fan itself is indeed a 80mm fan.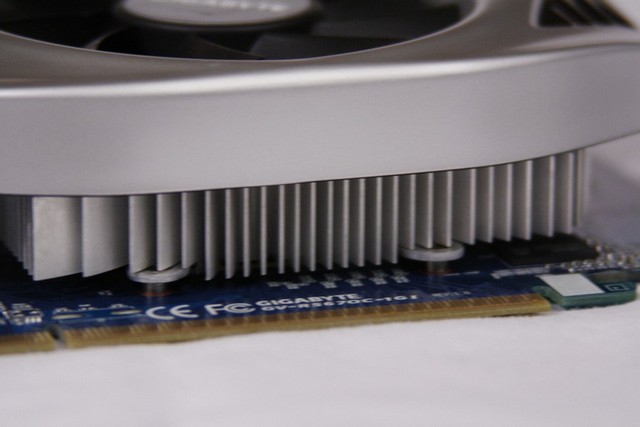 Looking at the fins from the PCI-E connector. These appear to be spaced out far enough apart to give us plenty of air flow on or around the heatsink itself.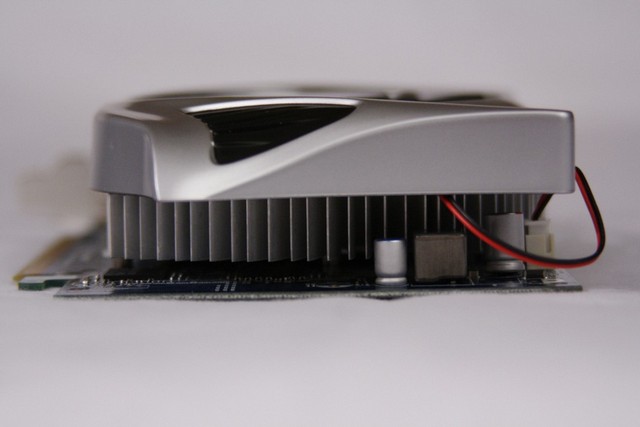 Look at the front side of the 5670 video card, this video card does not need the use of a PCI-E power. It draws all of its power from the available PCI-E motherboard port itself, so this video card uses less then 75 Watts of power.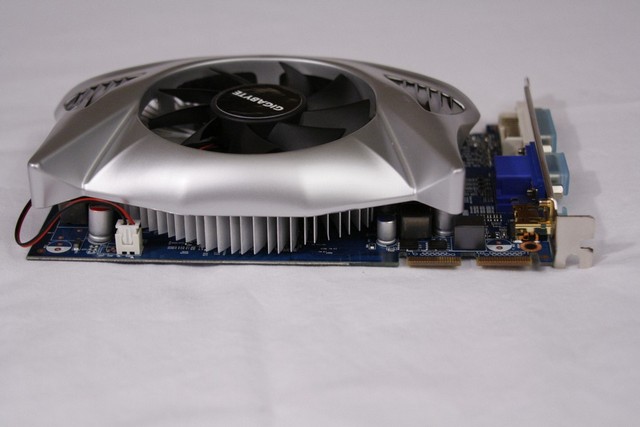 Looking at the leading edge of the 5670 video card. This video card is not much longer then a 5750 video card, so this should fit in a lot of different chassis.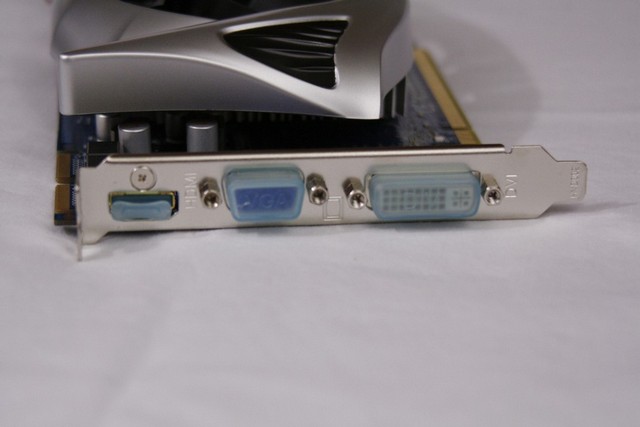 The Gigabyte 5670 video card, uses one HDMI (Gold Plated), one VGA D-Sub connector, and finally a DVI-D connector.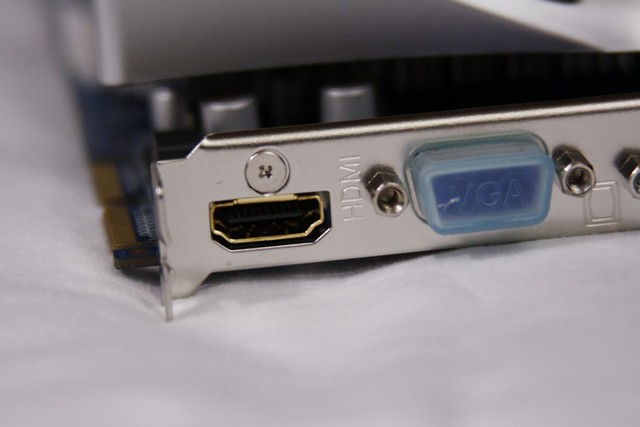 Taking a closer look at the HDMI connector itself, this is indeed gold plated. This should not give us any display issues regarding connectivity to our HDTV's or high resolution monitors.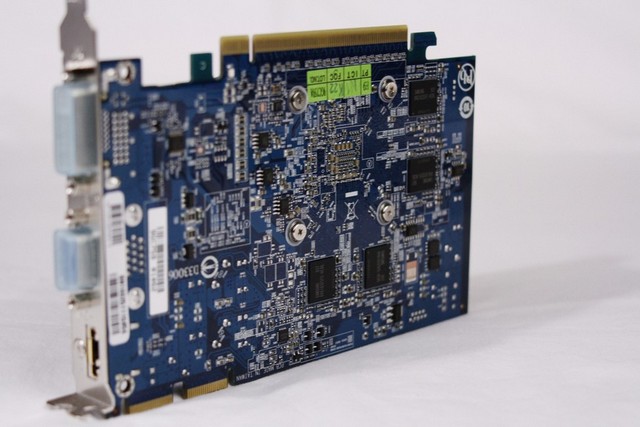 Since this 5670 video card is a 1 Gig model, 512 Megs of memory is on the GPU core side, the other 512 Megs of memory is on the opposite side.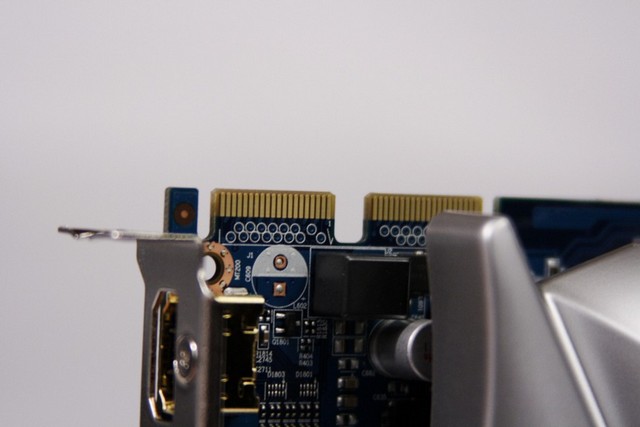 The Crossfire Interconnect connections, you will need an interconnect to use ATI's Crossfire X.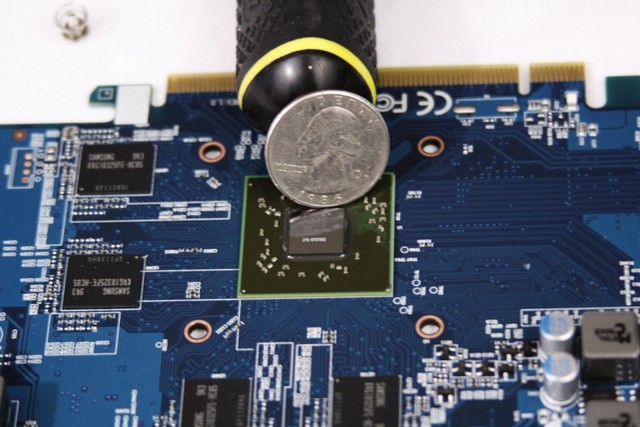 Since this is my first 5670 GPU, I just had to see how big the GPU core was. Well I found out it is really small in comparison to the other 5xxx series video cards on the market.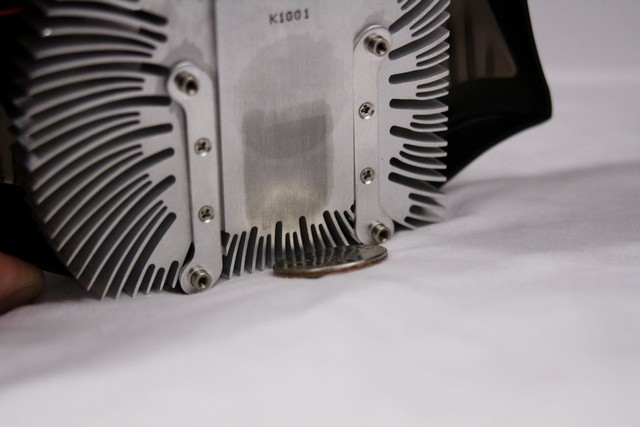 Looking over the GPU cooler, as we can tell it is a circular design heatsink. There are plenty of fins, and that these fins are evenly spaced and far enough apart not to hinder air flow from the fan itself. The GPU core sits off center on the GPU cooler as well. Gigabyte could have added a bit more of a polish on the base of the GPU core.
Installation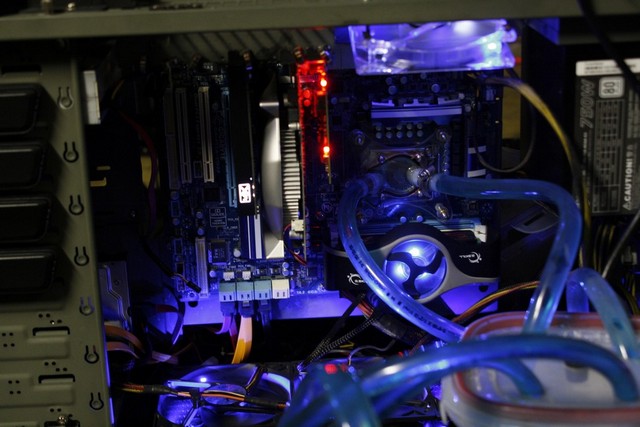 This is what the 5670 video card looks like installed in "Minor Me".
Testing Methodology
Test Setup &Testing Methodology
CPU
Intel Core i5 750 Lapped
Motherboard

GIGABYTE P55A-UD4P

Case
SIlverStone Raven RV-02
Memory
GSkill RipJaw
Video Card's
Asus 5750, Gigabyte 5670
Hard Drives
Patriot SSD 128 Gig
CDRom Drive
Lite On Blue Ray
Power Supply
Cooler Master Ultimate 1000 Watt PSU.
CPU Speeds Used
4.2GHz
Operating System Used
Microsoft Windows 7 Retail
Video Card Cooler

Stock cooled
CPU Cooler

Modified Danger Den MC-TDX custom water cooled
To test the Gigabyte 5670 video card, I ended up choosing a resolution that would give me both the maximum visual settings of each game, while at the same time give me the most enjoyable frame rate. The resolution I chose for the 5670 was 1280×1024. Since this is an entry level video card i felt this would be the best suited resolution to play at.
I will be putting the 5670 video card up against the 5750 video card as a comparison only.
The programs used during testing and their respected runs.
3DMark Vantage: Direct X 10 Default Performance Run
Far Cry 2: Direct X 10 1280×1024 Ultra High settings, No AA, and 4xAA
Hawx: Direct X 10.1 1280×1024, High Settings No AA, 4xAA
Dirt 2: Direct X 11 1280×1024, High Settings, No AA, 4xAA
Unigine Heaven: Direct X 11, High Settings, No AA, 4xAA/16xAF
Stalker Call Of Priapyt: Direct X 11, High Settings No AA, 4xAA, Screen shots Only.
Overclocking

Overclocking of the Gigabyte 5670 video card was a simple enough task. After getting the right drivers installed, (my fault because I should have remembered the drivers on the disk are the proper ones). I had to update MSI AfterBurner and see if this video card could be overclocked. MSI AfterBurner had no issues overclocking this little video card. I started upping the GPU/Memory speeds up slowly and doing simple benchmarks in between each clock frequency adjustment. It did not take long for me to max out the clock speeds on both the GPU/Memory.
Any Attempt on going past a certain point in AfterBurner, the clock speeds would just return to my last frequency I had with the 5670. The default video card frequencies are 775Mhz (GPU core) x 1000Mhz (Memory). I was able to go to 850MHz (GPU core) x 1050 (Memory). not much of a overclock if you ask me, but it may provide a little boost in performance.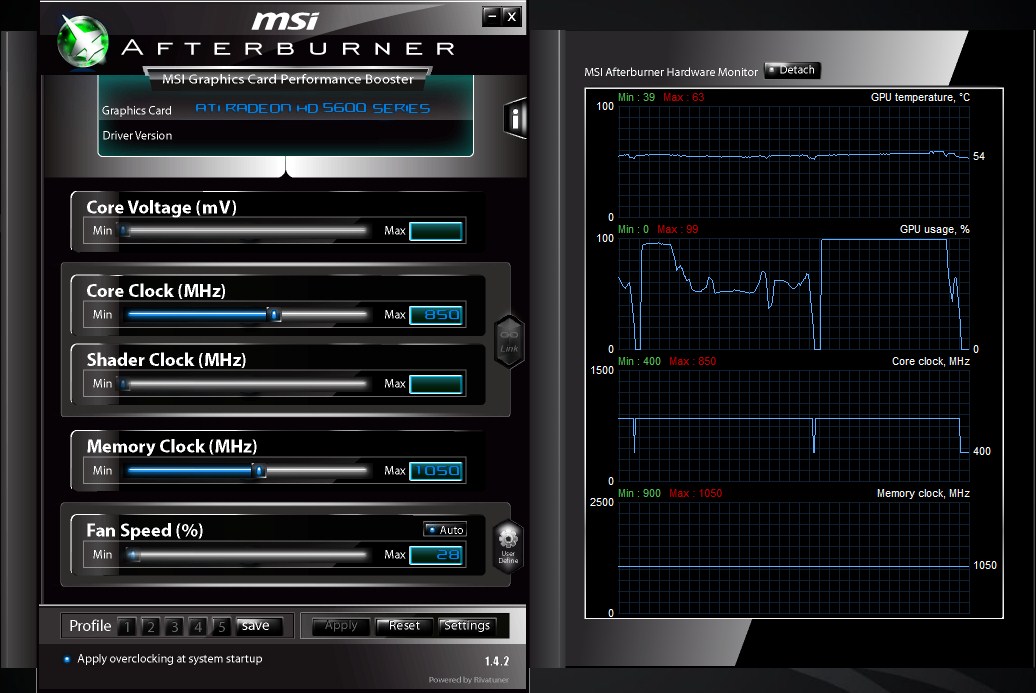 Overclocked settings used.
3DMark Vantage

For complete information on 3DMark Vantage Please follow this Link:
www.futuremark.com/benchmarks/3dmarkvantage/features/ The newest video benchmark from the gang at Futuremark. This utility is still a synthetic benchmark, but one that more closely reflects real world gaming performance. While it is not a perfect replacement for actual game benchmarks, it has its uses. We tested our cards at the 'Performance' setting. Currently, there is a lot of controversy surrounding NVIDIA's use of a PhysX driver for its 9800 GTX and GTX 200 series cards, thereby putting the ATI brand at a disadvantage. Whereby installing the PyhsX driver, 3DMark Vantage uses the GPU to perform PhysX calculations during a CPU test, and this is where things get a bit gray. If you look at the Driver Approval Policy for 3DMark Vantage it states; "Based on the specification and design of the CPU tests, GPU make, type or driver version may not have a significant effect on the results of either of the CPU tests as indicated in Section 7.3 of the 3DMark Vantage specification and white paper." Did NVIDIA cheat by having the GPU handle the PhysX calculations or are they perfectly within their right since they own Ageia and all their IP? I think this point will quickly become moot once Futuremark releases an update to the test.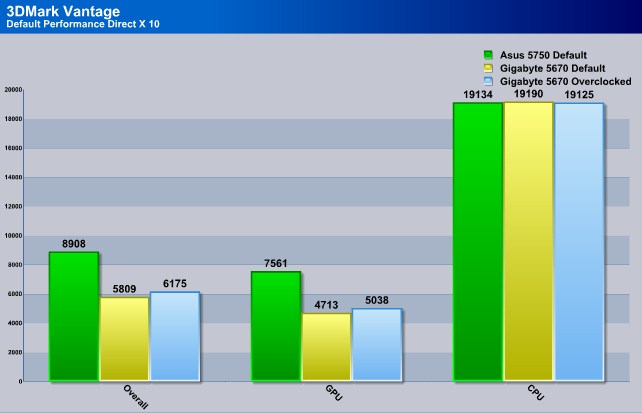 3DMark Vantage is a well known benchmark that just about everyone uses to guage performance of their computers. Looking at the GPU portion of the testing, we can see the 5670 does manage to put up decent numbers, but simply put the 5750 crushes the 5670.
Far Cry 2

Far Cry 2, released in October 2008 by Ubisoft, was one of the most anticipated titles of the year. It's an engaging state-of-the-art First Person Shooter set in an un-named African country. Caught between two rival factions, you're sent to take out "The Jackal". Far Cry2 ships with a full featured benchmark utility and it is one of the most well designed, well thought out game benchmarks we've ever seen. One big difference between this benchmark and others is that it leaves the game's AI (Artificial Intelligence) running while the benchmark is being performed.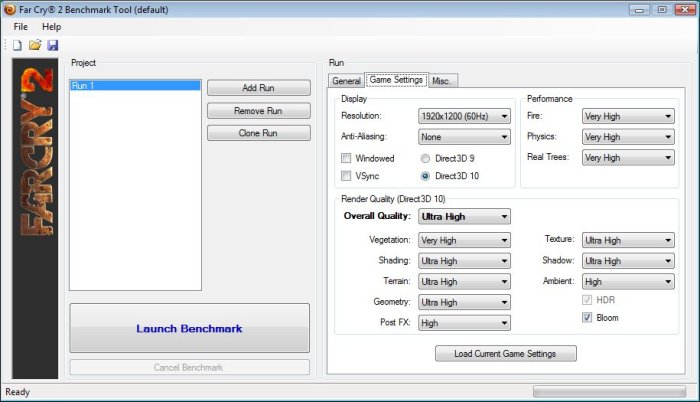 The Settings we use for benchmarking FarCry 2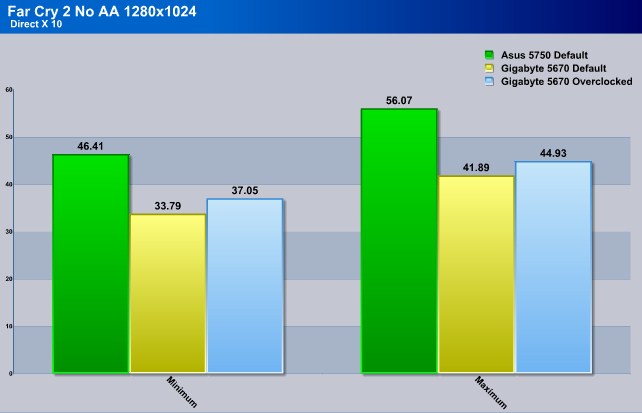 Turning our attention over to a real world game like Far Cry 2, the 5670 does do fairly well on keeping the frame rates above the magical 30FPS minimum frame rate, but again the 5750 video card shows it is vastly superior.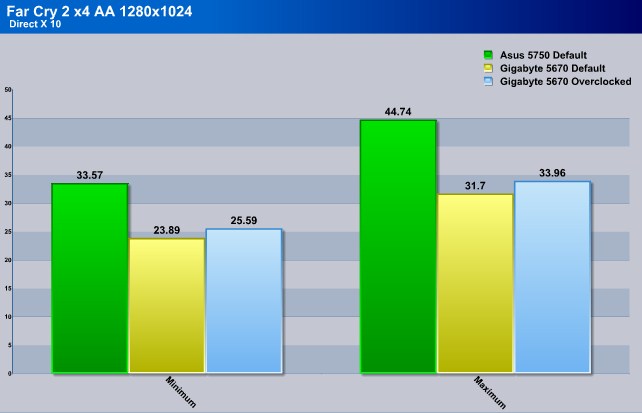 Lets turn on AA in Far Cry 2, the 5670 starts to struggle even while overclocked we barely go above 24FPS minimum frame rate, which is some what playable but barely.
HawX

The story begins in the year 2012. As the era of the nation–state draws quickly to a close, the rules of warfare evolve even more rapidly. More and more nations become increasingly dependent on private military companies (PMCs), elite mercenaries with a lax view of the law. The Reykjavik Accords further legitimize their existence by authorizing their right to serve in every aspect of military operations. While the benefits of such PMCs are apparent, growing concerns surrounding giving them too much power begin to mount.
Tom Clancy's HAWX is the first air combat game set in the world–renowned Tom Clancy's video game universe. Cutting–edge technology, devastating firepower, and intense dogfights bestow this new title a deserving place in the prestigious Tom Clancy franchise. Soon, flying at Mach 3 becomes a right, not a privilege.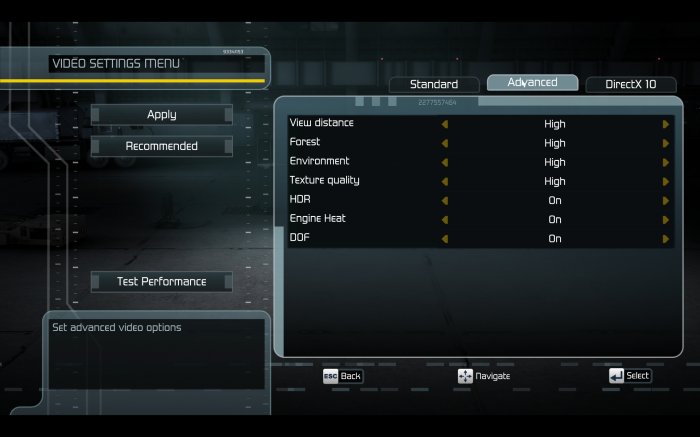 The Settings we use for benchmarking HawX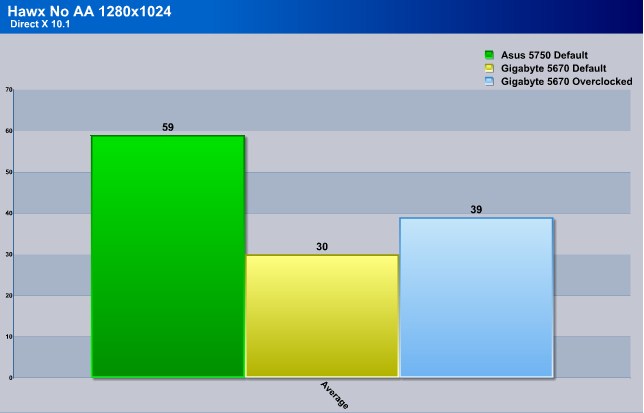 It is good to see the 5670 video card can handle Hawx quite well. Also overclocking the 5670 gave us a nice little performance boost.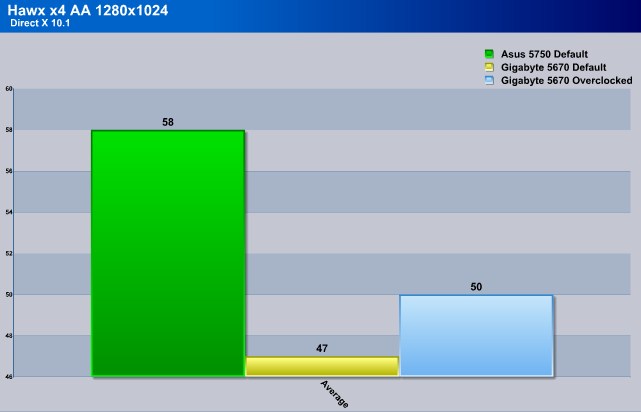 This result has left me a tad confused, by upping the AA from 0 to x4 we increased frame rates. It is not unheard of for a video card to get a performance boost once AA is turned on. I had to re-run this benchmark a few extra times to make sure my eyes were not playing tricks on me.
Dirt 2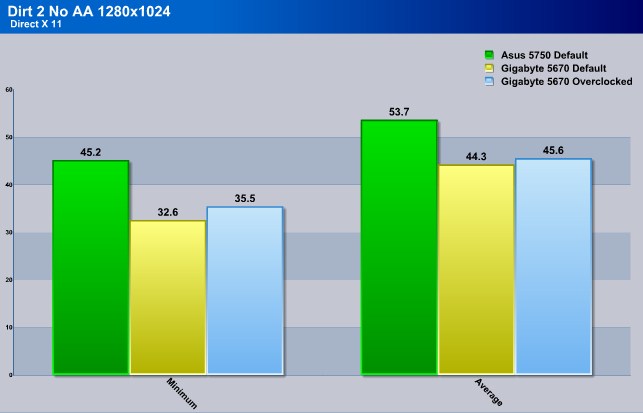 Dirt 2 is one of our newest additions to our benchmarking suite, this also is a Direct X 11 supported game. The 5670 video card once again manages to keep our minimum frame rates above 30FPS, but at the same time the 5750 is vastly superior.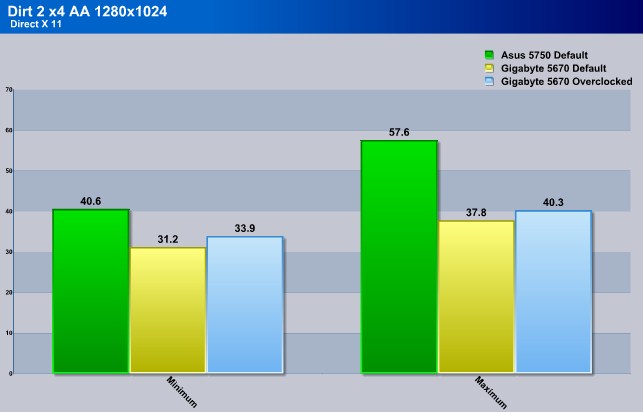 Turning on AA to x4 in Dirt 2, the 5670 still keeps the frame rates above 30FPS minimum.
Unigine Heaven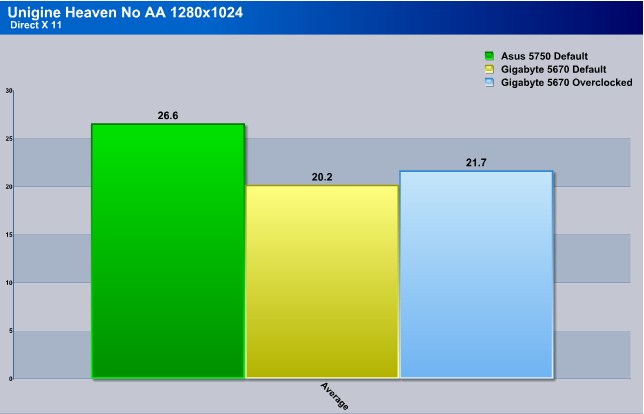 Unigine Heaven benchmark is just plain brutal to any video card we test. I would not take these results too seriously, this is here to give an idea on how the 5670 video card stacked up to a 5750 video card.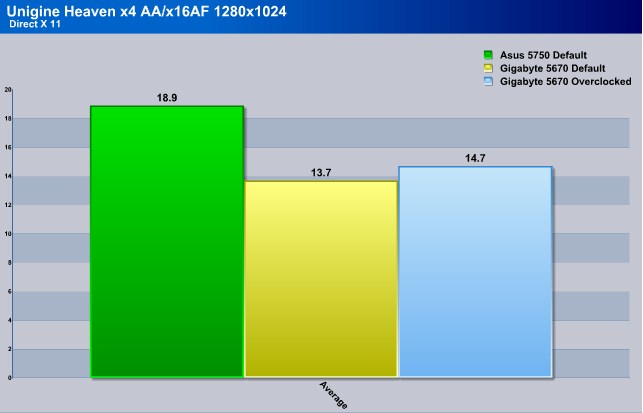 Neither of the video cards tested can handle AA/AF in Unigine Heaven Benchmark.
Stalker Call Of Pripyat
| | |
| --- | --- |
| | |
| 5670 Default No AA | 5670 Default x4 AA |
| | |
| 5670 Overclocked No AA | 5670 Overclocked x4 AA |
| | |
| 5750 Default No AA | 5750 Default x4 AA |
The Stalker series benchmarks have always shown to be a well rounded benchmark to get an idea of how our video cards are performing. Despite the fact it is one of our longest running types of benchmarking programs. As long as I kept the AA off on Stalker Call Of Pripyat, the 5670 has no real major issues on giving us playable frame rates.
Conclusions
Now it is time for me to close things up a bit. Now the first thing I have to look at with the Gigabyte 5670 video card, is pricing. I did a quick glance at Newegg.com, and found out this video card goes for on or around the 110USD mark. A 5750 which we all know from these tests is vastly superior, and goes for on or around 130USD. If you are looking at the 5670 video card as a possible candidate, just by adding 20USD can get us a much more powerful card that will fit any chassis the 5670 can as well as giving you Eyefinity capabilities.
The 5670 video card does perform decent however. The only people I can see that would use this video card, are those who have a HP/Dell computers that does not have an additional PCI-E power plug from their PSU who want a little bit of a booster in the graphic department. Or for those who are using an HTPC that just wants a video card for HD/Internet TV watching that just wants a plug and play configuration with no extra wires to attach may find this an attractive card.
OUR VERDICT: Gigabyte HD5670

| | |
| --- | --- |
| Performance | 8 |
| Value | 6 |
| Quality | 9 |
| Features | 9 |
| Innovation | 8 |

We are using an addition to our scoring system to provide additional feedback beyond a flat score. Please note that the final score isn't an aggregate average of the rating system.

Pro
Cons

Decent Performing

Direct X 11 Capabilities

No need for extra power cables

 

Price to performance ratio is a tad high

 
 Summary: If you needing a video card that has low power requirements, but also can play todays video games the Gigabyte 5670 is right up your alley