Silverstone's new Strider Plus Series 100% Modular PSUs are a new addition to Silverstone's older Strider Series PSUs. The Strider Plus 850W Modular PSU that we are looking at comes with 80 PLUS Silver Certification.
Introduction
If you have used Silverstone Power Supplies in the past, then you know Silverstone had their older Strider Series power supplies ranging from 350W to 1500W. These PSUs also ranged from non-certified PSUs to 80Plus Silver Certified on the 1500W power supply. This time however, Silverstone decided to release their new Strider Plus Series power supplies ranging from 750W to 1000W in a full 100% modular design. All of these power supplies already come 80Plus Silver certified, which means that you will have high quality, low heat, and a more efficient power supply.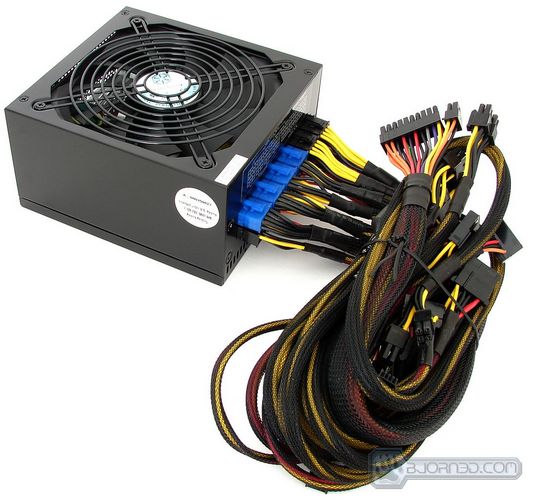 The Strider Plus 850W power supply we are reviewing today has a very strict tightly regulated performance of ±3% from a single +12V rail design, and is equipped with a cool 135mm fan. The Strider Plus power supplies have been designed for the enthusiasts looking for unparalleled combination of power efficiency and flexibility. Let's see how this power supply will perform next to one of our top dog Seasonic X-Series 750W 80Plus Gold Certified power supplies and higher wattage 80Plus Bronze Power supplies.
Features

80 PLUS®Silver Certified
•Super high efficiency with 85%~88% at 115Vac, across all loading conditions from 20% to 100% load.
Advanced full cable management
•Improves internal airflow and reduces system clutter by allowing you to use only the cables you need. All cables (including the MB-24Pin cable) can use the optional short cable kit (SST-PP05) to allow fitting in very small chassis'.
Single +12V output circuits
•Powerful single +12V rail provides headroom for overclocking and top of the line systems.
Accurate power rating
•Allows the Strider Plus to deliver its full 1000W, 850W, 750W Non-Stop power, 24 hours a day rated at 40°C ambient.
Powerful +12V power output
•Class-leading +12V rails combined load up to 80A, 67A, 60A(Peak 85A, 72A, 66A) provides superior performance for various high-end system.
Ultra-Quiet Operation
•Ultra-quiet 13.5 cm fan with intelligent RPM control guarantees cool performance and silent operation with 19dBA.
Strict voltage regulation
•Low ripple & noise with Strict ±3% voltage regulation steady system operation.
Support the latest ATX12V 2.3 & EPS12V 2.93
•Backwards compatible with all ATX12V & EPS12V systems.
Active PFC Circuitry
•Active PFC improves voltage stability and delivers environmentally-friendlier power.
PCIE-8pin & PCIE-6pin connectors.
•Support NVIDIA / ATI high-end multi-graphic card SLI / CrossFireXtechnologies.
Dual EPS-8pin connectors.
•Support Multi-CPU Sever / Workstation MB system technologies.
Industrial grade protection circuitry
•Over Current Protection (OCP), Over Power Protection( OPP), Over Voltage Protection (OVP), Short Circuit Protection (SCP)Under Voltage Protection (UVP), No Load Operation (NLO), Over Temperature Protection (OTP).
Specifications
Specifications
SST-ST85F-P 850W Modular Power Supply
Model No.

SST-ST85F-P

Max. DC Output

850W (Peak 950W)

Combined +3.3, +5V

180W

Combined +12V

804W/67A (Peak 72A)

Input Voltage

90V~264V

Input Frequency Range

47Hz~63Hz

PFC

Active PFC (PF>0.95 at full load)

Efficiency

85%~88% (20% to 100% loading)

MTBF

100,000 hours at 25C, full load

Operating Temperature

0C ~ 40C

Protection

Over current protection
Over power protection
Over voltage protection
Under voltage protection
Over temperature protection
Short circuit protection
No load protection

Connectors

1 x 24 / 20-Pin motherboard connector(550mm)
1 x 8 / 4-Pin EPS / ATX 12V connector(750mm)
1 x 8 / 4-Pin EPS / ATX 12V connector(550mm)
2 x 8/6-Pin PCIE connector(550mm)
2 x 6-Pin PCIE connector(550mm)
6 x SATA connector(500mm / 250mm / 250mm)
6 x 4-Pin Peripheral connector (500mm / 250mm / 250mm)
2 x 4-Pin Floppy connector(500mm / 250mm / 250mm / 150mm)

Color

Black (Lead-Free Painting)

Cooling System

135mm Fan

Noise Level

19dBA-36dBA

Dimension

150 mm (W) x 86 mm (H) x 160 mm (D)

Weight

2.9 kg

Certification

80 PLUS Silver

For now we are going to take the ripple specifications with a grain of a salt because we are going to run our own tests with an oscilloscope as well to confirm the specifications.
Also, talking about the provided leads that come with this power supply, Silverstone also has an additional package that can be ordered for this power supply. This other package pretty much is a package with all the leads but with a much shorter length. This package comes in handy for enthusiasts with smaller systems.

Something that is not shown in these pictures are the dBA levels for the fan speed. The Power supply usually stays around 19dBA. At 100% the dBA level goes all the way up to 36dBA which could be a bit loud. One product that could help with this issue is Silverstone's SST-PP02, which gets mounted on the back of the power supply. This device lowers and isolates PSU noise by putting a cover on the back of the system's power supply unit with a acoustic foam padding.
WHAT ABOUT THEM RAILS?
We have all, no doubt, been told that when purchasing a power supply that the number to look for is the amps on the 12V rail. What are each of the different rails for though, and why is the 12V rail typically the most important? Why the heck are they called rails? Let's take at look at each and see.
-12V – This rail is pretty much obsolete now and is only kept on to provide backward compatibility with older hardware. Some older types of serial port circuits required both -12V and +12V voltages, but since almost no one except industrial users use serial ports
anymore you as a typical home user can pretty much disregard this rail.
-5V – Again this is another obsolete rail, the -5V was used for old school floppy controllers and some ISA bus cards. Again, no need for the typical home user to worry about this rail.
0V – Though not listed on any manufacturer spec sheet, every power supply
has a 0V ground line. The ground signal is used to complete circuits with other voltages and provide a plane of reference against which other voltages are measured.
+3.3V – Finally we are starting to get into something useful! The +3.3V rail was introduced with the ATX form factor in order to power second generation Pentium chips. Previously the CPU was powered by the +5V rail (along with the system memory and everything else on the motherboard), but a reduced voltage was needed in order to reduce power consumption as the chips got faster. Until just recently, the +3.3V was used to exclusively power the CPU as well as some types of system memory, AGP video cards and other circuits.
+ 5V – As mentioned above, the +5V used to run the motherboard, CPU and the majority of other system components on older pre ATX based systems. On newer systems, many of the components have migrated to either the +3.3V or +12V rails, but the motherboard and many of its onboard components still use the +5V rail so it is of importance to the typical home user.
+5V SB – The +5V Standby or "Soft Power" signal carries the same output level as the +5V rail but is independent and is always on, even when the computer is turned off. This rail allows for two things. First, it allows the motherboard to control the power supply when it is off by enabling features such as wake up from sleep mode, or wake on LAN technology to function. It also is what allows Windows to turn your computer off automatically on shutdown as opposed to previous AT supplies where you had to bend over and push the button. Every standard ATX power supply on the market will include this rail.
+ 12V – The +12V, also known as the mother of all rails, is now used to power the most demanding components in your system including the CPU, hard drives, cooling fans, and graphics cards. Historically the +12V rail was used only to power drives and cooling fans. With the introduction of the 4-pin CPU plug on P4 motherboards and then eventually AMD based motherboards, in order to supply newer power hungry CPUs, the +12V rail suddenly started to grow in importance. Today, dual core based motherboard require an 8-pin +12V connector to supply their power needs. High end GPU cards have also jumped on the +12V rail, which has required PSU makers to adapt. Where previously there was only a single +12V rail, there are now two or more, each designated to power specific devices in order to ensure that nothing is underpowered.
Now as to why they are called rails, the best explanation that I can find is that the term comes from the wacky world of electronics and it refers to a long metal bar or strip that is used to provide a particular voltage level. Perhaps someone with a deeper understanding of all things electrical could let me know whether or not that is true.
A Closer Look
Click Image For a Larger One
The Silverstone Strider Plus 850W Modular 80Plus Silver Certified Power Supply comes in a large box. On the images it looks like it is a standard sized box, but in reality, it is a bit bigger than what the pictures show. The overall presentation of graphics and information about the power supply is exceptional. On the front panel we can see the power supply and it's modular design. Some of the main features are also written on the front of the box. The back of the box has the differences between the three models Silverstone sells. 
Click Image For a Larger One
These are the two sides of the box. The left side shows the number of cables that comes with each model of the power supply while the other side of the box shows the specifications about the 3.3V, 5V, and 12V rails. It is nice to see that while the power supply is designed for 850W, it's actual peak output is 950W. This makes sure that even high end systems with multiple graphics cards can easily be handled.
Click Image For a Larger One
Finally, the bottom side of the box shows the information we have already covered in the specifications section of this review. To see a clearer view of the graphs and specifications, please visit the specifications page in this review. The second picture shows the opening procedure of the power supply's box. We can see a thick layer of foam that covers up the power supply. We can also see the manual that comes with the power supply right inside the top of the power supply's packaging.
Click Image For a Larger One
Once the thick layer of foam that protects the power supply is removed, we find the power supply with all the cables. The power supply is still in another layer of protection. This is a thin layer of bubble wrap that protects the power supply from scratches and other small damage. On the other picture we can see how the power supply looks when you take it out of the packaging. I highly recommend unplugging all the cables and double checking that everything is alright with the power supply before plugging it into the system. This makes it easier once you plug in only the cables you need instead of putting it in the system with everything already attached to the power supply.
Click Image For a Larger One
This is the power supply without the cables attached. The first thing that comes to our eyes is the massive 135mm fan. This fan starts spinning at 19 decibels when you first turn on your system and as heat rises and more load is pushed through the power supply, the fan speed could go all the way up to 36 decibels. Looks like Silverstone took a different path than other power supply manufacturers. Silverstone in my opinion, decided to use faster fans to dissipate as much heat as possible to extend the life of the power supply. Unfortunately for someone like me, I would rather have a silent PSU than one that I hear all the time.
Click Image For a Larger One
The overall design of the power supply is very nice. I really like the way the connectors are colored. A mixture of blue and black. The reason why it is divided up into two colors is to not confuse the PCI Express connectors with the other connectors. All the 6-pin and 8-pin PCI-E connectors are colored blue. On the other picture we can see the certifications and other tests the power supply passed.
Click Image For a Larger One
If you have a chassis like me, you will have to mount the power supply on the bottom of the case. I am using a Zalman MS1000-H1 chassis which basically allows users to mount the power supply on the bottom of the case and let the power supply's fan suck air straight from outside from the bottom of the case. So when you mount the power supply in your case, you will actually see the top of the power supply as you see in the picture. It's a plain clean look, however the power supply does pick up quite a lot of fingerprints.
Click Image For a Larger One
Here on the first picture we can see the fingerprints a bit more. And on the second picture we see the certifications the power supply received.
Click Image For a Larger One
The Silverstone Strider Pro Series 850W Modular Power Supply comes with Japanese made capacitors. While the whole design is not perfect, it is better than other power supplies that don't even use Japanese capacitors. We'll see some results about how well this power supply performs compared to another power supply that used 100% Japanese capacitors, the
Seasonic X-Series 750W Modular Power Supply
.
Click Image For a Larger One
Here are the cables, and the accessories that come with the Silverstone Strider Series 850W Modular Power Supply. We go into more detail about how long and how many cables come with the power supply, and what the accessories are in the pictures, but it is quite self explanatory. One thing I would like to add is that you can get an optional cable package that is designed for small form factor PCs if you decide to use the power supply in a small system. This way there is less cable clutter in the system and it is easier for the air to move around. You can also order a power supply acoustic cover from Silverstone which basically mounts on the back of the system basically dampening some of the noise coming from inside the system.
Testing Methodology
When it comes to power supplies, any power supply, what you're really looking for is good clean voltage and plenty of it. Current standards are 5% variance on any rail maximum, which is a little more relaxed than my personal standard of 3% max everywhere but the +5vSB (+5v stand by) which is always on even when the power supply and computer are off. On the +5vSB it's not unusual to see 5% and since it's only for wake on Lan or by device feature it's not a big deal.
Like a lot of enthusiasts out there, our PC's are an ongoing work of art that we have a lot of cash invested in. If a PSU won't hold to 2 or 3% load/idle no matter what we do to it, we won't use it or recommend it.
Testing Equipment
Silverstone Strider Plus Series ST85F-P 850W Modular Power Supply
Testing Equipment
Multimeter
RadioShack Digital Multimeter
Wall Voltage
Craftsman 400A AC/DC Clamp Meter
Oscilloscope

Hitachi Oscilloscope V-212
Noise Measuring

Our trusty ears! (dBA in my opinion is always misused)
To test the voltages on each rail and measure the overall wattage used by the computer system, we use two different types of equipment. We used a RadioShack Digital Multimeter to measure the voltages on each rail (5V,12V,3.3V) and to measure the overall wattage used by the computer system we used a Craftsman 400A AC/DC Clamp Meter. We attached the clamp straight to the wall outlet with a special divider to measure the overall wattage being used accurately. The results were precisely recorded in a word document. Finally we tested the power supply's ripple using a Hitachi V-212 Oscilloscope. To measure the ripple, we measured the 12V, 5V, and 3.3V rails with the oscilloscope and measured the AC current. To test for ripple the AC current needs to be measured instead of the DC. The results are below.
Test Rig
Test Rig
Case
Zalman MS1000-H1
CPU
Intel Xeon X3470 2.92Ghz @ 3.2GHz
Motherboard
ASUS P7P55 WS Supercomputer Motherboard
Ram
OCZ DDR3-12800 1600Mhz (7-7-7-18 1.66v) 8GB Kit
CPU Cooler
Thermalright True Black 120 with 2x SilenX 120mm fans
Hard Drives
4x Seagate Cheetah 600GB 10K 6Gb/s Hard Drives
Optical
LG Blu-Ray Drive
GPU

BFG GeForce 275 OC 896MB – Main Video Card

Case Fans

1x Noctua NF-P12 120mm Fan – Top

1x Noctua NF-P12 120mm Fan – Bottom      

Additional Fans
SilenX 120mm Silent fan on Thermalright HR-03 VGA Cooler
Testing PSU

Thermaltake TR2 1000 Watt Power Supply

Sapphire PURE 1250 Watt Modular Power Supply

Ultra X4 750 Watt Modular Power Supply

Silverstone Strider Plus Series 850W Modular Power Supply

Seasonic X-Series 750W Modular Power Supply

Mouse
Logitech G5
Keyboard
Logitech G15
Two different tests will be done with the test system. One test will be conducted under stock settings, while the second test will be conducted under overclocked settings on the CPU and video card. To put the system under load condition, we used OCCT's Power Supply tester to stress the whole system. Let's take a look at the results.
Power Output Results(V) – Overclocked System (GPU, CPU)
Measured With RadioShack Multimeter And
Craftsman 400A AC/DC Clamp Meter

Power Rail

Sapphire Pure 1250W PSU

Silverstone Strider Plus 850W Modular

Ultra X4 750W Modular PSU

Seasonic X-Series 750W Modular

Idle

Load

Idle

Load

Idle

Load

Idle

Load

3.3v

3.30V

3.29V

3.38V

3.35V

3.30V

3.28V

3.41V

3.37V

5v

5.05V

5.04V

5.08V

5.07V

5.09V

5.06V

5.07V

5.07V

12v1

12.24V

12.23V

12.18V

12.15V

12.2V

12.05V

12.21V

12.21V

12v2

12.24V

12.23V

N/A

N/A

N/A

N/A

N/A

N/A

12v3

12.22V

12.19V

N/A

N/A

N/A

N/A

N/A

N/A

12v4

12.22V

12.21V

N/A

N/A

N/A

N/A

N/A

N/A

12V5

12.21V

12.19V

N/A

N/A

N/A

N/A

N/A

N/A

12V6

12.22V

12.22V

N/A

N/A

N/A

N/A

N/A

N/A

Wattage Used

182W

480.3W

 179W

479.5W 

192W 

487.5W 

170W

476.4W
The Silverstone Strider Plus 850W Modular Power Supply seems to be the second most efficient power supply from the list of power supplies tested on this rig. The voltages jump a bit more than the Sapphire Pure PSU and the Seasonic X-Series 750W Modular PSU, but everything seems to be more stable than the Ultra X4 PSU.
Ripple Test Results
Example Images for our testing – Click Image For a Larger One
| Rails Tested | Overclocked System – Hitachi Oscilloscope V-212 – Ripple Results |
| --- | --- |
| 12V |  ~110mV |
| 5V |  ~45mV |
| 3.3V |  ~48mV |
Fan Noise Results
Even though we do not have the testing equipment to measure the exact dBA of the fan, we used our ears to personally measure the noise and explain what we heard.
The Silverstone Strider Plus series 850W Modular Power Supply can be heard during operation especially under load. I think the reason why the fan spins faster on this power supply rather than slower is to keep the power supply cooler than the others on the market. This leads to longer lifetime, but if you are like me, and don't like noise, I would rather use a quieter power supply.
conclusion
Overall, the Silverstone Strider Plus Series 850W Modular Power Supply is one of the top power supplies on my list. I've tested more than 10 different power supplies and the Silverstone Strider Plus 850W is the third on my list. First I would have to go with the Seasonic X-Series power supplies, and then with Enermax Evolution or Sapphire Pure series PSUs, but the Silverstone is definitely a PSU I would consider as my next choice.
There are a few reasons why I would rather pick the power supplies above instead of the Silverstone, however with the next version of the Silverstone PSUs, this could be fixed.
1. I would like to see this PSU with a silent fan. A maximum of 25-28 decibels and not 36 decibels. Once the power supply gets in the 25 decibel range, you can start hearing the fan of the power supply and the air being pushed through the PSU even if you have a closed case. This is why it would be nice to see the Silverstone PSUs at a maximum of 25-28 decibels range.
2. 100% Japanese capacitors would be an excellent choice for this PSU.
3. Over the past few years after testing many fan configurations, I have noticed that 120mm fans are probably the best solution for cooling power supplies quietly. The reason for this is simple. While small fans like 80mm fans could push enough air to cool down a power supply, the job would not be silent. While moving onto bigger fans can help reduce overall noise due to the fan spinning at a lower RPM, and still accomplish the exact CFM rating as a faster RPM smaller fan would, according to my tests, once you go higher than 120mm, you start introducing noise from air being pushed against the fins and sides of the fans.
OUR VERDICT: Silverstone Strider Plus Series 850W Modular Power Supply
| | |
| --- | --- |
| Performance |  8.5 |
| Value |  9 |
| Quality |  8.5 |
| Features |  8 |
| Innovation |  8 |

We are using a new addition to our scoring system to provide additional feedback beyond a flat score. Please note that the final score isn't an aggregate average of the new rating system.

Pro

Cons

 Solid Construction

100% Modular Design PSU

80Plus Silver Certified

Main Japanese Capacitors

 Loud fan under load

Cables a bit stiff




 

Summary: The Silverstone Strider Plus Series 850W Modular Power Supply will receive 8 out of 10 and Bjorn3D's Silver Bear Award, because we felt that it was a solid power supply. However, it still could have some improvements in some of the areas mentioned.