The ASUS P7P55 WorkStation SuperComputer motherboard is a perfect choice for users needing a powerful PC for their Home, Business, or Studio needs.
Introduction
There are many motherboards out there to chose from. One of the biggest questions out there is, which motherboard should I chose if I'm looking for a reliable, stable, and powerful motherboard for audio, video, 3D modeling/animation and photo editing? These tasks are usually very demanding on all parts of the system from the CPU to the memory to even the hard drives.
When thinking about using high-performance motherboards for home, business, or even studio use, the ASUS P7P55 WorkStation SuperComputer Motherboard is a great choice. Don't be fooled by the name of this motherboard. While it is a perfect choice for work related applications, this motherboard is also an exceptional choice for gamers.
Since the P7P55 WorkStation SuperComputer Motherboard is based on the P55 chipset, it comes with socket LGA1156. There are many options that can be used with LGA1156, like for example the Intel Core i5, Core i7 and Xeon 3400 Series Server based Processors. ASUS allows users to use all these different series processors to fit the customers needs. Since we are going to be working with server based RAID cards and hard drives as well as server based applications, we are going to be using a Xeon based processor, the Intel Xeon X3470.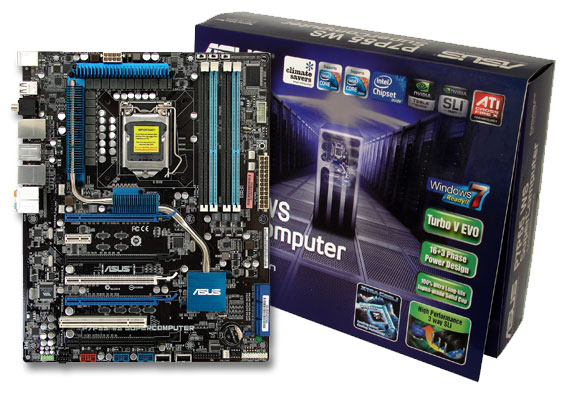 There are many very exciting features that come with the ASUS P7P55 WorkStation SuperComputer Motherboard, like for example the 16+3 Phase Power Design and T.Probe Microchip. The 16+3 Phase VRM design has 16-phase for vCore and extra 3-phase for the Memory controller inside the CPU to provide the highest power efficiency. This allows the motherboard to generate less heat to effectively enhance the overclocking capabilities of the processor.
ASUS has a new design on most of their new boards called the Xtreme Phase Design. This special design allows the VRM to provide unique phase angles per phase to offer the best in multiple stages of use ensuring leading efficiency. But that's not all, with this new Xtreme Phase Design, ASUS also included hardware based automatic switching so depending on the load present on the system the VRM will automatically scale down to as little as 4 phases for idle or basic tasks and increases to its maximum of 16 phases when under moderate or heavy load.
The T.Probe feature on the ASUS's Xtreme Design motherboard detects and balances power phase loads and temperatures in real-time. This helps spread the load on the components to extend the overall lifetime of the components, as well as lead to a more stable system.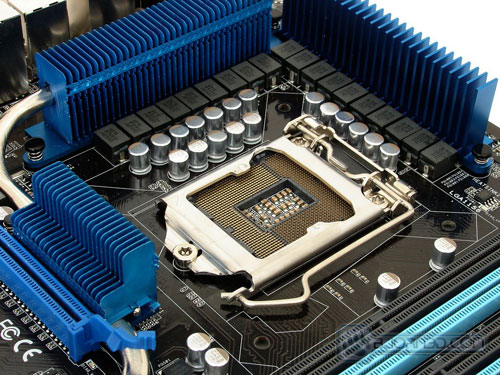 ASUS didn't stop here, they also included the new low RDS (on) MOSFETs, ferrite core chokes and Japanese made conductive polymer capacitors to allow for longer component life and minimum power loss.
There are only a few more things that need to be mentioned. First of all, this motherboard is Windows 7 Ready, which means that you will not have any problems installing drivers and other applications that come with the motherboard on Windows 7 based systems. This saves tons of headaches and time during installation of Windows and this ensure that everything will be stable and compatible on your system. Turbo V Evo is also included with this motherboard which we will go into more detail later on in this review, but to just put it simply, Turbo V Evo helps overclock your system automatically with a click of a button. And finally, so I won't forget, this motherboard comes with both SLI and ATI Crossfire X Technology which means you will be able to combine the most powerful video cards in SLI or Crossfire X configuration to get the extra frames per second that you will need in  your games.
Features
ASUS Workstation Exclusive Features
Sufficient IO bandwidth for 2 way and 3 way SLI

The Best Graphic Performance you'll EVER have!
The 3 PCIe slots run at the speed of 16x,8x,8x giving you the most reliable 3-Way SLI graphic performance you'll ever have when you are engaged in Mechanical / Architecture / Interior / Aircraft / Audio / Video Design or when you are playing games in leisure time. The P7P55 WS SuperComputer provides you the fastest 2-Way SLI graphic performance when you install Geforce graphic cards in the two blue PCIe x16 lots which can work at 16x speeds.

CUDA parallel computing power supported

The motherboard will achieve outstanding and dependable performance in the role of a Personal Supercomputer when working in tangent with discrete CUDA technology—providing unprecedented return on investment. Users can count on up to 4 CUDA cards(One of them should be Quadro graphic card) that are plugged into P7P55 WS SuperComputer for intensive parallel computing on tons of data, which delivers nearly 4 teraflops of performance. It is the best choice to work as a personal supercomputer on your desk instead of a computer cluster in a room.

Diag. LED

Diag. LED checks key components (CPU, DRAM, VGA card, and HDD) in sequence during the motherboards booting process. If an error is found, the LED next to the device will continue lighting until the problem is resolved. This user-friendly design provides an intuitional way to locate the root of a problem within a glance.

ASUS Heartbeat

Bright and vivid LEDs shine around the ASUS brand name on the motherboard after a successful booting process. With the breath-like deep blue light shining in regular tempo, the ASUS Heartbeat makes the motherboard as vivid as life.

G.P. Diagnosis Card (bundled)

Bundled with the P7P55 WS SuperComputer motherboard, the G.P. Diagnosis card assists users in system checking by effortlessly and quickly providing precise system checks right after they switch on their PCs.


ASUS SASsaby Card Support

This motherboard is fully compatible with ASUS SAS card (the SASsaby card series, optional). Faster, safer and more stable, SAS will provide users with a better choice for storage expansion and upgrade needs.
CPU, Chipset and Graphics features
LGA1156 Intel® Lynnfield Processor Ready

This motherboard supports the latest Intel® Lynnfield processors in LGA1156 package which has memory and PCI Express controller integrated to support 2-channel (4 DIMMs) DDR3 memory and 16 PCI Express 2.0 lanes providing great graphics performance. Intel® Lynnfield processor is one of the most powerful and energy efficient CPU's in the world.

Intel P55

The Intel® P55 Express Chipset is the latest one-chipset design to support latest 1156 socket Intel® Core™ i7/Core™ i5 Processors. Intel® P55 providing improved performance by utilizing serial point-to-point links, allowing increased bandwidth and stability.

SLI Technology

NVIDIA SLI™ (Scalable Link Interface) takes advantage of the increased bandwidth of the PCI Express bus architecture and features intelligent hardware and software that allows two GPUs to efficiently work together to deliver earth-shattering, scalable performance. For some applications, nearly 2X the performance! (From www.NVIDIA.com)

PCIe 2.0

Double Speed; Double Bandwidth!
This motherboard supports the latest PCIe 2.0 devices for double speed and bandwidth which enhances system performance.

Quad-GPU SLI and Quad-GPU CrossFireX Support!

Flexible Multi-GPU solutions, Your Weapon of Choice!
P7P55 WS SuperComputer brings you the multi-GPU choice of either SLI™ or CrossFireX. The motherboard features the most powerful Intel P55 platform to optimize PCIe allocation in multiple GPU configurations. Expect a brand-new gaming style you've never experienced before!

CUDA Technology

NVIDIA® CUDA™ is a general purpose parallel computing architecture that leverages the parallel compute engine in NVIDIA graphics processing units (GPUs) to solve many complex computational problems in a fraction of the time required on a CPU.With over 100 million CUDA-enabled GPUs sold to date, thousands of software developers are already using the free CUDA software development tools to solve problems in a variety of professional and home applications – from video and audio processing and physics simulations, to oil and gas exploration, product design, medical imaging, and scientific research
Memory Features
Dual-Channel DDR3 2133(O.C.) / 1600 / 1333 / 1066 support
The motherboard supports DDR3 memory that features data transfer rates of 2133(O.C.) / 1600 /1333 / 1066 MHz to meet the higher bandwidth requirements of the latest 3D graphics, multimedia, and Internet applications. The dual-channel DDR3 architecture enlarges the bandwidth of your system memory to boost system performance.
ASUS Xtreme Design – Hybrid Processo
ASUS TurboV EVO

Ultimate O.C. Processor
Whether novice or enthusiast, TurboV EVO satisfies overclockers of any level. Intelligently push systems to the fastest, stable clock speeds with Auto-Tuning. Turbo Key boosts performance with a simple touch, while TurboV offers additional advanced options for breaking those records!

Auto Tuning

Auto System Level Up
Achieve extreme yet stable overclocking results automatically with Auto Tuning! With built-in stability testing, Auto Tuning lets even beginners improve performance with no additional cost.
ASUS Xtreme Design – Hybrid Phase
ASUS Hybrid 16+3 Phase Power Design

  Unprecedented Innovation with the Best Quality Component for Best Performance
The groundbreaking Hybrid 16+3 phase VRM design is brought to the ASUS motherboards. Hybrid 16+3 phase power design, 16-phase for vCore and extra 3-phase for Memory controller inside CPU, can provide the highest power efficiency, and hence generates less heat to effectively enhance the overclocking capability. With the high quality power components such as low RDS (on) MOSFETs, Ferrite core chokes with lower hysteresis loss and 100% Japan-made high quality conductive polymer capacitors, ASUS Hybrid 16+3 phase VRM design also ensure longer component life and minimum power loss.

T.Probe

Leading Active Cooling Technology
The T.Probe microchip detects and balances power phase loads and temperatures real-time. With optimal power phase functions, components run cooler and extend system lifespan.
ASUS Xtreme Design – Hybrid OS
ASUS Express Gate SSD
Instant Online! Instant Fun!
Express Gate is an ASUS exclusive OS that provides you with quick access to the Internet and key applications before entering the Windows® OS.
ASUS Exclusive Features
MemOK!

Any Memory is A-OK!
MemOK! quickly ensures memory boot compatibility. This remarkable memory rescue tool requires a mere push of a button to patch memory issues. MemOK! determines failsafe settings and dramatically improves your system boot success. Get your system up and running in no time!

ASUS EPU

System Level Energy Saving
The new ASUS EPU – the world´s first power saving engine, has been upgraded to a new six engine version, which provides total system power savings by detecting current PC load and intelligently moderating power in real-time. With auto phase switching for components (which includes the CPU, VGA card, memory, chipset, drives and system fan), the EPU automatically provides the most appropriate power usage via intelligent acceleration and overclocking – helping save power and money.
ASUS Quiet Thermal Solution
ASUS Fanless Design – Heat-pipe solution

The Heat Pipe design effectively directs the VRM area heat to the heatsink near the back IO ports, where it can be carried away by existing airflow from the CPU fan or bundled optional fan. The purpose of the innovative heat pipe design on this motherboard is that the ground breaking fanless design does not have lifetime problems as a chipset fan does. The Heat Pipe design is the most reliable fanless thermal solution to date.

Fan Xpert

Active Quiet & Cool
ASUS Fan Xpert intelligently allows users to adjust both the CPU and chassis fan speed according to different ambient temperature , which is caused by different climate conditions in different geographic regions and system loading. Built-in variety of useful profiles offer flexible controls of fan speed to achieve a quiet and cool environment.

Up to 20°C(36°F) Cooler – Stack Cool 2

Effective and zero-noise heat dissipation
Stack Cool 2 is a fan-less and zero-noise cooling solution offered exclusively by ASUS. It effectively transfers heat generated by the critical components to the other side of the specially designed PCB (printed circuit board) for effective heat dissipation.

 
ASUS EZ DIY
ASUS Onboard Switch

With an easy press during overclocking, this exclusive onboard switch allows gamer to effortless fine-tune the performance without having to short out the pins!

Q-Connector

Make connection quick and accurate!
The ASUS Q-Connector allows you to connect or disconnect chassis front panel cables in one easy step with one complete module. This unique adapter eliminates the trouble of plugging in one cable at a time, making connection quick and accurate.

Q- Shield

Easy and Comfortable Installations
The specially designed ASUS Q-Shield does without the usual "fingers" – making it convenient and easy to install. With better electric conductivity, it ideally protects your motherboard against static electricity and shields it against Electronic Magnetic Interference (EMI).

O.C. Profile

Conveniently store or load multiple BIOS settings
Freely share and distribute your favorite overclocking settings. The motherboard features the ASUS O.C. Profile that allows users to conveniently store or load multiple BIOS settings. The BIOS settings can be stored in the CMOS or a separate file, giving users freedom to share and distribute their favorite overclocking settings.

EZ-Flash 2

Simply update BIOS from a USB flash disk before entering the OS
EZ Flash 2 is a user-friendly BIOS update utility. Simply launch this tool and update the BIOS from a USB flash disk before entering the OS. You can update your BIOS only in a few clicks without preparing an additional floppy diskette or using an OS-based flash utility.

 
These are the main features of the P7P55 WS SuperComputer Motherboard. On the next page we will dig into the specifications about the motherboard.
Specifications
Here are the specifications to the motherboard. These specifications tell you exactly what the motherboard supports and what are its capabilities:
Specifications
ASUS P7P55 WS SuperComputer Motherboard
CPU

Intel® Socket 1156 Core™ i7 Processor/Core™ i5 Processor/Core™ i3 Processor/ Pentium® Processors
Xeon 3400 series server processor
Supports Intel® Turbo Boost Technology

Chipset

Intel® P55 Express Chipset Nvidia NF200*1

Memory
4 x DIMM, Max. 16 GB, DDR3 2133(O.C.)*/1600/1333/1066 Non-ECC,Un-buffered Memory
Dual Channel memory architecture
Support Intel Extreme Memory Profile (XMP)
Expansion Slots

2 x PCIe 2.0 x16 (@ x16 or x8)
2 x PCIe 2.0 x16 (@ x8)
1 x PCIe x16 (@ x4 )
1 x PCIe x1 (@ x1)
1 x PCI

Multi-GPU Support

Supports NVIDIA® Geforce 3 way/2 way SLI™ techonology
Supports ATI® CrossFireX™ technology, up to Quad CrossFireX™

Storage

Intel® P55 Express Chipset built-in
6 xSATA 3.0 Gb/s ports
Intel® Matrix Storage Support RAID 0,1,5,10

LAN

2 x Realtek 81112L Dual Gb LAN
– Support teaming function

Audio

ALC1200-GR 8-Channel High Definition Audio CODEC
Multi-Streaming
Jack-Sensing
Front Panel Jack-Retasking
Coaxial / Optical S/PDIF out ports at back I/O
ASUS Noise-Filer

IEEE 1394

VIA VT6308S controller supports 2 x 1394a port(s)

USB
14 USB 2.0/1.1 ports
Overclocking Features

Precision Tweaker 2
– vCore: Adjustable CPU voltage at 0.00625V increment
– vIMC: Adjustable IMC voltage at 0.00625V increment
– vDRAM Bus: 81-step DRAM voltage control
– vPCH: 2-step chipset voltage control
– vCPU_PLL: 4-step reference voltage control
SFS (Stepless Frequency Selection)
– PCI Express frequency tuning from 100MHz up to 200MHz at 1MHz increment
– Internal Base Clock tuning from 80MHz up to 500MHz at 1MHz increment
Overclocking Protection
– ASUS C.P.R.(CPU Parameter Recall)

Back Panel I/O Ports

1 x PS/2 Keyboard/Mouse Combo port
1 x S/PDIF Out (Coaxial + Optical)
1 x IEEE 1394a
2 x LAN(RJ45) port
8 x USB 2.0/1.1
8 -Channel Audio I/O

Internal I/O Connectors

24-pin EATX Power connector
8-pin EATX +12V Power connector
CPU fan with PWM control
Chassis fan1 with Q-fan control
Chassis fan2 with Q-fan control
Chassis fan3 with Q-fan control
PWR fan
CD audio in
1 x COM port connector
1 x USB connectors support additional 2 USB ports
2 x USB 2.0/1.1 ports
20-pin Panel connector
1 x IEEE 1394a port
TPM header
S/PDIF Out header
Front panel connector
1x MemOK! buttom

BIOS

16 Mb Flash ROM , AMI BIOS, Green, PnP, DMI v2.0, Wfm2.0, ACPI v2.0a, SMBIOS v 2.6

Accessories

1 x 2-port USB and 1-port 1394a module
ASUS Q-Shield
1 x ASUS SLI bridge connector
1 x ASUS 3 way SLI bridge board
User's manual
6 x SATA cable(s)
1 x com port cable
3 in 1 Q-connector
1 x Diagnosis Card(Retail version only)

Support Disc

Drivers
Anti-virus software (OEM version)
ASUS Update
ASUS Utilities

Form Factor

ATX Form Factor
12 inch x 9.6 inch ( 30.5 cm x 24.5 cm )
The see more information about the motherboard including the Supported Memory List as well as CPU Support list, please visit ASUS.com or go to this link HERE.
We can see that the P7P55 WS SuperComptuer motherboard comes with lots of PCI-E slots. We have an LSI 3Ware SATA + SAS 9750-4i RAID Card which we are going to use with 4x Seagate Cheetah 600GB 10,000RPM 6Gb/s Hard drives. The LSI 3Ware SATA + SAS 9750-4i RAID card is going to be used in one of the PCI-E 2.0 slots which is backward compatible to 8x. Since the LSI card can only use speeds up to 8x, this will be a perfect solution for the RAID card. Also for those not sure if a RAID cards like the LSI 9750-4i can be used with a smaller PCI-E slot connector in a standard PCI-E 2.0 slot, check with the provider of the card. For my configuration even though the LSI card is has a small PCI-E connector, since the ASUS PCI-E 2.0 slot is backward compatible, this won't be a problem
We can also see that this board is compatible with memories overclocked to 2133MHz. This motherboard is a great choice for those looking into overclocking their CPUs and their memories to extreme clocks.
Software
After getting to know the P7P55 WS SuperComputer motherboard a bit more, it is time to take a look at some exciting software that comes with the motherboard. Aside from having a ton of features, the P7P55 WS SuperComputer motherboard comes with some very nifty software and chips that have specific jobs. Green-minded buyers rejoice, ASUS added stuff just for you. Meet the ASUS EPU-6 Engine.
EPU-6 Engine
Using lead free solder and solid state components, ASUS is doing their best to be as environmentally friendly as possible. The Energy Processing Unit (EPU) is another example of ASUS making changes to be a more "green" company. The EPU chip is basically a power moderator. The EPU automatically raises and reduces power when needed on six major components; the video card, chipset, CPU, fan(s), hard drives, and the memory. This is where the "EPU-6" name came from.
Once calibrated, the EPU-6 software will automatically adjust depending on your power demands. In total the EPU-6 software has 5 settings. Auto Mode, Turbo Mode, High Performance Mode, Medium Power Saving Mode and Max Power Saving Mode. Turbo Mode uses the most power and Max Power Saving Mode uses the least. Each mode displays how much power is being used and saved, its nice to know how deviant your being to the environment. Overall, this software is a great step in the right direction. With Intel's own "green" feature, SpeedStep, and AMD's " green" feature, Cool N' Quiet, its about time we see motherboard manufactures create software that will fully utilize these CPU features. Although the EPU is a very nice informative feature, it's best to disable this feature if your going for your maximum overclock. It tends to hinder your maximum overclock if left enabled.
One thing to remember about the EPU engine is that when it is used for example under Max Power Saving Mode, the overall clock speed and multiplier on the CPU is lowered. If you do a lot of different types of work on your system that might requite performance it is recommended to keep the settings on Auto Mode. With Auto Mode on, the EPU Engine software will automatically downscale the performace of the system when it is not needed to save power, and raise the speed during operation.
T.Probe
Along with the new P55 chipset motherboards, ASUS
has introduced the T.Probe chip. What the T.Probe does is balance the load on the power phases to evenly distribute power ultimately reducing the motherboards overall temperature improving longevity of the components. This is the first time in the industry temperature based realtime loading has been performed on the VRM. The T.Probe software included allows you to check the status of the power phases as well as change the power mode used; "Xtreme Phase Performance Mode" which uses all 16 power phases, or "Power Saving Mode" which uses only four power phases. Below are a couple pictures of the T.Probe chip and software in action.
From the pictures you can see how the T.Probe chip effectively distributes power evenly throughout the power phases. We recommend selecting the Xtreme mode to achieve the highest performance
from the P7P55 WS SuperComputer Motherboard. It is important to not though that T.Probe is independent of ASUS's Xtreme Phase Design but works in conjunction with to produce Hybrid Phase. This allows stability and efficiency but also ensures cool temperature balance for the VRM.
TurboV EVO
The TurboV EVO software allows you to manually or automatically oveclock your computer within Windows using three separate configurations; Manual, Easy Mode and Auto Tuning. Before we go into these configurations, I would like to mention that TurboV Evo is a true hardware based solution that comes with realtime BIOS level overclocking via an easy user interface. These settings here not just presets that will only work on certain system configurations. TurboV Evo adjust everything separately to your own system.
In manual mode the software allows you to set the BLCK frequency, and change all voltages including the PLL, CHA DATA, CHB DATA, PCH, CHA CTRL and CHB CTRL voltages.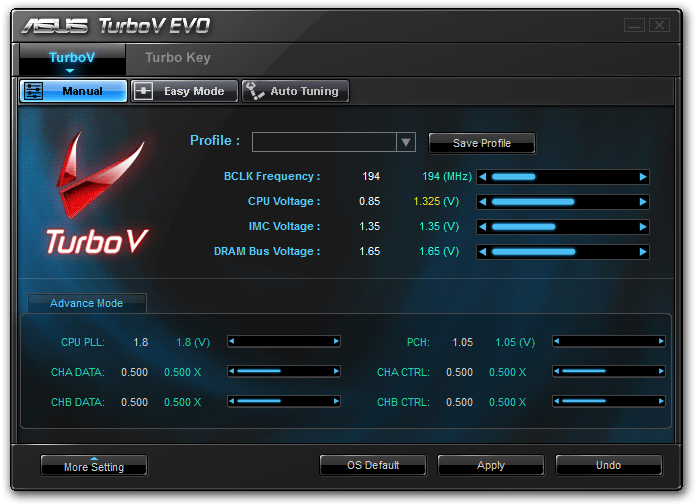 Easy Mode allows BLCK frequency adjusting and only CPU, IMC, and DRAM voltage changing. In Manual-Advanced mode you can adjust the other voltages.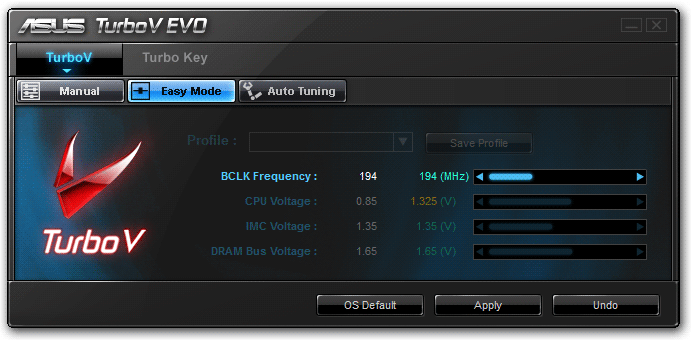 Auto Tuning mode is what makes the TurboV EVO software so special. Within the Auto Tuning mode you can let the software do 100% of the overclocking or you can use fixed settings to help the software along the way.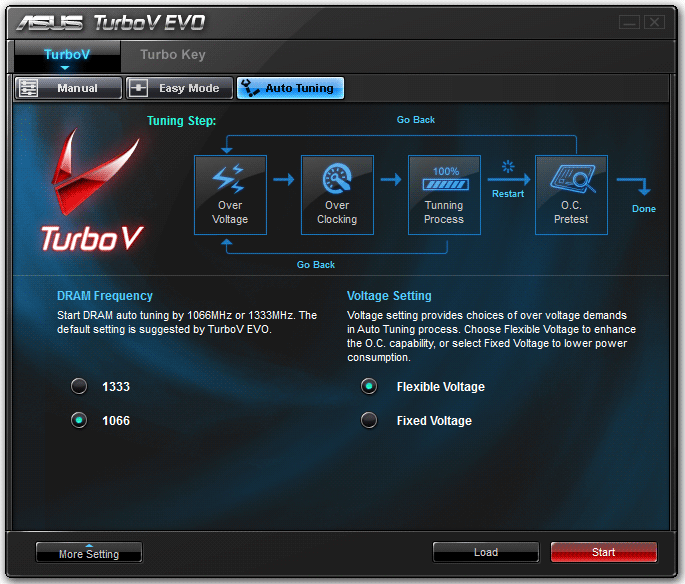 Once you find your preferred settings, you can save them and use the Turbo Key tab to assign the profiles saved. This comes in handy when your wanting more power when playing a game or less power when browsing the web.
We found the TurboV EVO software very easy to use and we think newcomers to overclocking will thoroughly enjoy using the suite. Although this software worked very well, we still recommend using the BIOS to achieve the highest overclock.
TurboV, MemOK!
ASUS put everything into this board. The TurboV chip is another new hardware addition on the P7P55 WS SuperComputer motherboard. The TurboV chip has one job only, the job of overclocking your computer. Combined with the TurboV EVO software, the TurboV chip allows you to overclock your machine through a GUI, or from the palm of your hand using only your mouse and keyboard. We won't dive too deep into the overclocking results just yet, but to peak your interest, we were pleasantly surprised at the results.
The MemOK! button allows the motherboard to adjust the memory settings to a more acceptable setting if a failure occurs in any area. Either it be an overclocking failure or a default memory timing or voltage issue, pressing the MemOK! button (when warned by the DRAM LED), will help make the memory as compatible as possible.
Express Gate
The ASUS Express Gate software allows you to quickly access the Internet within 5 seconds without booting into an operating system. We did use the Express Gate software and it worked very well. We were able to turn the machine on, and within seconds we were at the Express Gate browser looking at Bjorn3D.com. This software is useful when your in a rush and need to access your email, a website, or even use an IM client or Skype for voice communication.
Click Image For a Larger One
Unfortunatelly, you need to have a working SATA hard drive in non-RAID configuration to get Express Gate to work. On other model motherboards like the ASUS P7P55D Premium motherboard, there is a chip built on with Express Gate, which means that you won't need a hard drive in order to access Express Gate.
BIOS
Click Image For a Larger One
These are the pictures of the main booting process when we turn on our PC. Of course there is a more fancier option that you can use that shows an ASUS logo with an image, however, we like the traditional old style better because we get a clear view of the clock speed of our processor, the memory installed and of course any error that might come up during the booting process. The second picture shows how the ASUS P7P55 WS SuperComputer motherboard automatically recognized that we are using a LSI 3ware SAS 9750-4i RAID card. This is the BIOS for the RAID card and the place where you would set up your SCSI drives.
Click Image For a Larger One
When you enter the BIOS from the booting screen you will be welcomed by a nice organized main page. You can see on the top that the BIOS is categorized into 7 different sections. We are going to go over this on the following pictures, but for now let's take a look at what we can set up on the main page. If it is the first time you go into the BIOS, you will generally have the option to tweak the settings on the 6 SATA connectors on the motherboard. You will see what is connected and what is still available. On the second picture you will notice that our SATA section is configured for RAID. You can change this section to either IDE, RAID or AHCI. The last picture in this category is the System Information page accessed through the Main Category in the BIOS. This shows the processor we are using and other information about the BIOS.
Click Image For a Larger One
Now, this is the section that will allow us to do all the magic. By magic I mean overclocking. There are lots of things that can be changed in the AI Tweaker section. I'll go through some of the most important parts that will allow you to stabilize your system for optimal performance during stock settings or even overclocked settings. On the first picture in the list of 9 pictures, you will see the main parts of the Ai Tweaker. The Ai Overclock Tuner has 4 different options as you can see in the 3rd picture. The most common option people are going to use are the Manual and Auto options. Auto allows you to lock some overclocking features on the processor, but you can still adjust the memory settings including the DRAM Frequency and DRAM Timing Control.
The Manual section will unlock all the potential of the motherboard. This will allow you to adjust the core speed of your processor. The speed can be changed through the BCLK Frequency. Usually the standard frequency is around 100-133 MHZ. Multiply that with the CPU Ratio Setting (Multiplier) and you get your Core Speed of the processor. The QPI Frequency can be changed depending on the needs that you are going to use your system for. Usually one setting keeps the system more stable during overclocked settings so playing with these values can come handy during overclocking. If you are not sure on which one will work better, just keep this on Auto. ASUS will decide on which is more stable for your system.
It is also important to understand that when dealing with overclocking you want to keep the system stable. One way of doing this is raising the Voltages on the CPU and the IMC. If you look at picture five, you will see the voltage tweaking part of the Ai Tweaker. By enabling the Load Line Calibration, most of the times this helps keeping the system stable. With ASUS Xtreme Design, this is something that you can take advantage of. This will allow the motherboard to make sure that the processor is being supplied with enough voltage even when the system is put under a lot of load.
Now that we have the processor overclocking parts out of the way, we can also take a look at the memory tweaking options. On pictures eight and nine, you will see the DRAM Timing Control setup page. This will allow you to set up the timings for your memory just to make sure that they are not off. By having these timings set perfectly, you will make sure that there are no stability problems caused by the memory.
And finally, a great feature that ASUS included on this motherboard was the OC Tuner Utility. This utility is built into the BIOS allowing the user to quickly and safely overclock their PC with a click of a button. This utility does not overclock the system from saved profiles, meaning that it is not something that ASUS saved into the BIOS, it is something that changes depending on what hardware you use and what are the capabilities of your hardware. So if for example we pick the Turbo Profile under the OC Tuner section, the BIOS will automatically overclock your system to a stable setting within a few seconds. In our case, the OC Tuner took us up to 3.9GHz instantly, the only thing we had to change was the DRAM speed to the appropriate settings. If you ask me, this is a darn cool feature ASUS included since this will allow people to overclock their system to get that extra bit of power when needed even if you have no overclocking knowledge.
Click Image For a Larger One
The advanced section of the BIOS allows the user to configure other motherboard features including the CPU features, the USB, LAN, Firewire, Audio and Serial Port settings. Most of the time this section can also help stabilize a system that has been overclocked. In the CPU Configuration section you can set specific settings on the CPU like preventing temperature clock speed changes as well as other built in automatic features that will change the multiplier or clock speed on different power states. By disabling some of these features, most of the time you can get very stable systems. Of course with this you do sacrifise energy efficiency and other features though.
On the main page of the Advanced section we can see T.Probe. You can either Enable or Disable this feature that ASUS included with this motherboard. The T.Probe feature on the ASUS's Xtreme Design motherboards detects and balances power phase loads and temperatures in real-time. This helps spread the load on the components to extend the overall lifetime of the components, as well as lead to more stable systems.
So as you can see, ASUS includes stability features all over the place which makes ASUS server and gaming motherboards one of the most stable and exciting motherboards on the market.
Click Image For a Larger One
The power section of the BIOS allows the user to set specific power features, like for example in case of a power outage, what should the BIOS do? What should turn on the PC? And of course one of the important parts to any overclocker, the Hardware Monitor. The Hardware monitor has the information about CPU and Motherboard temperatures, fan speeds and voltages. In this section you can either enable or disable a feature ASUS included on this board, the Q-Fan Control. This feature has been around for years now but still comes handy if you want to keep your PC quiet in idle or low load situations. The Q-Fan feature will automatically adjust the fan speeds inside the PC that are connected to tha appropriate motherboard fan connector.
Click Image For a Larger One
The boot section will allow you to set up how you want yoru system to boot up. in this section you will be able to set up the booting sequence of your drives. In this section you can also disable or enable the Full Screen Logo that comes up when you turn on your PC. I prefer it disable because that way i can see what is going on during the booting process.
Click Image For a Larger One
Well, we are getting ot the end of the BIOS, but we still have two more sections, Tools and Exit. In the tools section you have the option to save your own overclocking profiles. This will save all the voltages and frequencies you set up yourself. Pretty much it's going to save everyting that you set up in the BIOS. The second picture shows some other features that might come handy, and one very exiting feature… Express Gate. The ASUS Express Gate software allows you to quickly access the internet within 5 seconds without booting into an
operating system
.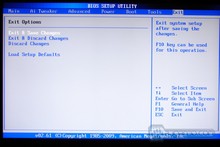 Click Image For a Larger One
And finally, I bet you guys are exited to continue onto the next pages where we are going to check out the motherboard from a closer look and its performance to our other competing motherboard model. This section just allows the user to reset the BIOS to the original settings as well as save the settings that have been made.
A Closer Look
Click Image For a Larger One
It is time to take a look at this board. As you have read from the previous pages, this motherboard has tons of features, including many hardware based features that we have not yet seen in the motherboard industry before. The front side and the back side of the motherboard lays down some of the main features of the motherboard and points out the parts that have been redesigned from previous boards. These are some of the things we have already went into more detail about on the previous pages, so I won't explain them here. if you are interested about these features, please go and visit the previous pages.
Click Image For a Larger One
Next up we can see that the board has a flap that can be opened. ASUS continued adding those features and somehow they also had to be mentioned, so this is where they laid out the features. The box itself is very stylish and I like the graphics they used to portray the server based supercomputers. On the second picture we see the box opened up. The first thing we can see are the accessories that come with this motherboard and the users manual.
Click Image For a Larger One
Here we can see the users manual, the Driver CD that includes not only Windows 7 Ready Drivers, but also Windows 7 based applications that will allow you to mess with this motherboards hardware based features. If you are interested in learning more about the applications that come on the Driver CD, please visit the Included Software page in this review. On the second picture the motherboard shows off it's beauty. The new boards that ASUS started selling come with a very bright baby blue colored heatsink and layout. We are glad that this motherboard only uses the baby blue on its memory slots. I personally prefer the darker blue color. Other than that I also love the black or dark gray colored motherboard, this makes your system look very nice when you want to show it off in front of your friends.
Click Image For a Larger One
The back side of the motherboard is also dark brownish, grayish, blackish colored. On the back you can see a metal that stands out, this is the socket bracket that is on the LGA1156 motherboards. When installing aftermarket coolers, don't be afraid, this metal peace should not get in the way. We are using the
Thermalright True Black 120 CPU cooler
provided by
AcousticPC
and it worked just fine. For some reason I just fell in love with the way this motherboard looks. I think its a perfect balance between colors and features. All the features that are included on this motherboard are also laid out in a very simple way, and we are going to take a look at this briefly.
We can see 6 SATA connectors. These are 3.0Gb/s SATA II connectors which means that this motherboard does not yet support the new 6.0Gb/s SATA interface. However, this motherboard does allow RAID configured hard drives. We can also see the 24-pin Motherboard power connector, and right next to it a tiny button called MemOK!. Like explained before this feature allows users to use non-branded memory or some that are not on the memory list of supported memory sticks. Of course the memory has to be DDR3 based, but as long as the memory is DDR3 the MemOK! button will allow you to easily configure your memory when you boot your system. And finally that gray connector you can see next to the MemOK! button is a serial port connector that you can attach to this motherboard.
Click Image For a Larger One
Let's move on to the next pictures! On the bottom of the motherboard there are two very interesting connectors that I personally never seen on motherboards before. Those connectors next to the blue USB connectors are internal USB 2.0 connectors. Now there are non-ending possibilities on what you could do with these, but apparently these are used for hardware that need USB connectors inside the PC. Apparently there are some hardware out there that you mount inside the Chassis but would require a USB cable routed outside the chassis in order for them to work. This basically bypasses that option and allows you to just simply plug in that device inside your chassis. There are other options as well, for people using ReadyBoost, this could be a place where you could add your extra USB memory which could help extending your memory.
We can also see 5 PCI-Express slots. The blue PCI-Express 2.0 slots work at a 16x speed, while the black ones work at 16x as well. But, the black PCI-Express slots allow for backward compatibility to 8X or 4X. We are going to be using our LSI 3ware 9750-i4 SAS RAID Card in the last PCI-Express slot at 8x speed. There is also one PCI slot and one small PCI-E slot.
Click Image For a Larger One
Now from the back view, we can take a closer look at the heatsink design on this motherboard. The top heatsink is taller than usual, providing more surface area to cool down the mosfets on the motherboard. The left side mosfets, the NB, and the SB are cooled with a heatpipe passively cooled heatsink design. This is very efficient in cooling down the motherboard especially when there is good airflow in the case.
We can also see the memory slots from here which are compatible up to 2000MHz memories when overclocked. The processor LGA1156 socket is covered with a protection cover to prevent damage to the pins on the motherboard.
Click Image For a Larger One
This is a closer look at the SB cooler. ASUS put their logo on here since it is clearly visible and looks nice. On the second picture we see the LGA1156 socket uncovered and the 16+3 Power Phase Design. We can also tell that ASUS used 100% Japanese capacitors for maximum reliability, stability and power efficiency. The 16+3 Phase VRM design has 16-phase for vCore and extra 3-phase for the Memory controller inside the CPU to provide the highest power efficiency. There is more information available about the 16-phase design on the previous pages!
Click Image For a Larger One
More closer pictures were taken of the motherboard to make sure all the palaces are covered. In the first picture we see the slots that can be used for additional cards. These PCI-Express slots support SLI and CrossfireX configurations. The second picture shows a few little things that you might see. First of all the biggest thing that you will see are the memory slots. You will notice that one of the sides of the memory slots don't have clips to hold the memory in place, but we have noticed when placing memories in there that most of the time it is not even required to use pins on both sides of the memory since one already keeps the memories tightly secured.
Next up you will see the MemOK! button from another closer angle and right above the serial port is the TurboV Evo chip. Above the memory slots are three additional switches that allow you to unlock extra voltage features in the motherboard for extreme overclocking. Caution should be taken here since these extreme voltage settings could damage your hardware if not properly cooled!
Click Image For a Larger One
Here are some very nice accessories that come with the ASUS P7P55 WS SuperComputer Motherboard. The first device gets attached on the bottom of the motherboard as you can see on the picture on the left. There is a black connector with many gold plated fins pointing out. This is where this device gets connected. This is pretty much the debugging feature of this board. The two LEDs give the user special codes that can be decoded to figure out what problems might be going on with the system in case of booting failures. For people that like to have work benches have the possibility to Turn On and Off the PC and Reset the PC with the buttons included on this little debugging device. The other connectors in the picture help out tremendously when you have to connect the main tiny cables that start your PC, show the HD and Power LED and much more. You connect all the cables to the Q-Connect connector and then you use it to simply plug everything in at once on the motherboard.

Click Image For a Larger One
Now we can take a look at the I/O connectors. There are still connectors for the Keyboard and mouse for those using the older PS/2 connectors. There are 8 USB 2.0 Slots, two 1Gigabyte LAN connectors, a IEEE 1394 Firewire connector, S/PDIF Out (Coaxial + Optical) connectors, and finally 1 x 8-channel  Audio connectors.
 Click Image For a Larger One
Finally, here are the rest of the accessories included with this package. 1 SLI and Crossfire connector, 1 3-way SLI connector, and I/O Shield Plate, 6 SATA cables, SATA power cable, Serial Port expansion slot connector, and additional USB and Firewire ports.

CPU-Z & Overclocking
Before doing any adjustments for overclocking we wanted to see how things went with all default settings. By default the P7P55 WS SuperComputer has Turbo Boost, SpeedStep and C1E enabled. To get an accurate reading of the actual CPU frequency, we taxed the CPU using Intel Burn Test. Intel Burn Test is a linpack based stability testing application that has no issues putting a CPU at full load. Here is a screen shot of how things look with all default settings.
Right out the gate the P7P55 WS SuperComputer puts the Intel Xeon X3470 CPU at 3.6GHz thanks to Intel's Turbo Boost technology. After verifying things were stable using Intel Burn Test, we moved on to testing TurboV EVO and OC Tuner overclocking.
Click Image For a Larger One
You can notice that with the EPU engine we were able to lower the power consumption of the PC dramatically and of course this can be set on automatic. This means that when you are not on your computer or just doing mild things, your computer performance will be lowered in order to save energy. Of course when the system is put under load, the EPU engine puts the system back to its 100% performance.
TurboV EVO Overclocking
When overclocking using the TurboV EVO application we tested two configurations. One with all default settings and voltages and one with default settings except for fixed voltages. We wanted to see how software overclocking within Windows fared against BIOS overclocking, if one was more superior than the other. The only way to test this out was to put in fixed voltages to allow the software to work within preset limitations, the same limitations we used when manually overclocking via the BIOS.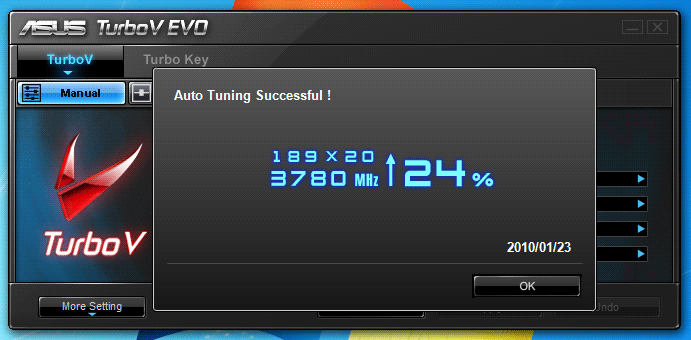 OC Tuner Overclocking
The OC Tuner feature right in the BIOS was extremely easy to use. You just set the profile you want for your overclocking and within a few seconds your processor is overclocked. We tested out the Turbo Profile in the BIOS which put our processor roughly to 3.9GHz. Here is a verification picture: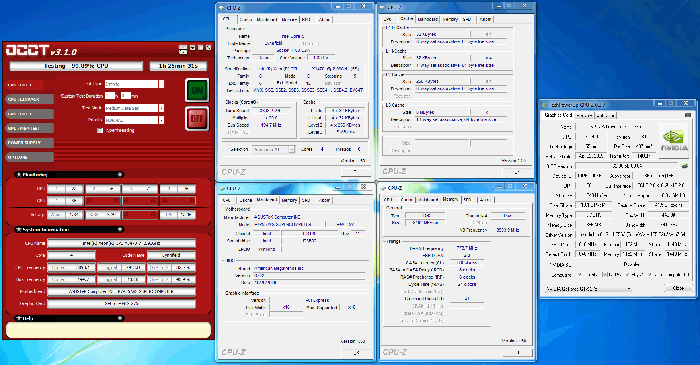 Click Image to Enlarge 
Manual Overclocking
Of course Manual Overclocking will allow us to overclock the system to its max performance. With Manual Overclocking through the BIOS, we were able to reach 4.7GHz with just an air cooler. Unfortunatelly, this was not stable in Windows, we could only boot but not get into windows without a crash. So we lowered the speed a bit till we were finally able to get into Windows 7. This was at 4.55GHz. While this booted into windows, it was not stable and we were still not feeling safe about the voltages used on the CPU. Here is a verification picture of the overclocking first unstable overclock: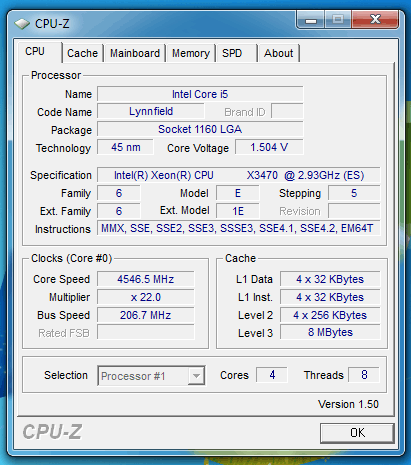 And then finally we continued lowering the bus speed and finally got to a 100% stable system. I was extremely surprised what we were able to accomplish with an air cooler. Believe it or not, 4.41GHz.
Click Image For a Larger One
Seeing the potential of this motherboard and its Xtreme Design surely tells us that there is more potential with water cooling and of course other more powerful coolers. While the overclocking potential also depends on your processor, it is important to understand that not all processors and motherboards will overclock the same way. Some overclock better while others not so much.
Testing & Methodology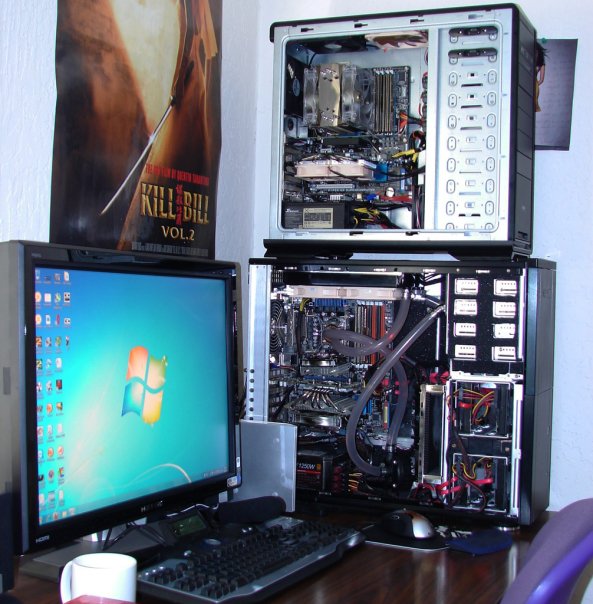 We've expanded our testing suite considerably for P55 and will continue to use the same tests across most of the motherboards and CPU's we test. We run each test a total of at least three times minimum, some tests we run more than 3 times. We average the total of all the tests from each benchmark then report the average here.
The OS we use is Vista Ultimate 64bit with all patches and updates applied. We also use the latest drivers available for the motherboard and any devices attached to the computer. We don't disable a bunch of background tasks or particularly tweak the OS or system for bigger numbers. We do turn off drive indexing and daily defragging. We also turn off Prefetch and Superfetch. This is not an attempt to produce bigger benchmark numbers. Drive indexing and defragging can interfere with testing in that one test might occur without defragging going on and the next test defragging might be active, the same thing goes for drive indexing. We can't control when defragging and indexing occur precisely enough to guarantee that they won't interfere with testing, so we turn them off.
Prefetch tries to predict what you will load the next time you boot the machine. We disable it because we want to know how the program runs without any of the files being cached, otherwise each test run we'd have to clear pre-fetch to get accurate numbers. Lastly we disable Superfetch, Superfetch loads often used programs into memory and is one of the reasons people consider Vista to be such a memory hog. Vista fills the memory in an attempt to predict what you will load. Having one test run with files cached, and another test run with the files being un-cached would result in skewed numbers. Again since we can't control it we turn it off. Other than those 4 things which can potentially interfere with benchmarking, and do so out of our control, we leave everything else running.
Test Rig
Test Rig
Case
Zalman MS1000-H1
CPU

Intel Xeon X3470 2.92GHz @ 3.9GHz (Turbo Profile)

Intel Core i5 750 2.66GHz @ 4.2GHz***

Intel Core 2 Quad Q6600 2.4GHz @ 3.9GHz

Motherboard

ASUS P7P55 WS Supercomputer Motherboard – LGA1156


GIGABYTE P55A-UD4P – LGA1156***

ASUS P5E3 WS Professional Motherboard – LGA775

Ram
OCZ DDR3-12800 1600Mhz (7-7-7-18 1.66v) 8GB Kit
CPU Cooler
Thermalright True Black 120 with 2x SilenX 120mm fans
Hard Drives
4x Seagate Cheetah 600GB 10K 6Gb/s Hard Drives
Optical
LG Blu-Ray Drive
GPU

BFG GeForce 275 OC 896MB – Main Video Card

Case Fans

1x Noctua NF-P12 120mm Fan – Top

1x Noctua NF-P12 120mm Fan – Bottom      

Additional Cards

LSI 3ware SATA + SAS 9750-4i 6Gb/s RAID Card
Additional Fans
SilenX 120mm Silent fan on Thermalright HR-03 VGA Cooler
PSU
Mouse
Logitech G5
Keyboard
Logitech G15
Now some of you might wonder, why I am bothering to test a LGA 775 socket X38 motherboard to a LGA 1156 socket P55 motherboard. The ideology for comparing two rigs like these is simple. Many users currently using server based workstation systems still use LGA 775 socket motherboards. Their next upgrade will probably be a P55 series motherboards or X58 series motherboards. Since both motherboards are server based workstation motherboards, this will be a good comparison for those looking for upgrade opportunities. This will also comprare how the new P55 motherboards help with power consumption and the new 16 + 4 power phase can help with temperatures.
*** The system with the Gigabyte P55A-UD4P motherboard and the Intel Core i5 750 processor was reviewed at Bjorn3D by my colleague Raymond Buckland. We are using his system as a comparison to ours. While some results might be off due to him having a different system, it is a very close comparison to our system in this review. The only major difference between this system and his are the hard drives. He was not using a SAS setup like we are using in this review. So when looking at the results make sure to understand that they were not tested on 100% identical systems.
Test Suite
Benchmarks
Excel 2007
Blender
SiSoft SANDRA XII Professional SP2
Everest Ultimate Edition v. 5.0
AutoMKV
Cinebench R10 64 bit
PCMark Vantage
WinRar
v. 3.71
POVRay
Pro Show Gold
Everest Ultimate
"EVEREST Ultimate Edition is an industry leading system diagnostics and benchmarking solution for enthusiasts PC users, based on the award-winning EVEREST Technology. During system optimizations and tweaking it provides essential system and overclock information, advanced hardware monitoring and diagnostics capabilities to check the effects of the applied settings. CPU, FPU and memory benchmarks are available to measure the actual system performance and compare it to previous states or other systems. Furthermore, complete software, operating system and security information makes EVEREST Ultimate Edition a comprehensive system diagnostics tool that offers a total of 100 pages of information about your PC."
Everest CPU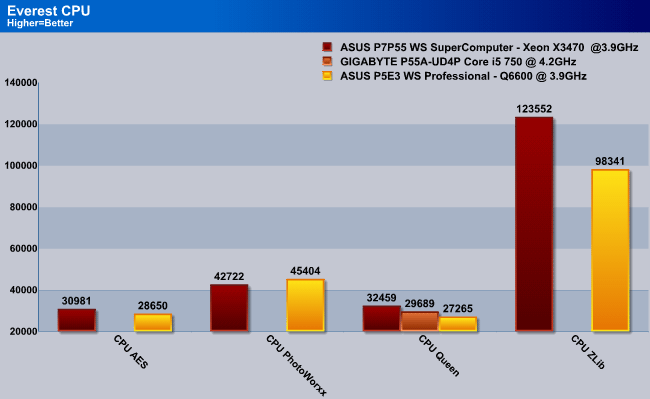 On some of these tests, my partner Ray did not run some of the benchmarks which is why there are a few blank results. But from the results we do have, we can see that the P7P55 WS SuperComputer motherboard with the combination of a Xeon X3470 was able to blow the Q6600 out of the water at the same clock speed. the X3470 runs with HyperThreading thanks to the option on the ASUS P7P55 WS SuperComputer motherboard and this is why there is an enormous performance increase in the CPU ZLib benchmark. For the CPU PhotoWorxx benchmark we are not quite sure why the Q6600 got ahead of the X3470 but it seems that the P5E3 performs better in photo related processes than the P7P55.
Everest Memory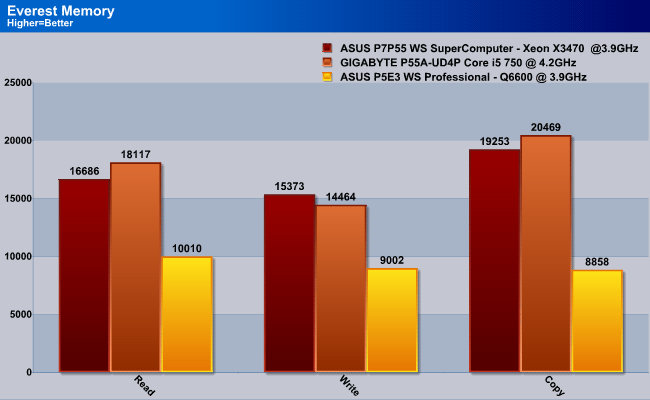 On these benchmarks, we were testing the memory speed that we can achieve with each of these boards. One thing to understand about these results are that when we overclocked our Xeon X3470, we were not able to get a perfect 1600MHz clock speed on our memory. It was around 1554MHz, which is about 50MHz lower then what the Gigabyte board was running at. On the ASUS P5E3 WS Pro motherboard however, we were running the memory at the same speed as on the P7P55 WS SuperComputer motherboard. We can just see how by integrating the memory controller into the processor how tremendous improvement we can see in memory performance. So for those with memory intensive calculations, the ASUS P7P55 WS SuperComputer motherboard is a great option if you are still running one of those old LGA 775 socket X38 motherboards.
Cinebench
"CINEBENCH is a real-world test suite that assesses your computer's performance capabilities. MAXON CINEBENCH is based on MAXON's award-winning animation software, CINEMA 4D, which is used extensively by studios and production houses worldwide for 3D content creation. MAXON software has been used in blockbuster movies such as Spider-Man, Star Wars, The Chronicles of Narnia and many more. MAXON CINEBENCH runs several tests on your computer to measure the performance of the main processor and the graphics card under real world circumstances. The benchmark application makes use of up to 16 CPUs or CPU cores and is available for Windows (32-bit and 64-Bit) and Macintosh (PPC and Intel-based). The resulting values among different operating systems are 100% comparable and therefore very useful with regard to purchasing decision-making. It can also be used as a marketing tool for hardware vendors or simply to compare hardware among colleagues or friends."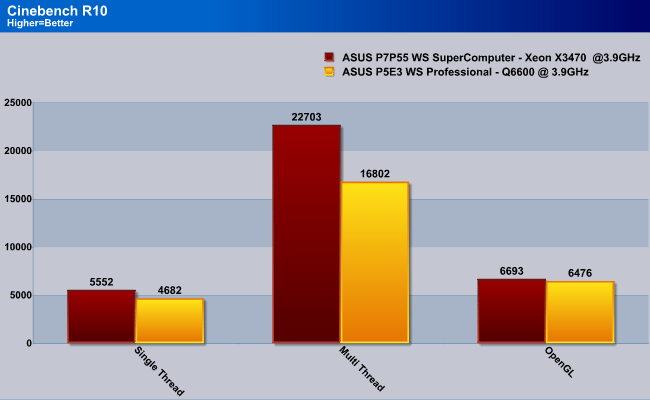 Cinebench R10 is one of my favorite benchmarks. I work a lot with 3D, and Cinebench allows me to fully measure the rendering performance of processors and motherboards under different conditions. In this benchmark we only compared the ASUS P7P55 WS SuperComputer motherboard and the P5E3 WS Pro motherboard. We can see that once again with HyperThreading and the combination of a powerful motherboard can make a huge difference in rendering performance even when the CPUs are clocked at the same speed. It is important to understand though that the Q6600 has 4 threads while the X3470 has 8 threads.
WinRAR Workload
The WinRAR workload test we bypass the built in benchmark and throw 5 large .tif images at WinRAR then compress them and record the compression time. Total workload is about 350MB or 70+ MB per TIF image. The real life compression test of a group of large image files should give us a more realistic idea of how the CPU's perform than the built in benchmark.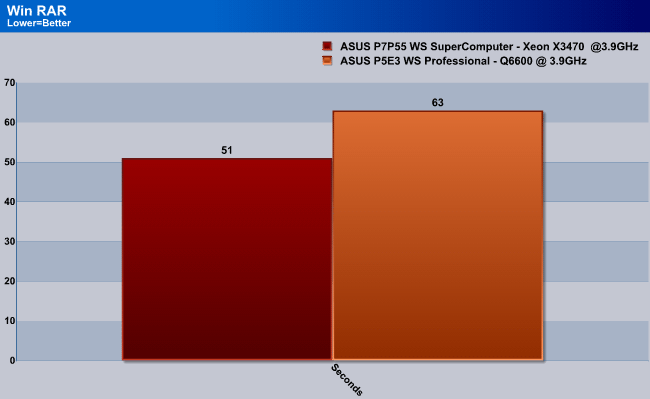 WinRAR is a very common program that online program distributors and download websites use to compress their files for easier and faster downloads. If you send a lot of files to your friends and you like compressing your files into one single RAR file, by having a newer system it can tremendously save you time if you are running lots of archiving processes. With the P7P55 motherboard we saw a 12 second decrease in archiving time with only 5 large images. Now if we do a calculation of 50 images, this process would roughly save you 2 minutes over the older P5E3 model with a Q6600 processor.
Sisoft Sandra
"SiSoftware Sandra (the System Analyser, Diagnostic and Reporting Assistant) is an information & diagnostic utility. It should provide most of the information (including undocumented) you need to know about your hardware, software and other devices whether hardware or software. It works along the lines of other Windows utilities, however it tries to go beyond them and show you more of what's really going on. Giving the user the ability to draw comparisons at both a high and low-level. You can get information about the CPU, chipset, video adapter, ports, printers, sound card, memory, network, Windows internals, AGP, PCI, PCI-X, PCIe (PCI Express), database, USB, USB2, 1394/Firewire, etc."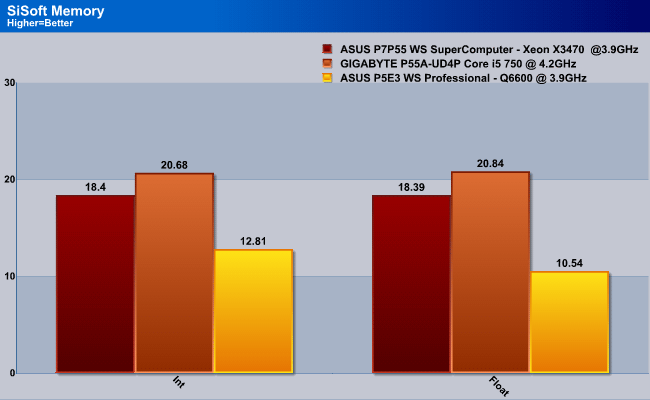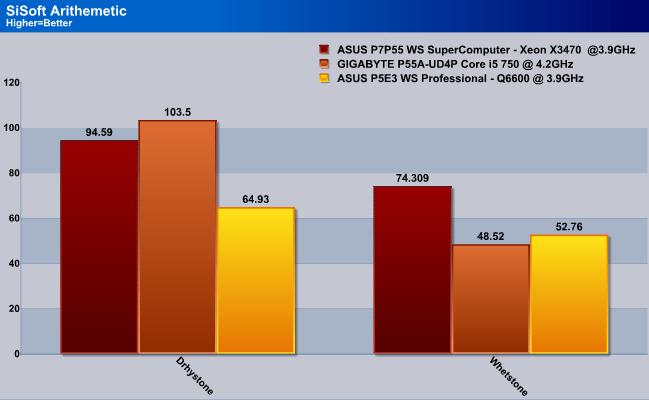 Like in the other memory test, we saw that the Gigabyte P55A-UD4P outperformed both of the motherboards in memory benchmarks. This was due to the higher frequency speed on that memory and due to a higher clocked CPU. In this benchmark, however, we see something interesting. On the Whetstone benchmark the Gigabyte board fell back quite a bit even under the P5E3 motherboard which has been out for roughly 2 years now. The P7P55 WS SuperComputer motherboard came out of nowhere and took a huge leap over the two other motherboards. Looks like a combination of a powerful stable motherboard like the P7P55 with a Xeon processor and good DDR3 memories does make a big difference in CPU performance. Very impressive!
POV-Ray 3.7 Beta 25
The Persistence of Vision Ray-Tracer was developed from DKBTrace 2.12 (written by David K. Buck and Aaron A. Collins) by a bunch of people (called the POV-Team) in their spare time. It is a high-quality, totally free tool for creating stunning three-dimensional graphics. It is available in official versions for Windows, Mac OS/Mac OS X and i86 Linux. The POV-Ray package includes detailed instructions on using the ray-tracer and creating scenes. Many stunning scenes are included with POV-Ray so you can start creating images immediately when you get the package. These scenes can be modified so you do not have to start from scratch. In addition to the pre-defined scenes, a large library of pre-defined shapes and materials is provided. You can include these shapes and materials in your own scenes by just including the library file name at the top of your scene file, and by using the shape or material name in your scene. Since this is free software feel free to download this version and try it out on your own.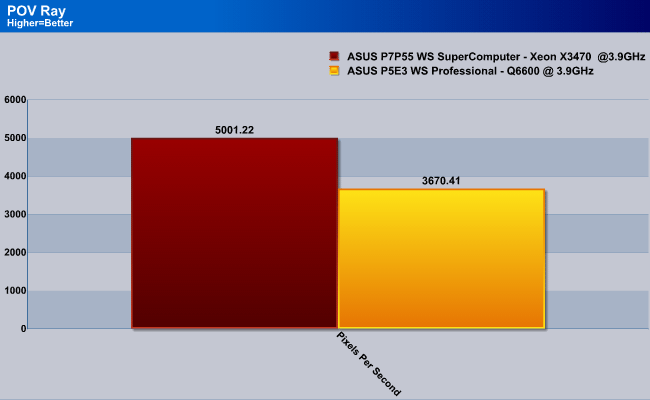 Yet this is another rendering application just like Cinebench R10 and Blender. They all have the same type of rendering process so the results on these should be identical or roughly the same. This is why we can see that the P7P55 performed better in this benchmark over the P5E3.
Microsoft Excel 2007
Monte Carlo Black-Scholes Option Pricing Test
Microsoft Excel is the widely known and the most used spreadsheet application for the manipulation and calculation for number crunching. With Excel, you can analyze and share information on a small scale or the largest scale you can imagine. We've seen spreadsheets in every day use that contain literally tens of thousands of numbers and hundreds of equations. Bjorn3D uses two tests in Excel to determine CPU and Motherboard performance.
Big Number Crunch
This workload is from a 6.2 MB spreadsheet and executes about 28,000 sets of calculations. It uses the most common calculations in Excel, addition, subtraction, division, rounding and Square Root. It also analyzes statistical functions such as Min, Max Median, and Average. The calculations are done after the spreadsheet with a large data set is updated with new values and must recalculate a large number of data points.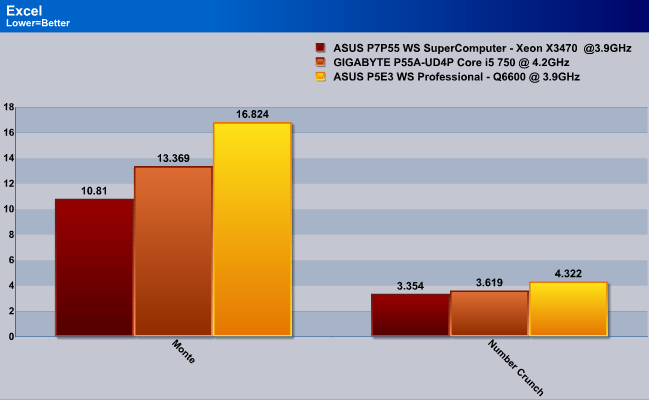 Excel is widely used around the wold in many business related jobs. These tasks can be time critical for businesses which is why higher performance is needed. THe P7P55 did an excellent job once again over the two other tested motherboards.
Photodex ProShow Gold 3.2
ProShow Gold allows you to combine videos and photos and music to create slide shows, depending on the end user results can be spectacular. The application allows the end user to share photos and memories with friends in a unique and spectacular way, the different formats supported are, DVD, PC and Web. Still Photos are brought to life by adding motion effects. Supported effects include, Pan, Zoom, and rotate. You can also add captions and over 280 transition effects.
The workload we use consists of 29 high resolution images in JPG format and converts them to MPEG2 wide-screen DVD quality. The end result is a 3 minute 9 second video file in slide show format. The images are in 3872×2592 resolution and have a combined total size of about 170 MB.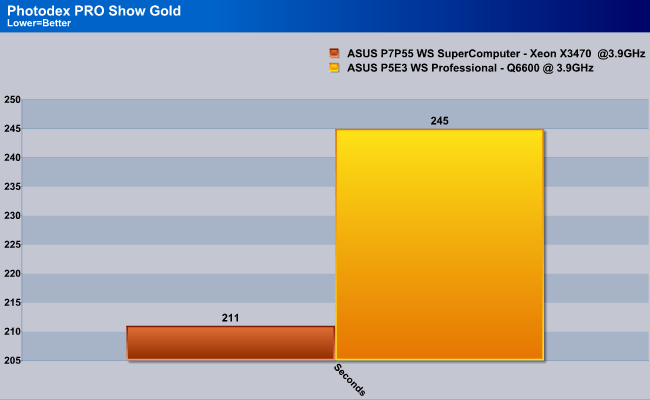 For video editors, and people that love to put photo slideshows together this benchmark is perfect to determine what will perform better. For those thinking of upgrading to an LGA1156 or LGA1366 platform, you will notice a huge performance increase in video rendering times of course if combined with a powerful motherboard. The P7P55 WorkStation SuperComputer motherboard was good enough to prove this to us.
AutoMKV 0.95c
AutoMKV is an application aiming for easy media conversion between various media formats using various third party codecs. With improved internet speed and enhanced computing power, more users are interested in encoding to different media formats for their various multimedia needs. With AutoMKV and x264 codec, a freeware H.264 encoder, users can easily create media files. For more information and to obtain AutoMKV 0.95c and AviSynth* 2.5.7, please visit (http://forum.doom9.org/showthread.php?t=134478). We create a media file using AutoMKV and x264 codec. The input file used in the document is a raw 416 MB 720×480 DV file and the output is a 253MB H.264 media file.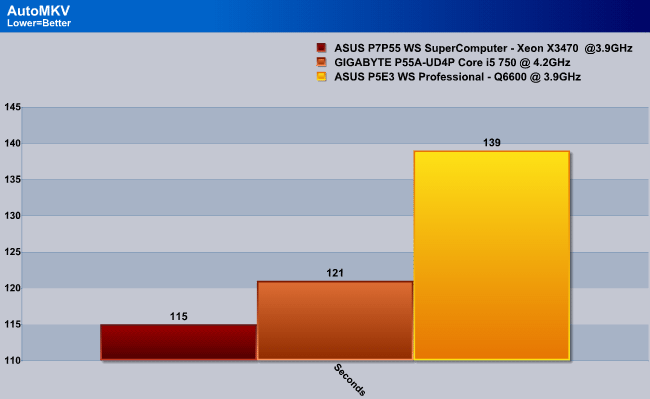 While Photodex Pro Show Gold did video rendering from images, AutoMKV is another benchmark that renders video but this time it is converting one format to another. This could be an important part of a business related task where a client has to upload a video online however the size of the video is just way too high. We can see that by upgrading to a LGA1156 socket motherborad in the P55 chipset series, we can see a big 24 second time improvement.
Blender
Blender is a free open source 3D content creation suite that is available for various operating systems. The application is popular among many independent animation studios and game makers. For more information, please visit http://www.blender.org/.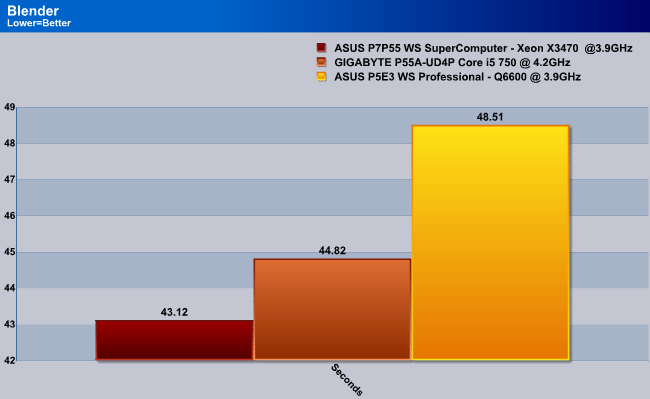 There is not much to say here. We saw some results from Cinebench R10 and POV-Ray, and they both showed a big improvement between the different platforms. The same rule plays a role in this benchmark as well.
PCMark Vantage
For complete information on 3DMark Vantage Please follow this Link:
http://www.futuremark.com/benchmarks/pcmarkvantage/features/
PCMark Vantage is a PC benchmark suite designed for Windows Vista offering one-click simplicity for casual users and detailed, professional grade testing for industry, press and enthusiasts.
A PCMark score is a measure of your computer's performance across a variety of common tasks such as viewing and editing photos, video, music and other media, gaming, communications, productivity and security.
From desktops and laptops to workstations and gaming rigs, by comparing your PCMark Vantage score with other similar systems you can find the hardware and software bottlenecks that stop you getting more from your PC.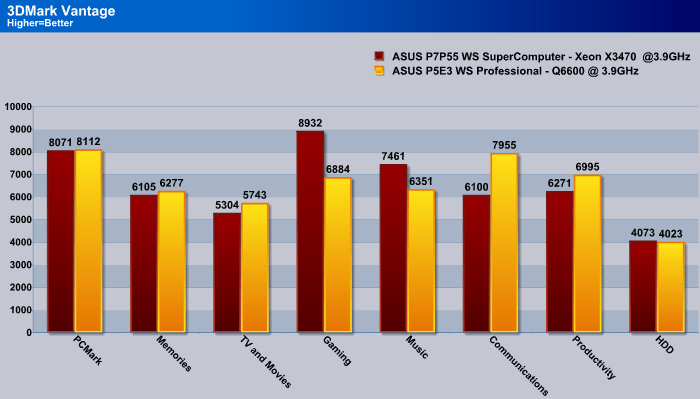 And finally we have PCMark Vantage as our final benchmark. This benchmark was a bit interesting since we didn't quite see a big improvement in the overall PCMark score but instead we saw a tiny drop. We can see according to the other results that the P7P55 motherboard took a big leap in Gaming and Music, however it dropped big on other tests like Communications and Productivity. We are not quite sure why this happened, but it could be a connection between the RAID card we are using with the SAS setup.
Conclusion
I was very surprised with the features ASUS had included on the P7P55 WS SuperComputer Motherboard. For its price of $229.99 on Newegg, this board is definately something you might want to look into if you are looking for a powerful, stable, and power efficient motherboard that has more features than what you might ever use. TurboV Evo, T.Probe, the EPU Engine and the Turbo OC Tuner Profile in the BIOS make this motherboard an excellent overclocker as well as one of the most efficient motherboard on the market.
The ASUS Xtreme Design is again another great feature ASUS included. It's special 16+3 Power Phase Design, 100% solid Japanese Capacitors, and the VRM load calibration system makes this motherboard stand out from the rest. During our testing period we could not find any disadvantages about the board, so in our opinion it is one solid build from ASUS that cannot be missed by any serious system builders!
The only thing that we would like to have seen on this motherboard would have been USB 3.0, and SATA 6.0Gb/s Support. Since we had a SAS setup with a powerful RAID Card capable of 6.0Gb/s, this wasn't a problem, but this might not be the case for some on the cheap side. But there might be a solution for those looking for USB 3.0 and SATA 6.0Gb/s support. Asus also has another P7P55 board called P7P55D-E Pro which already comes with USB 3.0 and SATA 6.0Gb/s support. They also included a special chip which doesn't take away from the performance of the PCI-E slot like other companies have done. Another option would be using ASUS' U3S6 Add-On card which gives support for UBS 3.0 and SATA 6.0Gb/s support. With all this said lets take a look at our verdict.
OUR VERDICT: ASUS P7P55 WorkStation SuperComputer Motherboard
| | |
| --- | --- |
| Performance |  9 |
| Value |  9 |
| Quality |  9.5 |
| Features |  9.5 |
| Innovation |  9 |

We are using a new addition to our scoring system to provide additional feedback beyond a flat score. Please note that the final score isn't an aggregate average of the new rating system.

Pro

Cons

Stable, Efficient, and Powerful

Excellent Overclocker

Superb Features for the price

Solid and built with Quality

Lower Temperatures and more efficient across the whole board over the older LGA775 socket platform.

Minor con, but would have been nice to see USB 3.0 and SATA 6.0Gb/s support on this board.

Other than that None!




 

Summary:
The ASUS P7P55 WS SuperComputer Motherboard is something that a serious system builder cannot miss out on. This is why I am awarding this motherboard Bjorn3D's Golder Bear Award with a score of 9 out of 10.